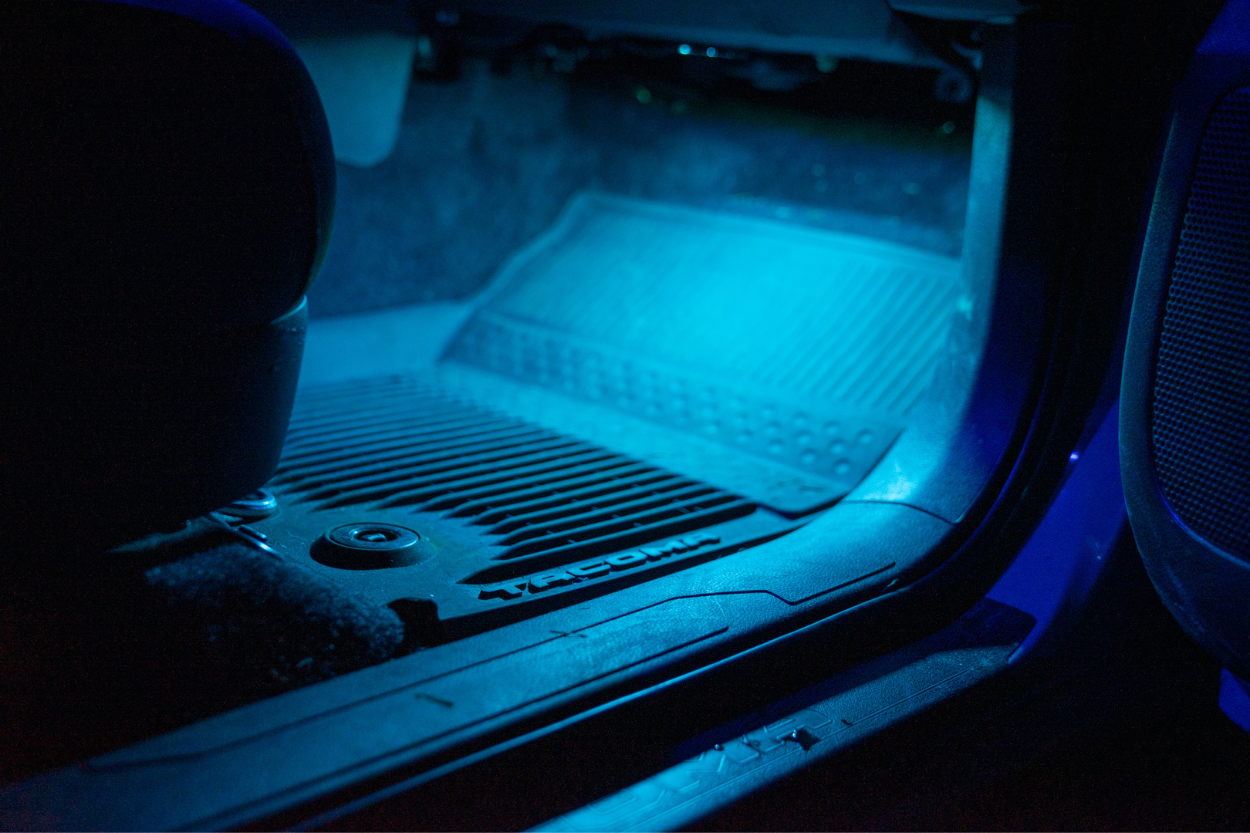 Looking For Better Interior Lighting & Visibility At Night? Here Are The Top 3 Reasons To Add LED Footwell Lights To Your Truck
For many, upgrading interior lighting is one of the first modifications that many people choose to do. Not only is it a budget-friendly way to give your truck a fresh look but it can also enhance the overall visibility in your cabin. But, surprisingly, one often-overlooked upgrade is footwell lighting.
Thankfully for those looking to add ground focused to their Tacoma, VLEDS has a plug-and-play kit available. You will have the option to choose from 6 different colors too. Check out our easy step-by-step guide on how to install this kit.
In this blog post, we'll discuss the top 3 reasons why you should consider getting one of these kits for your 3rd Gen Tacoma, and we'll introduce a user-friendly, top-quality kit to elevate your truck's interior.
Find It Online
VLEDS Dual Output Footwell Light Kit (3rd Gen Tacoma):

 

Check Price
3 Reasons To Add Footwell Lights
What Is Footwell Lighting?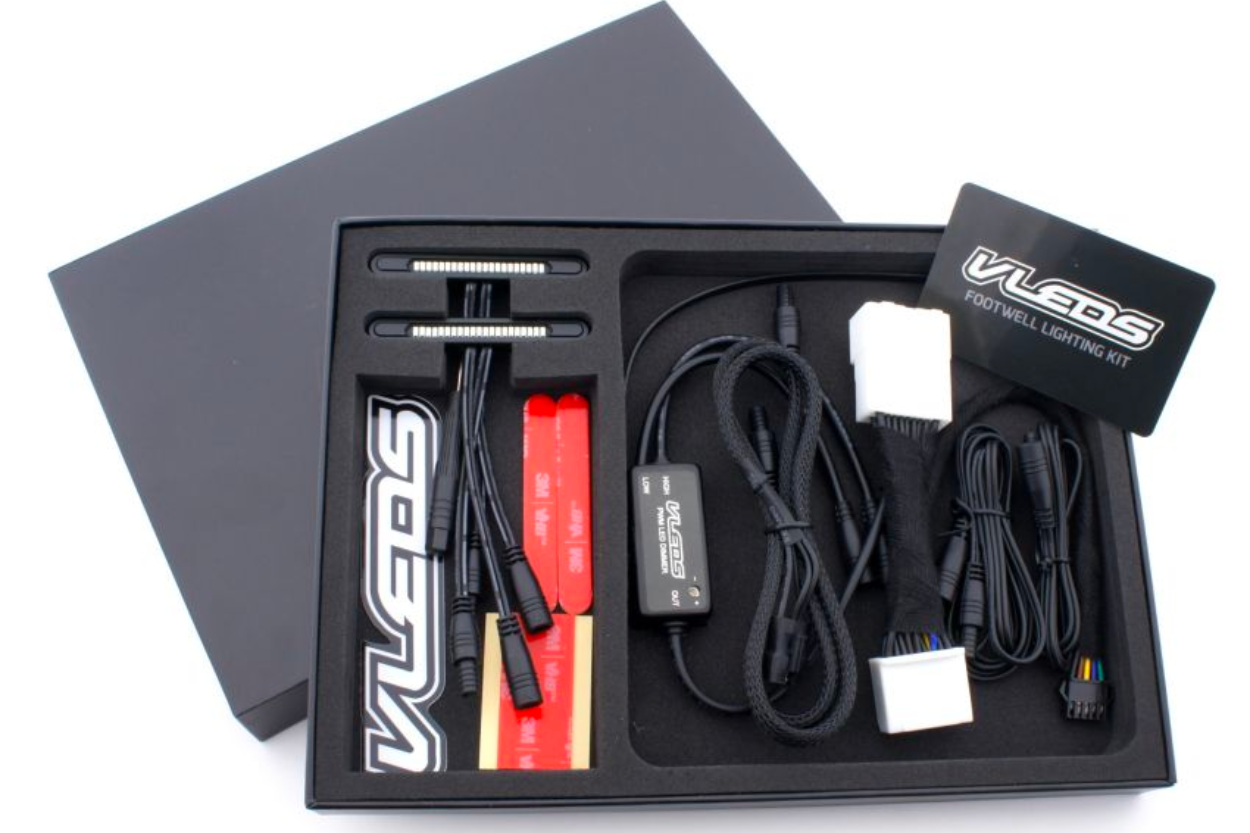 Footwell lighting is a simple and stylish upgrade that involves the installation of LED lights underneath the dashboard, in the area where your feet usually dwell. These lights provide customizable illumination, enhancing the interior ambiance, improving visibility, and adding a touch of personalization to your car's cabin.
1. Improved Visibility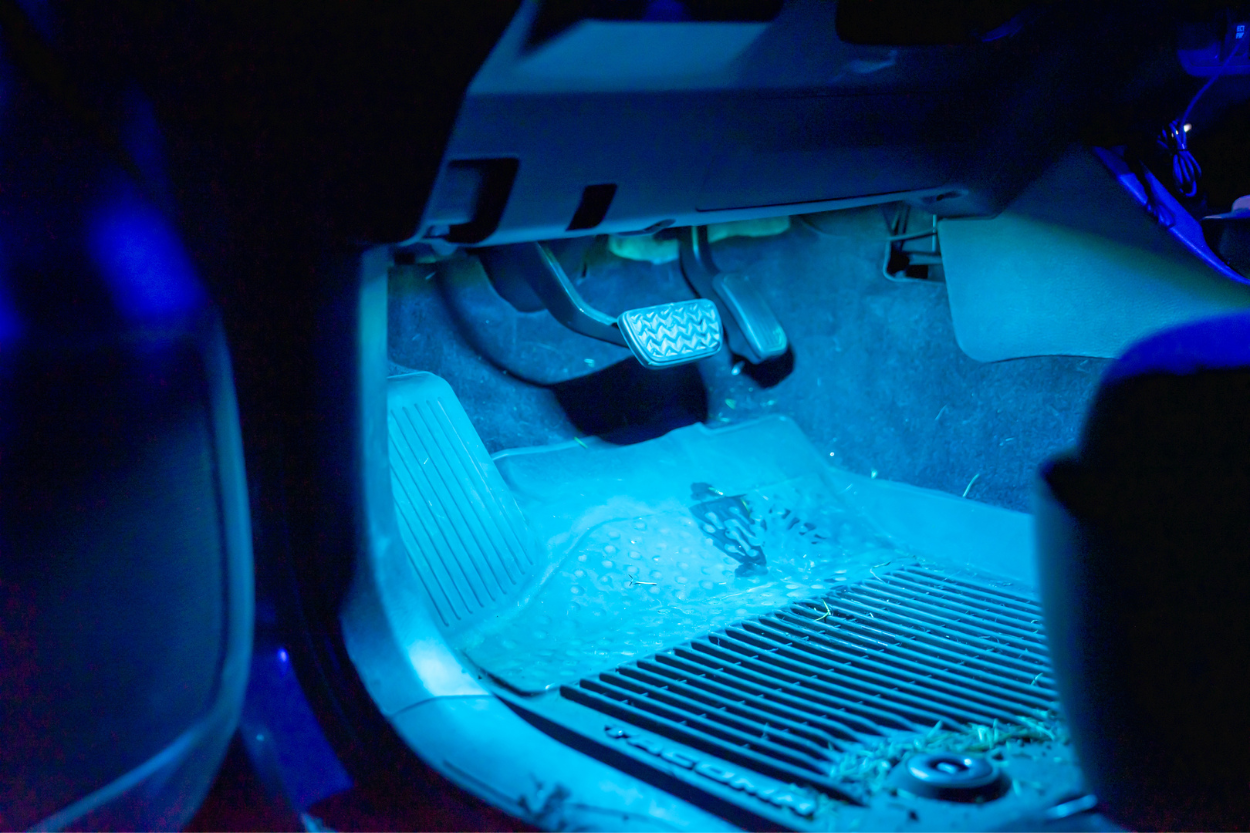 One of the most practical reasons to invest in a footwell lighting kit is the substantial enhancement in visibility it offers. Whether you're fumbling for items in the dark or need to quickly locate something, footwell lighting provides a soft yet effective solution.
It is particularly beneficial for individuals with young children, as it helps them see clearly in the back seats when reaching for toys or snacks. It also aids passengers in finding their belongings, like smartphones or chargers that have fallen.
The kit offers two settings, a brighter option when you are entering the vehicle and a dimmer option when you are driving. You also have the option to dim the lights manually if you are looking for something more subtle.
2. Ambient Lighting Enhancements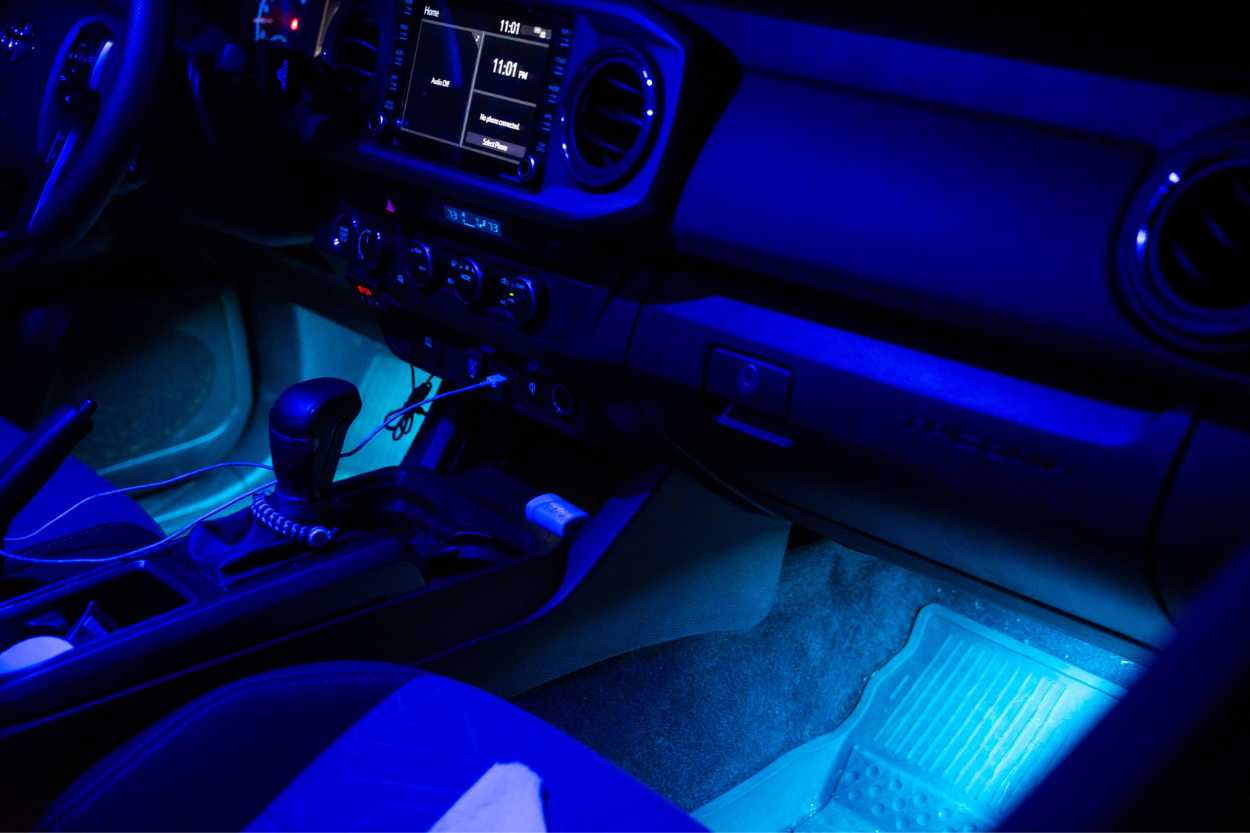 Another reason to invest in these kits is for the improvement in ambient lighting. Whether you opted for a calming blue or an energetic red, these lights can create the perfect ambiance for any occasion. They not only make your Tacoma's interior visually appealing but also contribute to a safer driving environment by providing soft illumination in the footwell area.
As an added perk, VLEDS provides a teal color option that closely resembles the backlighting on numerous knobs and buttons in the cabin. We chose this color, and it seamlessly blends in, giving the impression that it's a factory-original feature.
3. Easy Installation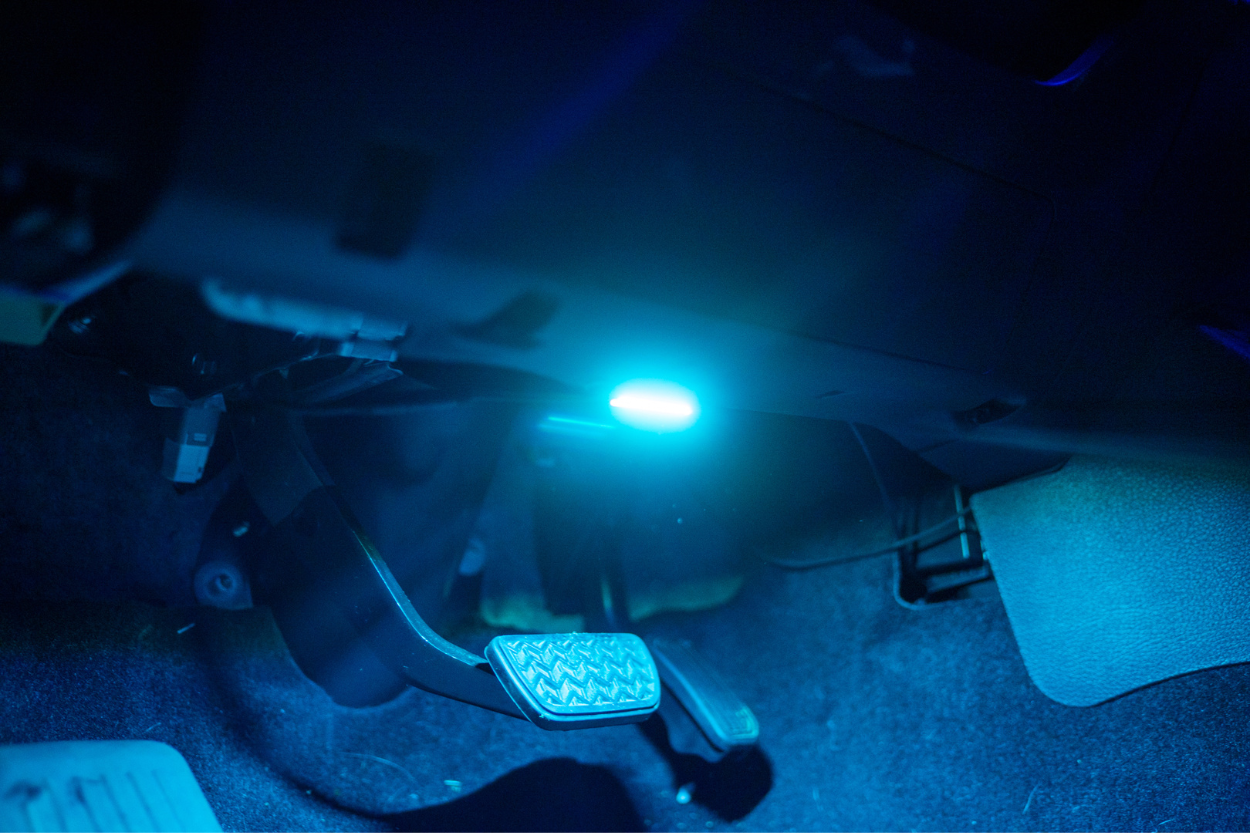 Lastly, the kit has an exceptionally easy installation process. It is designed with user-friendliness in mind, making it the perfect upgrade for anyone.
The installation is as straightforward as a plug-and-play operation. You won't need to be an automotive expert or have a garage full of specialized tools to get the job done. Simply follow the provided instructions, and you'll have your footwell lighting up and running in no time.
The "plug-and-play" aspect means that you won't be cutting, splicing, or soldering wires. Instead, the kit comes with connectors that seamlessly fit into your vehicle's existing wiring harness, ensuring a secure and hassle-free connection. This not only saves you time but also ensures a professional-looking installation.
Final Thoughts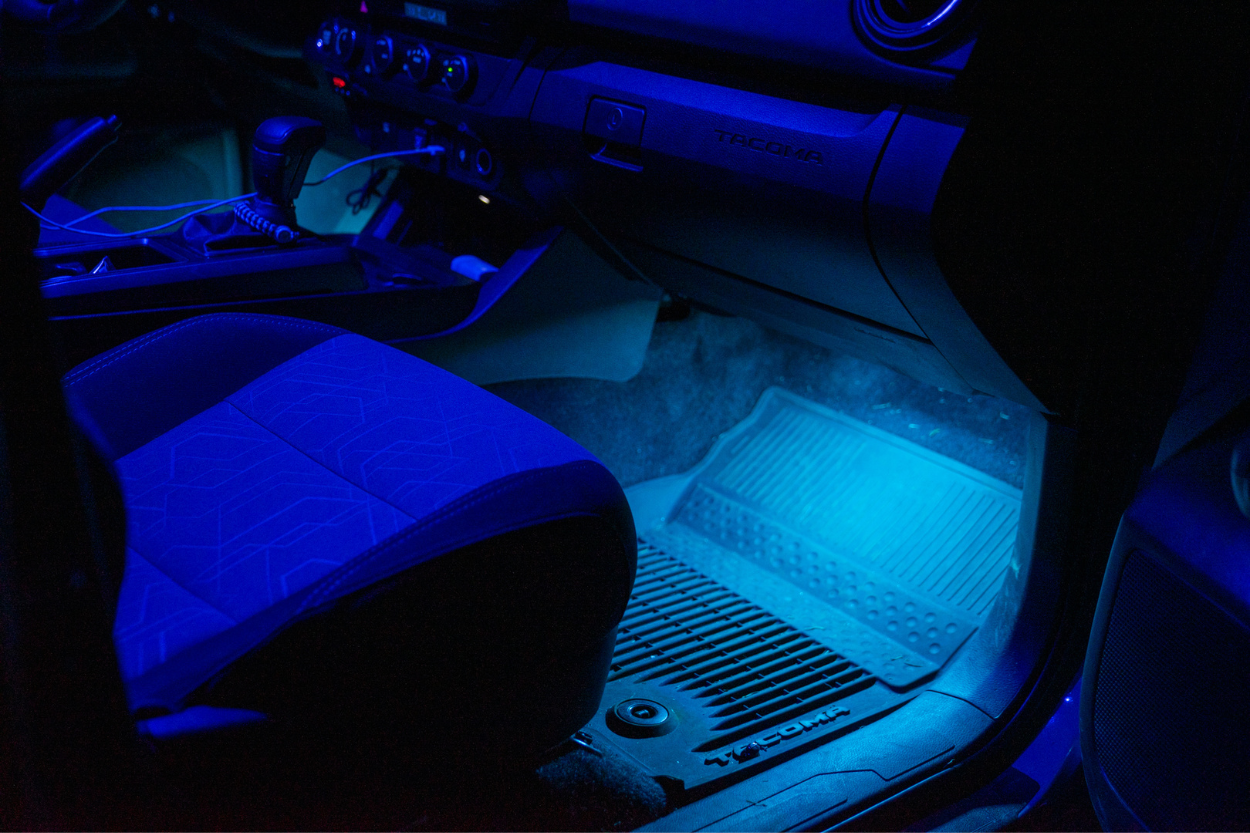 Incorporating a footwell kit into your Tacoma is a practical and stylish choice. With its customizable ambient lighting, increased visibility, and easy install, it's a worthwhile mod to improve your driving experience.
We're super happy with the kit that was installed on our Tacoma. Not only does it look extremely subtle but it also makes the Tacoma feel a bit more luxurious. If you're in the market to change out your exterior bulbs or just looking to add more lighting in the cabin, definitely check this one out, you won't be disappointed.