Buyer's Guide: 8 Novelty Overlanding Gear & Accessories That Make Camping With Your Truck Feel More Cozy & Homey
In life, and in overlanding, there are the things you need and then there are the things you want. I often find that the things I want are more fun to pick out than the things I need. Whether you're a minimalist traveler or a maximalist overlanding fiend whose Tacoma has more amenities than a downtown apartment, there's no denying simple comforts make a massive difference on days or weeks-long overlanding trips.
You could be out for a month and never "need" the accessories on this list. However, once you've jazzed up your rig with these little luxuries, I bet you won't want to hit the trail without them.
These overlanding accessories make every facet of your car camping experience more comfortable, cozy, and aesthetically pleasing — from getting a good night's rest to doing your business in the backcountry.
This list has no particular order.
Glamping While Overlanding
1. Rumpl – Original Puffy Blanket
Find It Online
I tried out the 1-person sized Rumpl Original Puffy Blanket for overlanding in my Tacoma and it covered the entire 6-foot bed, minus space for a pillow, length-wise and width-wise. If you're camping with a partner and don't want to fight over blanket hogging on a chilly evening, the Original Puffy Blanket also comes in a 2-person size. The 1-person weighs in at 52" W x 75" L and 2.1 lbs. The 2-person clocks in at 84" W x 80" L and 3.7 lbs.
The blanket comes in a compact water-resistant stuff sack. If you travel with dogs, you'll also be glad to know that pet hair doesn't seem to stick to the blanket or the stuff sack.
Why It's a Worthwhile Overlanding Accessory
Designs and colorways: The blanket comes in enough designs to suit any aesthetic from artist's depictions of national park scenes to bright-colored geometric patterns, and solid black. There's a colorway to match your truck.
Easy to clean: It is made of 100% recycled polyester that's machine washable and DWR-treated. This means it's waterproof and stain-resistant, making it difficult to get dirty in the first place.
Thoughtful details: These blankets are clearly made for the outdoors. Corner loops allow you to stake down the blanket if needed and the "Cape Clip" that comes on the 1-person puffy blanket allows hands-free warmth so you can wear your blanket while roasting marshmallows or changing a tire.
2. Peace Cabin – Wanderer 'Quad' Outdoor Cushion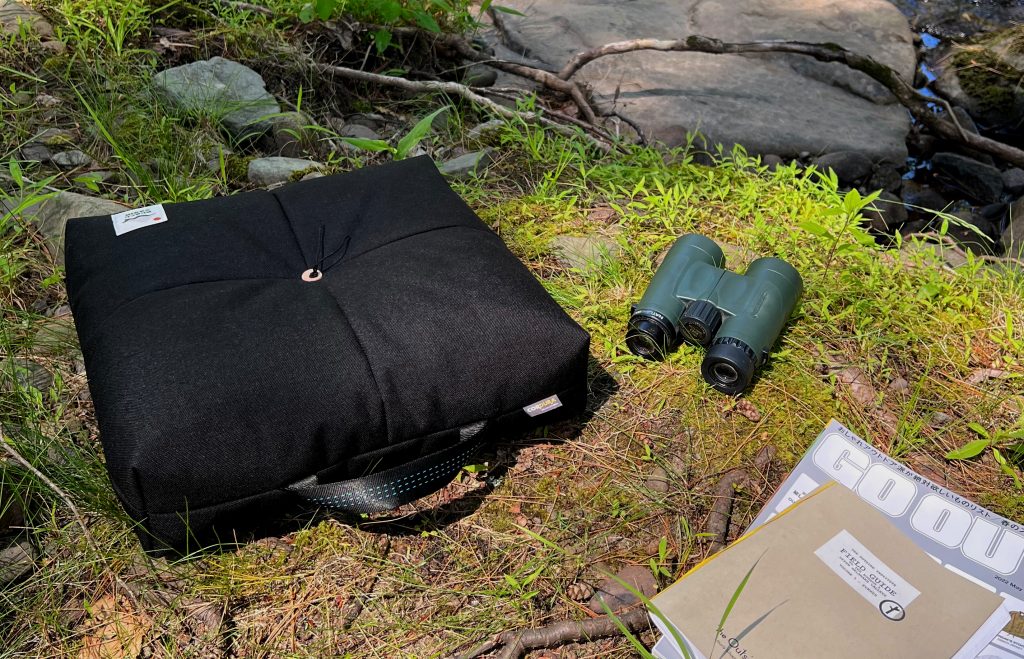 Find It Online
Peace Cabin Wanderer 'Quad' Outdoor Cushion: Check Price
Want to maximize comfort and aesthetics while overlanding? The Wanderer 'Quad' Outdoor Cushion from Peace Cabin is the perfect stylish yet rugged accessory to pair with Rumpl's Original Puffy Blanket.
The Wanderer 'Quad' Outdoor Cushion measures 15"W x 15"L x 5"H and weighs 2lbs. You can throw it down anywhere you want to find a comfortable seat — whether fireside, on top of a cooler, or on the tailgate of your Tacoma.
Why It's a Worthwhile Overlanding Accessory
Designs and colorways: Like the blanket, the Wanderer cushion comes in a ton of cool nature-inspired colorways.
Built for the outdoors: The outer shell of the pillow is made of 1000D Cordura Nylon. Cordura is often used in outdoor products because it's durable and resistant to water, tears, and abrasions. You can sit on the Wanderer 'Quad' Cushion in the dirt and then simply dust or rinse it off and it's good to go.
Handmade: The quality is top-notch. The cushion is filled with organic, biodegradable material that's supportive so it doesn't go flat over time.
Built-in handle: The built-in handle is a nice touch that makes it easy to store or hang up around camp when it's not being used.
3. Luno – Truck Bed Air Mattress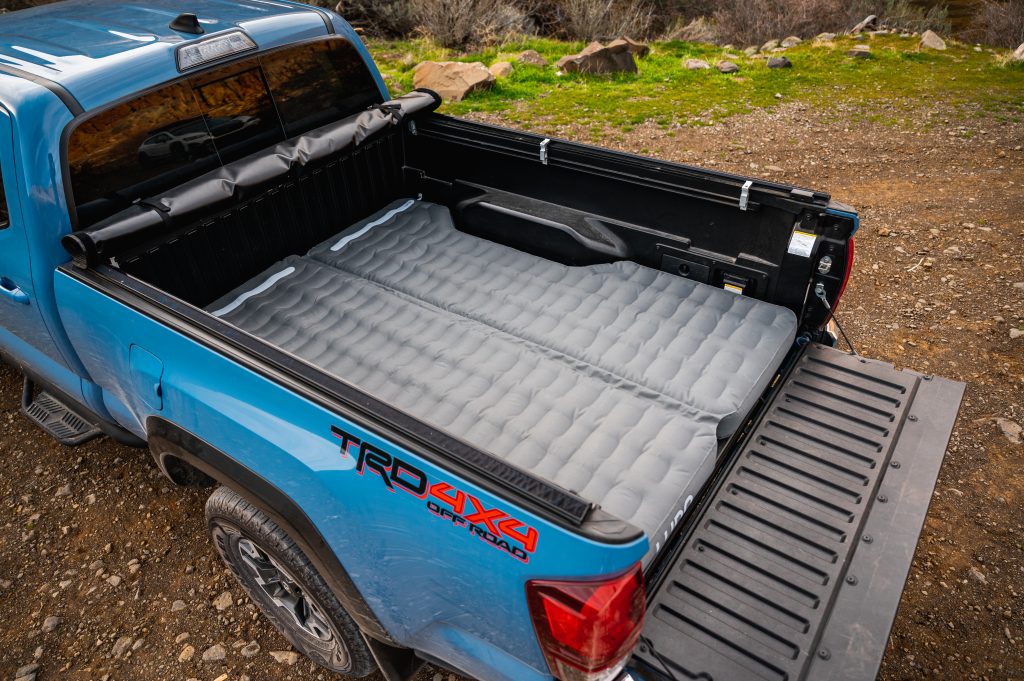 Find It Online
Luno is a company dedicated exclusively to car camping and states that its gear redefines "comfort and convenience in the outdoors." Their Truck Bed Air Mattresses are no exception. The mattress is tailored to 2nd and 3rd Gen Tacomas. The 72" long air mattress fits snuggly into your Tacoma's bed with the tailgate closed.
Luno also makes a short bed compatible air mattress. They aren't developed solely for the Tacoma like the 6ft mattresses are — however, they're compatible with all Tacomas nonetheless.
They offers just about the best night's sleep you'll get if you prefer sleeping in the bed of your truck over a rooftop tent or cabover camper. It's shaped to fit snuggly around the wheel wells and only takes a few minutes to set up and inflate with the included cordless pump.
Each mattress sleeps 2 people (up to 300lbs per side). The 6ft model inflates to 4" tall, packs down to 10" x 23" inside the included storage bag. The full system weighs 13lbs.
Why It's a Worthwhile Overlanding Accessory
Versatility: Each half of the air mattress inflates individually. This feature lets you customize each side of the mattress to be firmer or softer based on personal preference. You can also leave half of the mattress uninflated if you're overlanding alone and need the extra space for gear in your truck bed.
Durability: Luno's "lifeproof" 300D Oxford fabric is made for the hard wear that's inherent with overlanding. It resists punctures from pet nails, pine needles, and other debris that make its way into the bed of your Tacoma. It's also water resistant. Many quality tents are made of the same material so you know it's built to hold up through repeated use.
4. MPOWERD – Luci Solar String Lights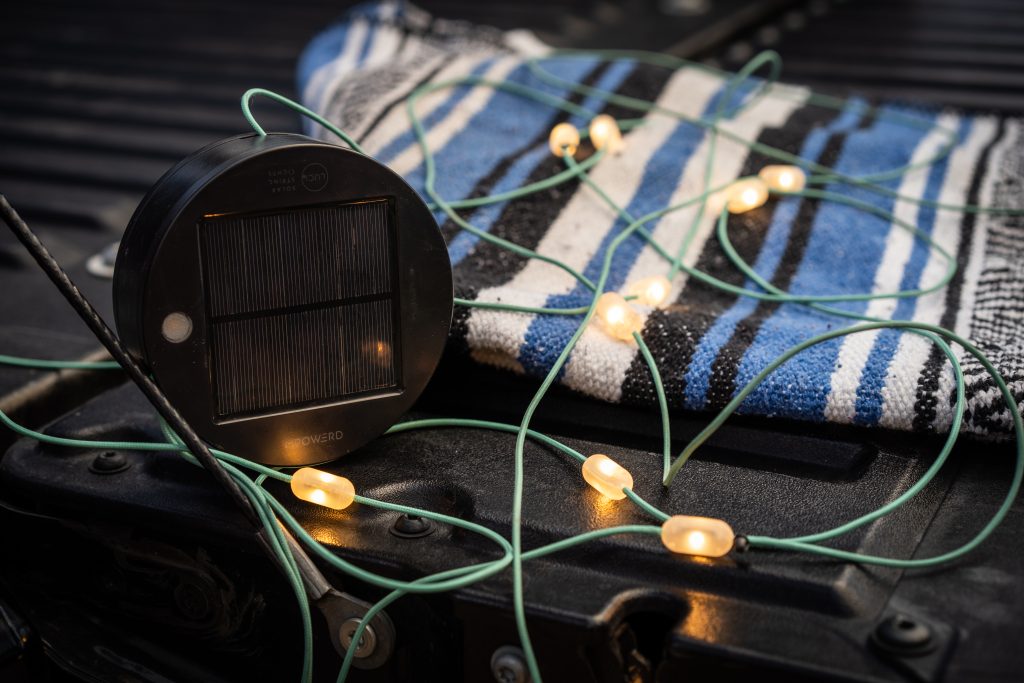 Find It Online
Luci Solar String Lights by MPOWERD set the tone wherever you set up camp, whether that's soft white light to illuminate a chill night solo by the fire or a pink light party vibe with your friends.
An 18-foot braided nylon strand with shatterproof light nodes packs conveniently into a 5"D x 2"H expandable disk with a small solar panel for recharging during the day. You can purchase Luci Solar String Lights in both multicolored and soft white lighting options — both offer various lighting settings to choose from. They're durable, water resistant, and provide ambiance at camp and inside your Tacoma.
Why It's a Worthwhile Overlanding Accessory
Illuminate your campsite: Luci Solar String Lights pack up to 100 lumens along the 18ft strand and include an external flashlight on the expandable disk that the light strand packs into.
Solar-powered battery: You can fully recharge your string light in 16 hours using the built-in solar panel. The housing also features USB-A and USB-C ports for a quicker charge in 6-8 hours.
Personalize camp lighting: The soft white lights offer 4 lighting settings: low, medium, high, and flashlight. The multicolor light strand has 6 color options: blue, violet, pink, green, cool white, and color cycle mode.
5. ROAM Adventure Co. – 83L Rugged Case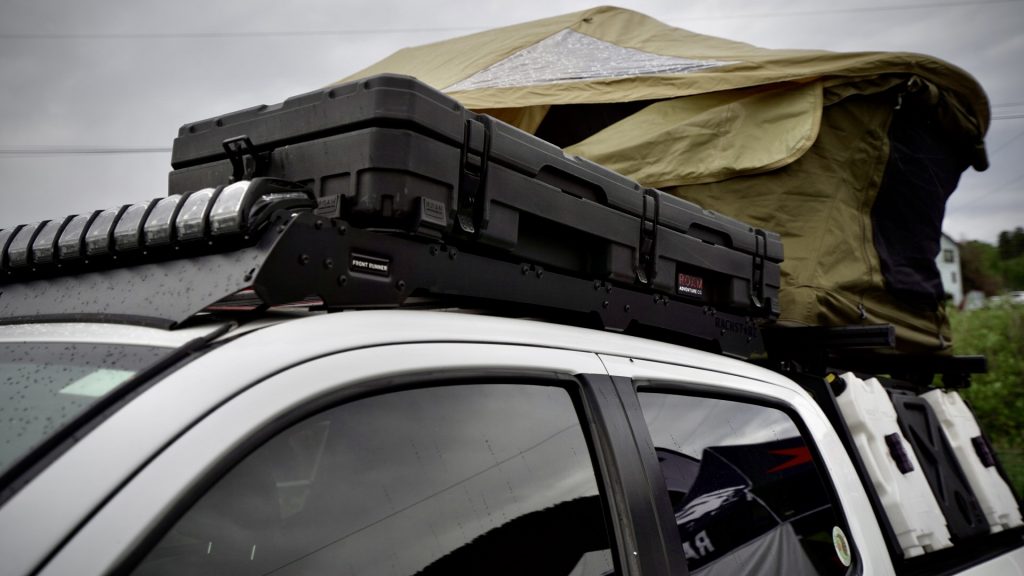 Find It Online
If you're willing to put down a pretty penny, the ROAM Rugged Case is the pièce de résistance of heavy-duty storage for overlanding. Unfortunately, it doesn't come cheap and if you want to mount the case to your roof rack you'll have to purchase the rugged mounts separately.
All that aside, the 83 Liter Rugged Case is a sleek, low profile, and heavy-duty as it gets. Each case is made of impact-resistant low density polyethylene (LDPE) with gas struts supporting the lid, steel hinges, and lockable steel latches. The exterior dimensions are 50.75"W x 19.75L x 8"H and the interior dimensions are 46.75"W x 16"L x 5.5"H — weighing in at 25lbs.
Why It's a Worthwhile Overlanding Accessory
Colorways: The 83L Rugged Case comes in three colorways to choose from: Black, Desert Tan, OD Green, and Slate.
Premium quality: The craftsmanship that goes into these cases is undeniable. From the military grade seal that's dustproof and waterproof to thoughtful tie-down channels and handles just about everywhere you grab for easy maneuvering. Premium design and quality reflect the premium price tag.
Keep your cab and bed clear: Chairs, shovels, axles, and recovery gear are all things that are nice to keep out of your cab and bed — especially if you're sleeping in the bed of your Tacoma. Fortunately, these are all things that fit in the ROAM Rugged Case and you can trust that they'll stay safe, clean, and dry without facing any unnecessary wear and tear.
Compatible accessories: If you're looking for the ultimate organization of your gear you'll love the lid Molle panel and lid organizer accessories that can be purchased separately.
6. Sea To Summit – Evac Compression Dry Bag HD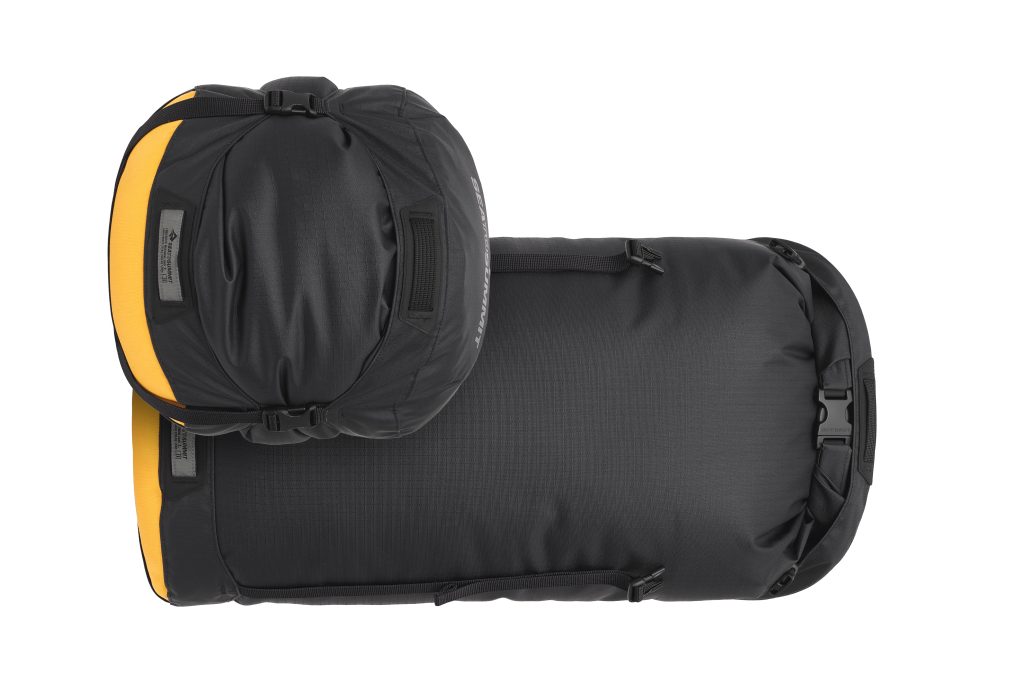 Find It Online
Looking for extra gear storage with a friendly price tag? Sea To Summit's Compression Dry Bag HD is just that, without sacrificing quality. These high-performance dry bags are made to take on inclement conditions in Australia's infamous outback where Sea To Summit was born.
With options for 8 to 35 liters, you'll have no problem finding a size that fits the gear you need to stow. The Evac Compression HD was designed with overlanding in mind and is far more reliable than any other compression dry bag I've come across.
Why It's a Worthwhile Overlanding Accessory
Water, puncture, and abrasion resistant: The base is made out of 500D Cordura nylon which allows air to be pushed out for tighter compression without allowing water in. The body fabric is TPU laminated 420D ripstop nylon with a 10,000mm hydrostatic head (ideal for conditions with snow or heavy rain showers) and double-stitched tape-sealed seams — reinforced at all stress points.
Straps to roof racks and Molle panels: The bag is made to be strapped to your roof rack with sturdy lash loops.
Convenient: It's easy to pack and can be filled to the brim while maintaining its integrity at the seams. The 4 straps allow for even compression. This makes them great for storing sleeping bags without damaging the fill. Side-release buckles allow easy access to the contents inside.
7. LavaBox – Portable Campfire Hekla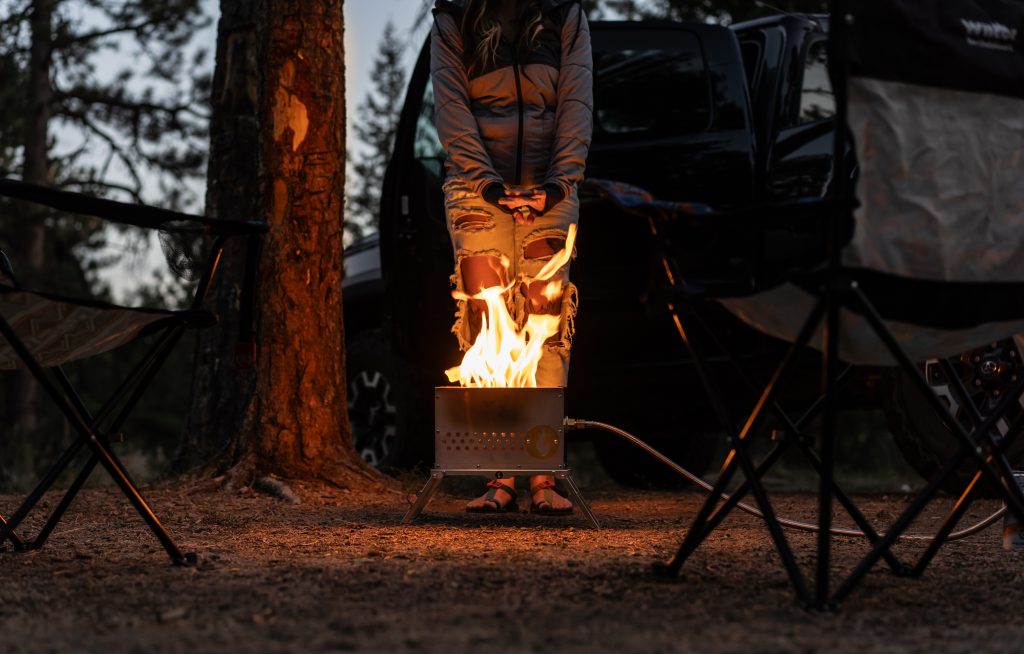 Find It Online
LavaBox Portable Campfire builds propane-fueled portable fire pits that are housed inside military-grade ammo cans. The Hekla is built tough being made completely of stainless steel including LavaBox Portable Campfire's patent-pending stainless steel burner. It looks slick at camp and produces a massive flame reaching up to 280,000 BTUs.
You'll love how compact this portable campfire is. At 11"L x 5.5"W x 7"H and 7.5lbs, it packs away easily. Mine even fits snuggly on the floor in the back seat of my access cab Tacoma.
Why It's a Worthwhile Overlanding Accessory
Built to take a beating: LavaBox Portable Campfires were originally built for whitewater rafting. This means they're built to take a beating and continue to run with minimal upkeep.
Fire ban compliant: All LavaBox Portable Campfires are stage 1 and stage 2 fire restriction compliant in most places. If evenings spent around a campfire are a non-negotiable part of the overlanding experience for you, bringing along a Hekla ensures you're able to do that even when you can't burn a wood campfire. The included ceramic Hades Stones even give the propane fire the look of a traditional campfire.
Works for cooking: The Hekla comes with a stainless steel over/under grill piece that functions as both a stand for the portable campfire and slides on top of the ammo can to be used as a grill for cooking.
8. PACT Outdoors – Bathroom Kit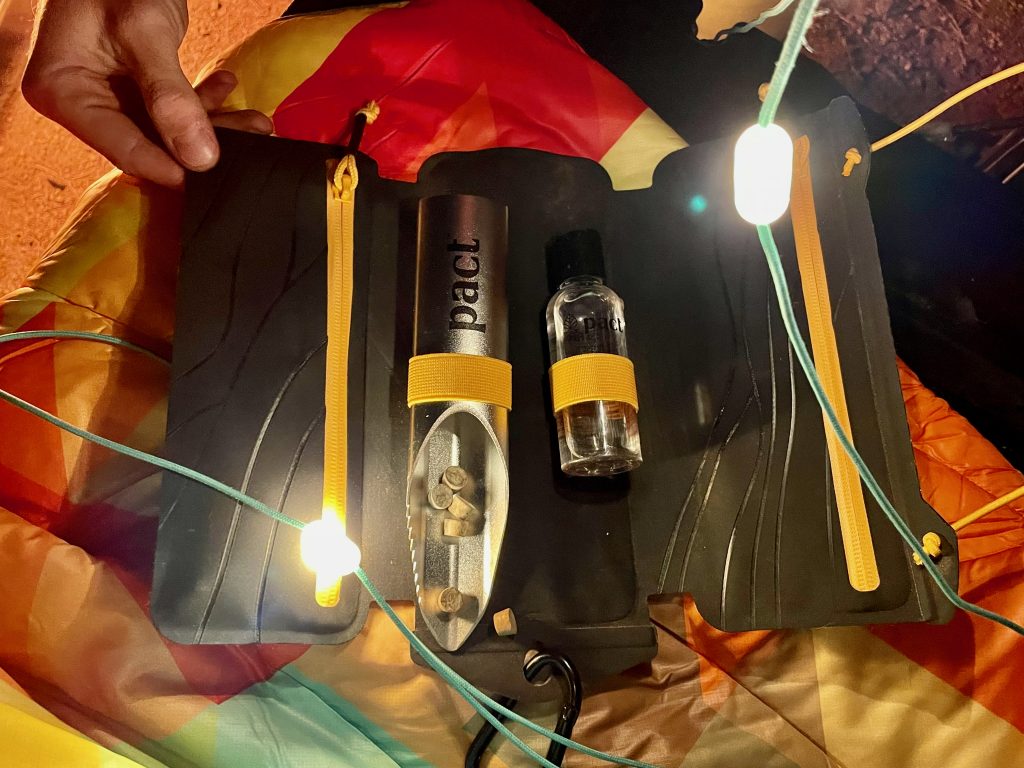 Find It Online
An accessory that makes the most uncomfortable part of overlanding a little more comfortable. You might even start to enjoy doing your business in the backcountry. The PACT Outdoors Bathroom Kit not only makes using the bathroom outdoors more clean and comfortable for you but also reduces the environmental impact.
Inside the durable tri-fold case, you'll find an aluminum shovel, a reusable trash bag, hand sanitizer, expandable wipes, and mycelium PACT tabs. Literally, everything you need to do the job. This is one of the most thoughtfully designed pieces of camping gear I've come across. It's compact, lightweight, easy to stow away or hang from a Molle panel, and makes long trips away from facilities feel much more sanitary.
Why It's a Worthwhile Overlanding Accessory
Reduces impact: PACT tabs are compacted mycelium from fungi. This particular mycelium species is native to most ecosystems in the US and is noninvasive so its addition doesn't cause any harm. PACT Tabs are proven to kill bacteria (like E.coli) in human feces and they break down poop up to 10x faster than it biodegrades otherwise. PACT Wipes are also biodegradable and break down quickly when buried with PACT Tabs and water.
Reusable: The PACT Outdoors Bathroom Kit comes with enough PACT Tabs (60 count) and PACT Wipes (20 count) to last up to 20 trips to the bathroom. Refills can be purchased without having to buy a whole new Bathroom Kit. The kit also includes a washable, reusable trash bag that can be used to pack out any additional toilet paper or trash.
Compact and convenient: Everything included has a designated place — from loops to secure the shovel to zippered pockets for PACT Tabs and Wipes. Each PACT Wipe is compressed to about the size of a nickel and about a centimeter thick. Just add water when you're ready to wipe. Each PACT Wipe expands 9" x 9" wet wipe.
Final Thoughts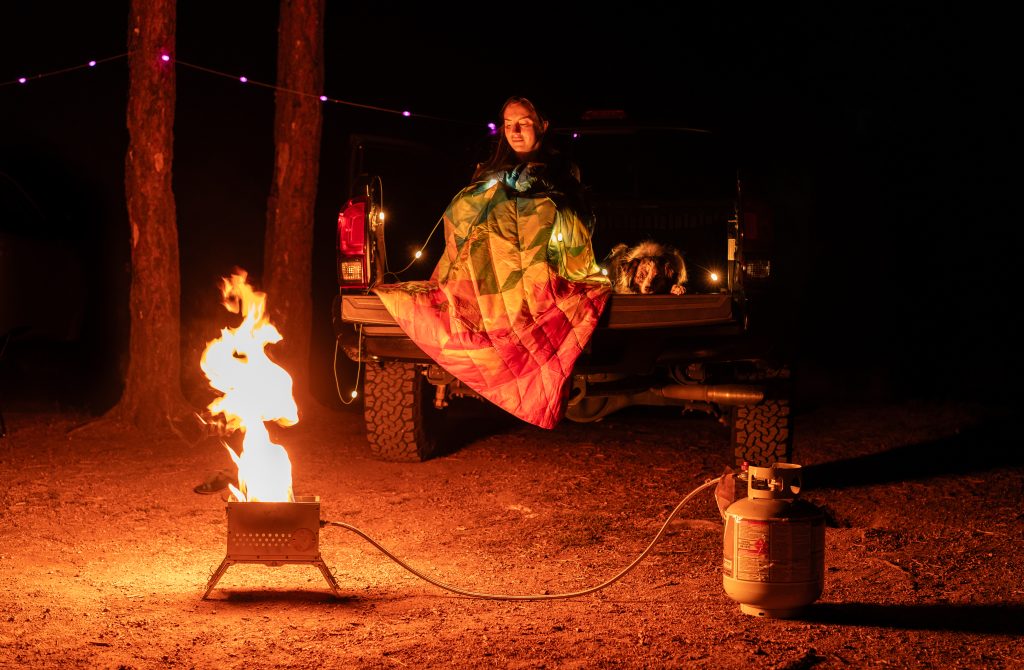 If you spend much time exploring the backcountry and camping in your Tacoma you probably have most of your overland equipment "needs" met. But there are tons of fun, luxury, and novelty overlanding accessories that help add personality and comfort to your setup and make time spent on the trails feel a little bit more like home.
Sometimes the smallest pieces of gear make all the difference. If you're looking for game-changing overlanding accessories that will level up your experience, look no further. Each of these 8 overlanding accessories has been tried, trail-tested, and proven time and time again.