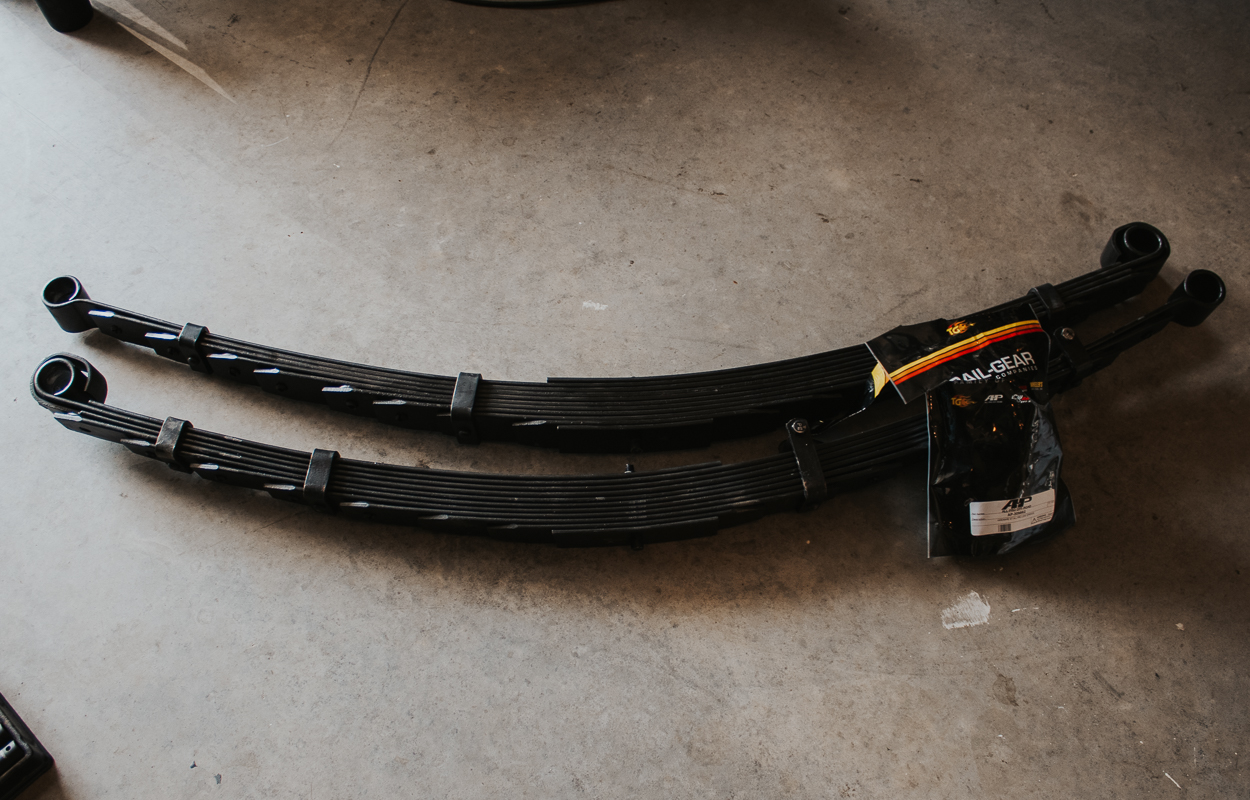 Comparing The 3 Different All-Pro Off-Road Leaf Spring Options For (2005-2023) Tacoma – What To Know & How To Choose
Upgrading the leaf springs on your Tacoma can make a huge difference in terms of ride quality, performance, and load-carrying capacity. This makes choosing the right ones for your needs critical, especially with heavy overland builds or if you frequently tow.
This can be difficult for the simple fact that there are just so many different options on the market. Luckily, All-Pro Off-Road makes that decision a little easier with their new 3″ leaf springs, which come in three weight load capacities.
Find It Online
Discount Code
Use code – TRAILCO – for 10% off!
All-Pro Leaf Packs For Tacoma
Option 1. Standard Springs
The standard spring option is perfect for the Tacoma owner who consistently carries stock to minimal weight. They provide a 3″ lift in the rear with no weight and feature a special torque leaf in order to minimize axle wrap. The leaf pack is made up of 11 individual leaves and has a progressive spring rate for a smooth ride both on and off-road.
Between each leaf are Teflon friction pads that provide smooth and quiet movement during articulation. All All-Pro Off-Road leaf packs also feature a military-wrapped eyelet, making them super durable and able to withstand years of abuse.
Key Features
10 Leaves + 1 Overload/Rebound Leaf
Spring Rate: 151 lbs/in
Option 2. Expedition Springs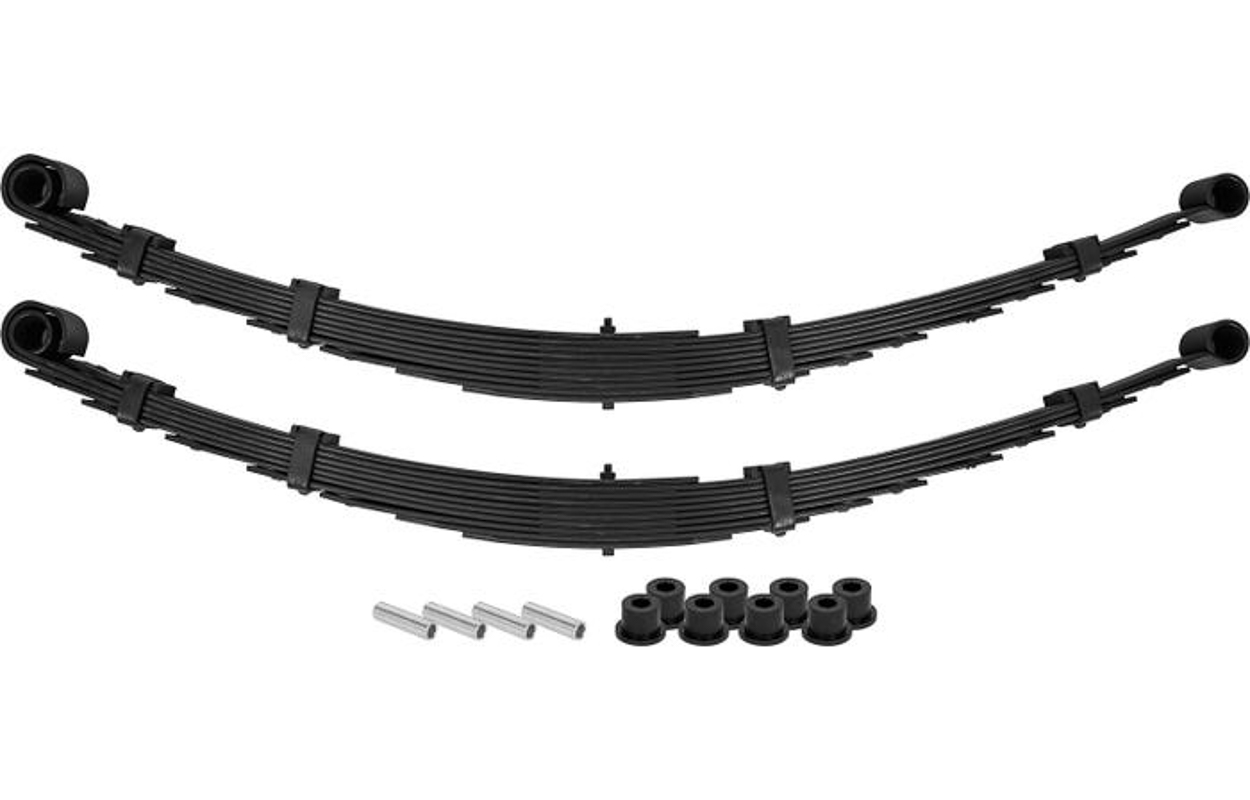 The next option is more of a "medium-heavy duty" leaf pack designed for a constant load of up to 500 lbs. in the bed. It has a total of 10 leaves but keeps the same features as the standard pack. This pack provides a 20% increase in spring rate to help carry more weight in the bed such as a rooftop tent, camper shell, or a lot of gear. This pack may settle roughly half an inch over time, netting you about 2.5″ of lift.
Key Features
9 Leaves + 1 Overload Leaf
Spring Rate: 207 lbs/in
Option 3. Expedition 2.0 Springs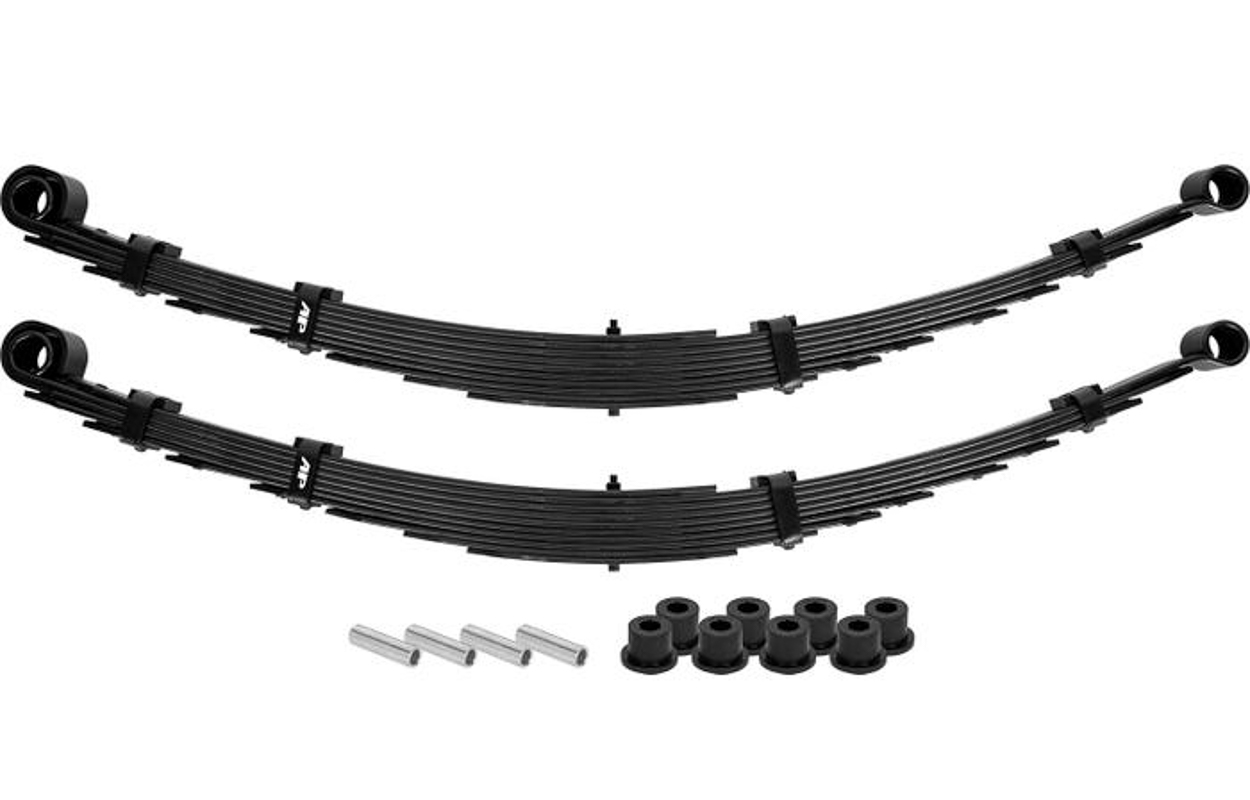 If you are someone who keeps their entire campsite in the bed, has a camper setup, very regularly tow large loads, or just have a ton of weight in the bed, the Expedition 2.0 leaf springs are for you. This pack is designed to carry a constant load of up to 1,000 lbs., doubling the amount of weight from the previous pack.
Again, this pack keeps the same features as the other packs such as a progressive spring rate, Teflon anti-friction pads, and a military-wrapped eyelet. These springs will still perform and provide a great ride quality both on and off-road up to their rated load capacity.
Key Features
9 Leaves + 1 Overload Leaf
Spring Rate: 248 lbs/in
My Setup – Review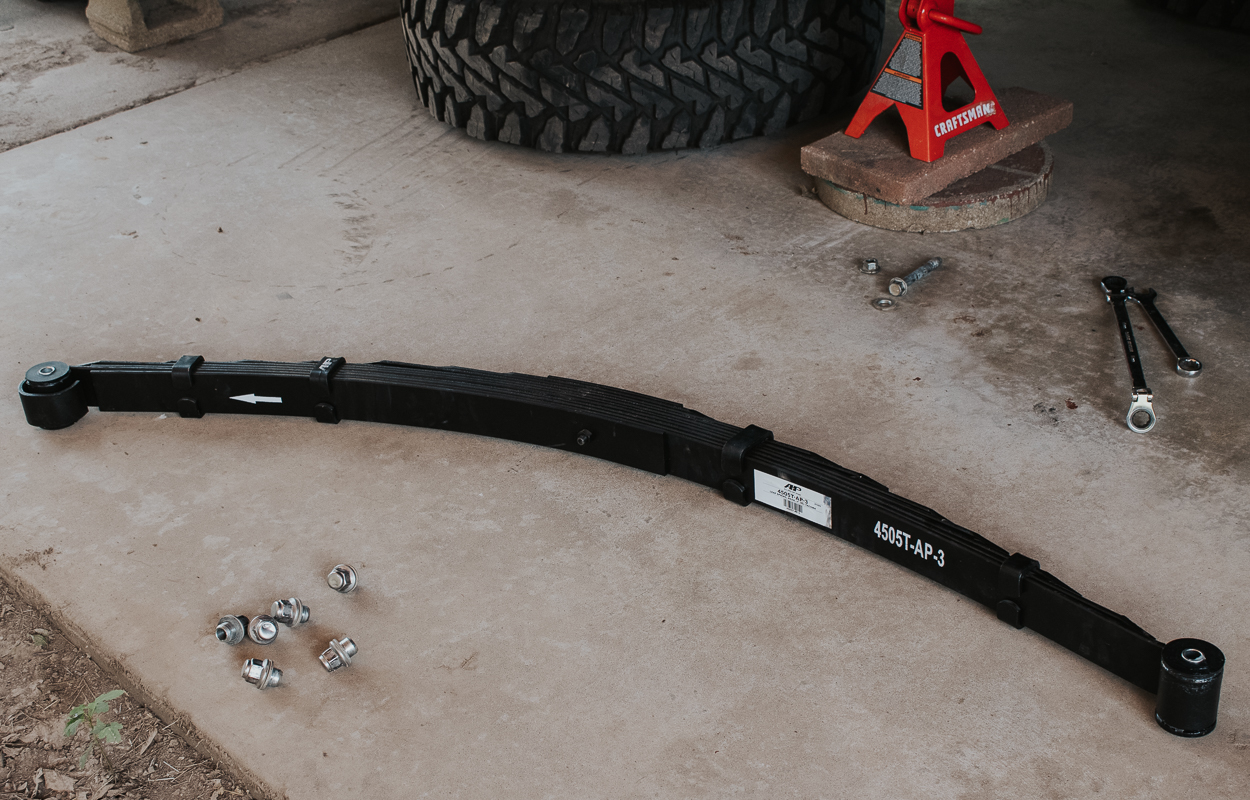 Since I typically don't carry any weight in the bed except the weight of my Softopper, I decided to go with the standard leaf pack. These came with new bushings and bushing sleeves designed to work perfectly with the new leaf pack.
Note: You will need longer U-bolts for these since the leaf packs are much thicker than stock. You'll also need extended-length bump stops in order to prevent the springs from inverting as the stock bump stops aren't long enough. I highly recommend sticking with the Trail Gear brands and going with their Wheeler's SuperBump Bumps Stops.
The installation process for these leaf springs is the same for all others on the market – but these come without the bushings pre-installed. After installing them, the difference between my old Icon leafs was night and day.
After switching out my old leaf springs for the All-Pro standard springs, I immediately noticed how smoothly they flexed due to the Teflon anti-friction pads compared to my previous setup.
I also noticed that I gained roughly 1″ of lift from the old setup. This gave my Tacoma roughly 1″ of rake with my 2″ lift in the front.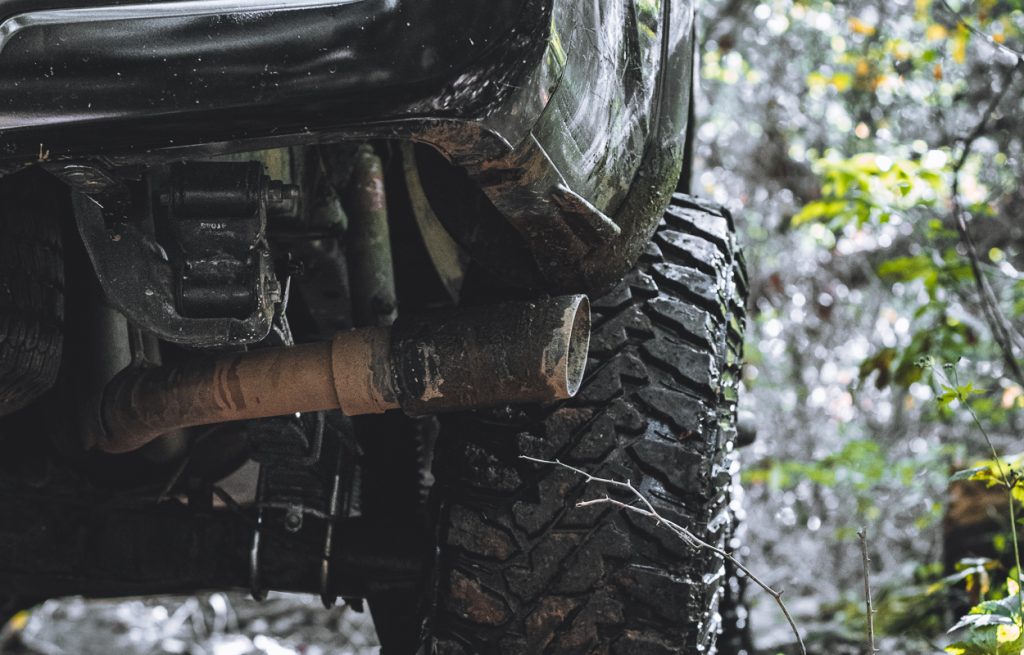 My ride quality changed drastically, in a very noticeably way. I felt like the truck was more planted to the ground and controllable over bumps instead of the skipping/bouncing feeling I had with the previous ones.
Final Thoughts
The All-Pro Off-Road 3″ leaf springs are a great choice for the Tacoma owner looking to upgrade their stock or worn-out ones with a high-quality and feature-packed set. With three weight capacities, there's an option for every truck, whether you have no weight or 1,000 lbs. for a great ride and unmatched performance.
I highly recommend going with them if you want a more controlled ride both on and off-road while also being confident that they will last you for years of adventures.