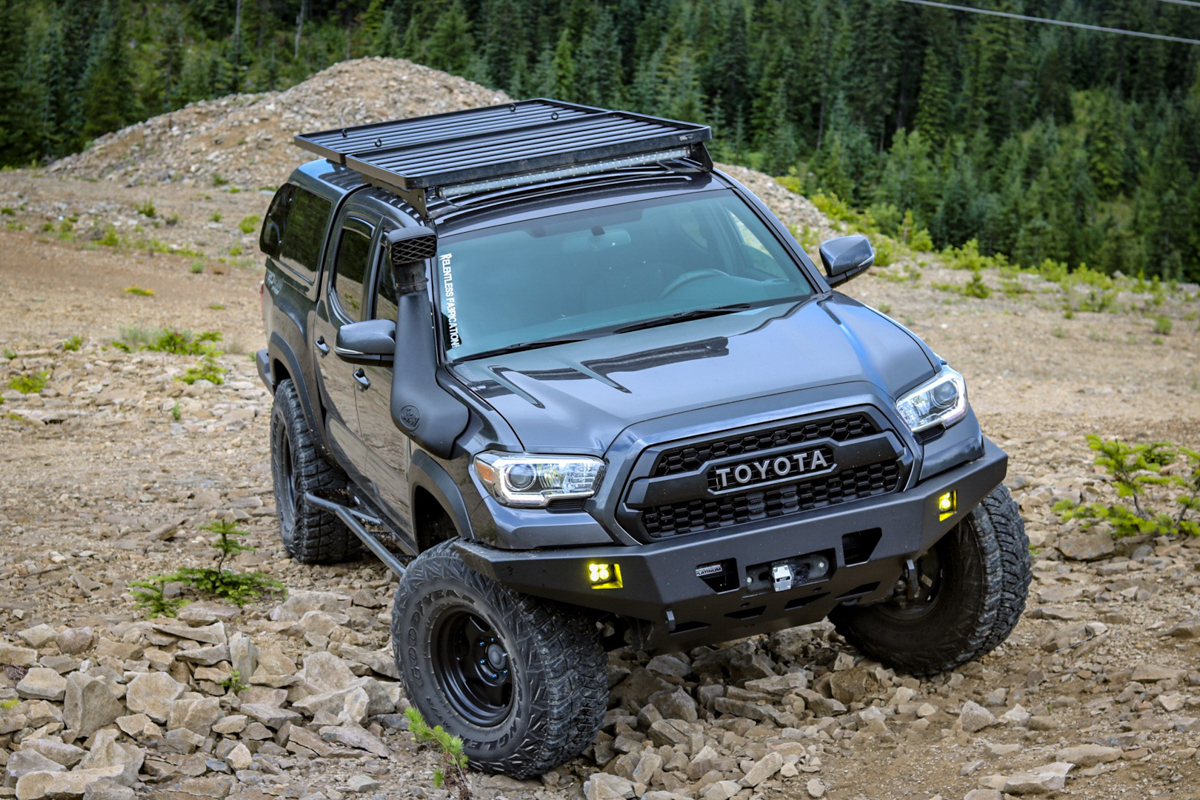 Photo cred: @leecampaign
Top Popular Roof Rack Options By Style, Design & Types For The 2nd & 3rd Gen (2005-2023) Tacoma – Detailed Buyer's Guide & What To Know Before Buying
Looking for a new roof rack?  Perhaps something that you can use on an everyday basis and get some off-road use from?
Well, we researched to the edge of the off-road world and back to bring you the top (most common) roof racks that any 2nd or 3rd Gen Tacoma owner should contemplate when choosing a new roof rack. Consider this the ultimate roof rack buying guide for late-model Tacomas.
It does not matter if you are a hardcore wheeler, a family looking for more storage space or someone who likes to wheel hard on the weekends. We got you covered.
From the best of the best and the most well-known racks, like Front Runner, Gobi Racks and Prinsu, to several others, we covered the most commonly run options.
Benefits Of Roof Racks?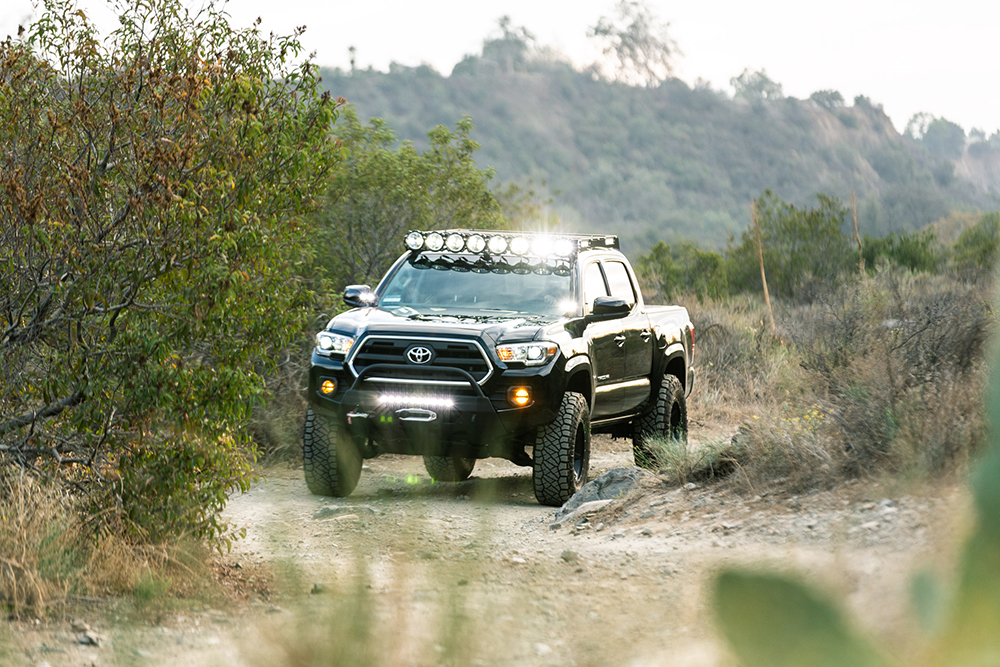 Adding a roof rack is an excellent idea for anyone who off-roads, goes on road trips and even families who are looking for some extra storage up top to free up interior room.
Roof racks can be a costly investment, so before randomly making a purchase, first, understand how you are going to use the rack. Look at the next 1-5 years and try to understand which rack fits your style best. A roof rack can be an extremely practical modification and can serve you not only on the trail but while running errands around town. Doing your research is key to buying the correct rack.
Do You Need Storage?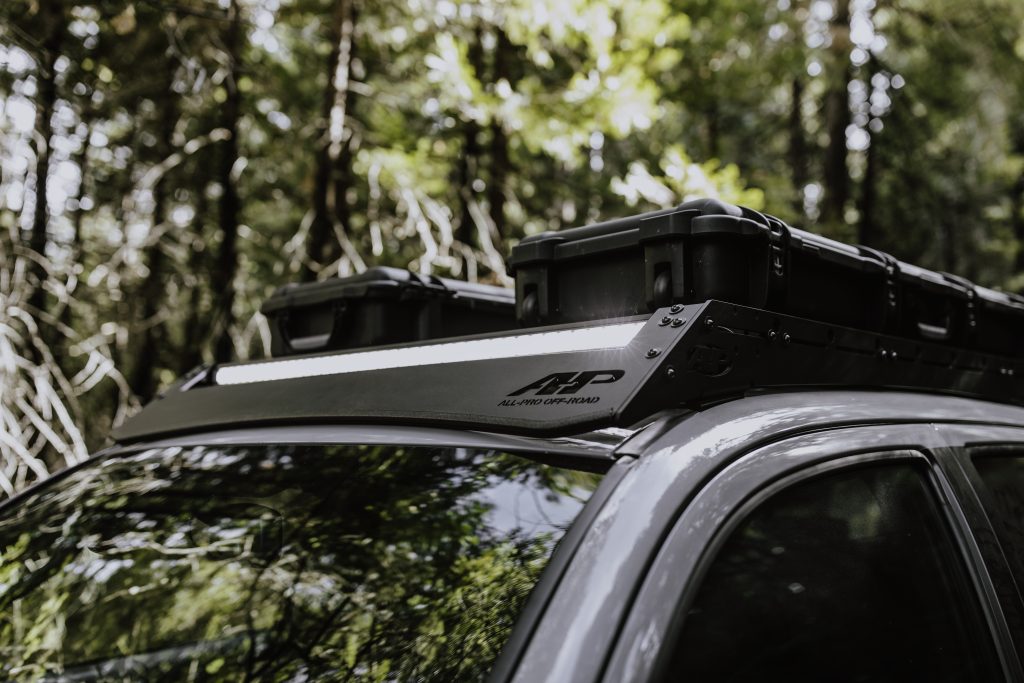 There are countless reasons why you should consider additional storage space on your truck. Here are a few of them.
#1 – Off-Road Storage
You can throw just about anything on your new rack – storage boxes, recovery gear, auxiliary fuel tanks, awnings, recovery/traction boards, hi-lift jack, water containers, camping accessories, overland showers like a WaterPort and even a rooftop tent.
If whatever you are storing can brave the elements and is not absurdly heavy, you can mount it on the roof. Besides, having some of your gear on the roof can allow for easier access and can save you valuable time while traveling or setting up camp.
#2 – General Storage
Roof racks are great for more than just off-roading and Overlanding. From trips to the hardware store for lumber or irrigation pipes, drywall, plumbing materials, to your wife's random gardening needs – roof racks offer that utilitarian benefit that almost no other mod can.
Having cargo space on the top of your truck offers you the ability to store and transport other large items for your adventuring needs. These might include your kayaks, canoes, snowboards, paddleboards, suitcases, cargo storage boxes, bike racks and whatever else you can dream up.
#3 – Auxiliary Lighting
Aftermarket racks give you a variety of solid mounting options for any kind of lighting setup you can think of. From full length LED bars, to reverse lights and markers, there are lots of possibilities. Pictured above is a KC Pro6 MRack but there are many different lighting options you can run on your Tacoma. From chase lights to scene lighting and work/area lighting – roof racks usually offer plenty of mounting points.
#4 – Practical Lifestyle
Outside of Overlanding and off-roading, a roof rack can be very practical for everyday life. Running to the store to grab large items? Throw them on the rack. Have filthy gear that is going to make your interior a mess? Throw it on the rack. Run out of space for your over-sized tires? You guessed it, throw them on the rack! We could keep going, but you get the idea.
Are They A Must-Have? 
This might be one of those must-have modifications for your truck that pays for itself daily and ease of use. Roof racks are not for everyone but they sure do check many boxes for many builds.
Are you having a hard time choosing which rack is best for you? Well, you can relax. We dove deep through social media to bring you the ultimate list of commonly run roof racks on 2nd and 3rd Gen Tacomas. This overview is the culmination of many personal conversations and research along with several first-hand user experiences and their feedback – all packaged into one convenient reference point. Hopefully, this guide will help you make the best purchase for your specific needs.
A lot of people are searching for the best Tacoma roof rack out there. Well – best is pretty relative. The following is not a list that ranks roof racks in order from best to worst. Every roof rack has its own set of pros and cons – and that is what we are discussing here. This is a collection that can be used to compare racks back to back and see which one fits you best. That is the point – finding a rack that fits your specific driving and adventuring style best.
They all vary in price, material, finish, options, along with multiple add-on accessories. Everyone is going to have a different goal so take a look through these racks. Hopefully, this helps you get closer to making your final decision on which rack fits your Tacoma the best.
Cali Raised LED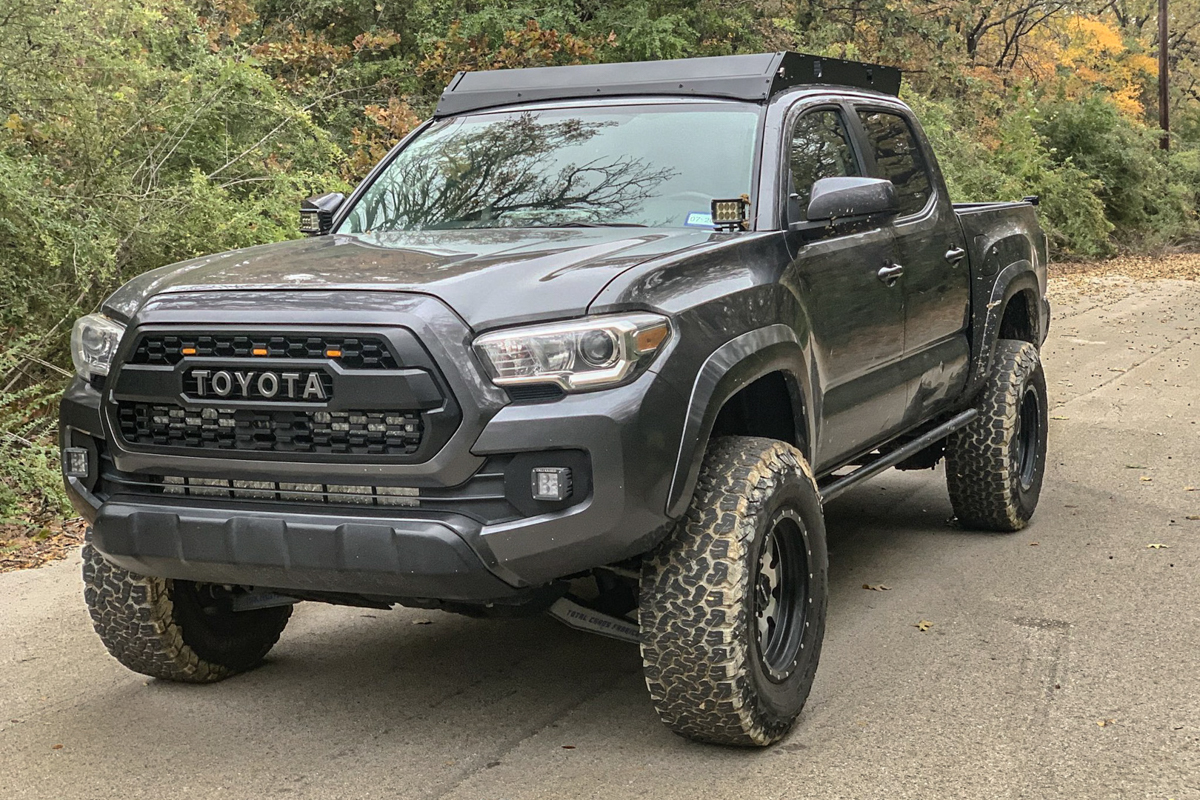 Find It Online
Cali Raised LED came on the market a few years ago but man, have they done well for themselves. Not only do they make some great lights, they now offer several other products. Their team consists of a highly motivated group that is well equipped to handle many of your off-road needs.
Two of Cali Raised newer products are the Economy Roof Rack and the Premium Roof rack. These racks have been completely designed in CAD to maintain quality and a good fit.
Economy Rack: a simplified version of the premium rack, it is perfect for those who do not need the adjustable version.
Premium Rack: this rack features an industry first Adjustable LED Wind Deflector, which lets you keep your LED bar protected when you are not using it and decreasing wind noise while on the road. This is a clever feature and keeps your rig looking clean!
Both options are easy to install and 100% bolt-on, no drilling is required. They come with a black powder coat with 6 crossbars and all they need is hardware. They also come with mounting holes for grab handles. The Standard comes with a single row LED cutout or no LED cutout. The Premium version is available in standard, which has smooth sides, and a 360 lighting option, which has room for LEDs on all sides.
Cali Raised stands behind their products. All products are tested before being fulfilled. They provide a 2-year warranty on all their products. Cali Raised also offers lighting packages to make your life easier. A true one-stop-shop!
PROS
More affordable
No drilling needed
Different rack options based on your needs and tastes
Durable coating
Shorter lead times
Lightweight
Versatility
Low profile
CONS
Lower gas mileage
Increases noise from the wind
Prinsu Design Studios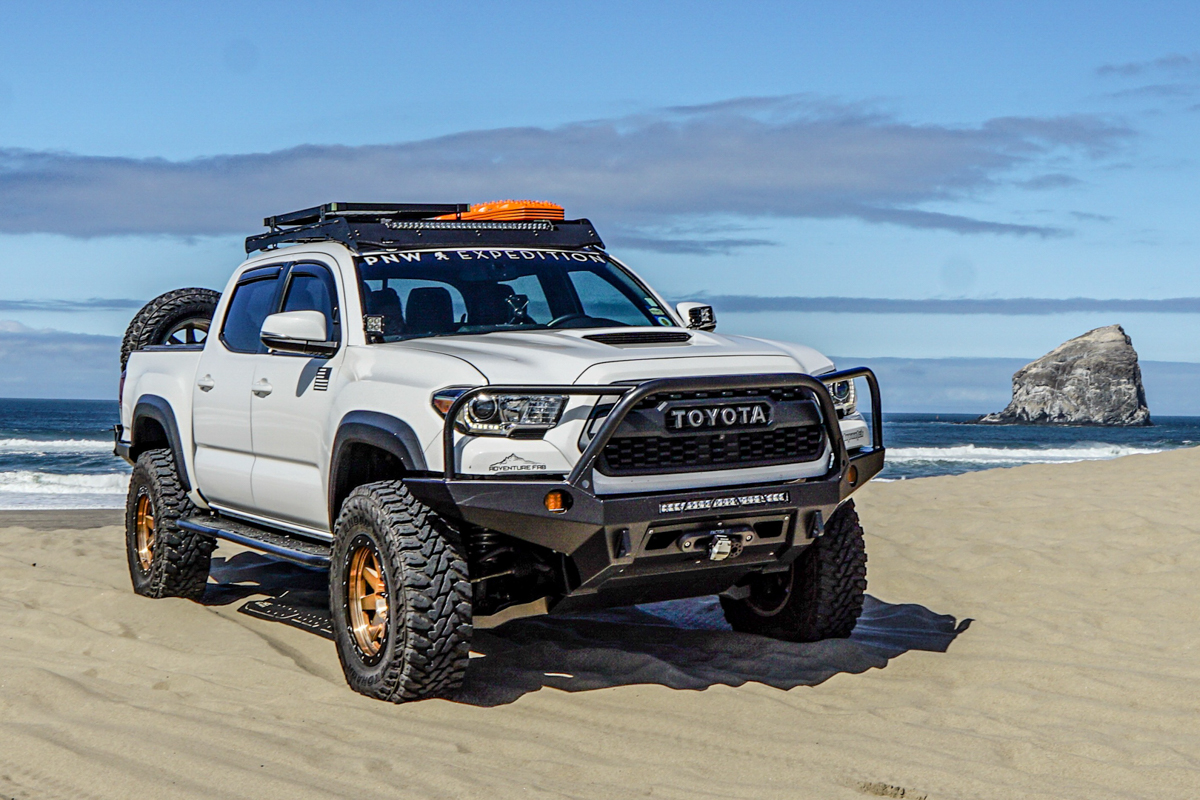 Photo cred: @pnwx.taco
Find It Online
A few years ago, roof rack options were sparse. The selection was bland and although there were several good options, there was room for innovation. Prinsu was one of the companies to step in and fill the void. Prinsu really set a trend in the CNC designed roof rack industry. Since its inception, many companies have started going this route.
They started building flat racks for Toyota trucks and quickly became popular among the community. Prinsu was acquired by CBI Off-Road Fabrication in 2017. CBI has taken a solid foundation and concept and applied their meticulous attention to detail and infrastructure to take Prinsu to the next level.
Prinsu offers four types of racks: the Cab, the Habitat, the Access, and a Top Rack.
The Cab rack: made for Tacomas that have the double cab option, no drilling required.
The Access rack: made for crew cab models, drilling required.
The Habitat rack: made for trucks with expandable bed-based campers, like Go Fast Campers, which partially extend over the back of the truck's roofline.
The Top rack: made for bed toppers, much like the options that exist with Front Runner racks, models are available for long and short beds, can be bolted direct to topper but it is not the preferred method, no drilling required.
All Prinsu racks are modular to allow for maximum configuration capability. They are made of aluminum and come with an aluminum wind deflector. All hardware for assembly is included in the purchase price as well as a wind deflector. The racks come black satin powder coated. A cutout for 40" light bar can be added and Prinsu sells light bar mounts. Noise-reducing trim is offered too. Several accessories add value: load panels, cargo basket kits, traction board mounts and a few others.
Prinsu provides a lifetime warranty for all racks.
PROS
Lightweight
Well established company
More affordable
Versatile
Low profile
Shorter lead times
CONS
Increased noise from wind
Lower gas mileage
Drilling required on certain models
All-Pro Off-Road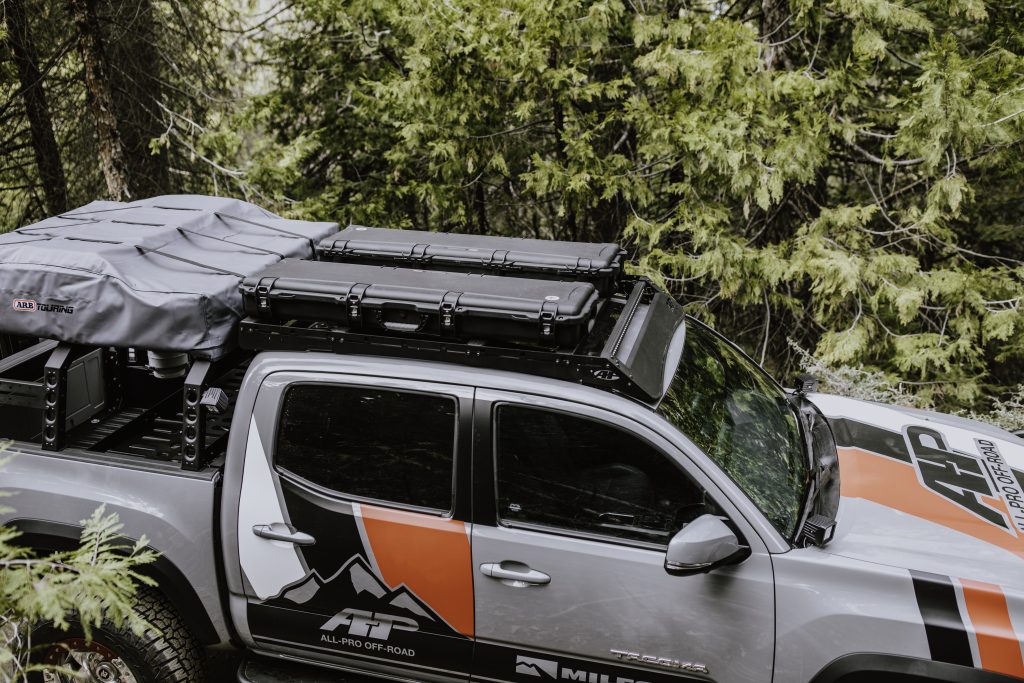 Find It Online
Since the 1990s, All-Pro has been making quality products for the Toyota aftermarket scene. With dialed, complete product lines for the Tacoma, this roof rack option fits in nicely.
With a simple no drill installation, quality aluminum (5052) materials and durable black powder coat – this rack is built to last. Options include a cutout for a 40″ light bar. It also comes with pre-drilled holes to fit a variety of aftermarket accessories.
With low lead times, an established brand, and extensive product lines, make sure you check these guys out.
PROS
Lightweight
Established company
Durable coating
Low profile
Versatility
No drilling needed
1-year limited warranty
Low lead times
CONS
Lower gas mileage
Increased noise from wind
AL Offroad
Find It Online
First up, we have a brand new company to the Toyota roof rack scene. AL Offroad makes its products in the U.S. and they are 100% constructed from aluminum and stainless steel. Looking for a custom colored rack? AL has you covered! Custom color is available for all racks. You can also choose to add black logos and black stainless hardware.
This rack provides you with a great opportunity to support small business and save some coin compared to the other options on this list. They also recently launched a GFC camper compatible rack. Read the camper rack post here.
*** Update 11/11/21 ***
Since this post originally came out, AL has completely redesigned this rack. It's much stronger and our experiences with it have us confidently saying that the new rack is one of the strongest on this list.
Check out our latest article on the all-new AL Offroad HD Roof Rack here.
PROS
Lightweight
Versatile
Affordable
Short lead time
CONS
Lower gas mileage
Increased noise from wind
Gobi Racks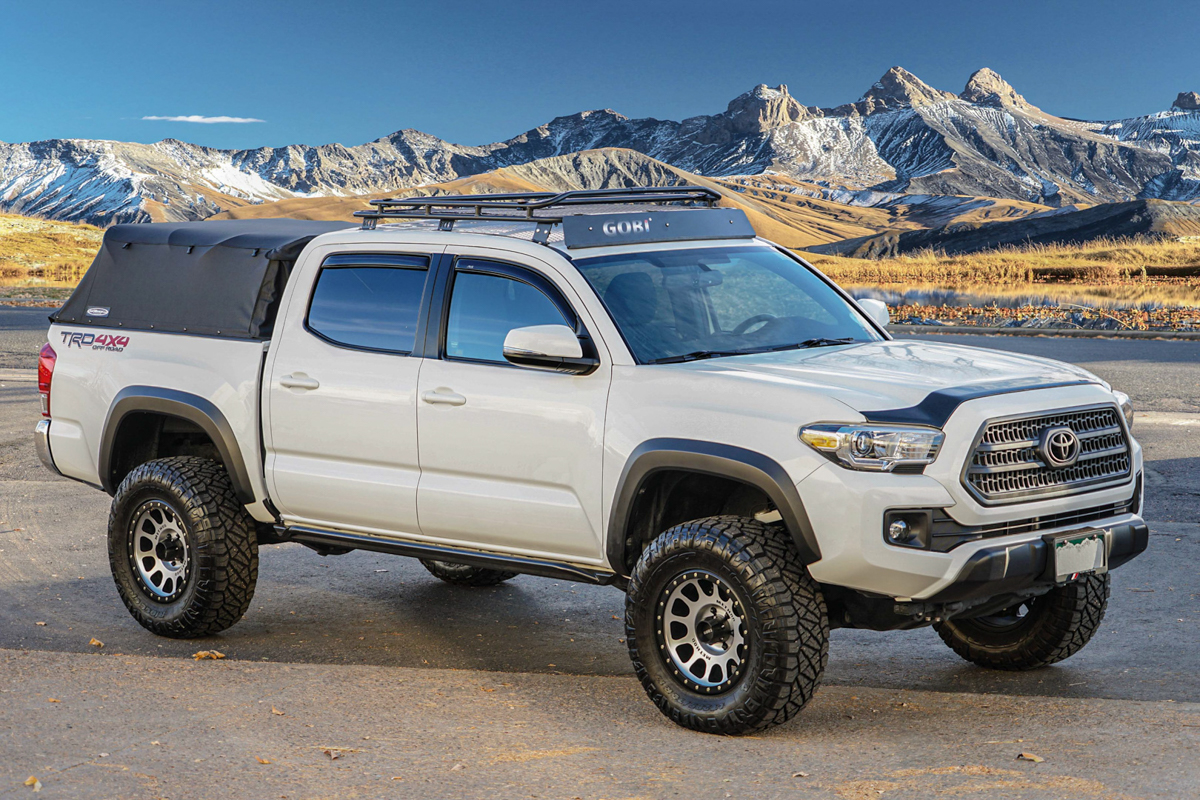 Find It Online
Chances are that you already know Gobi Racks makes some of the best roof racks in the industry. GOBI got started with a vision to construct strong and visually striking racks using only the best materials and current design ideas. They identified the issue, that often, looks are sacrificed for functionality. With that in mind, they continue to set the bar extremely high for great products and almost unmatched quality.
Gobi offers two models of rack: The Ranger and The Stealth.
The Ranger Rack: offers a deeper basket, reminiscent of retro racks from the early days of outfitting rigs to explore uncharted territories.
The Stealth Rack: offers a sleek, modern design that looks great in any scenario.
All the models come with a rust preventative coating and black powder coat to provide years of durability and protection. They allow a driving load capacity of 300 lbs and a static load capacity of 600 lbs. The GOBI design does not require any drilling and attaches firmly to factory mounting points. All the racks are mounted to your vehicle with stainless, grade 8 (automotive grade) nuts and bolts and include detailed install guides.
The GOBI provides several mounting surfaces for light bars and accessories. You can order your rack with a single or multiple light setups. There are options with and without an opening for a sunroof and both models come standard with two removable crossbars, GOBI vinyl decal, free freight shipping to 48 states, a wind deflector and a GOBI accessory of your choice. All racks come with a standard limited one-year warranty.
GOBI has an incredible amount of options accessory wise to fit anyone's needs. From toolboxes to awning mounts, shovel attachments, tie-down straps and a few more, GOBI has got you covered. 100% USA made; you will be supporting a company that prioritizes quality.
Even though these are a little more expensive, think of it as a long-term investment for your rig. Keep an eye out for special offers like discounts and free GOBI backpack with your purchase.
PROS
Well established company
Super solid construction
Different rack options based on your needs and tastes
Lots of accessories
Durable coating
Versatility
Multiple basket options
No drilling needed
CONS
Long lead times
At the higher end of the spectrum price-wise
Increased noise from wind
Lower gas mileage
KC HiLiTES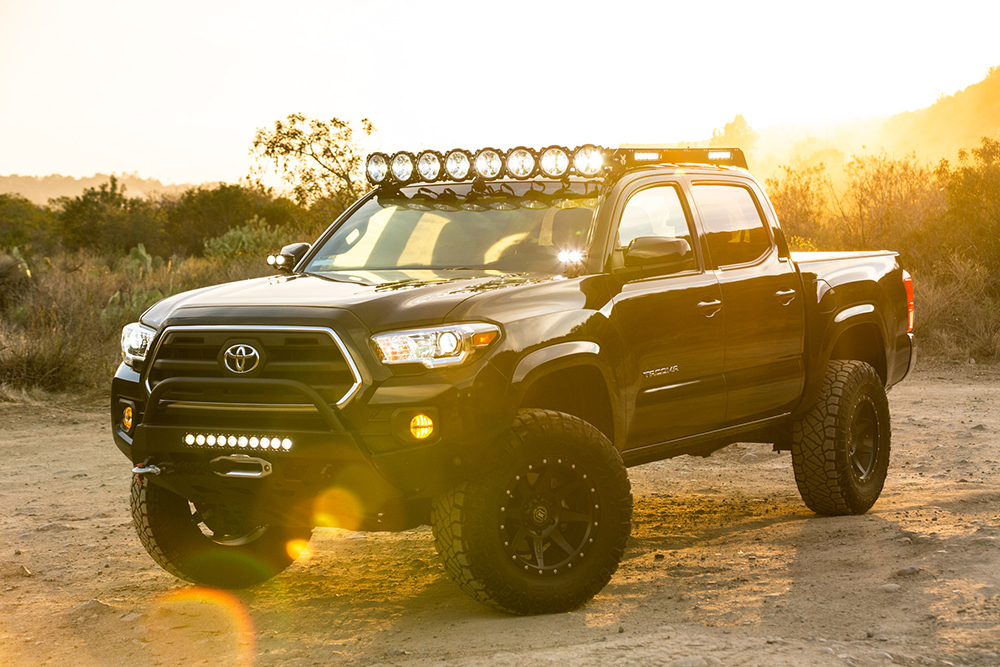 Find It Online
KC is a company that has been around for 50 years. They have been delivering quality lights since 1970 and almost everyone can identify their iconic smiley face lights, or better known the "daylighter". These are the lights your dad was rocking on his off-road rig before everyone else stepped into the market.
KC has an unwavering devotion to making the best products that are not only forward-thinking but distinctive from the rest of the market. They use their skills and experiences picked up from the world of racing and implement them into the very best products for consumers that want nothing but the best. KC is a customer-first company that sets the industry bar in off-road lighting with a detailed focus on hand-building light bars in Williams, Arizona.
Their vision is, "To create a brighter world, full of adventure through meaningful experiences with each other." Well said guys, we could not have phrased it better ourselves.
KC calls their product the M-RACK. It features all-aluminum construction and is built to complement your truck's body lines. The rack also features mounting points for your favorite KC lights.
There are two choices for the main light bar. You can either pick a curved 50-inch C-series LED light bar or KC's 50-inch Gravity LED Pro6 8-Light light bar system, or commonly referred to as the "Pro6". The additional mounting points are designed to precision-fit their C-Series scene floodlights. With all 4 scene lights and a bar the front, this is an all-in-one roof rack that won't let you down.
The rack is easy to install and does not require any drilling due to mounting to existing factory locations. It is completely designed, engineered and made in the USA. At 25 lbs, the rack itself is one of the lightest options around.
The M-RACK has a robust, 23-year warranty, free returns and is backed by years of experience and customer satisfaction.
PROS
The leader in off-road lighting
No drilling needed
Well established company
Incredible warranty
Lightweight
Versatility
Low-profile
CONS
Lowers gas mileage
Increased noise from the wind
One of the more expensive options
Eezi Awn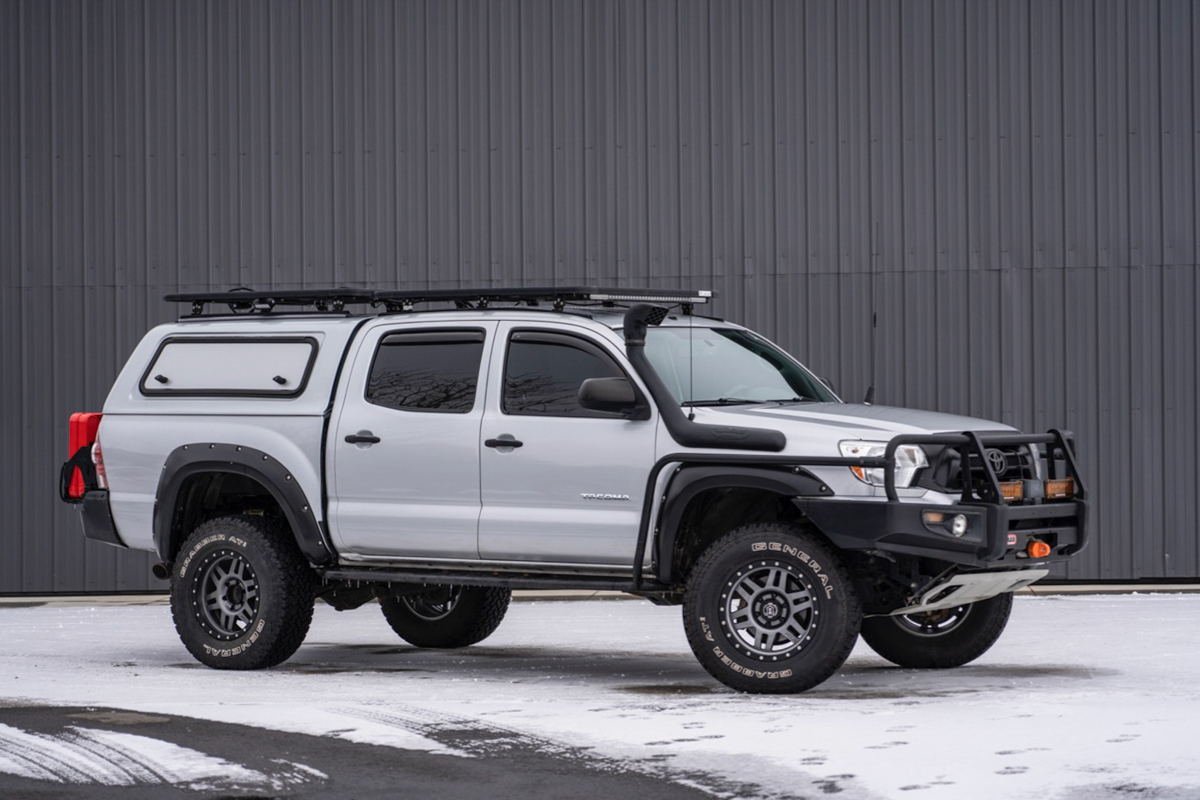 Photo cred: @xoverland
Find It Online
Eezi-Awn is a company based out of South Africa. They have loads of experience running all sorts of vehicles through tough terrains. Suffice it to say, these guys know their stuff. Started in 1983, they are a long-standing company with a great reputation. They offer incredible service and their products are used all over the globe. One of their slogans speaks to their values – "Remember that long after the sweetness of price is gone, quality prevails."
Eezi-Awn's roof rack line is called the K9. It is described as very advanced with a focus on expedition-style design. These racks are built and prototyped at an Eezi-Awn owned facility. With all their experience, they know what is required to build a great roof rack. The K9 is low profile, aerodynamic, created with function in mind and built to exceed expectations.
The racks are built from aluminum to save weight and include all installation parts and hardware. They are designed to be thinner, quieter and more functional than other competitors. The K9s come matte black powder coated and one of the differentiating features with this rack is the ability to adjust. The height can be regulated by moving the brackets up and down. Eezi-Awn is one of the very few, if not the only company, who offer this type of option.
The Eezi-Awn roof rack system has a variety of bolt-on accessories. Ax mounts, under rack table mounts and many others, are available. It is also compatible with Thule and Yakima sport car mounts.
PROS
No drilling needed
Lightweight
Low profile
Durable coating
Versatility
Well established company
Durable coating
CONS
Lower gas mileage
Increased noise from the wind
BajaRack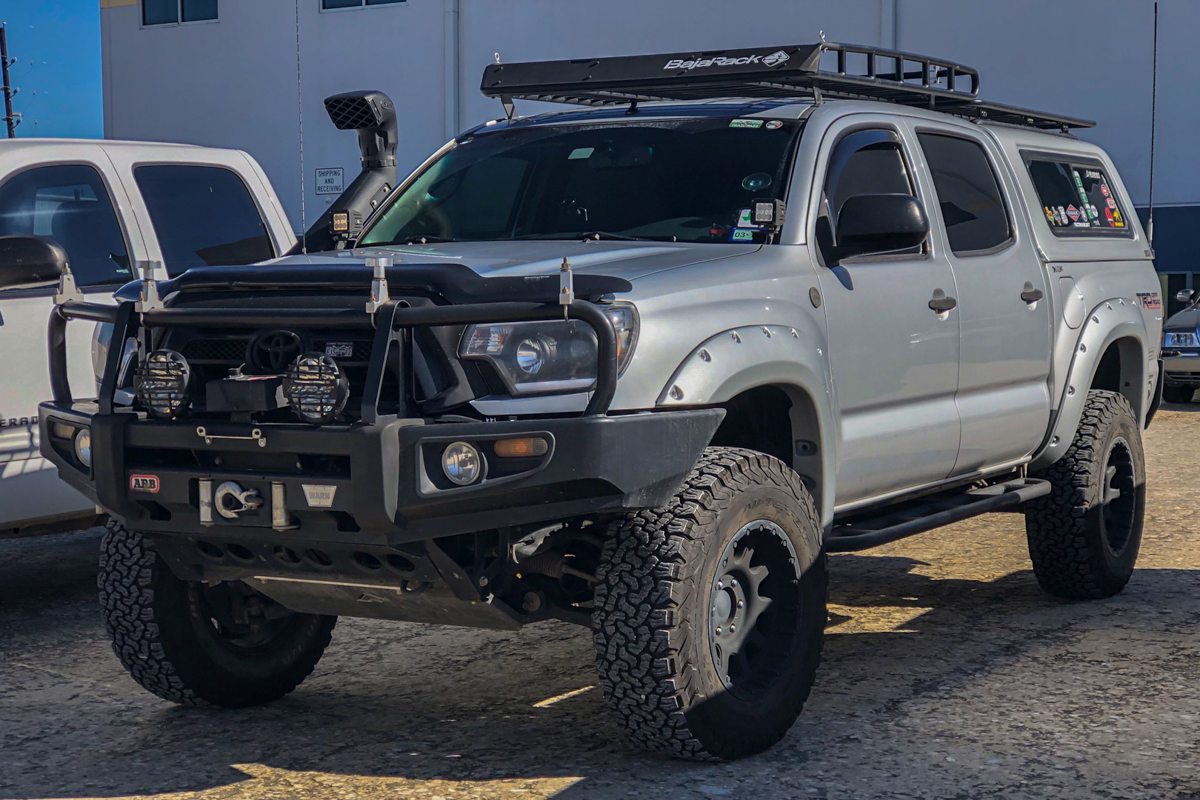 Photo cred: @ovrlnd1
Find It Online
BajaRack is another company many of us have heard about time and time again. BajaRack began with a group of engineers who were also outdoor enthusiasts. They saw the opportunity to tackle the various challenges presented by the different terrains offered in Baja.
The team was drained from using gear that would break under the harsh conditions found throughout the peninsula. And so, they took it upon themselves to create their equipment, which could persevere in the most difficult and testing scenarios found in the Baja 100.
BajaRack uses modern CAD software and manufacturing equipment to produce its wide range of products. They spend countless hours engineering their rack and accessories to ensure that the best product possible ends up in the customer's hands. BajaRack has now expanded into the European market and beyond. We are excited to see how this company will continue to develop.
BajaRack has three different options available for the 2nd and 3rd Gen Tacoma.
Standard Basket: this version boasts a raised edge all around to help keep all your gear properly secured.
UTility (w/ standard floor): flat rack design with a floor that has standard spacing.
UTility (w/ mesh floor): flat rack design with a mesh floor.
All these racks attach directly to the factory roof rack mounts and a cutout for the stock radio antenna. Also, they do not require any drilling. The basket version is especially useful for larger loads and has two tabs for mounting lights to the rear of your truck. The UTility versions, being completely flat with no raised edges, are excellent for carrying big items from your trip to the home improvement store or a canoe. This option is better for those who want to make sure they can still fit in their garage or those who are concerned with overall height.
The racks are only built from high-quality, U.S. made cold-rolled steel tubing and are meticulously welded together. BajaRack offers a 2-year warranty for all products and accessories.
BajaRack is another company that shines when it comes to accessories. They have several ways to mount things like tires, tents, Yakima or Thule mounts, fuel holders, crossbars, awning mounts and many more. BajaRack is dedicated to the best of service.
PROS
Durable coating
Well established company
Lightweight
Low profile (especially the UTility versions)
Versatility
No drilling needed
CONS
Long lead times
Lower gas mileage (although the flat racks are extremely compact)
Increased noise from the wind
Front Runner Outfitters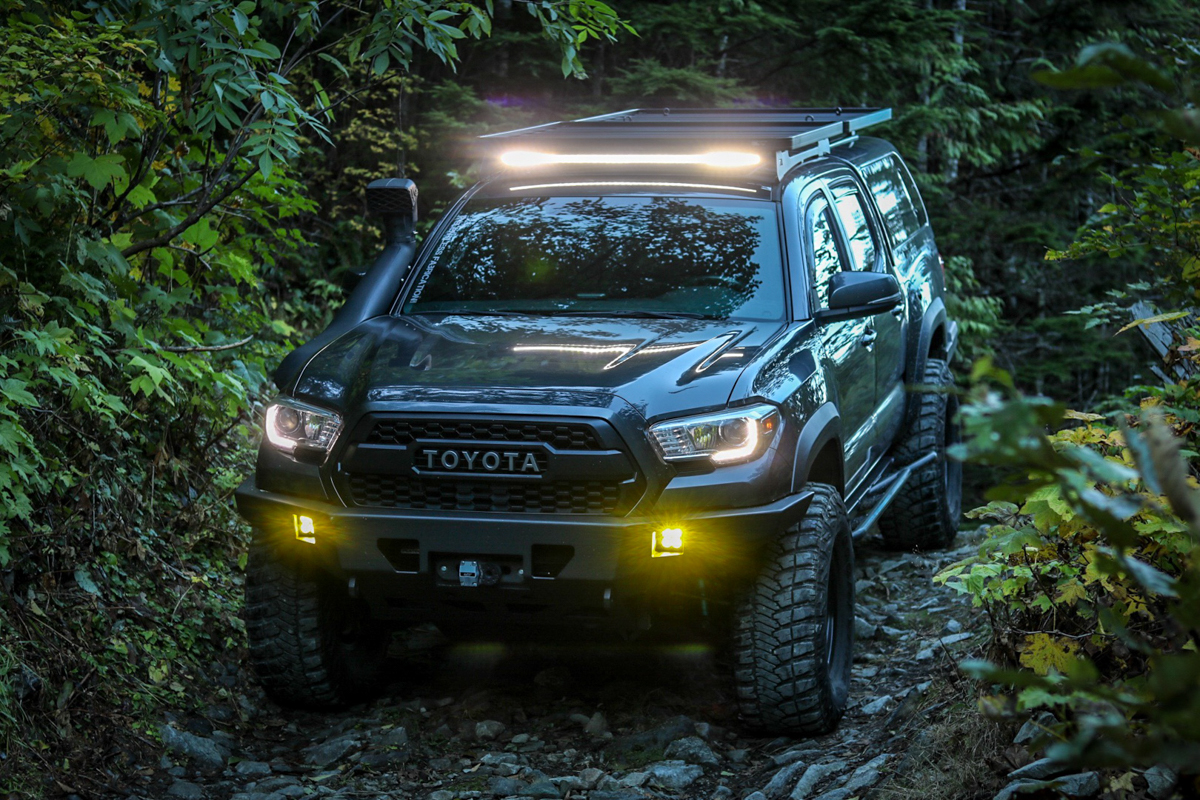 Photo cred: @leecampaign
Find It Online
A fan favorite. Front Runner is another manufacturer with a strong reputation. It is rumored that the idea for the company was developed around a campfire among a group of friends from South Africa with varying backgrounds. Everyone was fed up with gear failure and chose to take their shared interests and skills to create products that are, "stronger than the elephants at the watering hole 1 klick over."
Front Runner has a manufacturing facility near Johannesburg, South Africa. Their shop highlights in house cutting, powder coat and bending. The team includes the finest group of engineers and craftsmen. The Front Runner brand is utilized all around the globe by people from all walks of life and for all sorts of applications.
There are a few different options for those with and without bed toppers.
Slimline II (KRTT002T): this rack is specific for the 2016-2023 Tacomas, this is a full-size version and has a few more options as far as accessories go.
Slimline II (KRTT005T): this rack fits 2005-2023 Tacomas, most importantly this rack is the low-profile variation for those who are conscious of overall build height.
Slimline II (KRTRCUSTOM): this version is for those who want to maximize storage above their bed topper, it is fully customizable – options for height, length, width and track mounting, perfect for those who want to dial in a rack perfectly suited for their build.
All the Front Runner racks are constructed out of high-quality stainless steel and black epoxy powder-coated aluminum. Racks are mounted using the factory points, so no drilling is required. Front Runner might have the best, and most unique selection for rack accessories. From innovative options like quick-release tent mounts, bike carriers, bottle openers, to ax brackets and under-rack table slides, Front Runner has all your needs covered.
The racks feature a limited lifetime warranty. Accessories carry a 3-year warranty if mounted on a Front Runner roof rack. Although slightly heavier than the competition, these racks still weigh much less than their steel counterparts.
If brand reliability, quality, options and customization is your forte – Front Runner is the answer for you.
PROS
Well established company
Durable coating
Customization (bed topper)
Incredible array of accessory options
Versatility
Low-profile options
Incredible warranty
Extremely strong design
CONS
Depending on options, can be at the higher end of the price spectrum
Lower gas mileage
Increased noise from wind
ARB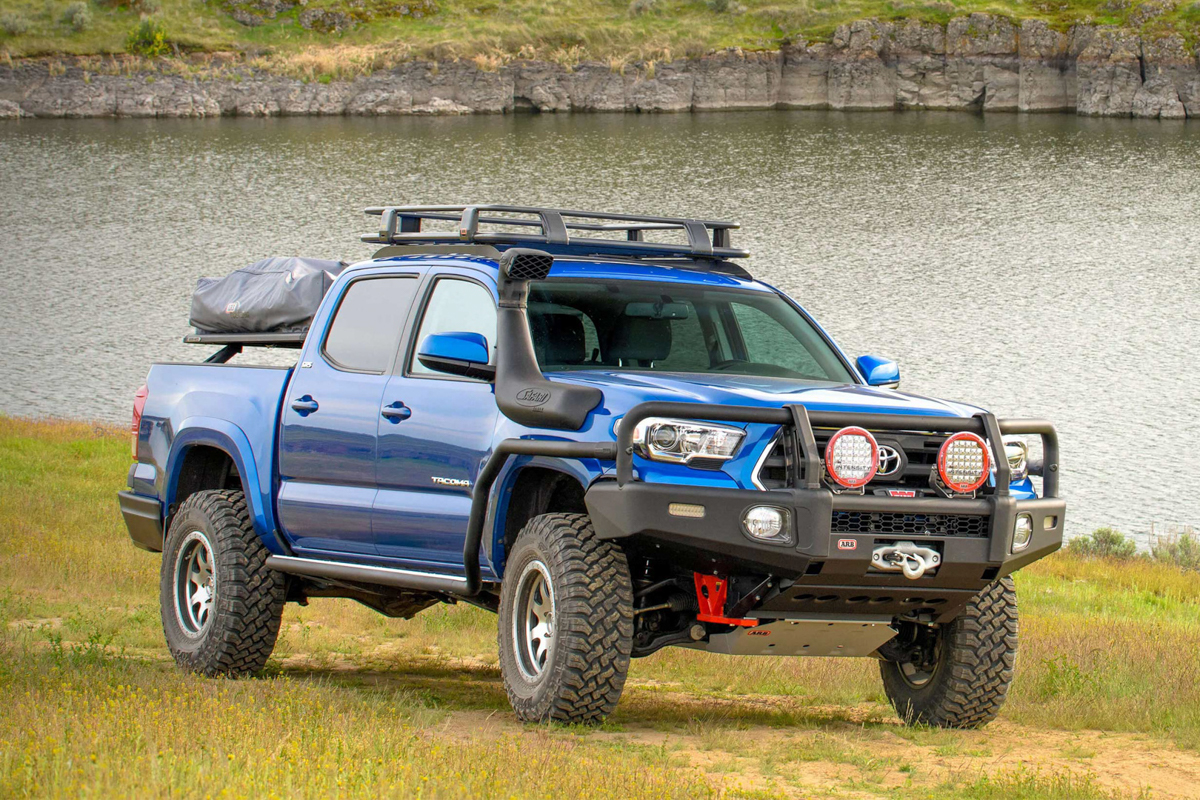 Find It Online
If you have spent any time researching aftermarket parts for your Tacoma, you undoubtedly have heard of ARB. ARB is an Australian based company that has some serious global reach.
Their humble beginning trace back to 1975, where Tony Brown, founder, gained invaluable experience putting his Land Rover through the toughest terrains. Tony took his knowledge and began working out of his garage, addressing all the shortcomings he had learned through his travels. ARB is short for Anthony Ronald Brown.
ARB is one of the world's largest producers and distributors of 4X4 parts. Now internationally known, ARB has a reputation for making spectacular, long-lasting products that will not let you down. ARB is deeply involved in R&D.
They source products and materials from all around the globe and consistently remain a top competitor in the market. ARB production facilities have state of the art machines and 1300 dealers in North America.
The ARB rack mounting kit is built to permanently attach to factory mounting points and their mount rails allow for quick removal of the rack. The kit is designed with ease of install in mind. Much of the rack constructed out of zinc-plated steel which is powder-coated millennium grey. The remaining fittings used are stainless, to guarantee resistance to the elements. It utilizes the original rack fittings, so no drilling is required.
ARB has two options: a flat rack and a caged roof rack system.
Flat rack: ultimate utility and lightweight.
Cargo basket: a caged system that gives you the choice between a mesh or non-mesh floor depending on your cargo needs.
ARB offers some accessories, but most likely you will have to look elsewhere to get the best option for you. ARB racks come with a 2-year warranty.
PROS
Durable coating
Versatility
No drilling needed
Well established company
Two options based on your needs
CONS
Increased noise from wind
Lower gas mileage
Lack of proper accessories
Sherpa Equipment Co.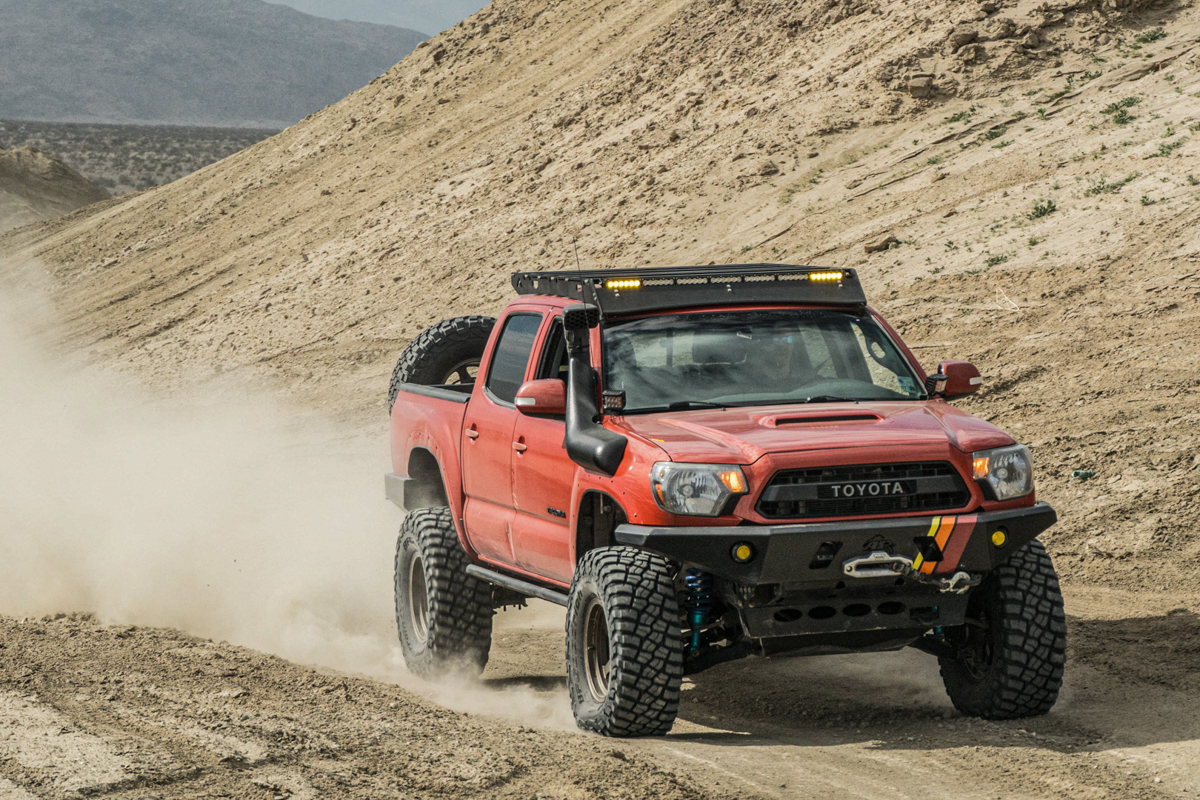 Find It Online
Sherpa Equipment Co. came onto the scene in the last couple of years, but they have made a lasting impact. They are deeply rooted in traveling, wheeling, documenting and adventure-seeking. They saw the need for a rack that could keep up with their workload. They started to design a rack with all the utility they could ever need. Soon after, Sherpa was born.
They believe in providing unbeatable strength and quality. The racks are built with 6061 aircraft grade aluminum and all their hardware is made to match. Sherpa works to make their products install ready and they include standard tie-downs and handles.
Adaptability is another strong focus. Sherpa tells us its never been easier to mount accessories and tents to a rack. The platform is made to easily mount lighting and come with several fairing options
Sherpa has 3 different options: The Grand Teton, The Teton, and The Crow's Nest.
The Grand Teton: made for double cabs.
The Teton: made for access cabs.
The Crow's Nest: made for bed toppers.
The cab racks have a dynamic load loading of 400 lbs and a static load of 700 lbs. The topper rack has a 300 lb static load and a 600 lb static load. All the hardware required for install is included. Only the Teton requires drilling, the other racks do not.
Three choices are available for the fairing: half height, full height or no fairing at all. The racks can come raw aluminum or be powder coated black. Crossbars come in two colors: silver or black. Sherpa offers a few accessories, but you will most likely need to source them from elsewhere.
PROS
Low profile
Lightweight
Lowest priced flat rack
Versatility
CONS
Long lead times
Increased noise from wind
Lower gas mileage
upTOP Overland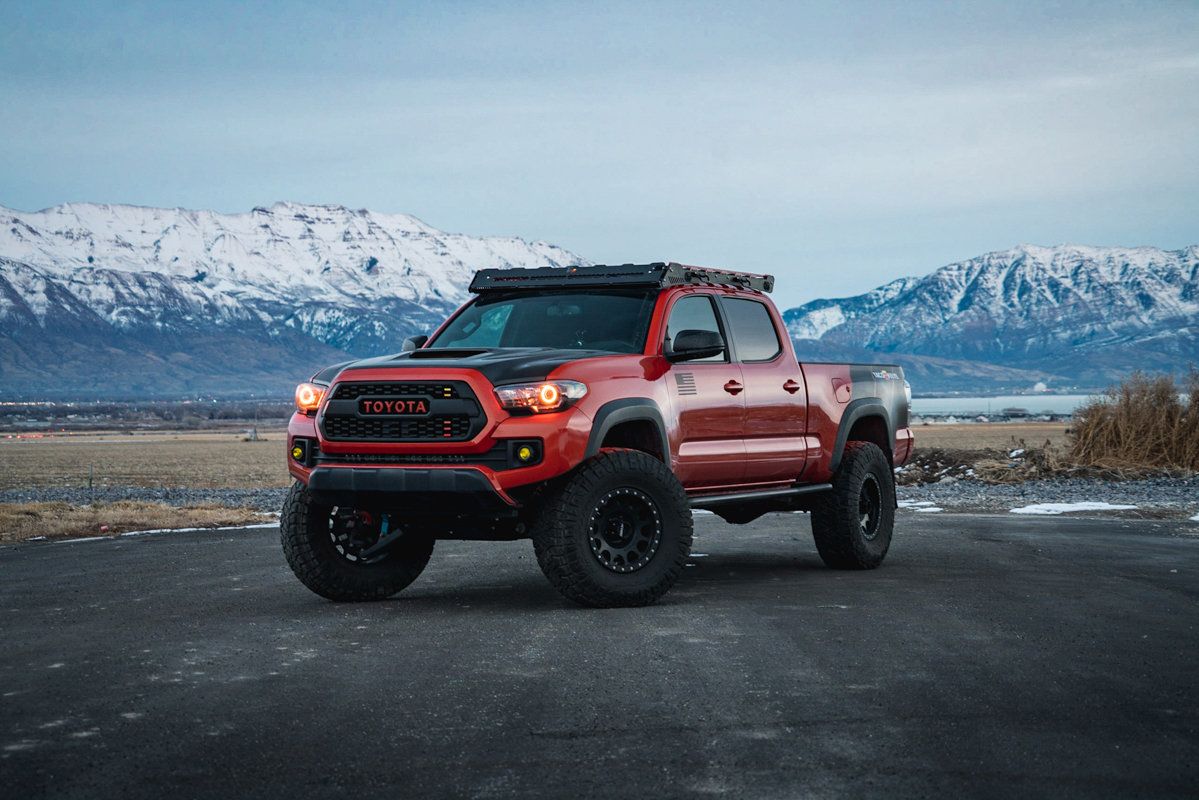 Photo cred: @branchan_yota
Find It Online
Another newer company, upTOP Overland is quickly gaining popularity. They were founded with strength and versatility in mind. The brand started as doing DIY posts on a forum and was nudged by fellow members to release their Alpha series racks. The current game plan is to keep rigorously testing, going the extra length to provide the best customer service and branching out into other vehicles.
upTOP offers many styles of rack: The Alpha, The Bravo, The AAP, The Alpha eX and The Bravo eX.
The Alpha: this is where it all began, offered for both access and double cabs.
The Bravo: an entry-level rack, offered for double cabs.
The AAP: short for adaptive armor plating, this option gives you the ability to take the best features of the Alpha series rack and attach them to Prinsu (or other similar) flat racks.
The Alpha/Bravo eX: made for ultimate compatibility for bed toppers/cargo tracks and the upTOP TRUSS system.
With enough options to make your head spin, you can be sure upTOP has an alternative for you. Featuring options like grooveTEK and armorTEK sides, this company is sure to satisfy even the most tech and design-savvy people.
The racks come standard with all the required hardware and wind fairings where applicable. The AAP includes upTOP grab handles. There are many windscreen cutout options for lights of all sizes. upTOP also has the best color selection of all the roof racks we compiled. From standard black to color-matched options, everyone can find what looks best on their rig.
PROS
Lots of options to choose from
Unique options to complement existing flat racks
Low profile
Lightweight
Versatility
CONS
Long lead times
Increased noise from wind
Lower gas mileage
Rhino-Rack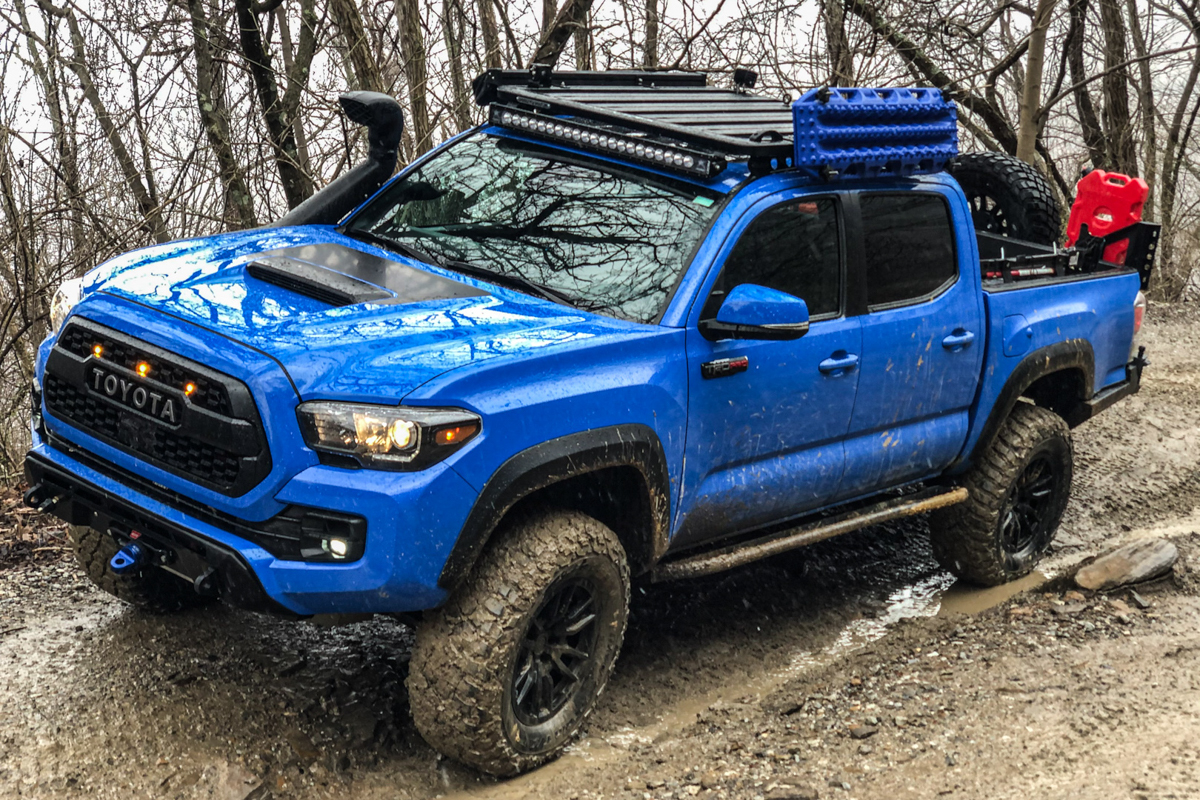 Photo cred: @boldoverland
Find It Online
Rhino-Rack has been around now for almost 30 years. The company was founded with the belief that customers are number one. They focus heavily on being there for the customer and offering a premium product. Rhino-Rack works directly with manufacturers to make sure their products are optimized for every make and model. Alongside a strong commitment to being environmentally conscious, Rhino-Rack is always looking for ways to reduce their impact. They are now an internationally known company and show no signs of slowing down.
Rhino-Rack's Tacoma system is called the Pioneer Platform, which is also offered for many other make and model trucks/SUVs. They are offered in many different sizes so you can tailor your choice to whatever suits your build best. The racks are made with reinforced nylon and aluminum and have been tested in numerous strenuous situations.
Rail kits are available if you want to add those to your platform. Each system comes with everything you need to install your new tack. Rhino-Rack does not offer too many accessory options, so you will have to find those elsewhere.
Every rack has a 5-year warranty and steel accessories carry a 3-year warranty.
PROS
Well established company
Low profile
Lightweight
Versatility
CONS
Increased noise from wind
Lower gas mileage
Accessories are expensive
Proline 4X4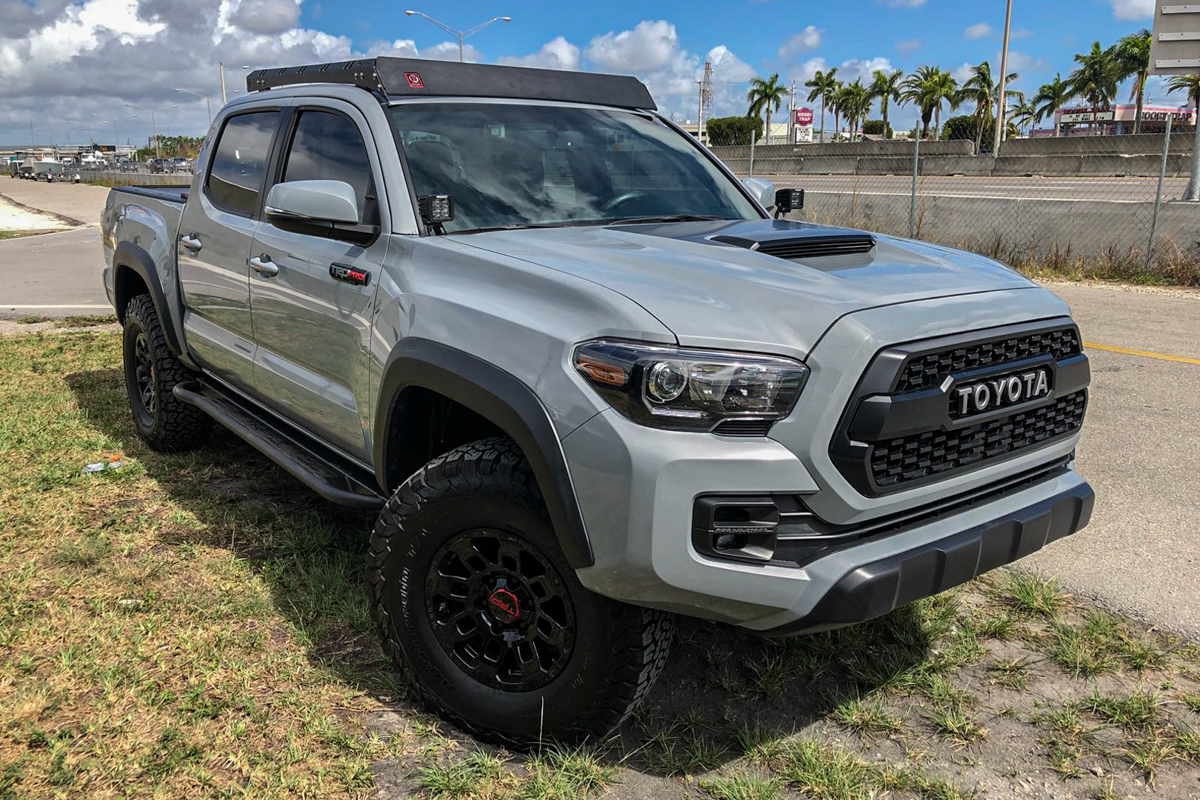 Find It Online
Proline 4X4 is a Miami based company that has been around since the late 90s. They have consistently been improving their products and manufacturing to guarantee the highest quality. Most of their products are made in-house in their Florida shop and they offer custom solutions for all needs.
Proline's rack is made from 10-gauge, high-quality steel to ensure that the product is not only strong but lightweight. Each system comes with stainless steel hardware, a wind deflector and 4 crossbars. The rack can be purchased in bare steel or black powder coat.
Although they try to keep the weight down, this rack comes in at 120 lbs, much heavier than the competition. This makes the product very durable, however, if weight is a concern, you might want to consider another rack.
PROS
Low profile
High-quality steel
Durable
Versatility
CONS
Very heavy
Can be difficult to communicate with
Increased noise from wind
Lower gas mileage
Victory 4X4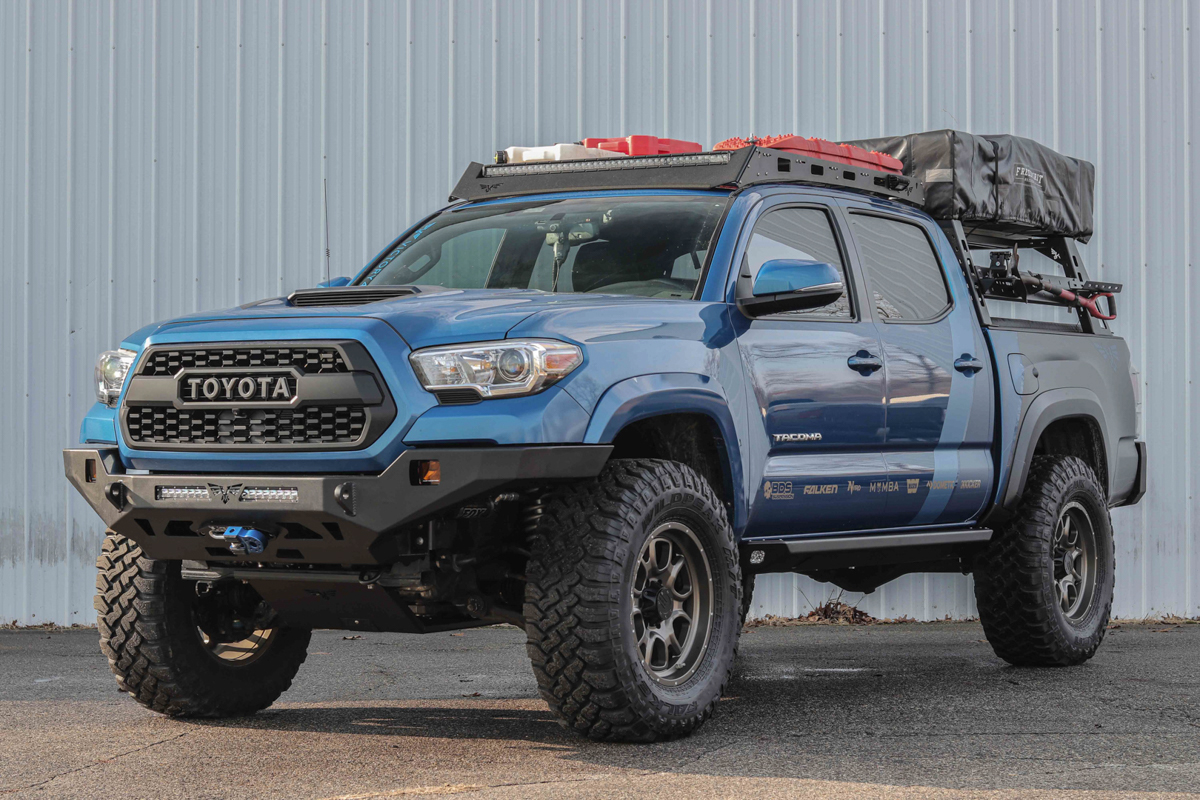 Find It Online
Victory 4X4 may be new to the Toyota market but they are no strangers to the world of off-road fabrication. Victory is a sister company of JcrOffroad, a brand that has proven itself with great products for Jeeps for over 15 years. Although their roots are in technical trails and rock crawling, they found themselves enjoying the overland routes as much as the rest of us.
Victory uses CNC machines to create their racks out of aluminum. They advertise easy installation, do not require drilling and have optional light bar cutouts. The racks are primed with a reliable zinc primer followed with a 2-stage satin textured black powder coat.
Two variations of these racks are offered: Double Cab and Access Cab.
PROS
Low profile
Lightweight
No drilling needed
More affordable
Versatility
CONS
Increased noise from wind
Lower gas mileage
Final Thoughts – What A List!
Looking back, we see that there are some seriously good options out there.
There are a lot of factors to consider when choosing a rack. Buying a roof rack is a big decision. Make sure that you know all the facts and details before you make your final selection.
The Tacoma roof rack market has come a long way in the past couple of years. New options are hitting the market regularly and we cannot wait to see what the future holds. We hope that you found this article helpful and that you feel better informed to make the best decision based on your needs.