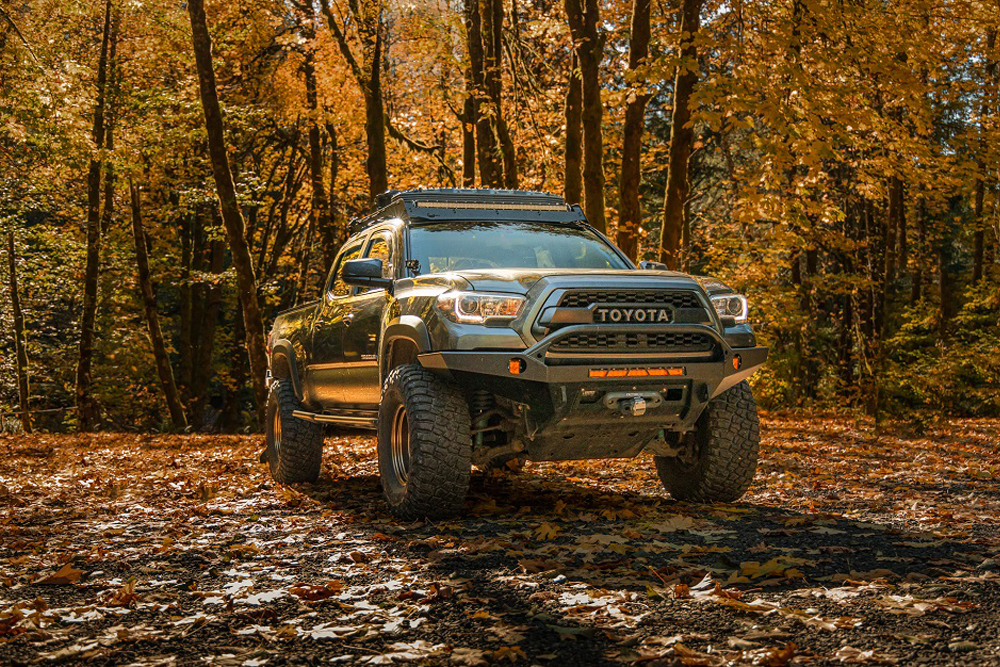 CBI Offroad Fab Armor and Overland Skids: Trail-Tested Review and Overall Impressions For 3rd Gen Tacoma
Ensuring your vehicle is properly fitted with armor is the most essential part of any off-road or overland setup. Steel armor offers the best protection against rocks and other trail objects. On the other hand, aluminum armor offers great protection at a lighter weight but a higher price tag. It all comes down to your budget and priorities. For a heavy build like my double cab long bed Tacoma, where I carry a lot of gear, steel may not be ideal.
So why do you need armor in the first place?
Well, you don't NEED armor, but think of it as insurance. If you do not have it, you may regret it one day. Regardless of your choice, having any armor is a solid investment to protect your Tacoma so you can enjoy it for years to come.
In addition to the type of armor material to choose from, there are a plethora of companies that fabricate and sell armor. One of the largest fabricators of armor is CBI Offroad Fabrication, based out of Idaho. CBI has been in the business for a long time and makes quality products backed by great service.
Different Types of Armor
In the offroad and overland community, armor is a general term that describes bumpers, sliders and skid plates. CBI offers most or all of these products with various options and finishes for all three Tacoma generations, 1st, 2nd and seen here the 3rd.
Find It Online
Here are the current offerings for 3rd Gen Tacoma (2016-2020): 
#1. Rock Sliders
Sliders are designed to provide optimal protection to the rocker panels.
These typically are strong enough to support the weight of the vehicle. Sliders are different than vehicle steps as there are no protrusions that can cause hang-ups on rocks or trees. The various options include tube quality (DOM or HREW), kick-outs and top plates. For the highest strength, DOM tubing (Drawn Over Mandrel) is suggested, however, the standard HREW (Hot Rolled Electrically Welded) sliders are better than no side protection at all and satisfy the demands of most people.
Pro tip: Sliders should be your first armor purchase as the doors and rocker panels are easily damaged and are costly to repair.
#2. Full Front Bumpers
CBI's front bumper selection includes a full coverage bumper that adds durability and approach angle.
Grill options available include center grill protection, full grill with headlight hoops or none at all. Cutting is required, but the tradeoffs include having a structurally secure location for winch mounting. This also incorporates integrated mounts for a 20" light bar, fog lights and integrated recovery points.
#3. Covert Series Front Bumpers
If you prefer to maintain the factory look of the front end, a covert series front bumper is now available. This product retains some of the benefits of the full front bumper with a low profile design. Minimal cutting is required and it provides great functionality.
All of CBI's front bumpers, including this one, are winch-ready, whether you decide to mount winch or not.
#4. Rear Bumpers
Rear bumpers include both standard and high clearance models.
Standard rear bumpers do not require cutting and are a direct bolt-on replacement for your existing bumper. These follow the original Tacoma body lines for a perfect fit while offering stronger recovery points and feature an integrated receiver hitch.
High clearance rear bumpers have the same features of the standard bumpers but require cutting the rear fenders. This allows for additional clearance, increasing your departure angle.
An important point about rear bumpers is that the factory backup sensor cutouts are not offered. Furthermore, rear cross-traffic sensors are not designed to work with any aftermarket bumper on the market today. Both models offer various swing arm options such as single or dual swing arms. Either option can accommodate other functional options such as a tire carrier, jerry can carrier, hi-lift mount, camp tables, and telescopic light mounts.
Pro tip: All rear bumpers have the option to add dual or swing arm packages. Consider your needs and ensure that your rear suspension can handle the weight before adding swing arms with all the options.
#5. Skid Plates
Skid Plates are designed to provide extra protection for your truck's drivetrain. The stock skid plate is very thin, similar to sheet metal, while these overland skids are made of 3/16" plate. Full skid packages typically include a front, mid and rear skid. Additionally, gas tank skids and lower control arm skids are available for the most complete protection. All the skids, except for the gas tank and lower control arm skids, are available in ¼" aluminum. All skids can be powder coated in black or in TRD grey which closely matches the factory TRD Pro skid plate (light grey).
Pro tip: Opt for the bare (non-powder coat) option and paint these with a spray can yourself. Damages can easily be repaired quickly and for less money, with spray paint.
My Overall Impression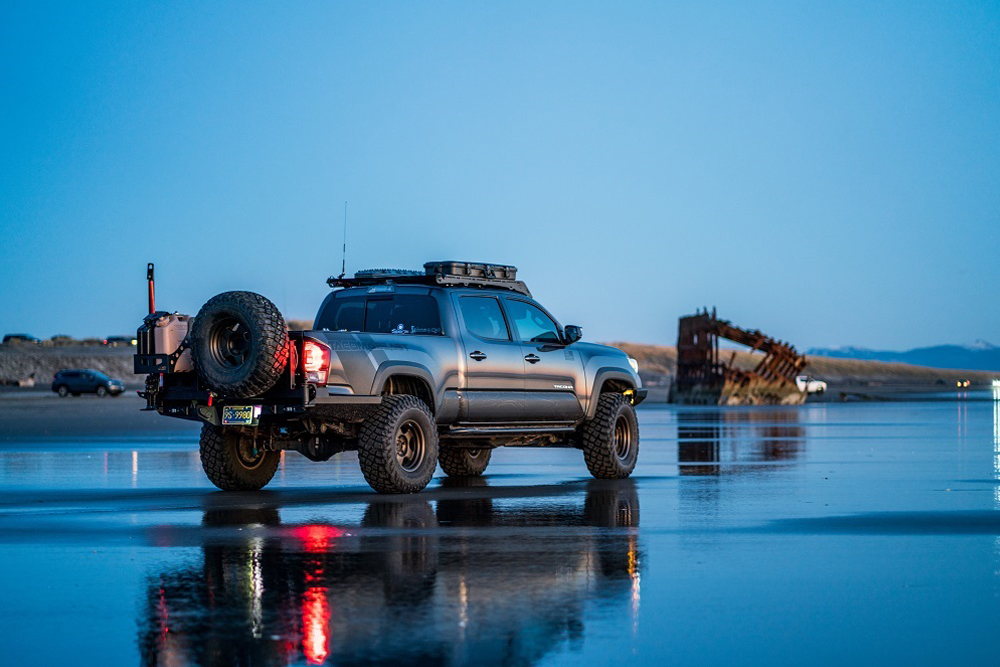 Having a fully armored Tacoma is very reassuring both on and off-road. In various trails and terrain, the armor has protected the truck in numerous compromising situations.
The double cab, long bed length isn't ideal for tight trails, so the sliders served the most purpose out of all the armor. The kick-outs are often used to get around very tight turns without damaging the rear fenders.
The skid plates glide over rocks, dirt mounts, and snowdrifts with ease.
Both front and rear high clearance bumpers allow for steeper terrain due to the better approach and departure angles. Lastly, the integrated winch mount and recovery points allow me to recover others (including self-recovery) with peace of mind.
The all-steel armor setup on my truck does have a disadvantage, mainly due to the increased weight. For example, the overland steel skids weigh approximately 130 lbs while the aluminum model weighs approximately 80lbs. That's a 50-pound difference in skid plates alone. The front bumper is similar in weight difference between steel and aluminum, adding additional weight before gear and passengers are loaded. The tradeoff of the increased weight is the superb protection with the 3/16" steel and DOM tubing. Note that the rear bumpers are only offered in steel.
Final Thoughts
If I could do it again, I would opt for aluminum skids to reduce weight. Additionally, I would opt for a rear high clearance bumper without the dual swing arms to reduce added rear weight.
The armor on my truck served its purpose in the last 2+ years of ownership. While many fab companies have come and gone, the CBI Offroad Fab armor continues to impress and push forward. The lines flow nicely with the truck, providing nice form without compromising functionality and give me plenty of reassurance out on the trail.
Regardless of the increased weight of the steel armor, it's worth the investment. Depending on the purpose of your truck, it's ok to have both steel and aluminum armor. It all comes down to your needs and budget.
There is no wrong way when protecting your truck with armor.