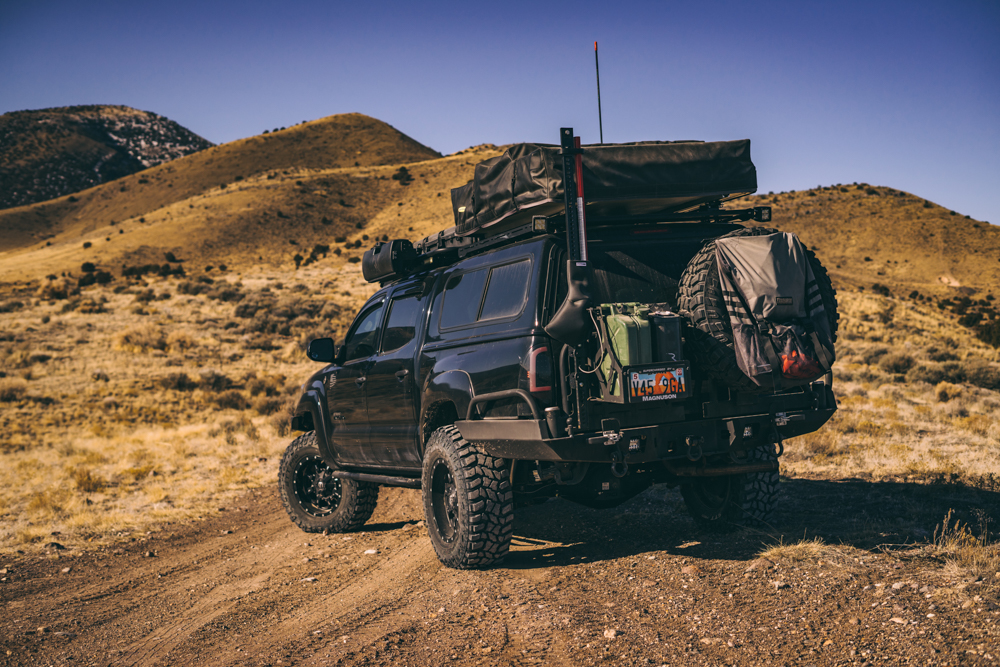 The WaterPORT: Modular Water On Demand System For Your 2nd or 3rd Gen Tacoma – Full Review and Overview
When I initially started my build, I wanted to focus on three basic essentials right off the bat. Food, water, and shelter.
Comfort on the trail is paramount, especially when you are with your family. I read a few articles on building your own water storage system and hauling five-gallon jugs in the back of the truck, but none of them compared to the WaterPORT's versatility and ease of use.
I liked them so much, I bought two!
I purchased both of my WaterPORTs locally at a Sportsman's Warehouse almost two years ago. Since then, they have been on hundreds of camping trips and endured thousands of hours in the Southern Utah heat. We have even been all the way up to Jasper, Canada and are looking into an Alaska trip in the coming year or two. 
The following is an overview of the WaterPORT system – why it was a good fit for me, and why you should check them out if you have not already.
WaterPORT Specifications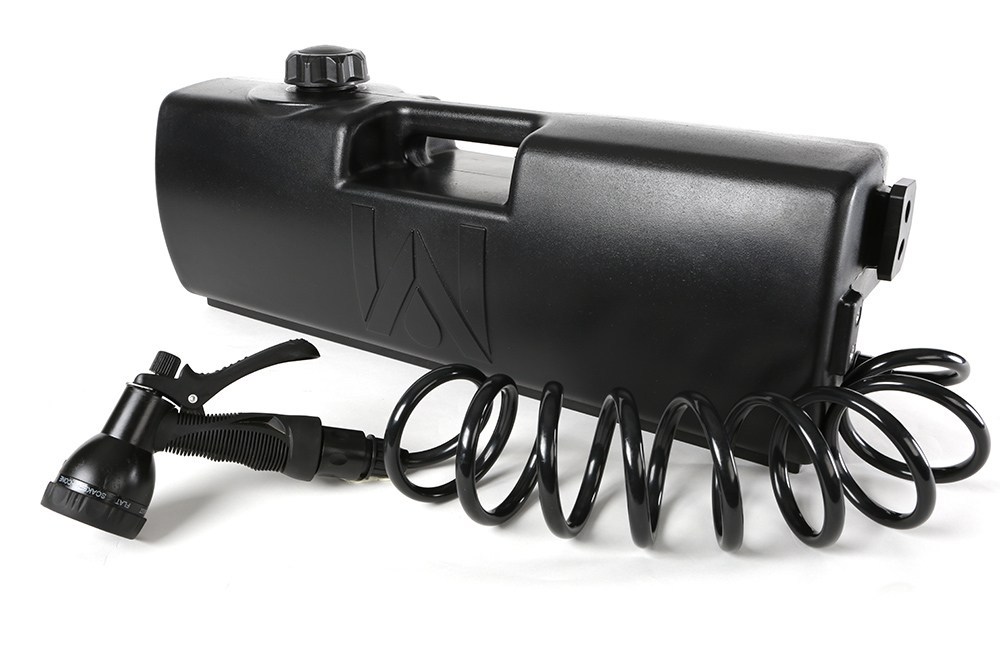 The WaterPort is a 3.85 gallon portable, pressurized water tank. It pressurizes utilizing your garden hose, hand pump or integrated Schrader valve.
It comes with 4 possible mounting options: hitch mount, bar mount, platform mount and bed rail mount. The kit also includes a multi-pattern nozzle and quick disconnects.
Find It Online:
Mounting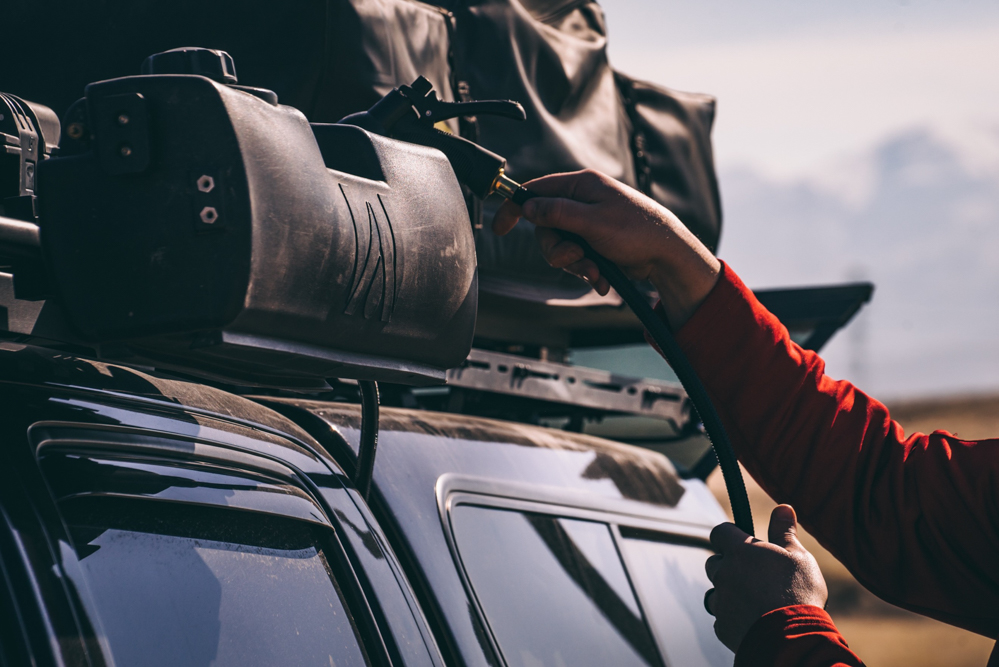 Mounting is a breeze. The WaterPORT has four different mounting options available, for you to put it exactly where you need it. The universal mount plate is able to bolt onto many other brackets, ensuring that you do not run out of places to have water on demand.
I did not want to mount mine on the hitch receiver because that would decrease my departure angle and subject it to damage on the trail. I chose to mount one above my back-passenger door, to heat in the sun for showers and rinsing off, and the other inside my topper for drinking and cooking.
Removing them from your truck is as easy as lifting them straight up and off of the mount.
Filling
In order to fill your WaterPORT, attach the quick connect adapters to your water hose, flip the shut-off valve on the WaterPORT to the on position, and it is ready in a matter of minutes. 
Refilling on the road is as easy as taking the cap off the top and pouring water in. I can then re-pressurize on the trail with the Schrader valve and my ARB compressor.  You could also use the hand pump on the fill cap just as easily if you opt to use this feature.  
Filled to capacity they weigh approximately 33 pounds. I fill mine while they are mounted with the water hose attachment provided. This instantly pressurizes them as well as keeps me from fumbling with a full tank of water. 
Benefits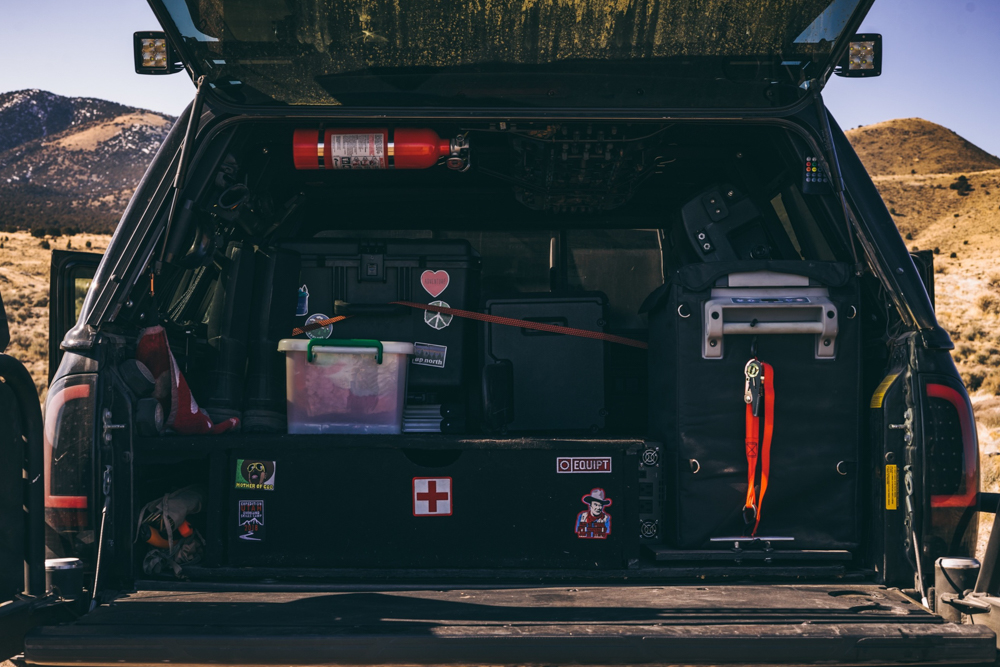 The system is extremely modular. This allows it to be mounted almost anywhere.
The long hose is another advantage, you do not have to be right next to your truck to use the system, and this makes using it anywhere effortlessly.
The universal mount has a place for a lock, which I use frequently. Just unlock and go! The five-foot hose is also wrapped in protective wrap keeping it from being punctured or cut easily by anything you might come in contact with.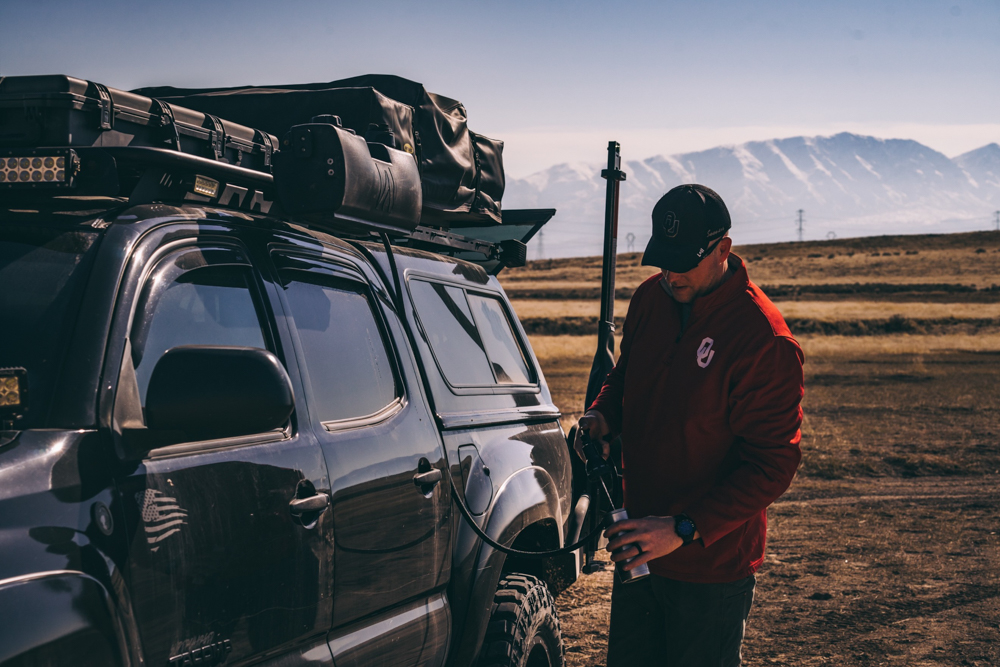 The multi-pattern nozzle and hands-free nozzle mounts are clutch when you need to use your hands for multiple tasks. On the shower setting, with the tank completely full, I have 5-8 minutes of uninterrupted flow before it is empty. This can be extended if you choose a flow setting that uses less water.
I have the second generation of this product without the pump. It has not slowed me down due to the option to fill with the air valve. If you own one of the earlier models of the WaterPORT, you can upgrade, or get additional supplies online.
Possible Shortcomings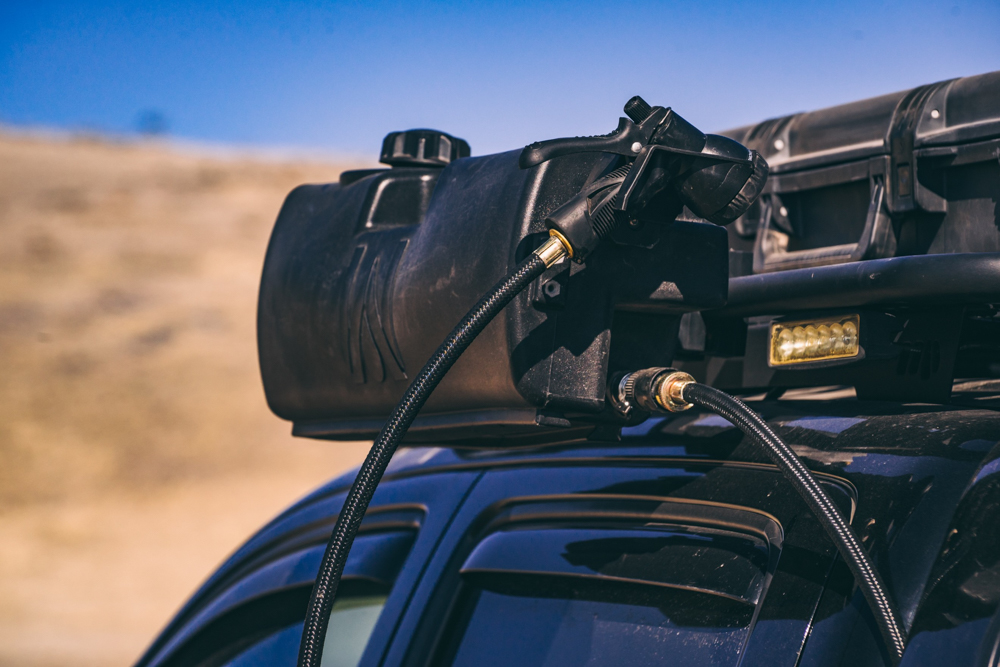 While there are a ton of great things about this system, there are only a few downfalls that I have encountered.
The first is that these should not be used in sub-freezing temperatures. The expansion of water when it freezes will ultimately cause your WaterPORT to leak, or worse, burst. The same could be said for any water storage device you find yourself using.
Who wants to camp when it is freezing anyway? 
Another issue I ran into was with the plastic rail mounts. They had a hard time holding onto the round steel bar on my roof rack. This caused the entire thing to rotate downward and hit the top of my door. I fixed this by putting some strips of tire tube inside the clamp to keep it from slipping under the weight. I have not had a problem with it rolling down since this modification.
With a different rack, like the Prinsu, you could just simply bolt the universal mount plate directly to the outside of the rack and be good to go. The options for mounting, as I said before are endless. WaterPORT has thought of almost everything. 
Last, but not least, you need to pay attention to your shut-off valve on the hose. You are dealing with a pressurized system. If you disconnect your hose and your shut-off valve is still on, you are going to either get an unwanted shower or empty your water supply very abruptly. This usually only occurs once, and you learn your lesson. 
Final Thoughts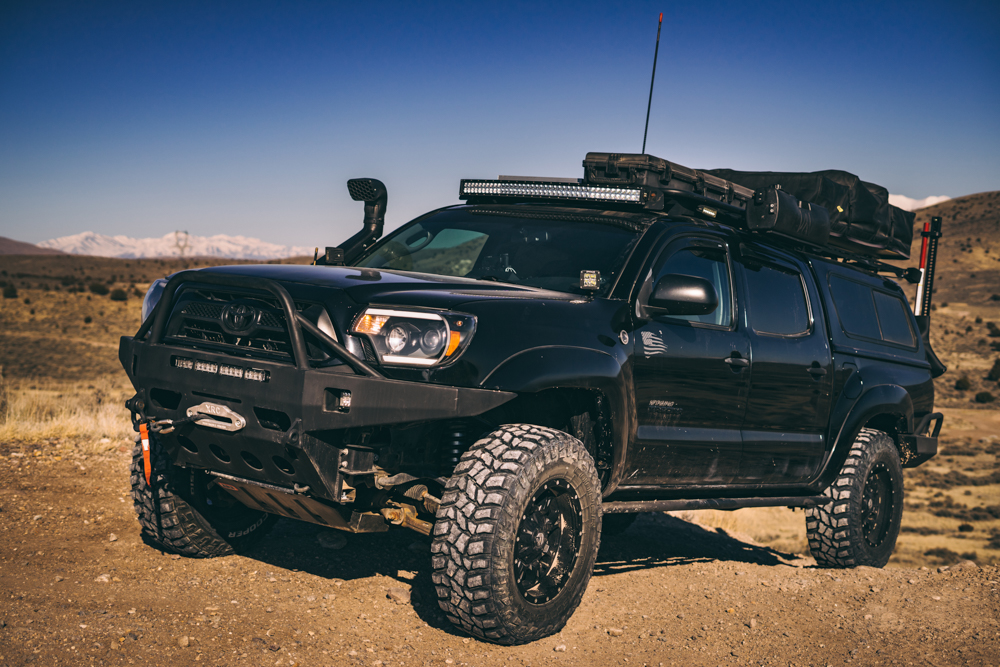 In my opinion, The WaterPORT is a must-have for those that are getting away from home and need water for any occasion. It can fill your bottles, rinse off your gear, help clean your dishes and is useful for cleaning off the kids and dogs. I am sure there are many other applications that I have not listed.
The system is not too big or not too small and you can mount it almost anywhere. It holds pressure until you need it and warms in the sun for a hot shower after a long day in the outdoors. There are not any bad things I can say about this amazing product!
It works perfectly for what I needed it for and fits easily in your vehicle for your next expedition. Stay safe out there and see you on the trail!