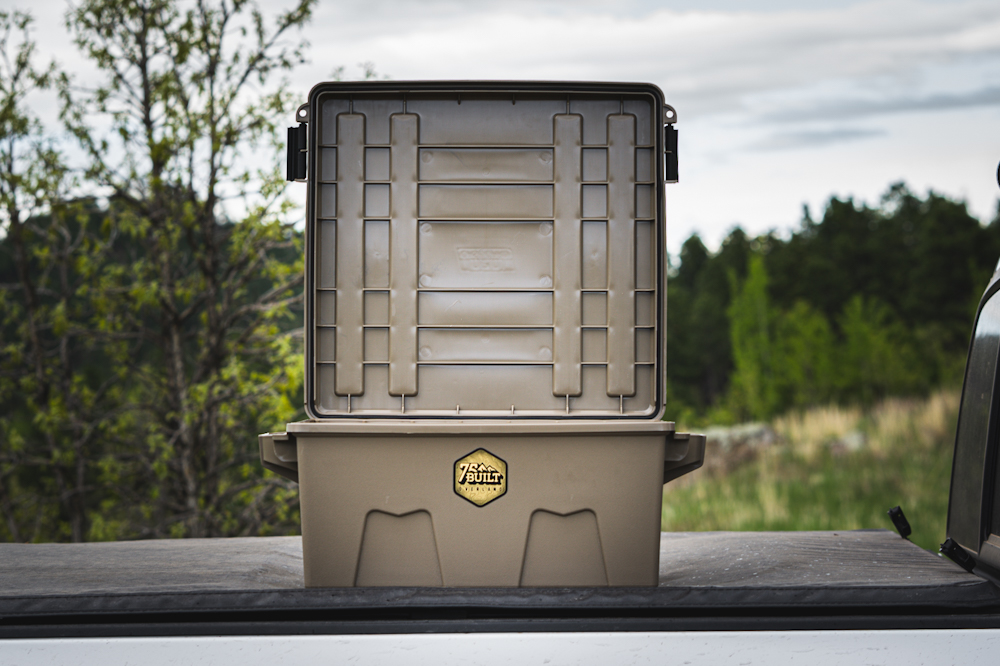 75Built. A New Lifestyle Overland Brand – Featuring Some Super Rad Storage Boxes For Your Tacoma
So you love adventures, accessories, off-roading, overlanding, and gear. You also love products that are made in the good ole United States of America.
Looks like we found just the company for you.
Enter 75Built. Affordable, quality products made in America that fit your budget.
Who Is 75Built?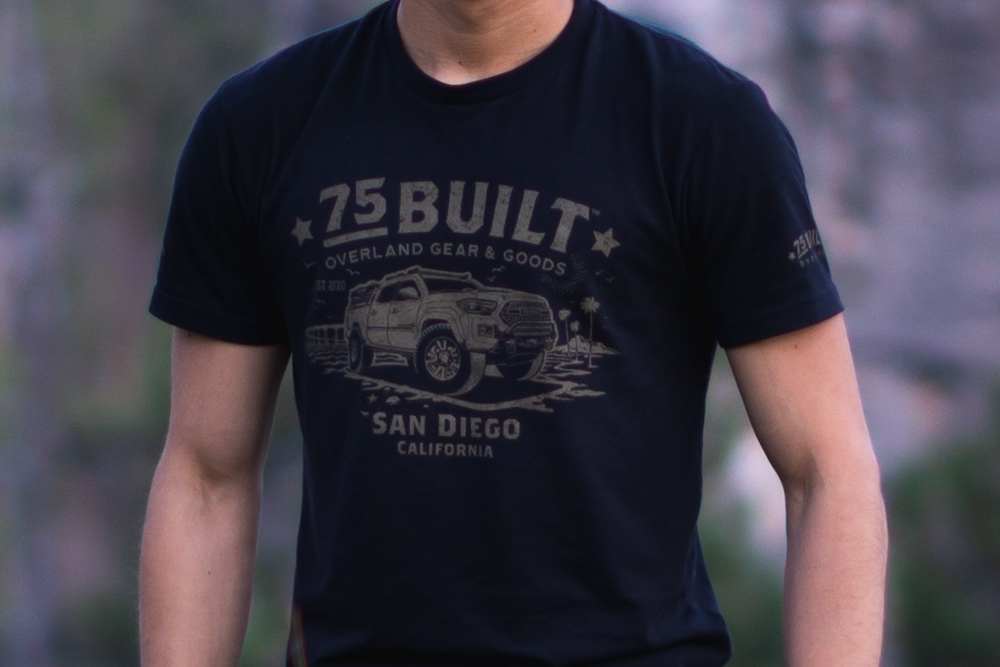 75Built is based out of Southern California (SoCal), San Diego to be more specific. They launched their company earlier this year with a mission to create and sell great overland goods that we all want to use and own.
They consider themselves to be well-versed in the area of creating, producing and selling new products that fit all your overland needs. 75Built only puts their name on the best solutions that can make the lives of its customers easier. Although they're a new company, they already have a variety of great options for things like storage.
75Built is sincerely looking to replace all non-US-made products on their site with alternatives from local companies. They do their best to use various dealers in the SoCal area and maintain high-quality standards and the sale of innovative new products. And the best part? Their products don't break the bank!
You might be wondering, why the number 75? Well, 75 just so happens to be the team's lucky number.
Why Might You Need A Storage Box?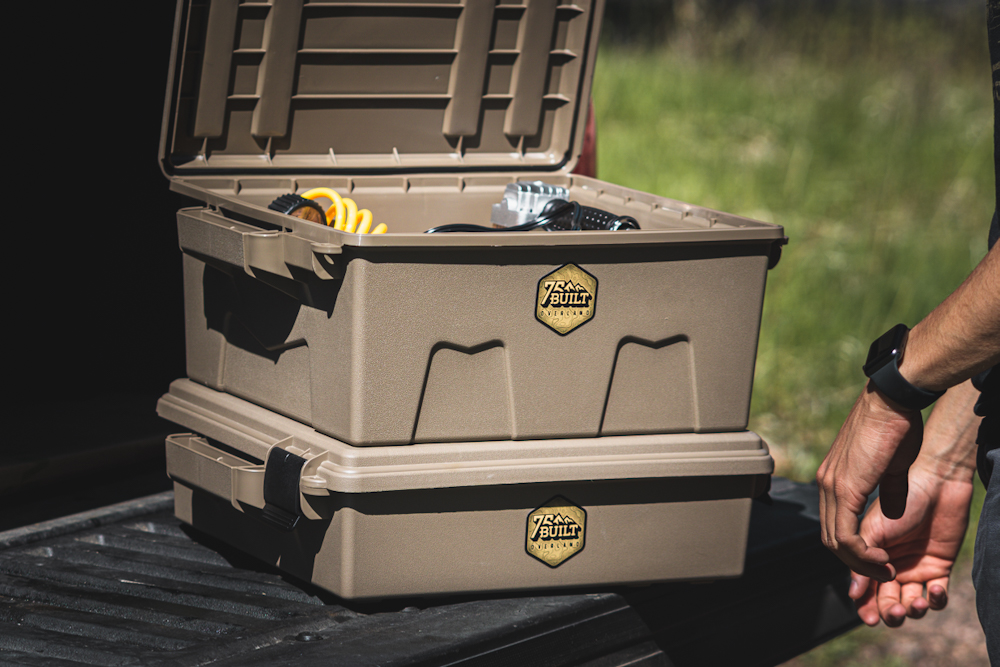 Do you remember your first camping trip?
If you're anything like most of us, it was probably a bit of mess and you probably didn't realize how much was lacking until much later on. Stuff everywhere, little to no plan and it was extremely difficult to find anything.
That brings me to one of the most important points. Organization.
I cannot stress how crucial effective organization can be. Storage boxes are a great place to start and are very important if you want to save yourself time, frustration and headache. If you want to camp, travel and live an adventurous lifestyle, you're going to need to invest in good storage solutions.
Once you start browsing, you'll see that there are a lot of options. If your budget is high, you might want to consider some Zarges aluminum boxes. Our sister site has an excellent review of these bad boys. You can find it here. But if you're like most of us, shelling out good money for expensive storage cases might be better spent on a lift, tires or armor.
No matter what kind of trail riding you do, you can find a use for a solid storage box. You can store all sorts of gear/accessories – camera gear, to capture that perfect shot, or a tow strap, to make sure you can make it home safely. Storage is not only for organization but also to help keep your gear safe.
Keep following along for a solid breakdown of one of the more affordable choices on the market. Did we already mention that they're made in America?
75Built Overland Storage Boxes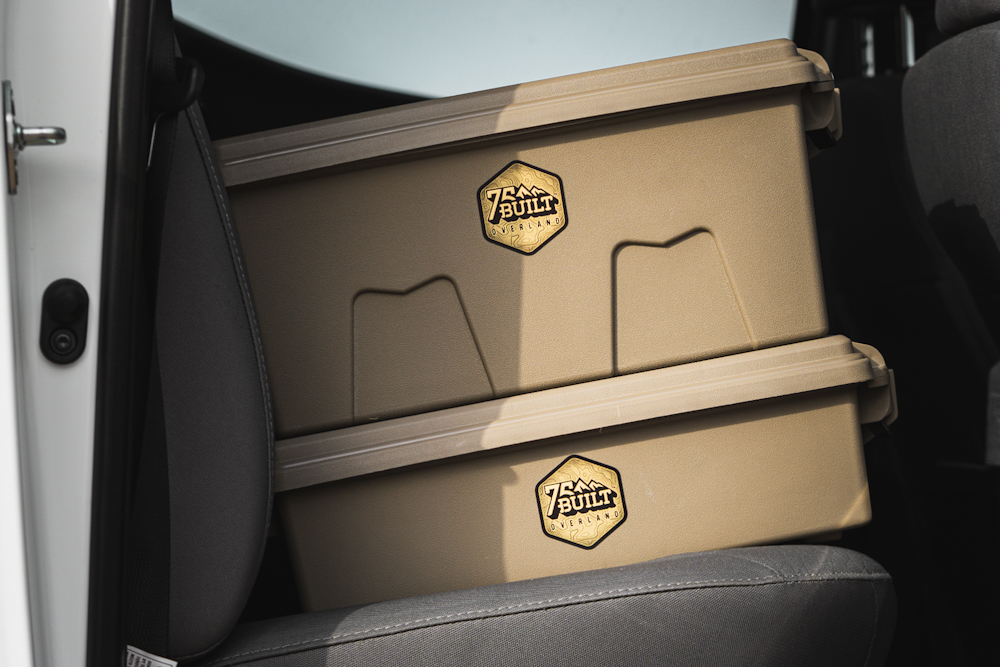 As I mentioned earlier, storage boxes can get expensive.
Many of the features that higher-priced storage boxes have, you can get with 75Built storage boxes. With these boxes, you first, don't have to worry about the high pricing as these are incredibly affordable. The storage boxes range from the low to high $20s.
As soon as I received these storage boxes, and took them out of the packaging, which, by the way, was excellent, I noticed the overall great build quality. The cases are made out of high-impact polypropylene plastic that makes these storage boxes withstand weights of up to 85 pounds, so they can take a beating. Did I mention they're lightweight? All of the options weigh between 3-4 pounds. 
Apart from being reliable and fairly affordable, these storage boxes can be used for whatever your needs may be, whether you need somewhere to safeguard or organize your recovery gear, ammunition, medical kits, photography equipment, cooking supplies, tools, you name it. There's almost no limit to what you can fit into these crates. Also, the latches are strong enough and engineered better than the competition. 
Another feature that stands out – all the boxes have the same dimensions (width/length) and stackable ridges, this makes them highly modular and easy to arrange. This option, paired with the four lockable tie points, shows how well thought out this product is. 
Sizes
75built offers 3 different storage box sizes: 
They vary by the height of the storage box and they come in 3 sizes – 5, 8, and 12 inches tall. I only ended up getting the 5, and 8-inch-tall storage boxes, just because 12 inches exceeds my needs at the moment.
Find It Online
Great Feature – Water/Dust Resistant Seals
I've seen many people including myself mount their storage boxes on top of their roof rack or in the bed of the truck. But the question remains, do you need to worry about water or dust getting inside your 75Built boxes and getting all your gear wet? Nope!
You don't need to be concerned, 75Built made these cases with a tongue and groove O-ring seal, ensuring maximum water resistance. This might not seem to be a big deal, but many of the cheaper alternatives on the market do not come with this sort of option and you're stuck with another trip to the store to buy weather sealing strips. 
75Built Console Insert Box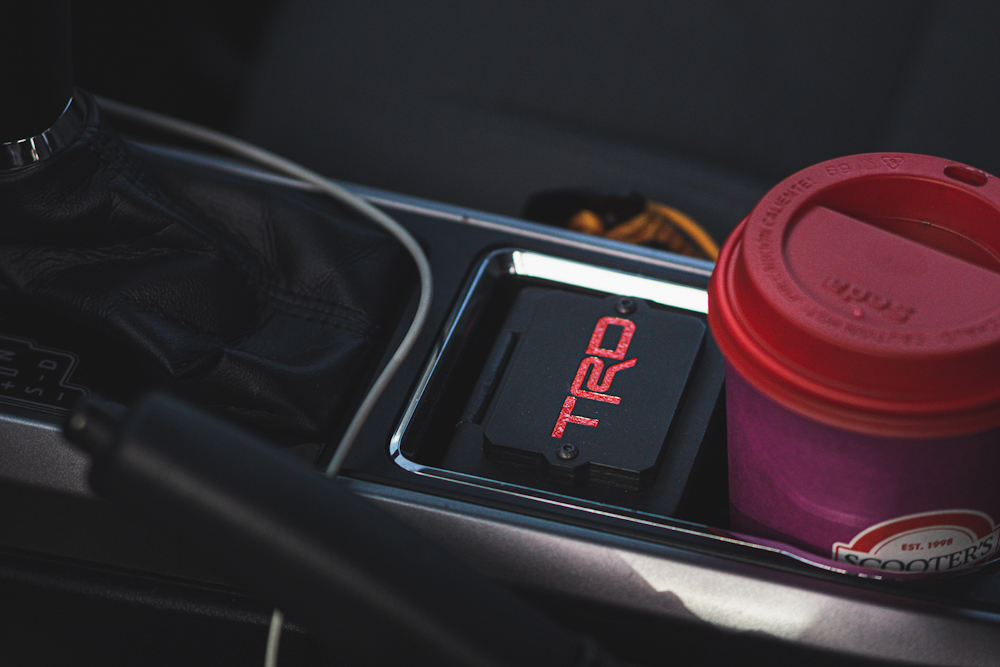 Enter the 75Built center console insert box, otherwise referred to as the coin holder accessory.
This accessory goes right into the square looking insert slot in the center console of your Tacoma. The area the insert box sits in is a bit of a dead space, so this is a great solution. I think this has been my favorite interior cosmetic mod on my Tacoma, it stands out and looks great! 
The 75Built coin holder comes in 3 different designs on the lid, the most popular one having the TRD logo (seen above). The other two options include the Toyota truck logo and plain black.  These center console insert boxes are handcrafted, made out of plywood and painted in a matte black enamel for durability and glare reduction. It has 2 small magnets in the lid and body side to keep the box secure, and the lids come hinged with internal copper wire. If you would prefer a removable lid, you can opt-out of the hinged lid if you want. This product is affordable, stylish and has great build quality.
Find It Online
75Built Tire Valve Caps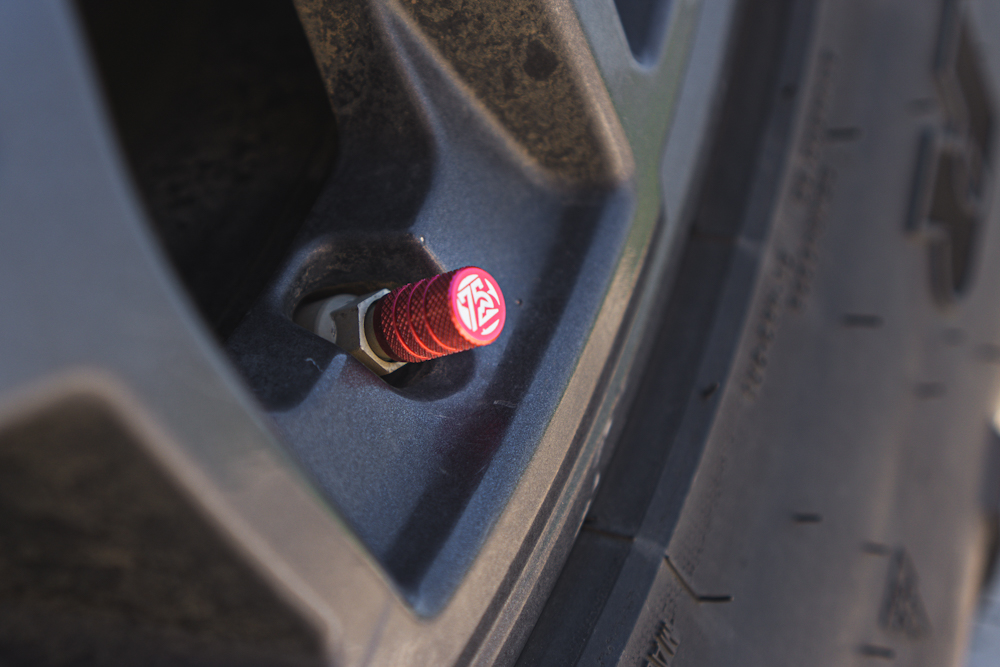 Getting tired of those boring old stock tire valve caps?
You will not be disappointed with 75's take on this common accessory.
The caps are made out of aluminum and they have a unique feature – a rubber seal inside, which helps to keep out all sorts of gunk seal and protect your valves. Although a small feature, these seals are not standard on all valve cap replacements.
The outside has a knurled surface for a steady grip. Apart from these caps protecting your valves much better than the stock ones, these tire valve caps come in a stylish, anodized red and black. Besides them looking great, this anodized coating provides incredible abrasion resistance and protection against corrosion.
These guys are all about the details!
Find It Online
75Built Misc. Accessories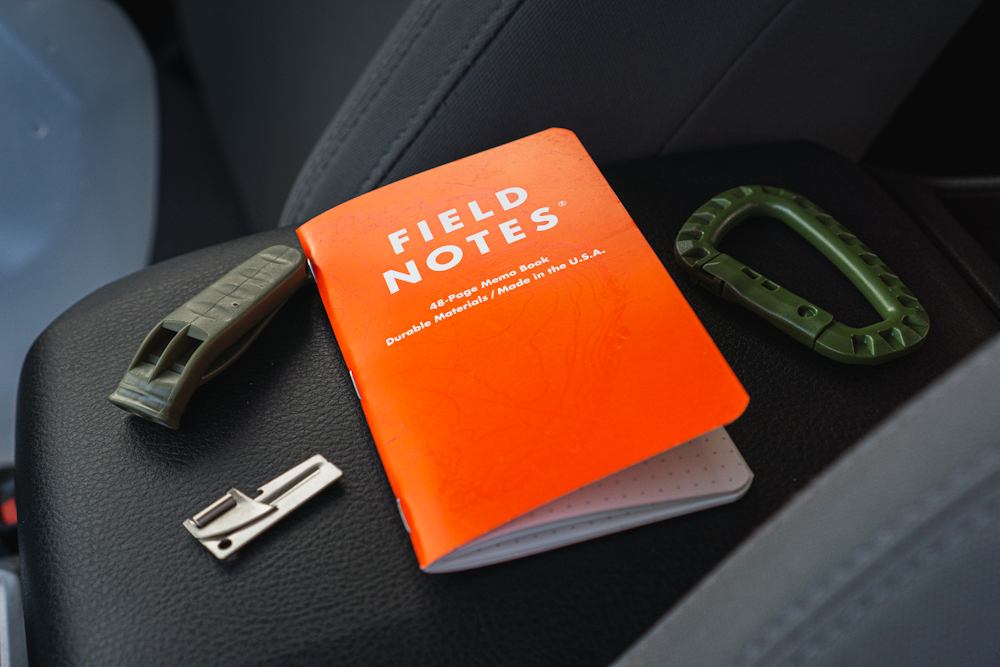 First up, the field notebook. This is not your ordinary notebook!
This sturdy field notes notebook is great for use on your adventures to record your routes, plans, or just any notes you might want to jot down. One of the best features is that they are waterproof and tear-proof, so you can use this during any weather the day might throw at you!
Find It Online
Finally, we have the utility EDC essentials.
You might think that you don't need any everyday carry essentials, but these can have an impact on how you adventure. For less than $10 you get a military can opener, a survival whistle and D-ring carabiner. You never know when you might need one of these in a bind.
Find It Online
This concludes my review on 75Built's super rad gear and accessories, I hope you got some good product options to consider for all your adventure needs! Until next time, cheers.