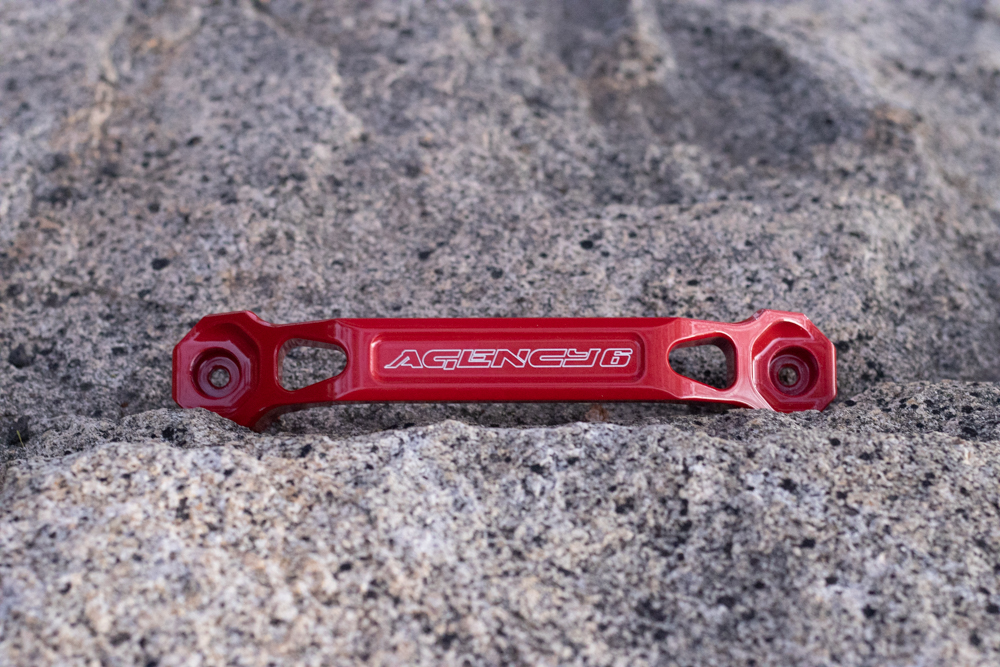 Agency 6 Universal Billet Aluminum Grab Handles for Roof Racks & Beyond
Having a roof rack greatly increases the carrying capacity of your Tacoma. It's a breeze to mount cases, recovery gear, tents, bikes, kayaks, and more for easy access and storage. Getting access to the rack on top of your lifted truck can be a bit difficult, which is why grab handles can come in handy.
These universal grab handles can be used for more than just your roof rack. Add them anywhere on your rig where you could use a handle. If you're looking to add function to your rack, these handles are perfect!
The handles are made of billet aluminum and come in two finishes; black and red. Not only did Agency 6 provide its customers with a functional product, but the handles also have a super sleek look to them. They're really strong and give you a solid solution for getting to your roof-mounted gear.
This often-overlooked roof rack accessory makes getting to your gear safer and more convenient. While there are a few varieties to choose from, this article will outline why Agency 6 rules the roof rack grab handle market.
Find It Online
Overview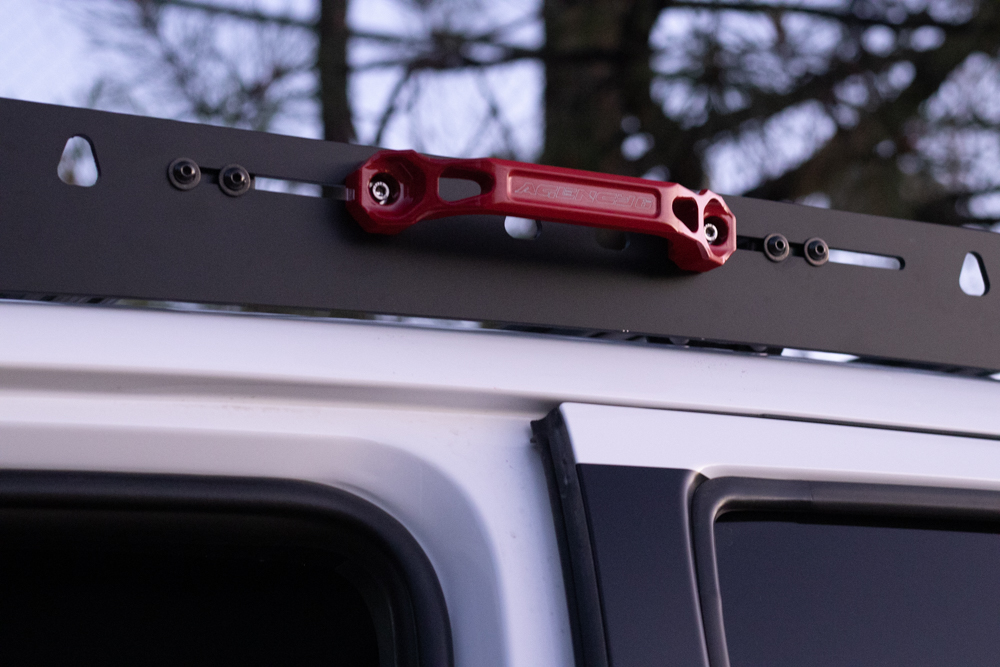 The handles manufactured by Agency 6 are very high quality. My initial impression was very positive. They were extremely well packaged and came with some extra swag.
The finish is glossy and clean, and the handles have a nice weight to them. I was worried that the alternative, a soft paracord handle, may catch on branches and rip or deform. They're really tough -another reason why I like this alternative. They felt sturdy enough to hold up to anything the trail throws their way – rocks, branches, mud, water, etc.
I was hesitant to invest in handles for my rack at all, thinking I wouldn't need them after I installed my rock sliders. Even after the install, I was surprised to learn how precarious standing on that narrow bar could be, and how little I had to hang on to on the roof rack.
These handles save you from putting excess stress on the components of your rack, or on anything you have mounted on or to it. Let's face it, you spent that whole afternoon mounting your Plano case to your rack. You wouldn't want to rip the bolts out of it by using it as a grab handle, would you?
The grab handles can also be used for other purposes. Do you have something mounted to your rack that needs to be tied down? The Agency 6 handles work great as a tie-down point for a ratchet strap, bungee cord, or other mounting solutions.
Install
The installation of these handles was very straight forward.
Both of the handles came with Allen bolts, washers, and locking nuts. After removing the bolts from the handles, I chose a spot on my roof rack to mount them. Many racks have dedicated holes or slots for handles to fit in, but they fit in the crossbar channels of my AL Offroad roof rack perfectly.
If your rack has no mounting holes, you will have to drill your own. The Allen bolt is about 3/16" thick, so a 3/16" bit will work perfectly.
Once you have your location chosen, it's as easy as screwing it all together. Place one washer inside the front of the handle and one washer on the other side of your roof rack panel. Using a 4.5mm Allen key and an 11mm wrench, tighten the handle down onto the rack until snug.
If you have deep sockets, you can also use a socket wrench instead, but the bolt sticks out too far for a conventional socket to tighten the bolt all the way. This can always be solved by trimming the Allen bolt, but I didn't want this project to be that involved. All of the hardware is stainless steel, so you'll never have to worry about rust.
There are a variety of places these handles can mount. They can be used with any molle panel, on all bed racks with thin side panels, and I'm sure there are a few others I missed.
Final Thoughts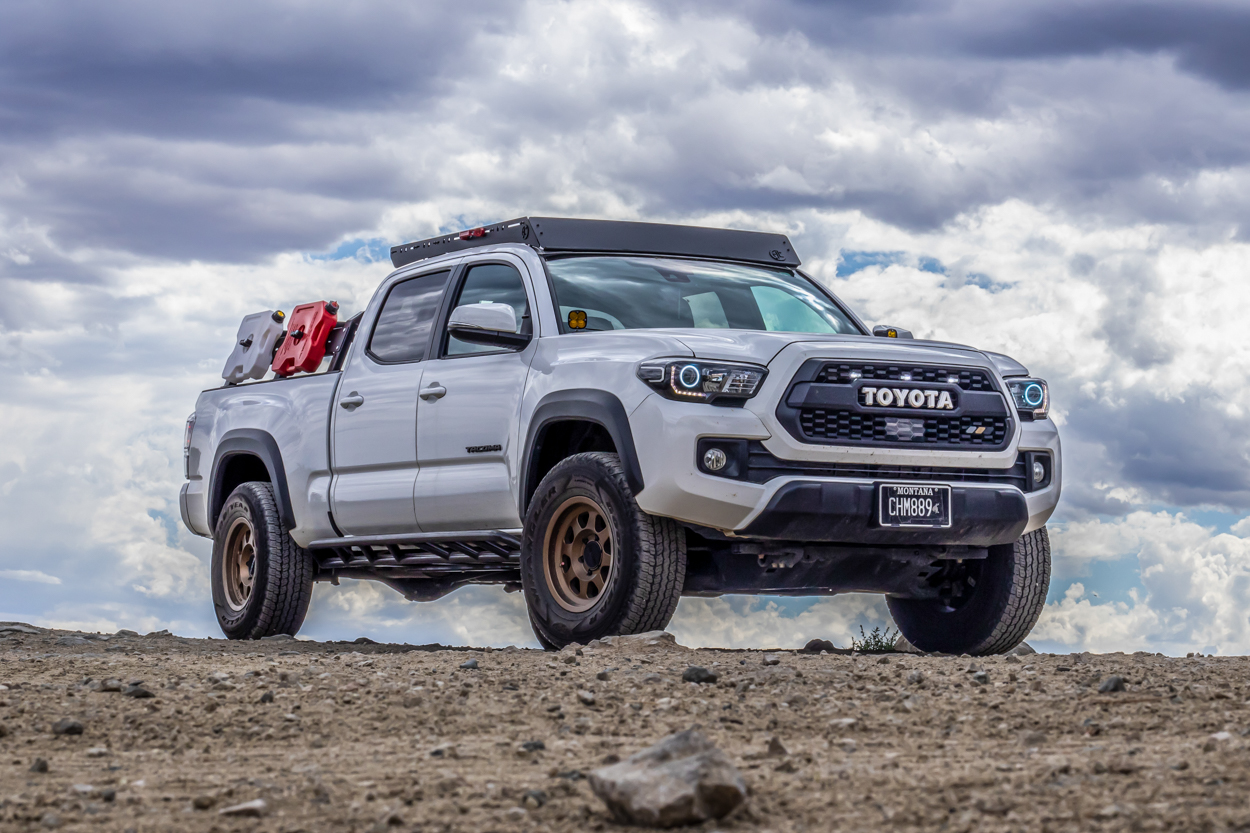 I installed two handles total, one on each side of my rack. I like how tactical they look and the red color gives my rig just the right amount of accent color.
Over the past month or so of heavy rain, tight trails, and endless Arizona sun, these handles show no signs of wear, fading, or damage. They don't catch on branches or brush, even in the tightest spots.
They seem to shed water easily, and the protective coating on the outside has the unique advantage of keeping these handles cool to the touch in the sun! I'm thoroughly impressed with this product and recommend it to complete any off-road or overland build.