Looking for a Spare Tank for Water & Fuel? Check out the Latest in Auxilary Tanks, The 6-Gallon, Universal Tank Option from Trail'D
There are several options on the market for carrying auxiliary liquids, be it for gas or water. None of them might be as unique as the Trail'D tank.
If you've ever planned an off-grid trip in your Tacoma, you probably considered that its wise to bring additional fuel and water. But liquids get heavy fast and finding a safe, easy and convenient way to store them can be a bit difficult. We wanted to share a new product in the auxiliary liquid storage category, as well as our experiences and thoughts.
This new option is not only bigger than the competition, coming in at 6 gallons, but it conveniently stores in the location of your spare tire. This option is mainly for those who are running a 33″ or larger spare, which is difficult to fit in the stock location. The Trail'D auxiliary tank allows you to maximally utilize the available storage on your truck.
Another cool feature? These bad boys are stackable! The super sleek design allows you to carry up to 3 of them in the spare location, which gives you an additional 18 gallons of water and/or gas storage. Not bad at all. In fact, it's pretty impressive and unlike anything else on the market. This product checks all the boxes for requirements when it comes to extra storage.
Note: Although we're installing this tank on a 3rd Gen Tacoma, it fits in pretty much any vehicle that mounts a spare tire underneath the vehicle.
Without further delay, let's get into some specifics.
Find It Online
The Trail'D Story

Trail'D is based out of Salem, Oregon, and was started in 2019 when the founders couldn't find a liquid storage solution that worked for them.
After spending a ton of time trying to find a better alternative to what already existed on the market, the team decided to design and bring their product to market.
The tank is designed and manufactured in the USA and is the only storage solution that mounts in the space meant for the factory spare tire.
Specifications

The Trail'D "Spare" Tank is constructed from a heavy-duty, Linear Low-Density Polyethylene plastic which is FDA approved for storing drinking water, and as a bonus, 100% recyclable.
The tank has a 6-gallon capacity and four grab handles for easy carrying and hauling around. Its also equipped with a flexible filler neck and a well-sealed cap. The tank is about 29 inches in diameter and around 3 inches thick, keeping it low profile and making it easy to stack.
The wear tabs help to ensure a long life of abuse on the trail and the non-transparent black plastic provides UV protection and helps to prevent the growth of algae over extended periods of storage.
Trail'D offers an excellent manufacturing defect warranty of up to 5 years from the date of purchase. The tanks are also resistant to road grime, chemicals, and whatever the trail can throw at it.
Technically speaking, due to strict EPA regulations, this tank cannot be advertised for storing fuel. However, that's not going to stop us. The intention behind the tank is clearly for storing a wide variety of liquids, including gas. Just know, you technically do so at your own risk.
As previously mentioned, you can stack up to three of the tanks to increase your storage capacity to the max and take advantage of the free space where your spare used to sit. Three tanks stacked on top of each other essentially takes up the same amount of room as the factor spare.
The empty tank itself weighs around 10 lbs. If you're wondering, a 6-gallon tank, full of water, weighs around 60 lbs. A tank full of gas weighs around 48 lbs.
Use & Benefits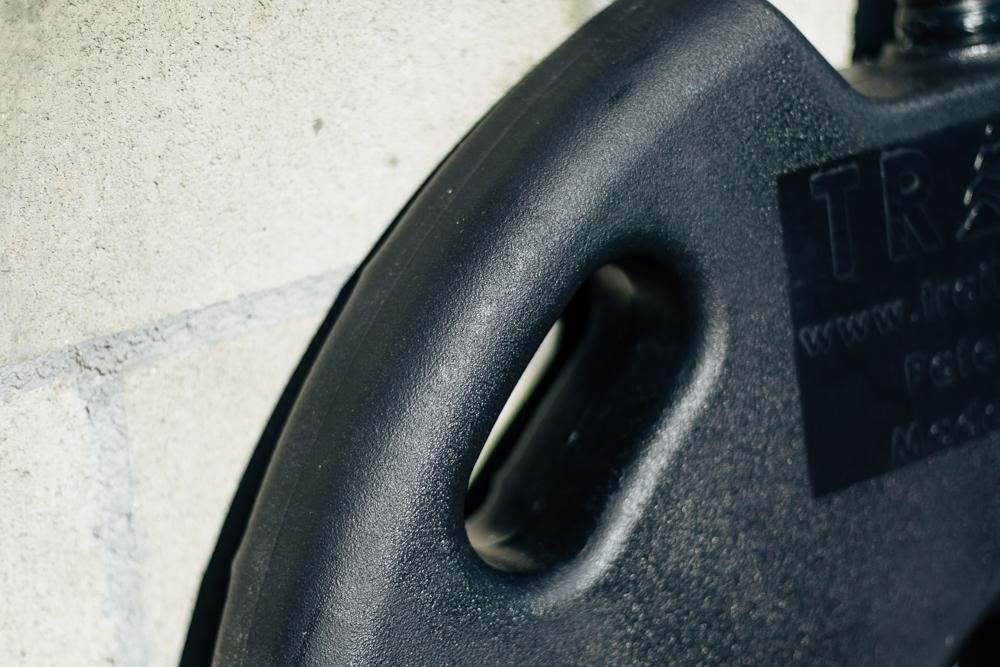 This tank is so versatile, it has several potential uses you might not have imagined.
You can use it to store water for a camp shower – simply fill the container, leave it in the sun to warm up, and pour it into your portable shower setup. You could also add an on/off spout or even an electric or foot pump for water on demand.
I don't have a ton of weight in the back of my truck. The additional liquid storage capacity is a huge plus, but being able to easily add some weight to the back of the Tacoma is very beneficial in my case. The added weight helps to soften the ride too.
Keeping your liquids stored low to the ground improves your center of gravity and gives you better stability compared to a roof or rear bumper-mounted solution. This also frees up space for other important gear and accessories. Most of us know how quickly space runs out when packing for an extended trip.
Trail'D recommends that you only choose one type of liquid per container for the life of the product. The plastic can absorb some liquids and you don't want to contaminate your water supply or otherwise.
Something else to keep in mind, the more tanks you mount, the less ground clearance you'll have. Now, for most of us, rocks don't get anywhere near the spare tire. But it's something to keep in mind if you're putting your Tacoma through its paces on a tough trail.
Installing the Trail'D Tank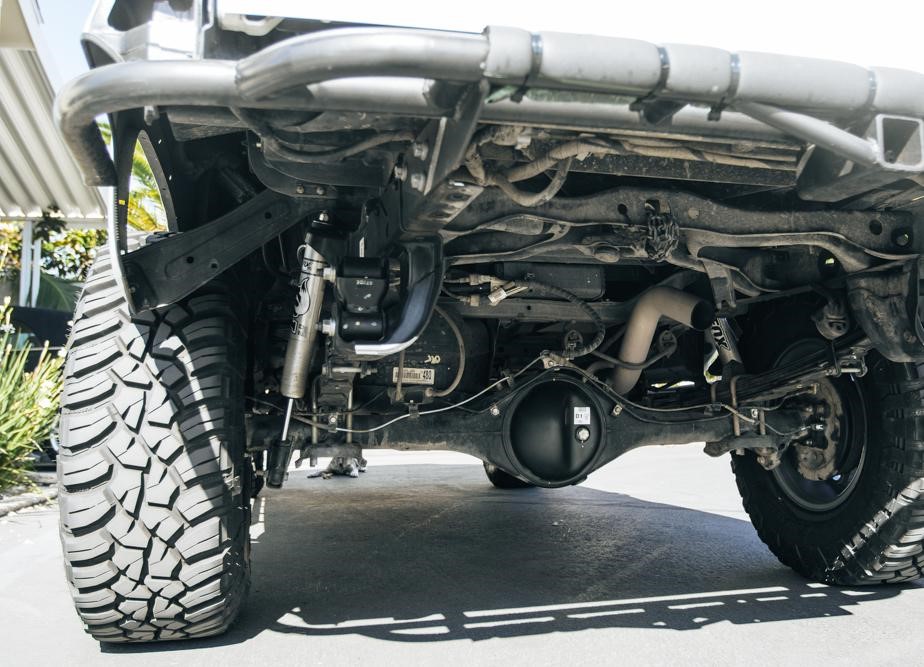 Let's do a quick walkthrough as to how the tank mounts on the underside of your Tacoma.
Step 1. Grab Hoist Tools & Assemble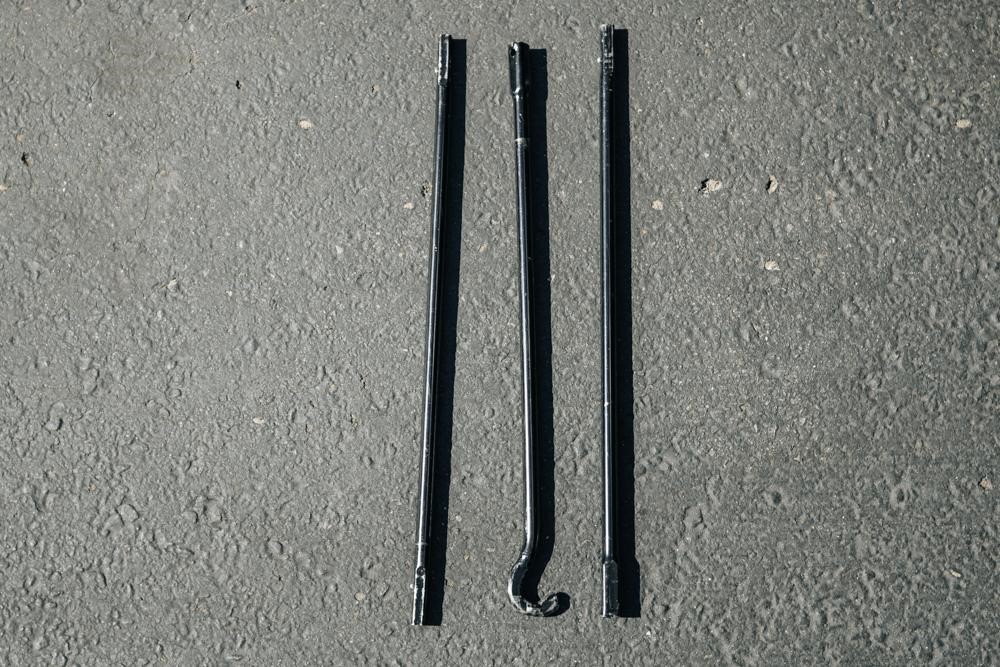 You'll need to grab your spare tire hoist kit from your OEM tire changing kit.
Assemble the pieces so you can lower your spare if you still have one, or just the loosen chain if you do not.
Step 2. Lower The Spare/Hoist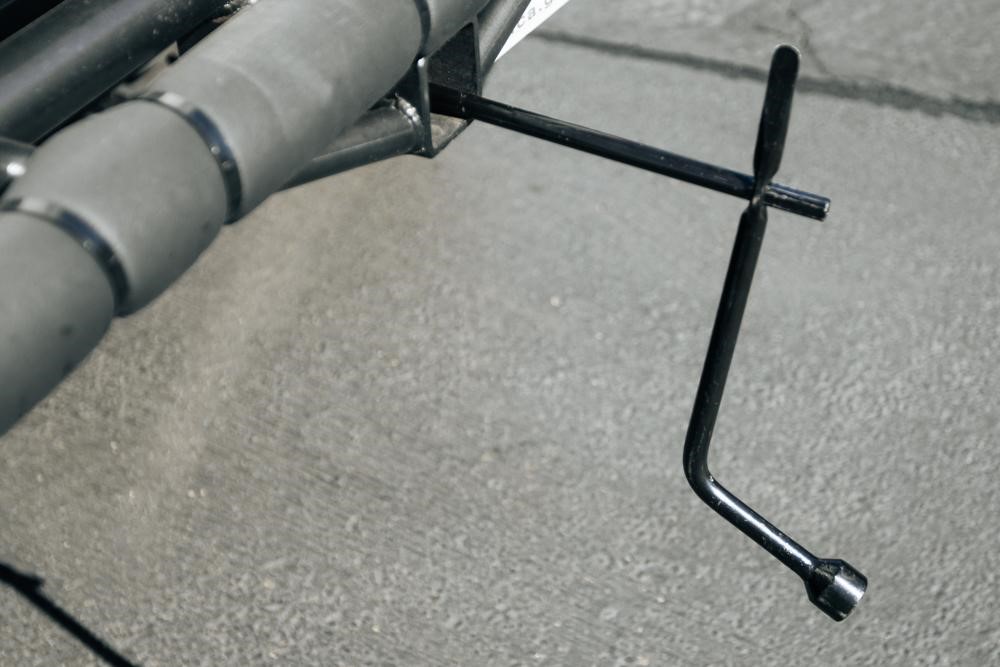 Insert your tool into the hoist, most likely, you'll pass the tool through your hitch or bumper opening on the way to the hoist.
Turn the tool counter-clockwise to lower the hoist or spare.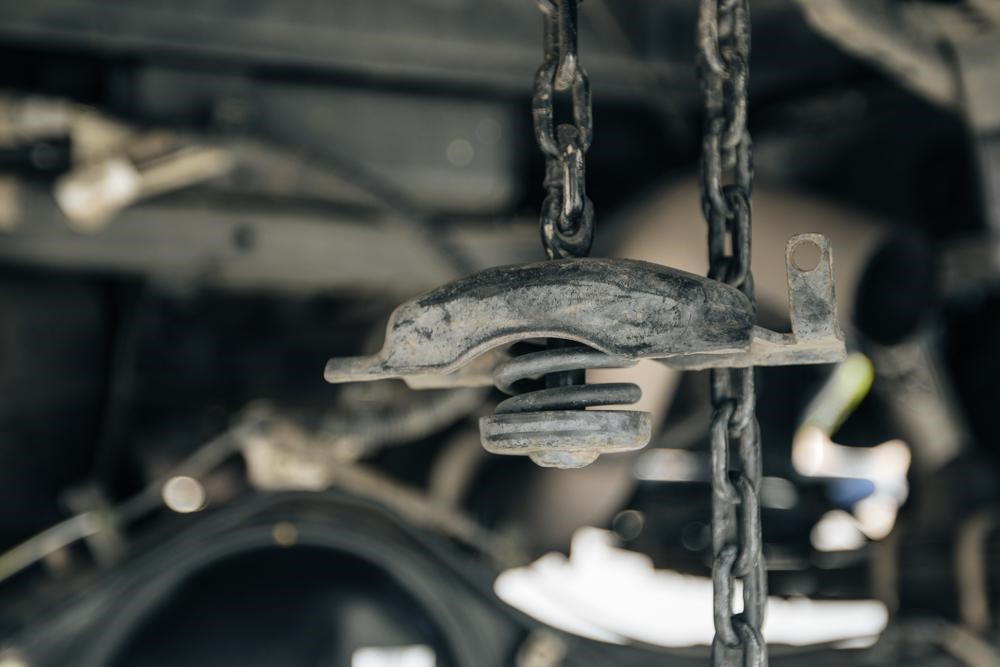 Keep lowering the chain until it reaches the ground.
As mentioned before, this is the chain that will support your Trail'D tank the same way it would your tire.
Step 3. Insert Hoist into Tank Opening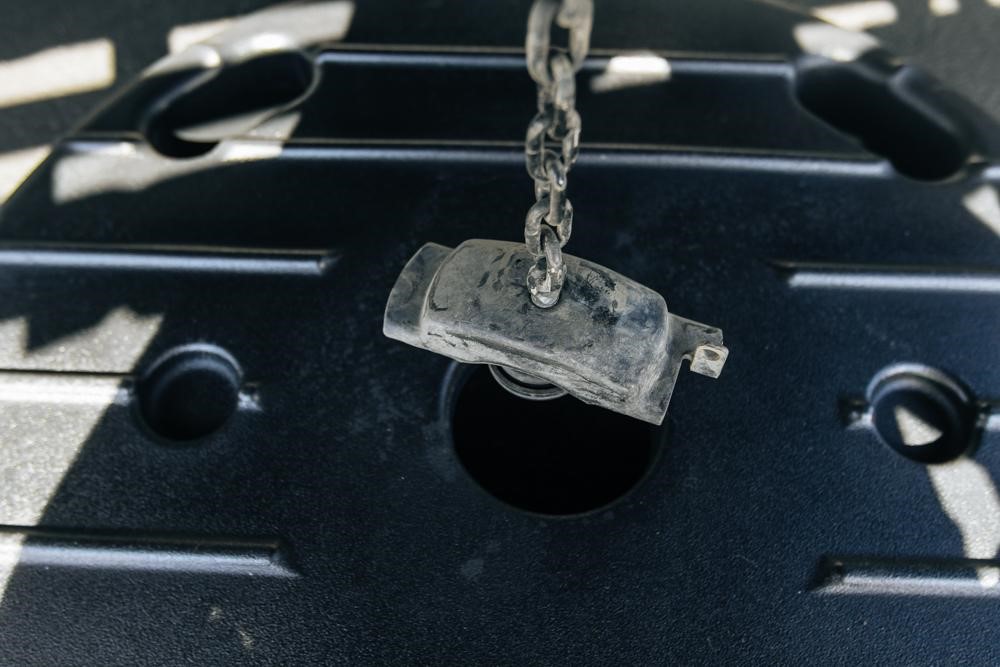 Once you've lowered the hoist, insert the metal support plate the same as you would into your OEM spare tire. Make sure the tank is oriented as above.
Before you start lifting the tank, make sure there is tension on the chain so it does not slip out as you are cranking it up.
If you plan to stack your tanks, keep in mind the tabs on top will fit into the recessed slots on the bottom of the next tank. This helps to lock everything in place and prevent excessive movement.
Note: The small tab seen on the right side of the hoist should be flattened before installing. The tank is plenty strong to not be damaged by the upright tab, but it's better to be safe than sorry. Doing so will also help to make mounting the tank a bit easier.
Step 4. Secure Tank Firmly Against Cross Member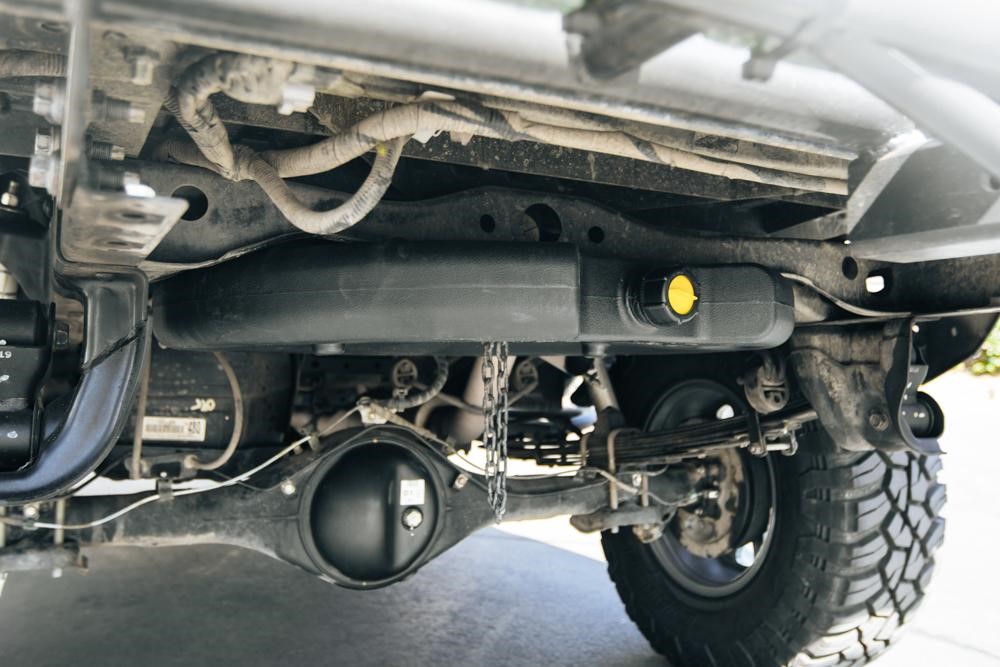 Crank the tool in its designated hoist location clockwise to tighten the hoist chain and bring your tank up into its new spare location. Tighten until the tank is firmly seated in its place.
A single tank is very sleek and is hidden completely underneath the rear bumper of your vehicle. This maintains a good deal of clearance. However, once again, you will need to remember that you'll be losing ground clearance the more tanks you choose to install.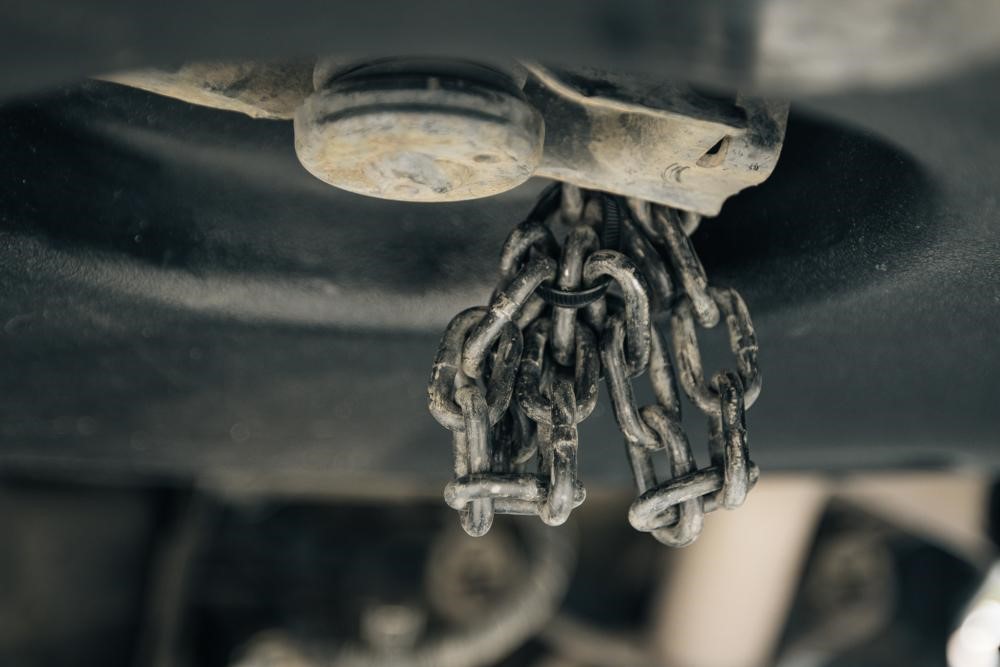 Just a tip, I suggest zip-tying the slack from the hoist chain to get it front flying around or getting snagged on anything.
This also makes the area look less cluttered.
Final Thoughts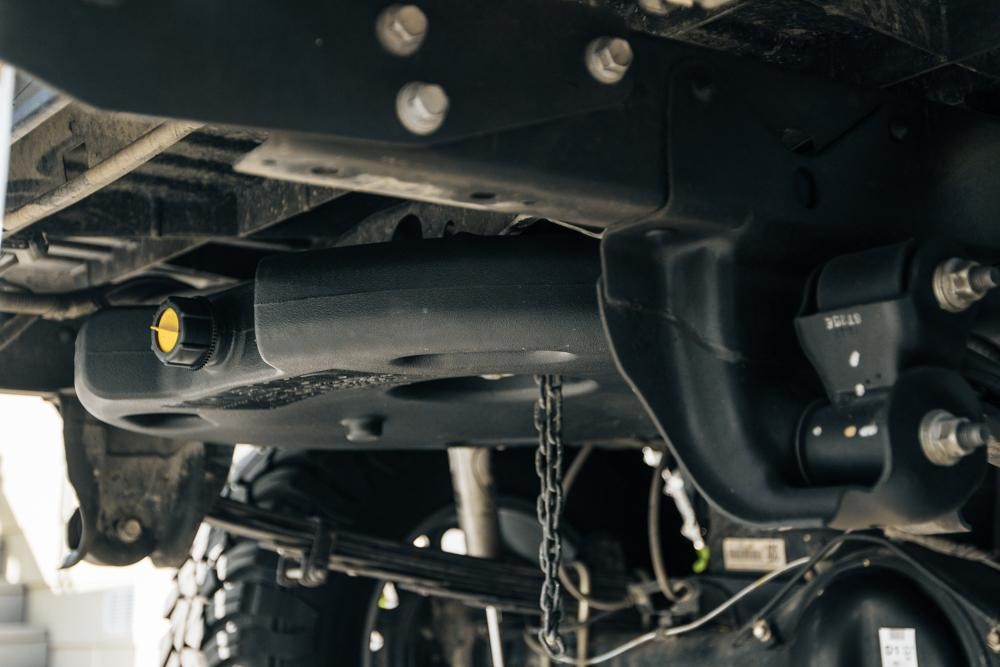 This tank has proven its strength and durability from the moment I got my hands on it.
I have put some serious miles on my truck since adding the Trail'D tank, both on and off-road. From California, through Utah and into Colorado, it hasn't leaked, it has stayed in place and hasn't gotten any damage.
I am thoroughly impressed with this latest addition to the auxiliary tank market. I think Trail'D is definitely on to something here. I'm stoked about getting my hands one of these and I have no doubt that it will only continue to prove its usefulness.