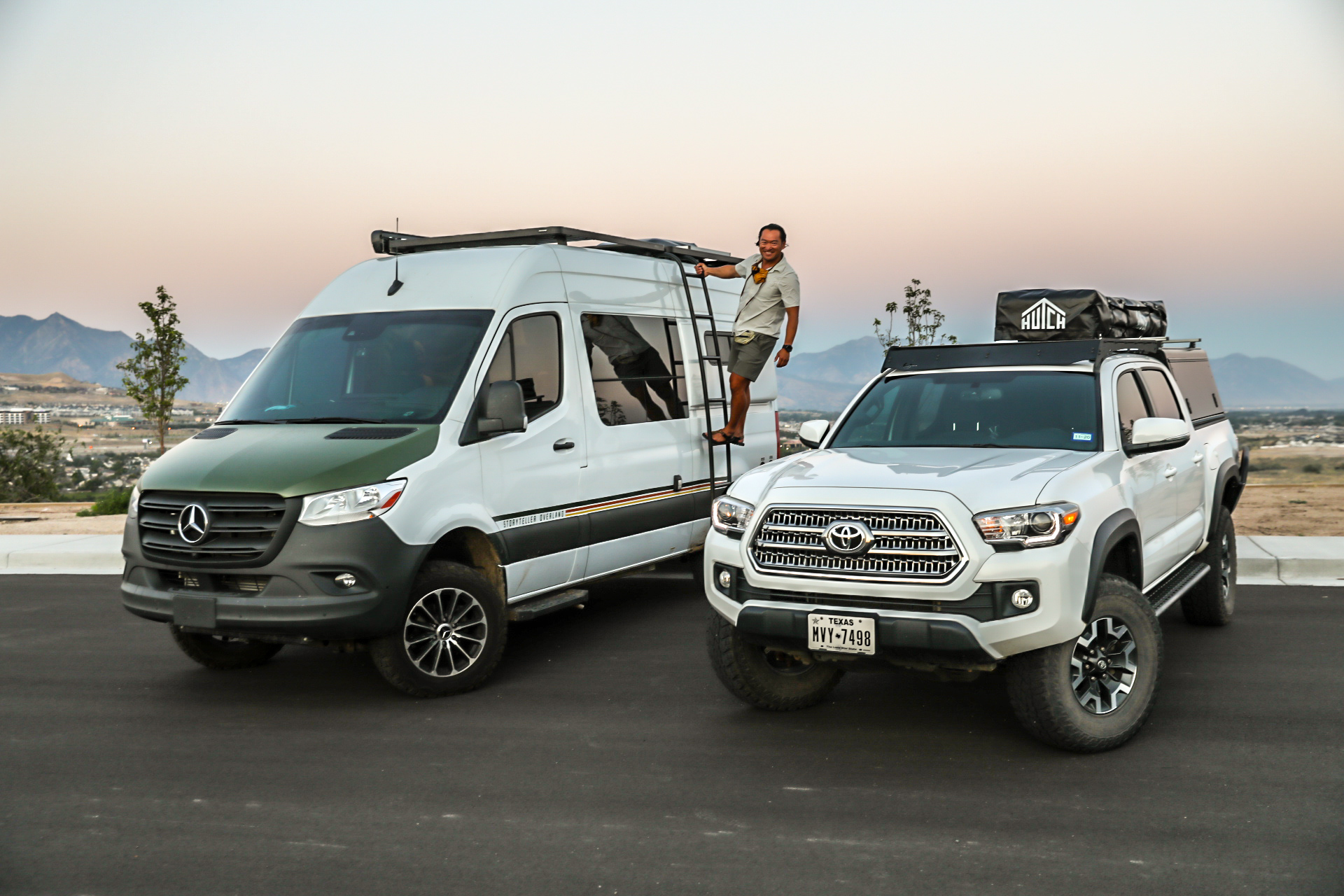 Buying a Built Overland 3rd Gen Tacoma – My Experience and Everything You Should Look Out For When Buying a Semi-Modded Truck
Most of us have been there, or at least thought about, buying a truck that is already somewhat or completely built by someone else. Recently, I was thrown into this situation. I sold my built 4Runner (I'll share some pictures soon, don't worry) and only had a few days to find a new-to-me truck.
Before I continue, you might be wondering what's going on in the first image. That's the previous owner, his new @storytelleroverland Sprinter build, and my new to me, 3rd Gen Tacoma.
Buying a good truck (especially used) is already a mission. There are a lot of factors to consider to make sure you get your money's worth and don't end up with a dud. This search, and the decision, gets more complicated when it comes to a vehicle with overland/off-road aftermarket modifications. There are several additions things to consider and watch out for.
In this article, I'll be detailing my experience with buying a built rig and all the important aspects to be aware of. To add to the suspense, the truck I was looking at was nearly 1400 miles away. The whole first half of the transaction was done with a stranger, across the country, without me ever actually seeing the truck. I'll also give you the highlights of our 1400 mile trip back home.
So now that I've got your attention, let's start at the beginning.
Sold My Daily Driver 4Runner, Now What?
Like I already mentioned, I sold my 4Runner and was needed a new truck ASAP. Above, you can see my previous build. It's a 2005 Toyota 4Runner 4WD V6 Sport Edition. It was modified front to back, inside and out.
It was an incredible truck, I put over 120k miles on it over about 6 years. It took us on several cross country road trips and never let us down. We often wheeled and traveled solo, and although I was typically cautious, the 4Runner never skipped a beat and we never found ourselves in any situation we couldn't fix on our own.
Anyway, back to the topic at hand.
Nationwide Search for a 3rd Gen Tacoma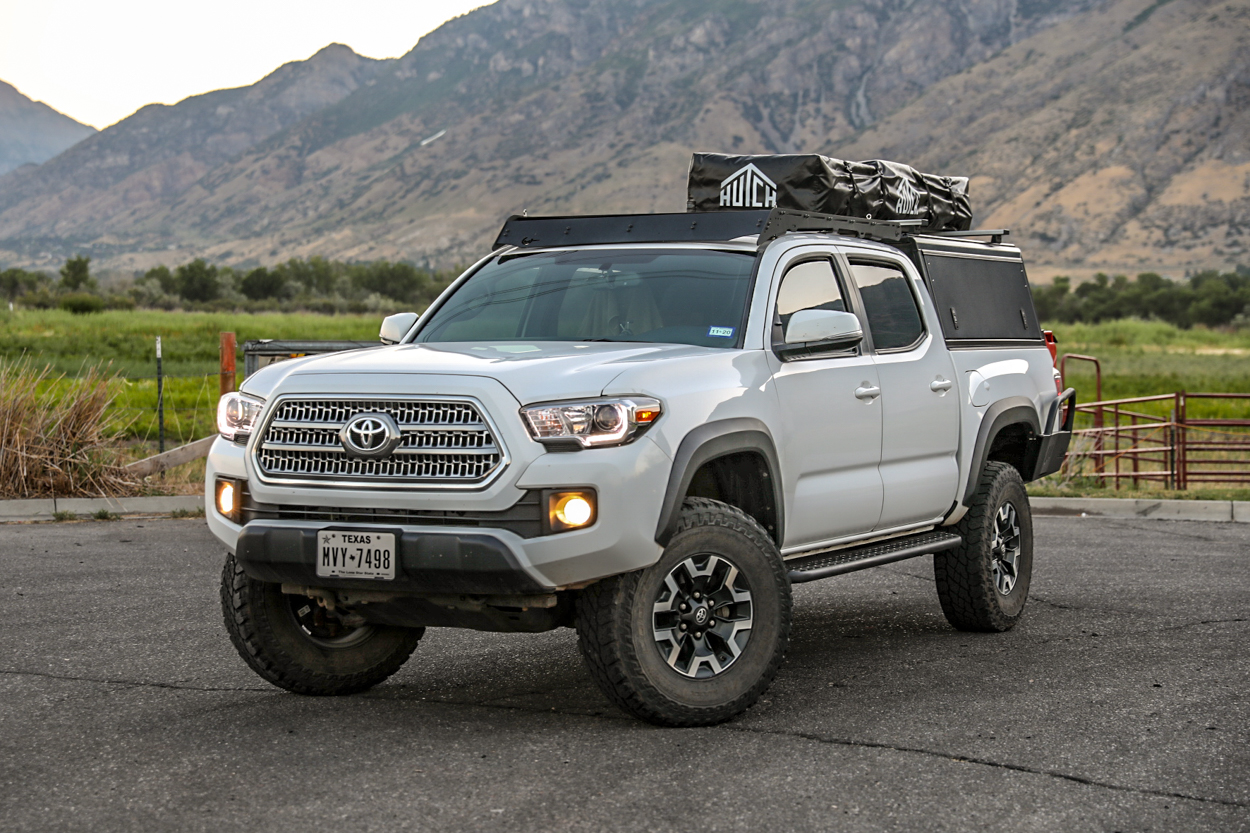 Sorry guys, but this section won't have any cool photos to match. Didn't get a chance to snap any photographs of myself while intensely scouring the web for a new truck, haha.
I was surfing the typical sites and forums looking for a truck within my budget. I was looking for a 2017 Toyota Tacoma Off-Road, with 4WD, less than 50,0000 miles and preferably far away from where I live, the Midwest, due to the common rust we see here for around, but preferably less than, $30,000.
Due to the high demand, finding a well-priced Tacoma was tough. Finding one with a clean title and no crazy vehicle history report was evener tougher. I sold my 4Runner on a Monday and I knew I needed a truck by the coming weekend. I was looking all around the country because I knew that living near Chicago not only drives up demand but also prices. I had my eye on a few trucks at various dealers. One in Nebraska, one in West Virginia, and another somewhere down south, it's slipping my mind at the moment.
Just as I was about to commit to going to a dealer in West Virginia, I found a Tacoma for sale in the forum classifieds. The truck was a paid-off (no worrying about paying the car note) 2017 Off-Road with a few tasteful modifications. The price was just lowered and after a few phone calls, messages and negotiations, and within 24 hours of selling my 4Runner, we struck a deal.
Let's get into some specifications before we continue our story specifics.
Truck Specifications
Current truck build:
Super White 2017 Toyota Tacoma Off-Road
55,000 Miles
1-Owner
OME Nitro Charger Front/Rear Shocks
OME 887 Front Coils
OME Dakar Heavy Duty Leaf Pack
Light Racing Upper Control Arms
Shrockworks Bolt-On Rock Sliders
C4 Single Swing-Away Rear Bumper
AluCab Explorer Canopy
Cooper Tires 255/85/16 (skinny 33s) S/T Maxx
As you can see, this was a great foundation to start with. Having just parted with a fully built truck, and looking to hit the trails ASAP, would have taken me much longer to achieve than just buying this truck outright. Most of the parts were a few years old, but again, it was ready for the trails and it was immediately available.
Important Factors to Consider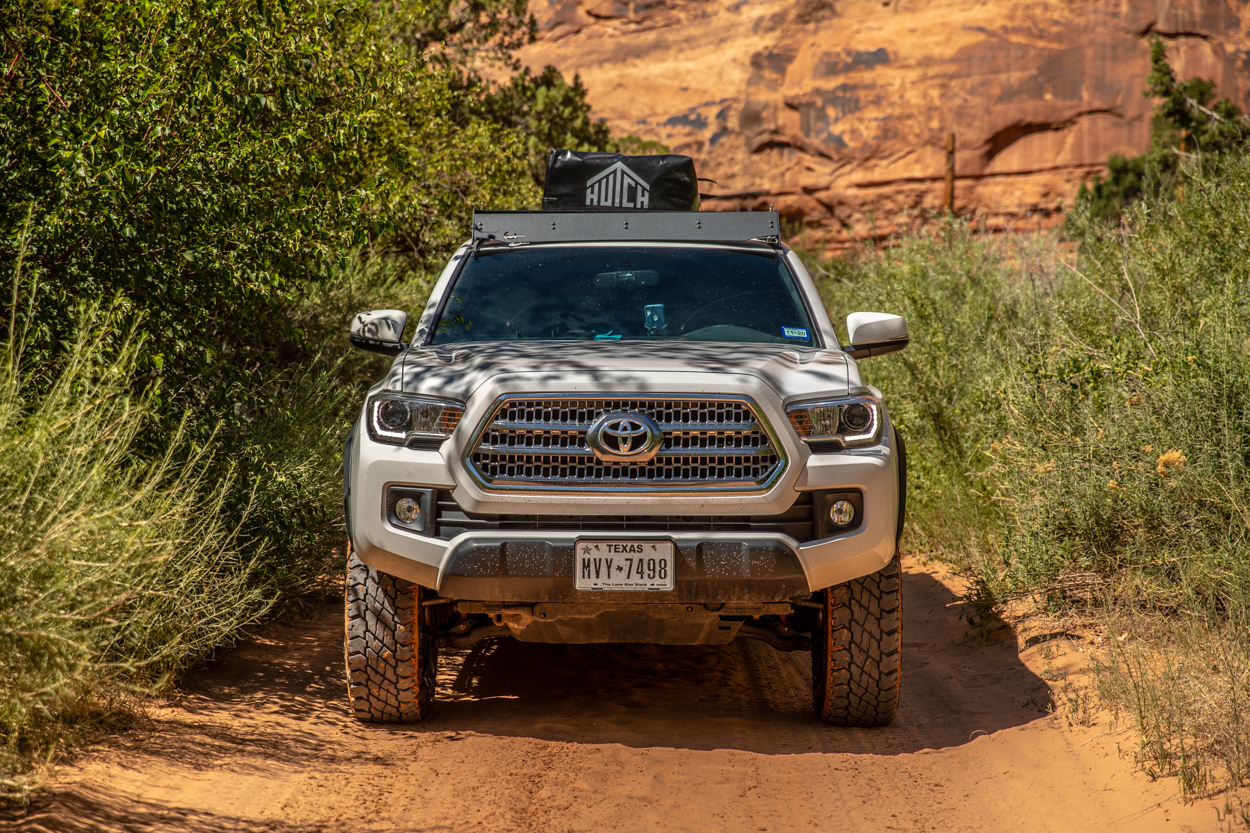 Let's talk about what you need to be on the lookout for when buying, a truck that's not only built but across the entire country.
The next few sections will cover exactly what to ask, what to do, and how to do it.
Vehicle History Report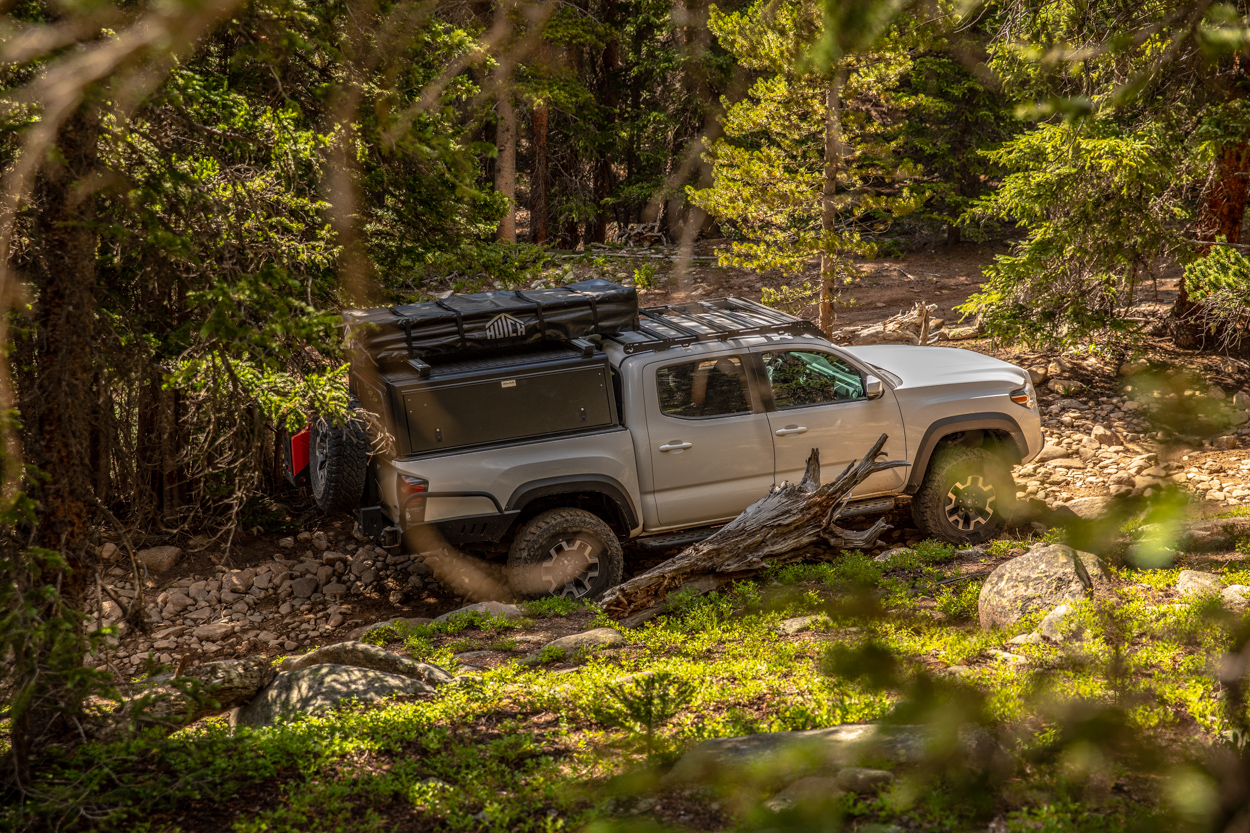 One of the first things you should think about when buying any truck is its history. This is where a vehicle history report comes in.
The past 8 years my work took me, among other jobs, to several dealerships in our surrounding area. Suffice it to say, having worked in that environment, and being on my fourth car purchase, I knew what to look out for. If you're curious, I started with a 1999 Isuzu Trooper, then moved into a 2000 Toyota 4Runner, and after that, the previously mentioned 2005 Toyota 4Runner.
Back to the vehicle history report.
You need to run one of these, no matter what. Do not ever take the seller at their word, there are just too many people looking to scam you to make a buck. A full history report, most often a CarFax, is your best bet. The reports don't cost much and you can see reported accidents, owners, and a whole bunch of other relevant information.
Being in Chicago, and the truck in Utah, there was a bit of tension surrounding the deal. If we were to settle on a number, I would have to buy a plane ticket, send a deposit, and plan out my voyage home. Having found the truck for sale on a forum, I felt slightly more comfortable. This might seem odd to some people, but the greater majority of forum members are not crooks. At least, a much, much smaller percentage than those people who operate outside of it.
The previous owner, @reallylivin (private account, if you send him a request, he might accept, or he might not), had posted his phone number and I quickly gave him a call. Actually, I accidentally called him late at night and promptly hung up, hoping I didn't disturb him. I quickly got a call right back and after getting to know each other, we started to negotiate.
I slept on the deal and after some back and forth, we decided on a number that both of us were comfortable with. I promptly dropped a deposit. Now, I was confident in the seller at this point. I had looked up his previous posts on the forums, his rankings and asked a thousand questions. He was very forthcoming and I didn't get the impression he was out to get me.
The truck had a blemished CarFax due to an accident.
Although this might be a turn-off for some, I knew that the damage was less than moderate and the seller provided me with a series of images of the damage and associated documentation. Having seen the damage, and assessed the CarFax, I knew the truck was in good shape, that there was no serious damage, like to the frame, and that the work was well done. At this point, I was comfortable moving forward.
Inspecting the Vehicle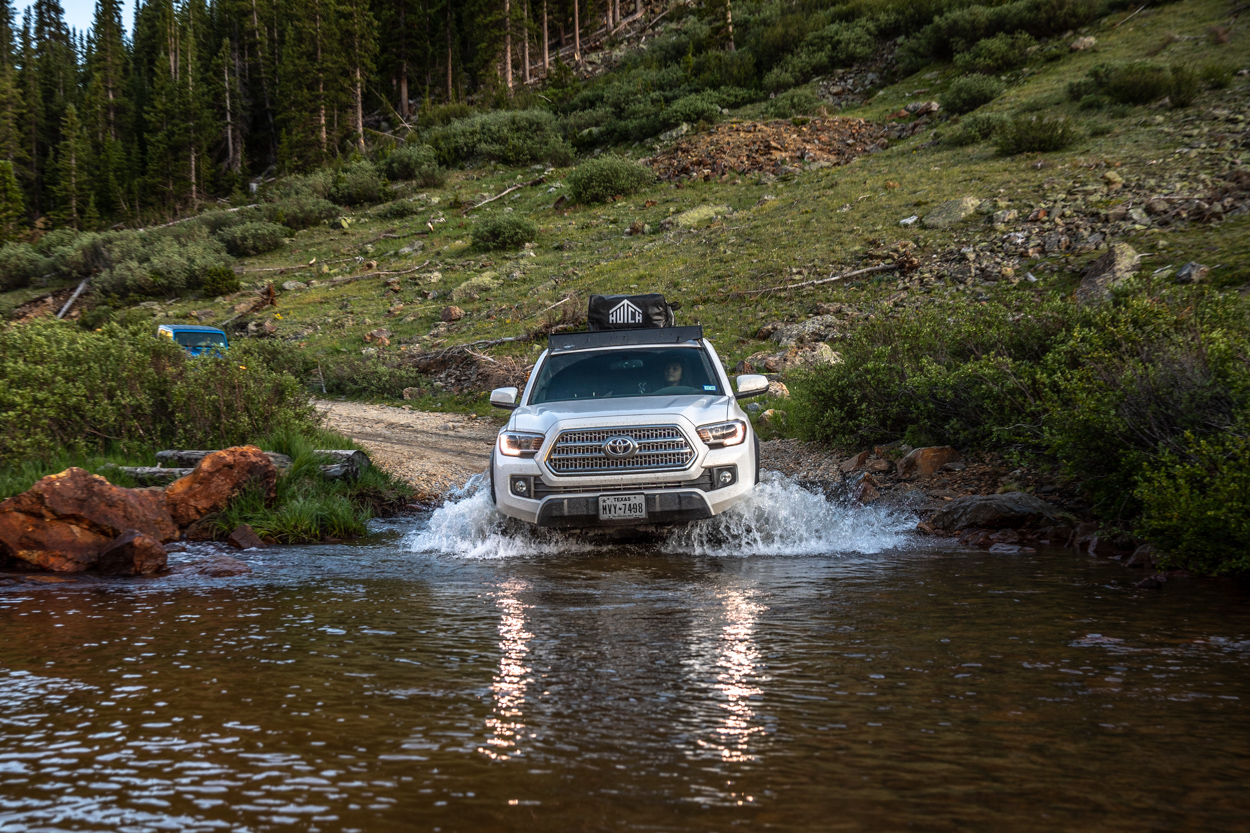 Obviously, if you can see the vehicle in person before you strike a deal, you should be taking your time and inspecting it from top to bottom.
If it's a fairly new truck, there are typically fewer things that could potentially be broken. Less worry about rust or corrosion, stuff like that. This applies to any vehicle, but make sure you get underneath it and completely inspect for rust, leaking fluids, and any damage. If it's a built truck, be sure to check out the major visible modifications to ensure they aren't installed in a janky way. Don't forget to look for signs of abuse, such as big gashes in the body or frame and excessive damage.
On the exterior, check for any shady paintwork or poorly repaired damage. Keep your eye on all of the body lines between things like doors and fenders. These are supposed to be pretty even and unreported accidents or damage often have uneven panels. On the interior, check for excessive wear and tear and any major damage, like big spills, stains, or burns.
This part might seem overly simple, but in the moment, it's very easy to miss something.
But I had a different problem. I wanted to secure the car, but I didn't have time to wait and inspect it in person. So, I asked the owner for as many pictures as he could provide, several walk-around videos and as I mentioned before, I asked countless questions. Because the seller and I had developed some trust, I directly asked him to showcase any and all imperfections he knew about, big or small.
Good Questions to Ask:
Which services (brakes, fluids, etc.) have been performed, and when?
How many miles on aftermarket parts?
How many miles on the tires?
What kind of trail riding has the truck been used for?
What's the VIN? (CarFax)
Can the owner provide proof of ownership? (picture of title with VIN)
What imperfections are on the truck?
Any weird noises at low or high speed?
Any quirks or features we should know about?
I might be missing a few minor ones, but that covers the major and most important questions.
Putting Down a Deposit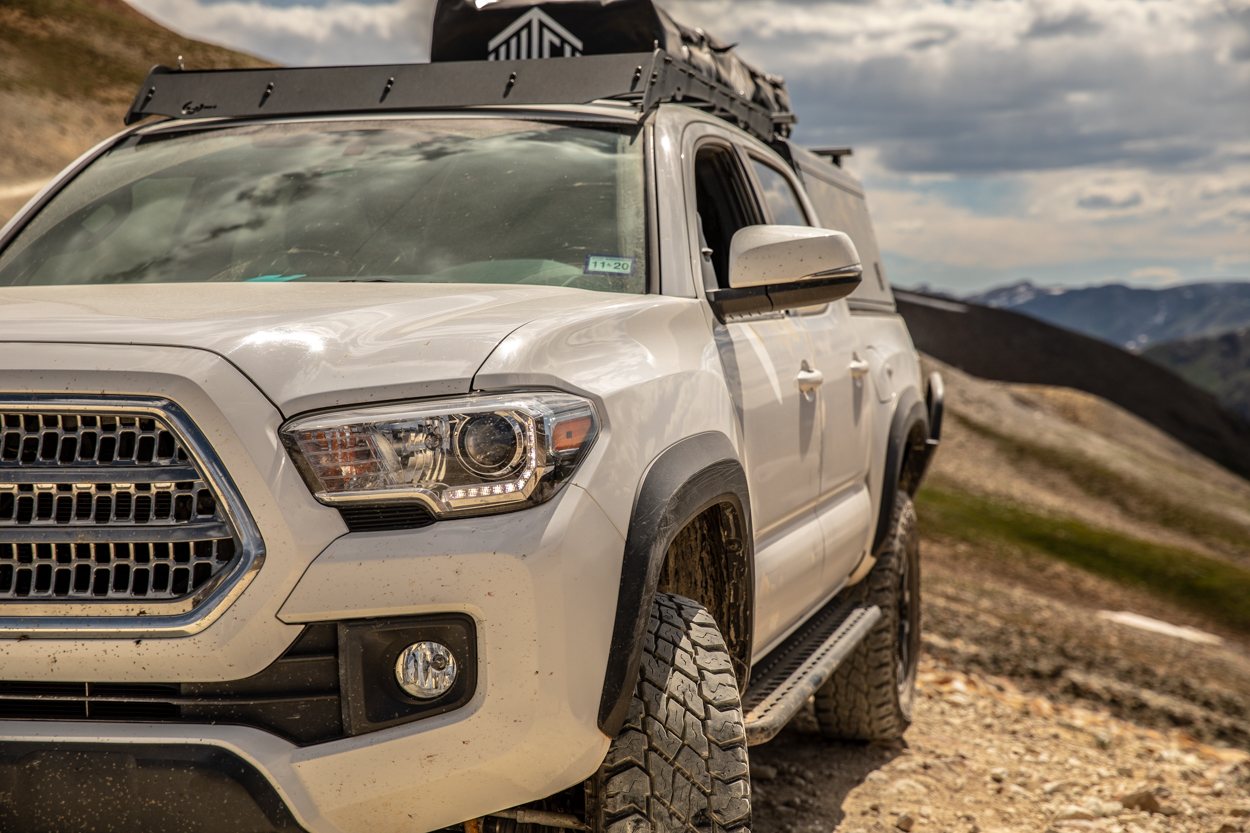 Again, no sweet pictures of me getting my money in order, sorry guys. Lol. Enjoy the truck picture instead.
Let's pick back up where we dropped off towards the beginning. So everything checked out, the owner had sent me absolutely everything without making a big deal out of my requests and I was ready to place a deposit to hold the vehicle. There are a couple of ways to do this.
First, I made a forum account and commented on the thread that I was dropping a deposit. This is yet another public way to document the transaction. Next, I was ready to send over a deposit. So how much is a good deposit for holding a vehicle? Well, if you go to a dealer, $500 usually does it. For this sale, because I wanted to ensure that the owner knew I was serious, I agreed to put down $2000.
This is probably the most nerve-wracking part of the process. I sent money to a stranger across the country, with the hopes that I was making the right decision. As I mentioned, I was very confident at this point and I knew there was a safe way to leave a large amount of money with the owner. I decided to use PayPal. PayPal is set up to protect both parties, and within the transaction, I made sure to note what the money was for with a very detailed description. You always want to do the most in case things go south.
After I sent the money, I bought my plane ticket. I found a great deal on a one-way flight to Salt Lake City from Chicago two days from the day of the deposit. I sent the seller confirmation and we were pretty much golden! On the day of my flight, I grabbed a cashier's check (certified check) and sent a quick image to the seller. I was still cautious enough to only include the amount and his name in the image.
As a final negotiation point, I asked if the seller would leave me with a clean (ish) car, a full tank of gas and some wiper fluid. Once again, he was happy to oblige.
Picking up the Tacoma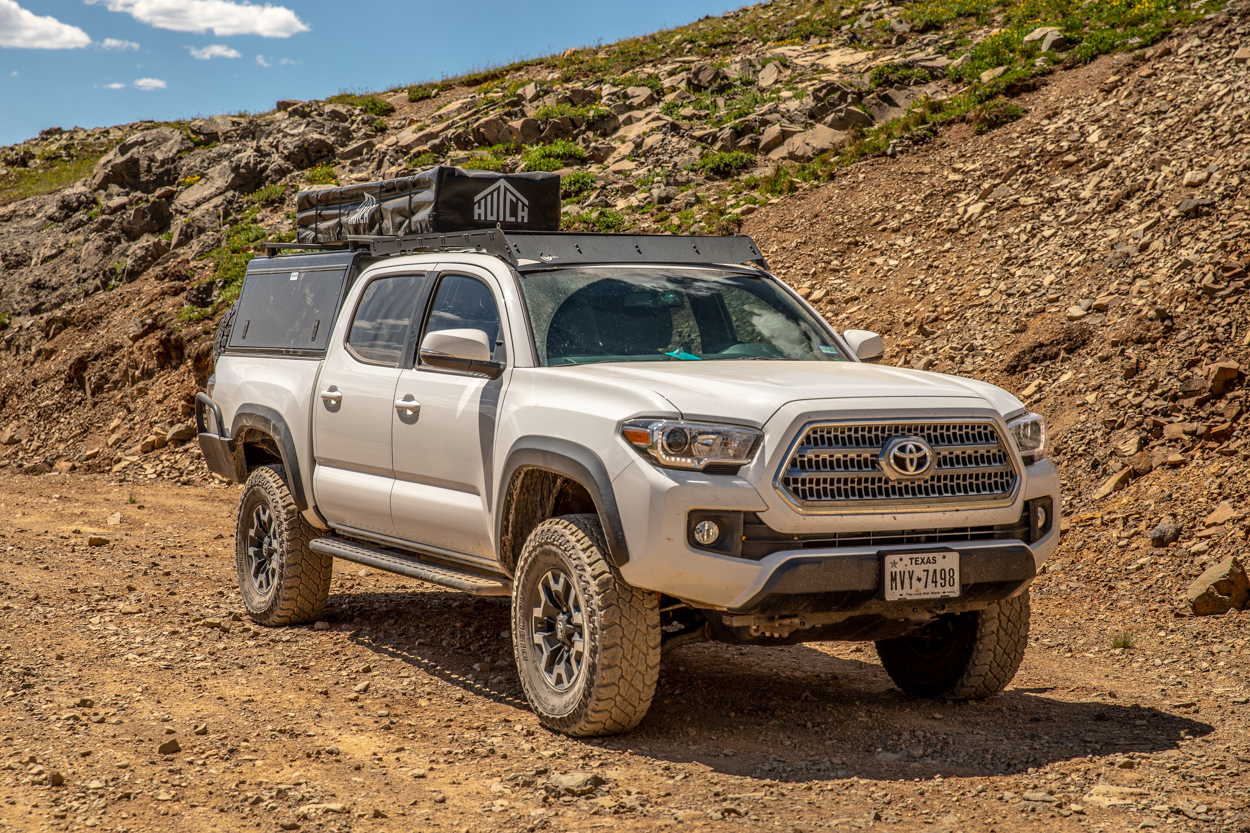 At this point, even I was shocked at how quickly we were moving. I sold the 4Runner on a Monday, was on the phone that same night, deposit placed on Tuesday, plane ticket was purchased on Wednesday morning, and on Thursday, I had a check in hand and I was boarding my flight.
I've tried to plan a lot of things in my life. If you're old enough, or aware enough, you probably know, most things don't go according to plan. This was one particular sequence of events that I couldn't have even imagined going any more smoothly. It was as if someone had scripted the whole thing and I was just along for the ride.
Back to the flight.
After a quick zip across the United States, I landed in Salt Lake City. The seller picked me up from the airport and we went back to where he was staying. But before we did that, we stopped at the Hutch Tents warehouse, which was 10 minutes from the airport. Mind you, I still didn't own the truck but the seller was cool enough to make a quick detour. At the warehouse, I met with the owner, Josh Hutchinson, and I picked up my Hutch Tents Daly 2. This was a cool little design, a 3-season, 2-person tent that was perfect for me to test out over the next few days.
Once that was done, I quickly inspected the vehicle, hopped in the driver's seat and test drove it on the way to our next destination. I made sure to check the 4WD system, give the truck a quick run for its money, and tested the e-locker. Everything checked out!
We did the entire transaction at Camp Williams Utah National Guard Base. This was yet another reason I was confident in the seller. He was active duty military and had served for several years. I thoroughly support our vets and I know the vast majority of them to be excellent individuals. This all helped to build the case that the whole transaction was meant to be.
Once we got to the base, we got our temperatures taken and proceeded to do some paperwork. Once that was done, we snapped some pictures together, the seller gave me a tour of his Sprinter, which was beyond epic, and we went our separate ways.
The Trip Home – Utah & Colorado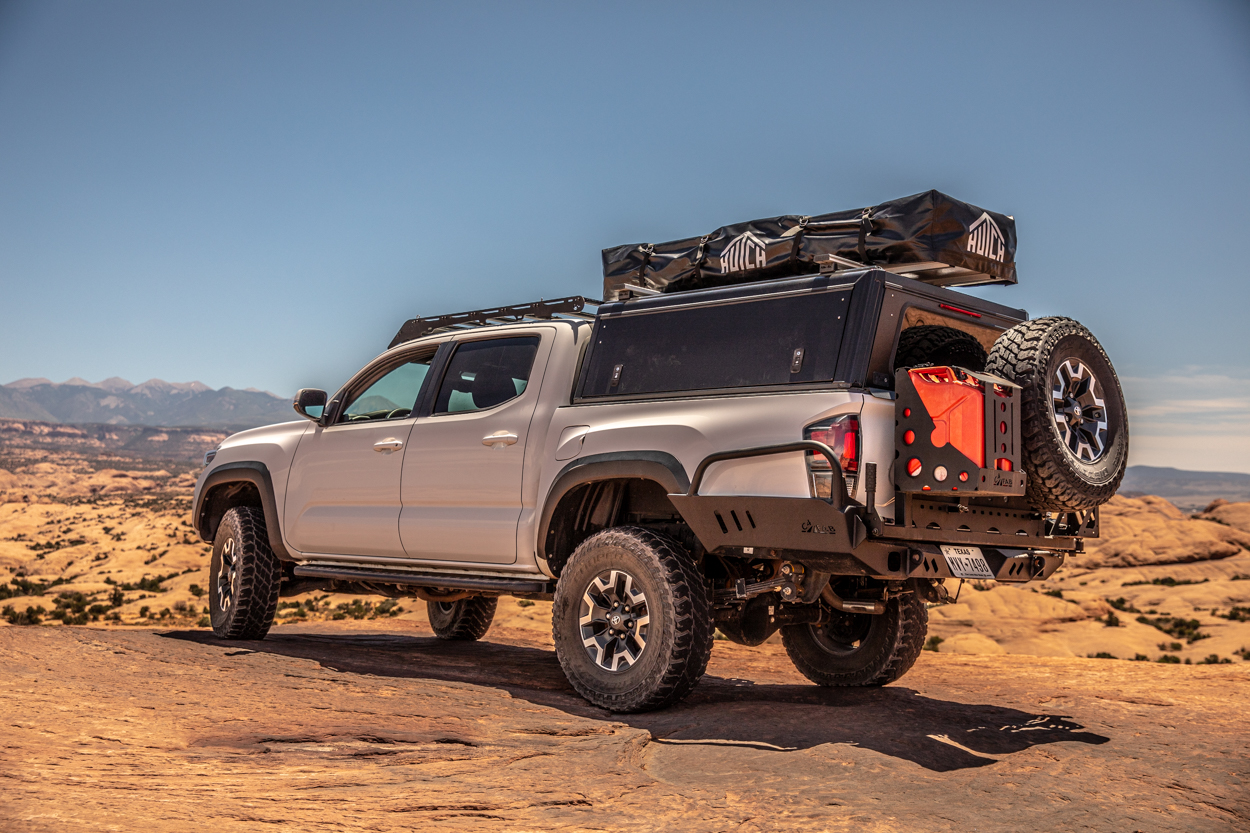 So now I'm driving my new to me truck, still in shock at how quickly things are moving.
I called a few homies to share the news and made my way to a KOA nearby to get a few hours of sleep in before I hit the road. Considering the lower mileage of the truck, good service history, and a previous owner who seemed to take care of his stuff, I was ready to take the Tacoma straight to the trails.
After a decent night's sleep, I hit the road first thing in the morning.
First Stop – Moab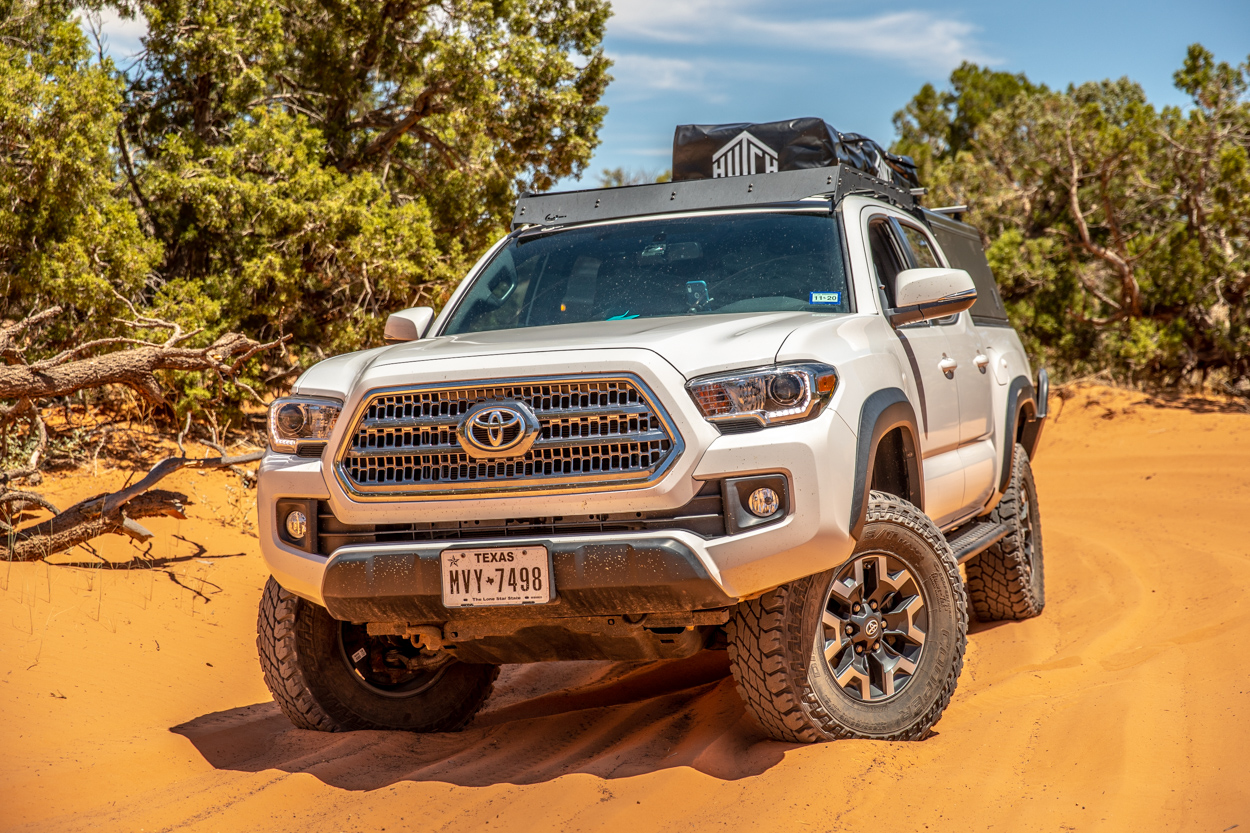 I woke up fairly early and I met up with a friend of mine, Vernon, @tacodarkness, near Green River, Utah. We used this point because it was a city where our paths perfectly intersected on the way to Moab, Utah.
Our first stop? Hell's Revenge. Vernon had never run it and I was eager to put the new Tacoma to the test. We grabbed a quick breakfast and hit the trail. This trail is basically within Moab city limits, so it didn't take us long to get there. Once you get to the Sand Flat Recreation Area entrance, you pay a fee, only $5, the attendant hands you a map, and the trailhead is right there.
Hell's Revenge Trail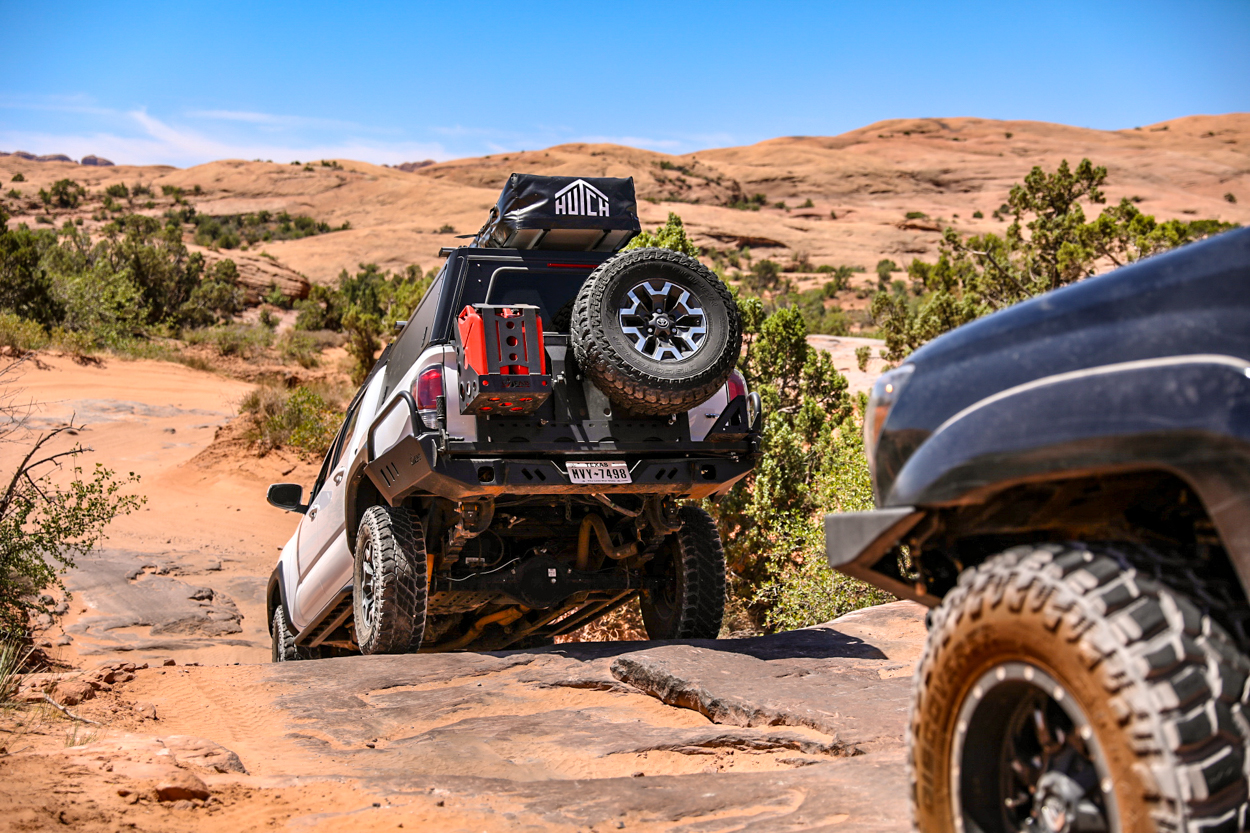 We took our time, the last thing either one of us wanted to do was take our trucks home with major damage. Hell's Revenge might be rated as a difficult trail, but that is mainly due to the obstacles you can bypass, like the hot tubs and the escalator. The rest of the trail is mainly steep inclines and declines with a few rocky portions.
These parts can be mildly challenging and intimidating if you've never wheeled, but the slickrock grips tires extremely well and if you don't try to rip through the trail, it's unlikely you'll get any damage or come close to rolling your truck. You don't need a locker either. At worst, you might tap your skids and lightly drag a bumper. If you recall the build list, I only had 33″ tires, not the best sliders, a rear bumper and no skid plates. I made it out completely unscathed. As did Vernon.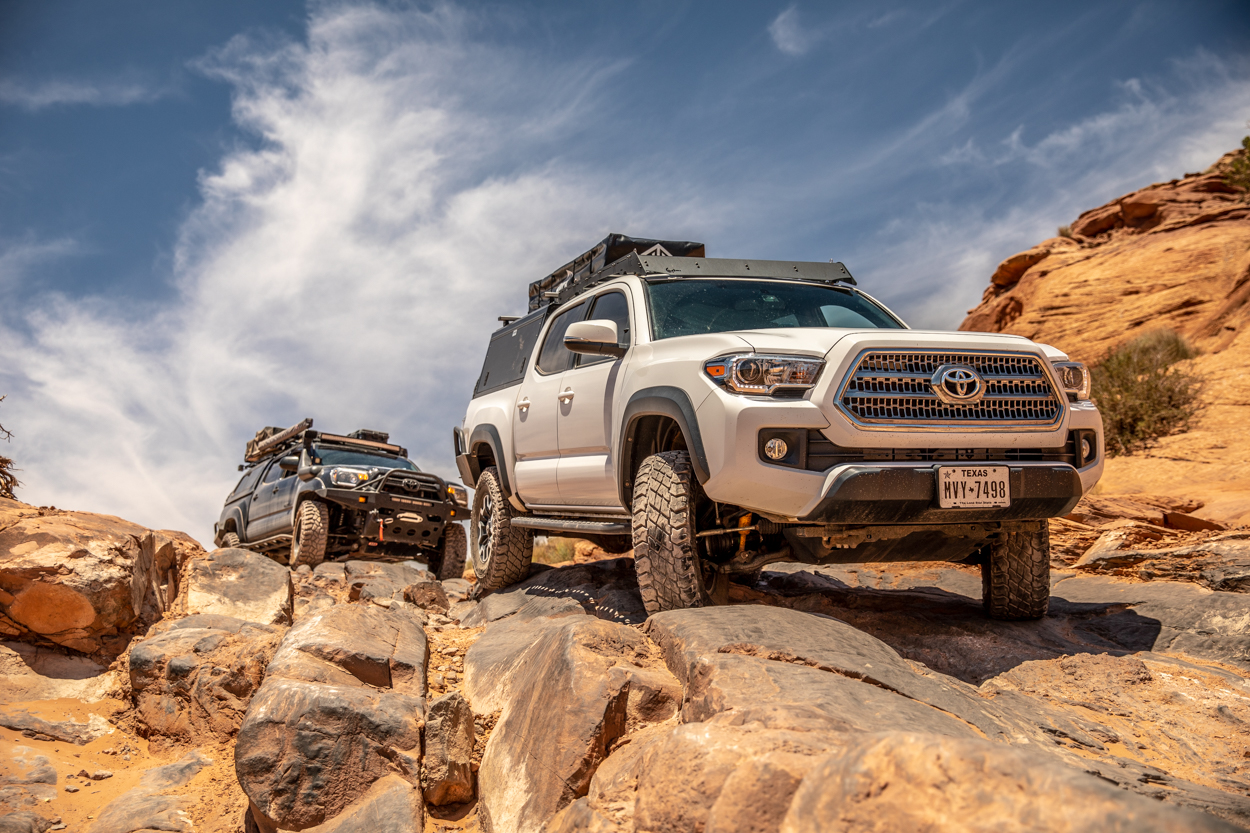 Above, you can see one of the trickier portions of the trail.
Again, nothing that a good spot and careful skinny pedal can't handle. As you probably know, Moab gets HOT in the summer and after a day of 100-degree heat, we were eager to get away from it. Since we had gotten our day started a bit late, we decided we didn't have time to do another trail.
Manti-La Sal National Forest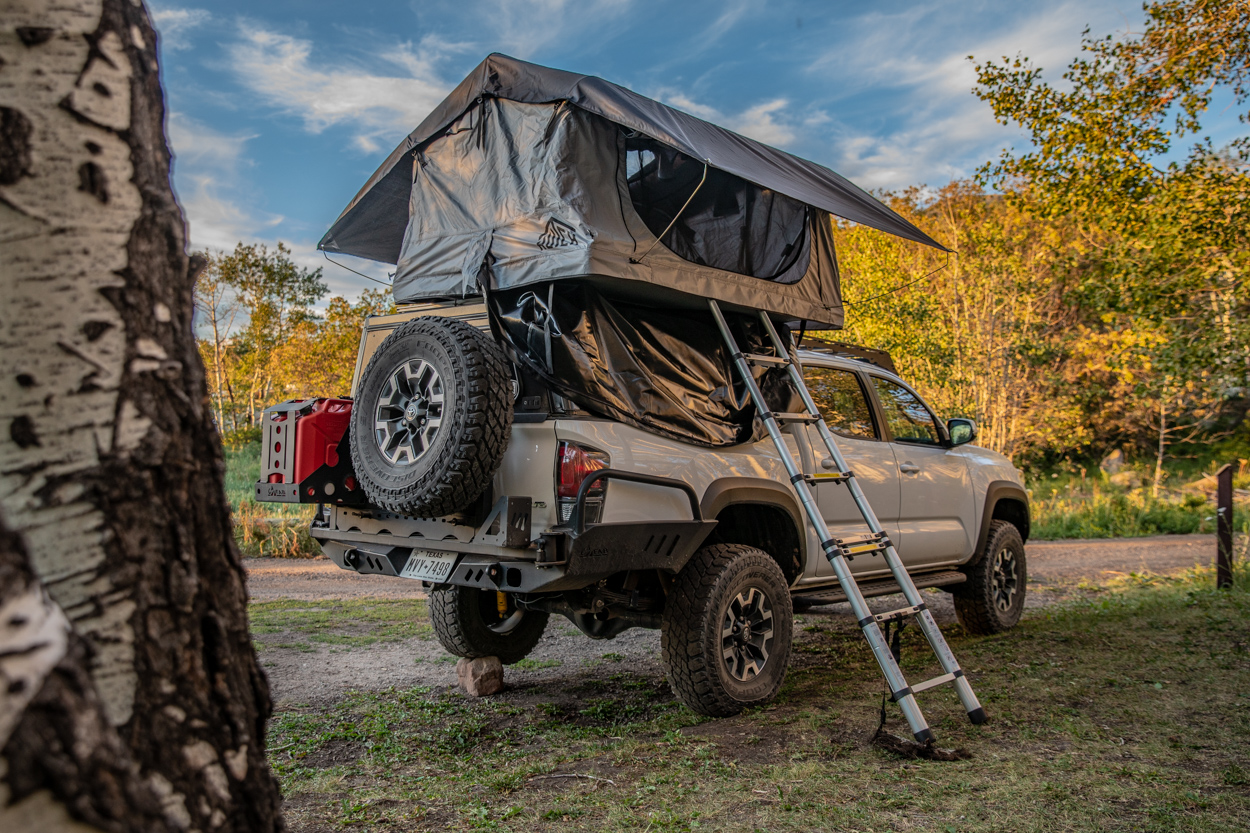 We went into town, got some gas, a 6-pack of beer and some snacks. Since we wanted to escape the heat, we decided to find camp at around 7-8k feet of elevation. We found an awesome primitive campsite in the Manti-La Sal National Forest, surrounded by white birches and temperatures considerably lower. At night, the temperature dropped down to about 50-60 degrees and we slept well. I also got a chance to fully set up my Hutch Tents Daly 2, which worked fantastically and was very comfortable.
We woke up early, aired up, and parted ways. I was off to Ouray for my next stop.
Next Stop – Southwest Colorado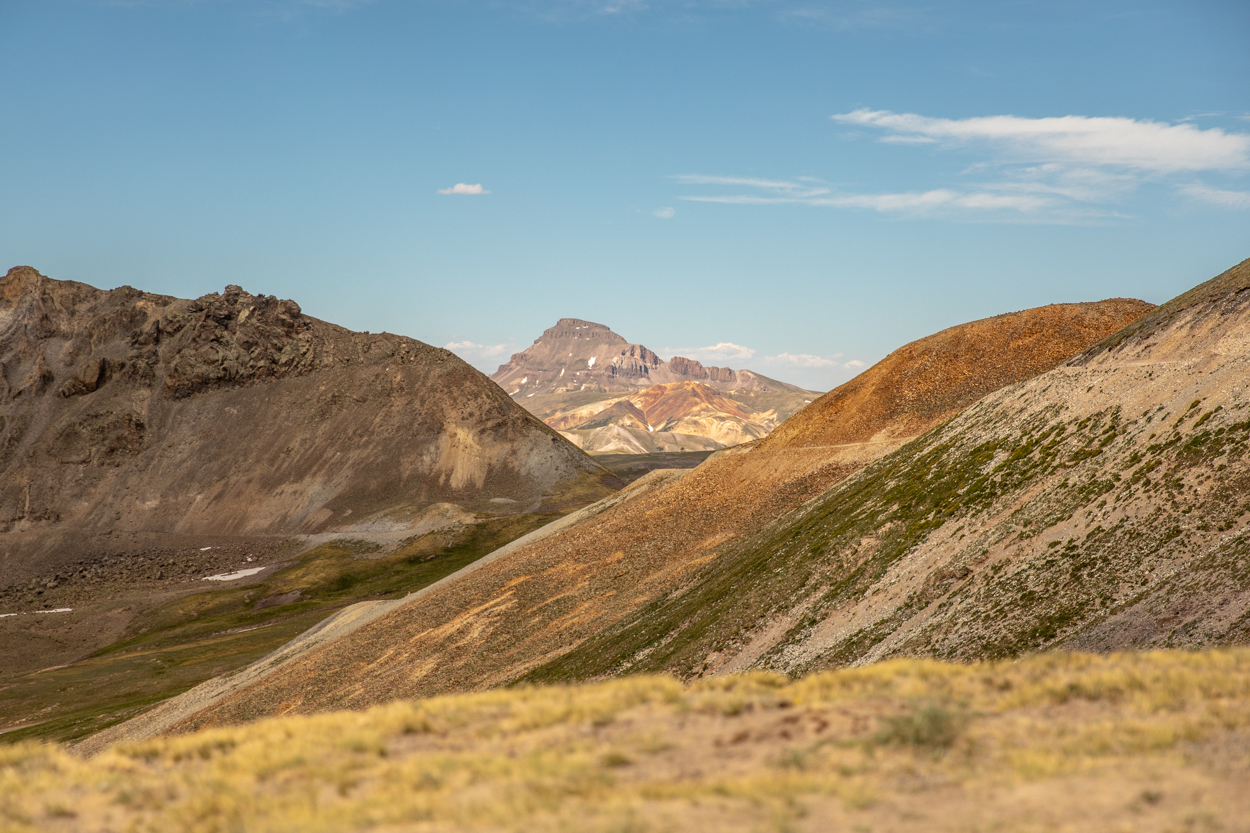 If you've never been to the Ouray/Telluride area, add it to your bucket list.
I was heading there to meet with another friend of mine, Kelly, @usmcrunner. We had talked numerous times over the years but this was the first time we were able to coordinate a meeting in person. The goal was to run a big portion of the Alpine Loop.
Kelly invited some of his friends, and we met up at the Ouray Hot Springs. After getting to know each other, we took a quick drive to Mineral Creek, a moderately technical way to enter the Alpine Loop. We aired down and got started on the trail.
Accompanied by @timberleaftrailers' Teardrop Trailers, the Pika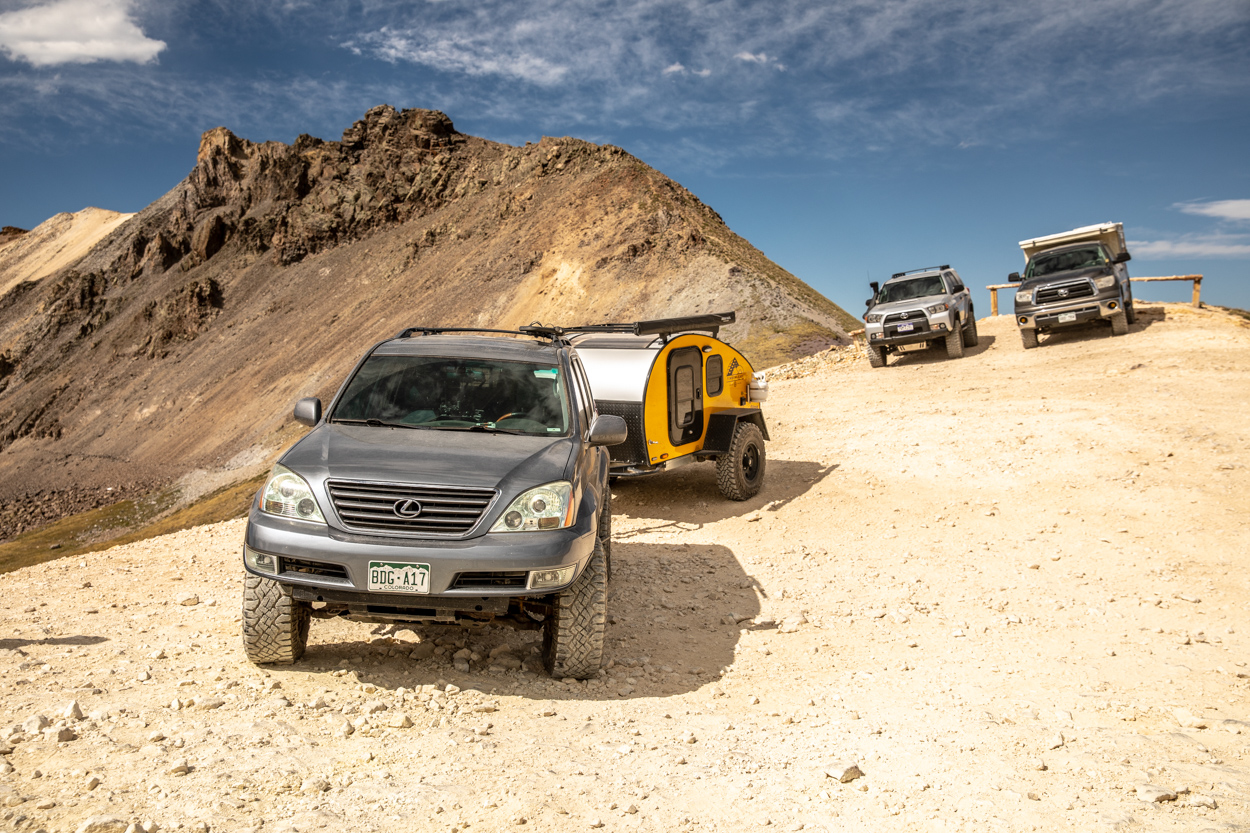 Kelly brought along a couple of his friends, Chris and Alex.
Alex is a big part of @timberleaftrailers, a brand that builds classic, handcrafted teardrop trailers in Grand Junction, CO. He brought along one of his top models, the Pika – with the off-road package. He was pulling it with his GX470. It was a seriously dope setup. He had no issues making his way up the trail with the trailer in tow.
Chris was in a Tundra, along with a new camper he had recently installed. It was huge! The camper made things a bit more interesting due to the weight, and to the fact that he wasn't as modded as the rest of us.
As for Kelly? Well, he's got a 2013 4Runner Trail Edition, one of the original 5th Gens, with a few sweet mods. Side note, his wife drives a 2019 TRD Pro 4Runner. So he's got it going on, haha.
Alpine Loop near Engineer's Pass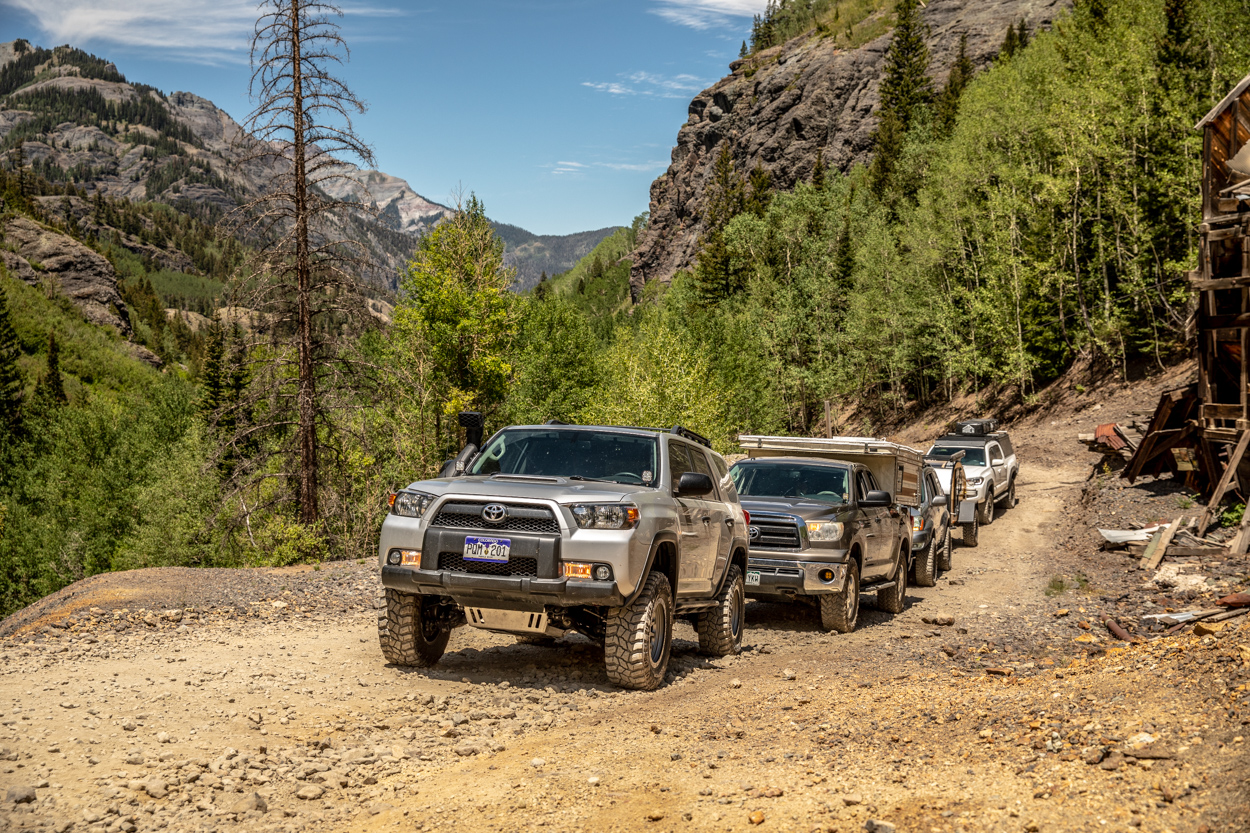 We made our way through Mineral Creek, which, unlike running it for the first time years ago in my 4Runner, seemed much less dangerous. Now, I don't mean to say this trail is easy, it's not. There are some gnarly rocks and a few spots where you really need to ride the edge to take a good line. But if you're fairly experienced, and have a good spotter, you should be fine. After all, Chris got his monster of a Tundra through it.
We connected with the Alpine Loop near Engineer's Pass. I decided that was going to be my turn-around point, as the rest of the squad was heading into Lake City to camp for the night. We summited the Pass, took some photos, and said our goodbyes. I wish I had some more time to get to know everyone better, but I was on a tight schedule. I turned around and headed back to town, I went through Animas Forks to get into Silverton.
Once I got into town, I aired up and decided it was time to head to my next destination, Denver. I wanted to stop at the hot springs in Ouray, but they were packed, it was 90 degrees, and it was late. I had been flying and driving for two days and was already going to be driving until 2 AM. I got some tacos, in my Taco, and called it a day. Right after I finished eating, I started the 6-hour drive to Denver.
Final Stop – Denver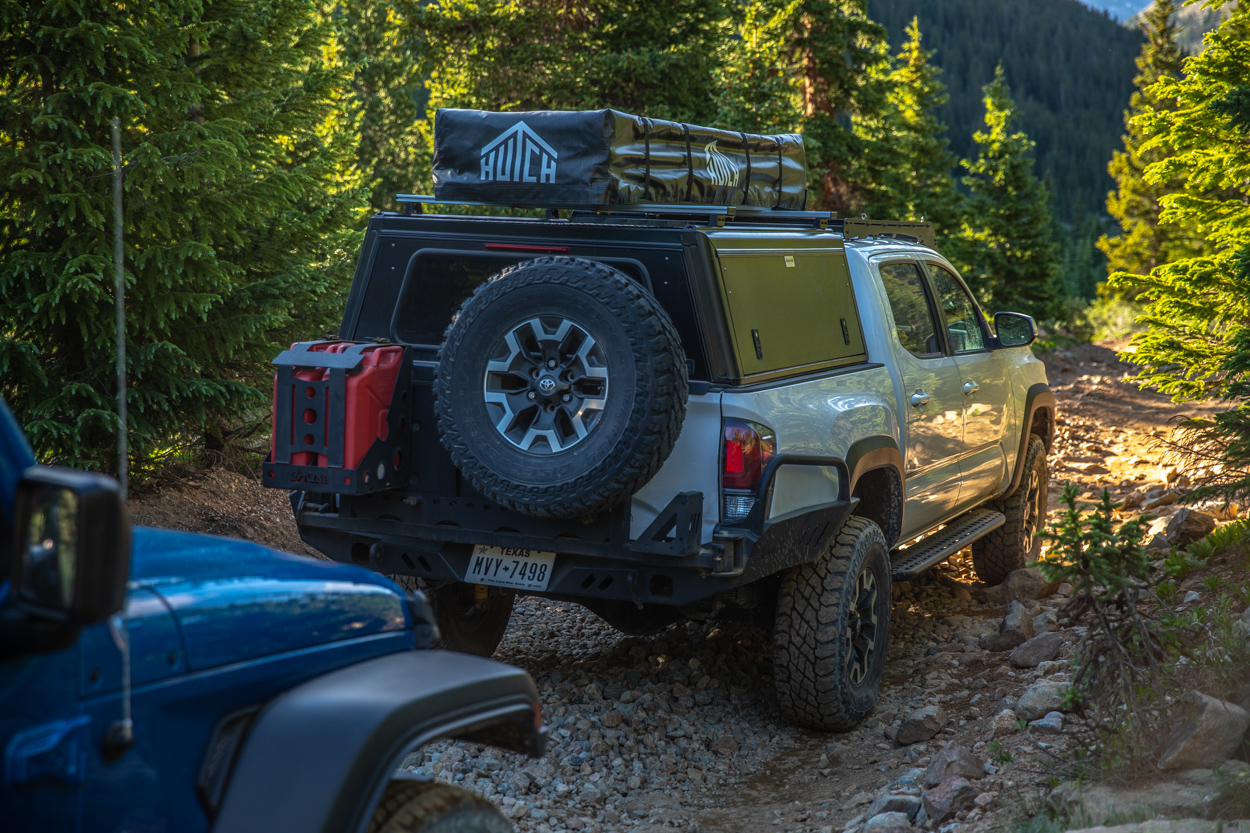 I got into Denver around 2 AM. Driving in the middle of the night, through the mountains, can be brutal. I pulled in for the night to my buddy John's place, who offered to put me up for the night. We checked out the truck, I took a shower and knocked out for a few hours of sleep.
If this wasn't already a crazy few days, my wife flew into Denver for the weekend so she could join me on my final day of wheeling. Here's the kicker. She had a 6:45 AM flight. Or so she thought. The flight was actually at 6:15 AM, and she missed it. Que the super early morning phone call. Since the tickets were super cheap, she was able to find another flight only 1.5 hours later. Finally, after a bit of a fiasco, she landed in Denver. Only a couple of hours late. No worries!
Red Cone Pass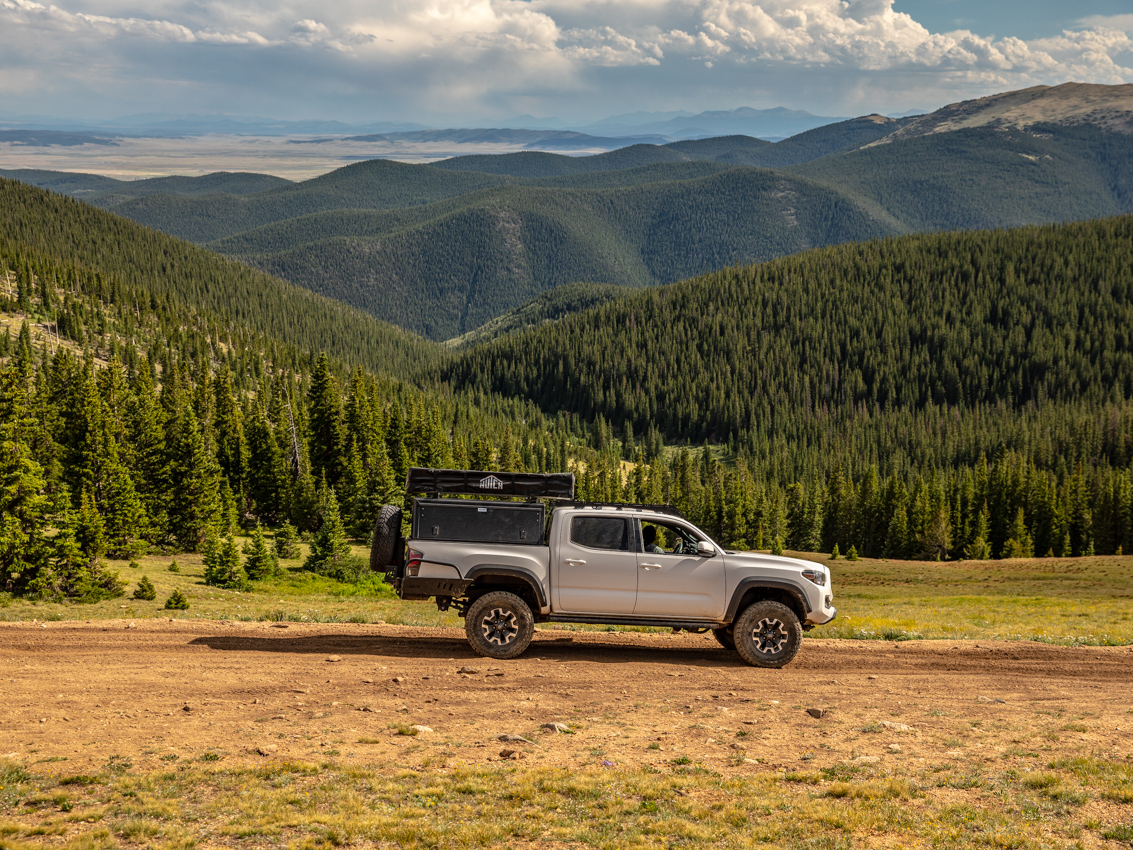 We grabbed some coffee, and stocked up on snacks, and met up with John. Our big destination for the day was Red Cone Pass. This epic trail was recommended to me by a few people on Instagram. Sweeping views, technical portions and enough length to keep us busy and on our toes.
We drove with John and his girlfriend to the trailhead. John had bought a Jeep Gladiator not too long ago. Outside of a front bumper, winch, Rubicon suspension (very mild amount of lift) and some sliders, John's truck wasn't necessarily ready. Did I mention he had street tires? Too funny. The dude is just up for an adventure. We aired down and started our way up the trail.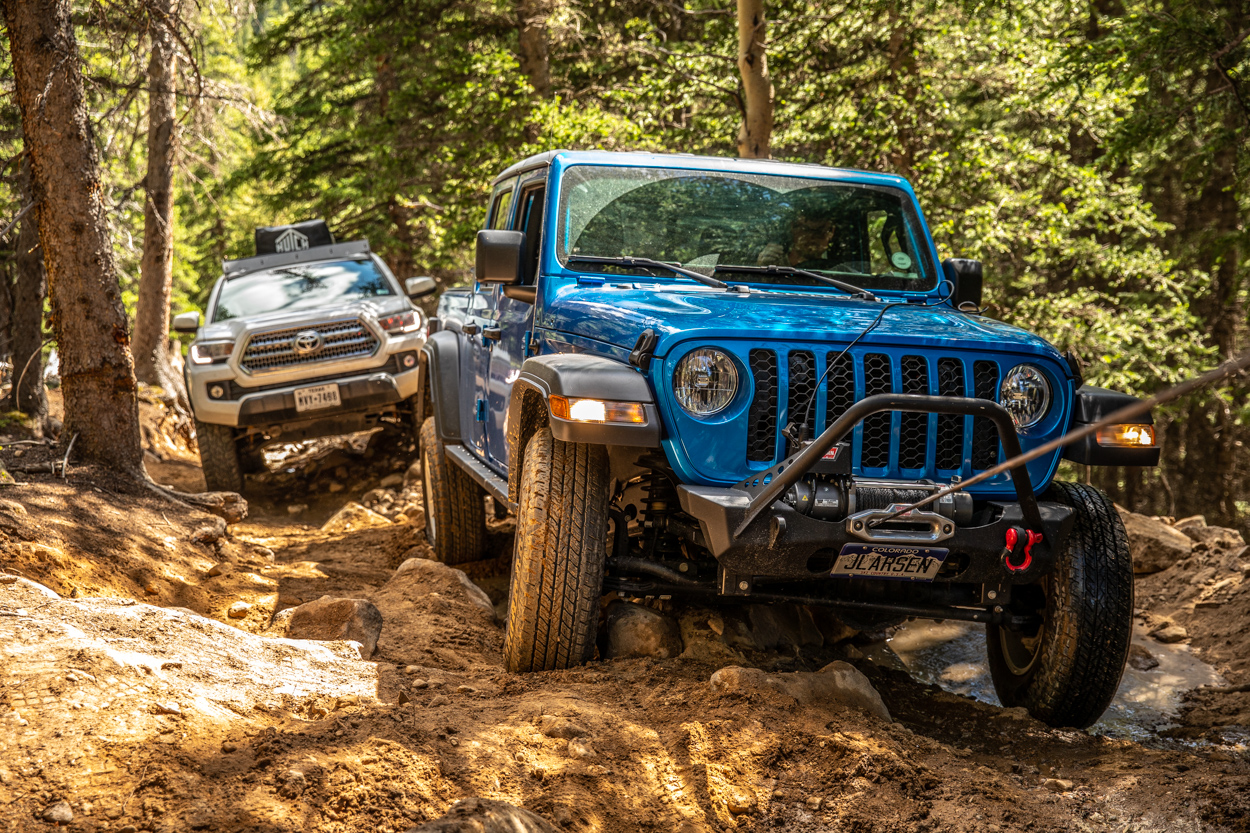 Red Cone Pass gets kind of tough, relatively fast. From the beginning of the trail, it climbed quickly and the trail was so narrow you could only fit one truck up at a time. How people pass each other at certain points is beyond me. It's basically impossible. After driving for barely 30 minutes, we had a problem.
There was a whole group of side-by-sides and Jeeps coming down the mountain. Oh, and guess what? One of the Jeeps had died completely and was rolling down the mountain, no brakes. He was attached to his buddy's truck with a strap and would bump into his friend's spare tire with his stinger if he couldn't stop in time. Super shady.
Anyway, we had 4 trucks, including ours, heading up, and the two Jeeps, along with a bunch of side-by-sides, heading down. Luckily, if you can call it that, we were stopped at a corner and we were (barely) able to stack up along the side of the cliff, next to the bend, with just enough room for the Jeeps to get by.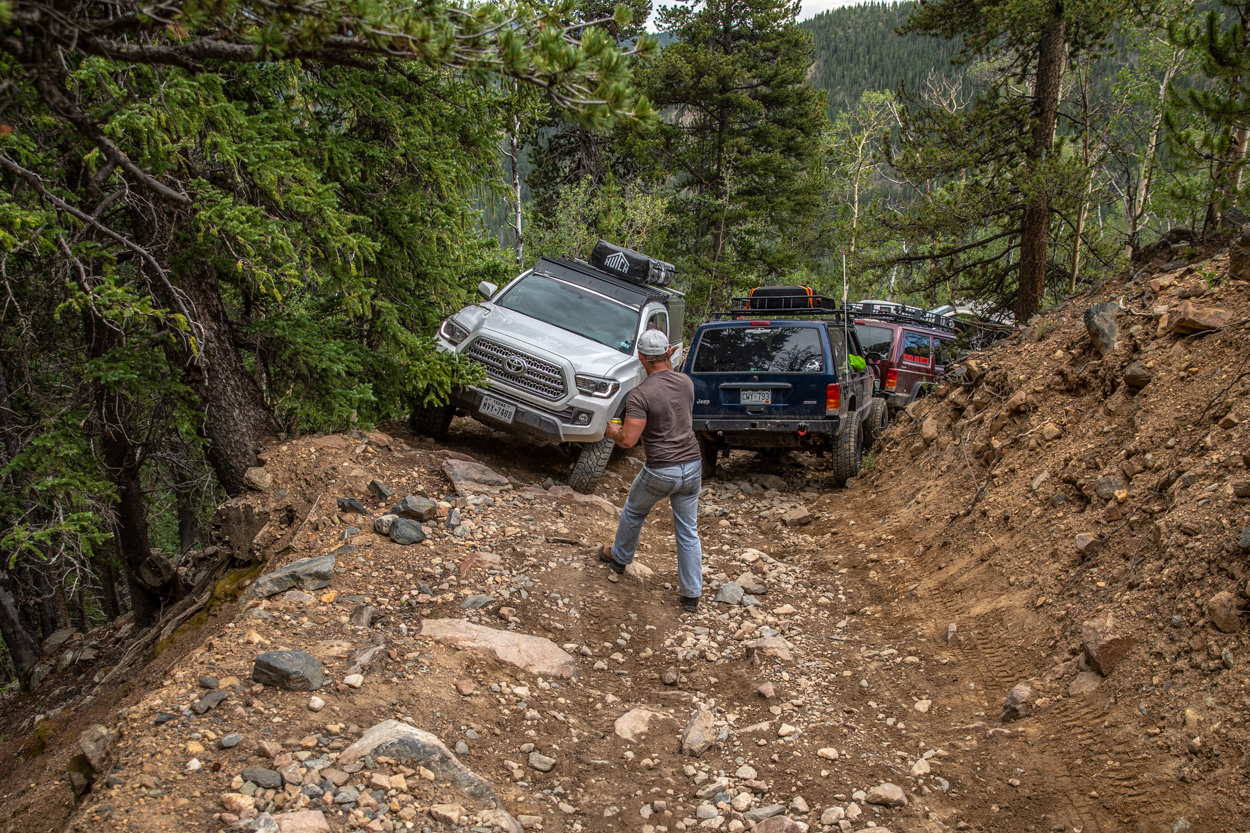 Once they got down to a point that we could get past them, we squeezed by, one by one. You can see in the image above how close we got. It was a wild situation. Nothing is ever easy on trails like these. And this time was no exception.
Anyway, we continued along the trail, encountered a few spots where John got hung up on his frame due to a lack of clearance. But with some help from the skinny pedal and the winch, he was able to make it through the toughest parts.
Getting Closer To the Summit…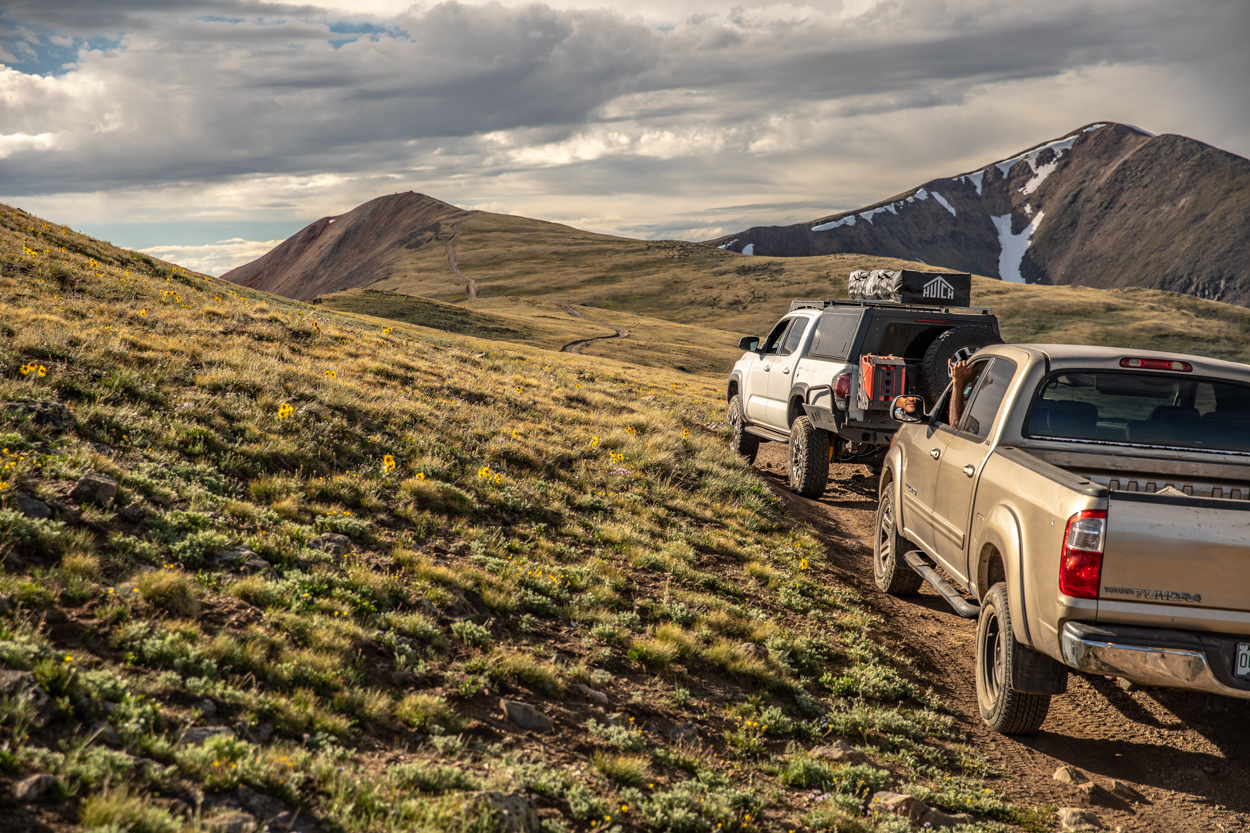 A few more difficult sections later, we came out of the woods and closer to the summit. Oh, I forgot to mention. One of the original trucks in our impromptu convoy, a 2nd Gen Tundra, was completely stock. Like literally, nothing. Just balls, haha. We didn't know the couple but the driver was determined to get to the top. One last thing, the dude was just mashing the gas all the way up. Dragging just about everything on the undercarriage. Not a care in the world.
We briefly separated and there was some distance between us and them. Turns out, he popped a tire, swapped his street tire spare on, and kept giving it throttle until he caught back up with us. At that point, we were all finishing the trail together. We had too.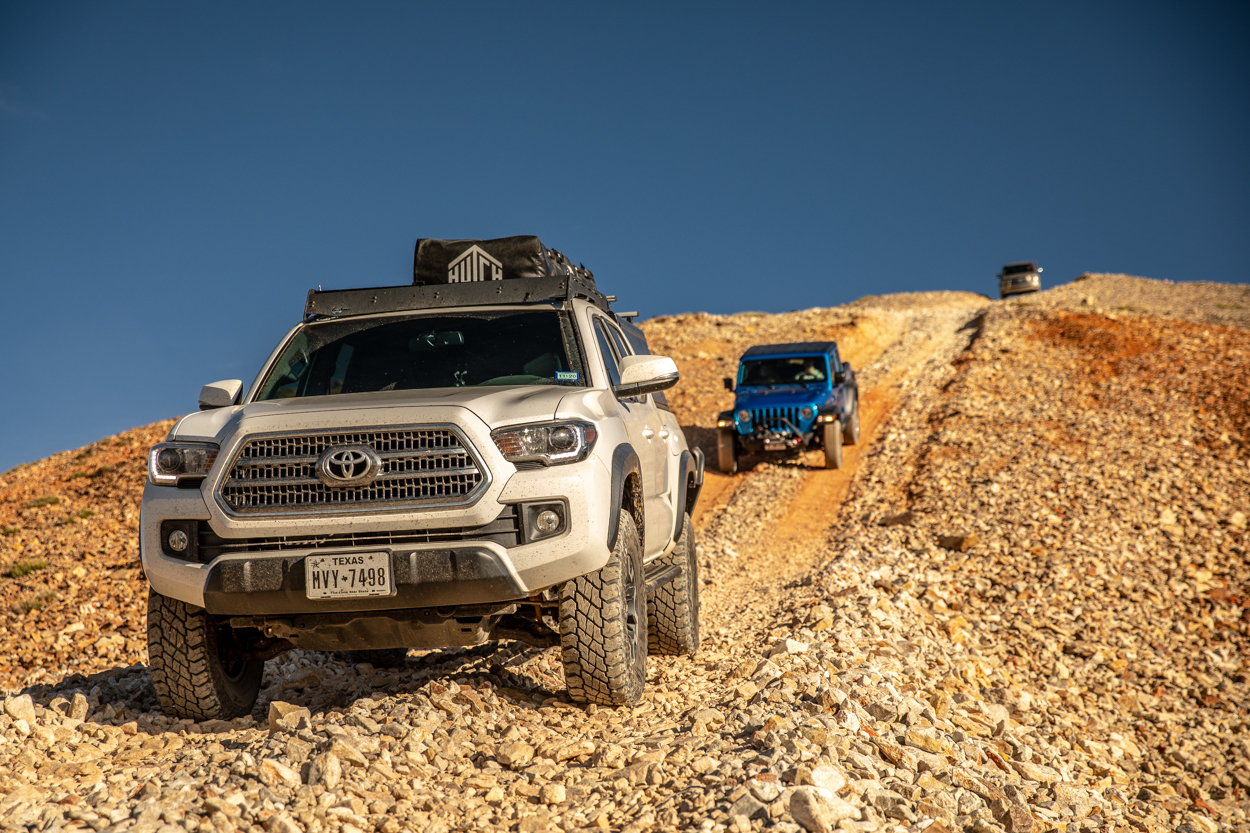 We got closer and closer to the summit. It felt like it took forever to get there. It was quite the haul and the oxygen levels were super low. After a bunch of rock beds, we all summited Red Cone. Although it's far from Southwest Colorado, it was nearly identical terrain. Incredible 360 views, and… a goat. Don't ask.
We grabbed a bunch of pictures and made our way down. There was still a decent amount of snow on the trail we wanted to take back to the highway, so we had to take an alternate route.
We made our way down, taking the most commonly traveled routes in the general direction we believed we needed to go.
We saw a guy camped by himself in a full-sized van, no modifications. A great indicator we were on the right path. Towards the end of the trail, we got a final treat. A creek crossing, with just enough water for some epic shots.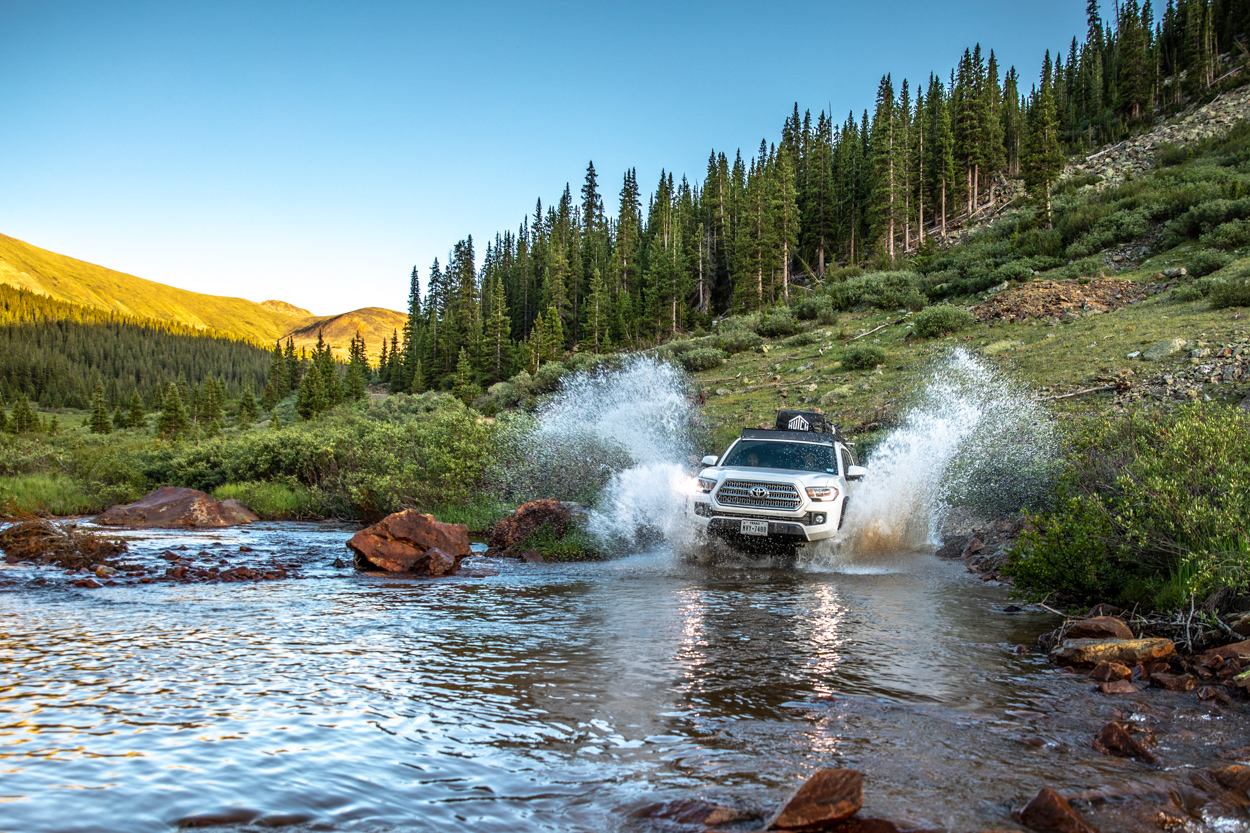 We took turns driving through it, while the people camping near the creek watched. They loved it, and let's face it, who doesn't love to crash through the water? After getting some good shots, we wrapped up, and not long after, we were on our way back. We grabbed a quick dinner, said bye to John, and went to sleep in a real bed for the first time in a few days.
The next day was reserved for sleeping in, playing catch up on Zoom calls, and getting ready to head home. We met up with John, said our goodbyes, and we were on our way home. 15 hours later, we were home.
Final Thoughts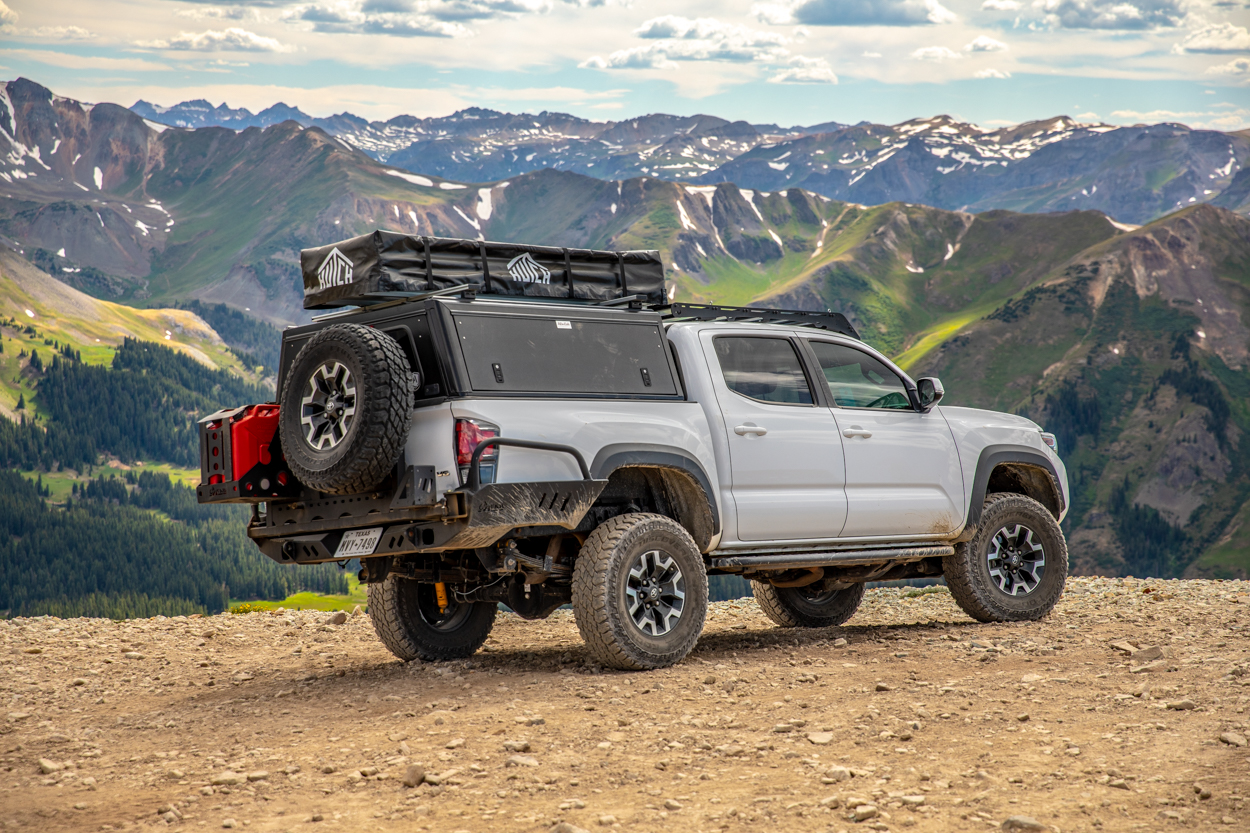 Whew! That was quite an adventure.
If you read the whole story, thanks for tuning in. Often in life, you try to plan stuff, and it typically doesn't go to plan. As you saw, this whole trip was incredibly spontaneous, with little to no actual planning being done. It just goes to show that when something is meant to happen, it'll happen without any problems.
I typically overpack for trips, on this one, I barely had anything. And to tell you the truth, it was very freeing. Not to say you shouldn't go prepared, but on occasion, less is more. I hope you enjoyed reading my summary and perhaps, you might have learned something.
This was no small task, but it can be done. You just need to be cautious, take all the necessary precautions and do your research. I couldn't have imagined this trip better and I cherish experiences like this. I look forward to building my first truck. Keep an eye out as we have several more trips planned, each more involved and exciting than the previous one.