The Sky Ridge Series Pike 2-Person Tent from Body Armor 4X4: Full Review & Product Overview
For A Solid, Budget-Friendly Rooftop Tent For 3rd Gen Tacoma – check out the BA 4×4 Sky Ridge!
It's no secret that the rooftop tent market has become quite saturated in recent years as overlanding has become more and more popular. Rooftop tents now come in many different styles, colors, sizes and (probably most importantly) price ranges.
While style, color and size preferences may vary significantly between different people, it's likely that almost everyone in the market for a rooftop tent is concerned with price.
These days, you have a range of options when it comes to style. Higher-end options are the hard-shell wedge or pop-up rooftop tents, such as the AreaBFE and James Baroud, respectively. These will typically run you somewhere in the neighborhood of $3000-4000+.
If you are looking to get into overlanding and camping without shelling out thousands of dollars, your best bet is to go with a soft-shell rooftop tent. These can be had for around $1000-2500+ and will do essentially the same job as the hard-shell versions.
The Sky Ridge Series Pike 2-Person Rooftop Tent from Body Armor 4X4 is one of the most budget-friendly rooftop tent options. Continue reading for a detailed overview of this surprisingly solid budget rooftop tent option.
Find It Online
Body Armor 4X4 Sky Ridge Series Pike 2-Person Rooftop Tent: Check Price
The Base
The base of the Pike 2-person tent is made out of aircraft-grade, lightweight 6061 aluminum. It's about an inch thick and contains an insulated core with aluminum structural tubing throughout, protected by a scratch-resistant aluminum sheet on the top and bottom.
All of the hinges and hardware that makes up the rest of the tent is marine-grade stainless steel that you can be sure won't rust on you. The load capacity of this tent is 460 pounds, which is a testament to the strength of the tent materials.
Because the tent base is made out of lightweight aluminum, the whole tent only weighs 108 pounds. A lightweight rooftop tent like this is great because it won't significantly affect your gas mileage and also won't make the rear of your Tacoma sag as much.
Dimensions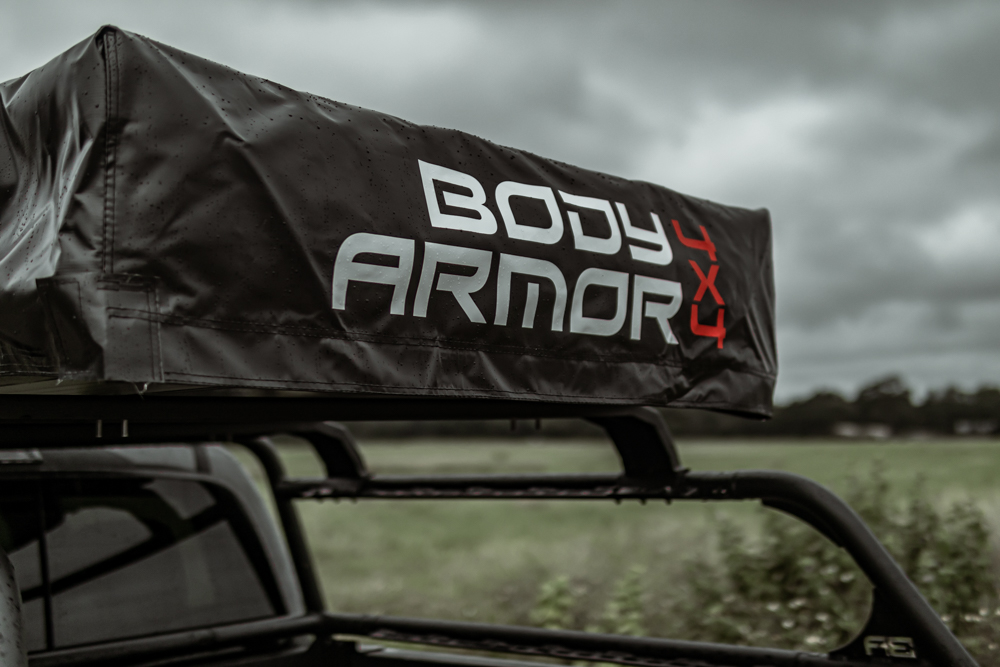 In addition to being lightweight, the Sky Ridge Series Pike tent is also fairly compact. When closed, then exterior dimensions of the tent are 48" (L) x 43" (W) x 12" (H). Considering the Tacoma's bed width is 43" between the wheel wells and 58.5" overall, this tent will fit nicely without any overhang.
When completely open, the exterior dimensions are 48" x 110" x 50". Keep in mind that these are the exterior dimensions, so the mattress is a few inches smaller in both length and width. Overall, you're getting about 20 square feet of interior room.
The heavy-duty telescoping aluminum ladder extends to a maximum length of 90.55" which is more than enough length for virtually every mounting position on your Tacoma.
Overall, the dimensions of the tent are great for a couple of average-sized people to fit comfortably.
Tent Materials
The tent walls and roof are 280GSM Ripstop reinforced canvas which is made up of polyester, cotton and polyurethane coated for 2000mm of waterproofing.
You may be wondering – what does that waterproof rating mean exactly? Well, it means that over the course of a day, the tent material can withstand the pressure of 2000mm of water before the water penetrates the material. For reference, a typical umbrella is rated around 500mm.
That said, the tent also has a rain fly made of 420D Polyester Oxford fabric which is also polyurethane coated and has a 2500mm waterproof rating. With this amount of waterproofing, you should be nice and dry in most weather conditions in which you would even consider camping.
Finally, the travel cover that goes over the folded tent when not in use is made of a sturdy, UV-resistant 680GSM/1200D PVC coated tarpaulin material. In layman's terms, the cover is thick, strong, essentially waterproof and fade-resistant.
Overall, the materials that make up this tent are durable and widely used throughout the market. They should hold up to years of abuse while keeping you dry and safe inside.
External Features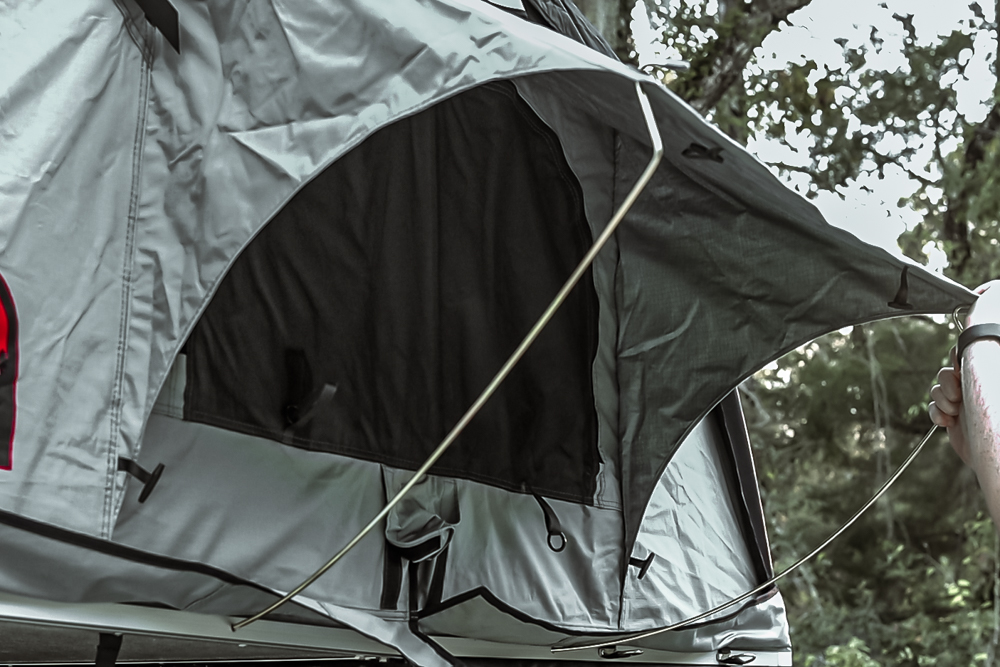 As far as features go, the Sky Ridge Series Pike tent is pretty standard. It has two entrances, one on each of the short sides. However, you'll typically only use the entrance on the side that the ladder mounts to. In addition, it has a window on each side and one skylight.
Both entrances have a ripstop door and a mosquito netting door, so you can open them for a breeze without letting bugs in.
The tent also has straps on the exterior to hold the rolled-up doors when you want the tent open, which is super convenient and keeps the doors from just hanging.
The sides of the tent with the windows each have an awning that is held up with included rods.
The rain fly is the awning for the entrances on the other two sides and has a clear vinyl window for the skylight so you can still see out when using it.
The tent also includes a vent on either side towards the top that has a hood to keep the rain out. The inside of the vents are covered with mosquito netting so you don't have to worry about bugs getting in.
Interior Features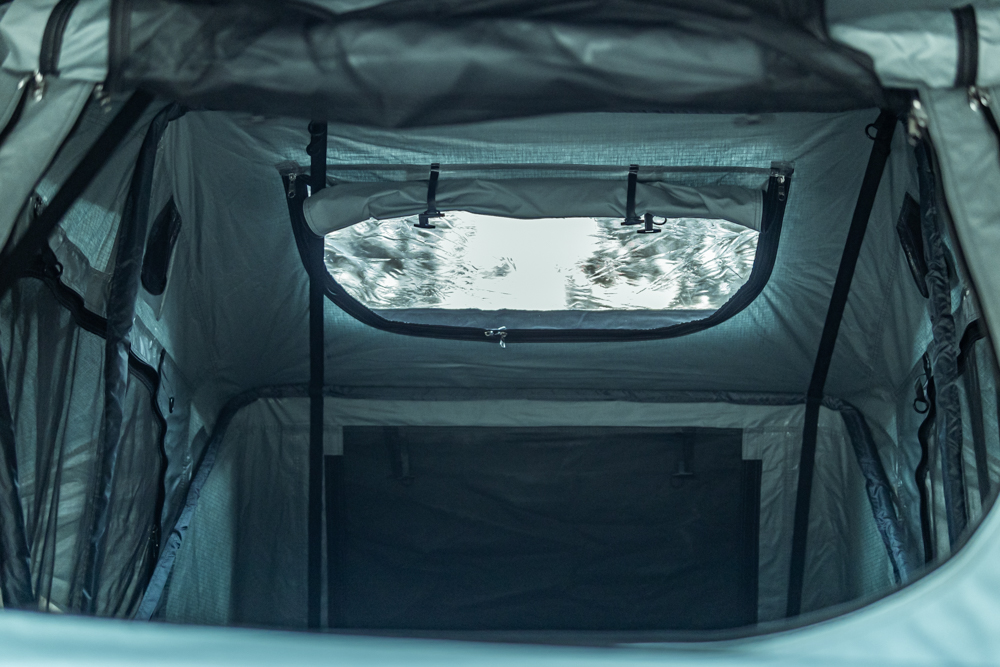 Similar to the outside, the inside of the tent is pretty basic. It has two windows on the sides and a skylight on the top.
The windows and skylight also have mosquito netting and ripstop doors with straps to hold them in place and keep them from hanging. Both the mosquito screen and ripstop cover can be unzipped to fully air out the tent if desired.
One underrated feature of this tent is the cover over the aluminum bars that make up the actual structure of the tent. It's really nice that these are covered because they won't be as cold if you touch them while sleeping.
There are also two pockets on each side of the tent which is awesome because you can store your phone, keys, etc. in them while using the tent.
Now let's talk about the mattress pad.
Mattress Pad
The tent has a high-density foam mattress pad that is 60mm or about 2.4" thick. It has a light-gray removable and washable cover that matches nicely with the exterior of the tent.
This is a pretty standard mattress for a folding tent. The high-density foam isn't the most comfortable material, but it still beats sleeping on a wobbly air mattress.
If you don't find it comfortable, it's very easy to cut a 2-3" thick memory foam mattress pad to size and throw on top. The tent should have no problem accommodating a memory foam mattress pad when folded.
Because this tent is a budget option, you do not get an anti-condensation mat standard. This isn't surprising, but you may want to purchase one if you'll be camping in a spot where the interior temperature differs greatly from the exterior temperature (i.e. using a buddy heater in the cold).
If not, you'll simply need to let the tent dry out completely before packing it up for an extended period of time.
Final Thoughts
The Sky Ridge Series Pike 2-Person tent by Body Armor 4X4 is a very solid, budget rooftop tent option to get you camping in your Tacoma.
As one of the cheapest, if not the cheapest, rooftop tent setups on the market, you really can't go wrong. The materials are truly quality materials and I'm fully confident that they'll stand up to years of abuse. My favorite aspect of this rooftop tent is how lightweight it is. Weighing only 108 pounds means that I can install it on my Body Armor 4X4 Bed Rack by myself without too much of a struggle.
Be sure to stay tuned for a full review of this rooftop tent soon. Temperatures are starting to chill a bit in Florida where I live, so camping season is just getting started. I'm very excited to get out and put this tent through its paces to see if it lives up to the hype.
In the meantime, be sure to check out my installation article to see how easy it is to get this tent installed on your Tacoma.
Overview Video