GTFO Overland Area BFE Tents (Originally Adventure Vehicle Tents) – Initial Review and Overview of this Rooftop Tent
GTFO Overland (based out of Long Beach California) has just recently launched its Aluminum Hardshell Area BFE Tents also known as Adventure Vehicle Tents. They come in four (4) different configurations. They also have traditional soft-shell "fold-over" RTTs coming in as well. Aluminum Hardshell tents have been a hot commodity due to their small footprint and easy setup. Not to mention, you can relocate your camp and be on-the-go while your tent is deployed with ease if needed.
These tents come with Powder-Coated (Black) Aluminum, Canvas Tent, polyester rainfly and all stainless steel hardware, latches and dampers.
The Channels on the outside of the tent also allow people to use them to mount things such as awnings, WaterPorts, scene lighting, shovels, axes or any type of mountable accessories
Here are the introductory prices below for the three versions, one version comes with an optional skylight with additional cost. You can check all the prices on their website here.
Aluminum Hardshell (Small) – 142lbs

LXWXH: 85 x 51 x 6.3
Mattress: 81.5 x 51 x 3
$3,095.00

Aluminum Hardshell (Medium) – weight varies

LXWXH: 85 x 56 x 6.3
Mattress: 81.5 x 53 x 3
$3,495.00

Aluminum Hardshell (Medium w/Skylight) – weight varies

LXWXH: 85 x 56 x 6.3
Mattress: 81.5 x 53 x 3
$3,699.00

Aluminum Hardshell (Large) – 167lbs

LXWXH: 85 x 60 x 6.3
Mattress: 81.5 x 53 x 3
$3,999.00
At Home Installation | Medium w/Skylight (85 x 56 x 6.3)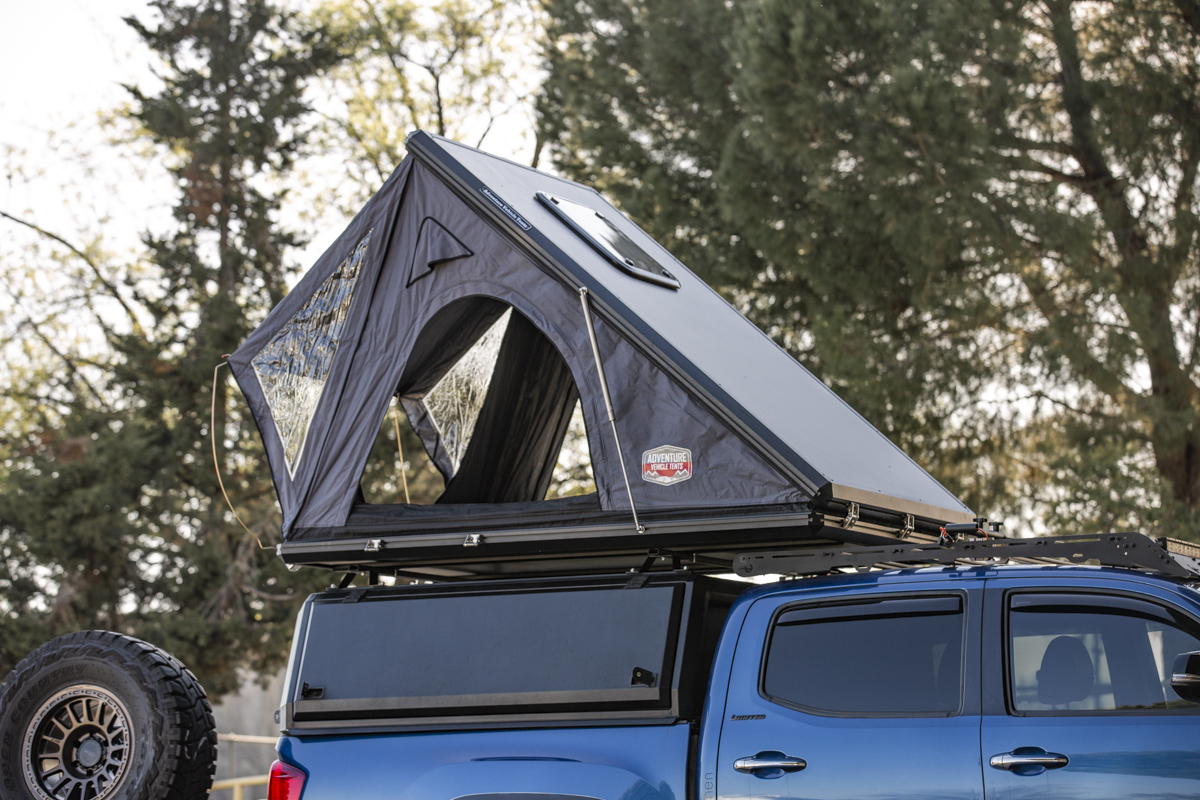 Installation difficulty will vary on what type Tacoma you are using and what kind of rack the tent is being installed on.
The mounting points underneath are your conventional "C-Channel" bars that are embedded in the tent. This normally just needs 2 crossbars on your preferred rack to be installed. For my application, we installed it on top of my CampKing Industries Camper Shell.
Since we were installing it on a Tacoma, we had to compensate for the "bed flex" that the Tacoma gets and to make sure we cleared the Prinsu Rack that is mounted on my cab. The Camper Shell I have has a "C-Channel" for mounting roof rack feet. We opted to use the "Tent Mount Kit" by FrontRunner because it gave the necessary height we needed for the RTT to clear the Prinsu Rack.
Depending on your application, all you needed for the install is a socket set and a wrench set. The hardware you decide to use is dependent on your rack set up.
First Drive Thoughts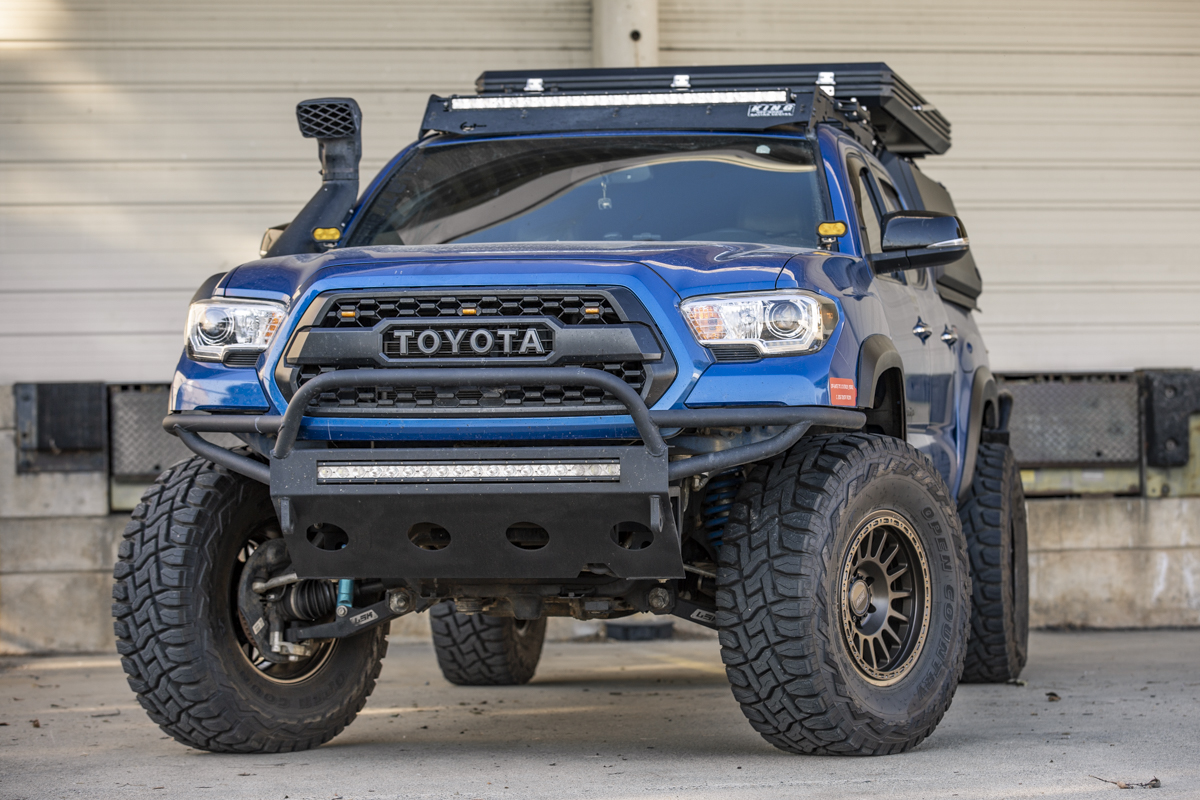 The Area BFE Tent by GTFO Overland comes in at an amazing 6.3 inches tall when closed across all 3 sizes. The reduced wind resistance is what really makes this tent outshine its competitors.
I drove the tent back from Long Beach all the way back to Sacramento (400+ Miles) and I could barely feel the tent on the highway. I kept the Tacoma at about 70mph and it was smooth riding all the way home. My cornering felt a bit top-heavy but that's just how my vehicle is set up. I run the truck without sway bars which will always affect the vehicles driving and turning manners as well.
First Set-Up and Take-Down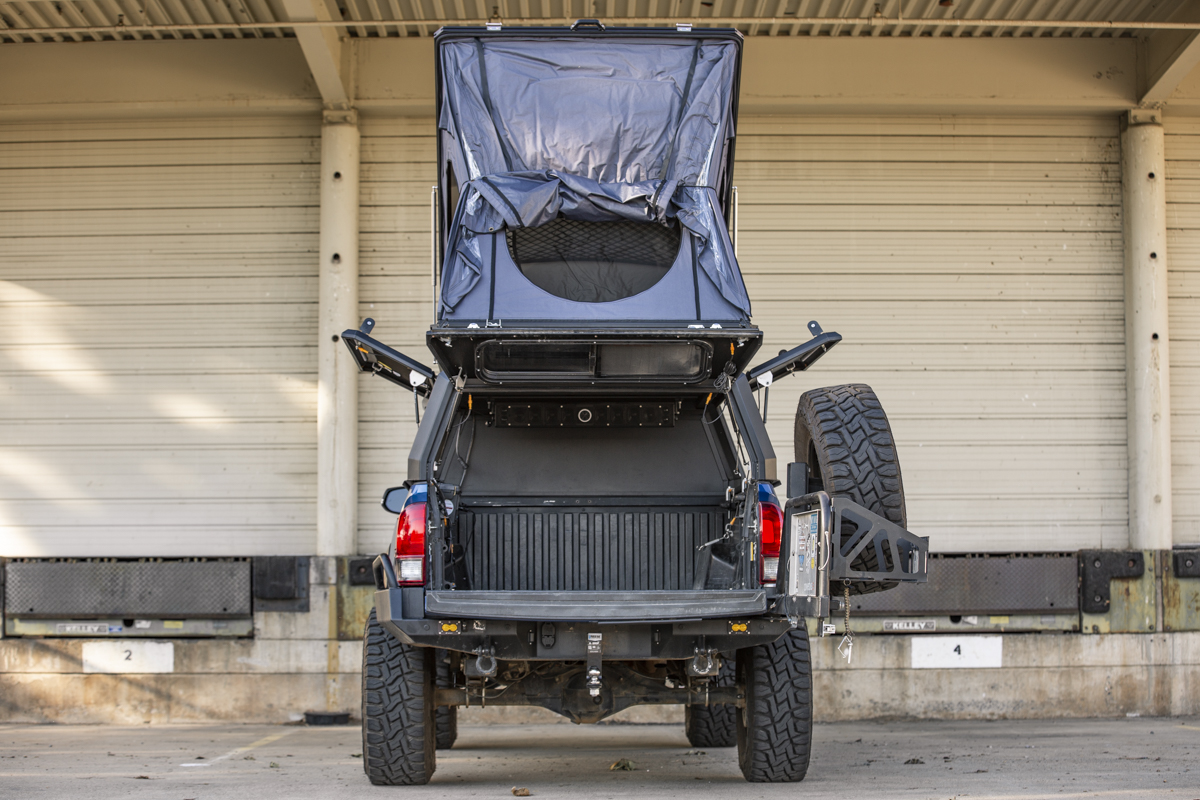 The RTT literally took 5 seconds to set up on our initial inspection. The tent comes with two locking latches (you are provided 2 keys) and you can put these either on each long side of the tent or both in the rear entrance of the tent. These latches are made of stainless steel and have a really stout feel to them. They not only keep the tent securely closed when not in use but the lock system allows you to have peace of mind when you are parking the vehicle in the city or any spot for a prolonged period of time.
When you undo the latches just push up on the back of the tent and viola she is opened, again… literally 5 seconds! The tent comes with a pull-down strap for easy one-person operation and an elastic band that surrounds the tent.
This helps with a one-person operation to tuck in all the tent material back into the hardshell. You are also given a telescopic ladder with lockable steps so you can customize the length of your ladder without having to do any of the guessing work. I didn't weigh the tent to get my specific weight, but If I had to guess, these tents are probably around 142lbs to 167lbs across all sizes.
For a complete install and setup, check out Konrad's article here.
Sleeping and Comfort/Amenities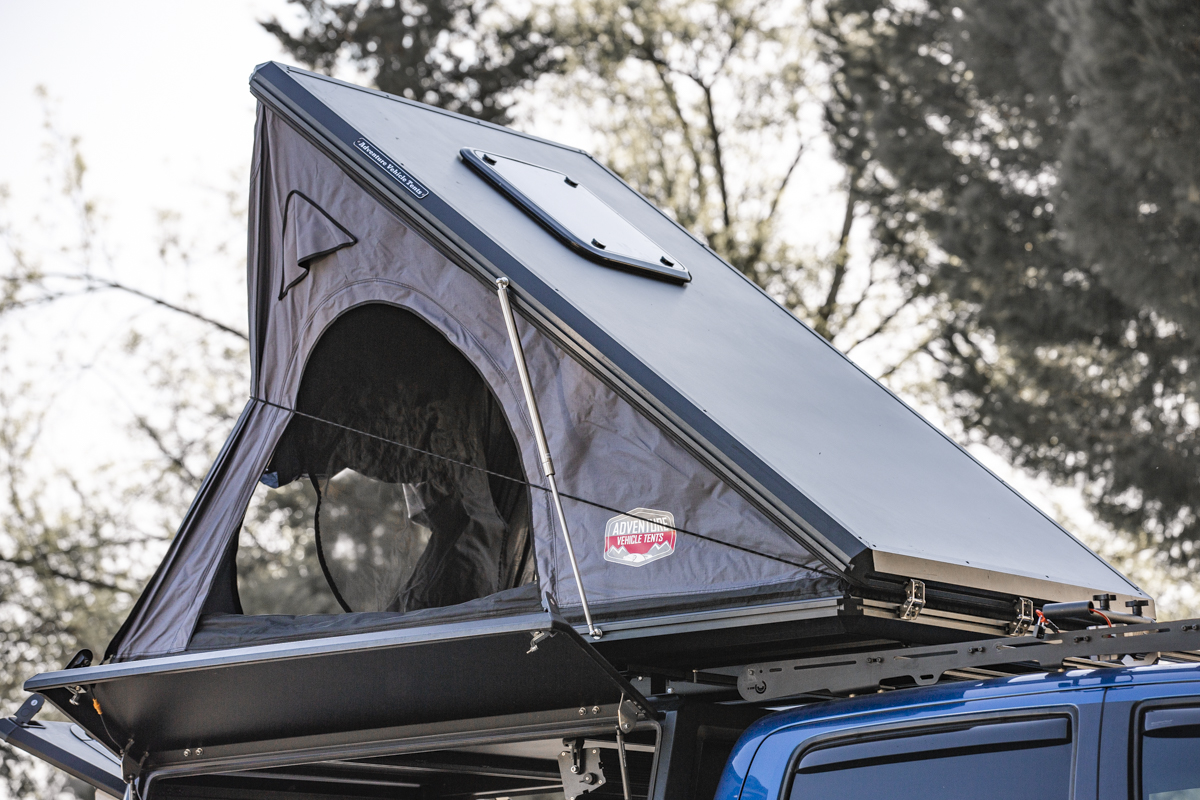 The Tent I purchased came with the optional Skylight. It has customizable arms so you can pick the amount of ventilation you are getting (great for the summer) and the skylight also comes tinted already, so the sun isn't blaring through the window.
You get two metal rods to put the rain fly up. The rainfly comes with "cellophane" type windows, I think this is a cool addition but isn't a dealbreaker if It came with it or not, I'm more concerned with how the plastic will last or discolor over time, but once again, not a deal-breaker at all. You are also provided a pouch to store shoes or items on the outside of the tent.
The inside of the tent comes with a very large cargo net to store pillows, blankets, lighting while the tent is up. The tent closes so small that I don't think you could keep very thick blankets stored or even pillows in the tent while it is closed, a small sacrifice to keep that 6.3 height of the tent. The Mattress was very comfortable and the medium size was big enough for my 2 Person Grizzly Sleeping Bag.
Final Thoughts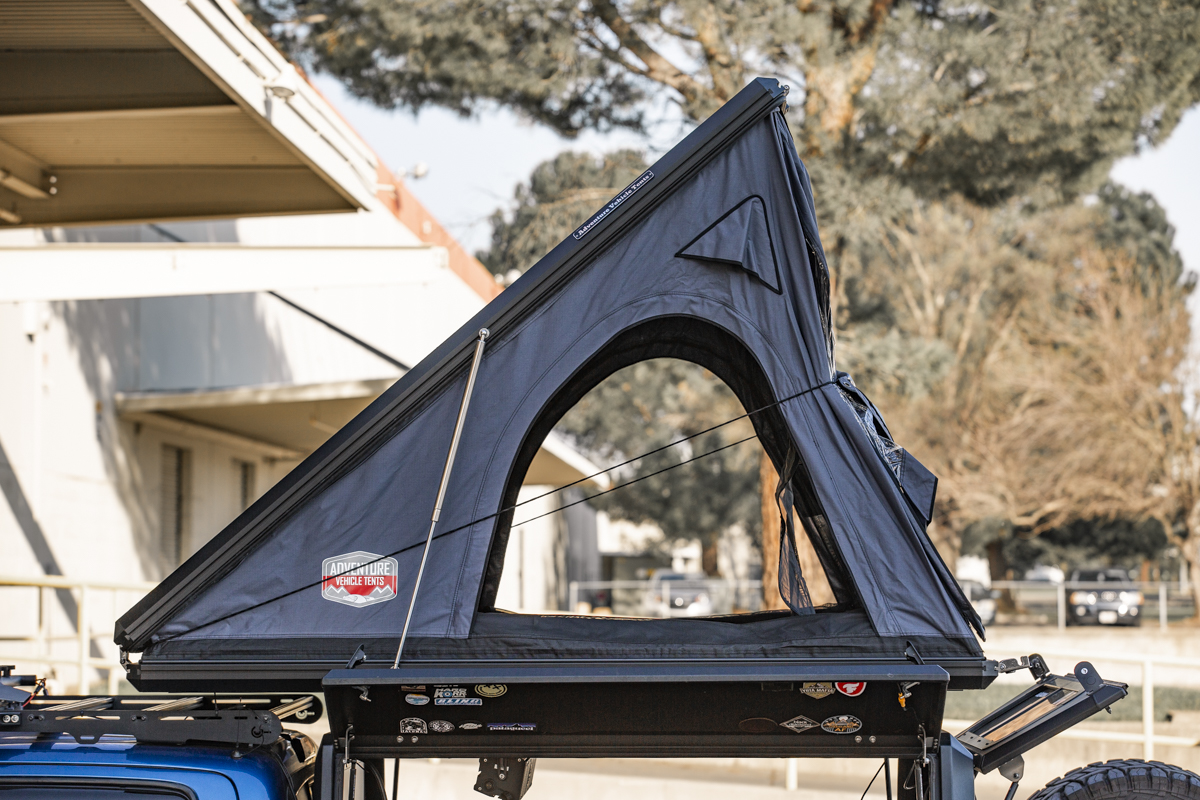 Nothing beats the feeling of having a large ground tent with comfy air mattresses and a walking room. Also being able to leave camp in one place versus having it attached to the vehicle but ground tents can also take a really long time to setup.
This tent is great for 1-2 person camping trips. This is the ultimate RTT for people that are doing different campsites every day because of the ease of set-up and takedown.
Rooftop Tents also have a great advantage on campgrounds that are less suitable for ground tents, such as gravel, or harder surfaces in the desert where tent stakes may be more of a nuisance to hammer in.
I have not yet tested this tent in high wind applications while deployed but I'm sure the stout design will keep it quieter than conventional softshell tents. Adventures on top of my truck don't get any better than this. The Aluminum Hardshell Tent from GTFO Overland really opens up the possibilities.
If you're looking for an in-depth, long term review, Konrad also covered that piece of content as well. Check out the full review and overview here.