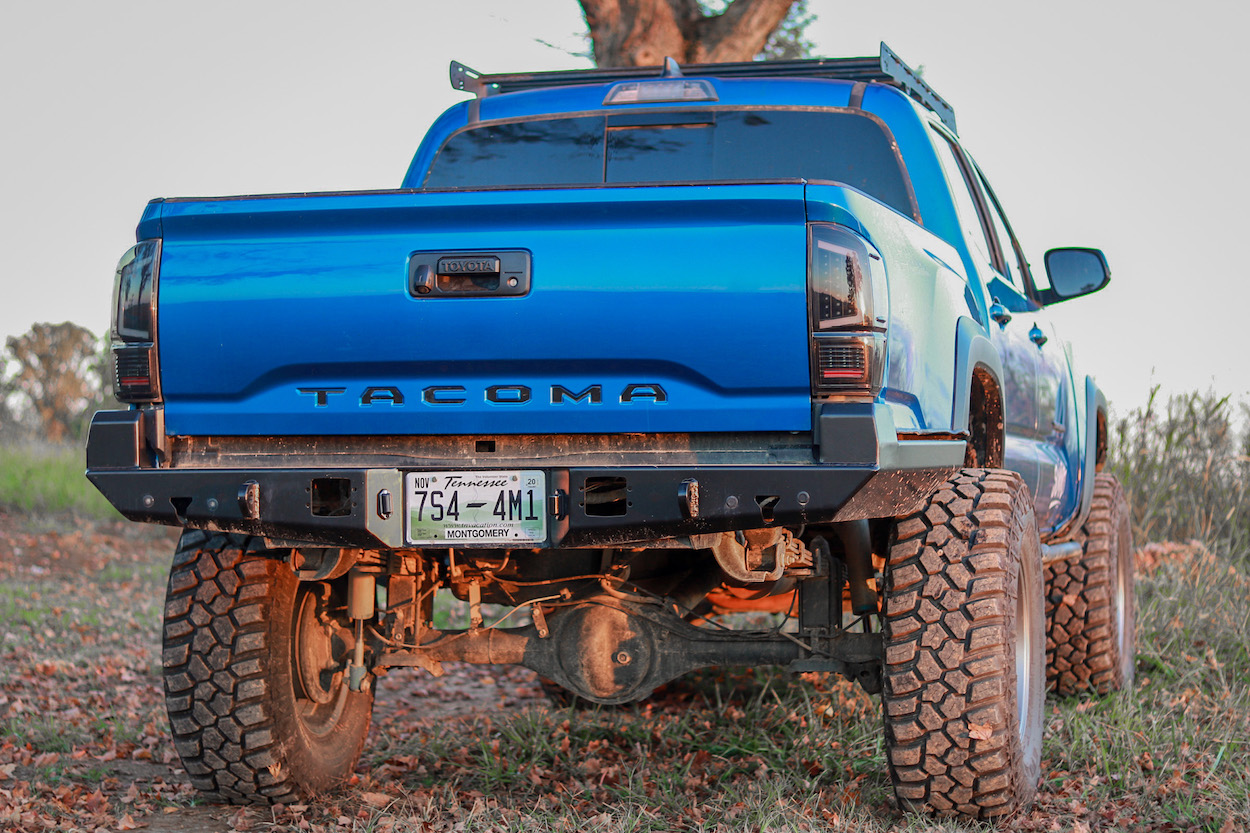 ATH Fabrication High Clearance Rear Bumper for the 3rd Gen Tacoma: Product Overview & Complete Trail-Tested Review
Let's take a look at one of the popular options for rear bumpers on the 3rd Gen Tacoma. I will be giving you a solid review on a high clearance rear bumper from At The Helm (ATH) Fabrication and a quick look into the company.
We all know the 3rd Gen Tacoma is a great looking truck that is arguably the most capable midsize vehicle on the market straight from the factory. Why would you not want to increase its capabilities, and add protection, by installing some armor in the rear?
This bumper is THICK! It's really well built and I couldn't be happier. I'll go into more detail soon.
This will be a detailed overview of a small company that produces high-quality products and their high clearance rear bumper for the 3rd Gen. Let's get started!
Why Buy a High Clearance Rear Bumper?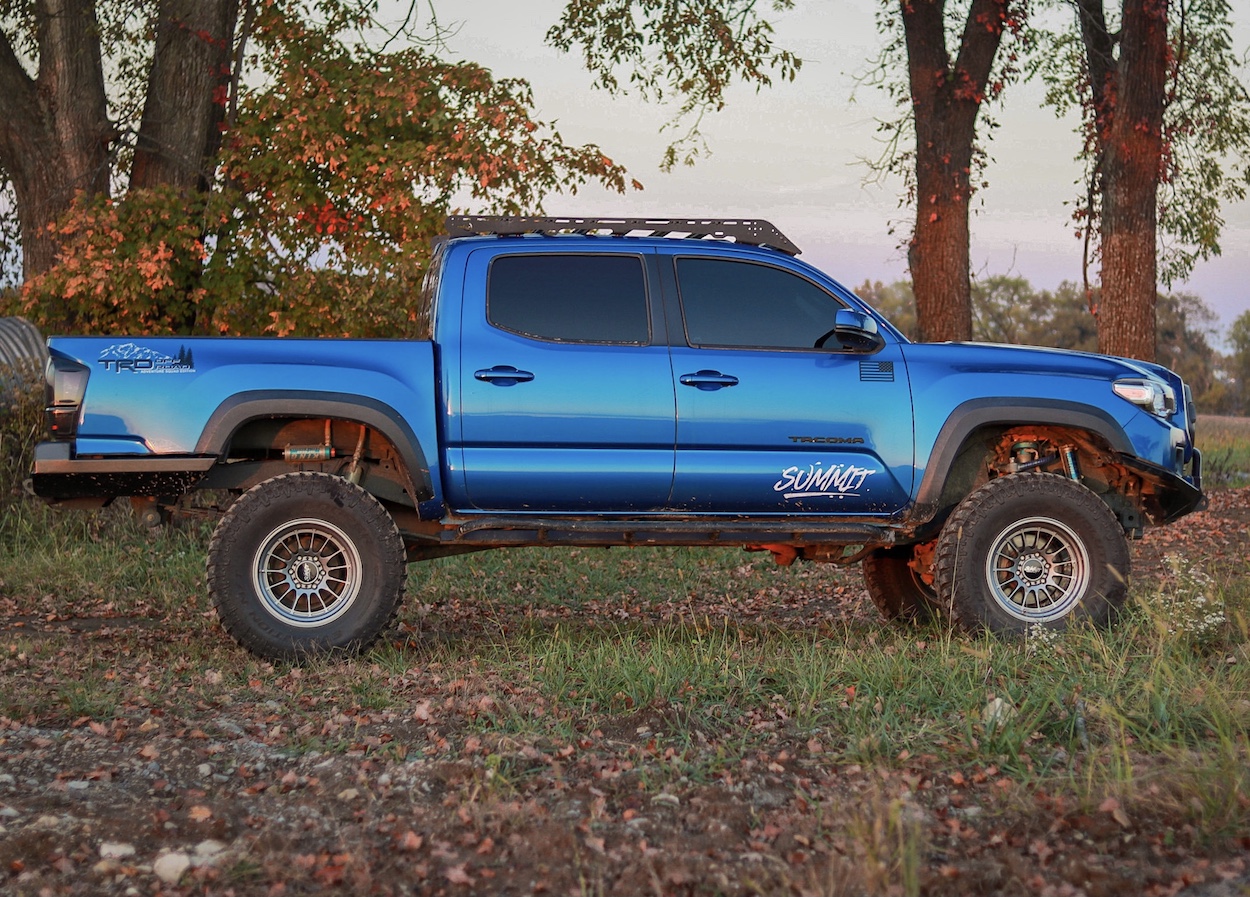 If you are fairly new to the off-road or overland scene, you may be asking yourself…
Why would someone need a high clearance rear bumper?
Well, the answer is in the name, clearance.
In the rear, your stock 3rd Gen bumper offers around 24.5″ of clearance at the bedsides and 17.75″ of clearance at the hitch if you have one. With this particular bumper, the clearance goes up to 30″ on the bedsides and 27.5″ at the hitch. This means you gain an additional 5.5″ of clearance on your sides and 9.25″ where your hitch used to be.
Now, why would this be beneficial for you? Well, when you are going up a steep incline to get to your secret camp spot, or coming off the trail on the final obstacle, you can worry less about causing any serious damage to your rear end with the extra height in the back.
Also, most off-road bumpers are typically made of steel and occasionally aluminum. This is great peace of mind for those hard departures where you still can bump your rear end on the trail, a tree, or a rock.
Don't worry, I was in the same place as most people when I first saw a high clearance rear. I was thinking, "Man, I'm not sure how these dudes cut into their truck like that. I could never."
Well after a couple of off-road trips with the boys, I was dead set on getting a rear bumper. Cutting the bed might seem like a big deal, but at this point, this is a functional modification and I've done quite a bit of mods on the truck. It was just a matter of which company to go with.
Luckily, I came across ATH Fab.
Company Overview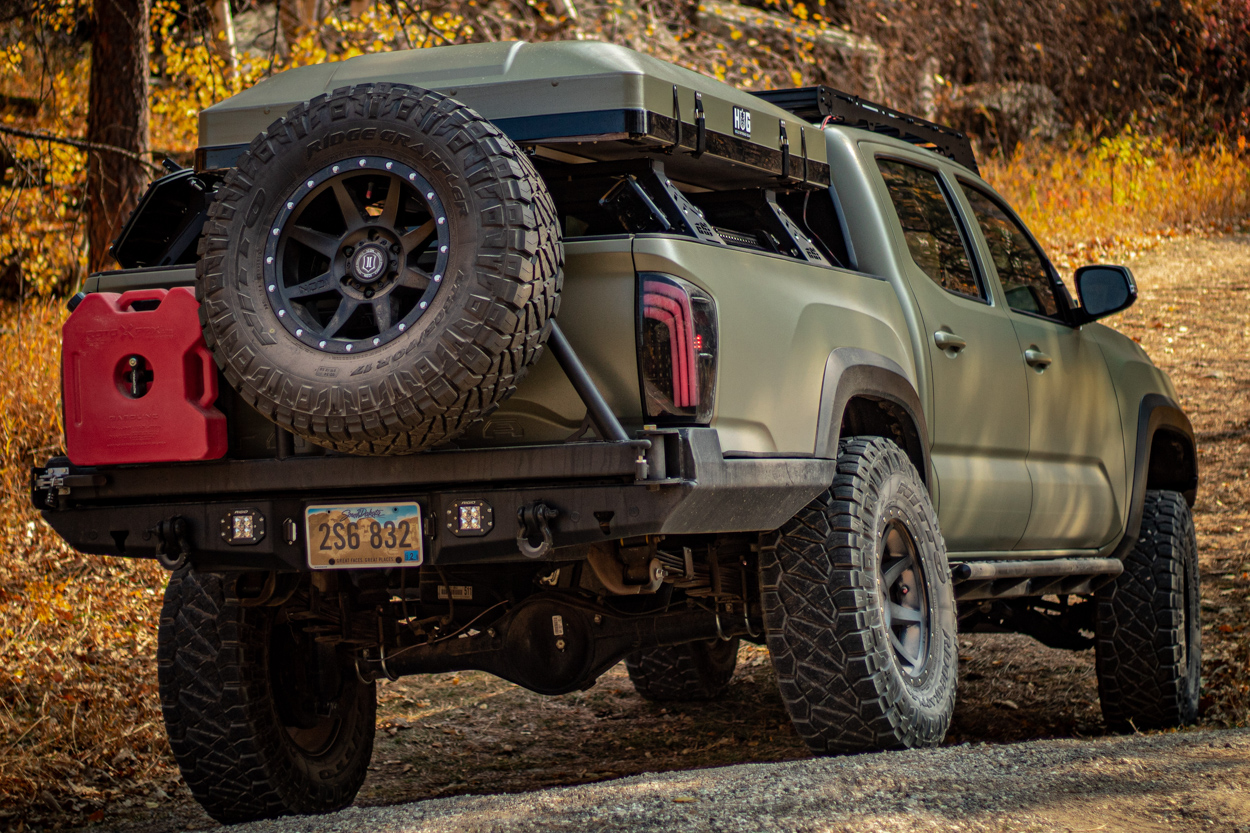 ATH Fab is a small ONE man company out of Nevada. The reason I emphasize that it is a one-man company is because of how great the customer service is. Any question I had was responded to very quickly via email & social media. That's hard to say about some of ATH's larger competitors.
At the time of my purchase, there was a ten-week lead time, but I talked with a few people, who had ordered in recent months, and they reported that they had their bumpers well within that deadline. If you're considering this bumper, I would just reach out via email and get an updated lead time. The company was very upfront with lead times and expected ship dates.
Since most people splurged with their stimulus check, you can expect lead times to be a little higher now. I can confidently say it will be well worth your time.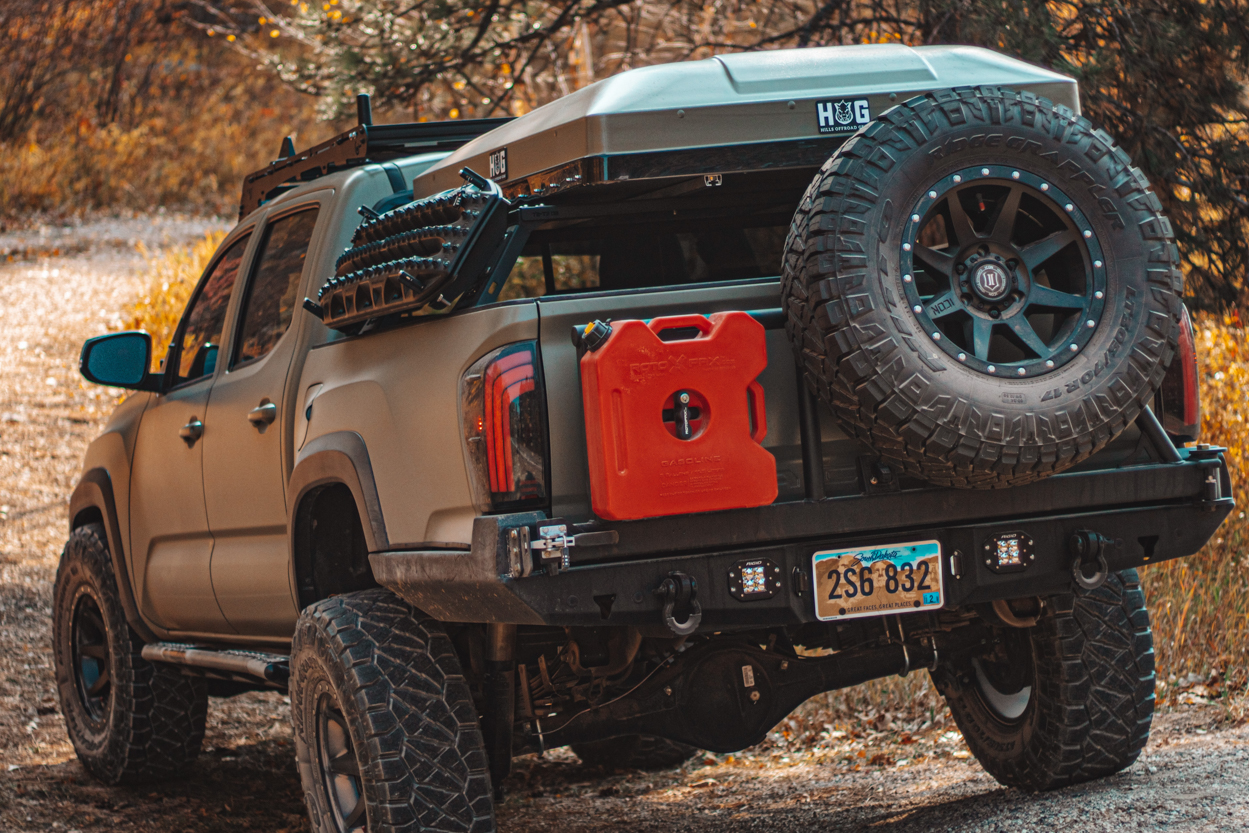 Something that I really liked about the company is that you have the option to pay a $100 deposit to hold your place in line for ten weeks and can pay the remaining amount when the bumper is finished. That gives you some peace of mind that you didn't dish out $1,000+ just to be kept in the dark about your order, or waiting around six months for your product to arrive after already paying upfront.
Not only does ATH Fabrication offer high clearance rear bumpers for the 3rd Gen Tacoma, but they also offer standard bumpers, bed stiffeners, bed tie-downs, and plenty of 2nd Gen products as well.
ATH Fabrication Bumper Specifications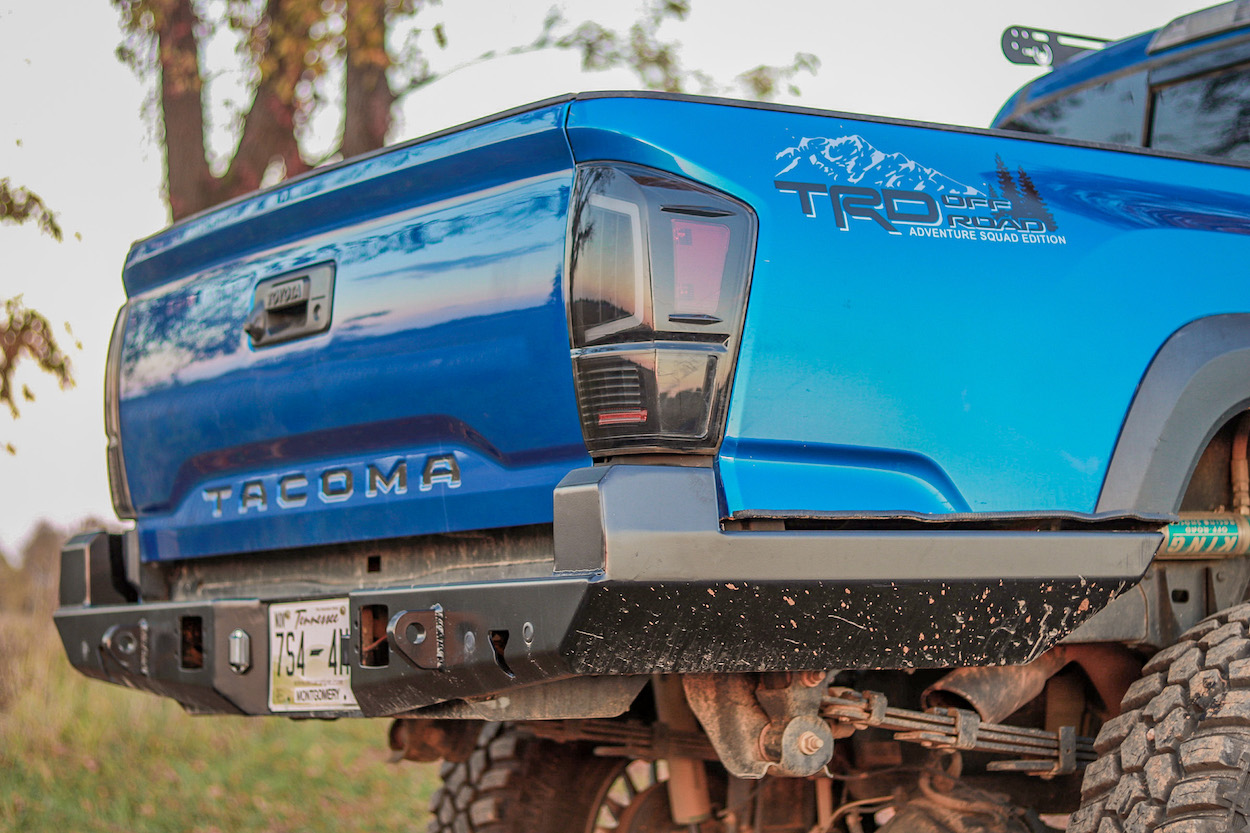 Bumper Features
CNC-cut and brake-formed 3/16″ HRPO steel plate with 1/4″ mounting plates
3/4″ thick shackle tabs passing through the bumper and welded front and back
10 bolt locations make mounting extremely solid
Mounts to the factory threaded frame holes, no drilling required
Cut-outs for flush mount LED pods as backup or chase lights – fits most popular brands except Baja Design Squadrons but you can get an adapter plate for those
Hi-Lift Jack slots for safer lifting
Standard 2″ receiver included, you can opt to have the receiver hidden behind the plate or under the license plate
License plate flip kit for those who opt to have the hidden receiver
Receiver hitches are not officially load rated but are very beefy

The receiver tube is reinforced with 2″x2″x.120″ tubing spanning between the mounting plates

Includes replacement LED license plate lights (splice to factory harness)
Trailer plug relocation required but will be well hidden
Not compatible with the blind-spot monitoring system

The sensors only work through the plastic – they will be disconnected and not reused

Holes for backup/sonar sensors are available
Tire carriers hold up to a 35″ tire and ready for Rotopax mounting, built from a 2″x3″x.120″ box tubing – 1.75″ x .120″ round tubing, 11 GA cold roll sheet, and fully gusseted
The camera relocation kit is included with the tire carrier. Kit includes camera mounting bracket and wire to extend the harness

Splicing into OEM harness is required

Tire carriers are optional but must be built with the bumper- they cannot be added afterward
Only comes in bare steel
The item only ships via freight
I opted to get a bumper without the tire carrier in the rear. Looking back, maybe I should have gotten it, but oh well. There are plenty of other options to carry a full-size spare that I wouldn't mind trying out, like the RIGd Ultraswing.
If you are interested in the tire swing out option, then be sure to select it while checking out; it is not available to be added after the bumper is made.
The bumper is priced very fairly ranging from $1095 to $1715 depending on your options.
Find It Online
2016+ Toyota Tacoma High Clearance Bumper by ATH Fab: Check Price
ATH Fabrication Bumper Review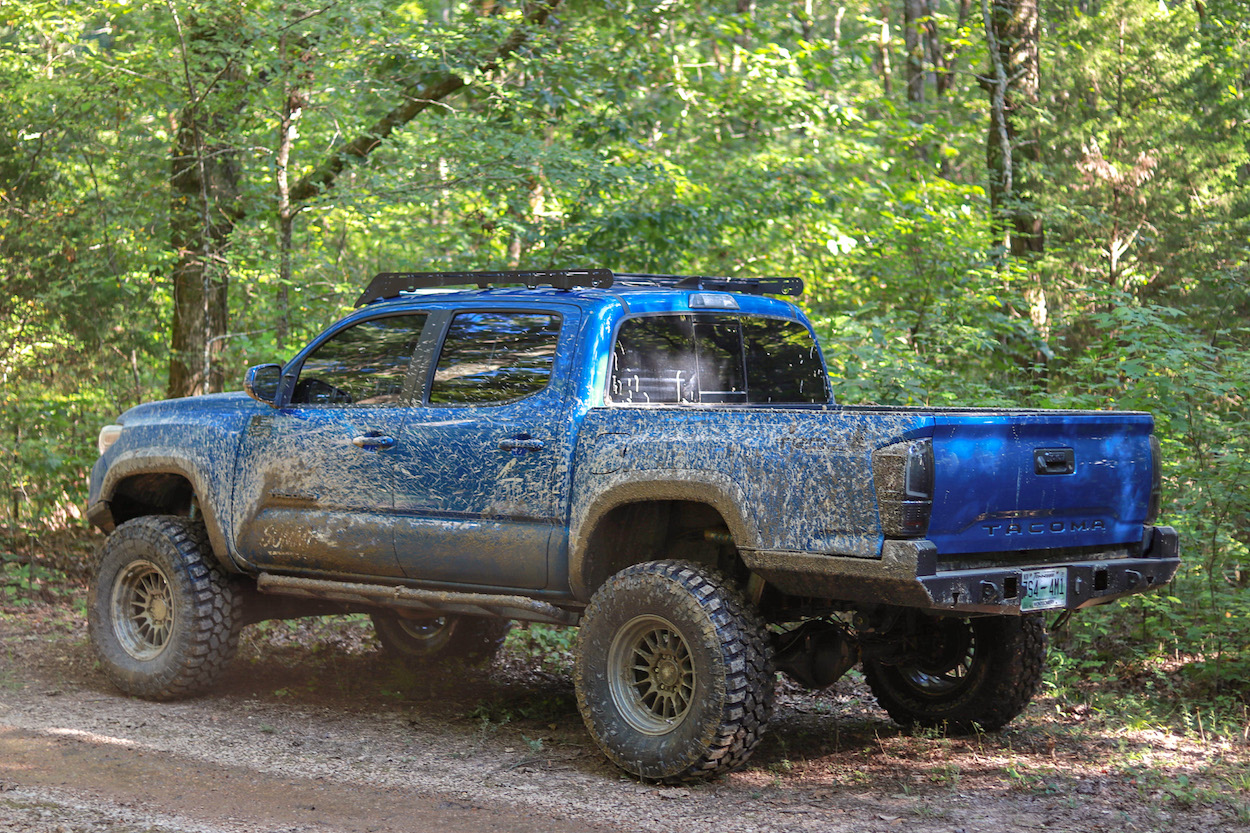 For a one-man team, I have to say that the overall quality of this bumper is great. The construction is super stout and you can tell a fabricator took his time while piecing it together. All of the welds were extremely clean and it came with all the pieces needed for installation which arrived promptly after purchasing.
The bumper is solid at 120 pounds of steel. While installing, make sure you have a friend to help. My wife and I did it together and it was tough. I will say that while 120 pounds isn't that heavy in and of itself, but it's just an awkward shape to lift all on your own.
One great thing about this bumper is that it uses all factory mounting holes and bolts. So that means there is no drilling into the frame of your truck. Also supplied are bedside support brackets, huge plus there.
Testing It Out On the Trails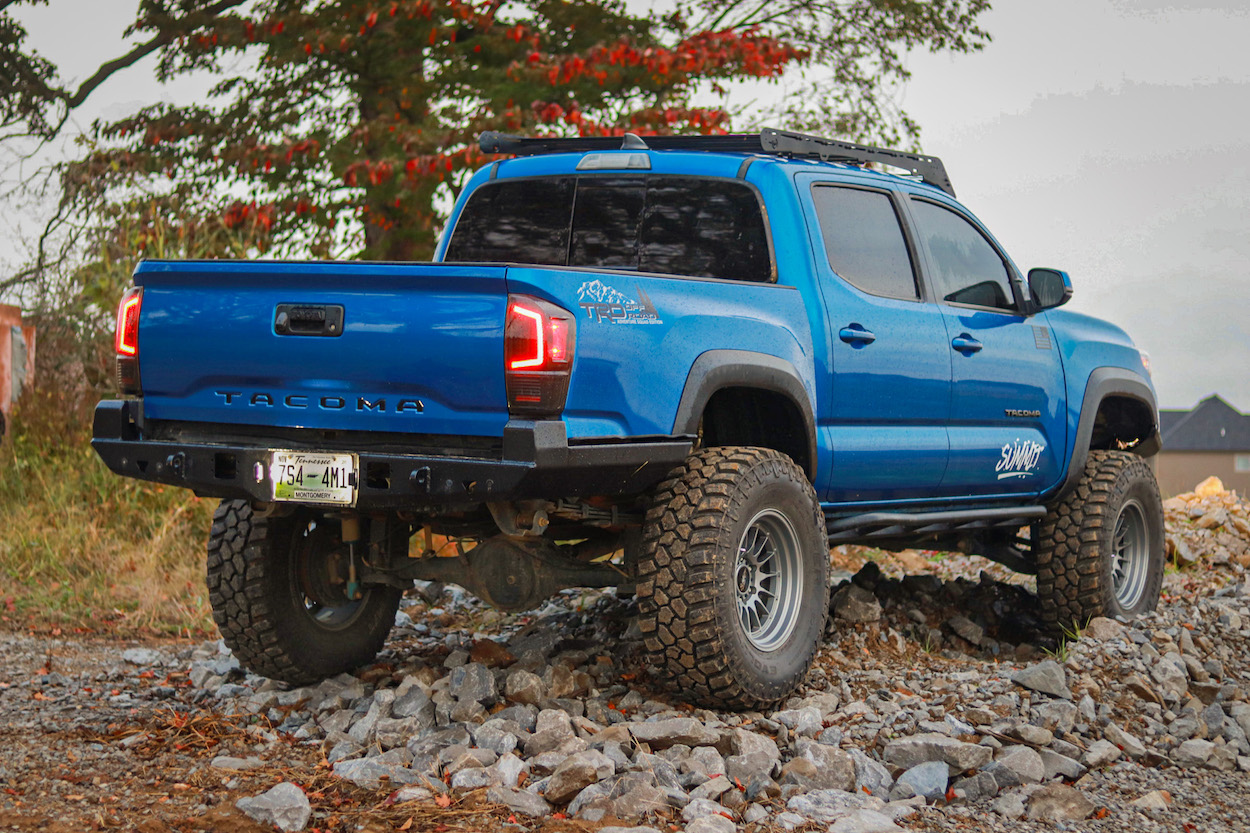 Installation was very straight forward. ATH Fab provided some very clear written instructions with some pictures to outline how you remove your OEM bumper and wiring. There are also a couple of good YouTube videos on how to remove the OEM parts.
The total install took me maybe 5-6 hours by myself. A majority of that time was trying to find the right tool to cut with since I did not have a cutoff wheel.
The day I got it installed, I hit the trails immediately and put it to the test. The bumper has taken a couple of hits and it is tough! There is no question this bumper will take care of and protect my truck's rear end. 
Once powder coated, the bumper looked great! What caught my eye was how sleek this bumper looks and the way that it follows the body lines of the Tacoma. It looks like it was meant to be a direct replacement in the back.
I really enjoyed having the option to pick whether or not I wanted my tow hitch slot behind the plate or under the bumper, itself. While I opted for behind the plate, it will look great and perform either way. If you do opt for hidden behind the plate, ATH Fab supplies a flip bracket license plate holder.
Any Downfalls?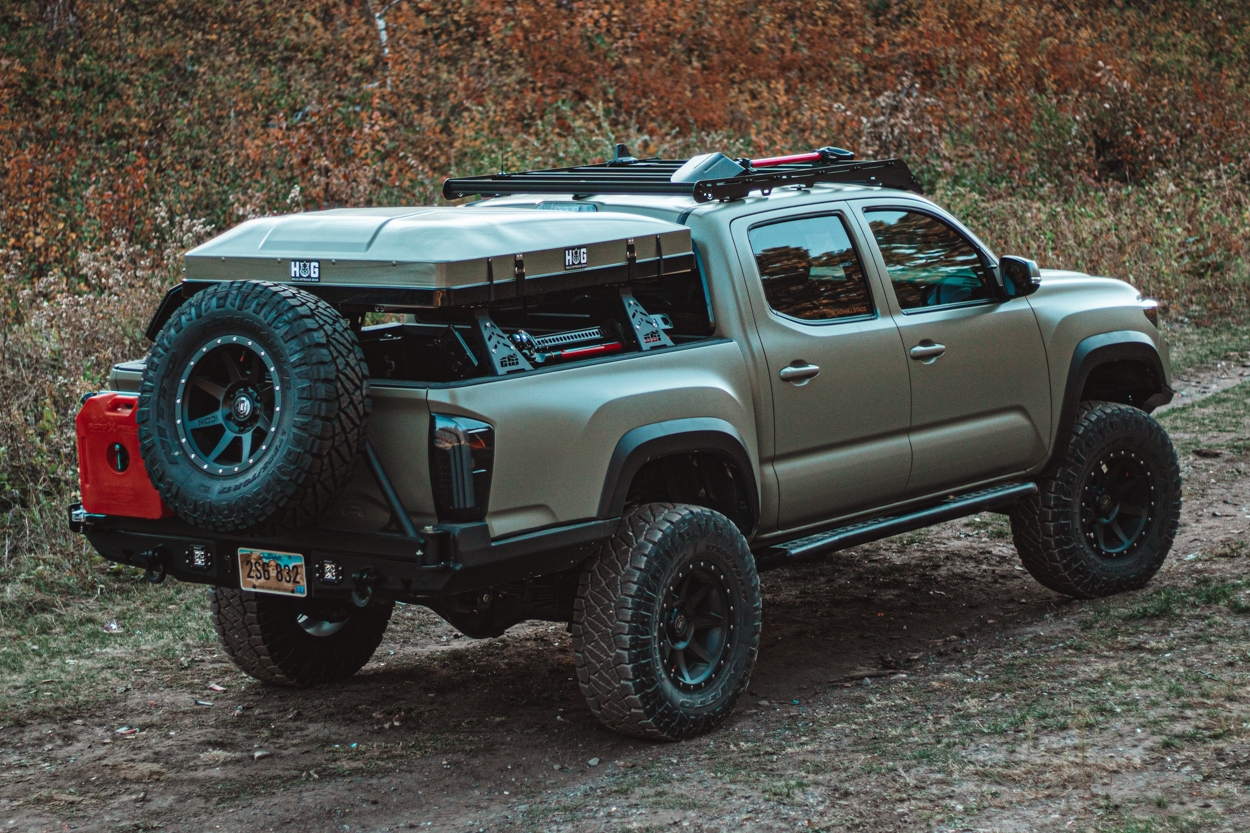 Now I know what you're thinking… This bumper HAS to have something wrong with it right? WRONG!
I have had this bumper on for a little less than a month now and I have not found one thing I did not like about the bumper itself yet.
The only thing I wish that came with the bumper was instructions for the flip bracket license plate. Those were probably the most confusing part of the installation.
Other than that, this bumper is a solid 10/10 in all areas. If I do happen to find anything I don't like, I'll be sure to update everyone. So far so good though.
Final Thoughts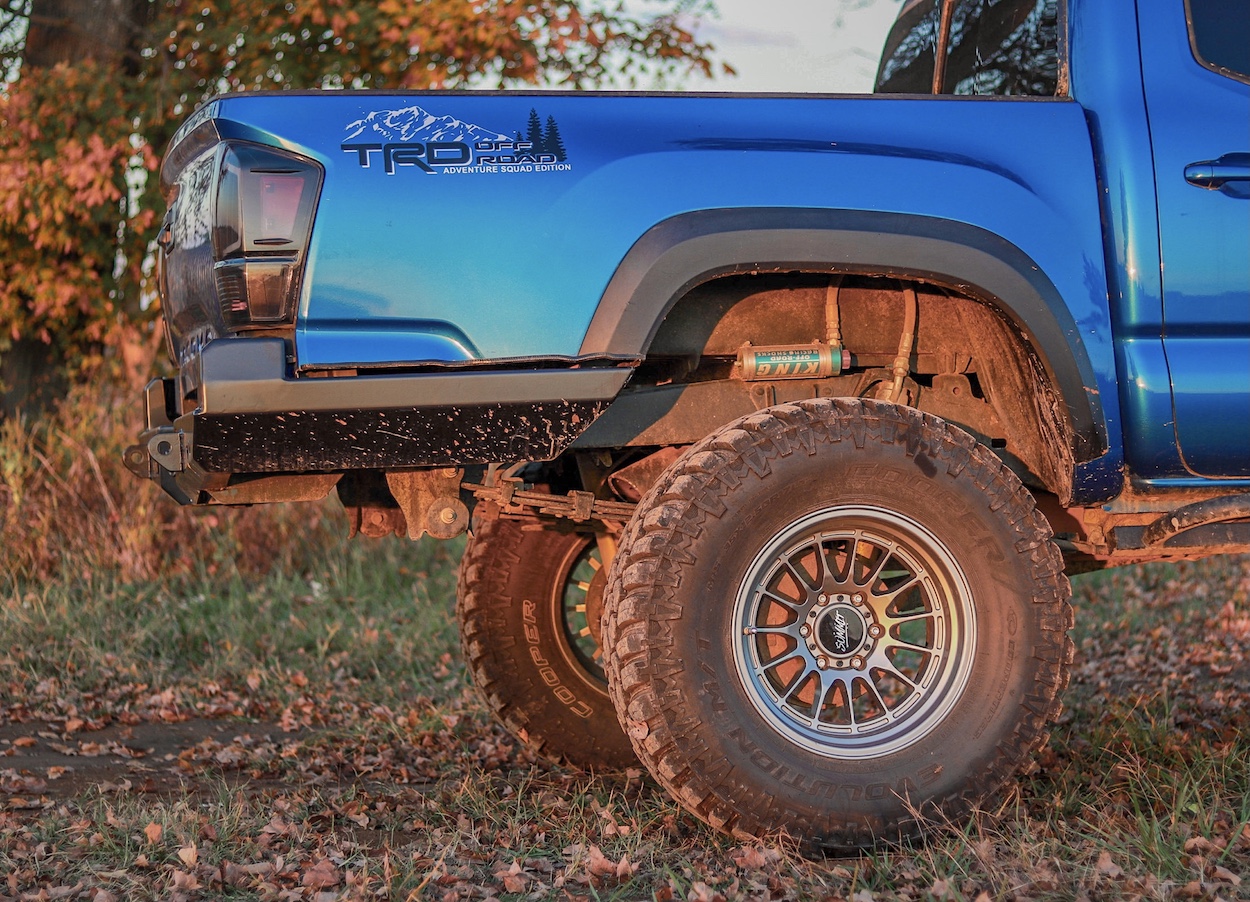 If you are in the market for a rear bumper, this should be one of the first options on your list. Everything from the quality to the customer service was top notch. I would absolutely be sure to reach out to ATH Fab regarding any questions on the product.
This bumper will not only protect you, but it will make your Tacoma look great while doing so. If you have any other questions about the bumper, please feel free to reach out and I will get you an answer!