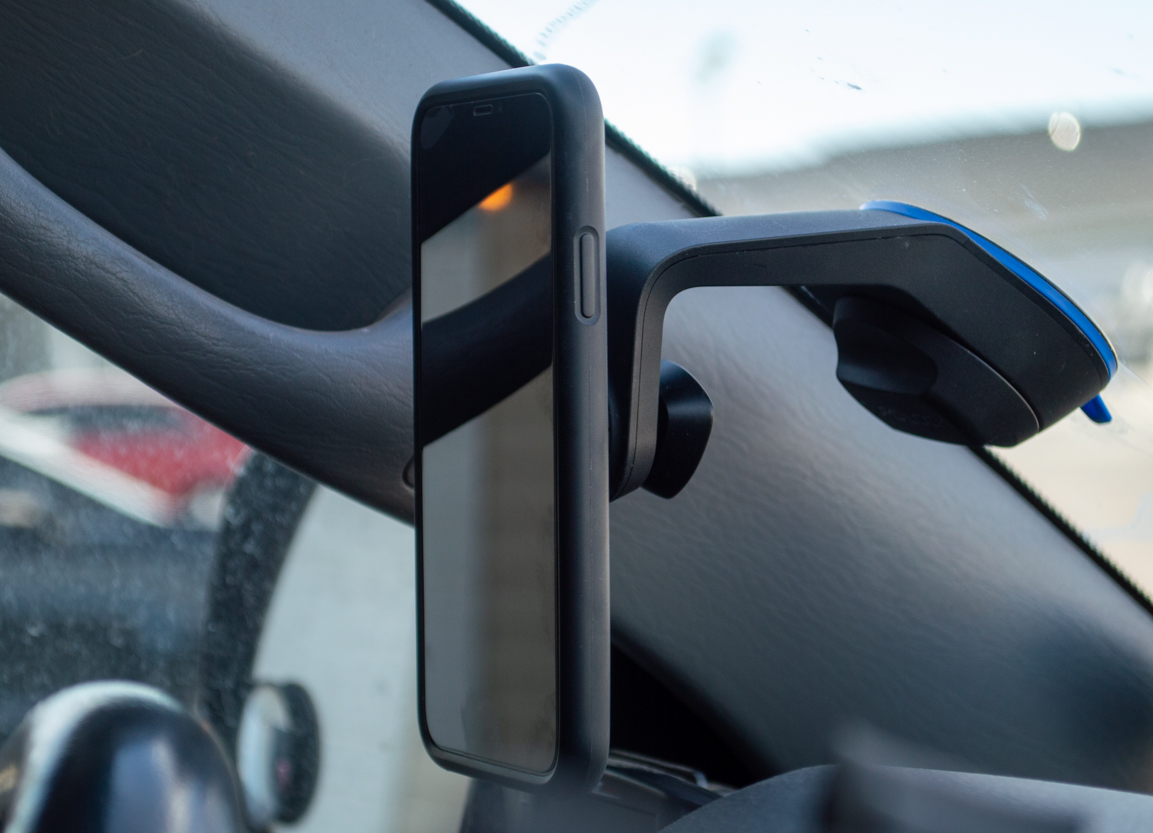 The Quad Lock Cell Phone Vehicle Mounting & Charging System: Off-Road Phone Case for your Tacoma: No rattling, Rotating, or Falling
Two things everyone reading this article love: driving their Tacoma and staying in contact with the world through their cell phone. Keys, wallet, and phone are on the everyday carry list of most Americans. Keeping that vital piece of equipment charged, and ready for use, is something that most of us find to be a challenge.
The Must-Have Case, Mount & Charger
Introducing the Quad Lock, Wireless Phone Charger, and Mount. This nifty piece of kit, built for the Australian outback, is beyond simple to install and will eliminate you having to fight with wires, as well as keep your phone from falling into your lap while you're driving.
Let's get into the review/overview.
Find It Online
If you are looking for an off-road phone case for your Tacoma, this is a great option to consider. Next to the Hondo Garage Mount for the Tacoma, Quad Lock is another pretty common option among off-road drivers. With Quad Lock, you won't have any rattling, rotating, or general phone slippage. Both of these phone mounts are pretty common in the off-road and overland space but let's jump in and see what makes Quad Lock so special.
Unboxing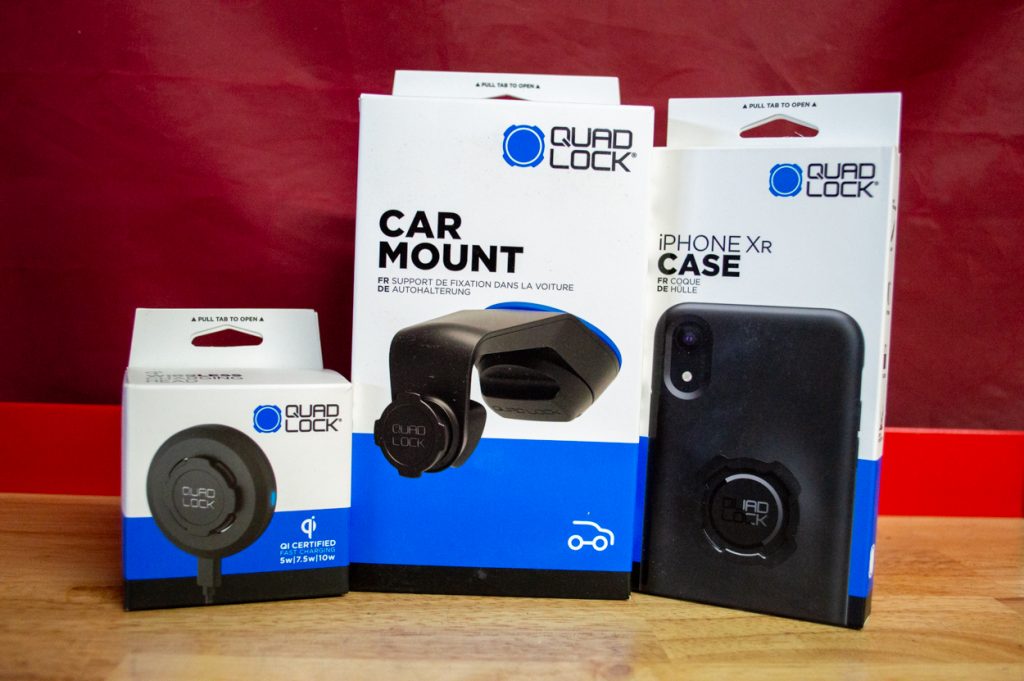 Initial Impressions
Unboxing the Quad Lock Drive system, I found the mount, wireless charger, and phone case to be made of extremely durable materials that should last for a long time.
Instructions were easy to follow and allowed for mounting virtually anywhere in your vehicle as long as the provided charging cable for the charging mount will reach.
Contents & Compatibility
Included in the three separate boxes were from left to right; the wireless charging mount and charging cable, the windshield/dash mount with suction surface and alcohol prep pad, and finally the phone-specific case.
The wireless charging head is compatible with the iPhone 11 Pro Max, 11 Pro, 11, SE (2nd Gen), X/Xs, Xs Max, XR, 8 Plus and 8.
Quad Lock Case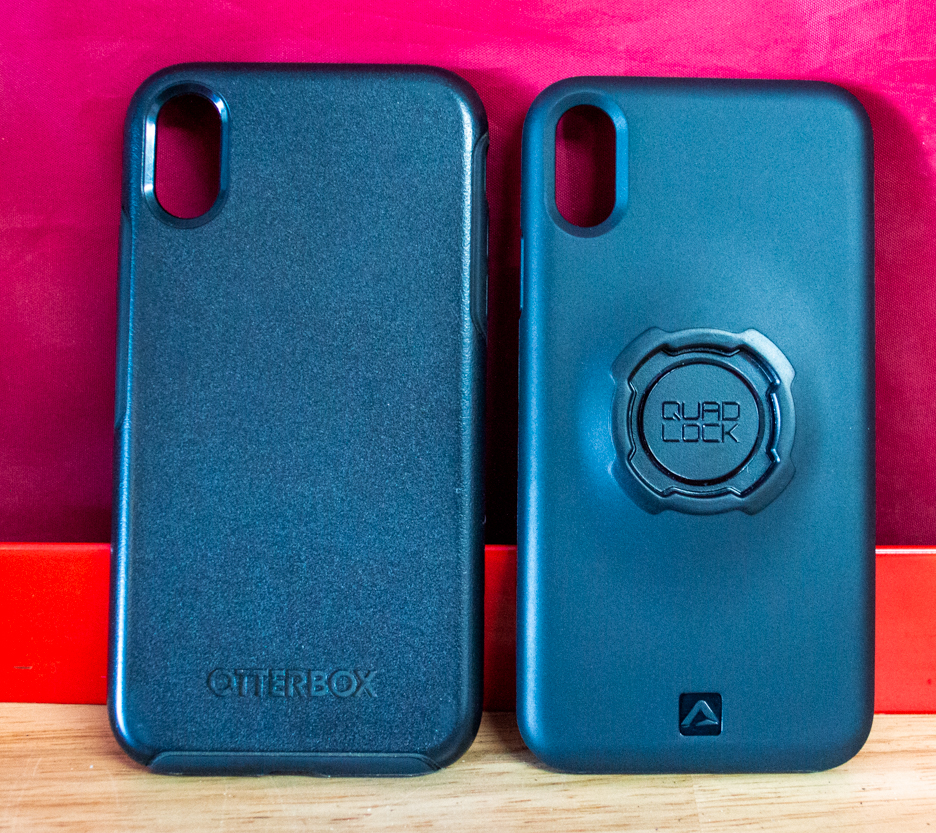 Secure, Locking Phone Case
The company's website states that the Quad Lock iPhone Case is made from a tough, polycarbonate core and impact absorbing TPU edge-to-edge outer shell to protect your iPhone. Compared to my old OtterBox phone case, the Quad Lock case is very similar in sleekness and durability.
It fits very well in the hand and doesn't interfere with your ability to talk or text even with the mounting bracket on the back. Some may have to ditch the PopSockets when they install this case, but that will soon be forgotten when you see how easy this is to use on a daily basis.
Mounting & Wireless Charging Head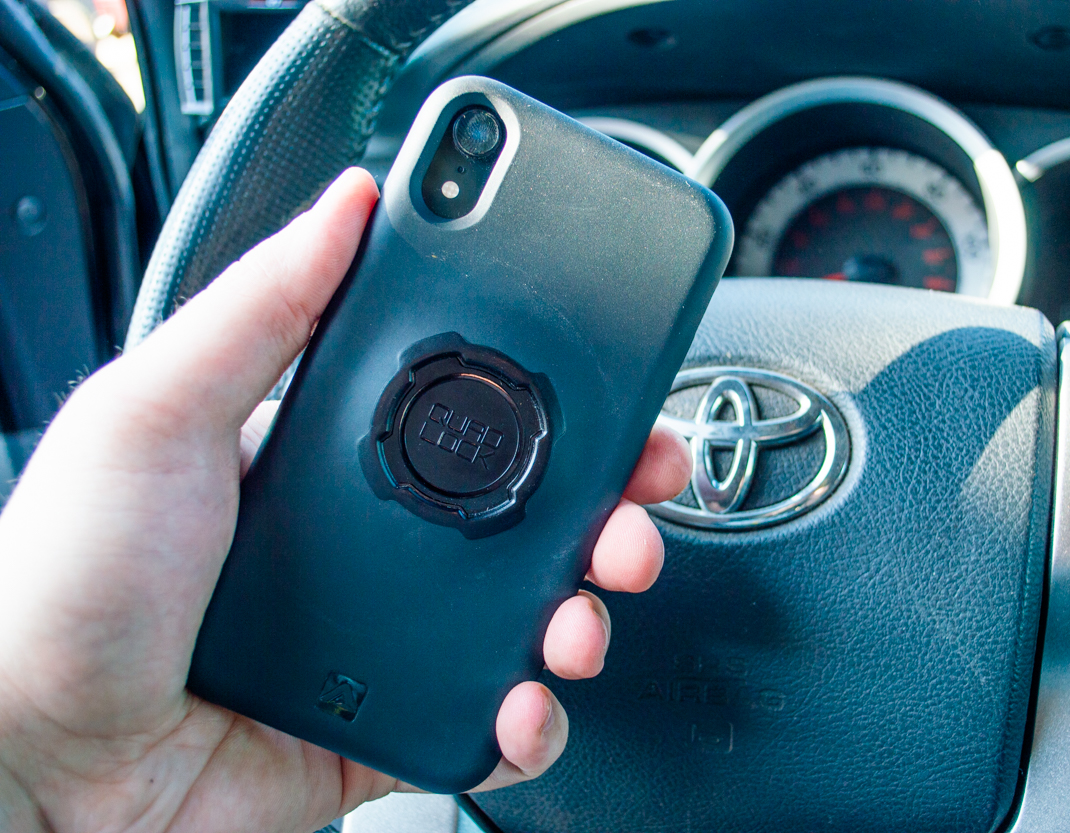 Installing Mount
Installing the windshield mount is as easy as prepping the surface with the provided alcohol pad, pressing the suction cup to the glass where you want your phone to be, and then flipping the switch to fully secure it.
The suction cup is made of a product that will have a very hard time letting go once installed. It not only has the concave design of a normal cup, but it also has a sticky, nonporous media that makes the application that much stronger. The suction was good enough that I couldn't pull it off the windshield without releasing the innovative turn switch.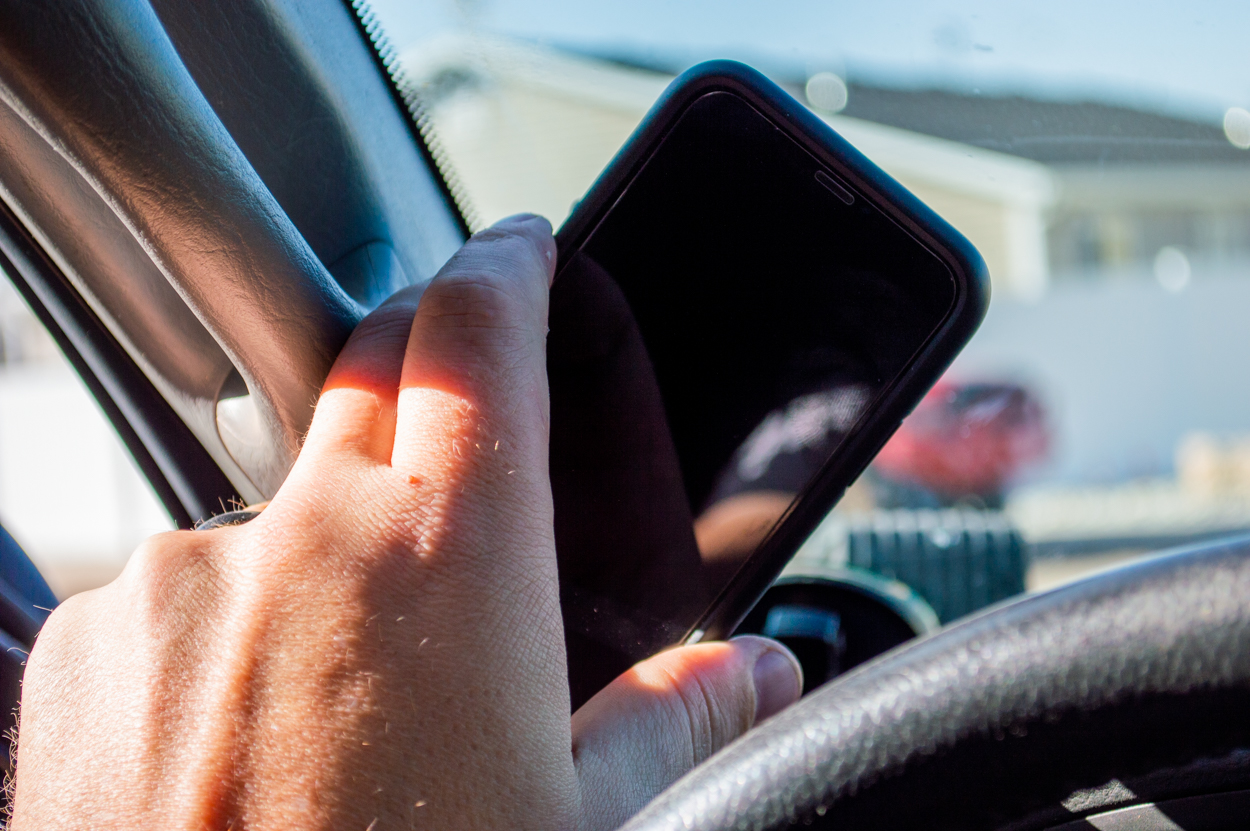 Locking the Quad Lock Case to Windshield/Dash Mount
With a 45-degree approach to the locking mechanism and then a counterclockwise twist, your phone is locked in place and instantaneously charging. Boom, that easy.
Wireless Charging Capabilities
Quad Lock states that your phone will charge 2x faster with their product versus standard 5w wireless chargers. I can attest to this, it seems to move roughly twice as fast as a standard charge. Once charging is complete, the light on the back of the charger will illuminate green letting you know that your phone is ready to go. There is also a button on the back of the charging head that can turn off the light if that is something you don't need.
Potential for Customizing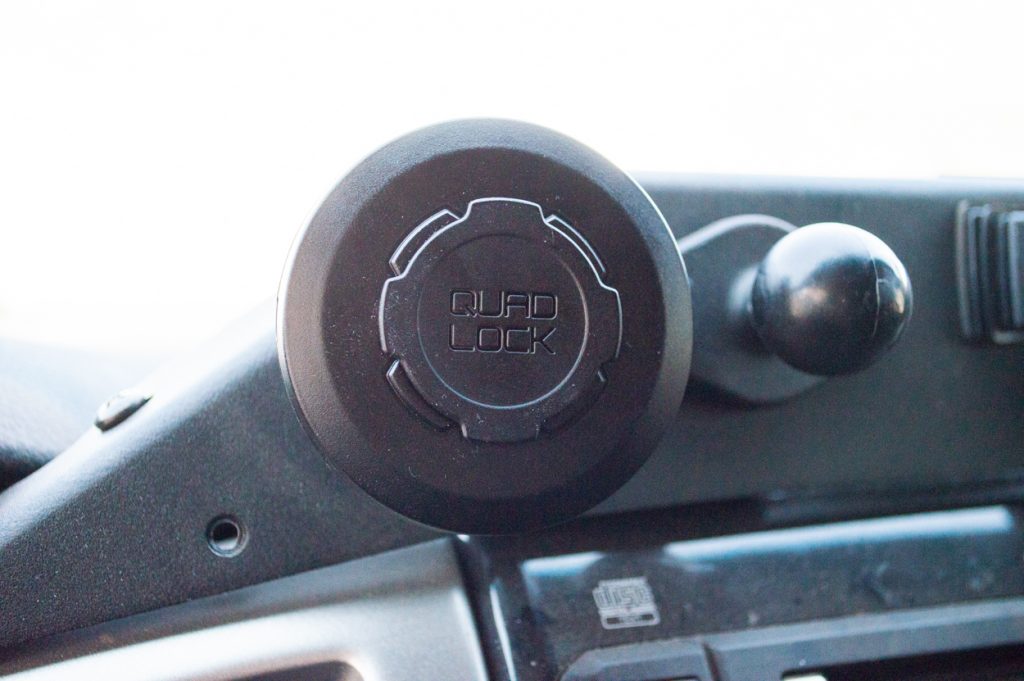 Applications for Wireless Charging Head
I currently have the Expedition Essentials T2PAM installed in my Tacoma. I removed the RAM mount and found that the wireless charging head's bolt fit perfectly in the already provided holes. This means I can keep my phone mounted on the windshield when it's charged or on the T2PAM when it's running low on battery.
A finger nut is provided with the windshield mount and used to secure the charging head. After cinching it down, everything is tight and not going anywhere. The excess wire used to power the charging head can be simply just wrapped around itself or you can go a step further and run it into your dash. It all depends on how permanent you want to make this be.
Final Thoughts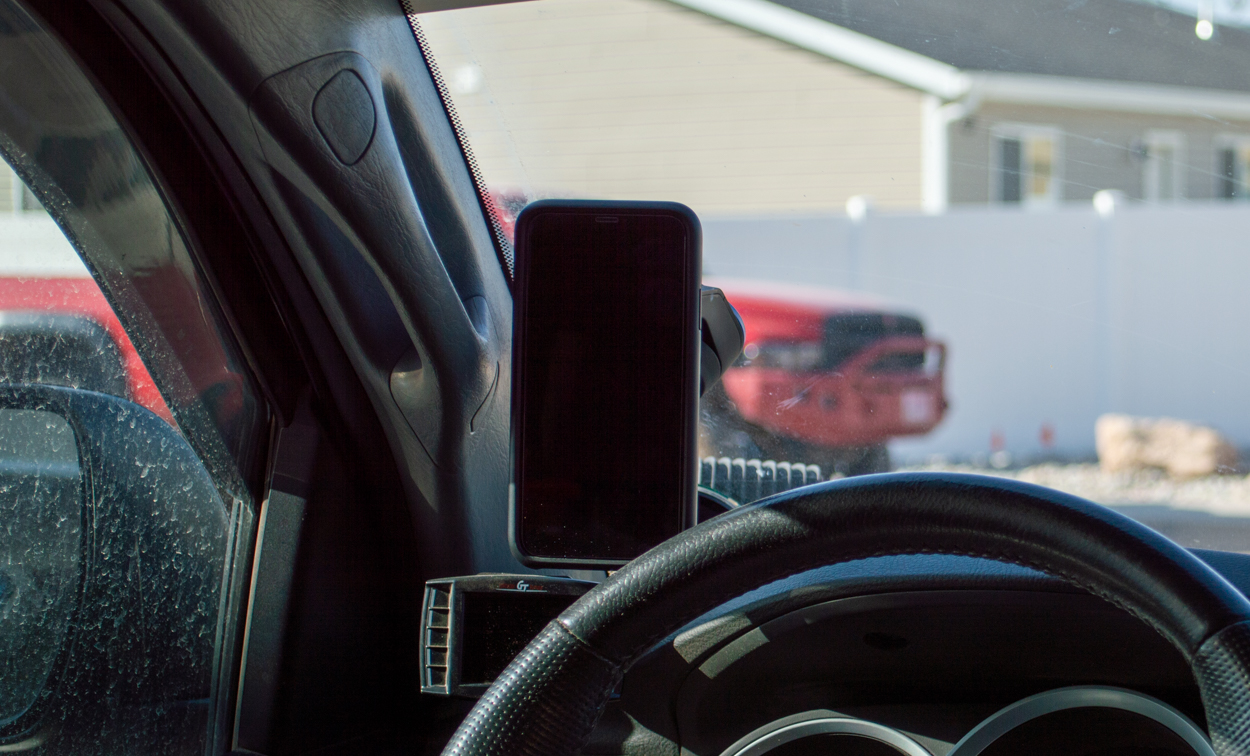 Off-road usage with this device is highly recommended as your phone moves right along with your truck. No rattling, rotating or falling. Everything is solid, secure and stationary.
There's also the ease of removing your phone for that fast Instagram story or picture and no more fighting cords once you take it down. This product also has applications for running, bicycling and motorcycle riding, enabling you to carry your phone securely during whatever activity you choose.
If it's got a handlebar or a windshield, this will work! That's another huge selling point of Quad Lock. The system is very universal. If you want to move your phone from one driving style to another and have everything be plug and play, Quad Lock is the choice. This is really an all-in-one phone mounting system that you can take anywhere.
I plan on keeping it in my Tacoma for years to come and I highly recommend this product for your next truck or Toyota mod.