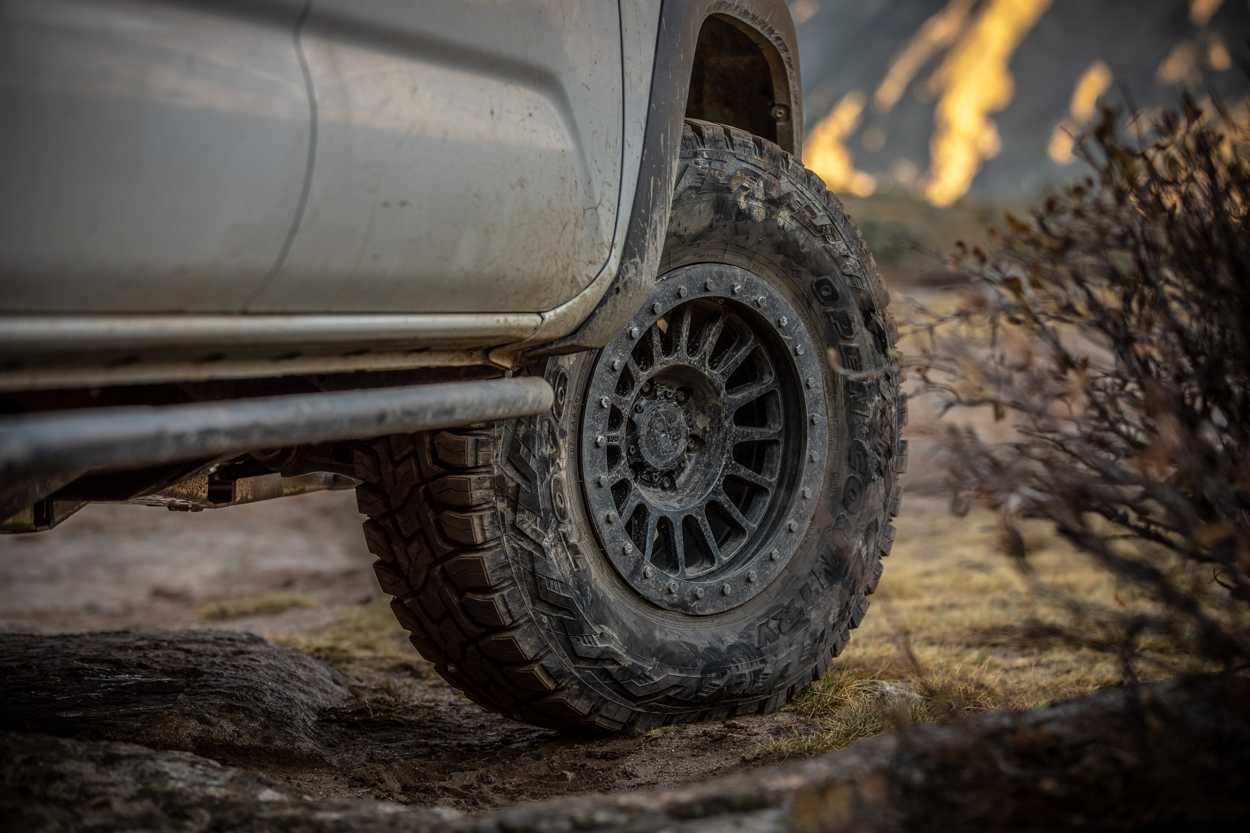 Complete Review & Product Overview of RRW (Relations Race Wheels) RR6-H 17X8.5 – (6X5.5, 6X139.7) On the 3rd Gen Tacoma
One of the latest, and quite possibly greatest, additions to my Tacoma is a set of the matte black RR6-H wheels with a -12 offset. These bad boys are wrapped in a 285/75/17 Toyo Open Country R/T.
Unique Feature – Hybrid Beadlock
These wheels feature a unique feature, denoted by the H at the end of the name. The H stands for Hybrid. You might be wondering what that means. These wheels have a special hybrid beadlock design that I have yet to see elsewhere. Now, I'm not saying these are the only wheels with a similar option, but they're the only ones that I know of.
From the moment we put these wheels on the Tacoma, they were bound for some serious trail testing. Before we get into the review, let's see what makes these wheels special.
If you'd like to learn more about Relations Race Wheels, check out their company highlight here.
Find It Online
RR6-H 17X8.5 (6X5.5 | 6X139.7) Hybrid Beadlock | Toyota Tacoma: Check Price
Protection Rings For Hybrid Wheels: Check Price
RR6-H Specifications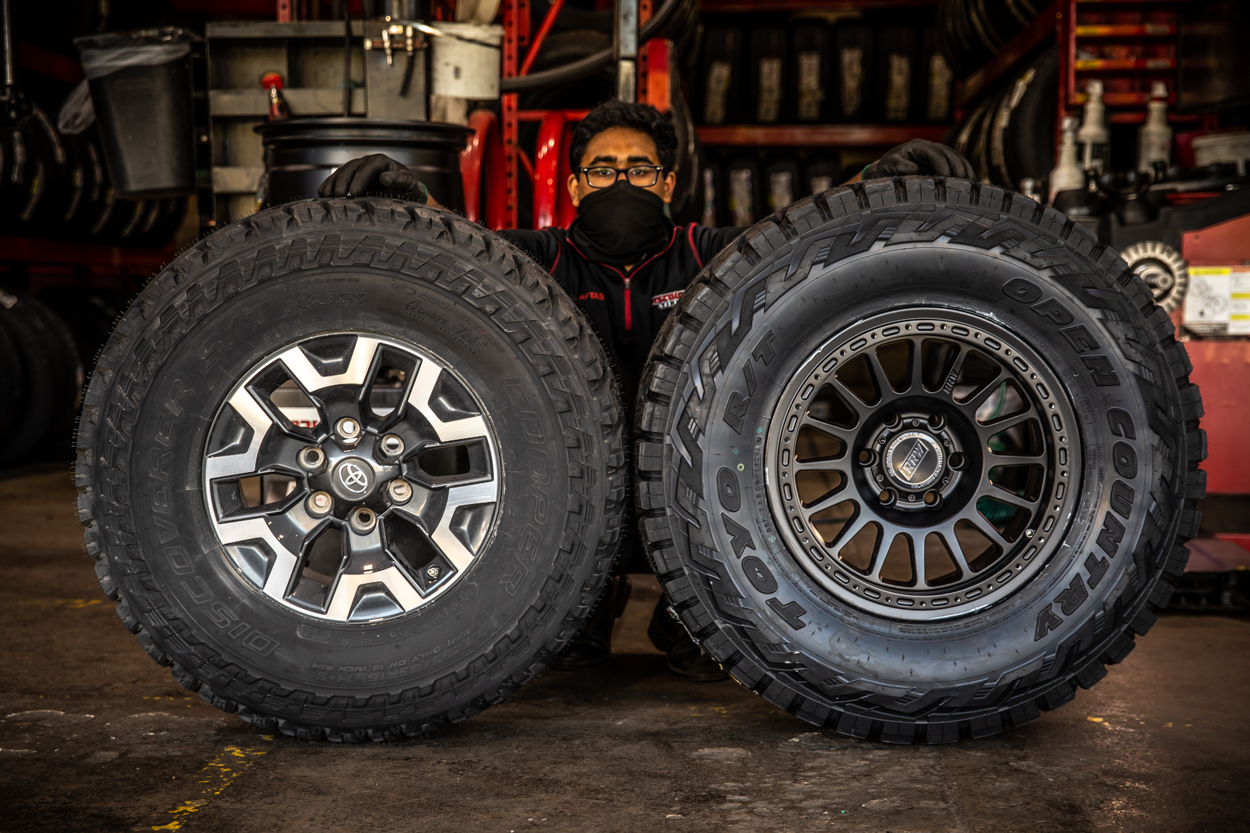 Just for comparison's sake, I added the image of the two tires above. On the left, we have an OEM TRD Off-Road Wheel with a 255/85/16 ("skinny" 33-inch tire) and on the right, we see a 285/75/17 ("true" 34-inch tire).
As far as I know, the OEM wheel is a 16×7 wheel with a +25 offset. Big difference.
RRW RR6-H Wheel Specs
Size: 17×8.5
Offset: -12 / -25
Bolt Pattern: 6×5.5 / 6×139.7
Center Bore: 106.1mm (hub-centric for Toyota Trucks)
Finish: Matte Black, Matte Bronze, Matte Gunmetal
Load Rating: 2500 lbs
Weight: approx. 28.4 lbs
Backspacing: 4.28″ for -12, 3.77″ for -25
Compatible with TPMS and Extended Thread (ET) Lugs
Tacoma Wheels with Hybrid Beadlocks?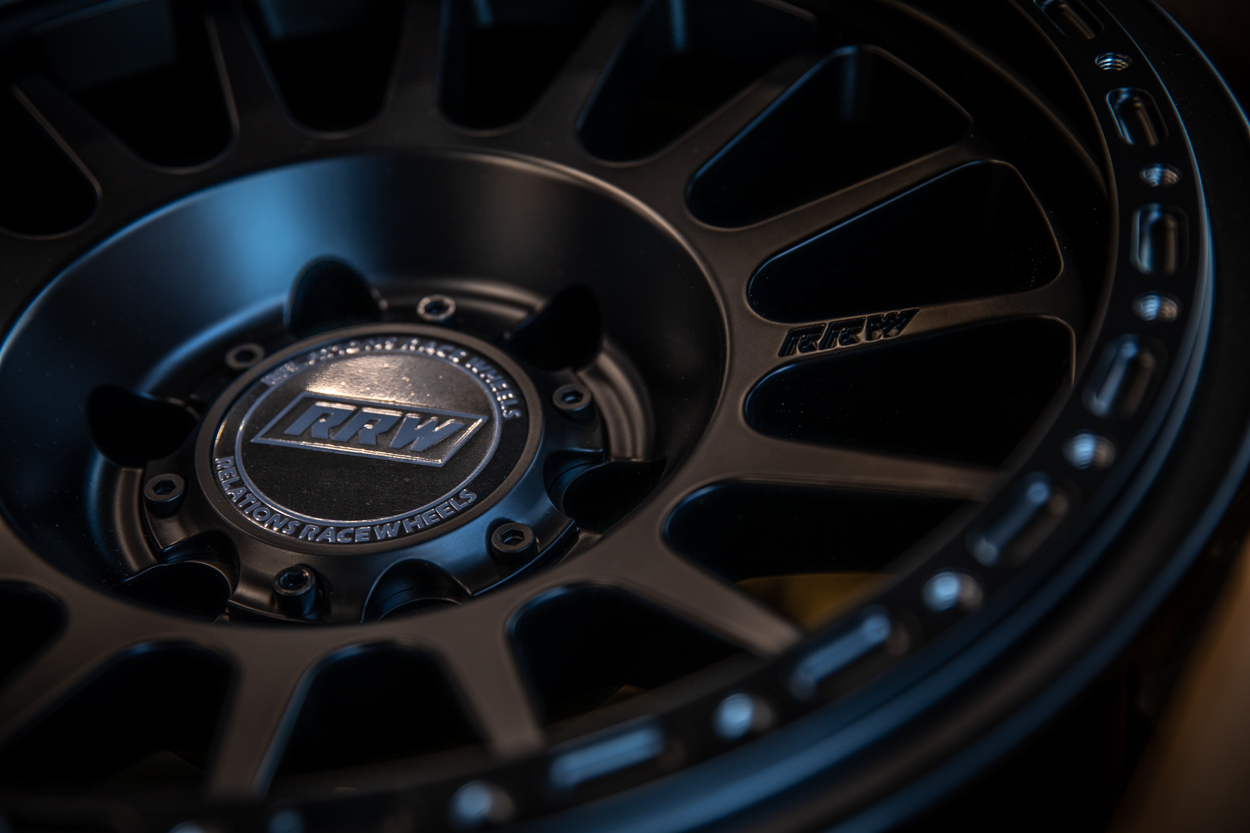 Beadlock Basics
The hybrid beadlock allows you to run one setup when you're on the road and another when you hit the trail. This is where RRW brings some innovation to the wheel game.
There are three options for wheel/bead protection:
Aluminum Protection Ring
Steel Protection Ring
True Beadlock
Depending on how hard you wheel your truck, you can outfit your truck based on your needs.
Beadlock Application
These rings are mainly there to protect your wheels from rocks, so if you don't see many, you'll likely be okay with the aluminum option. The steel version, which I have on my wheels (more to come), is great for those of us who really like to bang our trucks around. The true beadlock is mainly reserved for guys who are running big tires at below 10-12 PSI and really giving it the business. To my knowledge, true beadlocks not explicitly illegal.
Most laws simply state that wheels must be DOT/SAE approved. By default, they are not illegal, but most manufacturers do not go through the approval process to avoid the hassle. We recommend checking your local laws and regulations if you want to know more.
Note: If you're installing the rock rings, be careful to not over-torque the bolts. The wheels are aluminum, the bolts are steel, and since aluminum is much softer than steel, you can easily ruin the thread by over-tightening.
Installing the Protection Ring/Beadlock
As you can see clearly see above, threaded bolt holes surround the outside lip of the wheels.
You might think that these threads might ruin the look of the wheel without the rings attached, but I personally think they look really good without the rings. It adds a subtle design element that's unlike the competition.
You have the option of choosing black or gold zinc plated bolts for your protection rings. For now, we decided to stick with the black ones. Might be moving into the gold in the future.
Mounting & Balancing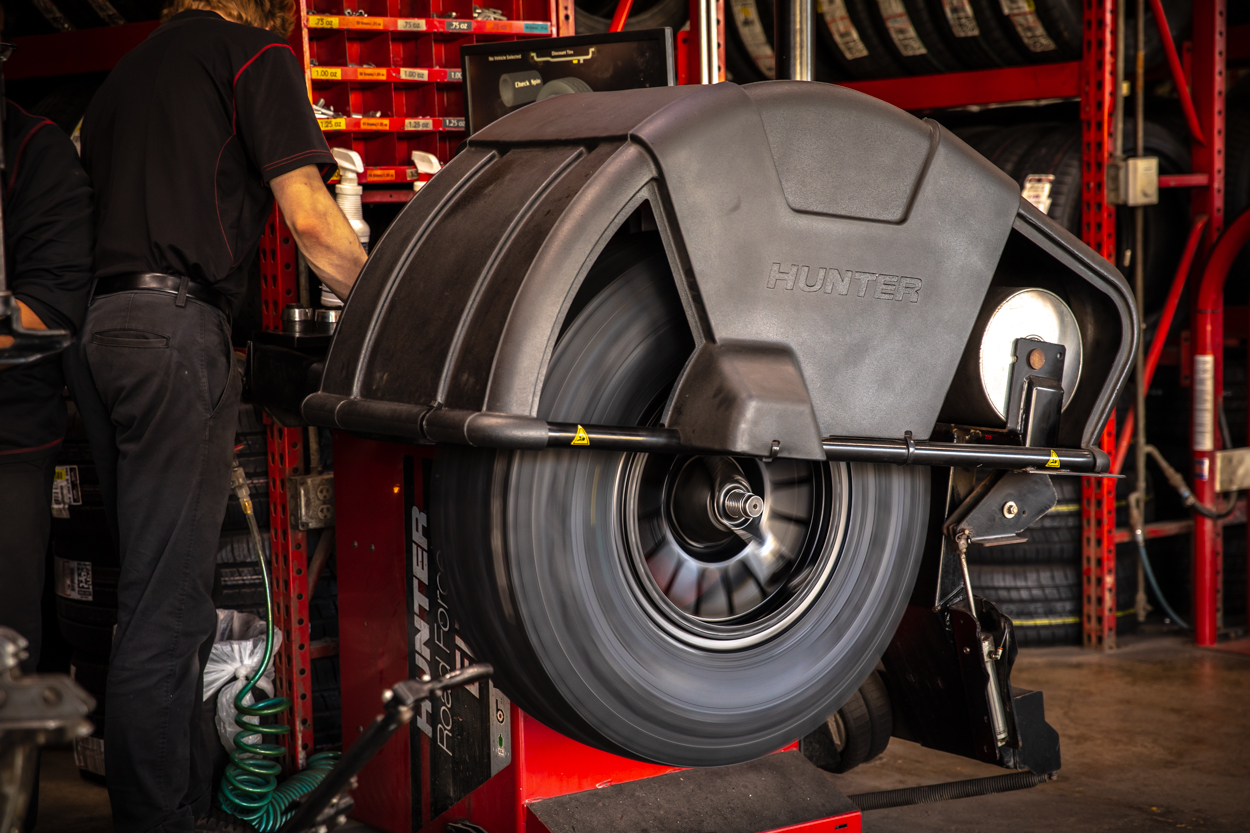 Simple & Easy – No Issues
While this portion is also heavily dependant on the type of tire you select, it's still worth mentioning.
The guys mounted up some 285/75/17 Toyo Open Country R/Ts on the RR6-Hs and the install was quick and simple. The powder coat on the wheels held up great to tire mounting tools and the wheel and tire combo were able to balance out without an insane amount of weights.
So far so good. I have driven over 2500 miles and felt zero vibrations from this setup. If you missed it early, yes, these wheels are hub-centric.
Initial Thoughts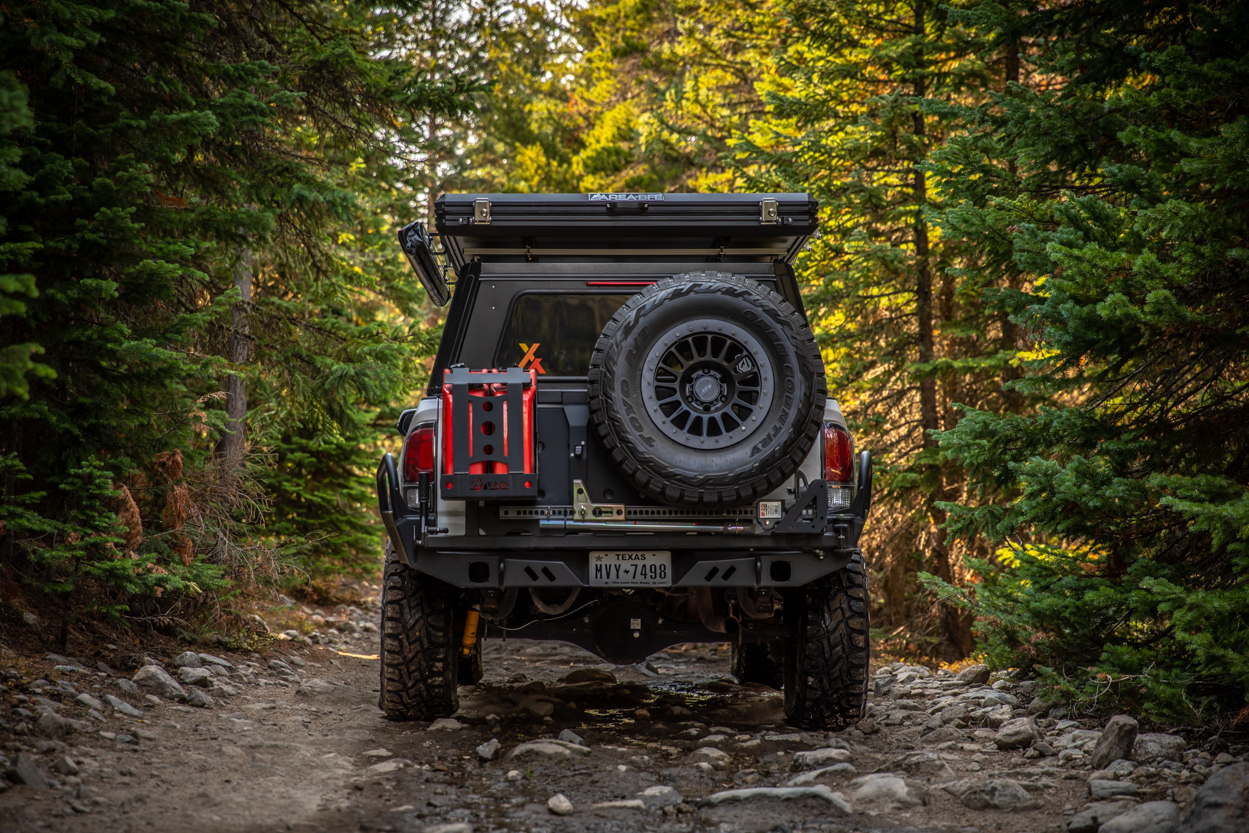 Hitting the Road
So, as usual, the days leading up to this first trip out with the new setup were a bit hectic.
Last-minute installs, making sure the truck was ready for a trip off the grid, and life, all made it difficult to snap some shots straight out of the tire spot. Only a few days had passed between the time the new wheel and tires hit the truck and the time they hit the rocks. I installed the rock rings the day morning of a trail run, if there was any potential for vibration, I didn't want to deal with it on a 1000 mile drive.
Do The Rings Effect Balance?
There is good news!
The rock ring setup, which I have run for about 2 weeks now, does not affect the balancing of the wheels/tires whatsoever. This even applies to higher speeds, around 80 mph. It's good to know that the setup is solid and that I don't need to bolt and unbolt 100+ bolts every time I hit the trail.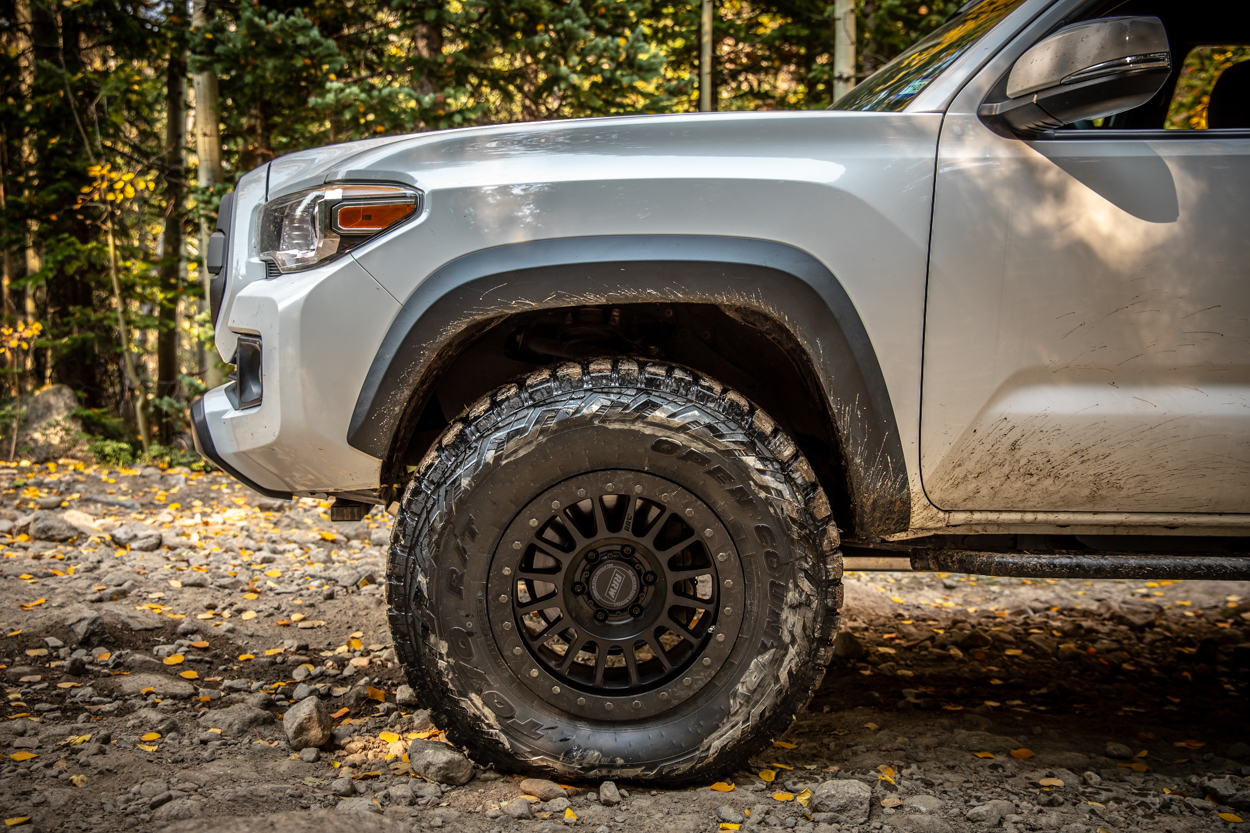 Aesthetics
Now as far as looks? Well, I feel like this is a no brainer.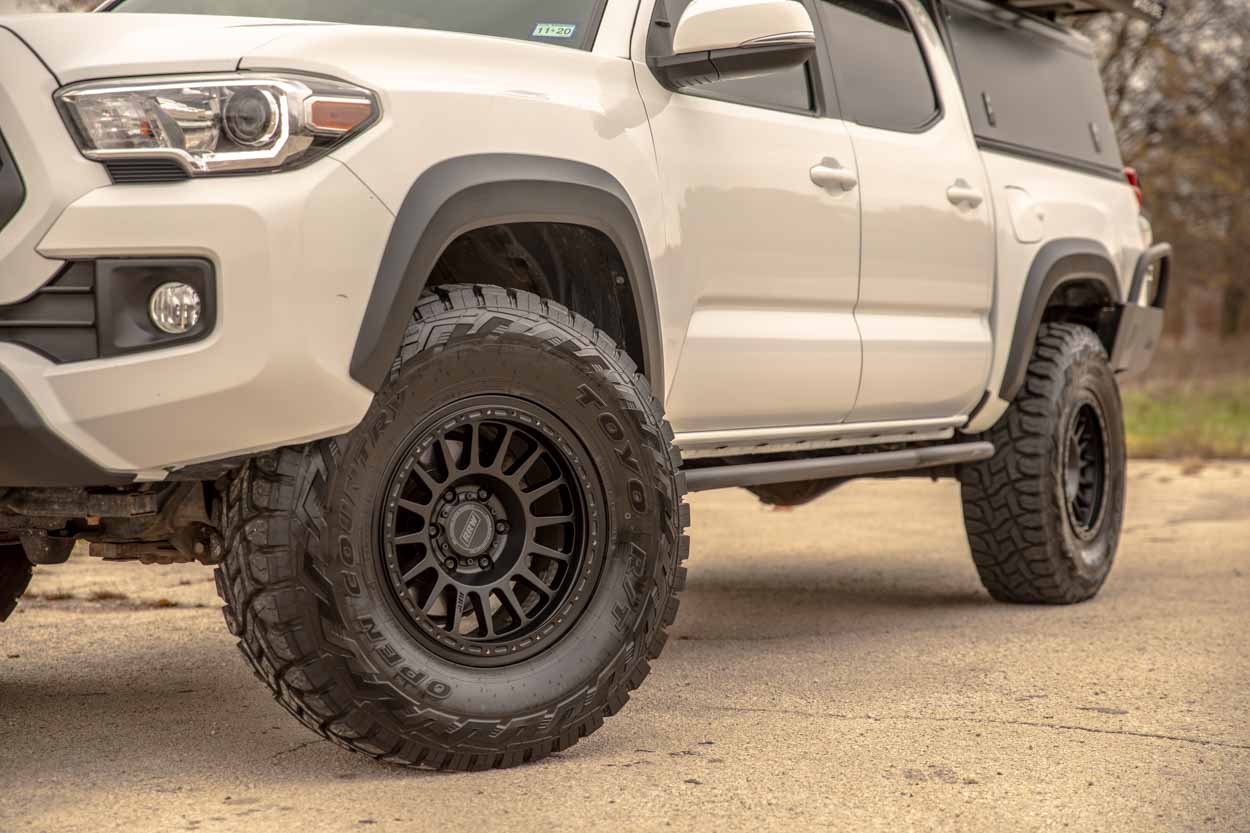 Overall Design
These wheels are definitely one of the best looking on the market. Not only because the design is unique, but because Relations really put a lot of artistic and creative design work into their wheels. I've gotten several compliments on these wheels, and if you think they look good in pictures, they're even better in person.
The -12 offset looks great. I would have gone with the -25, but at that time, there was no option for the -25 offset in matte black.
RRW Rock Protection Ring Around Wheels – Did They Work?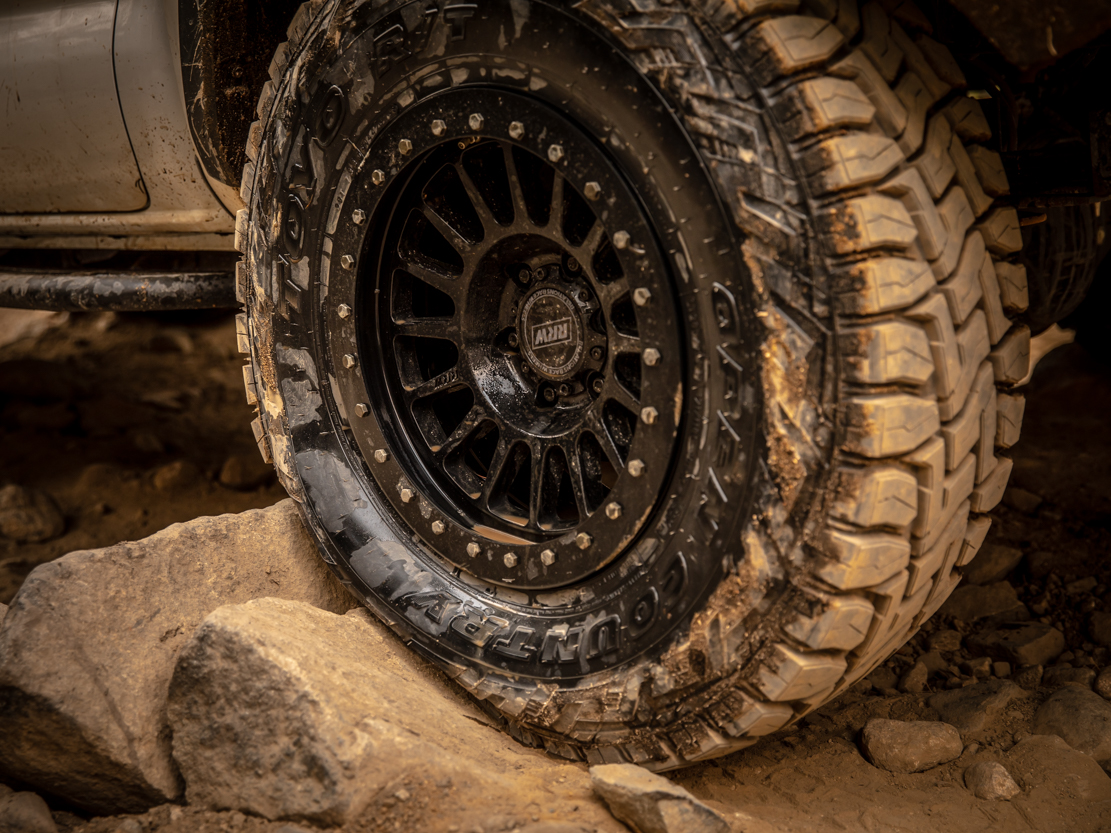 3 Days, 25+ Miles of Rocky Trails – How Did They Hold Up?
Wheeling with the RR6Hs
Before I continue, a disclaimer. I've been wheeling for several years now, we've sought out more technical terrain as experience and time allowed. This particular trip was 3 days of the hardest wheeling I have ever attempted.
I'm not trying to say I ran the Rubicon blindfolded, but I definitely put the truck through its paces. If you look closely at the image above, you can see where the ring absorbed a few blows, where the paint is missing along the outside edge.
So, How Did They Hold Up?
The wheels themselves held up great. But don't expect catastrophic failure from a wheel like this or even any issues. This section is more focused on how well the hybrid feature worked. I can say with a fair amount of certainty, that if the protection rings were not installed for the duration of this trip, there is a good possibility two of the wheels would have been seriously damaged.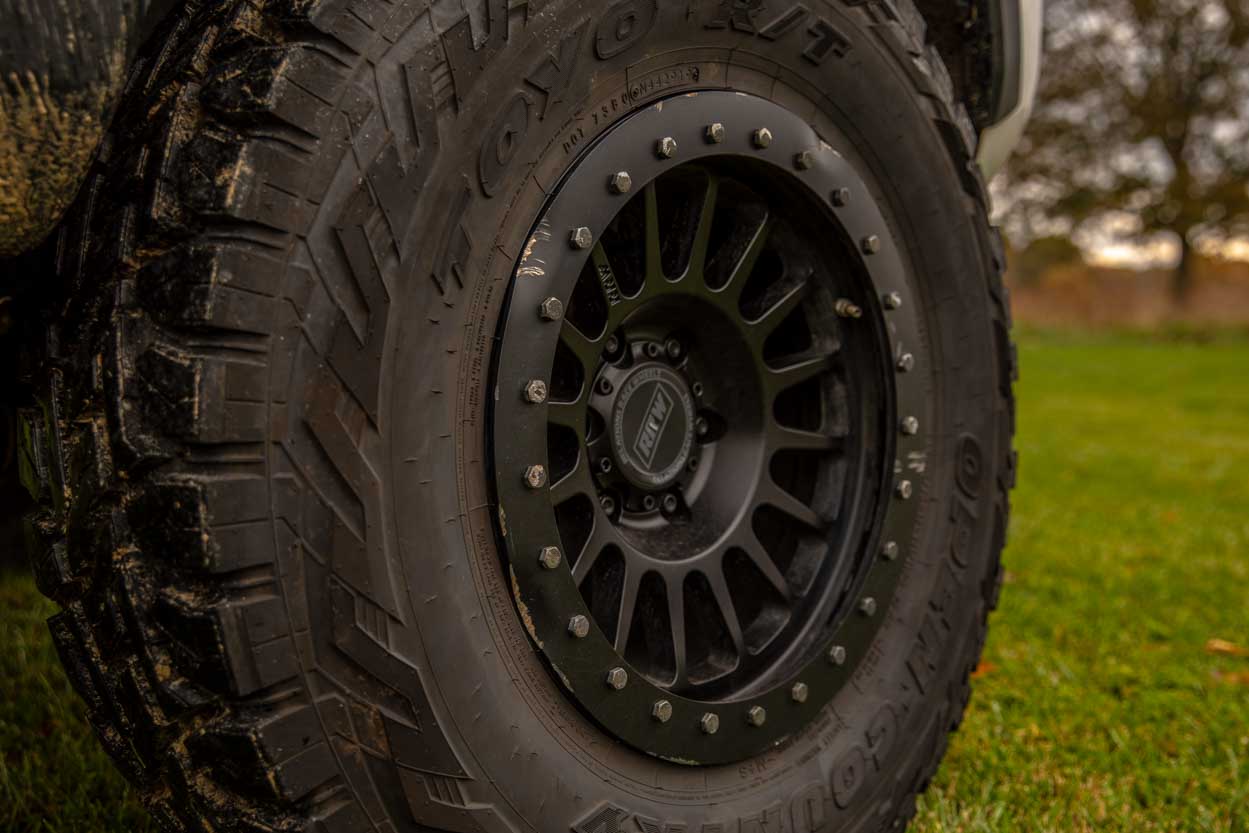 The Wheels Took Some Big Impacts
Twice, while crawling out of a rock garden, I didn't realize the size of the rocks next to the truck. The first time I hit the wheels, I really gave the protection ring a run for its money. I hit a three-foot-tall boulder in the worst possible way, to the point that the rock and wheel were aligned well enough to hook onto each other and bring the truck to a dead stop.
I had never hit anything, well, maybe a skid plate once or twice, this hard. From the cab, it sounded awful. It was a strong enough impact to knock the alignment out of whack by around 90 degrees. So, as I said, no small hit.
Protection Ring Saves the Day
The protection ring took the full brunt of the impact, and although my alignment was jacked up, the wheels itself was fine. That's what really matters. You can always drive home a short distance with a bad alignment.
The point of the story? Get these protection rings. Don't think about it. Just get them. Especially if you're frequently pushing your truck on the trail.
Final Thoughts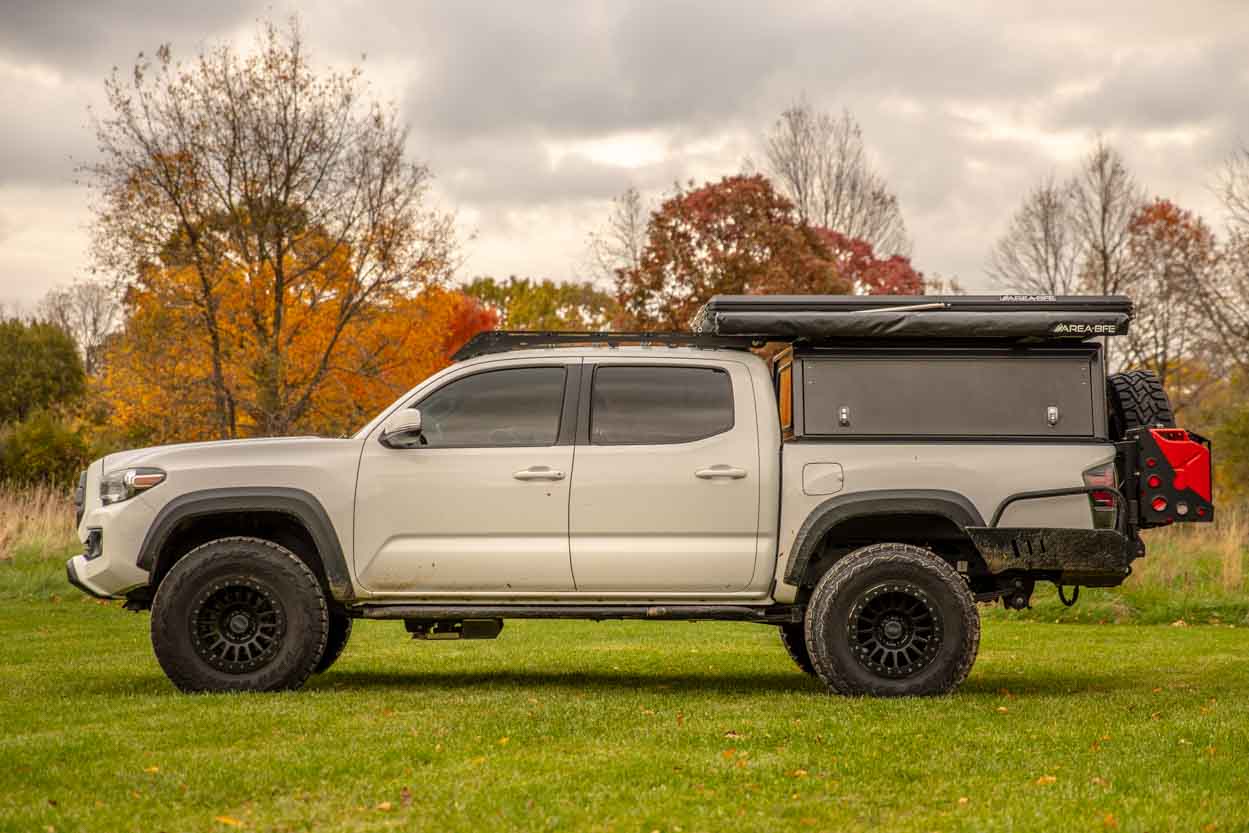 Quality Wheel Option for Tacoma
As you might have already guessed, these are not budget wheels. They are, however, a seriously well-engineered option that will likely outlast the truck.
The story is always the same, you get what you pay for. That line of thought also applies to buying a Tacoma, compared to the cheaper, more inferior competition. Don't downgrade the reliability and performance of your Toyota truck by buying wheels that are of a lower quality than the OEM wheels. Stick to companies like Relations Race Wheels who know what they're doing.
Clean Designs Meet Performance
The wheels look great, perform well and I haven't had a single issue yet.
Bottom line. I love these wheels and I'm stoked to run them. I'm even considering throwing a custom powder coat on them… Time will tell, I'm not giving out too many spoilers! You'll just have to follow our official build as time goes on.