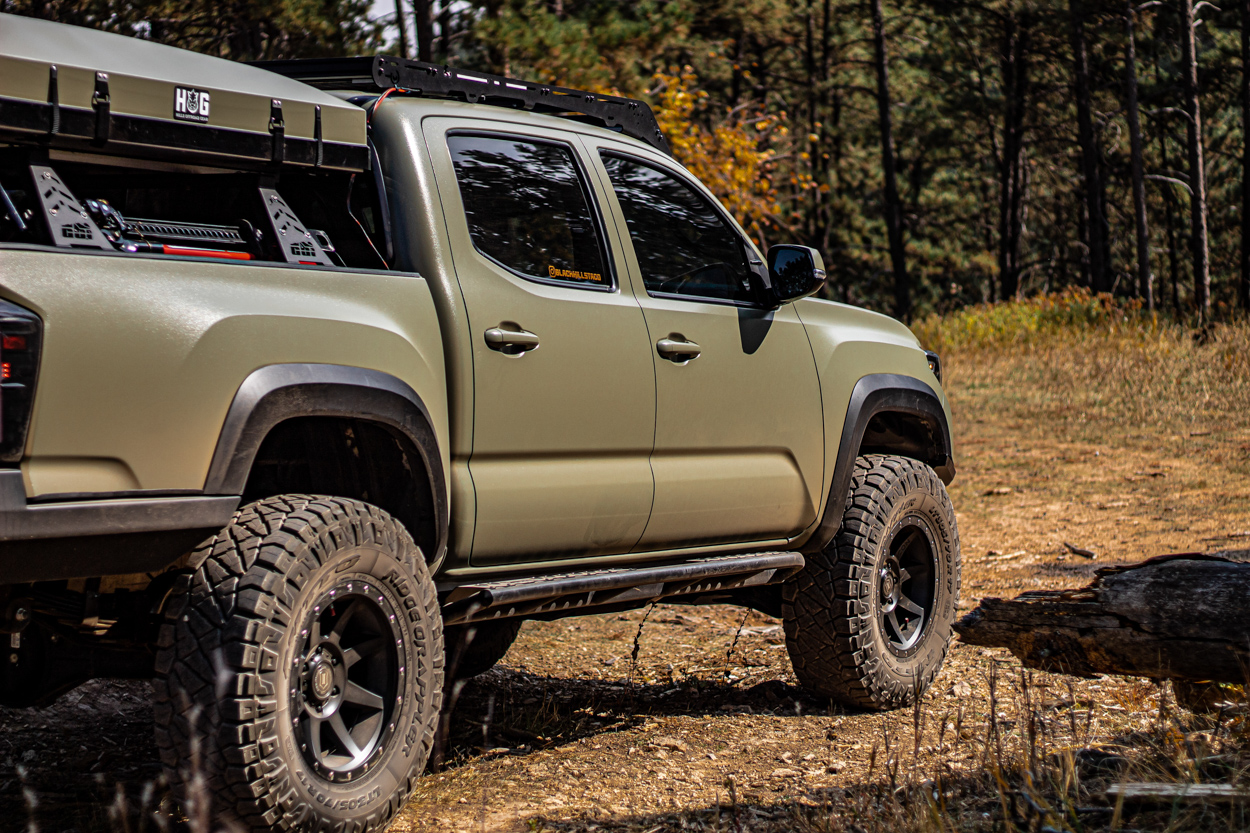 Nitto Ridge Grappler Initial Tire Impressions, Review & Overview on 3rd Gen Tacoma
If you're anything like me, you love the look and performance of an M/T tire, but you still do a lot of on-road driving. M/T tires are incredible on the trail, however, they can be lacking on the street. If you do a lot of pavement driving, an A/T tire is likely better suited for you. Why can't there just be a happy medium? Maybe… there is.
Hybrid Terrain Tire
That's where the Nitto Ridge Grappler comes in. The Ridge Grappler is considered a "Hybrid Terrain" tire. What exactly does that mean? It means you get the best of both worlds. The tire provides a quiet and comfortable ride on road, while the deep aggressive sidewall lugs and tread pattern provide capable off-road performance.
This can be especially beneficial for those guys who love to take their trucks out on the trail but know they will inevitably be seeing quite a bit of pavement.
I decided to go with E load rated 305/75/17s. This size is a touch under what a true 35″ tire would be. Before anyone asks, yes, I did A LOT of cutting to make these fit.
Let's jump into it!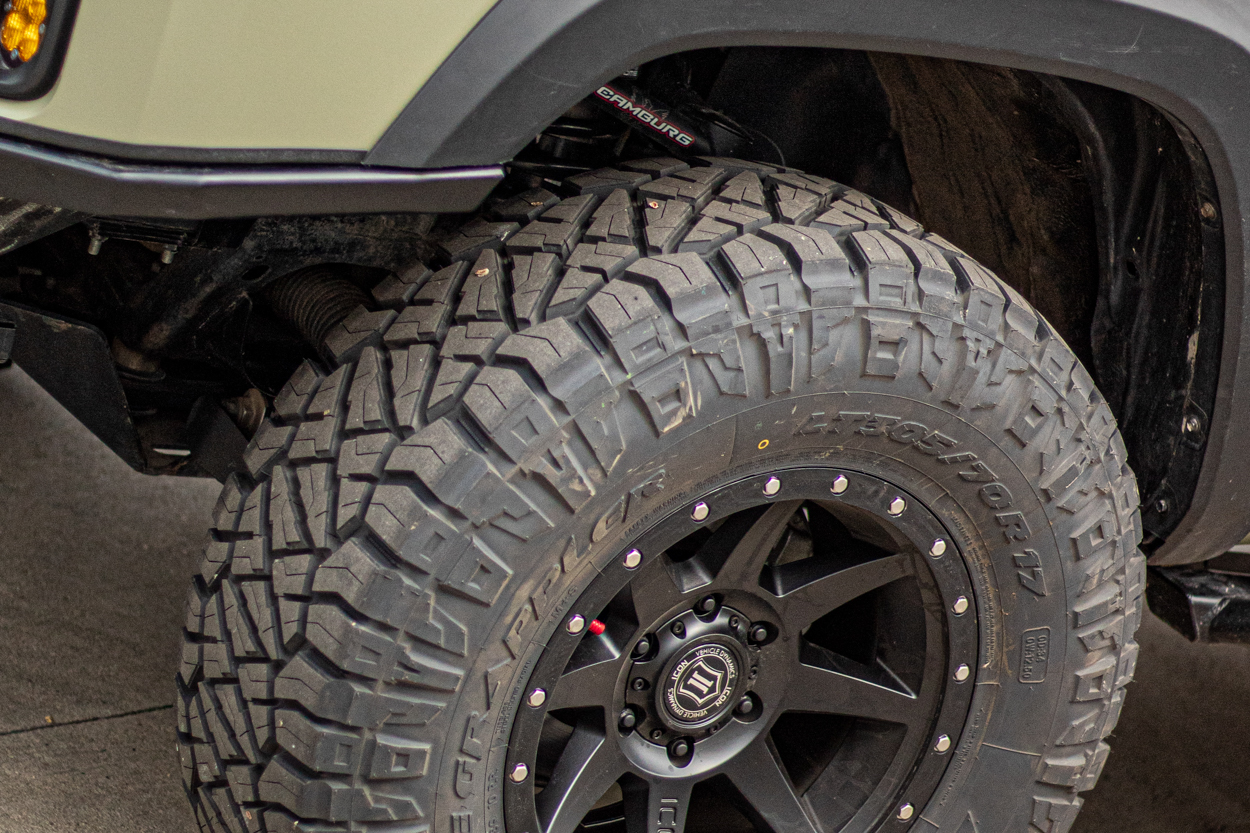 If you're looking to pick up a set of Ridge Grapplers, you won't regret your decision. Below is a link that will take you to SimpleTire.
SimpleTire is a unique site that is easy to navigate and can get you a set of Nittos at a great price, shipped to your door in just a few short days. They can even arrange installation! A true one-stop-shop. I highly recommend that you check these guys out. They're my new go-to tire supplier.
SimpleTire offers several discount programs, friend referral bonuses and has discounts for veterans. Even though they're a large company, they try and get you your tires from local dealers, whenever possible.
Find It Online
Tire Features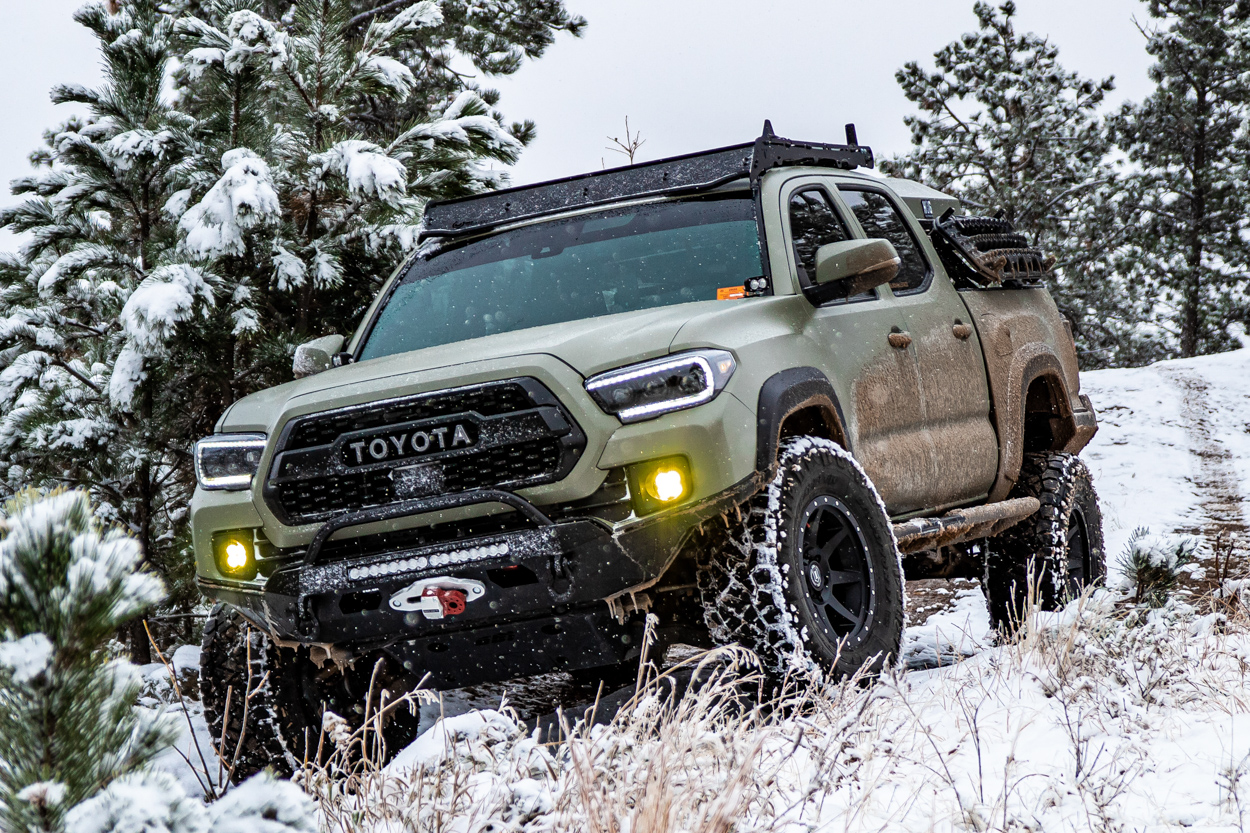 Let's take a deeper dive into this unique hybrid tire design and see how it achieves its performance both on and off-road.
#1. Variable Pitch Thread
Sounds fancy right? What exactly does it mean? It means Nitto took the time to design the tread and test its sound output on road.
By doing this, they were able to keep a very aggressive pattern and minimize road noise.
#2. Shoulder & Lateral Z Grooves
The shoulder grooves on the tire are arranged in an alternating pattern to aid in clearing mud on the trail.
Lateral Z grooves are placed in more of a zig-zag pattern which helps provide good biting edges for superior off-road traction.
#3. Stone Ejectors
This is a killer feature by Nitto.  If you look between the main grooves of the tire you will see what Nitto refers to as an "ejector."
This is an additional raised, rigid piece of tread that protects the lower portion of the tire from damage from rocks that make their way down.
#4. Reinforced Block Foundation
This was Nitto's way of adding rigidity to the tread pattern.
By doing so they are able to reduce the amount of flex of the tire, aiding in off-road performance on aggressive terrain.
#5. Staggered Shoulder Lugs
Nitto placed shoulder lugs on the location where the sidewall meets the main tread.
This allows for superior traction, especially in situations where you're airing down and gripping rocks.
#6. Step Block Edges
The alternating tapered and step block edges on the main tread pattern allow the tires to grip whatever they can off-road.
Nitto used every inch of surface area on these tires when designing features to maximize off-road performance.
#7. Dual Sidewall Design
Although this feature isn't really a performance feature, it's just cool.
Nitto gives the user an option of two different sidewall designs to run on their tires. One side is a more traditional pattern, while the other side is a more aggressive option.
#8. Rubber Meets Road
As you can see from above, these tires are packed full of features and were truly designed with performance in mind. Performance features are nice, but when the rubber meets the road (or trail), what truly matters is do the tires actually perform when you need them to.
Tire Specifications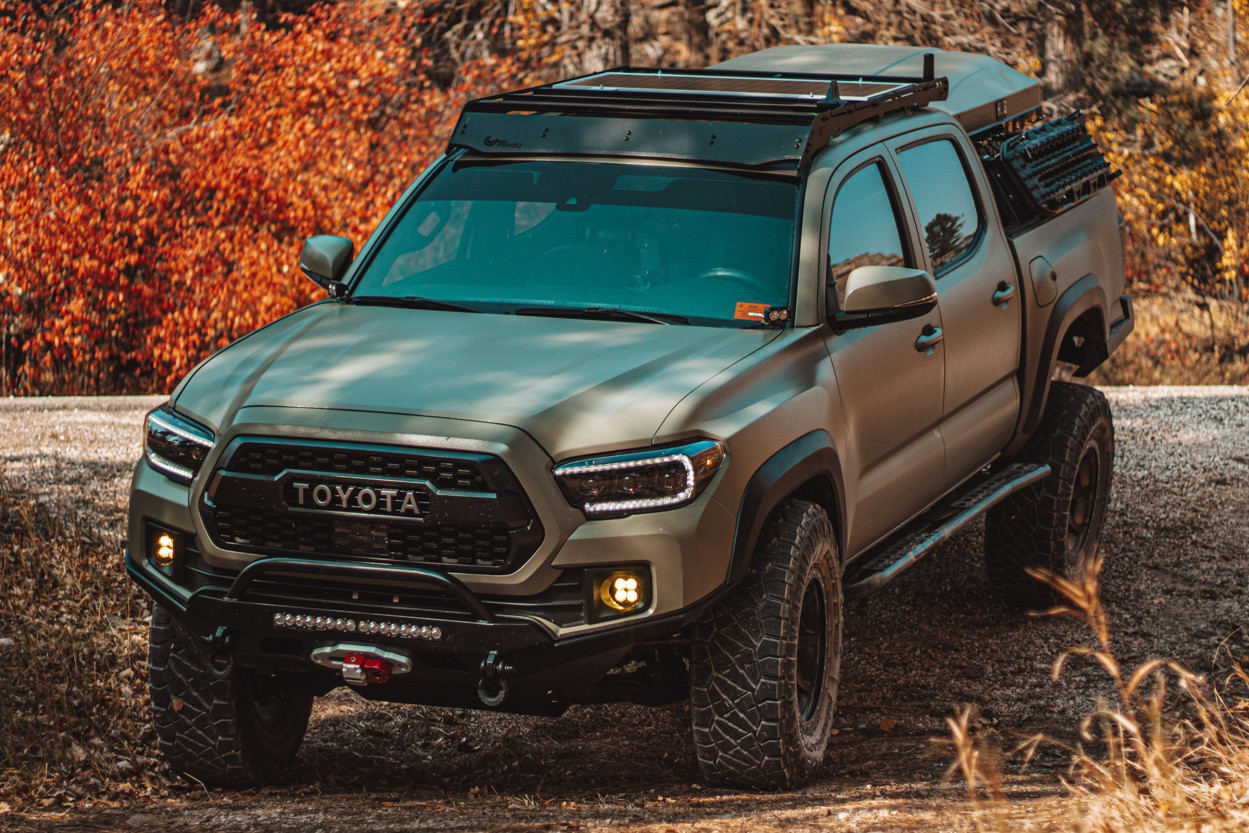 Nitto has a huge offering of sizes and specs for this specific tire.
Rather than list every single one, which might get rather monotonous, check out this link that will direct you directly to Nitto Tire.
Initial Impressions & Review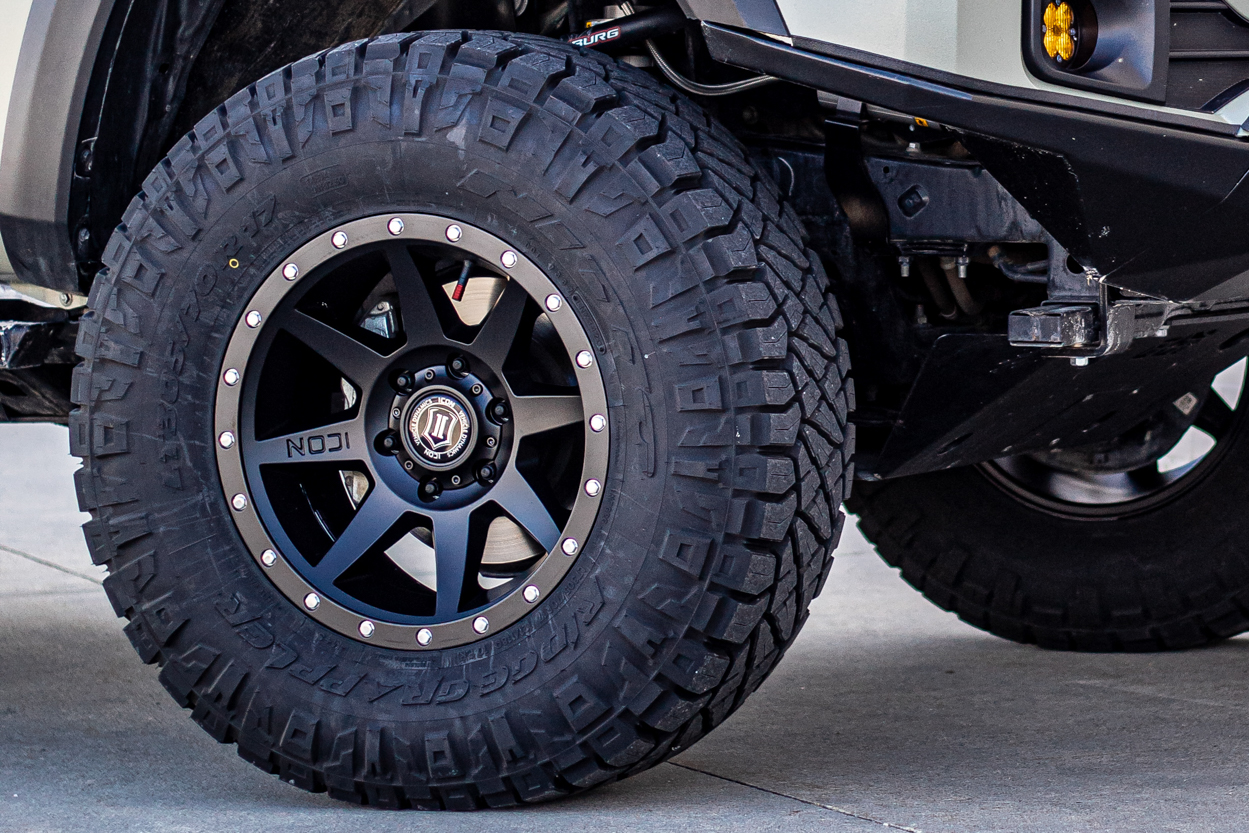 The beauty of living in the Midwest is that, in the last month alone, I've run these tires on pavement, in snow, in mud, on rocks and in the rain. If I had to do this performance review in one word, it would be… Impressive.
Pavement
The tires on-road perform as you would expect. I ran my E rated tires at 40 psi and they felt planted but not overly stiff.
The road noise is minimal at best and I found myself hearing more wind noise from my roof rack and solar panel than tire noise from the Ridge Grapplers.
Snow
I've been pleasantly surprised by how well these tires have done in the snow. Driving around town on wet, sometimes packed snow, at a full 40 PSI they did great. Just as good if not better than other A/T tires I've run in the past.
Aired down on the trail, they did really well. The deep, aggressive tread design did a great job navigating the fresh snow and I didn't get stuck once.
Mud
These tires were designed for the mud.
They took the wet, muddy trails of South Dakota without breaking a sweat.
Rocks
I haven't been able to test these new tires on as many rock surfaces as I would like, but lucky for you guys, my last set of tires were also Ridge Grapplers. Happy to report they did just fine.
Aired down to around 15 PSI, the aggressive sidewall and shoulder lugs grip onto every rock surface they come into contact with.
Rain
For a hybrid tire, these do a great job at siphoning water away from the tire to maintain tread contact with the road.
I'm always a little leery of taking a big off-road tire to the streets during heavy rain, but these tires kept up with the best of them.
Performance Recap
Will these tires do just as well as a dedicated M/T tire off-road? Probably not.
That being said, they don't claim to. What these tires will do is perform very well in any condition you throw at them, both on and off-road. I have no hesitation running a difficult trail with these tires and immediately after jumping on the interstate for the road trip back home.
Final Thoughts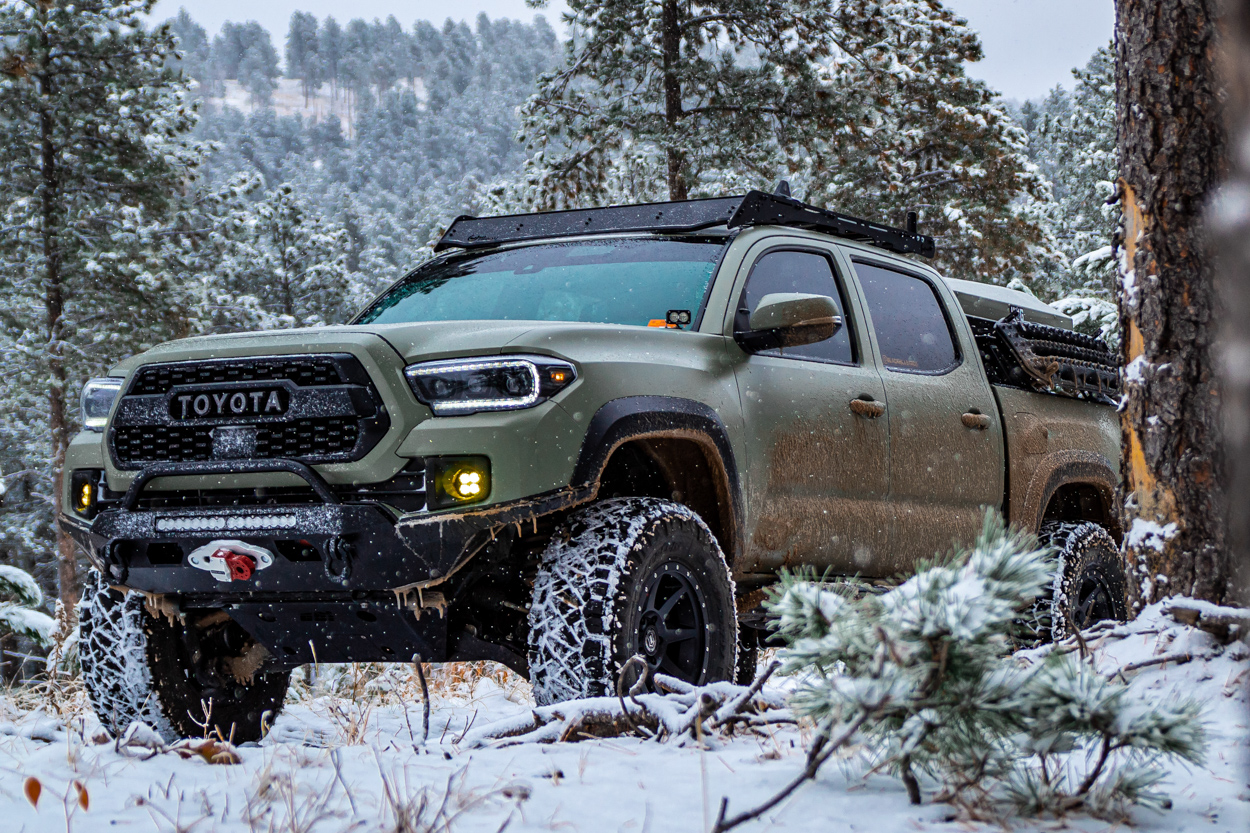 Bottom line? If you're considering these tires, pull the trigger!
Being on my second set, you can tell that I'm a big fan. I've put a couple of thousand miles on these now and I couldn't be happier. Nitto is a great tire company and many guys in the off-road/overland scene swear by them.
I've had nothing but good experiences and I'm looking forward to tearing up the road, and the trails, with these new tires.