Modular, Roto-Modeled Gas Storage? Say No More! 3-Gallon RotopaX Gas Container Mounting, Review & Initial Thoughts
If you are into any form of overlanding or off-roading, I'm sure you have seen plenty of trucks with a bright red pack on them.
The company that makes them is called RotopaX and I'll be giving you a review and my initial thoughts on their plastic gas cans and some mounting solutions. More specifically, they just released a new 3-gallon tank and today we're going to take a deeper look into that tank.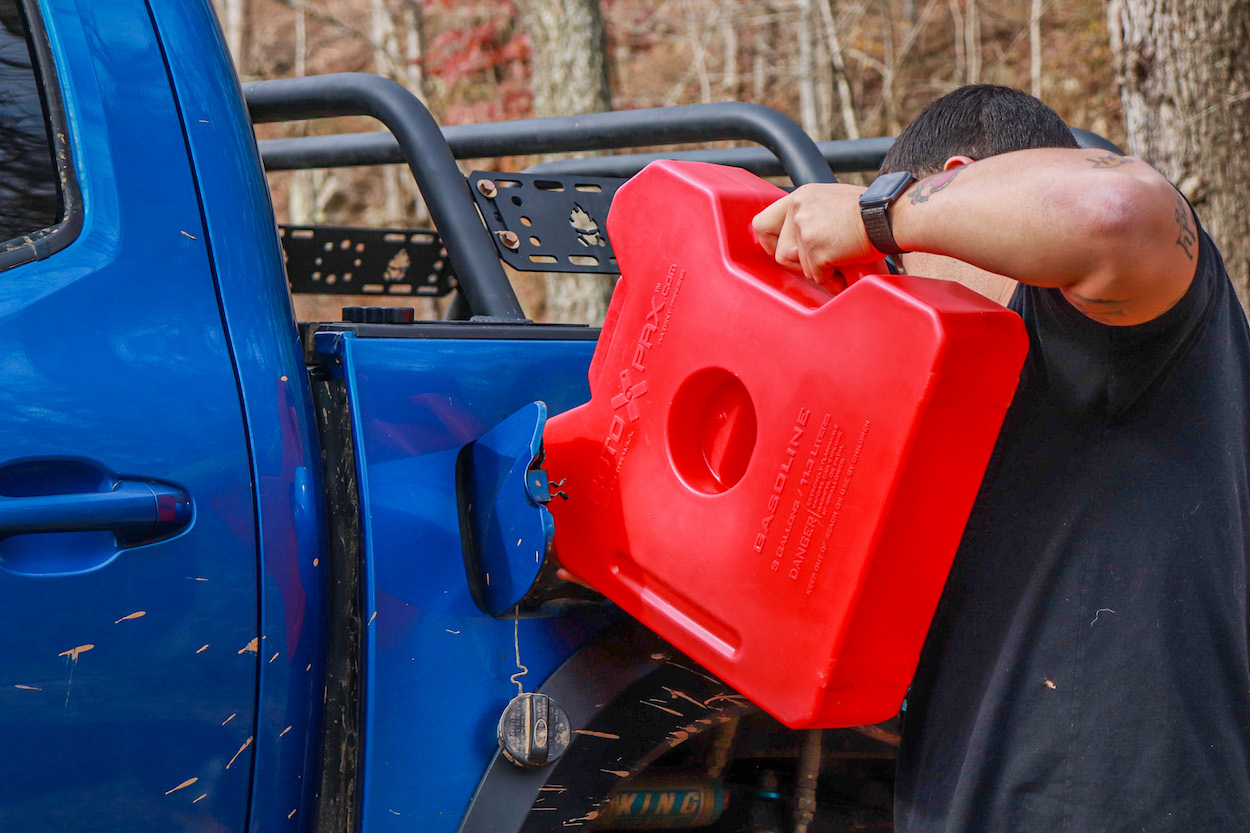 If you're out on the trail, especially way off of the grid, the last thing you want to happen is for your truck to run out of gas.
Bringing extra gas is one of the basic essentials when preparing for an extended trip. RotopaX has gotten increasingly more popular as time goes on and this article should serve as a solid review and overview to help make the decision easier of which auxiliary fuel storage is best for your situation.
Find It Online
Who is RotopaX?
RotopaX is a company that has been around since 2007 and offers a wide array of auxiliary gas, diesel and water containers geared towards the off-roading scene. Their products have been tested and have been trusted on many off-road rigs.
While there are other fuel container options out there, I quite like this option from RotopaX. Their gas cans are very durable. These containers have thick walls and the construction is heavy-duty. RotopaX containers are actually the only rotationally molded and compliant (CARB & EPA) auxiliary fuel storage solution.
The carefully thought-out design and increased wall thickness keep your liquids safe, by protecting them from the rough terrain, weather and abuse.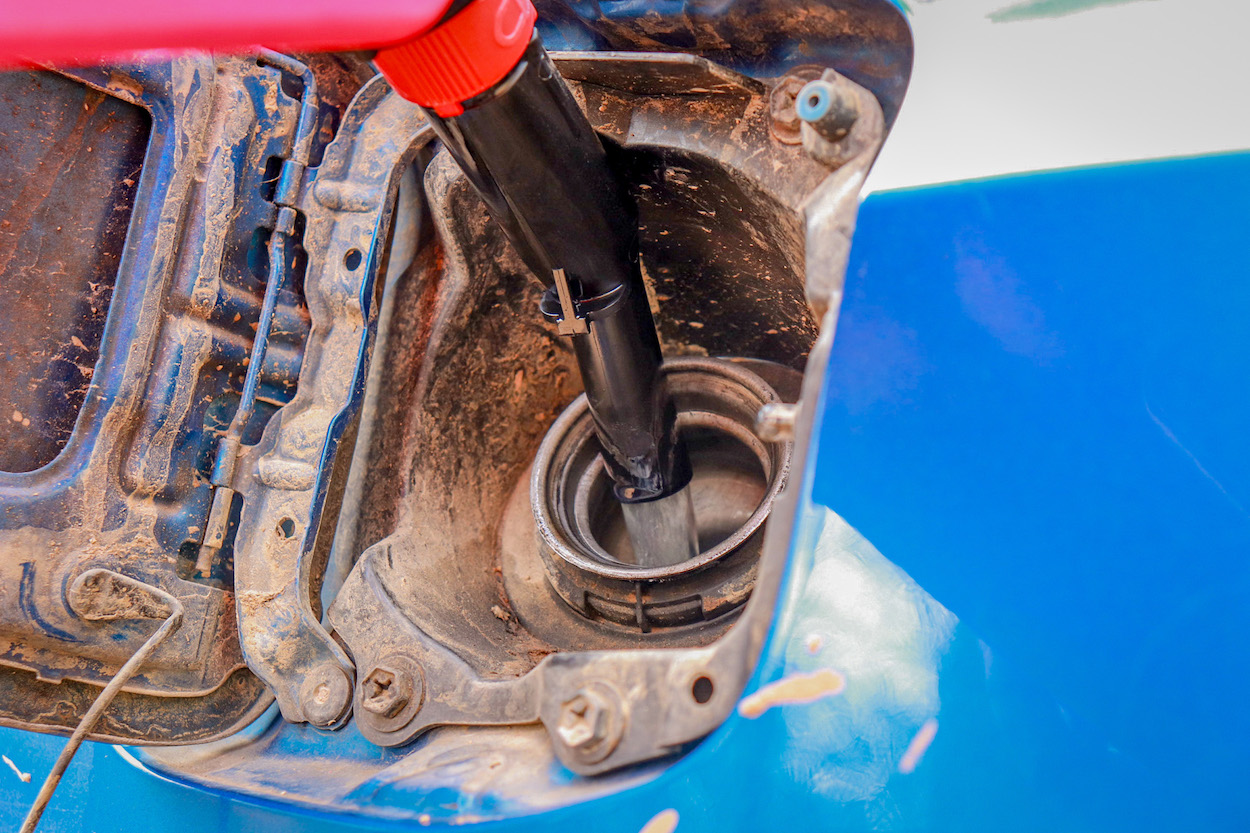 If you're thinking about permeability, the Roto-Molding system and the material from which the containers are made meet all government-mandated requirements.
In simplest terms, they are far superior to other companies on the market in terms of their materials and their government compliance in the United States.
3-Gallon Gas Can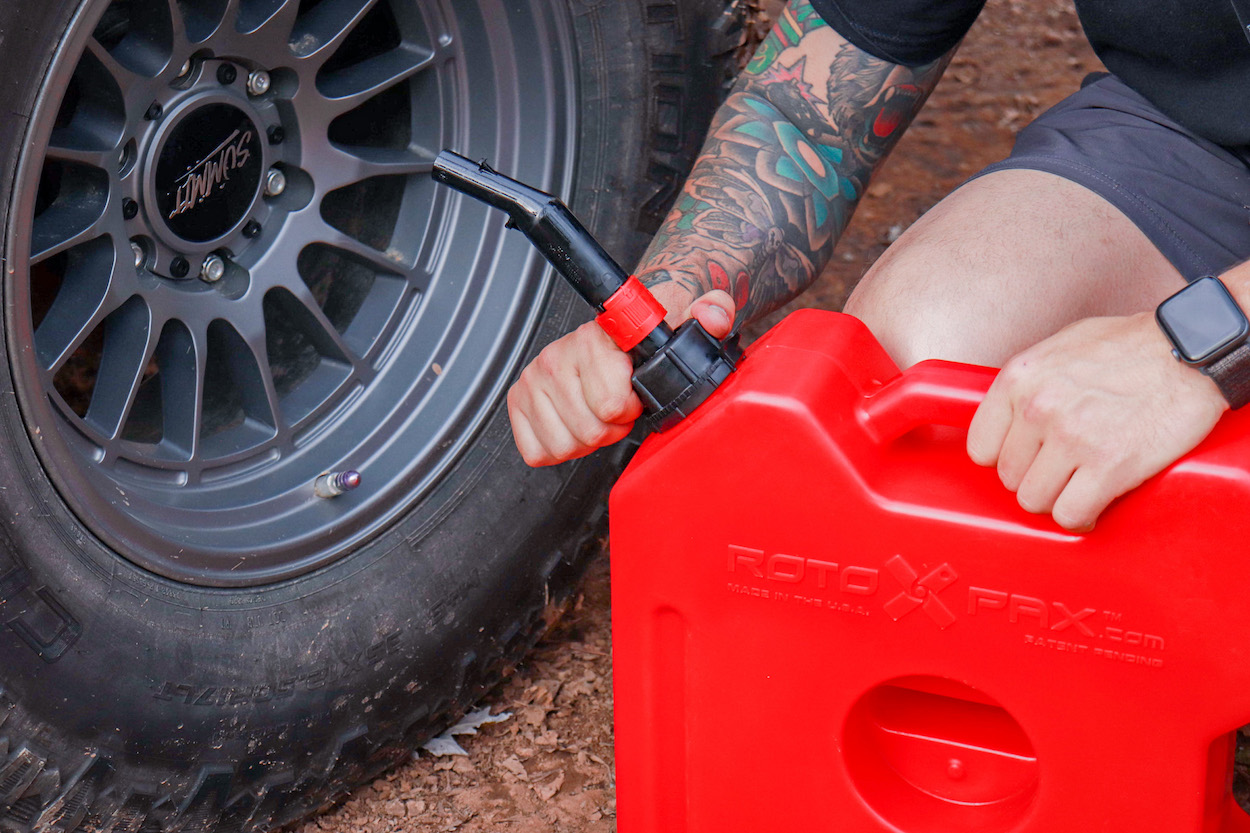 While RotopaX offers gas containers ranging from 1 to 4 gallons, I will be going over the 3-gallon container.
The reason I opted for a 3-gallon container over a 4-gallon is because of space. While packing for that weekend camping trip, or even a week-long overland adventure, space is a huge factor. The 3-gallon option fits perfectly on my Tacoma Pocalypse bed rack load panels. If you're curious about this bed rack and the limited cargo rack, check out the complete review and overview here.
The exact dimensions of this gas can are 16″ (L) x 15″ (W) x 4 1/2″ (H). While looking out of my driver's side mirror, I can't even tell it's there unless I stick my head out of my window. So there are no worries about it blocking your visibility. If you are rocking a loaded bed rack, that is likely going to interfere more than anything else. 
The gas container will come with everything needed to be functional right out of the box. The only thing you will need is the mounting hardware which is sold separately.
Mounting Options
Now that you have picked what size container you want, now you have to decide how to are going to mount your product.
There are three ways that are the most popular. You can mount it to your roof rack, bed rack or on your swing out if you have one. Being that I don't have load panels on my roof rack, the bed rack was the best choice for me.
When you buy your RotopaX mounts you have the option to mount it directly to your rack like I did, or use a base plate. I just mounted directly to the rack because that's what would work best for me, but there are countless options. The option above is the Standard Pack Mount.
RotopaX also provides locking mounts and stackable mounts for when you need to stack your containers to save some space on your rack or bumper. Keep in mind they recommend that you only stack a maximum of two containers on each other.
Find It Online
Initial Thoughts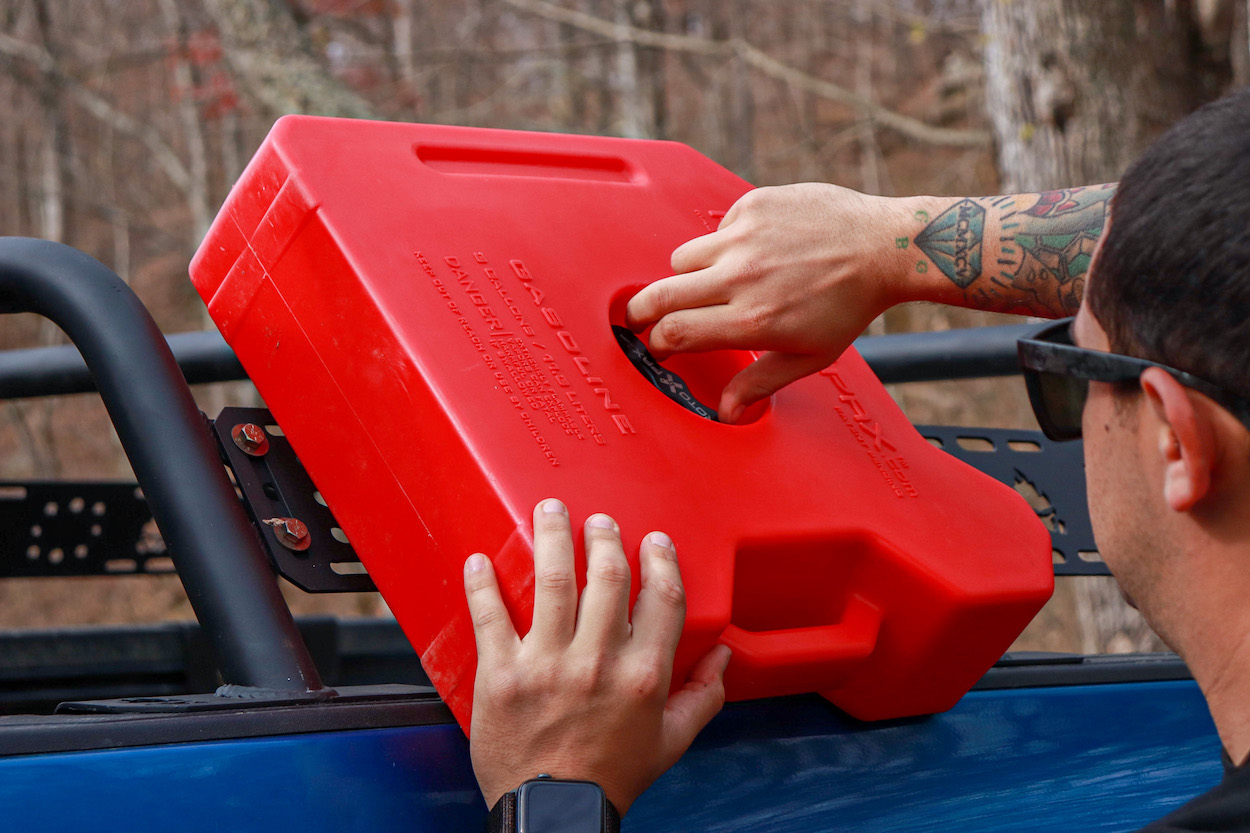 Overall, this product is solid. As soon as I picked it up from the box, I could tell how sturdy it was.
Rugged Look, Easy to Use
These gas cans feel great and they are straightforward to use. I love that it comes with the spout and a sure seal gasket from the factory so you have peace of mind knowing your gas won't leak all over the place. Not only are they easy to use, but they will also add a rugged look to your off-road rig as well. As soon as I threw the container on my bed rack, I was in love with the look. It gives it more of a 'battle-ready' look if you will.
Like many of you, I've fallen into the trap of modding my vehicle (haha). This is one mod you will not want to skip out on. Not only does it look sweet, but it is also probably one of the most useful additions you can add to your vehicle.
Perfect Amount of Auxiliary Storage
If you didn't know, the Tacoma gas tank is 21.1 gallons. I was curious how much the tank would fill up using the 3-gallon container. Yes obviously it would be 3 gallons but how much actually is that on the dash? Some simple math told me it would be a little less than a quarter tank, and after filling up, I saw that I was correct.
While that may not seem like a lot of gas, that could be the difference in making it off the trail to the next gas station or getting stranded in the middle of nowhere.
As previously mentioned, the only thing that I wish RotopaX included in their setup was the mounting hardware. Not really a negative, but more of personal want as a consumer. Also, one thing to note, the red dye on the plastic will bleed onto your skin and clothes when they are new, so be mindful of that.
Final Thoughts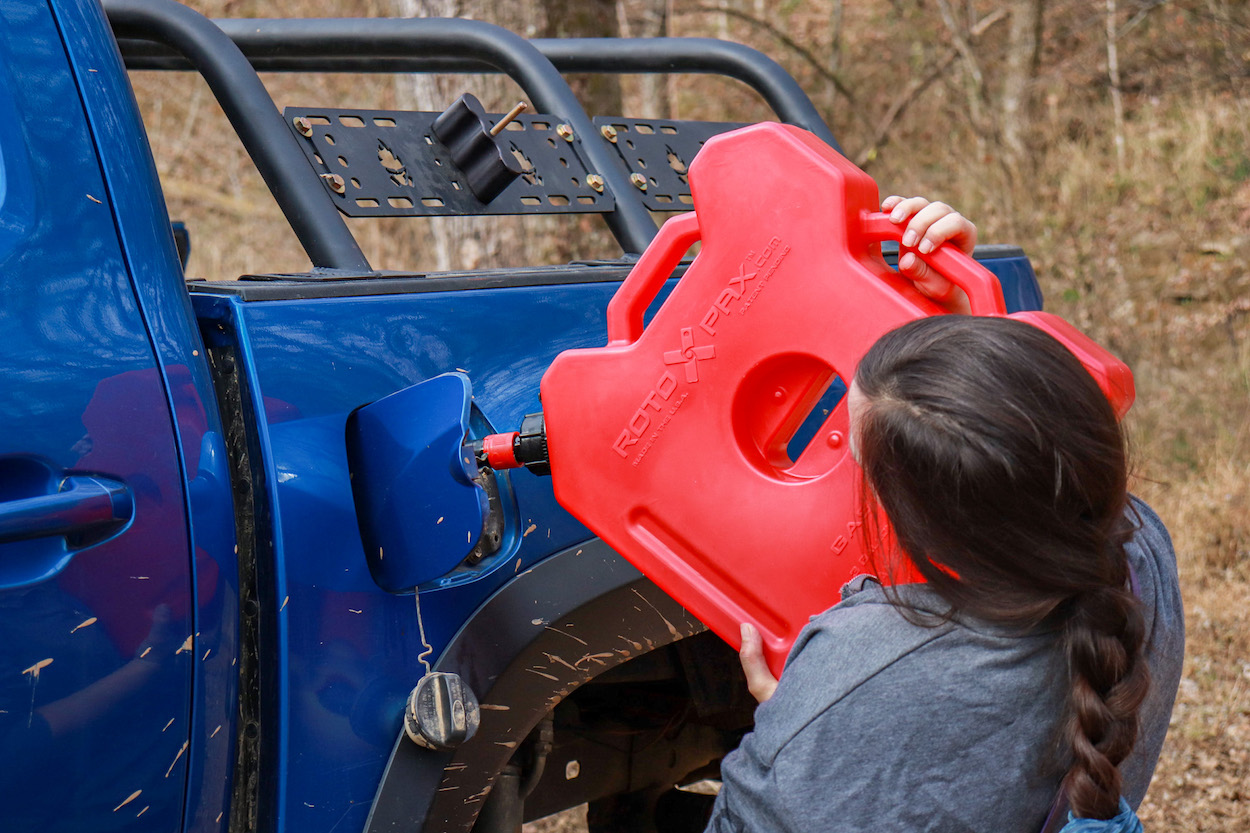 Once you have added this product to your vehicle, you will not be disappointed.
From the looks to the functionality, this product will help your vehicle stand out on the trails or the mall parking lot, whatever you're into, lol. But in all seriousness guys, a RotopaX will prove to be beneficial in many different situations. You would hate to need one and not have it, rather than have it and not need it.
If you have any questions or if I have missed anything, please reach out and I will get back to you!