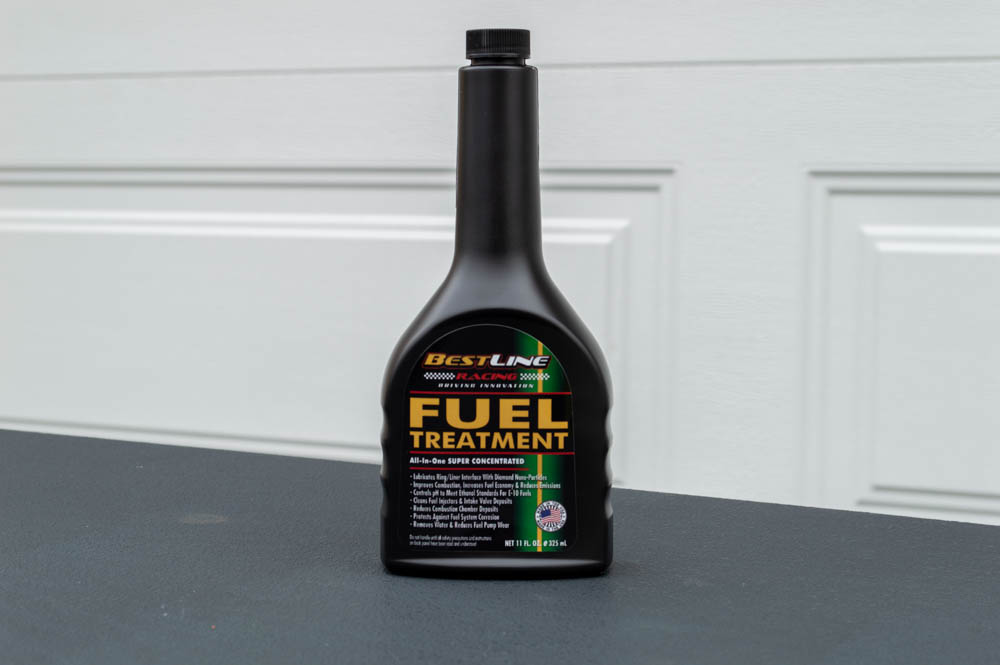 Improve Engine Performance & Keep Your Fuel System Clean with this All-in-One Fuel Treatment from BestLine Racing
Proper maintenance is the best way to ensure your vehicle continues to get you from point A to point B without complications year after year. When normal maintenance can be combined with increased performance, that's having your cake and eating it too.
Additive Expertise
One company that should be at the top of your list for these kinds of products is BestLine Racing. They have been in the industry for years and are determined to provide the newest, cutting edge technology in their line of vehicle additives. BestLine Racing makes a variety of products, ranging from cooling system additives to gas and diesel fuel treatments.
For this article, I'm going to focus on their Fuel Treatment. It is designed to help increase the combustion of your fuel, clean your fuel injectors, reduce wear on your fuel pump, reduce emissions and increase fuel economy. It will help keep your fuel system running more efficiently and also give you a boost at the pedal. That's a lot of benefits for around $10 a bottle!
Find It Online
Why Use Fuel Treatment?
All gas is not equal.
Depending on where you buy gas from, you'll be getting different amounts of additives and possibly different amounts of ethanol mixed in. There is a minimum standard of additives that all gasoline needs to meet. One gas station you fill up at might have the minimum amount while the next will be part of the group of stations that have 'Top Tier' gasoline.
Regardless of where you fill up, you can always benefit from a high-quality fuel treatment, like the one from BestLine Racing. The main reason most consumers use a fuel treatment is that they are told it will increase fuel economy. However, I would argue that the most beneficial part of fuel treatment is the cleaning properties.
Keeping Your Fuel System Happy
Over time, there is a possibility for the build-up of particles that can decrease the efficiency of your system and lead to corrosion, which could mean costly repairs. BestLine Racing's Fuel Treatment helps by cleaning your fuel injectors and keeping them free of any build-up. It helps lubricate ring/liner interfaces, reducing friction and wear. Extending the life of the fuel system is the bigger benefit of fuel treatment in my opinion, but by having a cleaner, more efficient fuel system, you could see an increase in fuel economy.
Benefits from BestLine Racing's Fuel Treatment
Lubricates Ring/Liner Interfaces with Diamond Nano-Particles
Improves Combustion, Increases Fuel Economy & Reduces Emissions
Controls pH to Meet Ethanol Standards for E-10 Fuels
Cleans Fuel Injectors & Intake Valve Deposits
Reduces Combustion Chamber Deposits
Removes Water & Reduces Fuel Pump Wear
Used In Racing and Daily Driver Applications
My Experience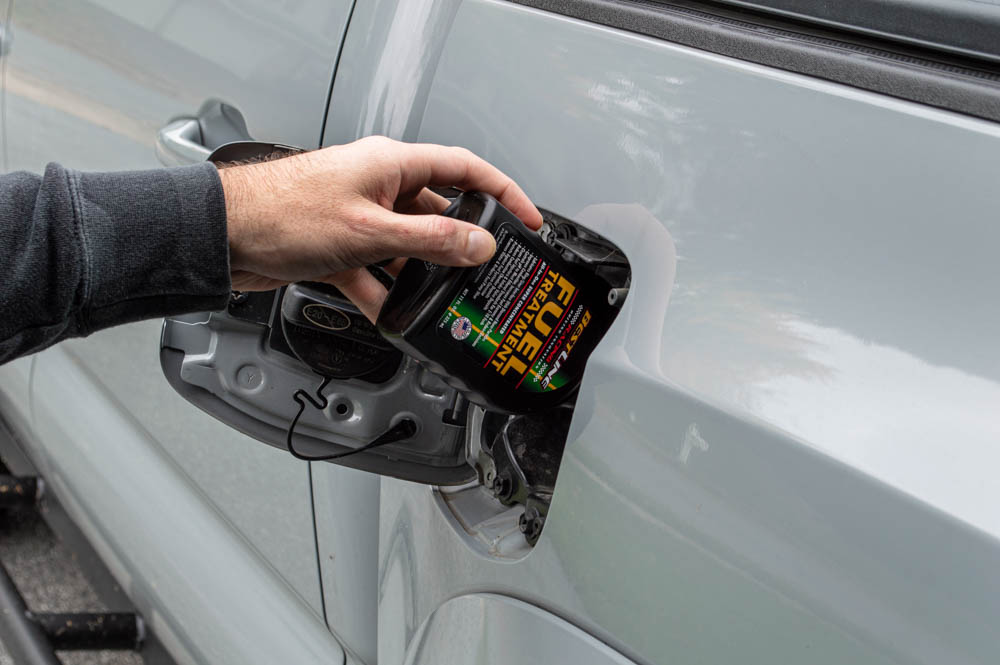 To get a good assessment of the fuel treatment, I filled up my tank and dumped my first bottle of BestLine Racing Fuel Treatment in with it. Right off the bat, I noticed that the throttle was more responsive than before.
Increased MPGs?
That was great for me to feel because it meant this fuel treatment was working, and I didn't have to wait to see better gas mileage over the life of the tank. A couple of days after I used the treatment, I attended a local off-road festival. Most of my day was spent driving around on different trails which may have skewed my fuel mileage numbers. I typically get between 18-18.5 mpg per tank, but at the end of this tank, I still averaged 17.5 mpg. Although I didn't see an increase in fuel economy, I believe the fuel treatment helped keep it close to my normal even with more intensive driving.
UPDATE: I have since been able to run another bottle of Fuel Treatment completely with my typical daily driving. This time I ended up getting 19.4 mpg, which is roughly a 6-7% increase in mpg.
BestLine states that one bottle of their Fuel Treatment will treat up to 20 gallons of gas and they suggest you use it once every four times you fill up. I'm on my third tank now with their product and the performance is roughly the same as it was before treatment. I do feel more power than before, but the fuel economy is still in my normal range.
Power & Combustion
Based on my experience, the first tank is when you will likely see the biggest increase in fuel economy, but the boost in power/combustion will last through several fill-ups. Also, you'll still be getting the internal, unseen benefits of cleaner emissions and a cleaner fuel system time after time if you keep up with regular use of the fuel treatment.
Final Thoughts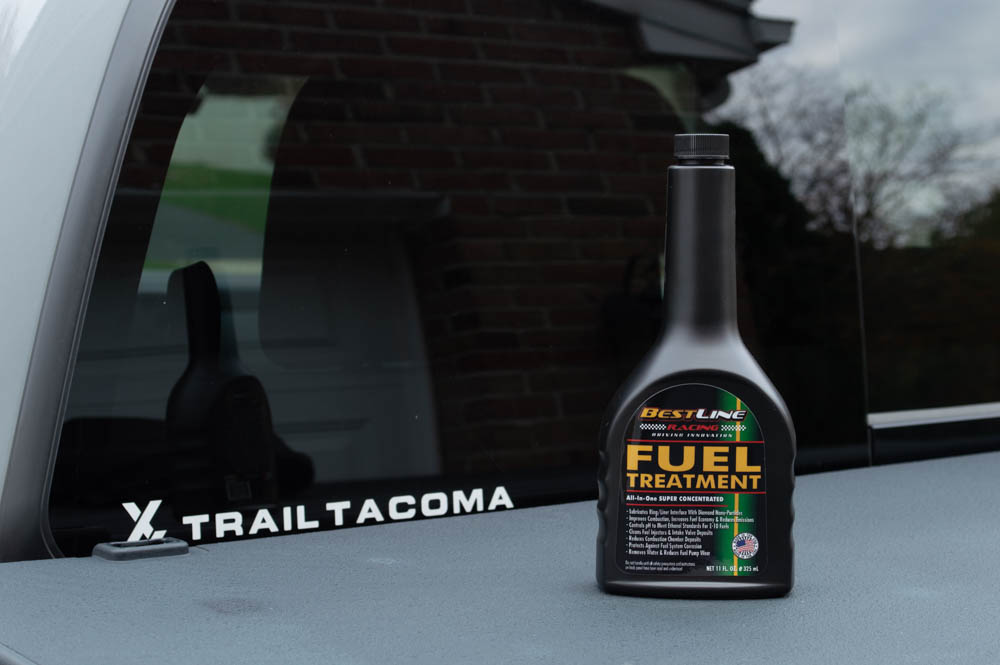 I plan on keeping my Tacoma for as long as possible. To reach a couple hundred thousand miles on the odometer, proper maintenance is going to be crucial.
This product from BestLine Racing is a very cost-effective measure that will keep some main components of my truck running in tip-top shape. At roughly $2 extra per fill up, this is a no brainer. It will help extend the life of both your fuel injectors and fuel pump, while at the same time, providing more power/better combustion and fuel economy.
This is truly the best of both worlds! I highly recommend picking up a couple of bottles of BestLine Racing's Fuel Treatment and seeing the results for yourself.