Turn Your Tailgate into a Usable Platform with this Aluminum Trailgate Panel from AL Offroad For the 3rd Gen Tacoma
Have you ever told a friend to hold your drink before going full send? Well, the friendship with your 2nd or 3rd gen Tacoma just got that much better. Your Tacoma can now hold your drink while you go full send with the AL Off-Road Trailgate panel insert, well kind of.
We all know it. The stock tailgate panel on the Tacoma is annoyingly rough on the knees and isn't a good surface to set up a camp kitchen or a work table.
AL OffRoad recently launched in 2020, adding a great option for replacing the worthless plastic panel insert on your Tacoma. This is also a U.S. product made in the great state of Texas. AL OffRoad started out making roof racks for the Toyota Tacoma and is now making roof racks for other makes and models along with this new Tacoma tailgate panel insert seen here.
When you open the box, you'll get this heavy-duty panel and receive a couple of stickers. After a few test-runs, their packaging has been upgraded to ensure your Trailgate makes it safely to you.
Flat surfaces are key when camping or working around your rig. The Trailgate has got you covered. Tipping over a cup or drink is a major party foul. Nobody likes sticky situations. The Trailgate has you covered there, too. It has two cup holders. Yes, two cup holders and they are much deeper than any other cup holders on other Tacoma tailgate panel inserts out there. Even those food grade safe tailgate inserts.
Until you get one of these on your truck, you won't truly appreciate how much you needed this modification. Let's get into it!
Find It Online
Discount Code
The team at AL has extended a discount code good for 12% off any order on their site.
Use code – trailtacoma – at checkout.
Specifications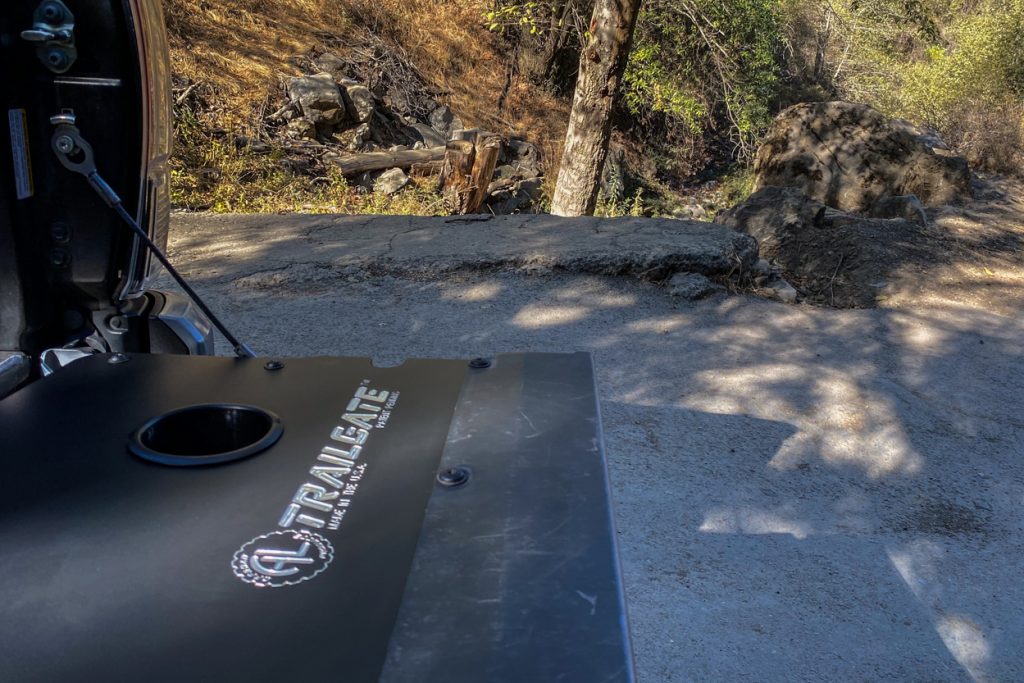 The AL Off-Road Trailgate panel is super sturdy. The insert panel is made out of 1/8" aluminum, which means that your new panel will never rust. You'll never have to worry about the panel degrading, even if you live where the winters are harsh and the roads are heavily salted and brined.
The Trailgate is powder coated satin black and comes with two logo color options, regular or onyx. On the right side of the panel, you will see the AL Off-Road Trailgate logo. It definitely pops against the black color of the panel.
Let's talk about those cup holders. The stock plastic panel on the Tacoma has several grooves that make it impossible to stand anything upright. The Trailgate solves that by giving you a smooth, flat surface.
However, we all know there's always that one person at camp notorious for tipping over their drink. Well, at opposite ends of the Trailgate, about 3 feet apart, are two 3.5"-wide marine-grade cup holders. These cup holders are beefy and about 2.5" deep.
I've used these a couple of times now and it's a great feeling knowing that you don't have to place your drink on the ground, risk tipping it over, or placing it on an uneven surface. Put your drinks up high away from dirt and bugs. You could even add a bit of ice to the cup holders and keep your favorite beverage cool on those hot summer days.
Panel Install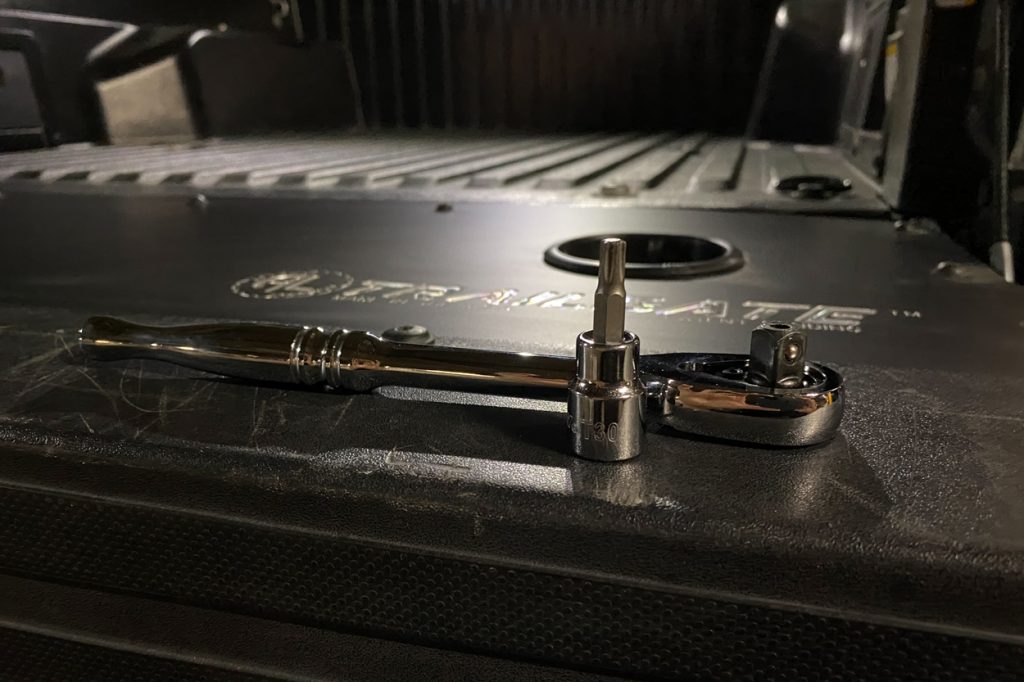 Installing this panel is perhaps the most brick-to-forehead modification you'll make on your Tacoma.
The total amount of time for the install will run you about 5 to 10 minutes. Depending on how dirty your bed or old tailgate is, you may want to dust off the area or power wash it. If you're looking for a budget-friendly power washer, check out the SunJoe SPX300.
Tools
Step 1. Remove Factory Plastic Tailgate Cover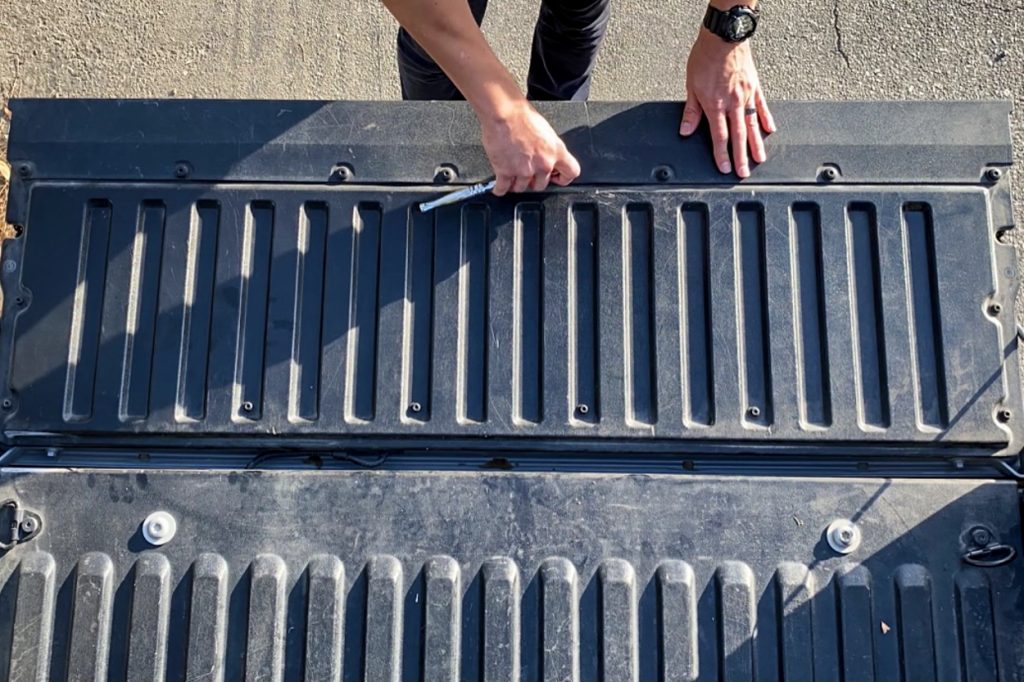 Remove the 16 factory screws and slide out the old plastic day ruiner.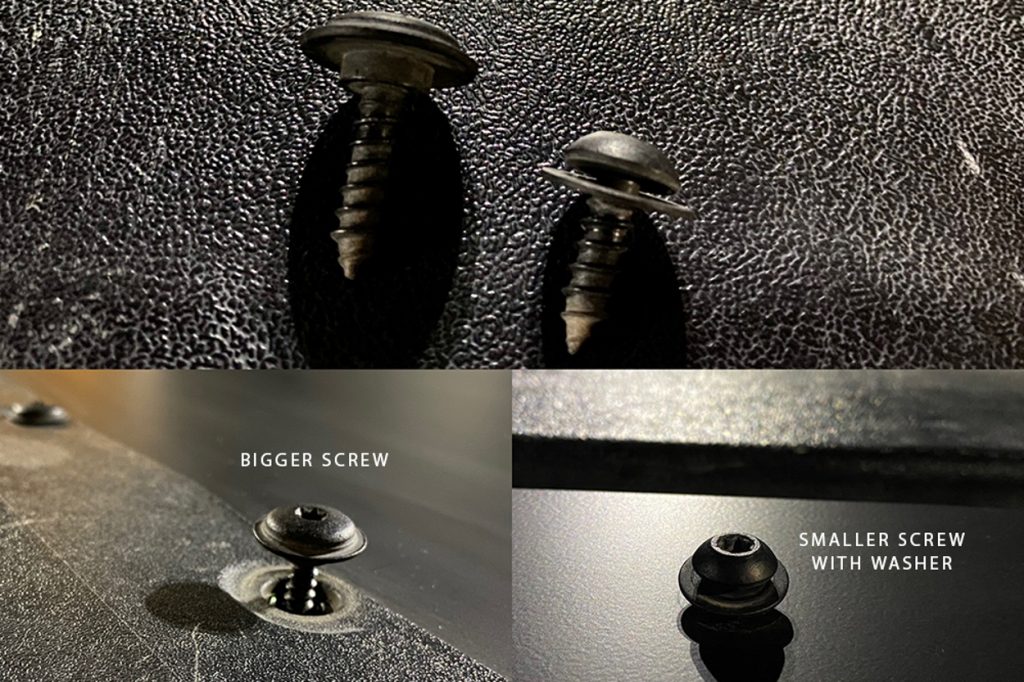 You'll notice that some of the screws are different.
You can either remember where they go when reinstalling them or if you forget, just remember that the bigger screws go in the holes through the plastic part of the end of the tailgate.
Step 2. Slide Trailgate into Place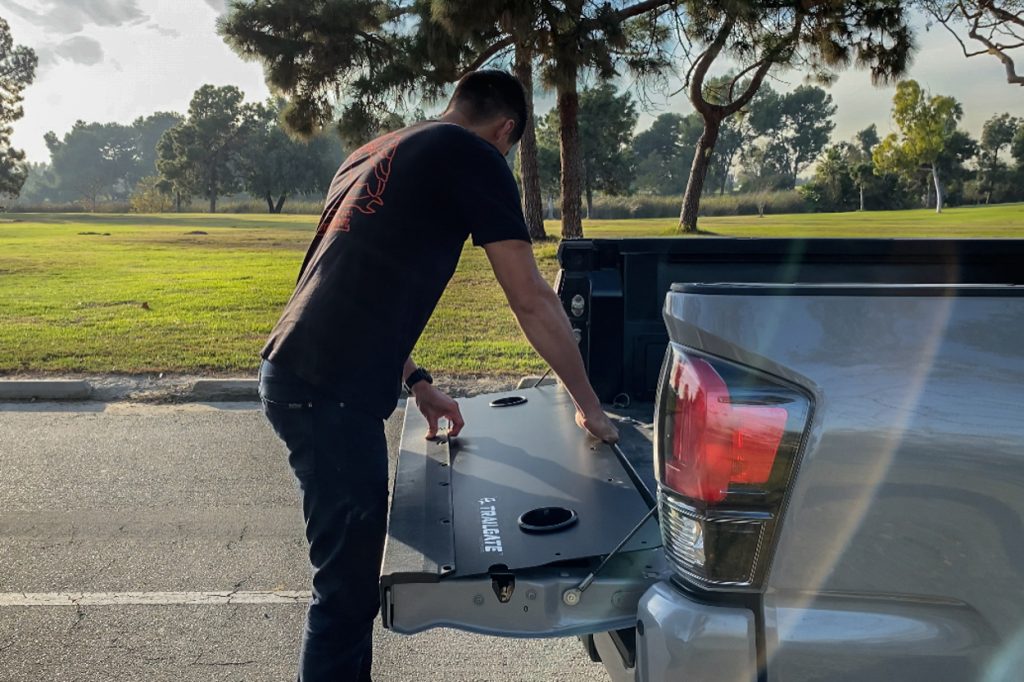 Insert your Trailgate and make sure the holes are all properly lined up.
Lift the plastic cover at the end and slide the Trailgate in at an angle so the cupholders fall into the proper slots on your tailgate.
Alternatively, you can quickly pop out the cup holders and put them back in the Trailgate after you've got it properly oriented.
Step 3. Tighten Screws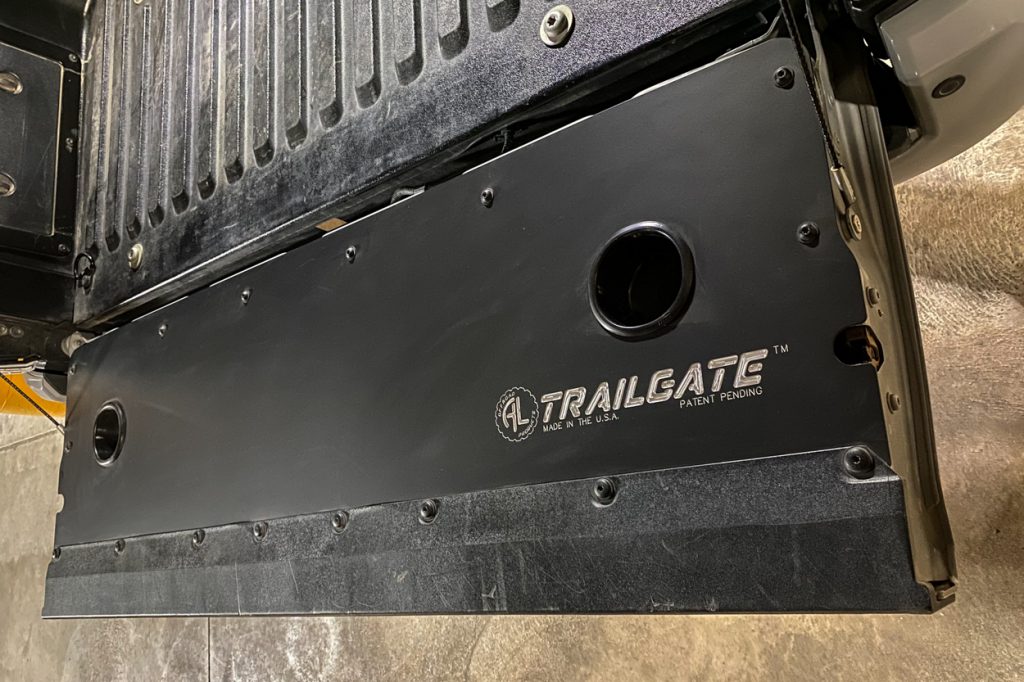 Place all the screws by hand across the panel and then tighten them with the Torx bit. Afterward, make sure to press on the cup holders to ensure they're fully snapped in and sitting flush with the panel.
Lastly, open up a can of yippee-ki-yay and enjoy your Tacoma's new flat surface with cup holders. This mod will be a great talking point at your next overlanding trip when your friends see you set up camp.
Impressions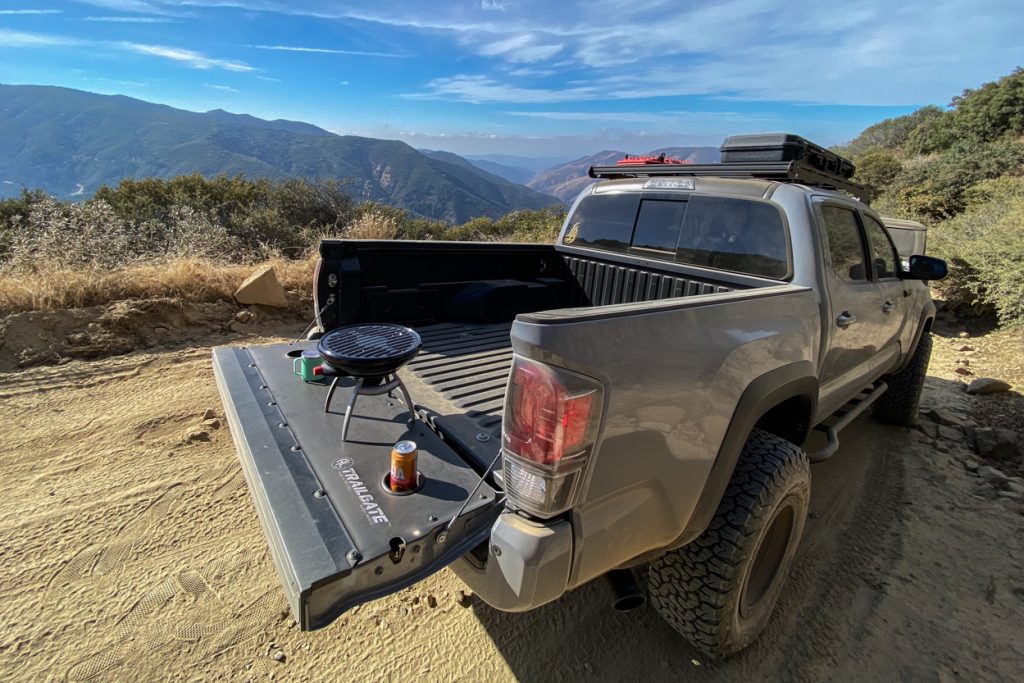 This modification is awesome! Not only does it make everyday life easier by giving you a flat working surface, but helps while camping and spending time on the trail.
Even if you have a swing-away rear bumper with a folding table, you know that a flat working/prepping surface is a hot commodity. This replacement tailgate panel makes setting up your cooking items so easy and helps keep your cool drink close by at all times.
Of course, the Trailgate is exposed to the elements, but it's a great design and will hold up well to all weather conditions. In terms of cleaning, washing as you would the rest of the truck is sufficient. A quick wipe down with a rag or biodegradable cleaner like Simple Green would work too.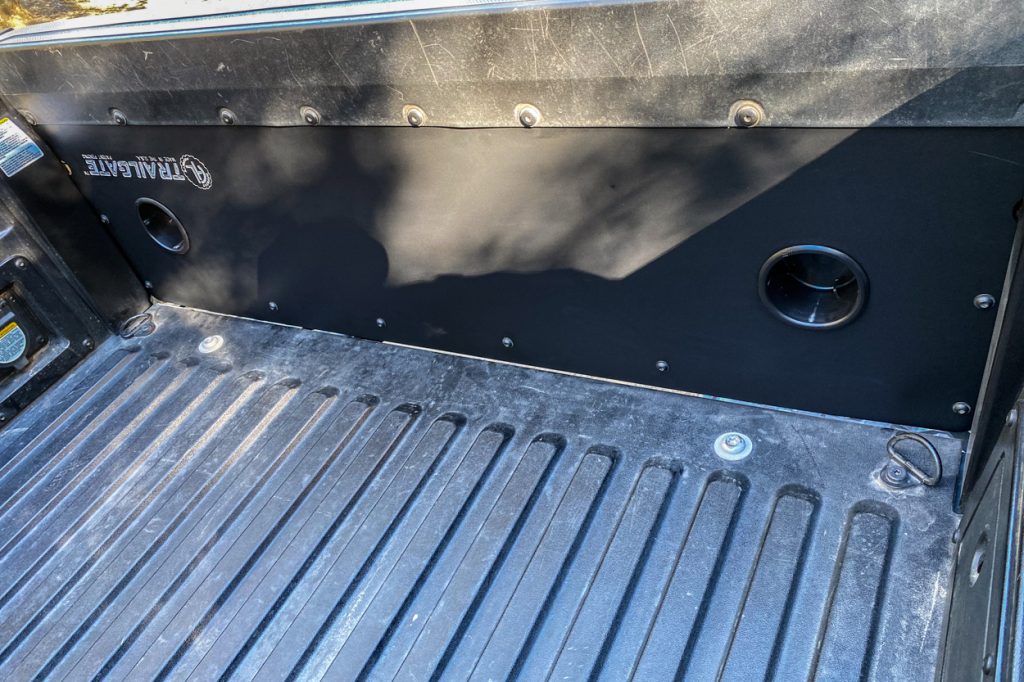 One thing I noticed about the Trailgate is that when the tailgate is closed the panel doesn't sit completely flush with the bed of my Tacoma.
There is a thin line that you can see through, however, for me, this is not a major concern nor would I even consider it a flaw. Just something to notice.
Note: Please be mindful when stepping onto this flat surface. Especially when wet, it could be slippery.
Final Thoughts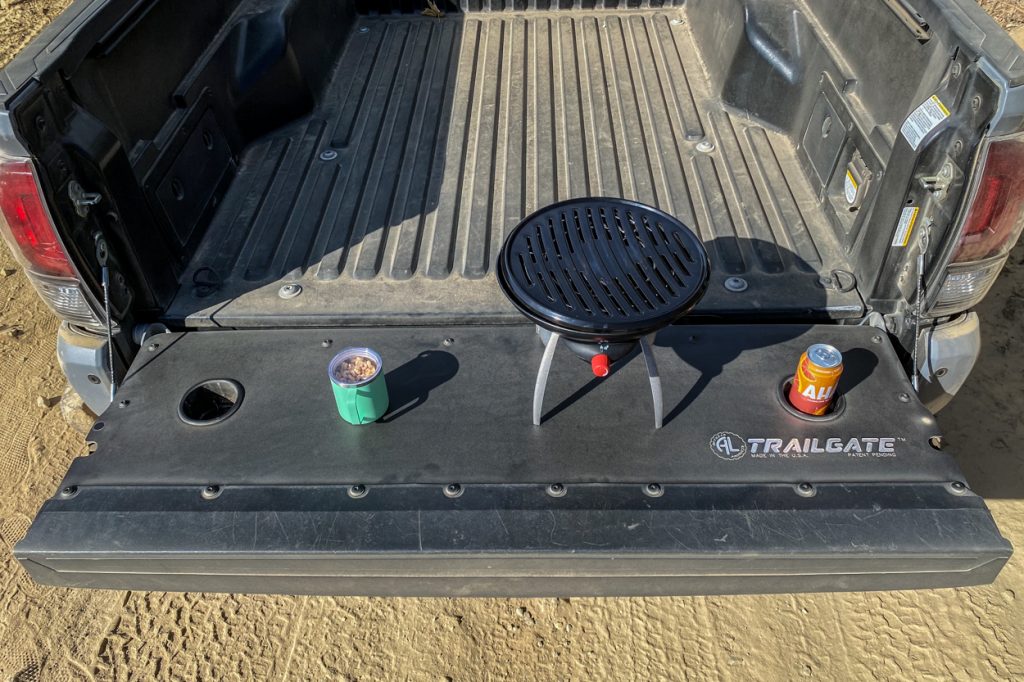 As always, I like to talk to the business owners I work with because I get to further my understanding of their products and values.
I had a chance to briefly chat with Scott from AL OffRoad. He shared about the work they've been putting in the last couple of months. Launching in 2020 was for sure no easy task, nonetheless, Scott and his son Addison are pressing forward with their family business.
These guys also offer roof racks, lighting options, apparel, and other overlanding accessories on their website. If you're curious about their roof rack for the Tacoma, check our install and review.
For the price, at just under $200, this modification definitely adds a considerable option for the tailgate insert market. They plan to release products for other trucks soon, as they were working on options for other makes and models when I last spoke to them.
Be sure to check them out online or on Instagram at @ALOffRoad. I am sure you will enjoy this mod. It's easy and super functional. Thanks for taking the time to read up on this awesome modification for your Tacoma!