Adding a Hitch Mounted Recovery Point on the 3rd Gen Tacoma – Full Review of the USA Made Agency 6 XL Shackle Block
The 3rd Gen Tacoma comes with a front recovery point, but let's say you're on a tight trail and can't be pulled from the front. Or the guy behind you gets in a sticky situation. Then what?
There's nothing on the back that makes for a useful recovery point. Replacing the rear bumper with one that has integrated recovery points isn't for everyone, and aftermarket bumpers are expensive. And please, don't be the guy who uses a tow ball as a recovery point. It's not. The ball isn't designed to take the shock loads you can get in a recovery situation.
When the tow ball is subjected to such forces, it can fail dramatically and make the tow ball a deadly projectile. This is where the Agency 6 Shackle Block XL comes in. It's a strong, safe, and very affordable option for a rear-facing recovery point. But why? Like a tow ball, it goes in your hitch receiver. But that's where the similarities end.
The Agency 6 Shackle Block XL is designed to be used as a recovery point. With a hole for a standard 3/4 inch bow shackle, It's part of a closed rigging system. This is much safer than the previously mentioned option and with a bunch of color choices, there's something for everyone.
Find It Online
Made in the U.S.A: Agency 6 Shackle Blocks are designed and manufactured in house with US Certified 6061 T6 CNC machined aluminum.
Features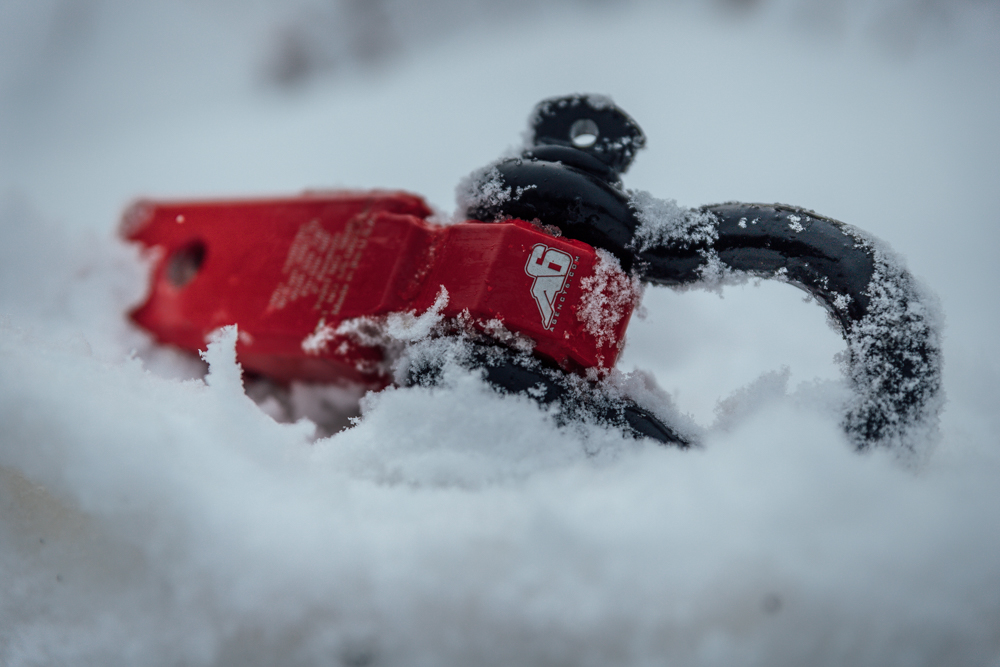 I leave mine in all the time, but it's just as easy to put it in when the situation calls for it. I'm also a fan of the features that set the Agency 6 Shackle Block XL apart from its competitors. Features like the three positioning holes.
It has two horizontal positions, and a vertical position that makes angled pulls much safer. The 13,000lb Working Load Limit (WLL) makes it one of the strongest 2" shackle blocks on the market. The powder coat finish is not only beautiful but it's durable as well. You'll never have to worry about rust issues because the Agency 6 XL Shackle Block is CNC machined from 6061 aluminum. This makes it very light as well as super strong.
Mounting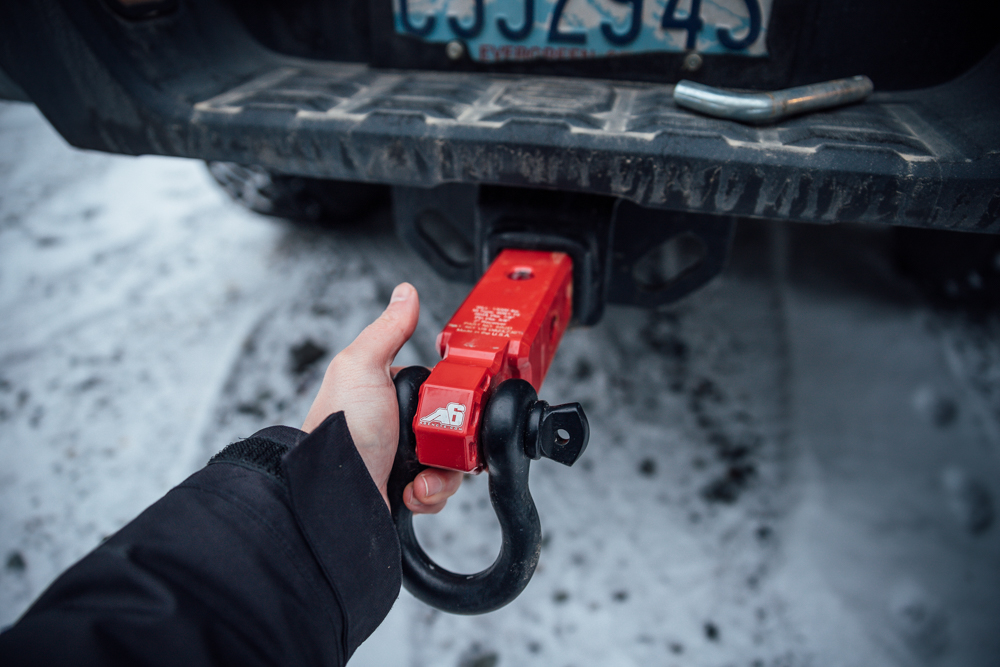 Installing this shackle block couldn't be any more simple. Just slide it into your hitch.
Secure with a 5/8 inch hitch pin into any of the three mounting positions. You can use the one it comes with, or you could upgrade it to a locking version available on the Agency 6 website. You can find that locking option here.  Once the pin is in, you're done.
Recovery Basics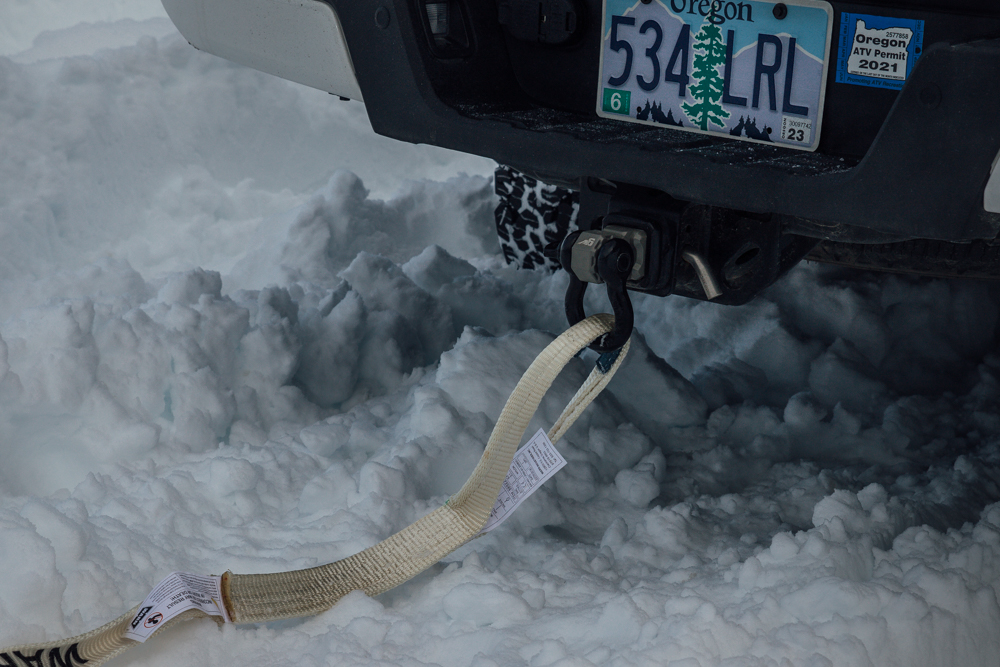 When it comes to recovering a vehicle, always remember that your gear is only as strong as the weakest thing in your system.
For example, if you have the Agency 6 Shackle Block XL (rated at 13,000 lbs), a bow shackle (rated at 9,500 lbs), and a Snatch Strap (rated at 17,000 lbs). Your system is only rated for 9,500 lbs.
Remember, recovering a vehicle can be dangerous. Learn your gear, know its limits, and use it only for its intended use. That said, let's get into how to use this thing.
Snatch Recovery
First up is a snatch recovery. A snatch strap or a kinetic rope have some stretch in them to help pull a stuck vehicle from wherever it's stuck. That's usually snow, mud, or sand. Remember to keep forces in line when using a bow or D-ring shackle. Also, think about the angle of the pull you're about to do.
If it's at an angle, mount the Agency 6 Shackle Block XL so that the bow shackle is vertical; this will keep the bow shackle loaded properly during the recovery. If it's a straight pull, you can mount it horizontally. Take the end of your snatch strap and mount it to the Agency 6 Shackle Block using the included bow shackle. Not all shackle blocks come with a shackle. This one does. Makes the purchase that much easier.
Tighten the screw of the shackle all the way, then loosen it a half turn. This will make it easier to undo afterward. Then, keeping twists out of the strap, run it to the recovery vehicle and either hook the strap directly to the stock recovery hook, or whatever recovery point you have.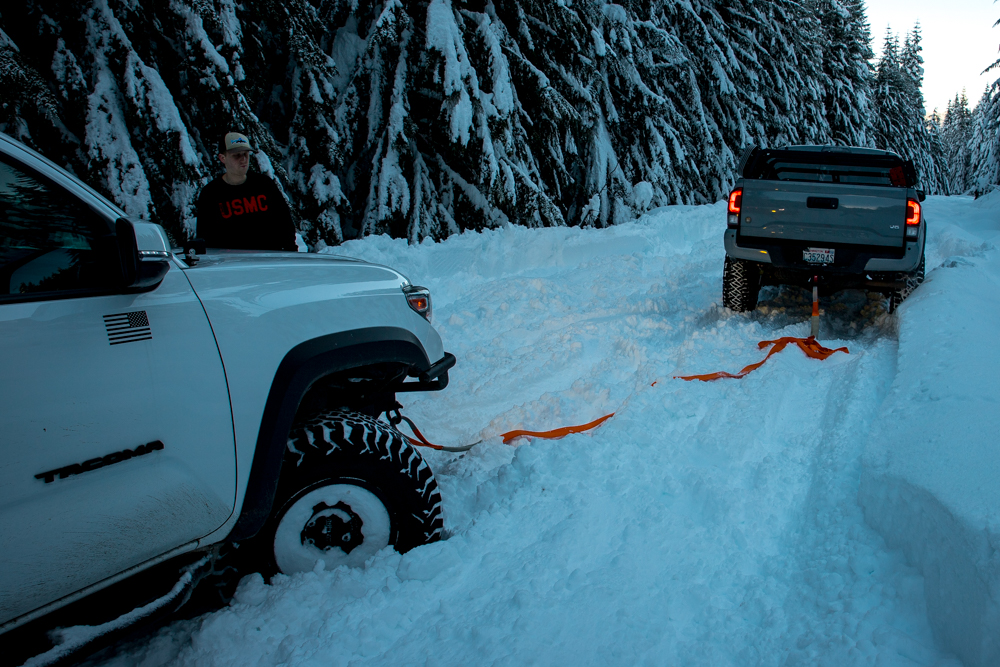 I have the C4 Fabrication Hybrid bumper on my Tacoma, so I use another bow shackle on one of the built-in recovery points on the bumper. Now that everything is hooked up, make sure you have about five feet of slack in the strap. This will let you build up some momentum before you start to pull the stuck vehicle. Once everyone is ready, clear out anyone that doesn't need to be there and back up. This will pull the stuck vehicle out nice and gently.
I love snatch straps, they're extremely useful. But what if that's not enough?
Winch Recovery
Using the Agency 6 Shackle Block XL with a winch is even easier. Especially if your winch has the Agency 6 Billet winch shackle on it.
Just slip your winch shackle on the D-ring and attach it to the shackle block. Put a line dampener on the winch line. And boom, you're ready for some winching! If you're really stuck, you could hook a snatch block to the shackle block and do a double line pull back to the winch vehicle.
Final Thoughts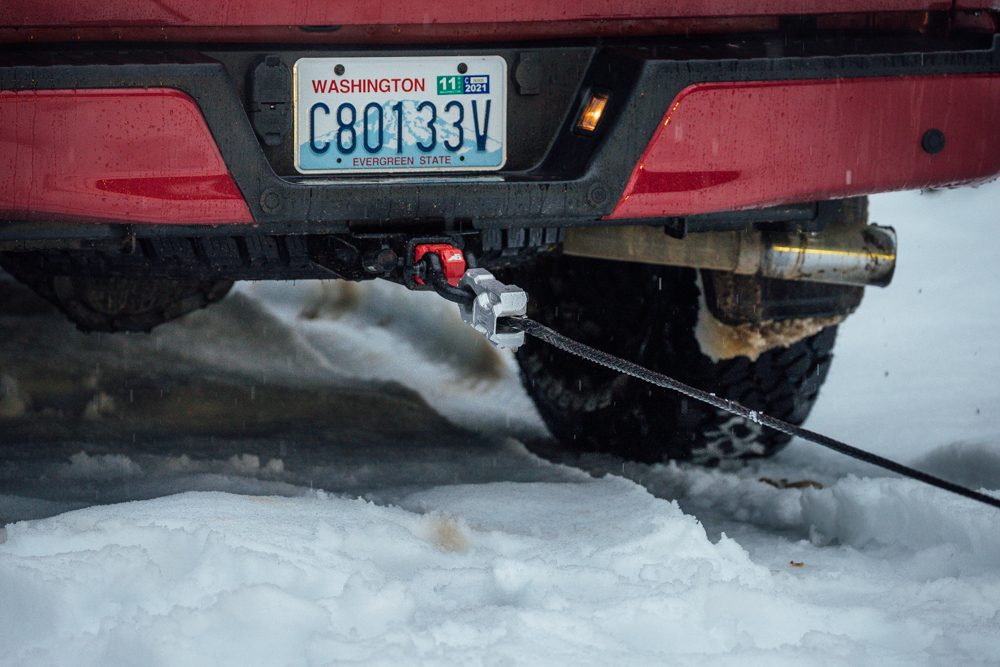 Having a reliable recovery point on the rear of your Tacoma is a must. Rear bumpers are expensive. Maybe it's eventually your plan to buy one, but you'll still need something while you wait months for your bumper to come.
Even if you have a bumper, having a centered recovery point is a better option, in my opinion. I love this thing. And there are many reasons for my adoration. The all-aluminum construction will ensure it lasts for years to come and with a 13,000lb working load limit, this option is one of the strongest on the market. This shackle block can also be mounted in more ways than one. With the affordable price, you really can't go wrong.