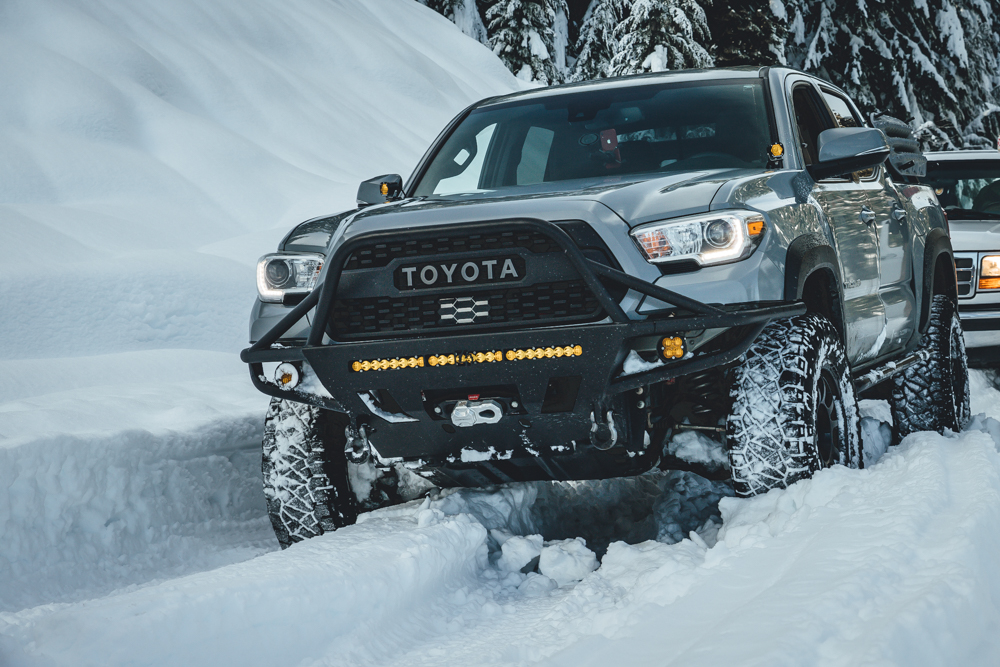 Complete Review, Overview, and How to Use the Agency 6 Billet Winch Shackle – Tested on the 3rd Gen Tacoma
If you've put a winch on your truck, it's probably because you got stuck somewhere or you think you will get stuck at some point and want to be prepared. Or maybe you're just flat out planning on getting bogged. If you've used your winch with the standard hook it comes with, you know it doesn't quite do what you want it to.
A good example is holding both ends of a tree saver without them slipping out. Now I know most hooks have a spring-loaded clip to keep straps and shackles from coming off the hook, and for the most part, that works. Just not when you need to hook it up to more than one recovery point like to both ends of your tree saver. One option is to use a shackle at the end of your hook. But because the hook has an open end, this gets dangerous.
The last thing you want is your shackle coming off your hook. Even if the line isn't under tension, it's a pain. If the line does have tension on it, the bow shackle needs to be straight on your line. Otherwise, it can fail in a catastrophic way. And trust me, a catastrophic failure while you're winching can be deadly.
So, what's the solution? The answer is actually pretty simple. The Agency 6 Billet Winch Shackle. It helps to create a closed series of links. A closed system greatly reduces the risk of failure. There's no spring-loaded clip to break, you get a secure way to safely use whatever kind of shackle you want, and it saves you time when it comes to setting up your pull.
Find It Online
Features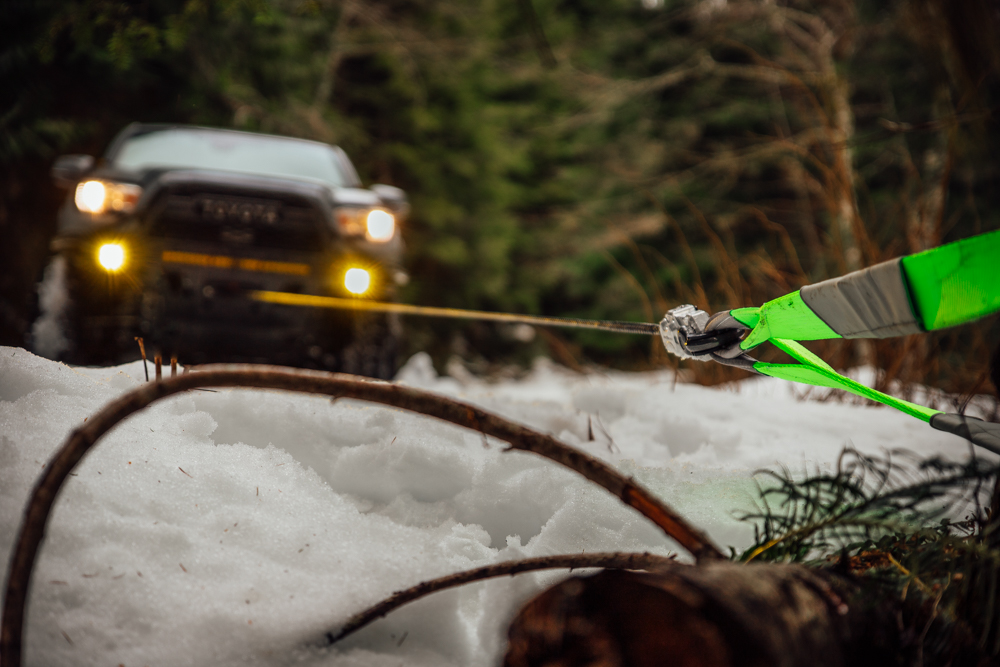 The first impressions were good. As soon as you open the box and take it out of the protective plastic, you're greeted with the beautiful finish of the aluminum shackle. The raw version is what I picked up but their powder-coated options are top-notch too.
When you get to check out the features, firsthand, you know you have a product that will treat you well for years to come. Seriously, it's made from 6160 aluminum so it'll never rust. It has a built-in winch line protector to keep your winch line safe from road debris and UV. Yep, you heard right. Built-in. No need to spend more on an extra part to do the same thing. Standard features are the best.
Installation
The Agency 6 billet winch shackle is too easy to install. I'm talking less than five minutes and that's if you're slacking off.
First, send out the winch line a little. Just enough to have some slack. At the end of your winch line, there's a hook. That's most likely to be held in place with a cotter pin. Just remove the cotter pin and remove the old hook. Next, take the winch shackle and remove the plate at the top with the two hex bolts and slide out the large pin.
Put your winch line into the shackle and replace the pin so that your winch line is now secured around the pin. Replace the top plate and secure the two hex bolts. Now all you have to do is pull your line back in and place the side of the shackle with the rubber pads up against the fairlead. Just make sure to keep your fingers out of the way. Step back and enjoy the new clean look, because you're done!
How To Use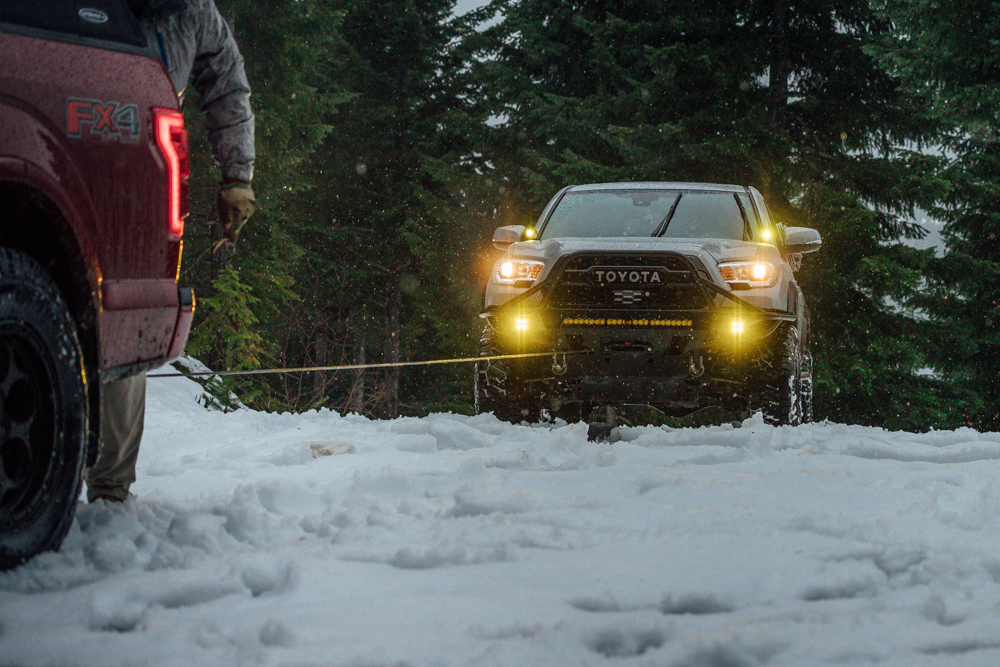 Now that you have the Agency 6 winch shackle on your winch line, let's talk about how to use it.
Remember to follow winch safety procedures. Use a line dampener, keep everyone at a safe distance, and over-communicate. You also need to know the limitations of your gear. Your winch setup is only as strong at your weakest shackle, rope, strap, or recovery point.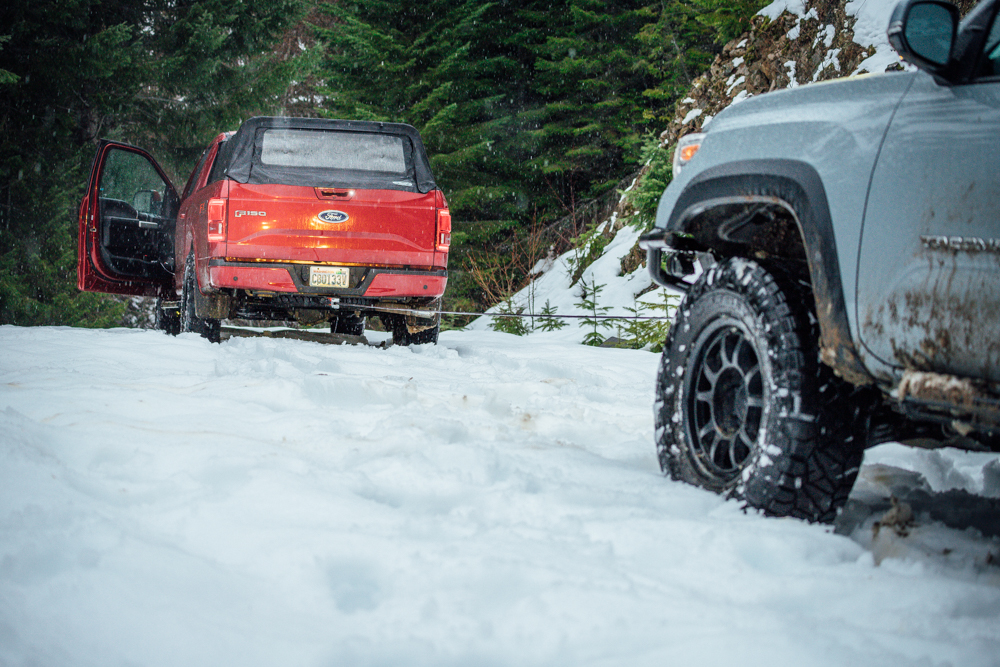 So, make sure you're using rated recovery gear. The working load limit for the Agency 6 Billet winch shackle is 19,000 lbs. Making it one of the strongest on the market. Most others don't even come close to this number.
Multiple Shackle Types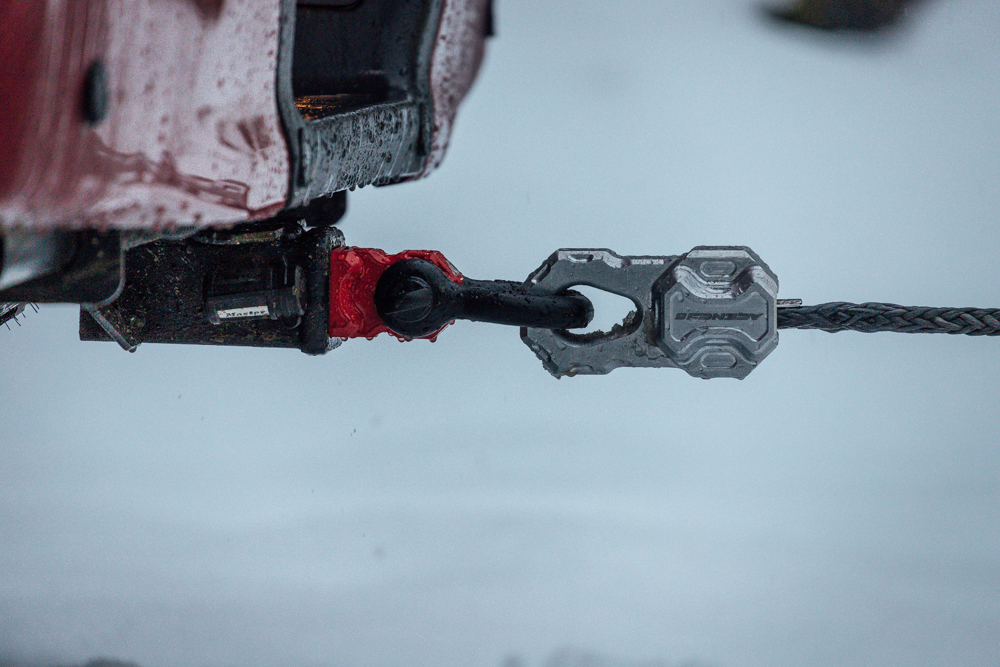 For the most part, you can use any type of D-ring and many types of soft shackles with the Agency 6 winch shackle. The standard hook that comes with your winch has the potential to damage a soft shackle or even your extension straps. But not anymore with the A6 shackle.
The smooth surface of the billet aluminum used for the Agency 6 winch shackle will protect your soft shackles, straps, and even your hands from abrasion.
You can safely secure a bow shackle to the end of your winch line. The large shackle mounting hole makes it possible to mount the pin or the bow through the hole. So, you can choose the best option for each winching situation.
For example, if you're winching to a tree, you can attach your tree saver to a bow shackle and attach it to the Agency 6 Billet Winch Shackle using the pin to keep the line straight. Alternatively, if you are winching to a recovery point on another vehicle, link the bow end to the winch shackle and secure the bow shackle to the recovery point with the pin.
If you're curious, pictured above is the winch shackle, attached to an Agency 6 hitch-mounted universal shackle block.
I'm also a big fan of soft shackles, and I'll use them whenever I can. Soft shackles are much lighter and softer than a bow shackle. If something does go wrong and sends the soft shackle flying, it's much less dangerous than a metal shackle.
I like to use them to hook my winch line to an extension strap or a tree saver. Just tread the loop end of your soft shackle through the Agency 6 winch shackle and through the loops on your straps. Close the soft shackle and rotate it so the loop and ball are on the side, not in line with the pull. But really, the options are endless. Use extension straps, snatch blocks, trees, other rigs. It's up to you.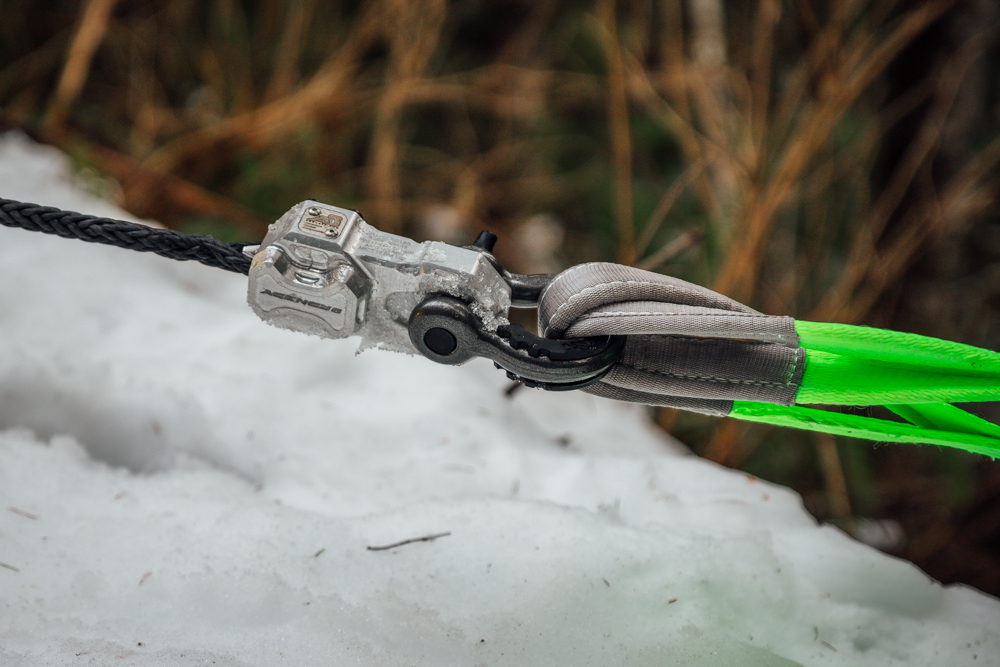 This is mainly due to the nature of not having an open winch pull. You don't have to worry about your straps falling off your hook when you get slack in the line. This saves you from having to reset your straps every time you take tension off the line.
This is also safer than a traditional hook. Things can easily slip off a hook. Because everything is secured together, you have fewer potential failure points.
Final Thoughts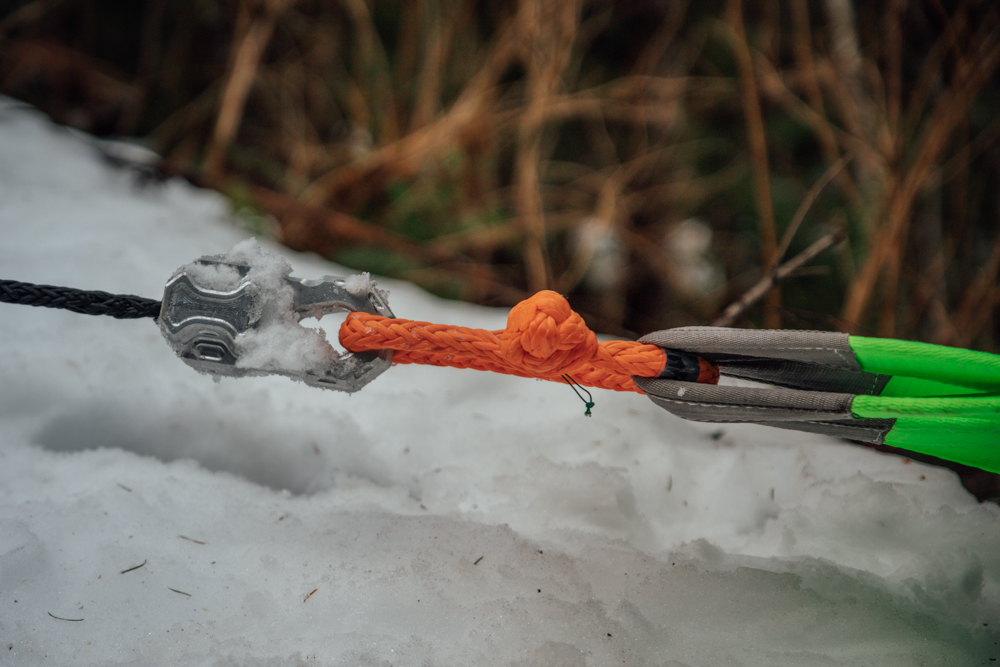 The raw machined aluminum is too pretty. But this shackle also available in a few powder-coated colors for all sorts of tastes. The shackle has a built-in line guard that helps protect your winch line from UV damage and debris.
The rubber dampeners keep your fairlead protected and keep everything from rattling, and let's not forget that 19,000 lbs working load limit. If that wasn't enough to convince you, it's also priced just right!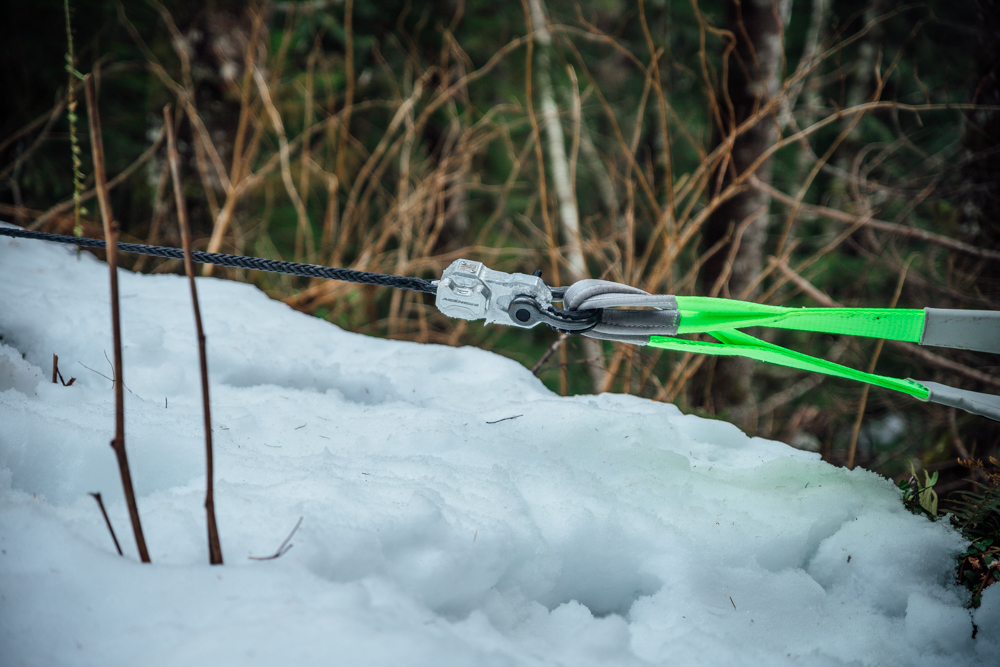 The Agency 6 winch shackle streamlines the process of winching by making it much less fiddly. Lastly and probably the most important is the extra safety that you get from this kind of winching system. Now get out there with the confidence that you have the best gear to keep you adventuring.
Please practice safe winching. Plan and communicate your pull to everyone in the area, keep unnecessary people out of the way (at least twice the distance of a line you have out), know the limitations of your gear, and over-communicate everything you're doing (using radios and hand signals).
Finally, if you like what you've heard about Agency 6, there's more. We've covered the Agency 6 Billet Aluminum Universal Roof Rack Grab Handles on the site before, you can see that review and overview here. They have many other products, we hope to eventually cover them all!