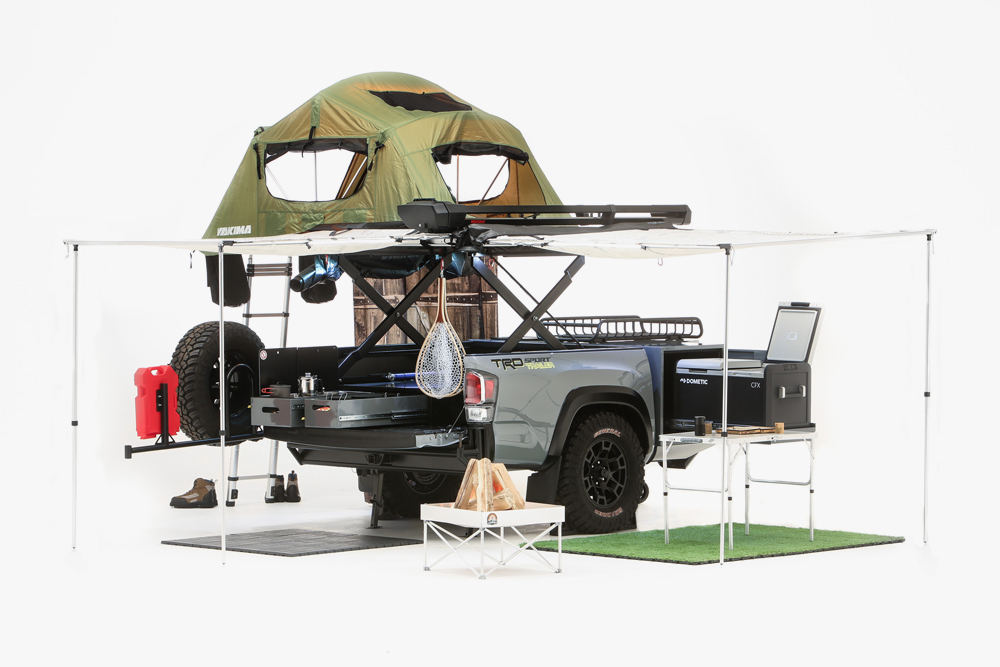 The Toyota TRD Sport Trailer – Is that a Tacoma Bed Turned into an Off-Road Trailer?!
Toyota brought a handful of creativity and cool stuff to experience virtually during SEMA360, the 2020 pandemic-friendly SEMA (Specialty Equipment Marketing Association) experience this past November, including a hand-painted GR Supra, a couple GR Supra drift cars, and an overland-ready Tacoma.
Ed Laukes, Toyota Division Marketing vice president, said he wanted to save the best for last during the presentation, eventually revealing both the 2021 GR Supra Sport Top and the TRD Sport Trailer, a mobile basecamp for Toyota off-road enthusiasts.
Ultimate Overlanding Trailer?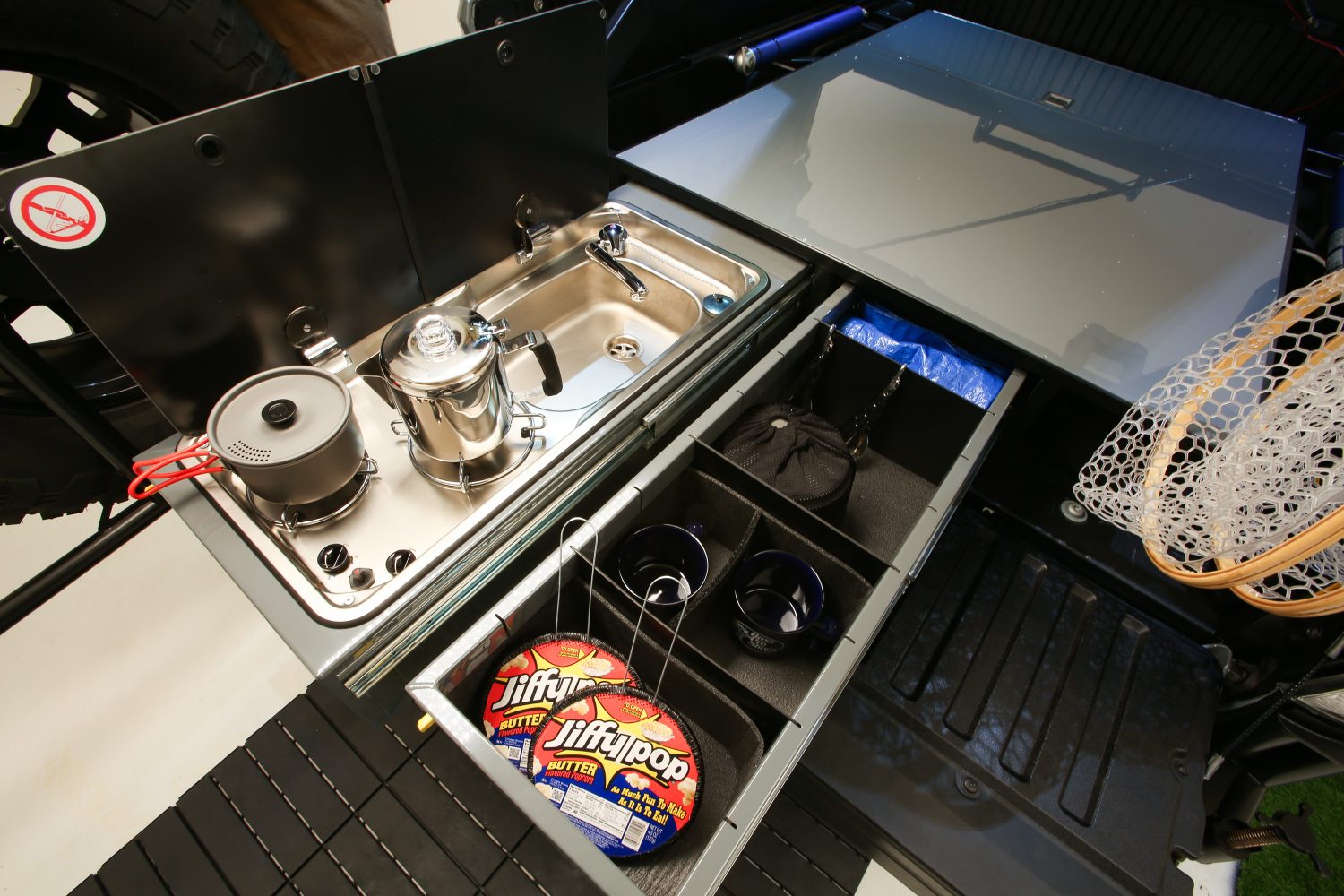 So, what was this "truly over-the-top" Toyota mobile campsite Toyota calls their ultimate overlanding rig?
Bob Kupina, Senior Program Manager for Toyota Motor North America Research and Development, was attending Flagstaff, Arizona's Overland Expo West when he saw a unique custom-made Tacoma bed off-road trailer. Bob brought the idea back to Toyota and began the creative work to make it a reality in-house. Toyota saw the Tacoma bed as the perfect platform for such a project.
Bob laid the groundwork for the venture and eventually turned the project over to Marty Schwerter and his team from Motorsports Garage, partnering with the likes of Cripwerx Engineering, Bass Pro Shops, Cabela's, RIGID, General Tire, and many others to build what was finally revealed at the SEMA360 virtual event as the TRD-Sport Trailer.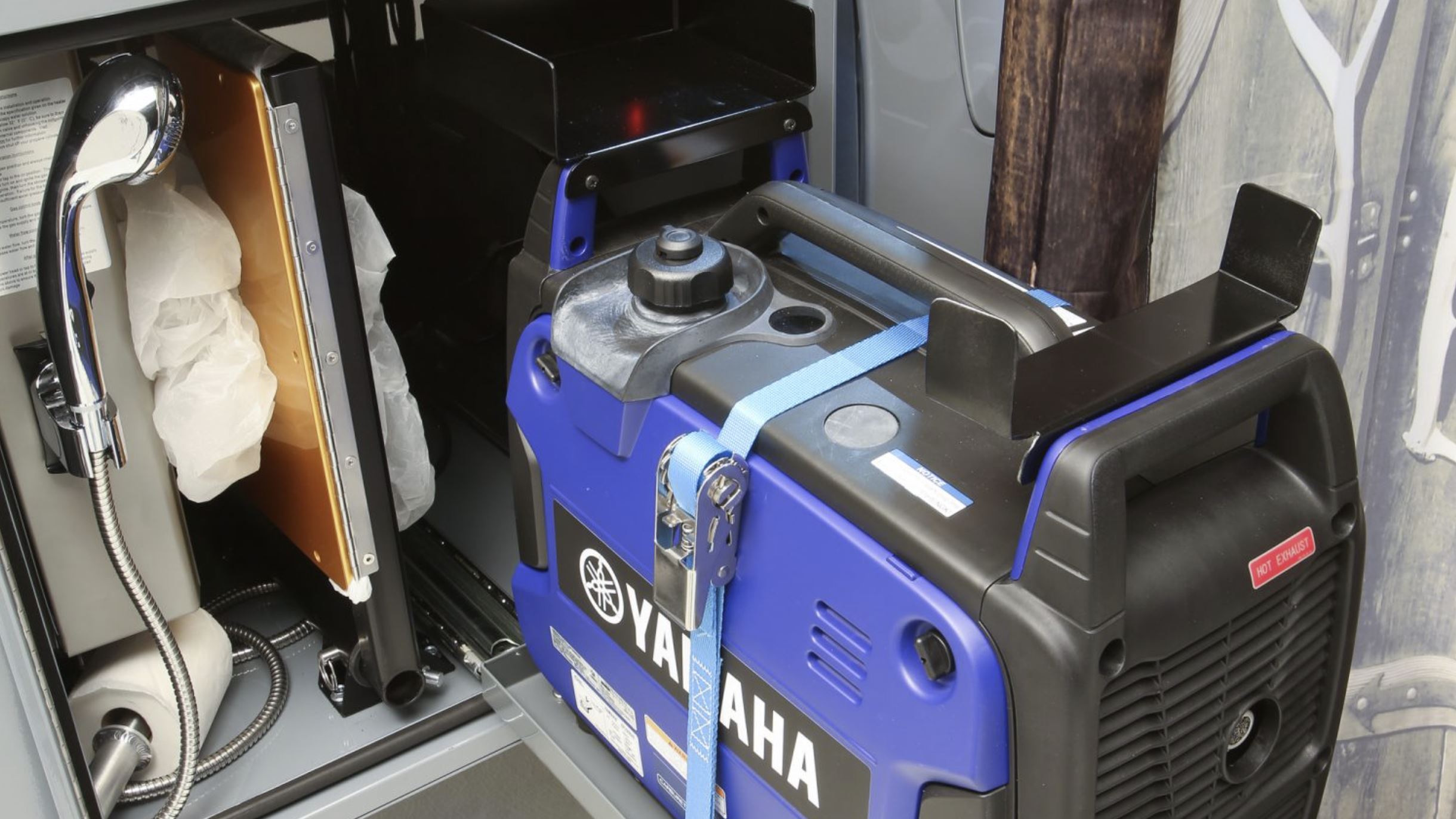 The year 2020 was nothing to revere for many. But the uniquely restricted situation during the COVID-19 lockdowns saw many throughout the world making the best of a seemingly terrible situation, finding new hobbies, and making the most of what was available. Camping, hiking, overlanding, off-roading, "truck camping" and the like may have become more popular than ever before during 2020. No restaurants, no bars, no theme parks, no resorts. Where do you go when everything is shut down? Outside!
Is Vehicle-Based Camping the Future?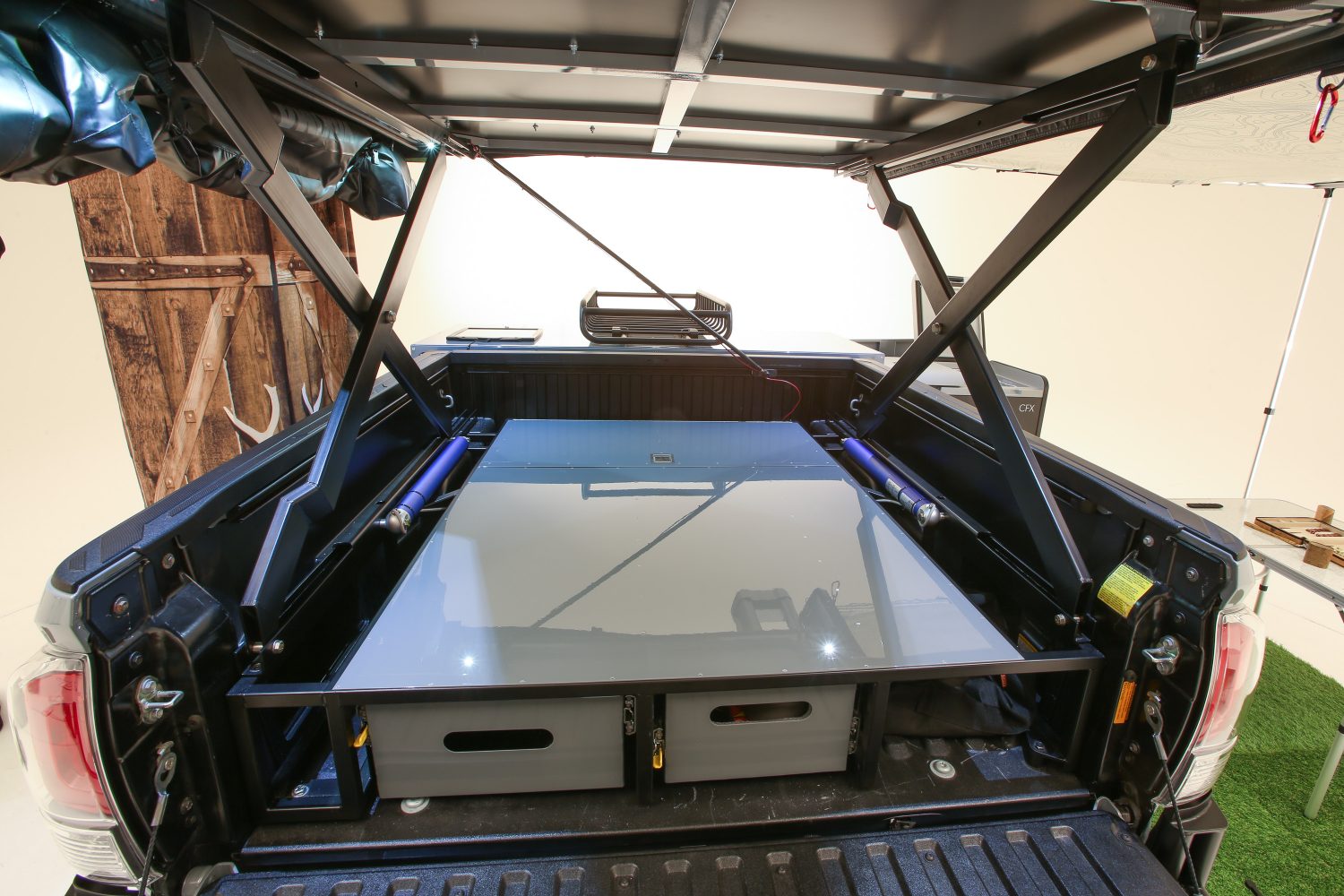 Toyota recognized this trend not only growing, but growing rapidly. The TRD-Sport Trailer concept was buttoned up and ready for presentation this past November as an addition to the competitive market of vehicle-based camping. Trailers have become very popular over the years, from simple trailers to carry extra gear, to fully capable campers.
The market is diverse, but demanding, with trailers that offer just about anything you can think of to make camping a comfortable, and even a luxurious experience, with features such as built-in generators to power refrigerators and lighting, water storage and functioning sinks, cooking stations, solar power, heating, you name it.
Let's get into it. What are the features of Toyota's TRD-Sport Trailer?
TRD-Sport Trailer Features & Specifications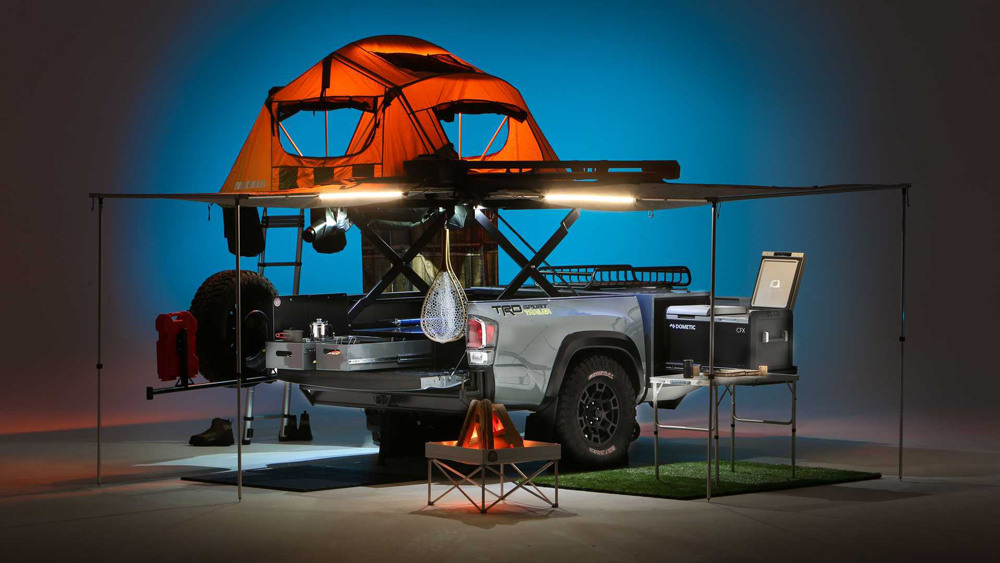 The Toyota TRD-Sport Trailer concept was presented as an all-in-one package for truck camping, overlanding, or even taking the family on a day trip outside. When fully deployed, the trailer is a spacious base camp, stowing a series of innovative features for a complete, and comfortable outdoor experience.
The SEMA360 concept was built from a 3rd Gen Tacoma bed in Toyota's OEM Cement Gray to match the Tacoma hauling the platform. The trailer featured 6×139.7mm bolt pattern TRD Pro wheels wrapped in General Grabber X3's (285/70/17).
So, can the trailer fit 35's without a lift?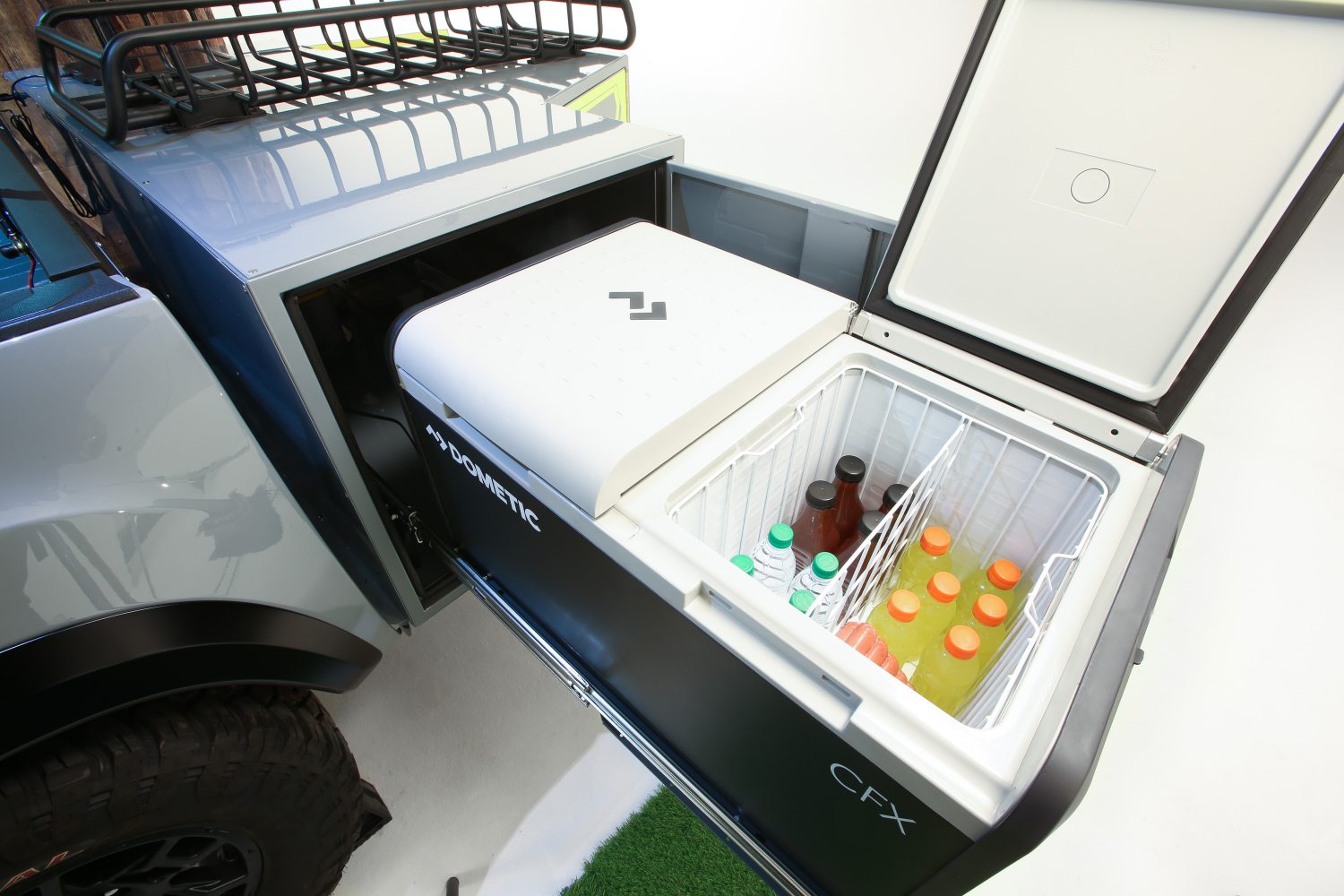 The trailer travels quite compact, not much beefier than a solo Tacoma bed itself, retaining the low center of gravity that will support most off-road adventures, utilizing a scissor-lift system with the ability to expand several feet vertically when parked. The remote-operated lift platform features a Yakima four-person RTT and dual awnings.
The fabricated storage within the bed reveals a Yamaha generator capable of powering a series of gear, such as RIGID's A-Series Accessory LEDs capable of illuminating the entire campsite, with adjustable Yakima SunBelt light strips dimmable to the operator's preference, both a Dometic refrigerator/freezer and a water heater stored within, utilizing retractable rollers for deployment. The trailer compartments hold a 16-gallon freshwater reservoir tank, a 15-gallon grey water holding tank, and deploy a toilet, trash receptacle, and a fully functional shower with a curtain.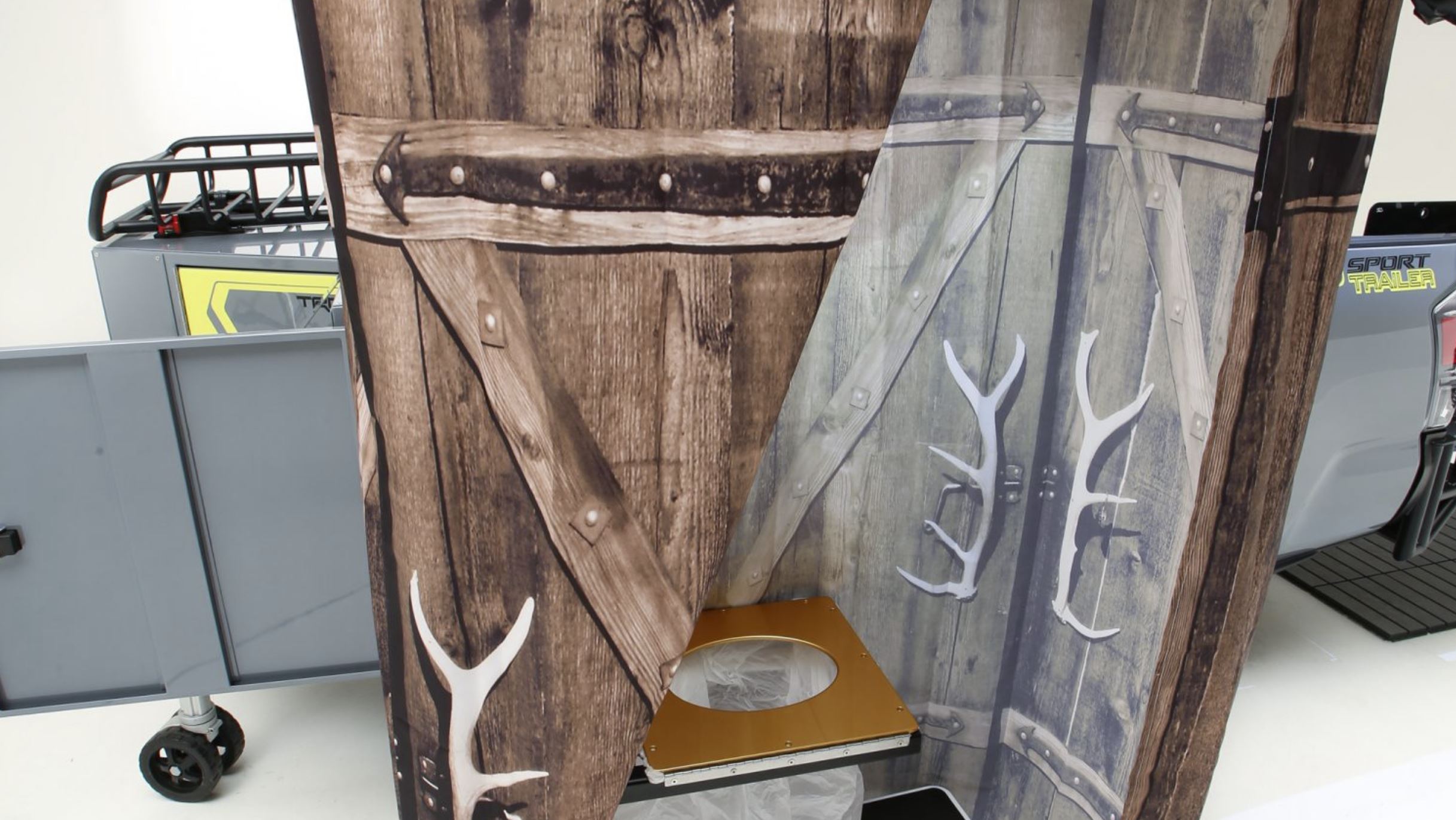 Toyota's SEMA presentation showcased the trailer's storage capability by setting up a complete campsite, including a retractable propane stove, storage drawers, hanging storage, fly rod holders with a full set of tackle and nets, waders and boots, a set of cookware, utensils, and dishware. The campsite featured camp mats, a firepit, a set of camp chairs, and a table. Everything featured was capable of being stored within the trailer itself.
The TRD-Trailer is also fitted with a single 2.5 gallon Rotopax fuel pack, a rear-mounted full-size spare, and a separate Yakima storage basket for additional gear.
Final Thoughts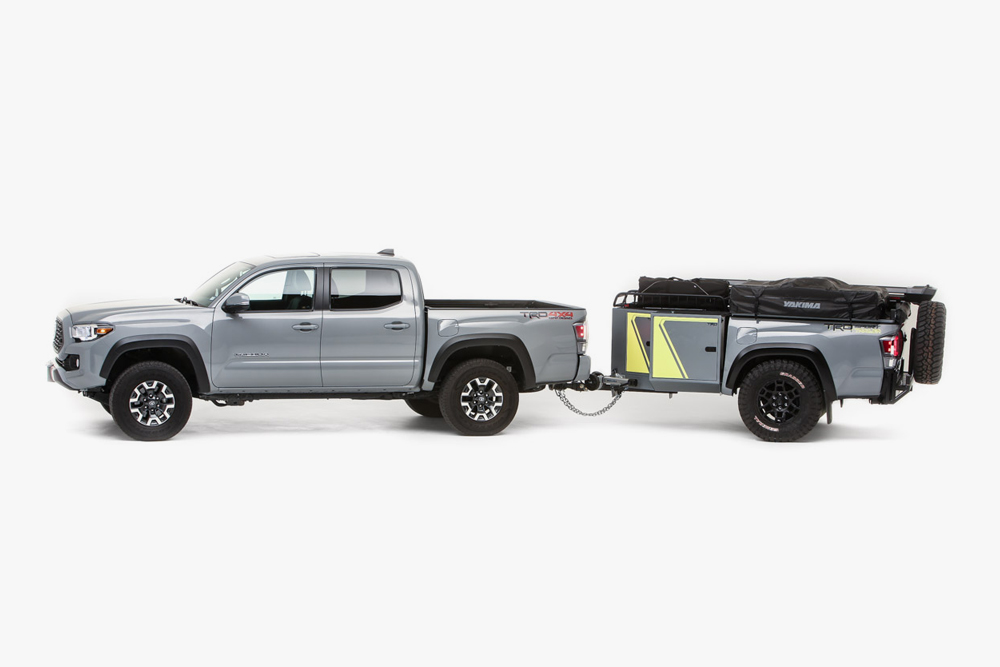 So, who knows if this will ever find its way into production. Would you buy it? What would it cost? A trailer of any kind is unique and is designed to facilitate various adventures, whether it's supporting long-distance long-term overland expeditions, or to simply make a Toyota capable of the "van life" experience, enabling a more comfortable family or group camping trip.
Room for Improvement
Regarding the design of the trailer itself, I notice a few improvements that could be made, as with any concept, but seeing Toyota recognize the growing popularity of truck camping and overlanding is great. Similar to when we first started to see RTTs in the Toyota showrooms, it makes for an exciting future within the Toyota community that many other vehicle manufacturers have lost over the years by not paying attention to their customers and enthusiasts.
A few things that stuck out during the SEMA360 presentation were Toyota's choice to use the Tacoma trailer, itself, as a platform. A 3rd Gen Tacoma trailer would be quite odd to pull behind a 1st or 2nd Gen Tacoma, or any 4Runner. So, that may limit prospective customers if this concept were to be brought into production. The SEMA360 presentation was primarily focused on the all-in-one campsite experience.
Lots of Unanswered Questions
Other than OEM recovery points found on the 3rd Gen Tacoma rear end, the presentation did not expand into off-road or recovery capability, weight, tilt risk, or feature any recovery gear storage in the showcase. Other curiosities, as with any Toyota vehicle, are the capabilities for customization, and possible complexities when making upgrades to suspension, wheels, and tires.
Even if this particular concept isn't your style, it's great to see a major vehicle manufacturer thinking outside the box, visiting off-road events, and checking out what their enthusiasts are up to. Seeing creative ideas manifest at events like SEMA, especially when stuck at home watching SEMA360 online during 2020, is always enjoyable.