Exitrax Ultimate Series Recovery Boards – Detailed Review & Real-World Testing in the 3rd Gen Tacoma
Let's talk about recovery gear, specifically recovery boards. A set of recovery boards is an essential item to add to your arsenal of recovery gear. The sole purpose of recovery boards is to help one's vehicle out of a situation where you may be stuck and lacking the means to get some effective traction.
There are tons of recovery boards out on the market ranging from super cheap to very expensive – all with different types of features and mounting options. The set in particular that we are going to be reviewing today is the Exitrax Ultimate Series Recovery Boards.
Exitrax is a New Zealand-based company specializing in traction boards and accessories. They offer multiple different board options, all depending on one's needs and vehicle size. Their unique design and board shapes are new to the market and the company is making some bold claims. After eighteen months of research and development, these boards are pretty much guaranteed to perform.
Without further ado, let's get started!
Find It Online
Exitrax Varieties
Exitrax offers 3 different kinds of boards. The 930 Series, the 1110 Series and the Ultimate Series. Each of these boards has its intended usage, and there is a setup that will fit your specific requirements. While I'll only be reviewing the Ultimate Series, it's good to know that Exitrax offers something for everyone, at various price ranges and design aspects.
930 Series
The smallest of the options, these boards are designed for those of us with limited storage space. Their smaller size shouldn't put you off; these boards are still super tough and perfect for someone who is just getting started in the off-road and overland arena.
1110 Series
This series is the best choice for someone looking for a good middle ground. Larger than the 930 Series, these boards are great for the weekend warrior who only sees a few trails per year.
Ultimate Series
As the name indicates, this set of boards is the top tier offering from Exitrax. This version is the be-all-end-all option for those of us who are always looking to get into trouble on the trail and really push our vehicles. If you want the best performance, these are the best choice for you.
Specficiations & Features
These recovery boards have a few features that are similar to other options on the market and a couple that really set them apart.
The edge that makes first contact with the tire is angled for a reason. The decreased angle improves traction during recovery by making it easier for the tires to bite the knobs on the boards.  Strategically placed nodules also help to reduce excessive wheel spin to extend the usable lifetime of the boards. As you move up into progressively better boards, the cleats/teeth get bigger and stronger. The Ultimate Series also has an optional accessory, the EXI Link, that allows you to link two boards together.
The designs are super thin to ensure easy stacking and ultimate portability. The team also included balanced handles to make handling and carrying the boards easier than ever before. Teeth on the underside of the boards also help to decrease board movement when attempting a recovery.
The boards offer a lifetime warranty with a simple claim process. The boards are also compatible with most holders and mounting kits on the market. The Exitrax are designed under some of the world's strictest quality control measures and are manufactured using industry-leading machinery.
Depending on the boards you end up getting, the Exitrax's come in black, gun-metal grey, and green. Don't forget to check out their full lineup of accessories too.
Summary
Tapered nose (reduced engagement angle)
Additional cleats and nodules (better bite and increased traction)
Low stack height (take up less space)
Carrying handles and mounting points (easier to move and carry)
Lifetime warranty
First Impressions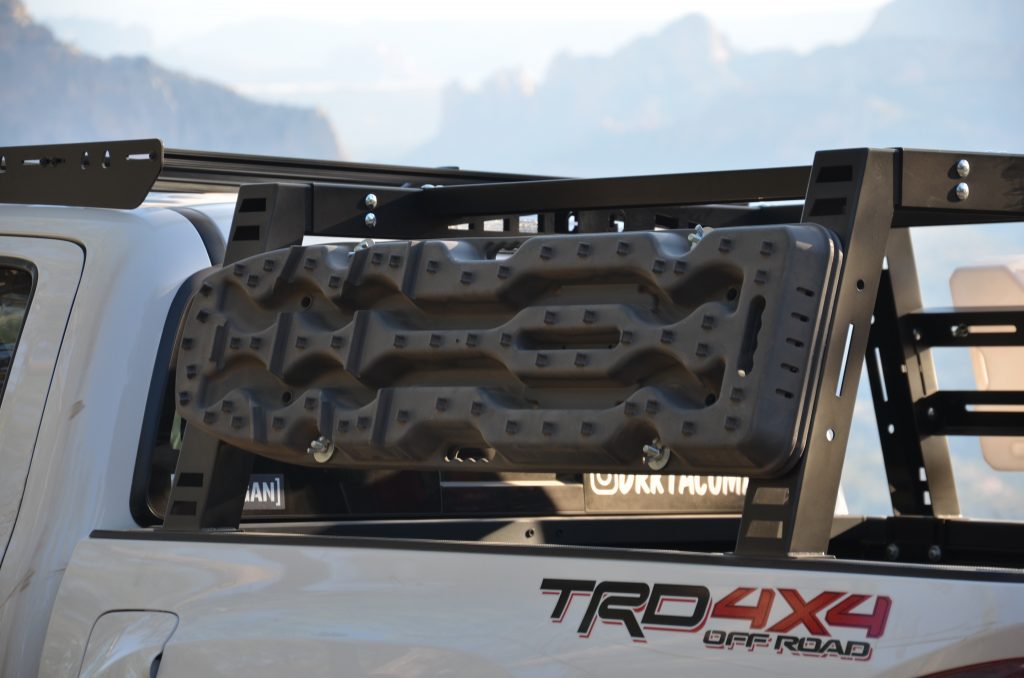 Right out of the box, I was impressed. Just after handling them for a few minutes, they felt stout, well built, and durable. As many of you are familiar, most recovery boards come in a traditional rectangular shape with parallel running knobs and grooves as well as some sort of way to make handling them easier.
Exitrax replicated a similar shape but with a different style tapered nose, newly shaped side profile, and some extra knobs both on the bottom and top. A unique feature on the Ultimate Series boards is the additional knobs towards the front of the board that protrude higher than the regular knobs to really help aid in traction and durability.
Doing the initial handling tests (twisting and bending), they showed very little, if any, signs of give. Furthermore, their low stackable height and multiple mounting slots really had me anxious to put these through their paces.
Test #1 – Burying Rear Wheels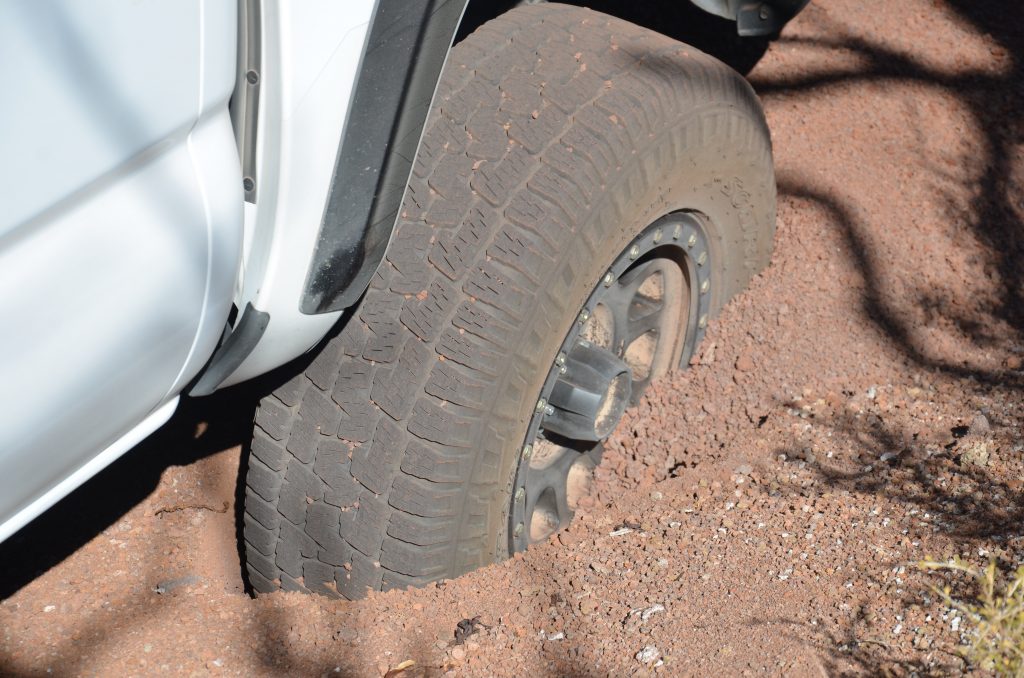 Efforts were made to get the truck as stuck as possible to replicate real-world scenarios that solely rely on the recovery board's performance.
All aids inside the cab were turned off as well as the truck was left in 2wd. After getting the rear tires as buried as possible, rocks were dug out from under the tire to create an optimal space for the board to rest on. This was done to mimic an actual recovery situation.
Recovery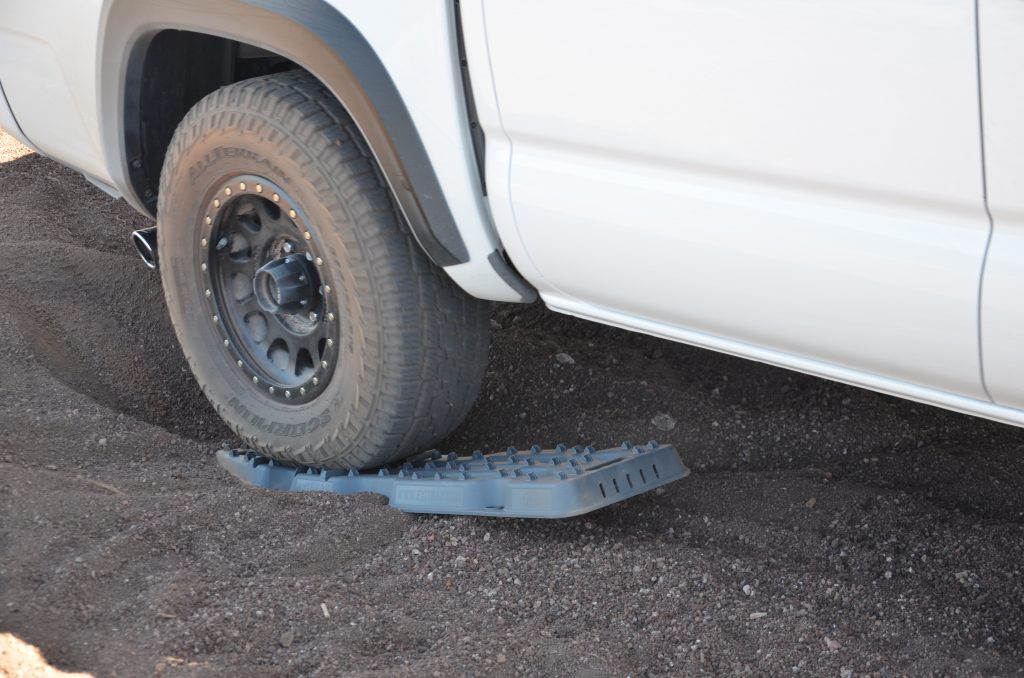 The tapered nose really helped to set up the board and to get the front of the board and teeth in contact with the tire which ensured the tire was going to grab onto the board.
The tires immediately grabbed onto the board, successfully pulling the truck up and out of the hole.
Post Recovery – Examining Boards
With the tapered nose and teeth closely placed on the end of the board, this helped the tire not have any sort of wheel spin since its only option was to bite onto the teeth. Having the extra cleats helped the tire to ensure traction all the way through the recovery process too.
All in all, the recovery went well. The more durable plastic showed its benefits like preventing wheel spin and large amounts of warping. There was some minimal flexing, but the boards held their shape pretty well.
Test #2 – Bridge Test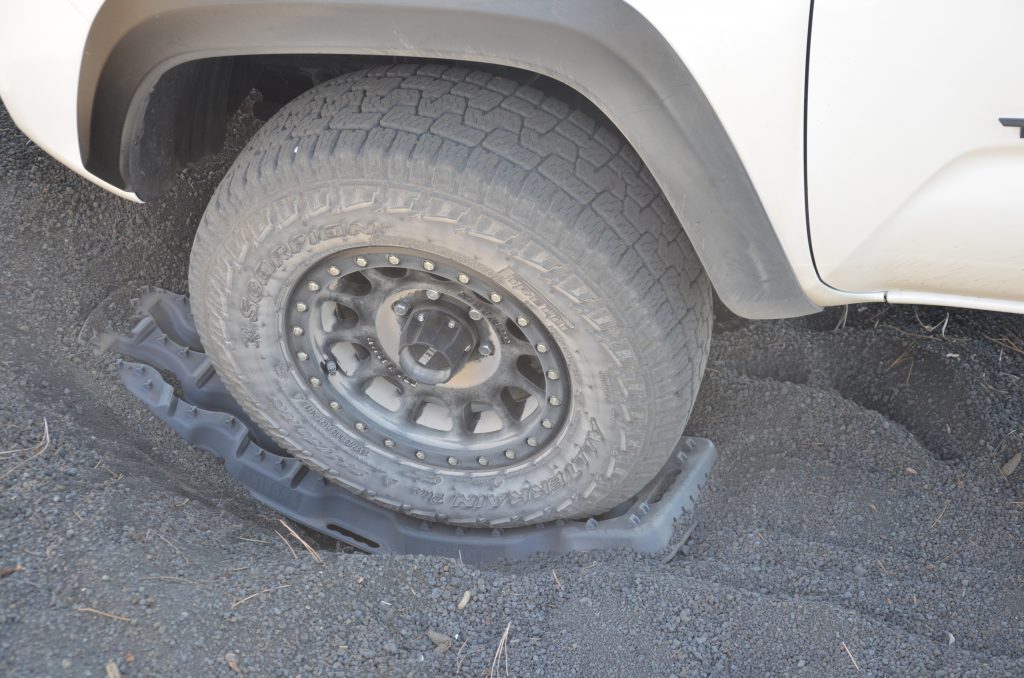 The second recovery was the bridge test. This is another application of when recovery boards may need to be used when getting your truck up and over an object that isn't flush with the ground and may present potential hazards. For this test, one board and then both boards stacked were tested in a hole that was roughly two feet deep.
I proceeded to drive my truck onto the board, momentarily pausing before proceeding across to the other side. The board's purpose in this scenario was to help prevent the truck from getting stuck in the hole in a world where a recovery board would be used in aid for the crossing. The crossing was successful.
After the test, the boards were examined for signs of damage/warping. Other than the fact that they were warped from the weight of the truck, they showed no other signs of damage. Placing the boards in the sun for a bit helped them return to their original shape.
Two Board Bridge Test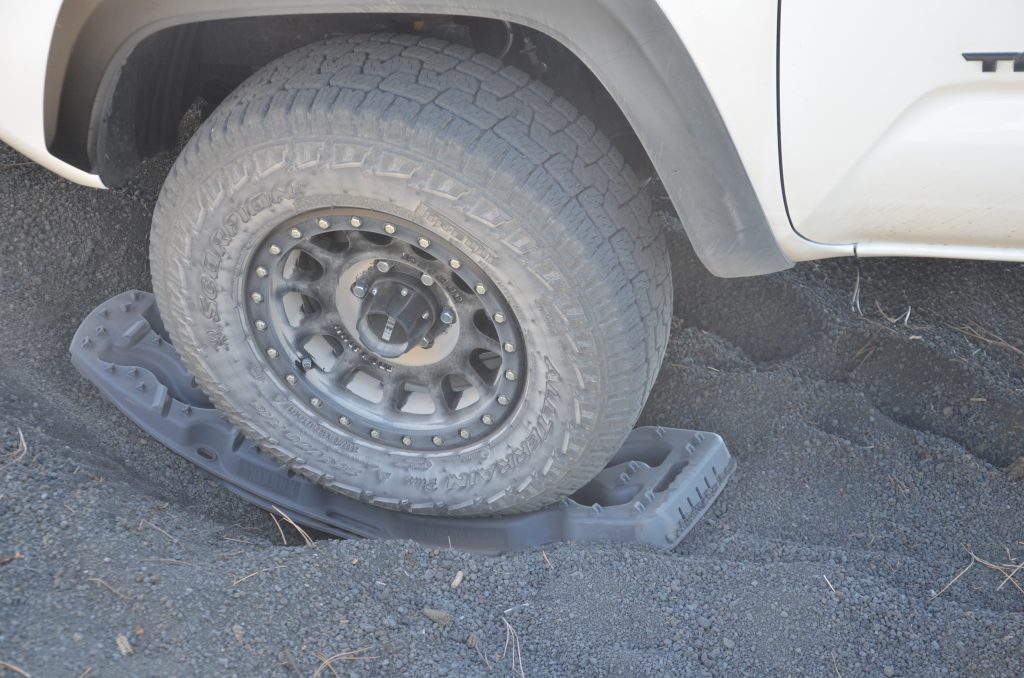 The exact same scenario was replicated, except with both boards this time.
Similar signs of warping were present on the crossing, but no other substantial damage. It's important to note, the tapered nose in this situation didn't dig into the ground as compared to a regular-style nose. It tended to contour around the obstacle better. Potentially other conditions and applications may present different results.
Post Test Impressions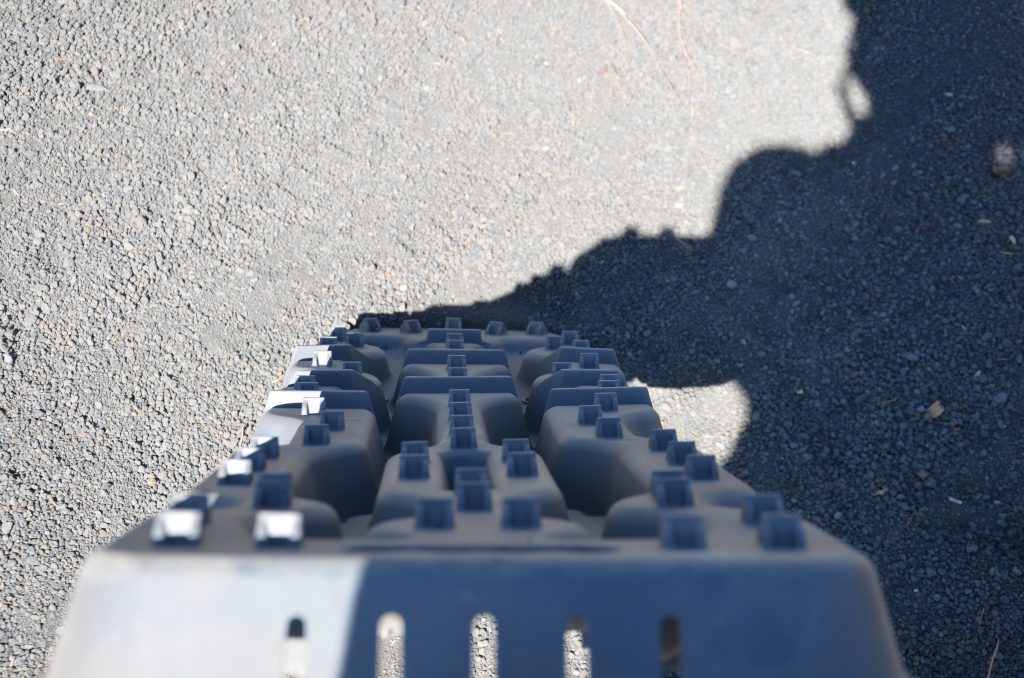 As previously mentioned above, these are staged scenarios. Efforts were made to make it as realistic as possible. Of course, no two real-world scenarios will present the same challenges, meaning the boards will vary in performance based on the conditions.
I continued to go off-roading, keeping these boards mounted on my rig as a recovery option in case I got stuck. Fortunately, that never happened to me or my rig but I happened to be in two unplanned situations where these boards were used to help other vehicles get unstuck. I will briefly explain those below.
Real-World Recovery Scenario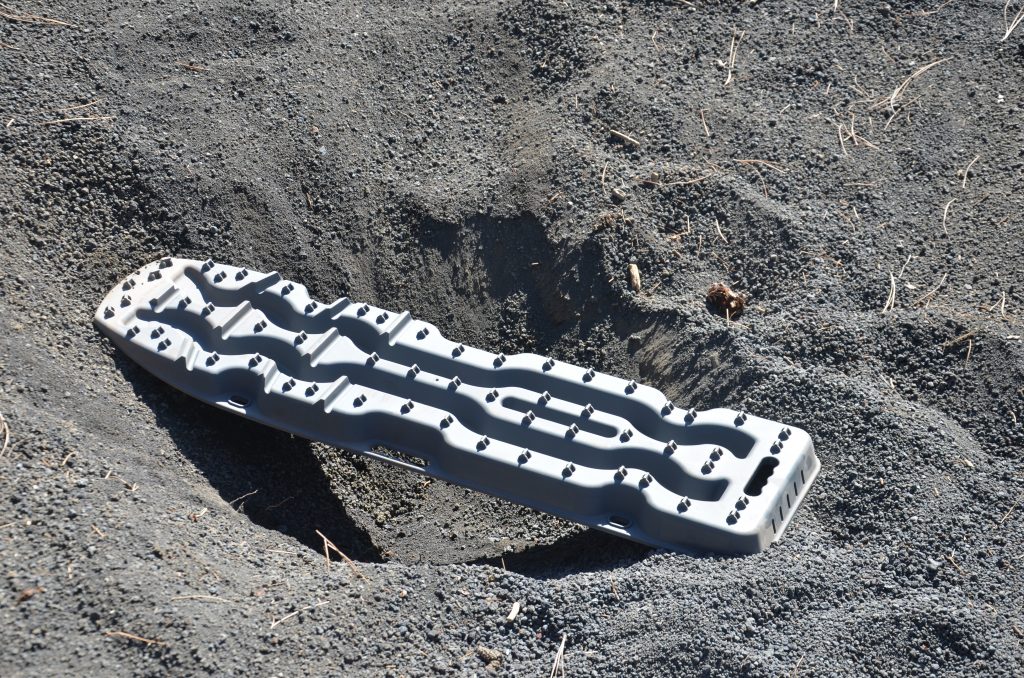 Two quite different but somewhat scenarios happened, one in snow/ice the other in loose dirt/shale. In both cases, the vehicle being recovered was in an extremely vulnerable spot making it crucial to recover correctly. After examining the options, it was clear that recovery boards were going to be the best choice and the only recovery tool I had on hand.
These boards left me nothing but jumping for joy after using them for the recovery. They performed their job and performed it very well. Both vehicles were recovered and were able to be driven off without any damage. But, things happen and products break. In one of the recoveries, the boards were used upwards of ten times, repeatedly, to help assist the recovery. On the final attempt that resulted in getting the stuck vehicle out, the boards were under an immense amount of stress and cracked/snapped. A chunk of the board cracked off and multiple points broke along the length of the board.
I made a couple of Instagram posts about the situation, including the broken boards, and within thirty minutes of posting, Exitrax personally DM'd me on Instagram, offering to replace the boards. After a few email exchanges, with some pictures of the damage, they sent me a new pair of boards. Within a week, I had my hands on a brand new set. I didn't waste any time mounting them up so they were ready for their next task. Customer service? 10/10!
Final Thoughts
Being stuck is never fun and can be quite embarrassing, even if it was a silly mistake. Having a set of recovery boards on your rig is a must-have, especially since you never know when they may be needed. While they are certainly not the cheapest investment, it is always good to ensure the products you have can withstand any real-world application. Fortunately, Exitrax has you covered.
The Ultimate Series boards come in at the higher end of the spectrum, but you get what you pay for. I imagine that the less expensive options will work fairly well, and either way, all the different choices have lifetime warranties. With that said, one thing I do know is that these boards perform well, and even in the case of a broken board, Exitrax doesn't hesitate to take care of their customers.
Their unique design features, some of which are new to the market, help to stand out among the competition. If these boards are a little overkill, or too pricey for what you need, Exitrax offers 2 other smaller styles of boards that come in significantly cheaper but still incorporate some of their killer design features. Exitrax is new to the states and is definitely here to stay. Pick up a set of these recovery boards, build your recovery gear arsenal, and get out there and explore. You won't be disappointed.