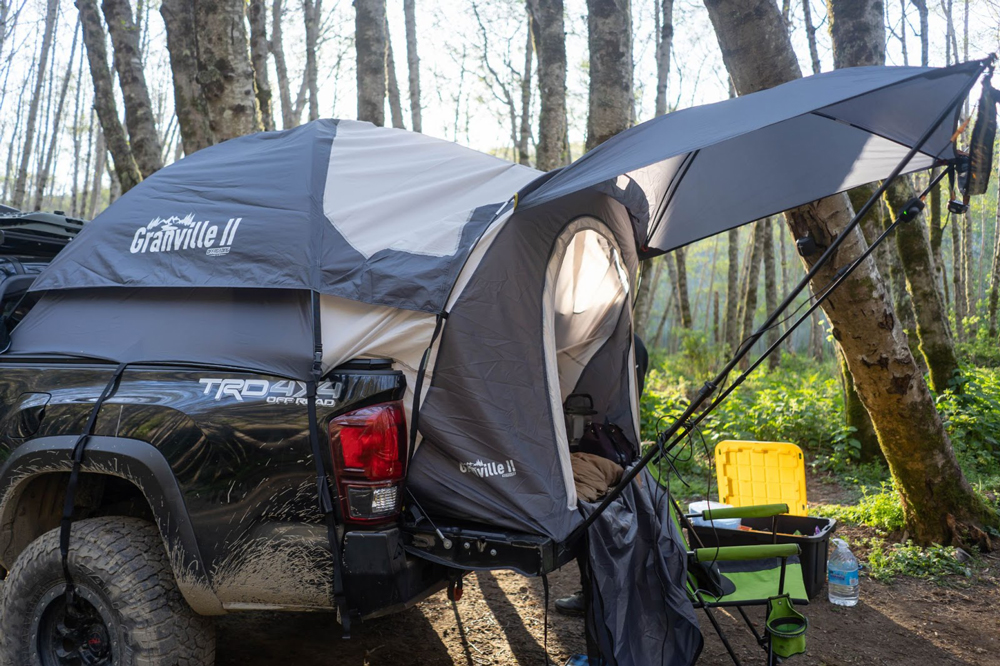 Offroading Gear Truck Bed Tent: Grantville II Review – Fits 2nd & 3rd Gen Toyota Tacoma
Let's take a look at the Offroading Gear truck tent, the Granville II. It's a tent, for your truck, that simply sets up inside your pickup bed in minutes so you don't have to sleep on the ground. Offroading Gear is a Canadian brand creating cool and useful products for offroaders and overlanders, alike, to enjoy the outdoors. They also make recovery gear such as soft shackles, recovery ropes, snatch straps, and full-blown recovery gear kits.
This tent is a great way to keep you off the ground without spending thousands of dollars on a setup like you would with a rooftop tent. Setup is extremely simple, no different than a ground tent, which means you can set up camp wherever you want. It's good to note that while this article focuses on the Tacoma, this tent is universal and will fit any 5-foot or 6-foot truck bed.
One of the nicest things about this tent, compared to a rooftop tent, is the size and weight. The lightest rooftop tents weigh around 100 lbs and the heavier options about 200 pounds, and that's a lot of weight to have on top of your truck. The truck bed tent weighs less than 10 pounds and is stored in a compact bag. It's also relatively cheap at just over $200. Your MPGs, and your wallet, will thank you.
Find It Online
Offroading Gear Granville II Truck Bed Tent 5.5 Foot Bed: Check Price
Offroading Gear Truck Bed Tent 6.5 Foot Bed: Check Price
Features & Specifications
This little tent has quite a few awesome features.
It's large enough to fit two adults comfortably, and potentially a child or even two. The tent itself is made from a durable 210 polyester and a UV coating to help protect your tent for years to come. At under 10 lbs, this tent couldn't be any easier to carry.
Setting up the Granville II only takes a few minutes and can be done solo. Instructions are built into the tent's carrying bag, so you'll never lose them. The fiberglass tent poles are also color-coded to make setup a breeze.
The tent has an integrated waterproof floor and a rear access window that allows easy access into the back of your truck cab. Elastic straps help make securing the tent a breeze, and the removable rainfly enhances tent ventilation. And to top it all off, the tent comes with a 1-year warranty.
Different Sizes for Different Length Beds
One of the things that stood out to me about the tent from Offroading Gear is that they have different sizes available.
They offer two sizes, one for a 5.5-foot bed and one for a 6.5-foot bed. This is a nice feature because you won't be limited to one size depending on what length bed you have on your Tacoma, or any other truck for that matter. The listing for the fitment for 5.5-foot and 6.5-foot beds seems odd, but this is only to account for the extra length added when having your tailgate open.
Install Overview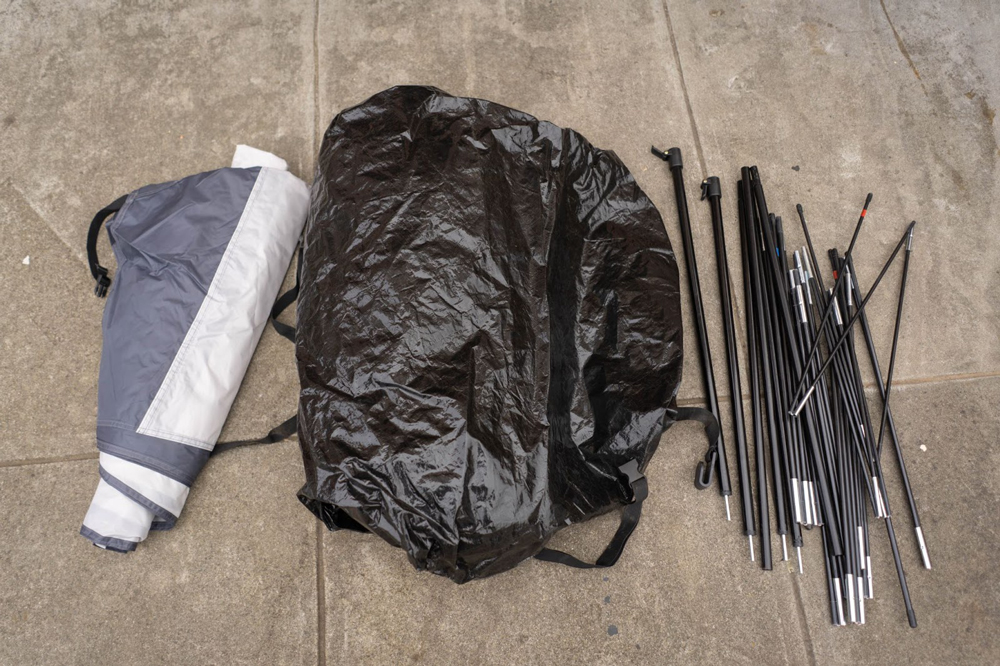 This tent was really easy to set up, and if you're still having issues after reading this post, and need any additional help, Offroading Gear has a great video and instructions on their website.
There are a total of three poles to give the tent its shape and structure with four more for the front awning. These poles are all color-coordinated with the color-stitched pockets, so you don't have to go back and forth trying to find which one goes where. This helps to make setup a breeze!
Step 1. Install Blue Marked Tent Poles
The blue poles are the first ones you will be using, giving the tent its shape and crisscrosses from the corners.
These poles will end up in the pockets on each corner of the tent which holds them in place. Once those are in, your tent should have its basic shape.
Step 2. Install Green Marked Tent Poles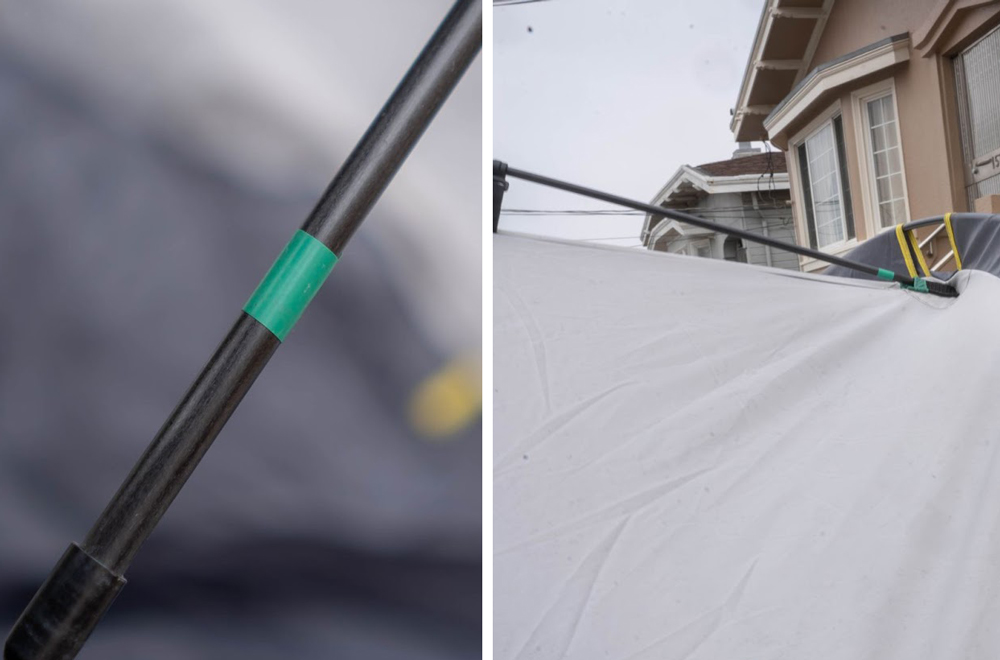 After that, you will have the green marked pole that runs across the top of the tent down the middle, which gives more shape to the tent and structure.
Step 3. Install Yellow Poles
After the green-marked poles are in, you will grab your yellow poles to give the front/opening side of the tent some shape. This will ultimately end up being your door/entrance to the inside of your tent.
Once you have that setup, then you should be able to lift the tent up into your bed. The tent is pretty light and the poles give it enough rigidity so that it doesn't collapse on itself.
Step 4. Strap Tent to Truck Bed
From here, you can then strap the tent down to your bed using elastic straps with plastic hooks on them. You can hook these straps onto what you feel is sturdy enough to hold the tent down. In my case, I used the lip of my wheel, the bottom of my fender, and the bottom of my bumper.
These are adjustable and can be tightened down with an adjuster that is hidden in a little pouch which is designed to protect your paint. A couple of straps go around your tailgate to cinch down the tent there and help provide support to the opening.
Step 5. Assemble Awning with Red Poles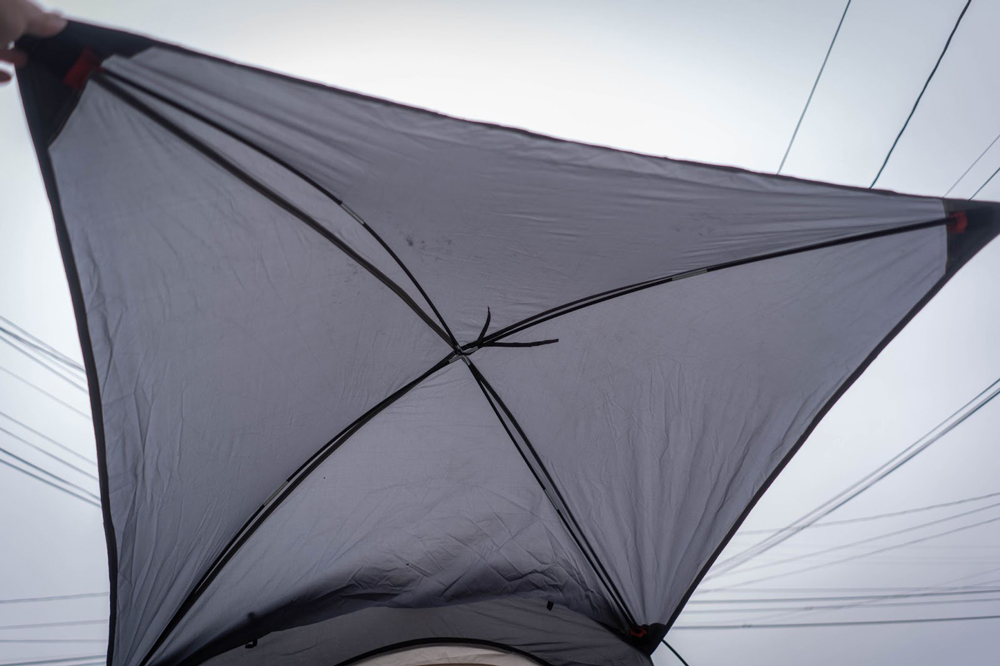 With the provided red poles, you can start giving the awning some shape if you decide to purchase one.
The poles should make an X over each other rather than come straight out in parallel.
Step 6. Install Awning Supports
Now that the awning is assembled, two more rods will hold the awning up.
These rods fit into small eyelets placed on the outside corners of the awning and down on the tent by where it's strapped to your tailgate. These rods are adjustable by a plastic clip in the middle.
Step 7. Install Rain Fly (Optional)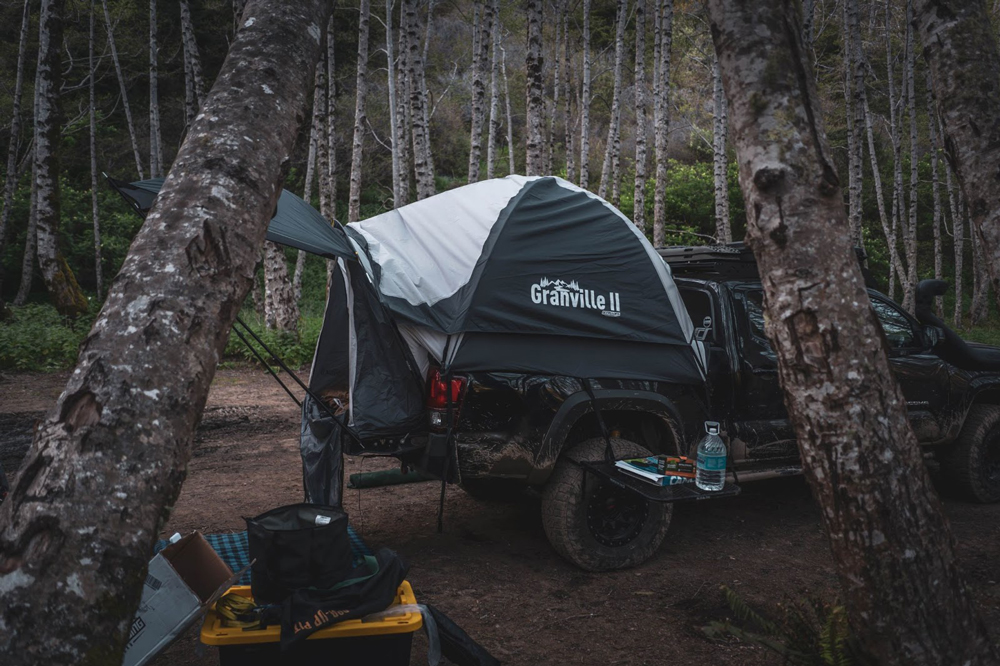 Depending on what the weather looks like, you can decide whether or not you want to install the rain fly. This goes over the top of the tent just like on a traditional tent and is held on by straps with side release buckles. Once the rain fly is on, you're good to go.
Although this tent setup was doable with one person, it is really nice to have another person help lift the tent onto the truck bed. I personally put it together by myself for the first time in about 20 minutes, and when doing it for the second time, it took me about 15 minutes.
Living the Truck Tent Life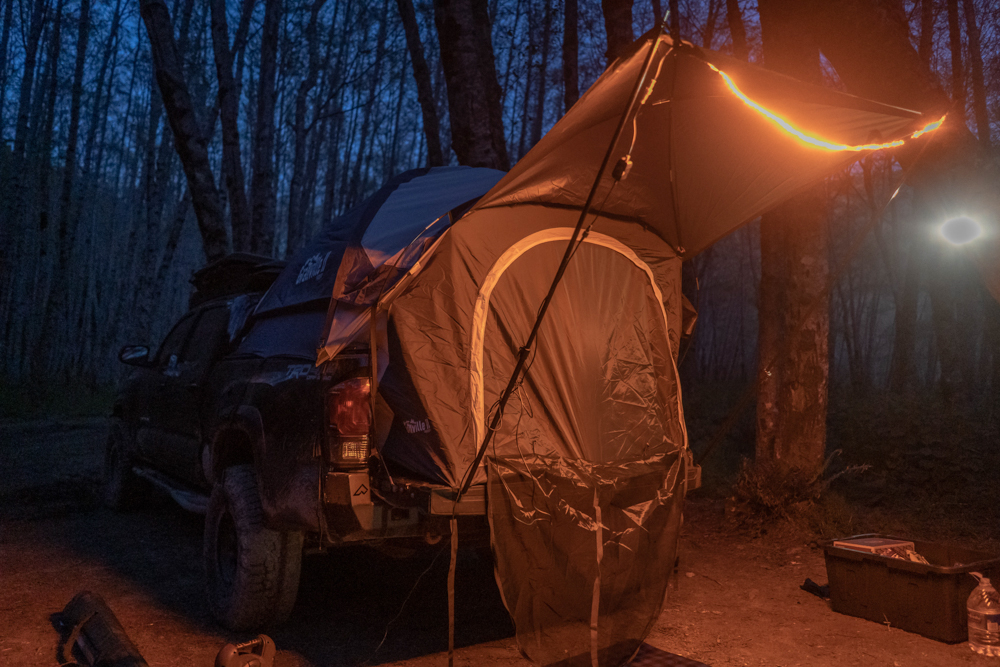 This is an easy-to-use alternative to your typical ground tent that won't break the bank. It has nice side pockets on the inside to store your phone, keys, flashlight, etc.—which is nice so you're not fumbling for any of those loose items in the middle of the night.
Above you, there is a little net that clips on and is great for holding a small light and a little hole in the middle. This little net was great for holding my little work light giving me light to get myself comfortable for the night.
Sleeping Arrangement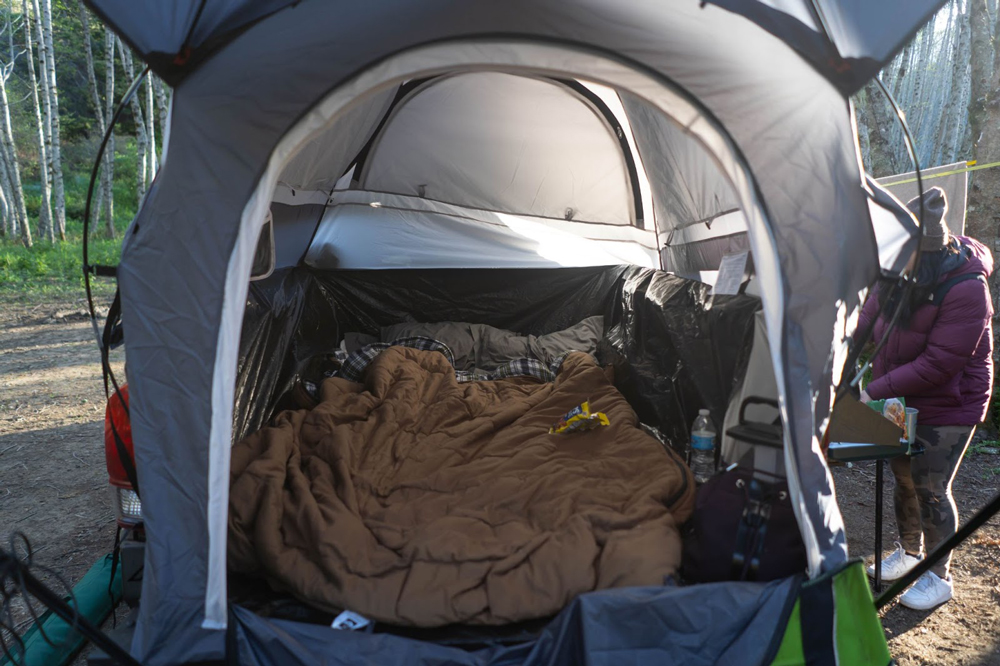 Of course, depending on the size of your bed it will differ on how comfortable you are sleeping in it. In my Tacoma with a long bed, my girlfriend and I slept perfectly fine in it together. There was plenty of headroom to sit up in it and read or check our phones and whatnot. Also, since the tent goes over the side of the bed a bit and utilizes the tailgate in the down position, it gives you more room and a better feeling. Before this, I would sleep in my Bestop soft topper and would often find myself without enough headroom when trying to move around or sit up and almost feel a bit cramped, especially since I'm almost 6 feet tall I would just fit in the length of the bed.
Now sleeping during the night was not bad at all. My first time using the tent was on a Northern California coastal camping trip, which got a bit chilly and windy at night. With the right sleeping bag, I was warm and cozy and slept pretty comfortably. Even with the wind that night, the tent held up great—it didn't shift or lose its shape or anything. Like any tent, setting it up in the wind would be less than ideal.
When it came time to break the tent down, it was an even quicker process. The tent rolled up nicely to fit into its own carrying bag which made storing the tent in the bed very easy. Since no tools are needed during the setup, there was no need to whip out that hammer or anything to break the stakes loose in the ground. I had the tent taken apart in about 5-10 minutes and another 10 minutes to roll up everything nicely and put it away properly.
Final Thoughts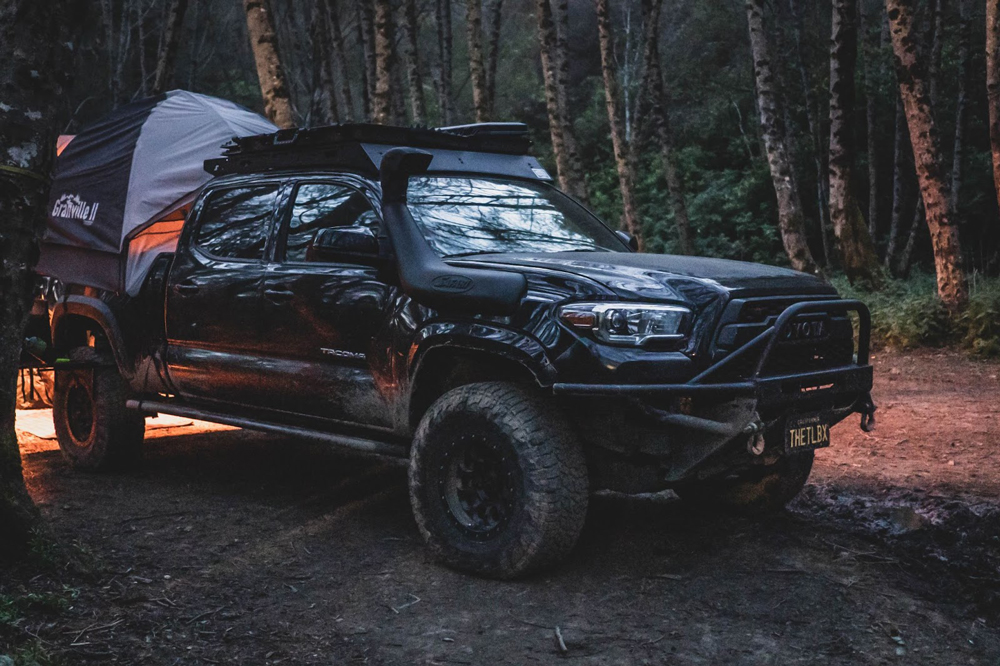 The Offroading Gear truck bed tent is definitely a nice option to consider when thinking about alternative ways to sleep while camping. The quality is good, and it kept me warm through the night. Not to mention the super simple steps to put the tent together makes it a quick and painless setup.
The only downside to this tent is that your bed has to be empty to use it. I am used to using my soft top to protect my belongings from the elements while off-roading and wasn't able to use it on this trip. I did try it out back at my house with the soft top down, and it appears it would work, but it would definitely be a tight fit.
The only recommendation for Offroading Gear from me would be to put a sturdier zipper on the front door as it felt a little lacking for something that will be opened and closed often. Other than that, I am super impressed with this tent. I can't wait to really break it in over the summer and see what it's all about.