Complete Review & Overview – DRT Fabrication Hitch Skid with D-Ring Receiver Mounted on 3rd Gen Toyota Tacoma
Fairly new to the off-road scene, DRT Fabrication specializes in high-quality off-road armor and accessories designed and built-in Gilbert, Arizona. They quickly became one of the more popular Tacoma aftermarket fabricators for their unique designs and perfect welds.
DRT's triangular design style is a recurring theme seen across all their products helping them stand out among other brands. With rock sliders coming soon and their universal hitch skid, cab mount relocation kits, and bed stiffeners already available, we're excited to see what's next to come from DRT.
DRT Fabrication Hitch Skid with D-Ring Receiver Review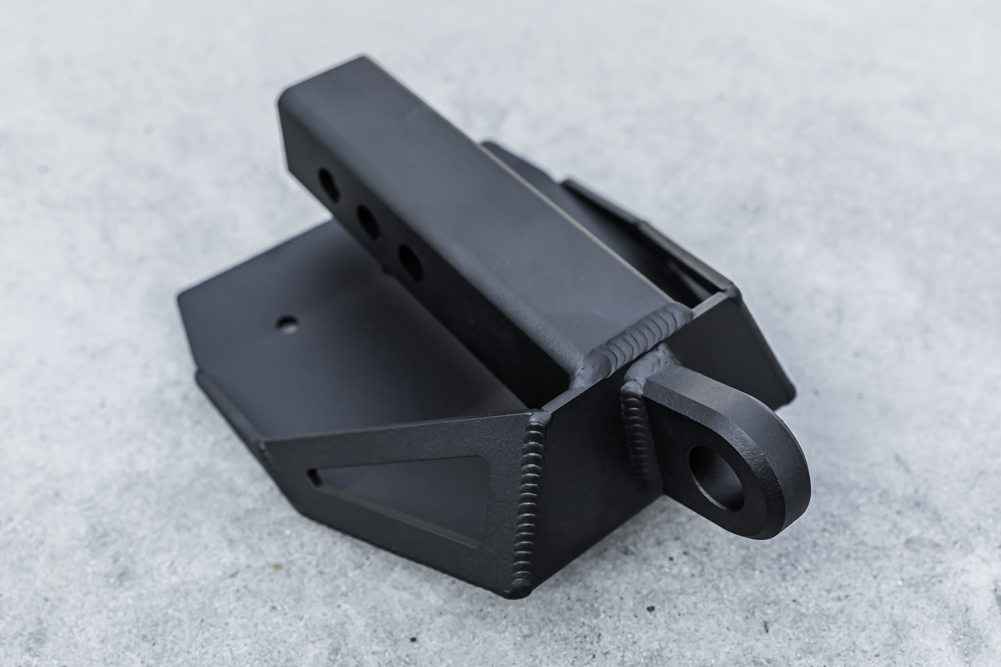 The DRT Fabrications Universal Hitch Skid protects your factory hitch and bumper from trail damage when crawling steep obstacles.
This hitch skid is compatible with most 2" hitch receivers and uses a standard 5/8″ hitch pin with three holes for adjustable mounting positions. This means it can fit not only the 2nd & 3rd Gen Tacoma but also many other tow-capable Toyotas.
This hitch skid features black textured powder coating, thick 3/16" plate steel and 1/4″ square tube construction, along with a D-ring tab recovery point for 7/8″  shackles and a curved skid plate design bending towards the back to help eliminate the possibility of catching on obstacles.
Lead time for production is around 2-3 weeks and it retails for an affordable $185.
Find It Online
Wheelbase, Departure Angle & Breakover Angle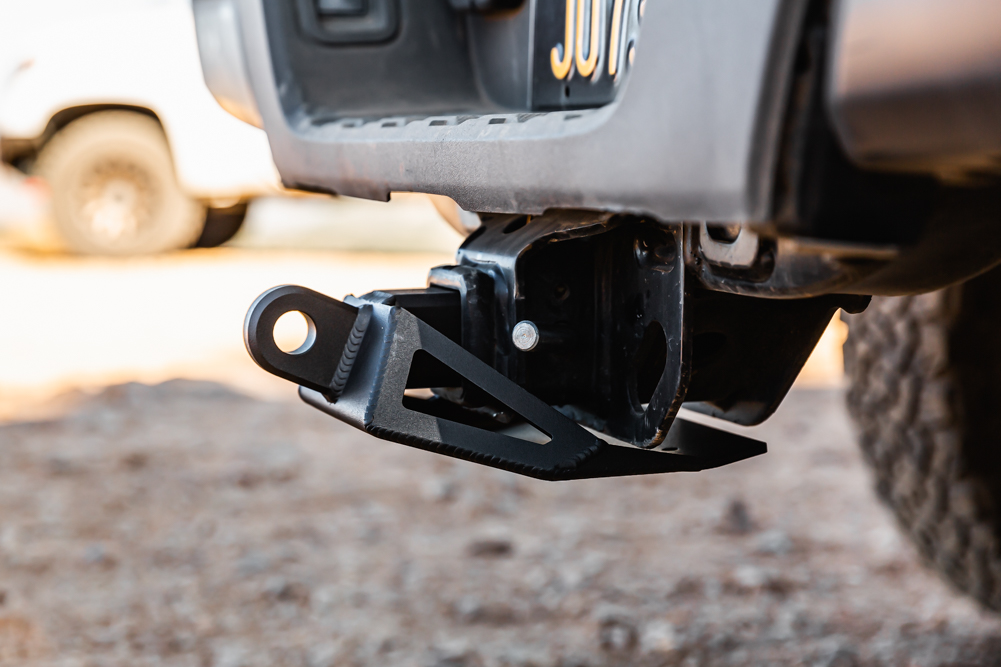 Tacomas, along with any other mid-size truck, are known to have bad departure angles, causing the rear bumper and hitch receiver to drag when ascending or descending steep obstacles.
This is caused by two factors. The distance the truck bed extends past the rear wheels, and more importantly, the overall wheelbase (distance between the centers of the front and rear wheels) is a little too long for tight, rocky terrains.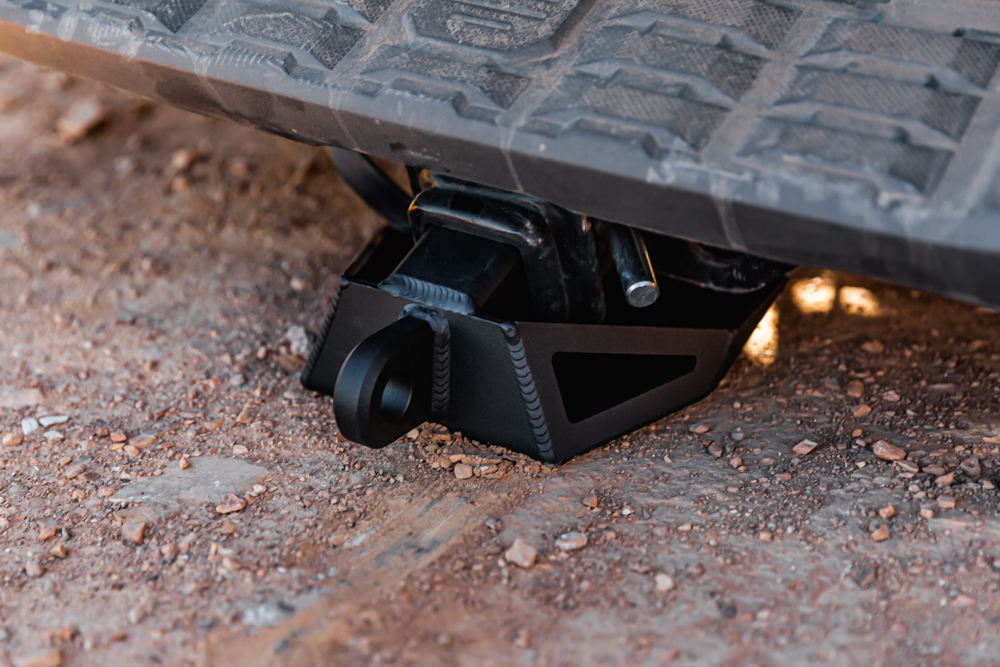 FJ Cruisers and 4Runners however have a shorter wheelbase allowing for better turning radius and departure angles. There are cons to a shorter wheelbase, like rollovers, most notably.
The closer together the axles are, the higher the risk of a rollover when off-roading. Short bed and access cab Tacoma wheelbases are in the sweet spot, spreading the weight around adding stability for less risk of a rollover.
Ultimately, the truck is limited to its wheelbase and bed length. The most common methods, like suspension lift and oversized tires, help to improve the Tacoma's overall departure and break-over angle (the maximum angle you can drive over an obstacle without scraping the bottom of your truck).
A bigger break-over angle also helps avoid high centering (when making contact with the bottom of your truck and all four wheels lose traction). Most options to protect the rear end or further improve break-over and departure angles are pretty expensive and require heavy modifications.
All that being said, it doesn't mean the Tacoma can't hold its own or even outperform against 4Runners and FJs alike, it just means slightly less maneuverability in tighter spaces, and the rear end can get bumped around a little more.
The Hitch Skid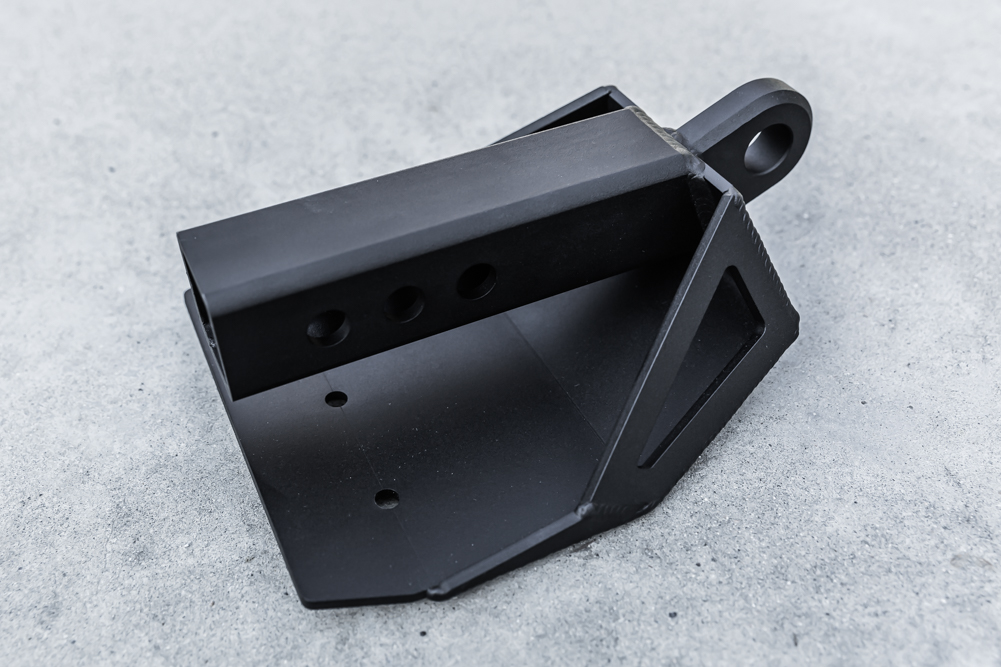 The lowest point on the Tacoma's stock rear end is the hitch receiver. In some cases, when driving up or down a steep obstacle, the receiver drags on the ground or drops down on things like rocks and ledges.
Usually, only the receiver makes contact but there are times when the terrain can be uneven enough to damage the bottom corners of the bumper as well. This can be avoided for the most part depending on the line you choose…or stacking rocks, but that's no fun, right?
The DRT Fabrication hitch skid plate fully protects your factory hitch receiver with a curved design bending up towards the front to prevent it from catching on obstacles. The departure angle of the skid plate makes for a smoother transition up and down steep surfaces.
Although it can't protect the bumper corners in every situation, it helps reduce the risk of damage by creating a contact point farther away from the bumper's edge. Three holes allow for adjustable mounting positions in the receiver as well. If you're only driving green- and blue-rated trails, you'll rarely encounter that bumper corner issue.
The recovery point on the DRT skid is a convenient feature and an added benefit allowing the skid plate to remain mounted when using steel shackles (D-rings) or synthetic soft ropes shackles.
No need to remove the skid or carry an extra hitch-mounted shackle block to use the receiver during a recovery. The angle of the ring on the skid is tilted upwards only slightly compared to a regular hitch-mounted D-ring to maintain the departure angle of the skid plate while still keeping shackles and ropes from rubbing the edge of the skid at lower angles.
Final Thoughts
As you can see in some of my pictures, I've scraped my hitch receiver a few times now and it seems to become a more common occurrence when I drive tougher trails.
I decided to mount the hitch skid to prevent further damage to my receiver and help keep the bumper corners away from the terrain. I've already used this skid a few times now on steep terrain, even in a recovery situation with ropes on the D-ring, and it handled it all with ease!
To me, this skid is the best looking of its kind on the market and a great budget option as an in-between mod to help protect the rear end.
It'll hold me over until I eventually upgrade to a high clearance bumper. All in all, it gives a little more peace of mind and lets me keep a cleaner-looking truck while still hitting harder trails.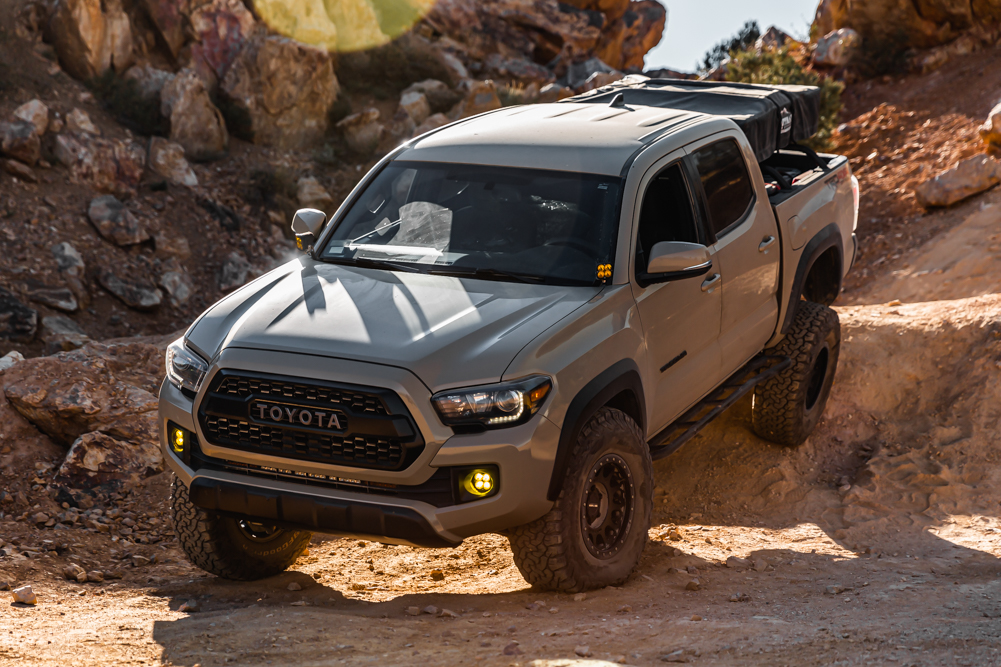 The DRT Fabrications universal hitch skid is a great-looking and affordable option for protecting your factory hitch receiver and rear end. Perfect for light to moderate off-roading and still capable in harder-rated terrain.
Whether you prefer the look of the factory rear end, only do moderate trails and the occasional steep obstacle, or need affordable protection while you save for something bigger like a high clearance bumper, the DRT hitch skid works great for all levels of off-roading.
Additional Image