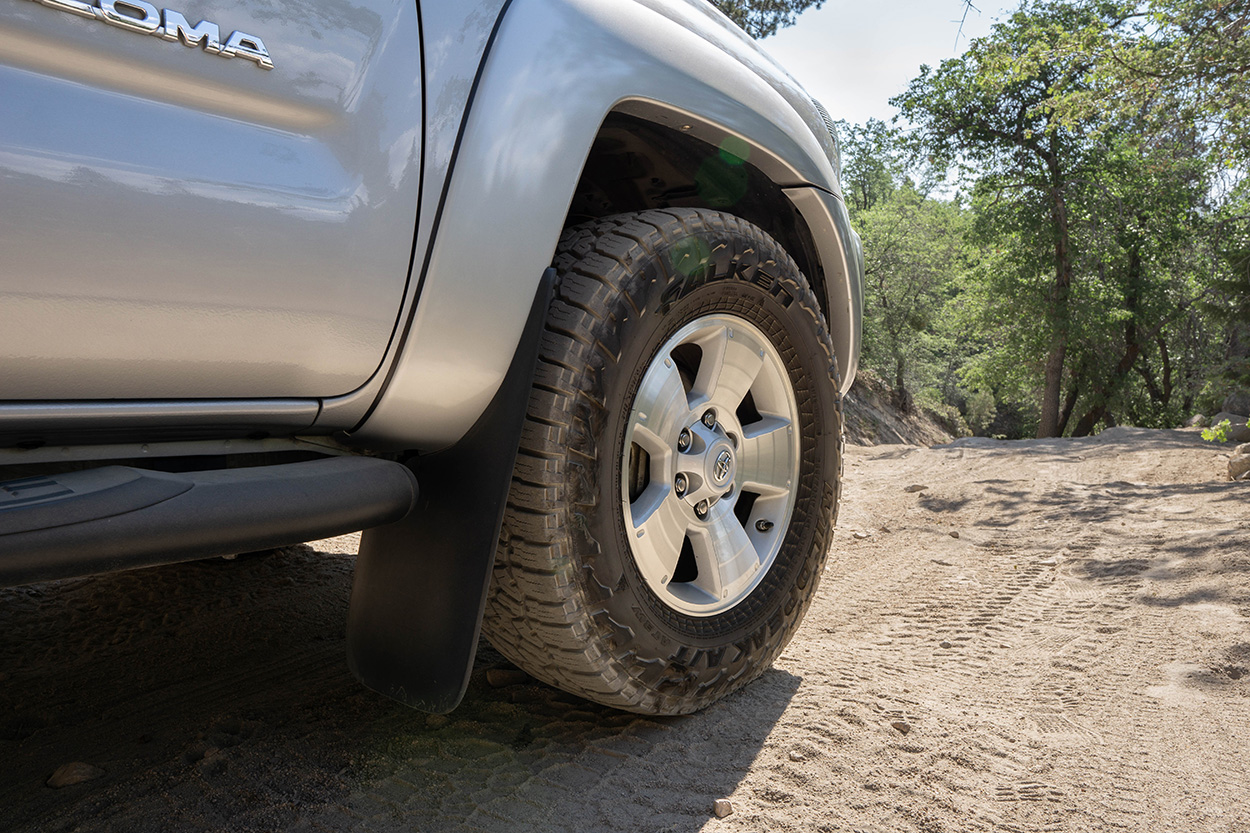 Complete 40,000 Mile Review & Overview – Everything You Need to Know about the Falken Wildpeak AT3W All-Terrain Tires on 2nd Gen Tacoma Prerunner
There are so many options when it comes to tires that it can become quite confusing. I wanted an aggressive-looking tire that was comfortable on day-to-day commutes with minimal noise, while also handling the off-road abuse that I put my tires through. For these reasons, I decided to go with an all-terrain tire, which is what I consider the middle ground between a highway tire (H/T) and a mud-terrain (M/T).
A tire that you have most likely heard of is the Falken Wildpeak AT3W. It is recommended by many people and also comes up as one of the first results when you search "all-terrain tires" on Google. Looking through different forums and talking to multiple people, the Falken Wildpeak was by far the most mentioned tire in the all-terrain category. Based on these recommendations, I decided to purchase a set, and now after two years and around 40k miles, I'm here to give you my full review and final thoughts on these tires.
Falken Wildpeak A/T3W

 Tires Review
Find It Online
Specifications & Features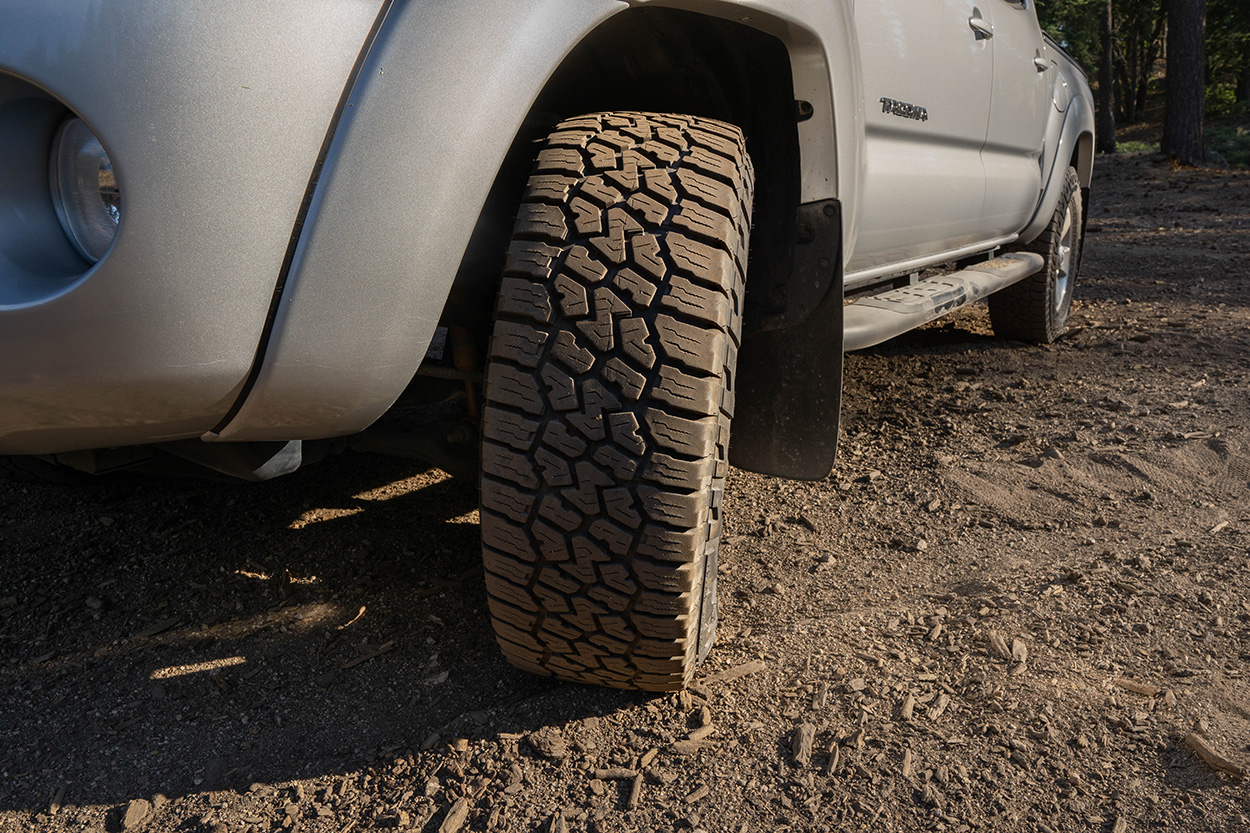 Here's a quick breakdown of these tires.
55K Mile Warranty
Free Road Hazard Protection

Free replacement for two years or first 3/32″ of tread

Three Peak Mountain Snowflake Rating

Superior snow performance

Class-Leading Tread Depth
3D Canyon Sipe Technology
Step-Down and Support Ramps

Tread durability
Prevents stones from being trapped

Silica Tread Compound

Great wear life and wet performance

Aggressive Sidewall

Provides traction at low air pressures
Protects tire from sharp rocks

Heat Diffuser in Lower Sidewall
My Personal Tire Usage & Needs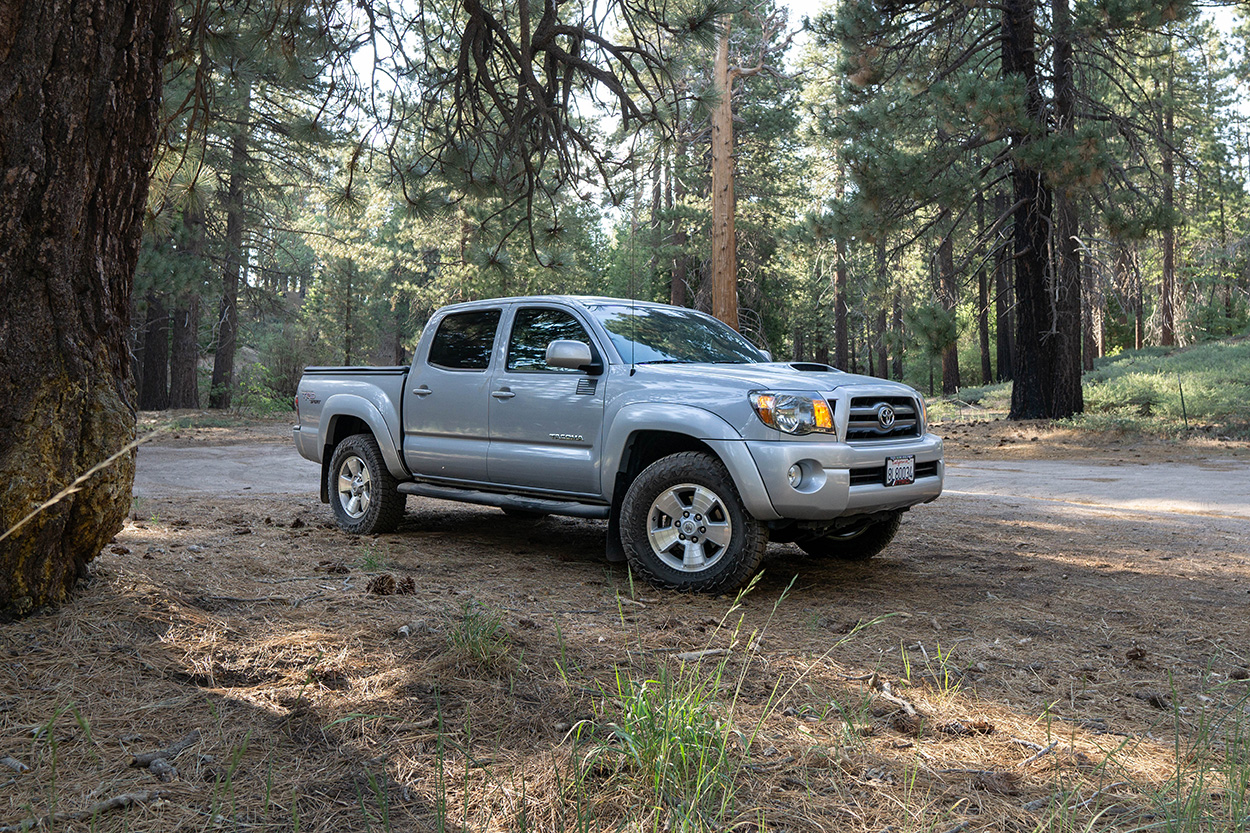 I commute between three different counties per week. I live in Riverside County but go to school in San Diego County. Then on weekends, I go to work in Los Angeles County. This means that I drive a lot! Most of my use is highway driving with some city driving mixed in too.
Normally, I go camping once a month but during holiday breaks, I do big road trips across multiple states involving a lot of off-roading. Being two-wheel drive, I really abuse my tires off-road since I have to spin a lot to get up some obstacles.
Adding all of this up, I drive around 20k miles a year on average. I normally rotate the tires at 5k miles while I'm doing an oil change on the truck.
Initial Impressions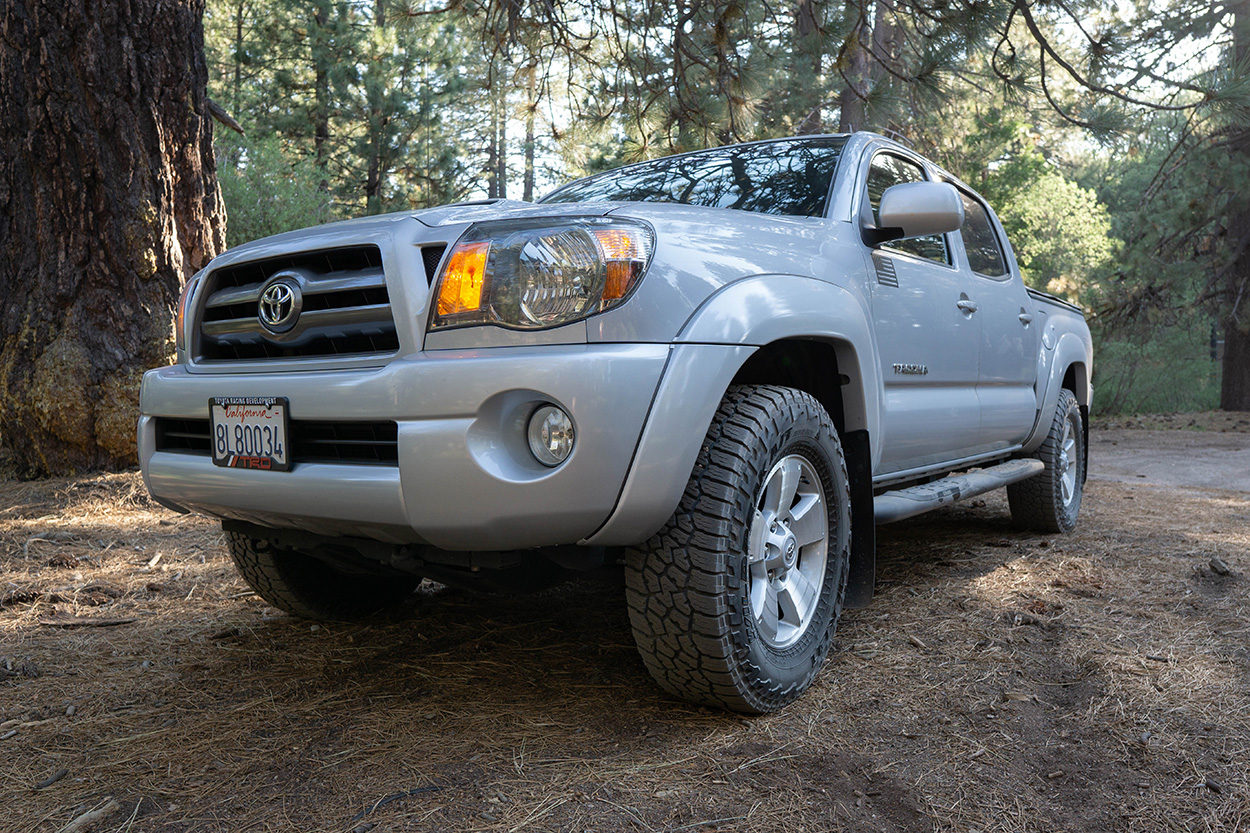 As soon as I saw the new wheels and tires put on the truck, I was in love. Even on the stock wheels, the tires made the truck look much more aggressive. At the same time as being excited about the looks, I was also worried about the road noise on the highway. However, when I hopped on the highway, I became excited once again since there was very little road noise.
I moved from the stock 265/65R17 size to a 265/70R17 in SL (standard load), which comes out to a 31.6" diameter. I did notice that the truck downshifted from 5th to 4th on some uphills where it never used to. I also hand calculate my mpg every fillup and noticed a 2 mpg reduction from what I used to get. I wasn't worried about it though because it is a truck after all.
Why Did I Choose a 265/70R17 SL?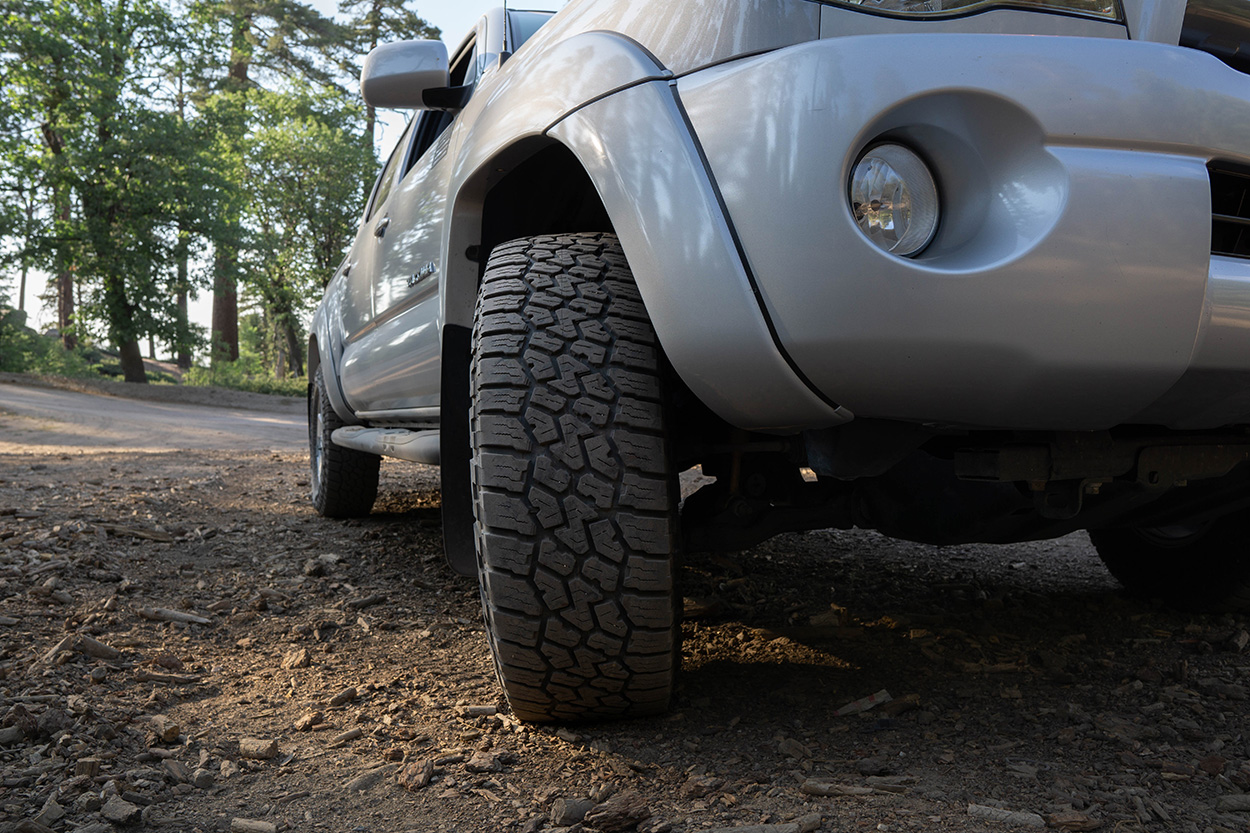 I specifically chose the 265/70R17 size because I wanted to get bigger tires than stock, but didn't want to do any cutting (how lame, I know).
I sometimes wish that I would have gone with a 275/70R17 just for the looks alone, but it would have come with a 10.5-pound penalty per tire. Knowing how much highway driving that I do, I just didn't want to face the mpg hit.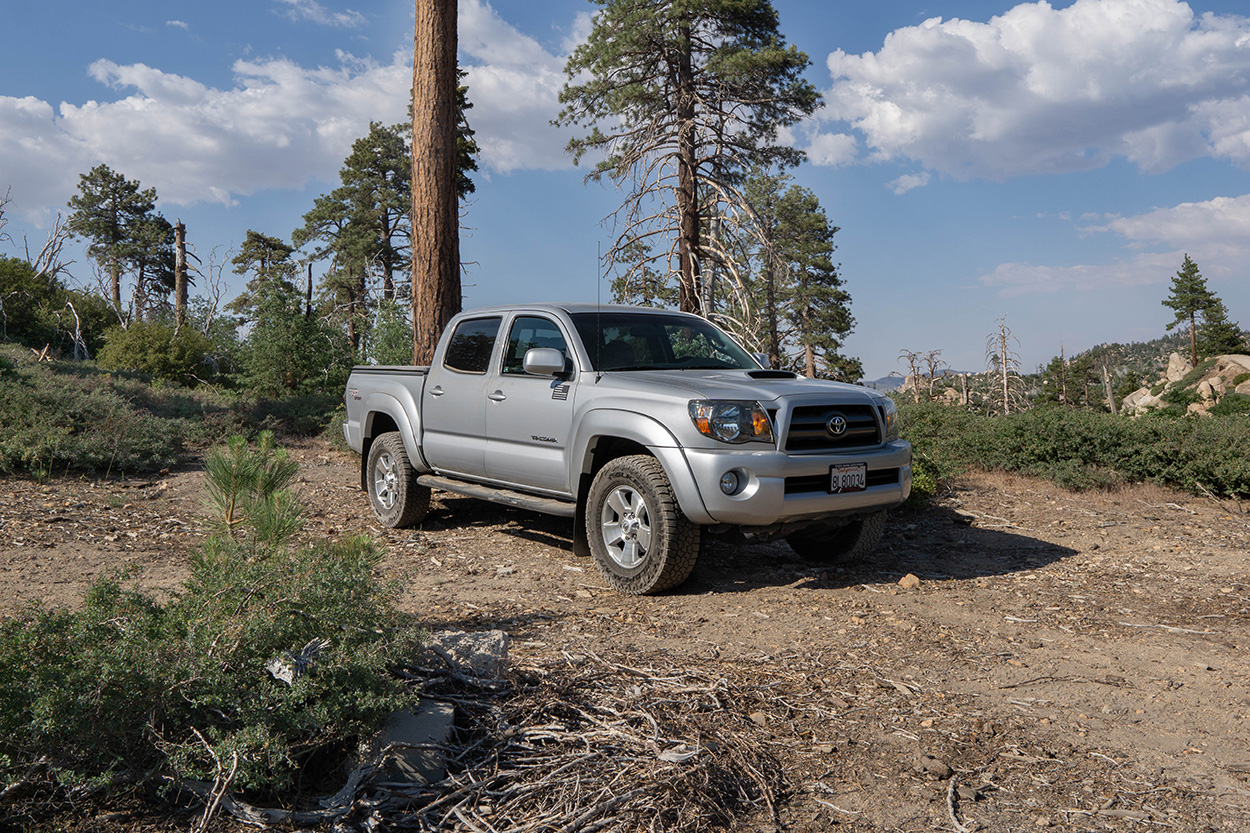 As for why I chose SL over an E load (10-ply), it again comes down to weight and the amount of highway driving that I do. 265/70R17 in an E load range would have ridden terribly on the road with how light our Tacomas are.
They also weigh 6.5 pounds more than the SL per tire. A great middle-ground would have been the 265/70R17 in a C load, but Falken does not currently offer this configuration. Overall though, the standard load versions have held up great for the type of off-roading that I do.
Overall Performance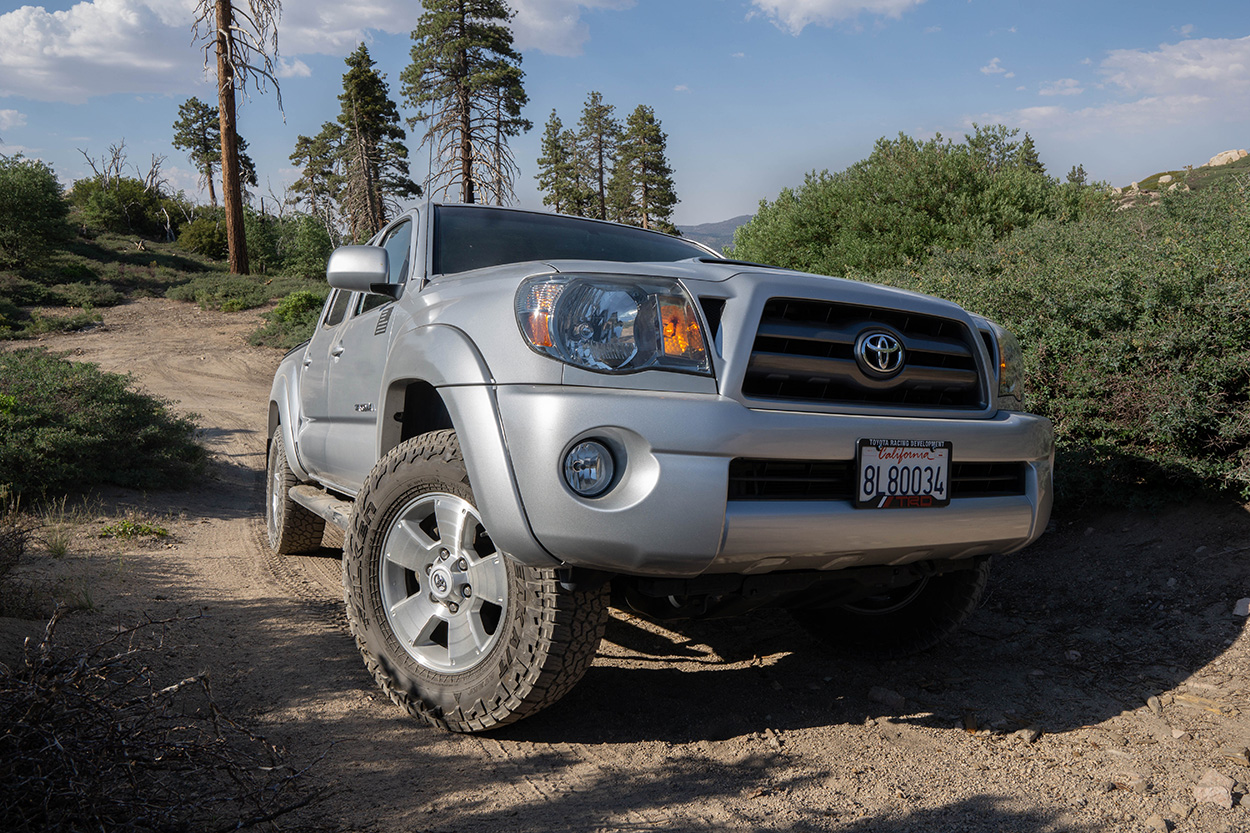 Off-Road
These tires are really impressive on the dirt. Aired down to 20 psi, I attacked obstacles that my two-wheel-drive could never complete with the stock H/T tire.
One of the main reasons why I got these tires was to get to certain campsites that were more difficult to reach. When I got to those campsites with these tires, I literally couldn't stop smiling. The best part was that feeling I got when I knew I made the right choice getting these Falkens.
Snow
My snow encounters are mainly on-road, but these tires performed amazingly in those situations. There is plenty of traction setting off from a stop and the truck felt stable through turns. With some common sense, braking also felt very assuring.
Overall, these tires gave me a sense of confidence when driving in snow. If you want the absolute best on-road snow performance though, no tire can compare to a dedicated winter tire.
On-Road
Any aggressive tire will make noise at highway speeds, and the Wildpeaks are no exception. Often I hear people say that there's no noise from the Wildpeaks, but I think that they're comparing it to other all-terrains when they say that.
The Wildpeaks are very quiet for an all-terrain, but you can still hear a small hum at highway speeds. However, music (at any volume) will quickly drown it out so the road noise is honestly nothing to worry about.
Rain
The Wildpeaks are astonishing in wet weather. I've never had any instances where I felt hydroplaning or slipping in the rain.
Wet performance was one of the main focuses when Falken designed this tire and it certainly shows.
Tire/Tread Wear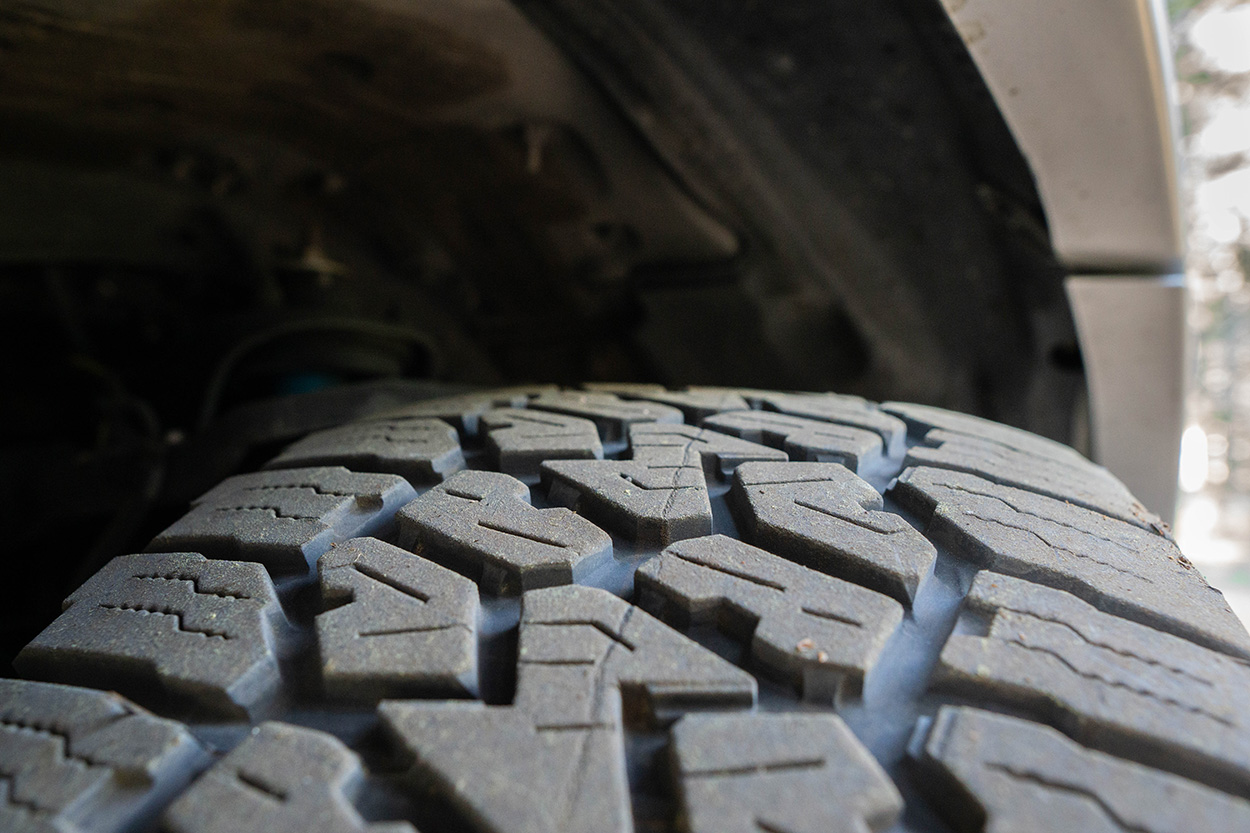 At about 40k miles, I measured 8/32" of tread depth still which is beyond impressive. I have not noticed any decrease in performance off-road or in wet conditions on the road.
The only downside I've seen as the tires wear is the increase in road noise. It is definitely noticeable at this point, but nothing that is annoying. Some low-volume music will still drown out the road noise.
Final Thoughts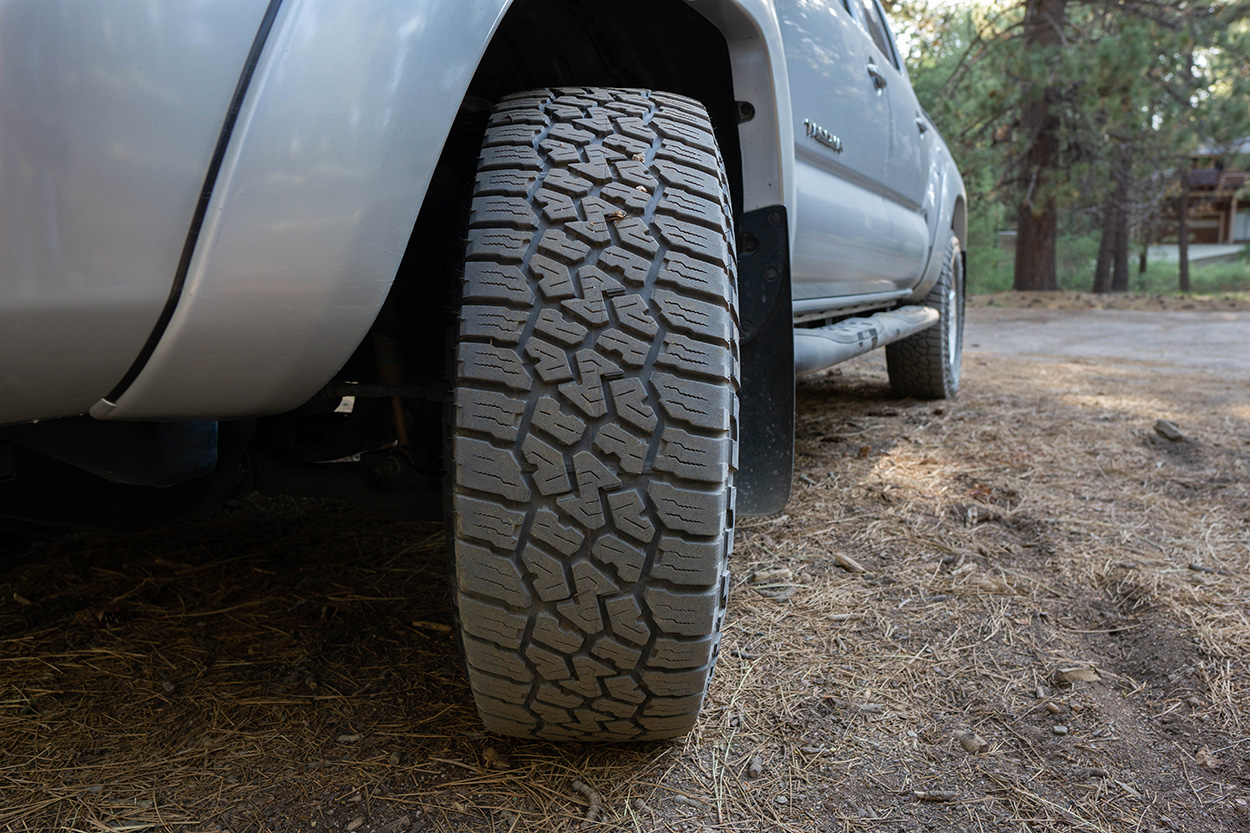 The Falken Wildpeak AT3W's have performed outstandingly in every situation that I have put them through.
From endless highway miles to abusive off-roading, these tires have been comfortable and held up to it all.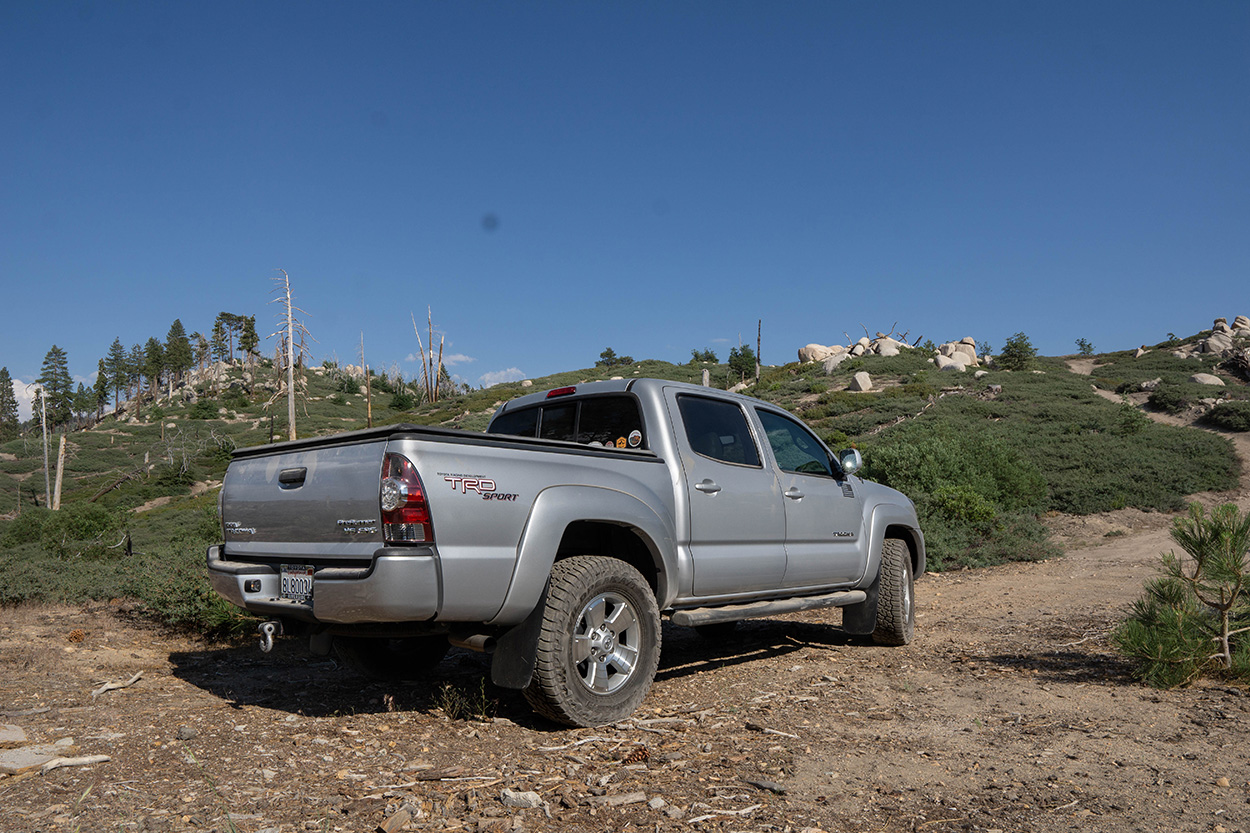 After running these tires for 40k miles, I can see why they are so popular.
When the time comes for new tires, there is no doubt that I will buy these Falken Wildpeaks again.