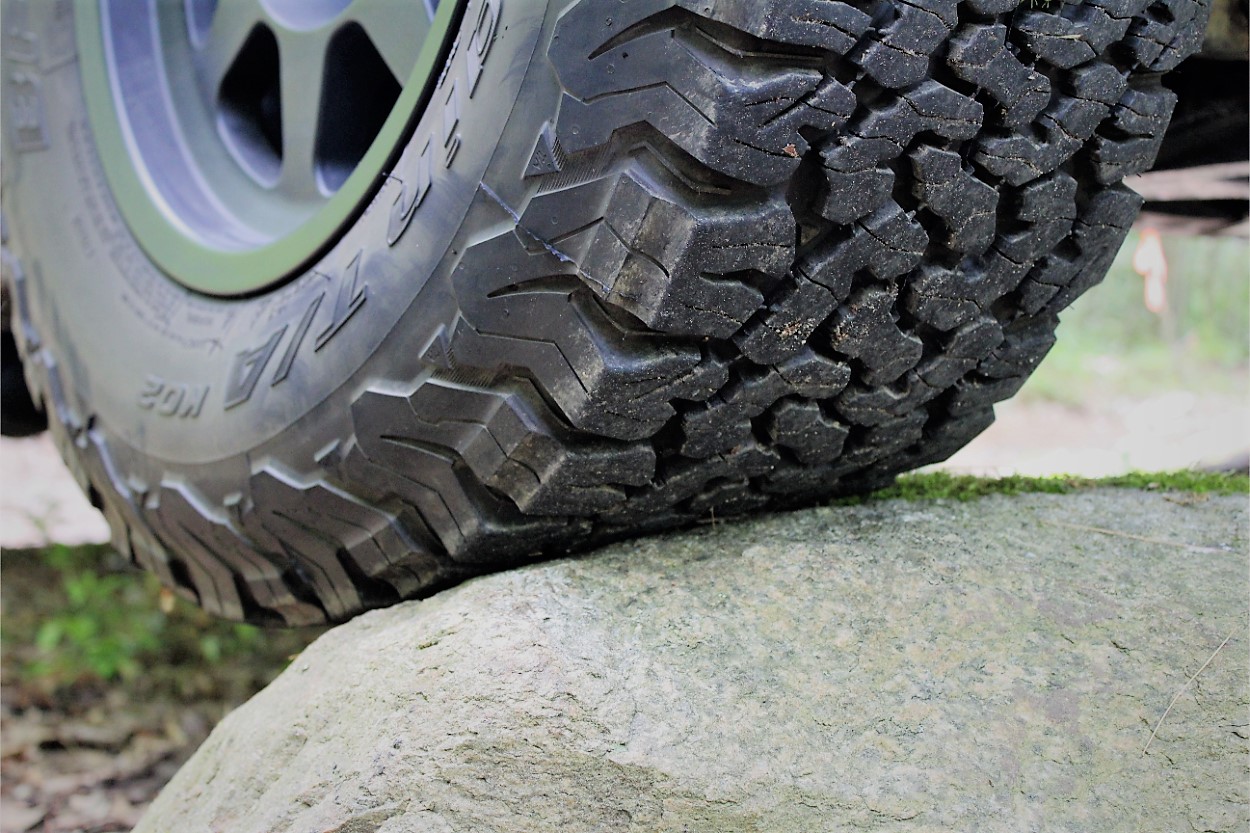 5,000+ Mile Full Review & Overview for BFGoodrich All-Terrain T/A KO2 Tire on Toyota Tacoma: Thoughts & Daily Driving Performance
Soon after the purchase of my 2018 Toyota Tacoma TRD Off-Road, I knew I wanted to swap out the stock wheels and tires. There are hundreds of options on the market today, but I didn't hesitate to go with the BFGoodrich All-Terrain T/A KO2 tires. I didn't even shop for other tires, that's how confident I was that these were the ones I wanted.
I've used the KO2s on previous vehicles, and I knew their performance would complement the overlanding rig I had started to build. Whether you're a weekend warrior or experienced overlander, the BFGoodrich All-Terrain T/A KO2 tires hit that perfect sweet spot between on and off-road performance, making them one of the best options for light trucks and SUVs.
Find It Online
Design Features & Specs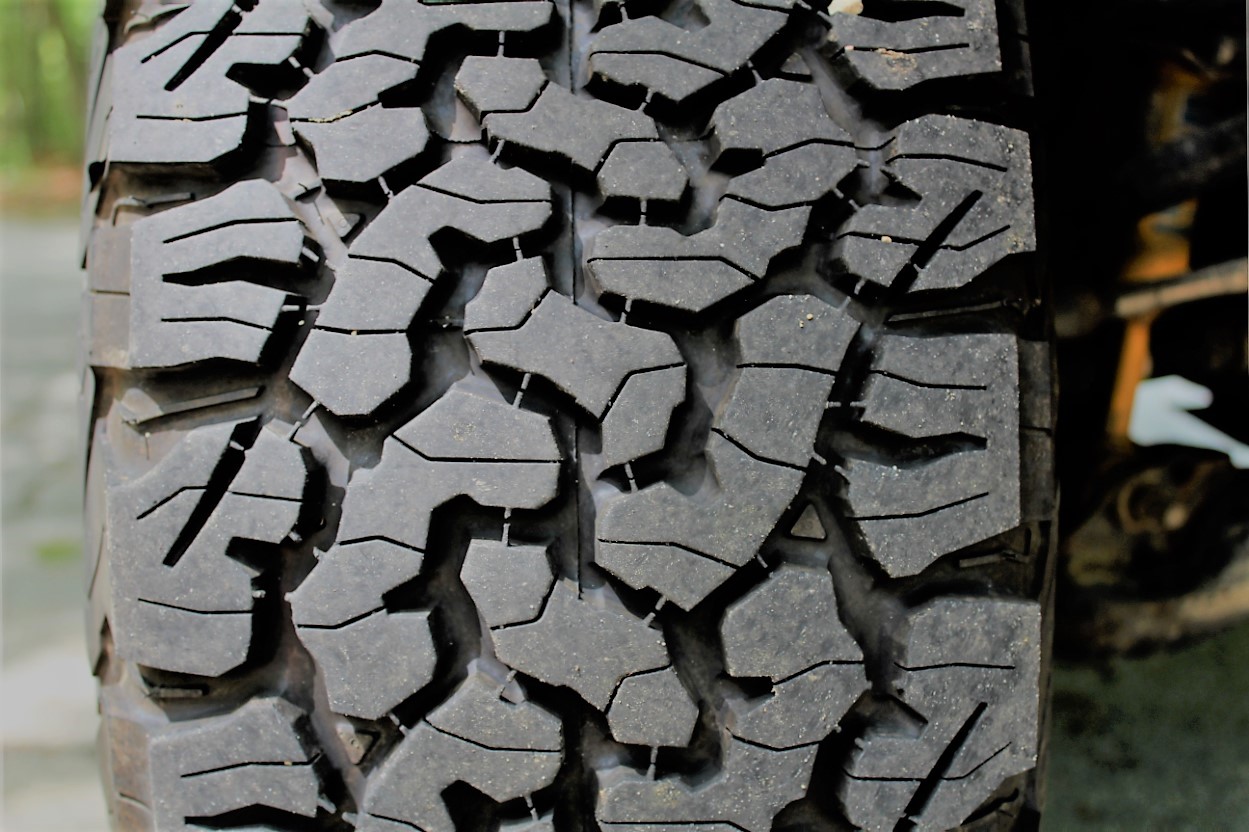 BFGoodrich really crushes the all-terrain category with the KO2s, which were released in 2015 after their ever-popular predecessor, the original T/A KO. The OG All-Terrain KO tire was so good that it's hard for me to imagine that the brand could further improve the design, but they did.
The major noticeable change from the original design is the tire's serrated shoulders. According to BFGoodrich, these new shoulders increase traction, especially when aired down, and they add stability and a biting edge on those snowy drives.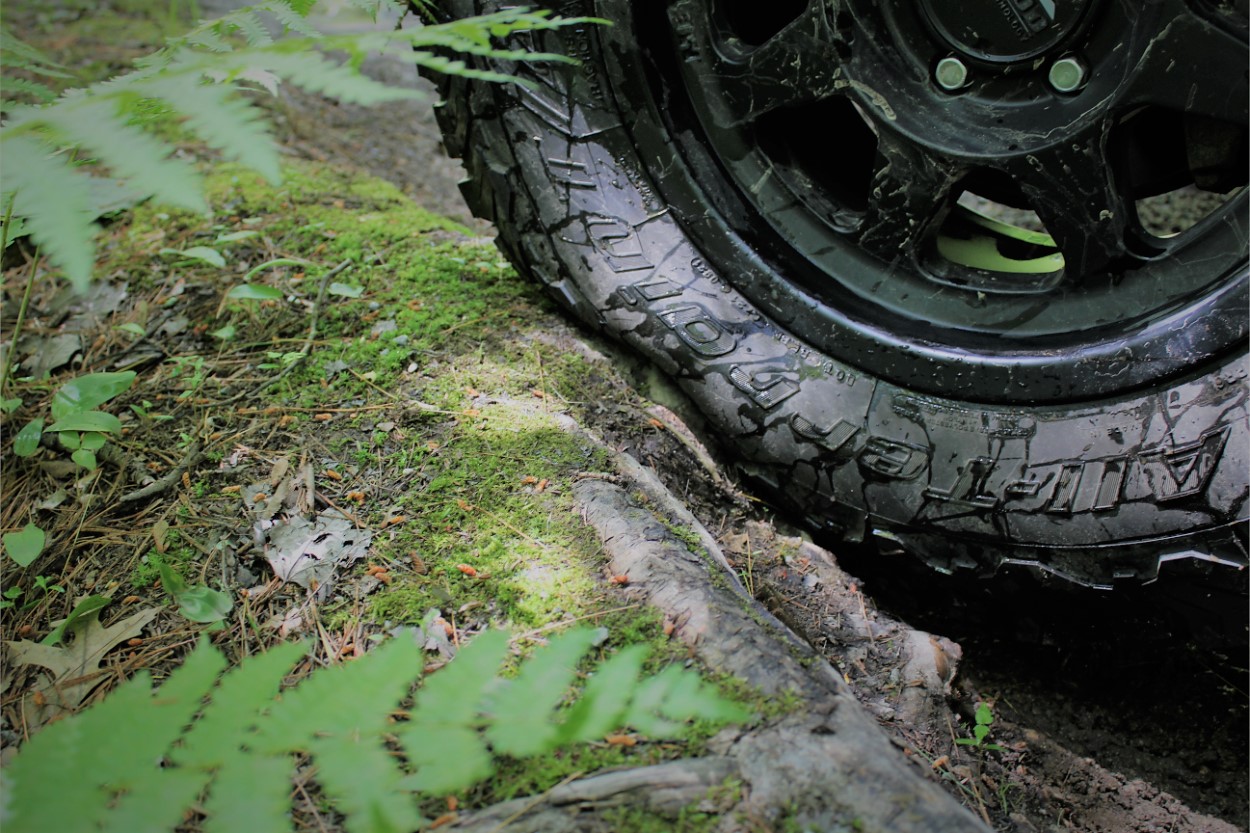 Speaking of airing down, one major concern when reducing tire PSI for traction is sidewall protection. The KO2's sidewalls are embedded with what BFGoodrich calls its CoreGard Technology, which provides a 20% stronger sidewall. Plus, the KO2s are labeled with BFGoodrich's "Severe Snow Rated" label. Living in New England, I can attest to how well these tires really do plow through the heaviest of snowstorms, keeping you safely on the road.
BFGoodrich backs its product with a 60-day satisfaction guarantee, a 6-year standard limited warranty, and a 50,000-mile manufacturer's treadwear limited warranty, giving you peace of mind throughout the life of the tire.
Aggressive Style You Want – Without All The Noise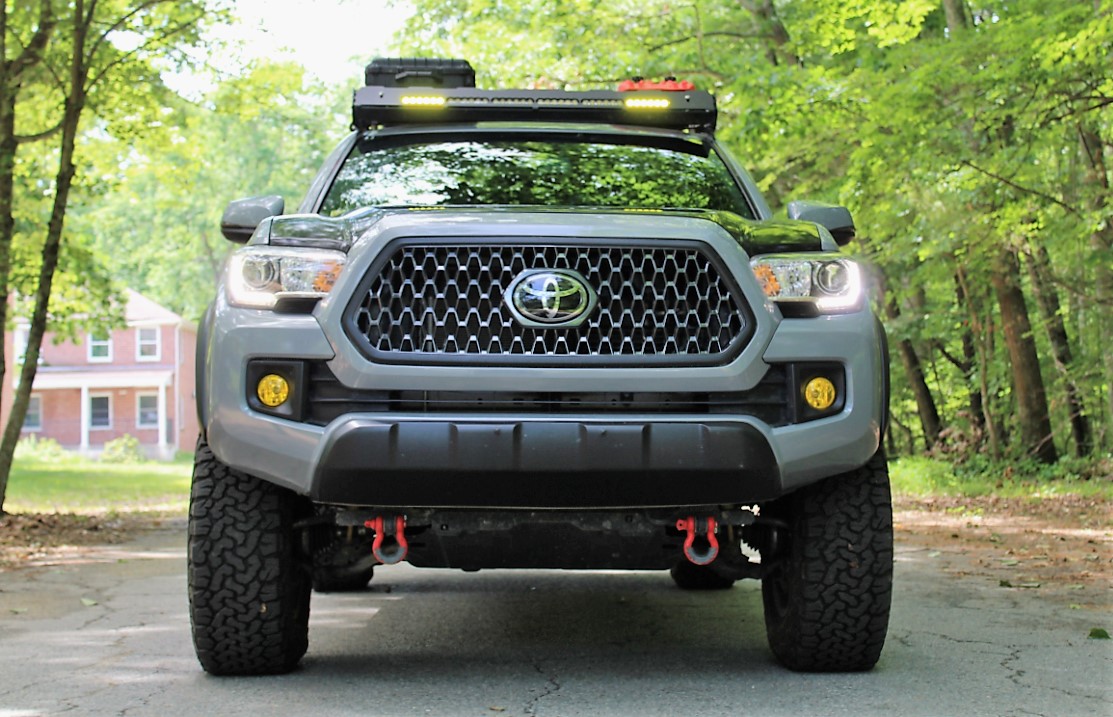 Let's be honest. We all want that aggressive mud-terrain tire look, but without the hum.
I'm a big fan of the KO2's younger brother, the BFGoodrich T/A KM3, and I love the look of its knobby, chunky tread pattern, which performs remarkably well off-road. However, the slight amount of road noise you get from the M/T tread on-road is annoying on long rides, and the humming gets more obvious as M/T tires wear down. That's not the case at all with the KO2s. I put over 60,000 miles on a previous set of KO2s with my old Hummer H2; those tires didn't show signs of age even until their last days touching the pavement.
Some KO2s come with white lettering on the sidewall, which I think is a pretty cool option if you're going after a more retro style. Not all sizes of the KO2 are sold with the white letter option, so keep that in mind when picking out your set.
On-Road Performance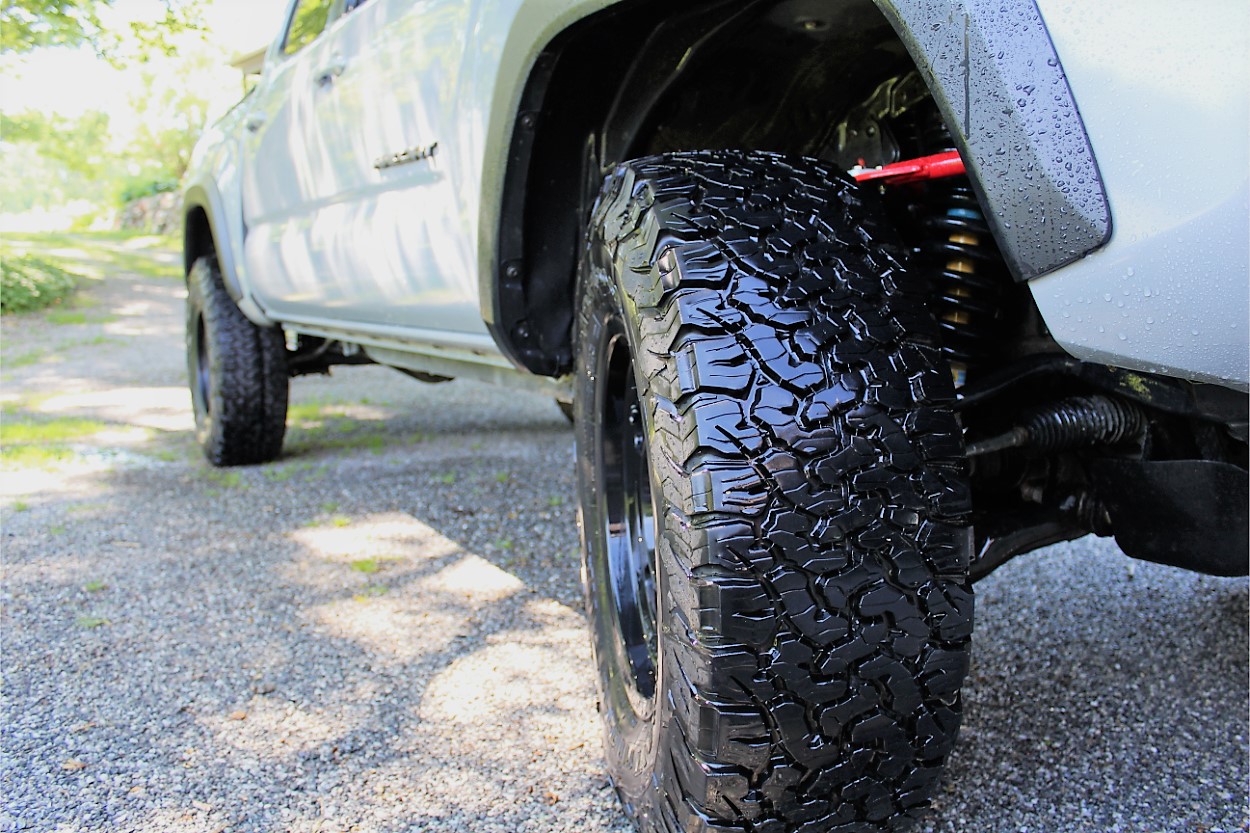 Most tires that boast great off-road abilities typically don't perform the best in daily driving, but the KO2 does not disappoint. A thicker sidewall keeps these tires from feeling washed out on my 60-mile round trip drive to work each day, which typically consists of 50% back road driving and 50% highway. Even when hauling a few sheets of plywood in the bed of the Tacoma, I don't feel any difference in traction or stability. Plus, the road noise is very good – there's no chatter at low speeds or even a hum at highway speeds.
By far one of my favorite on-road characteristics of the KO2s is their ability to maintain traction in wet weather. One of the main reasons I swapped out my stock Goodyear Wrangler tires is because they performed so poorly in wet or snowy conditions. I could feel them fighting for traction in the easiest of situations, and they never really gave me the confidence needed to drive comfortably in big rainstorms or the nor'easters (aka, intense snowstorms) that we get slammed with here in Rhode Island. On the other hand, the KO2's feel solid and planted to the ground, giving you the confidence that you can rely on your Tacoma in those crucial situations.
Off-Road Performance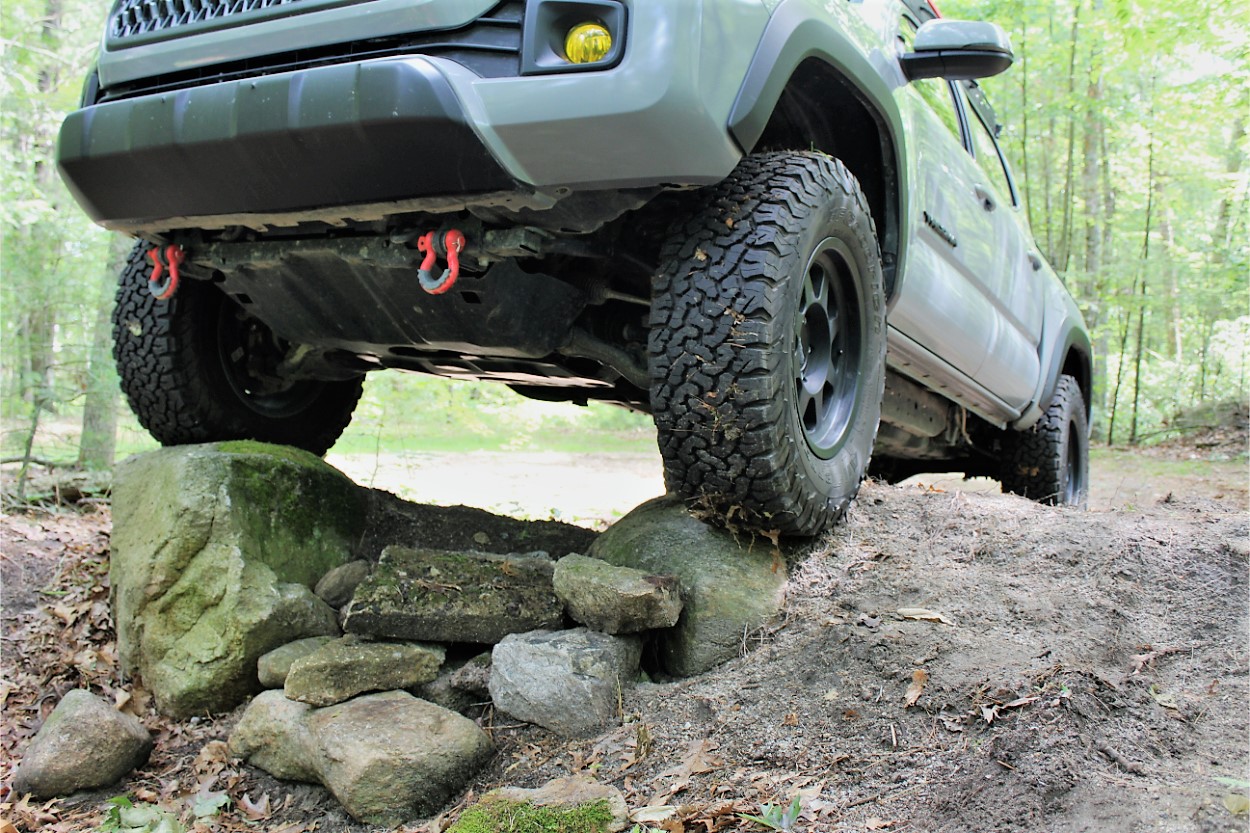 If you're anything like me, when you shop for all-terrain tires, you truly mean all-terrain. I need my tires to cover everything from dry pavement to snow-covered mountain passes and all that comes in-between.
On my most recent trip to the North Maine Woods, I spent just over 200 miles off-road, really putting these tires to the test. I can honestly say they did not disappoint.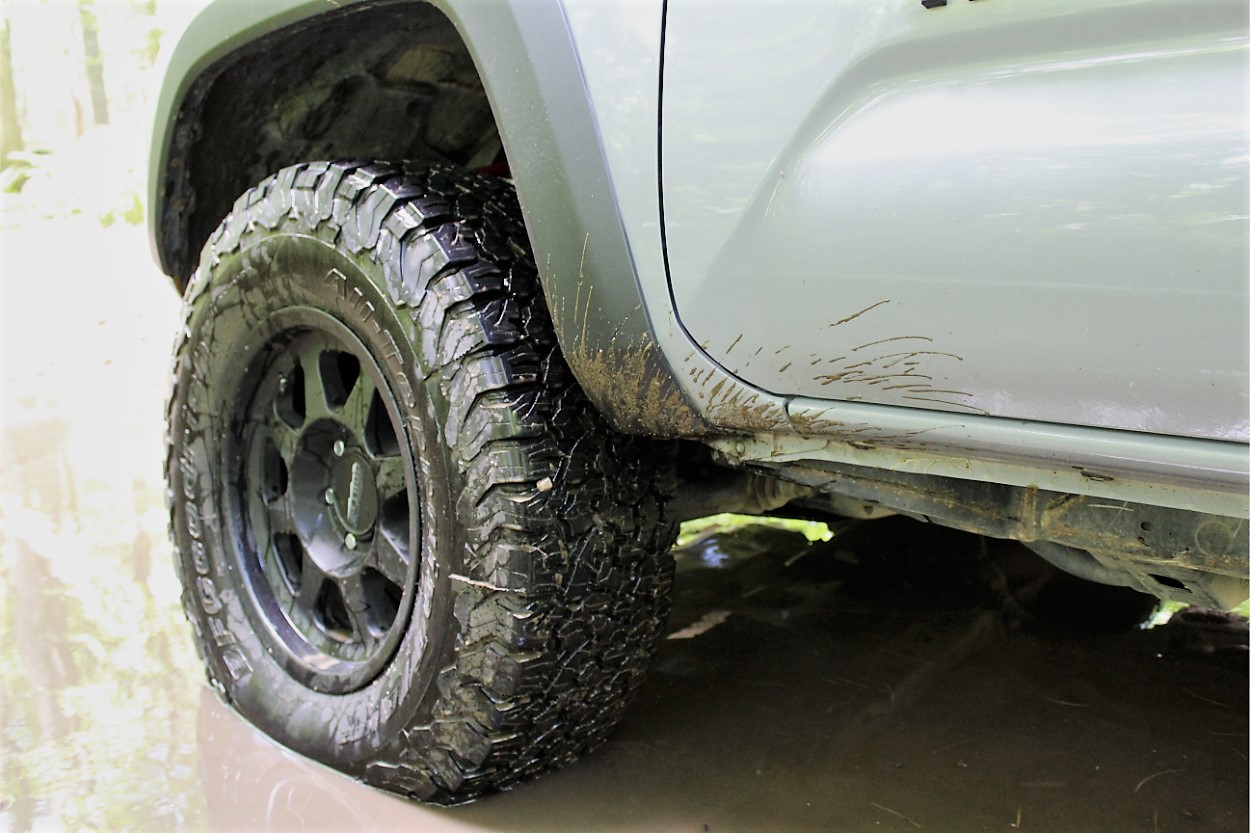 After airing down a bit, hauling down a rutted dirt road with a week's worth of camping gear in the back of the Taco was a breeze.
The KO2s proved their ability to maintain traction while through mud pits, never losing grip when their treads were filled with mud. Overall, I've found these tires have no problem maintaining traction in all different types of off-road terrain.
Sizes & Availability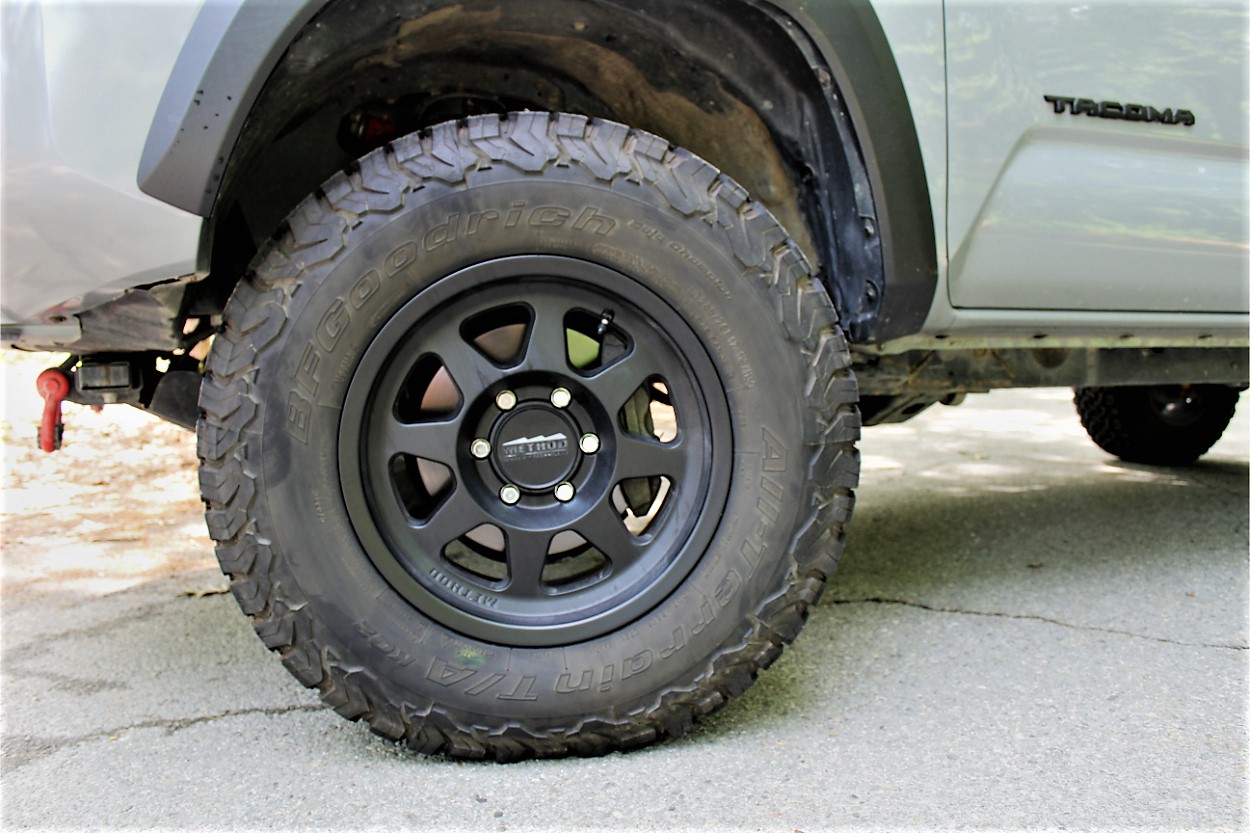 The BFGoodrich All-Terrain T/A KO2 tires are available in a wide range of sizing, load ranges, and speed ratings, and prices range from $147 to $485 per tire.
If you're looking to upgrade your Tacomas' stock tires, check your inner door frame for your OEM replacement tire size.
Who Should Buy BFGoodrich All-Terrain T/A KO2s?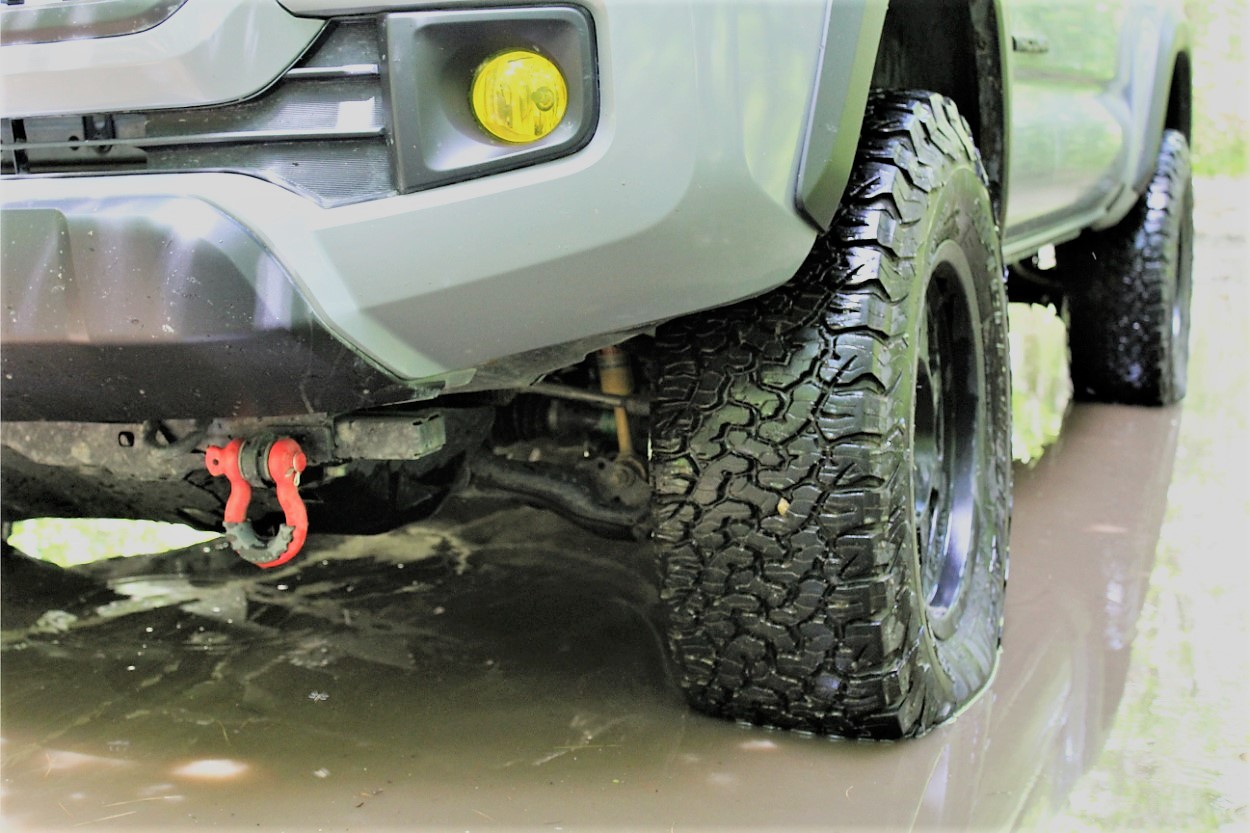 The short and sweet answer is everyone. The KO2s are a great upgrade to anyone's stock tires. I personally believe they outperform the original Goodyear Wrangler tires that came on my 2018 Toyota Tacoma TRD Off-Road in all categories. With more aggressive styling and better on-road capabilities, the KO2s are perfect for daily drivers who really want that aggressive look – without sacrificing performance.
On the flip side of the coin, as a dedicated overlanding tire, the KO2s really stand out among the rest. Their ability to comfortably push for miles on paved roads out to your favorite off-roading park or camping location is remarkable, and when the trails get tough, the KO2s are ready for the abuse. With tires like these, the days of having to sacrifice on-road performance for off-road capabilities (or vice versa) are gone.
If more of your time is spent on the trail than on the pavement, you should check out the BFGoodrich T/A KM3, which is a more off-road focused mud-terrain tire that still handles well on the street.
Final Thoughts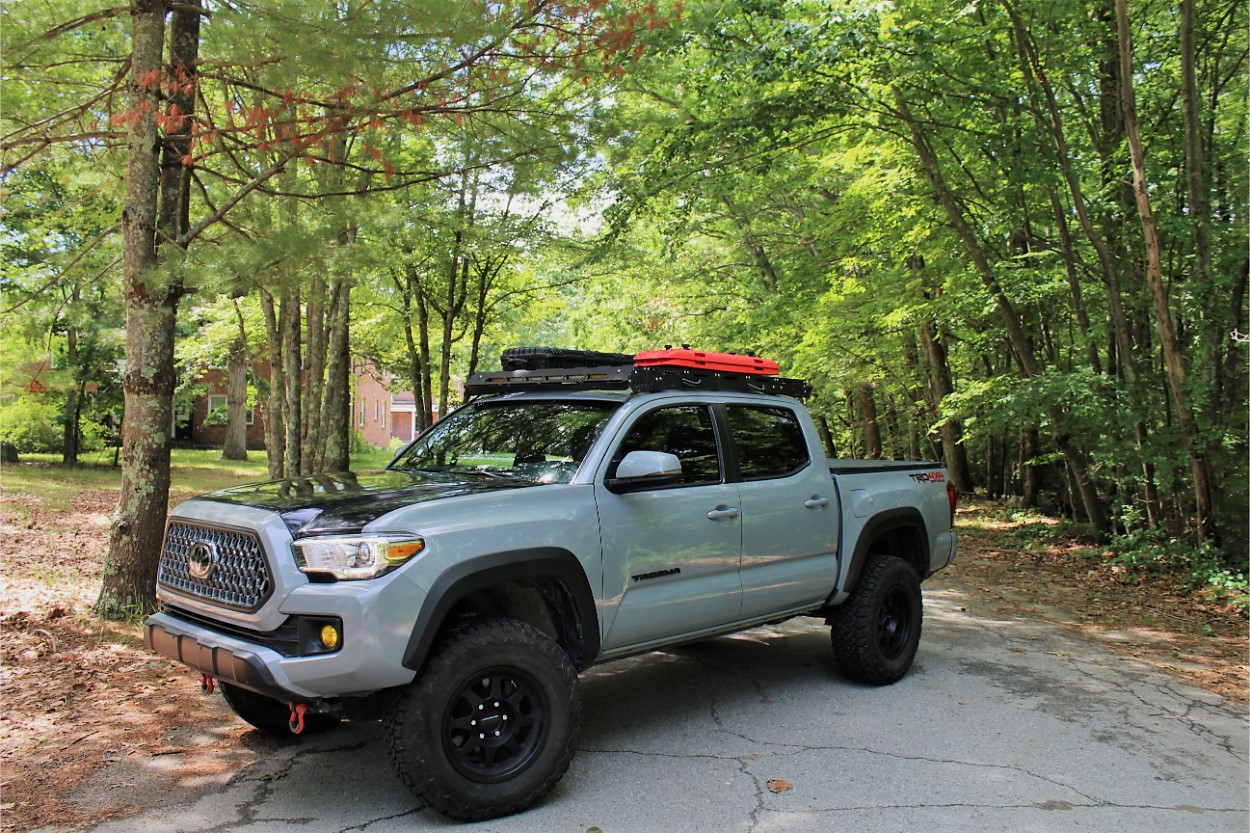 In my life, I've tried many brands of tires (I even gave retreaded tires a shot), but I keep coming back to the BFGoodrich T/A KO2s.
When I was looking to replace the stock tires on my 2018 Tacoma, I didn't think twice about picking up the KO2s. They're simply amazing all-around tires that really get the job done, no matter the conditions.