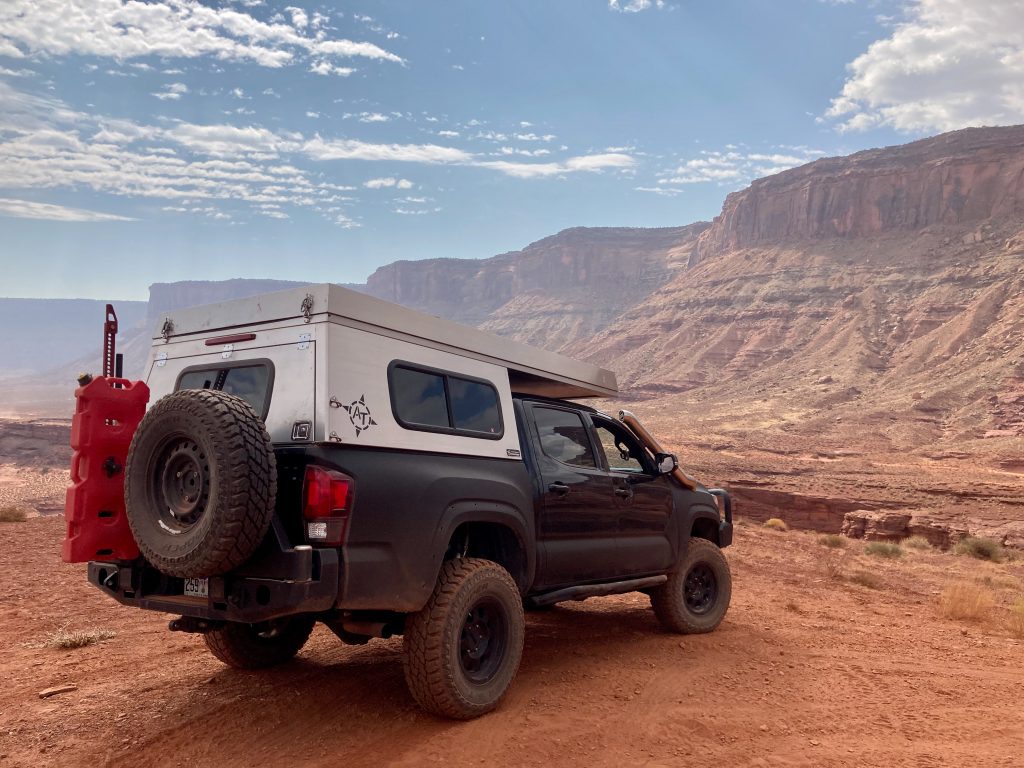 Full Review & Overview for the AT Overland Summit Truck Topper/Camper on 3rd Gen Tacoma – Everything You Need to Know
I felt this would be a good follow-up to Konrad's compilation of the Top 12 Toyota Tacoma Truck Bed Campers article. As of today, there isn't a better time to be an overland/off-road enthusiast. The number of aftermarket options for the Tacoma is mind-boggling. The explosion in the truck bed camper and topper market is just a fragment of this exciting growth.
Now, abundant options can make for difficult choices. Which topper/camper should you buy? Well, I am here to share my personal experience with the AT Overland Summit. I will lay out the reasons I chose the Summit for my truck. I will also provide some of the pros and cons that I have personally identified during my last year with it.
Find It Online
AT Overland Summit Review & Overview
The AT Summit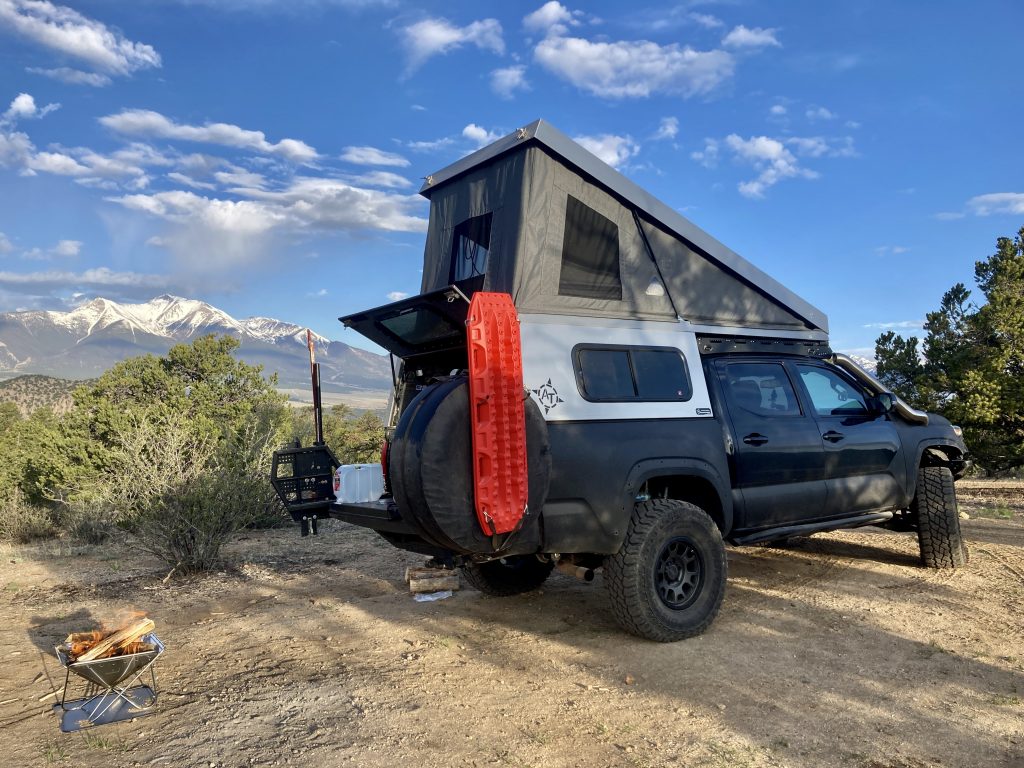 Adventure Trailers / AT Overland is no stranger to the overland market. They started as a premium off-road trailer manufacturer over sixteen years ago. They have grown into a one-stop overland company offering premium truck toppers, campers, off-road trailers, vehicle modifications, and a plethora of overland accessories.
AT offers three truck toppers, the Habitat, the Summit, and the Atlas. Each of these models has a unique design and specifications that could meet the needs of various individuals. I personally chose to purchase the Summit for a few reasons that will be addressed later.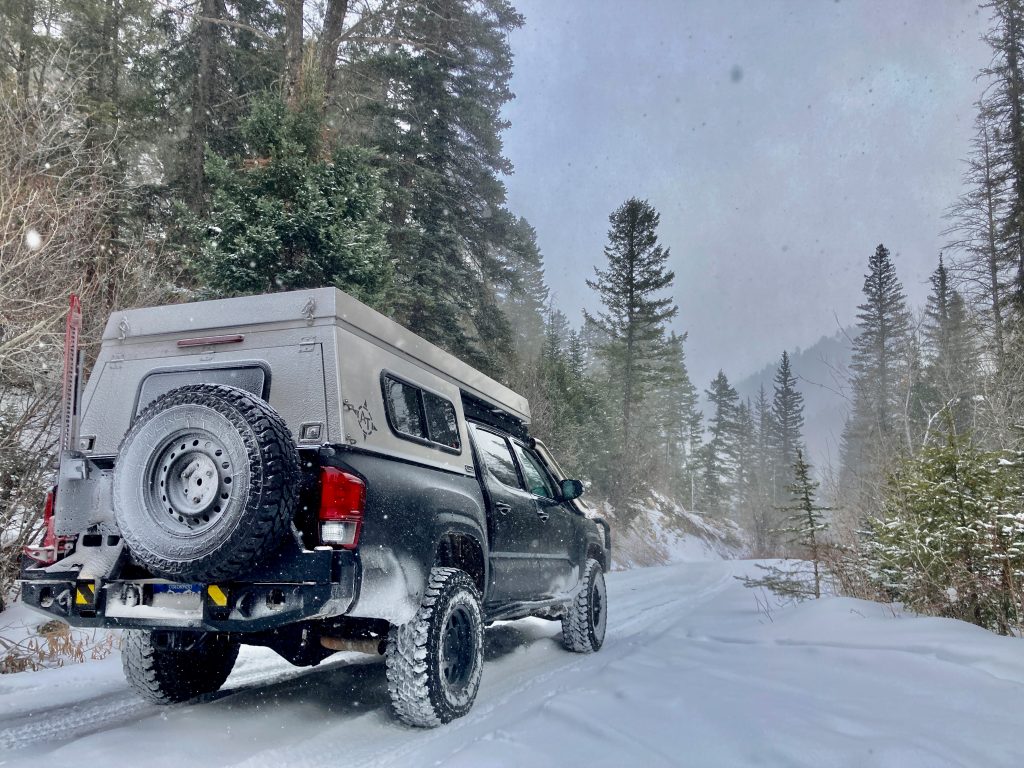 The Summit bridges the gap between a slide-in camper and a standard truck topper. It's a 340 lb, wedge-style pop-up truck topper designed to work with a variety of modern trucks. It takes one person about 30 seconds to deploy the top, opening a massive amount of functional space.
I personally have Decked drawers installed and still have about 7 feet of headroom at the highest point. The sleeping platform can be lifted using two gas struts allowing for about 5 feet of headroom near the cab (or 6 feet without drawers). The top can even be deployed with up to 100 lbs of cargo on its roof. The struts are strong!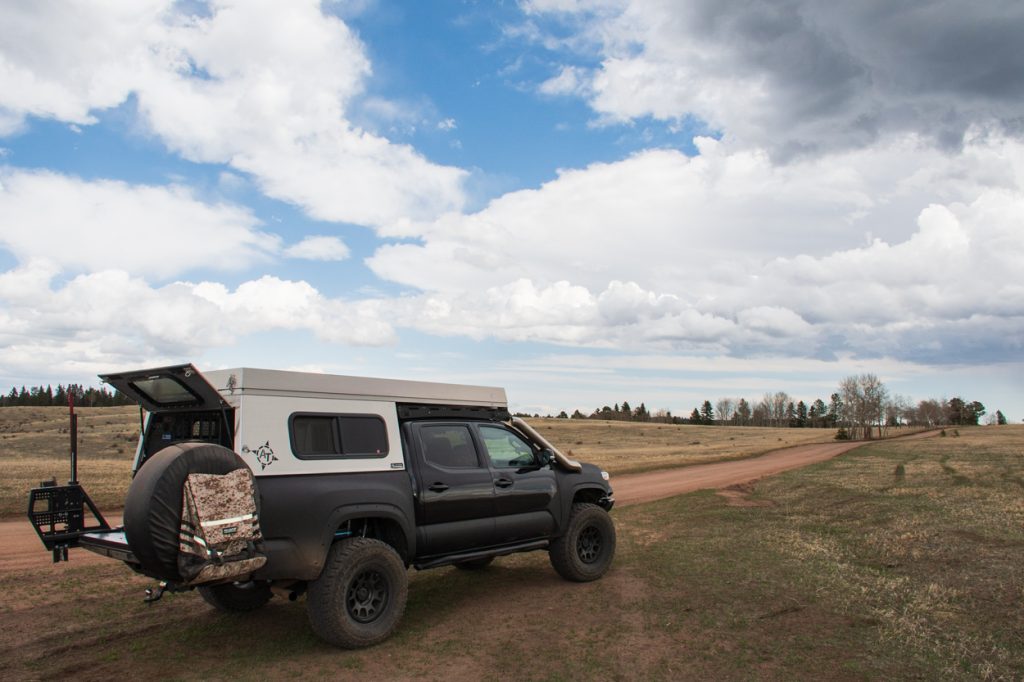 The Summit is made from a lightweight aluminum and honeycomb composite. It is not only light, but it provides additional insulation and strength. This construction is utilized on the Habitat and Atlas models as well. Flush-threaded fasteners can be fitted to attach a variety of gear.
There is a locking rear liftgate and top latches to secure gear and the tent. The interior walls and ceiling are carpeted for a little added insulation, improved aesthetics, and a place to put all your patches. AT offers a wide variety of options when it comes to windows, a skylight, 12V connections, and more to make the topper perfect for you.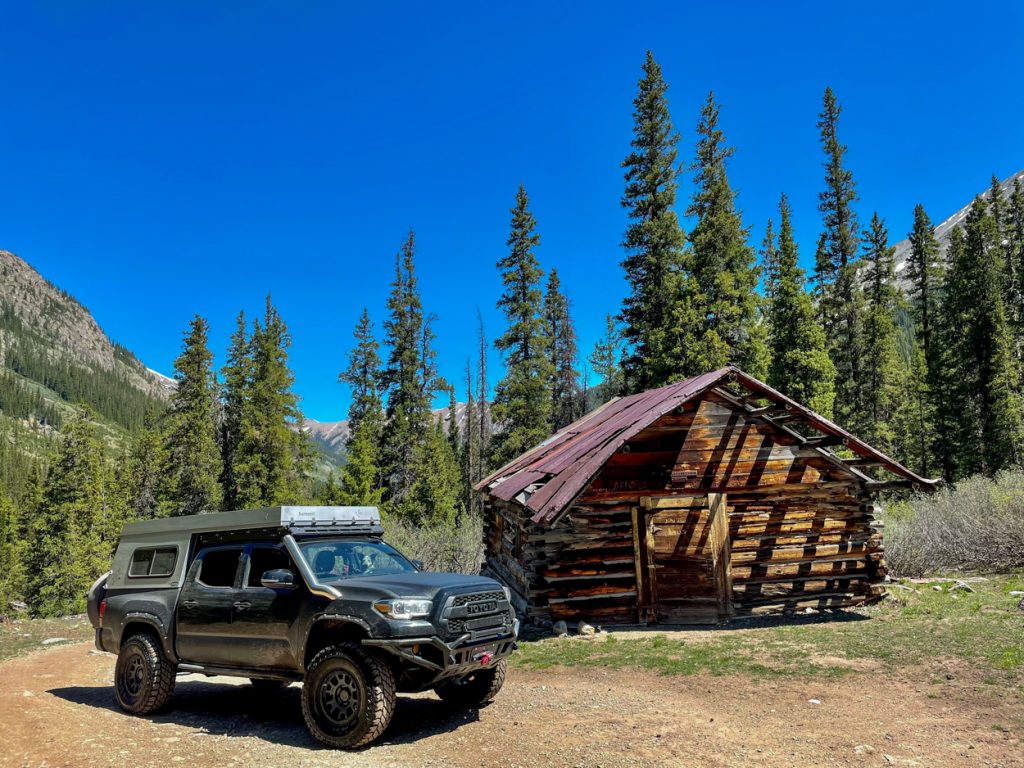 The sleeping platform is cozy. It has a 2.5" mattress pad and is 48" x 80". It is comfortable for two adults. My wife, young son and I have all managed to curl up on cold nights without any issues. The dogs seemed to like it as well. There is an open standing area that is approximately 48" x 38" with the sleeping platform down. This open area is great and I'll let you know why later.
The four-season cotton/poly canvas tent material is incredibly durable, fire-retardant, waterproof, and breathable. The three massive no-see-um mesh windows are covered by clear vinyl and privacy panels, which are secured with velcro. You can purchase an additional fire-retardant Thinsulate liner for cold weather. I do not personally have a liner, but it is on the future wish list.
The exterior is clear-coated aluminum, but there is the option to have it painted. I have the clear-coated aluminum option and love the raw appearance.
Standard Features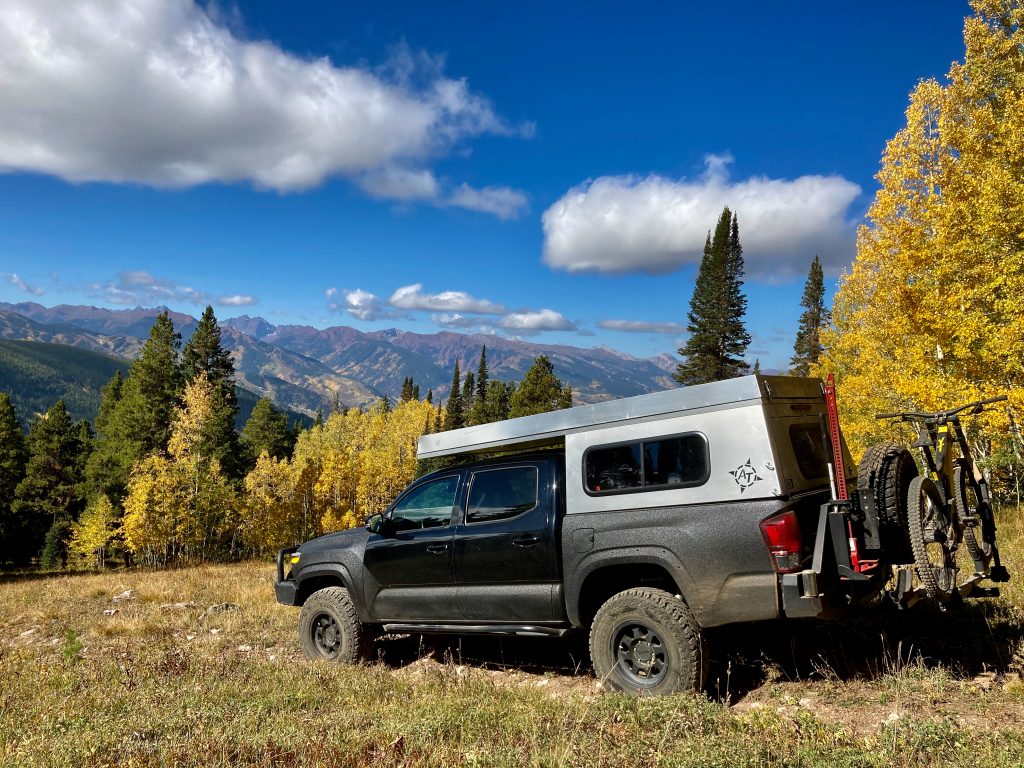 Here is a list of standard features and options for easy reference.
Easy 30-second deployment and stowage
Sleeps 2 standard
Built-in mattress on a lift-assisted platform
Insulated sleeping platform and shell walls with carpet covering
Bedding can remain in place when closed
All aluminum & composite construction
The roof can be walked on (600 lbs max)
Locking liftgate
Built-in wiring raceways
Ruggedly designed for 4×4 travel
All-season tent with no-see-um mesh windows, clear vinyl and privacy panels
Standard color: clear-coated aluminum
My personal touches:
Modified Total Chaos bed stiffeners
Adhesive, USB LED light strip
You can also find all the remaining specifications and options here.
Why I Chose the AT Summit Camper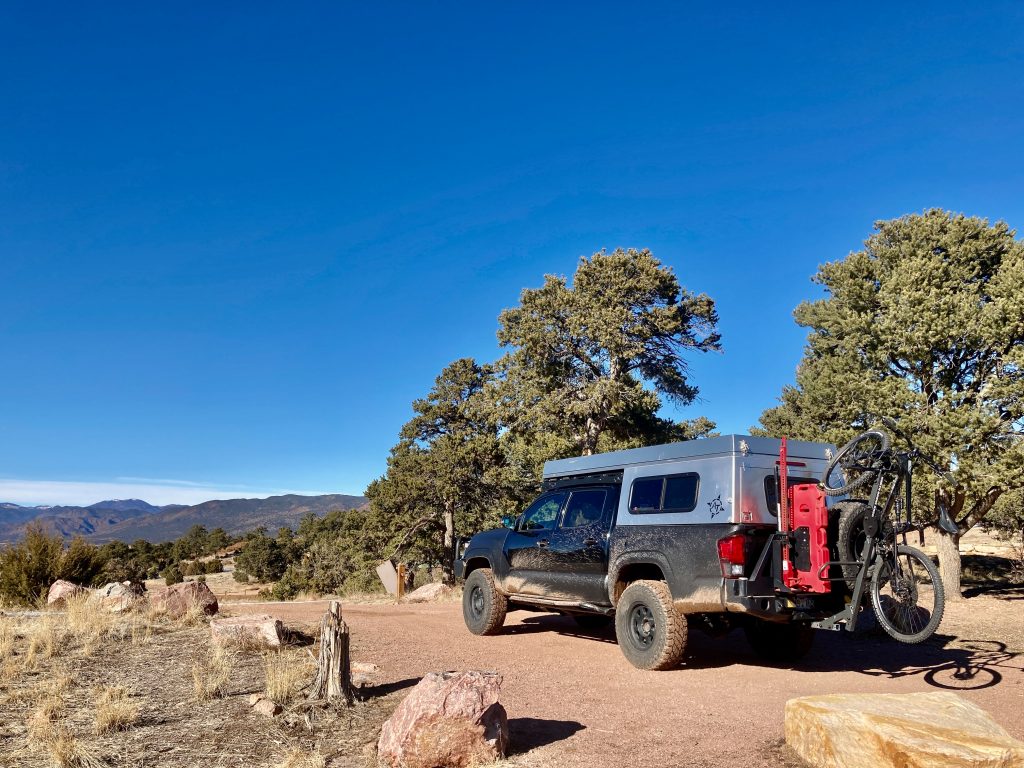 There are a handful of reasons why I decided to go with the AT Summit.
In the next sections, I'll break down the major ones.
#1. My Dogs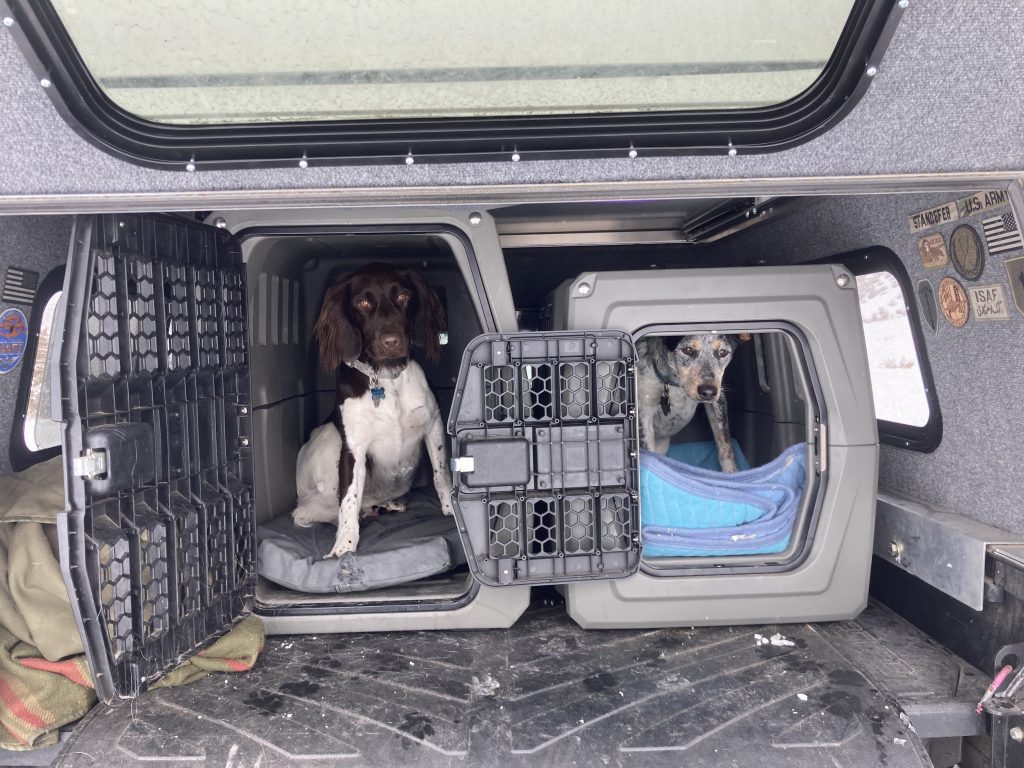 The biggest deciding factor for me revolved around my dogs. I kennel my dogs in the bed when we travel. I needed a topper that had the option to add windows providing airflow to the bed. AT offers a variety of options including a front cab slider, side half slide windows with mesh, and a rear liftgate window. Some other manufacturers don't offer any options for windows.
Space was also a huge consideration when it came to the dogs. I can fit two Gunner dog kennels, size intermediate and medium, without any issues. I have Decked drawers installed and they eat up about 12 inches of bed depth. I couldn't fit kennels in my traditional SnugTop topper with the drawers because of the height. The 48" x 38" open area mentioned earlier is clutch here. I can lay the intermediate on its side to get it in the bed and then turn it right-side-up in the open area. No kennel disassembly/re-assembly is required.
#2. Accessible Space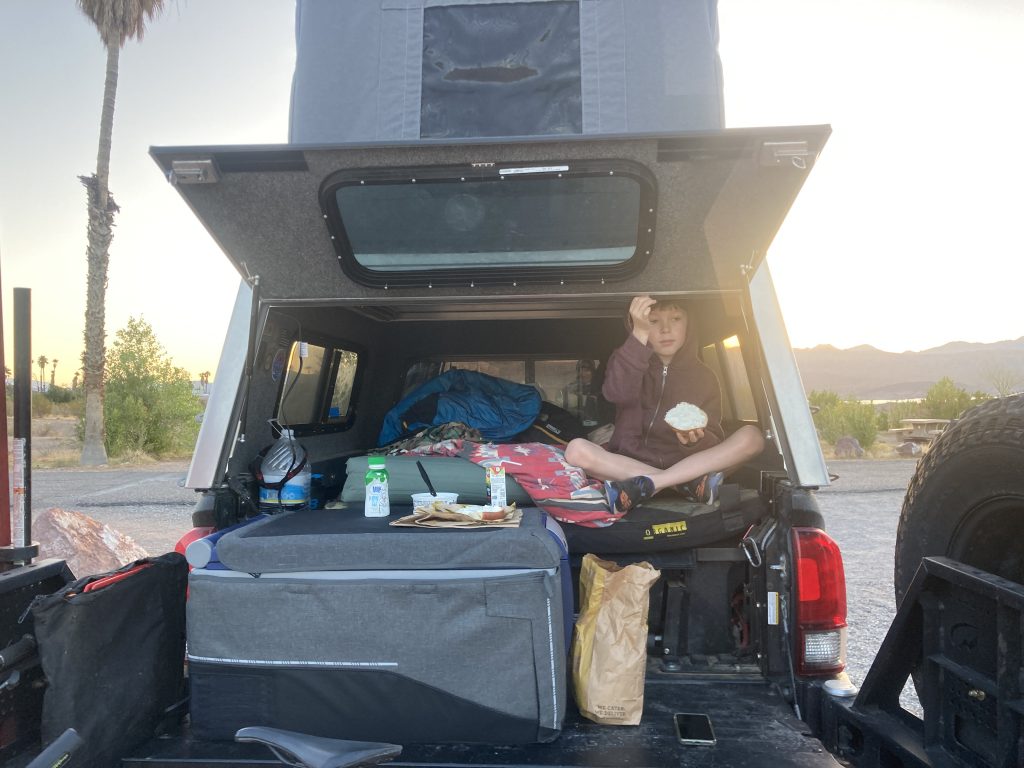 This was another big requirement for me. Rooftop Tents (RTTs) don't provide easy access to the gear in your truck. You get out of the tent, climb down a ladder, and access all your gear. Forget about standing up in your traditional RTT as well.
I considered other topper manufacturers, but some required removing panels to access the truck bed. This can be a huge hassle when you're sharing a sleeping space with someone. Again, that 48" x 38" opening is awesome. You can easily step down into the truck bed and out of the truck without disturbing the person sleeping next to you.
The space in the Summit has made my hunting trips even better as well. I can easily roll out of the sleeping platform and into the truck bed at 0-dark-early to get ready for the day's hunt. I have plenty of room to stand up and get dressed. This has been awesome when the weather is cold and nasty early in the morning.
Lastly, I've had my entire family racked out in the Summit on camping trips. My wife and son can sleep on the platform while I pop the tailgate and stretch out in the bed with the dogs. This wasn't possible with my previous topper.
#3. Durability & Simplicity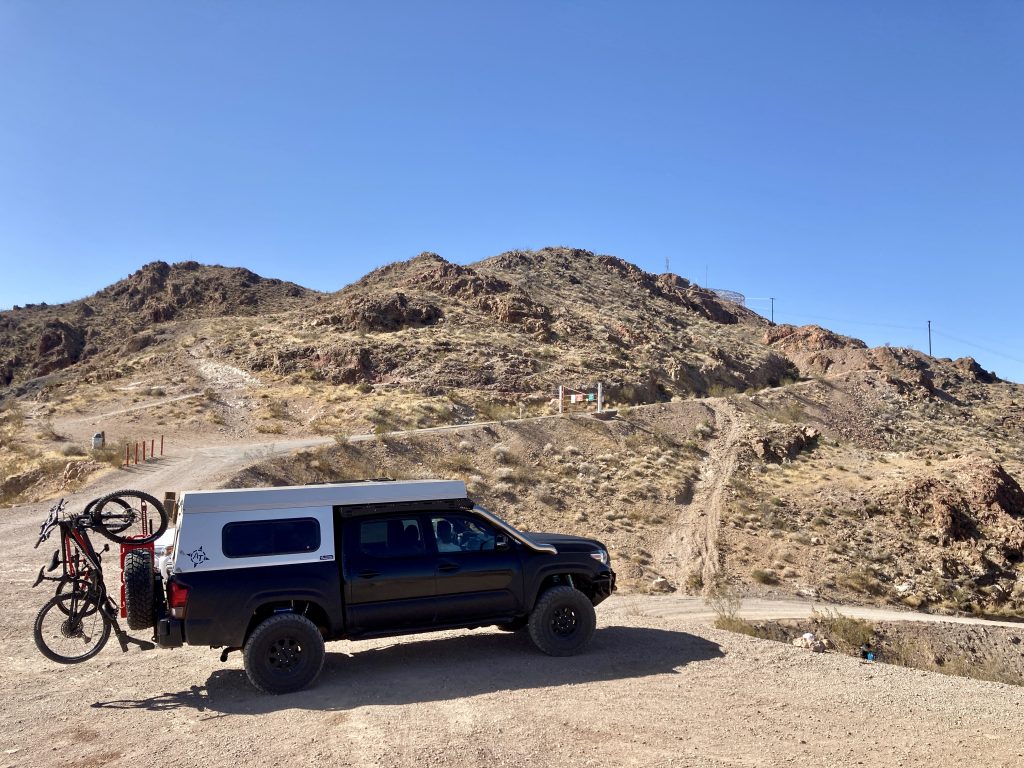 I like to access remote areas to hunt and camp. I needed a topper that wouldn't limit my Tacoma's ability to tackle tough trails. The AT Summit has done an exceptional job holding up on trails like Chinaman's Gulch here in Colorado and Fins and Things in Moab. The finish has held up well to low-hanging tree branches and brush. So far the only small ding came from a tight section on Chinaman's Gulch. Pretty sure a large tree limb was the culprit.
I personally believe simplicity can improve durability and ease of maintenance. I chose the wedge-style Summit for this exact reason. There are very few moving components or complicated supports to maintain, repair, or replace. The struts that deploy the top are protected from the elements and trail damage. The tent canvas is incredibly durable but could easily be replaced if an issue ever arose. Overall, the manufacturing quality and durability are top-notch.
The simplicity of the wedge style also makes set-up a breeze. It takes 30 seconds to deploy and less than a minute to button it up and be back on the road. The set-up speed has been a game-changer when it comes to camp prep. Last archery season I would drive five hours after work to hunt every weekend. I'd roll into camp around midnight and be able to pop the top and rack out within five minutes. It was awesome!
#4. Dealer Availability & Lead Time
Having a local dealer is a big benefit. It makes coordinating the initial install and ordering replacement parts much easier. I was fortunate to find Juniper Overland, an AT Overland dealer in Denver. The guys at Juniper handled my order and the install when it arrived.
Now, I was fortunate and placed my order right before COVID brought most of the country to a grinding halt. I ordered my Summit in March 2020 and it was installed on my truck in July 2020. That's 4 months from start to finish, which was pretty incredible given the circumstances. Other companies were estimating 9-12 months during the same period. So, hats off to AT for the incredible work and customer service during a difficult time.
The Decision
The Summit truly checked all the boxes for me. It had numerous window options to provide airflow for my dogs.
It offered a ton of easily accessible and functional space. The wedge-style design was simple, durable, and easy to deploy. Finally, I could pick it up from a local dealer and there was a very reasonable lead time.
Pros & Cons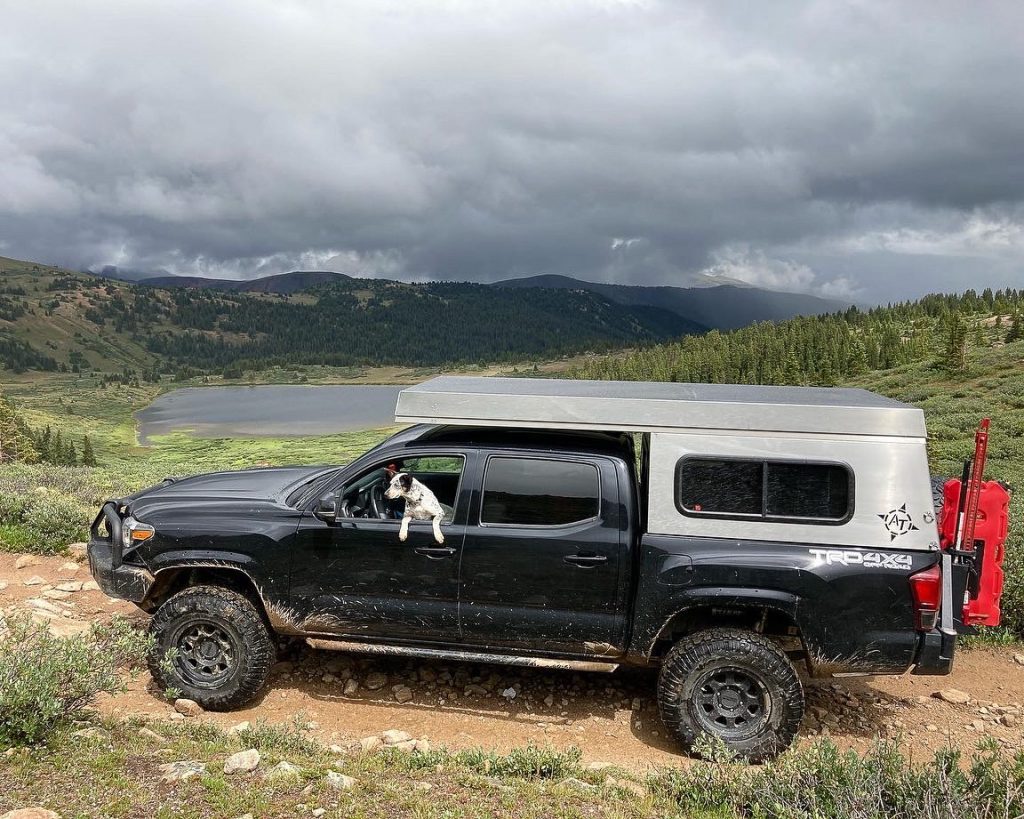 Nothing is perfect. I love my Summit, but there are a couple of minor things I'd tweak. I've listed the pros and cons below.
PROS
Incredibly easy to both deploy and stow. Less set-up and tear-down time equal more fun time.
Tons of customization options. Windows were key for me.
Built-in wiring raceways for a clean 12V set up.
Enormous amounts of usable space. Keep it simple or build out your bed with Goose Gear goodies.
Durable, it's held up to plenty of off-road abuse.
Large and comfortable sleeping platform.
The aluminum and honeycomb composite does help insulate. I've spent nights in it when temps dipped into the teens and I stayed warm with a good sleeping bag.
Bright led lights inside the topper for nighttime activities.
Very well built. It's a premium topper and the quality craftsmanship is evident.
Dealers are located all over the nation.
CONS
Reduced gas mileage due to increased drag. This is a problem anytime you add accessories that stick out above the roof of a vehicle.
There is a fair amount of flex in the cab-over portion on my short bed Tacoma. The cab-over length is about 63" on a 5' bed. This extra forward weight also caused the topper to lift ever so slightly in the back while wheeling.
Now this second point hasn't caused any issues, but it is one I would like AT to address. I personally had some Total Chaos Bed Stiffeners customized to provide additional anchoring points securing the topper to the bed. This helped provide additional support to the existing brackets securing the topper.
The real fix to this second point would be reducing the cab-over length by making a small design tweak. The 48" x 38" opening, which I love, would need to be reduced. Shrinking that opening to 48" x 26" could reduce the cab-over length to 51" on a 5' bed. Less hangover should mean less flex.
Final Thoughts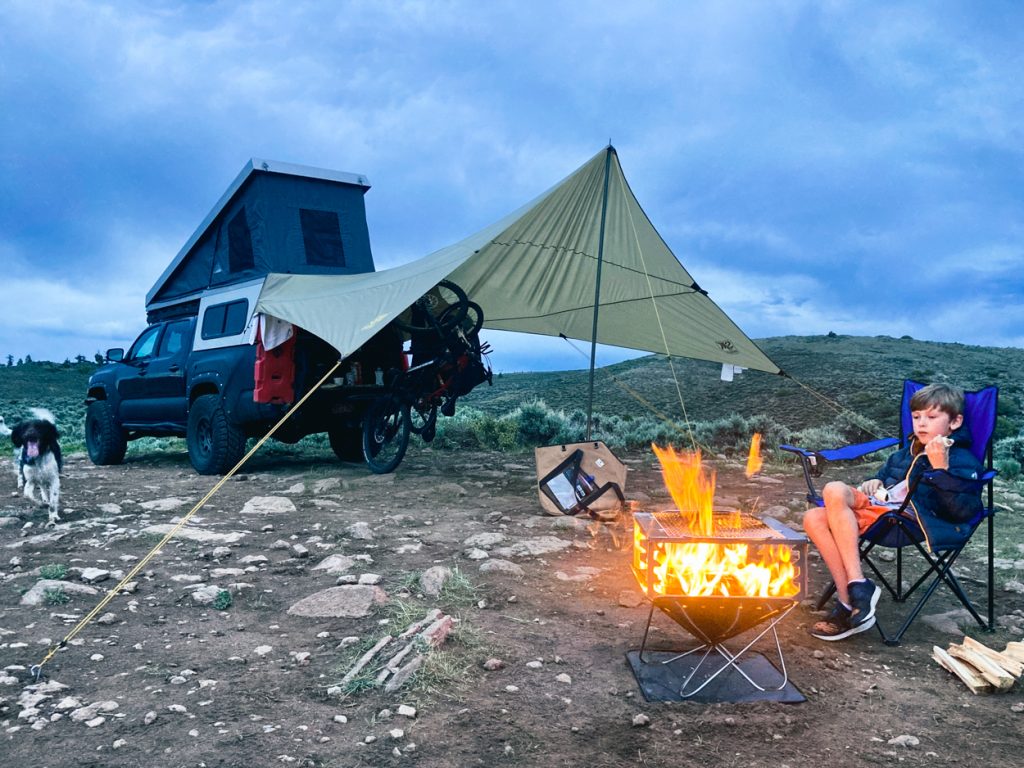 I bought my Summit before COVID-related supply and labor constraints started driving up prices, but it still wasn't cheap. Now that being said, it's been worth every penny and is one of the best things I've installed on my truck so far. It's taken us to Ouray, Moab and Vegas. The past year with it really has been awesome, and the wife and kiddo love it.
Well, thanks for sticking with this lengthy write-up. Hopefully, this arms you with some information to help you make your own decision. Whatever direction you decide to go with your rig, get out there and enjoy the adventure.