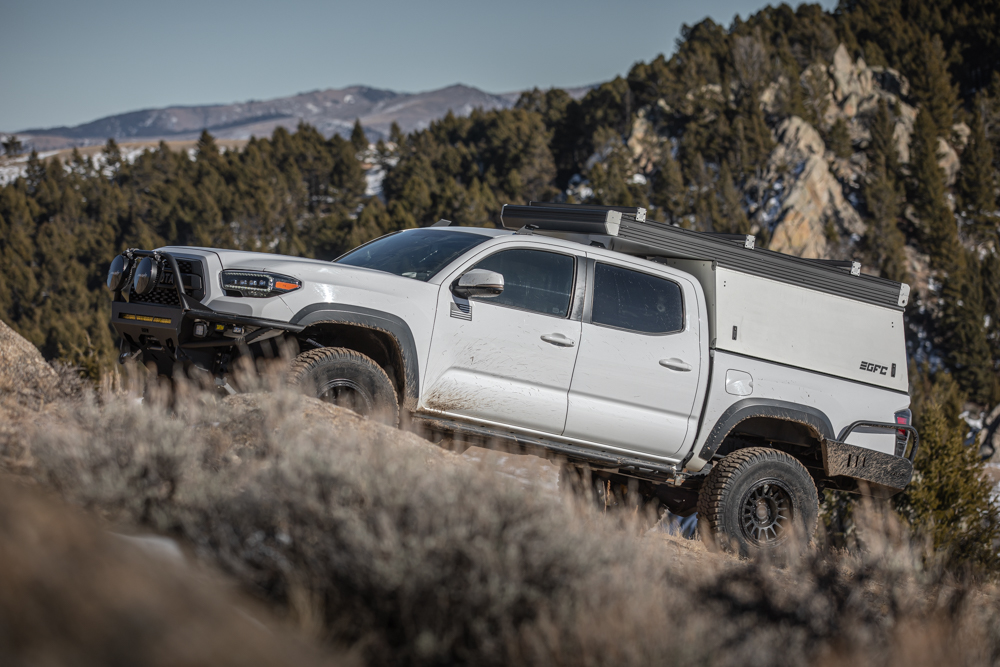 The Internet's Most Researched Compilation of Truck Bed Campers for the 2nd & 3rd Gen Tacoma
Let's talk campers. In recent years, tons of innovation and a shift in market perspective have made campers one of the hottest modifications for pickup trucks.
As early as 5 years ago, campers (at least in my eyes) weren't really a valid option for many consumers. The majority of them were big, bulky, and without a ton of aesthetically pleasing features. Were they functional? Sure. But we all know that when form and function are married together, that's when we see the best results.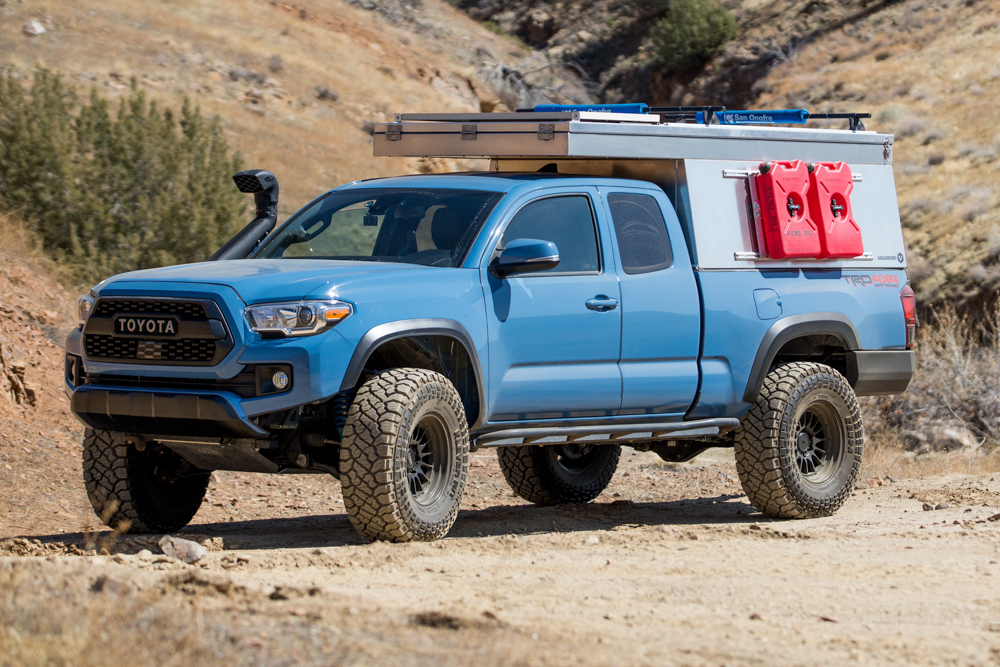 Photo credit: @socalexpeditions
With a bunch of new companies exploding in popularity, the camper life saw a huge spike in interest. I never saw myself as a camper guy, but as time went on and I became more experienced, I quickly realized that a solid camper was the pinnacle of long-term and long-distance off-roading and overlanding.
This article will serve as a compilation of the best pop-up camper options that currently exist for the 2nd & 3rd Gen Tacoma. There is no ranking per se, as everyone's needs are different and each camper has a specific application. The list is in alphabetical order for the organization's sake. Hopefully, this post will serve as a valuable resource for anyone interested in potentially adding a camper to their rig.
Let's take a look at the options you have to choose from!
Interested in a more traditional camper shell/topper? More below.
Top Campers – 2nd & 3rd Gen Tacoma
1. GFC (Go Fast Campers)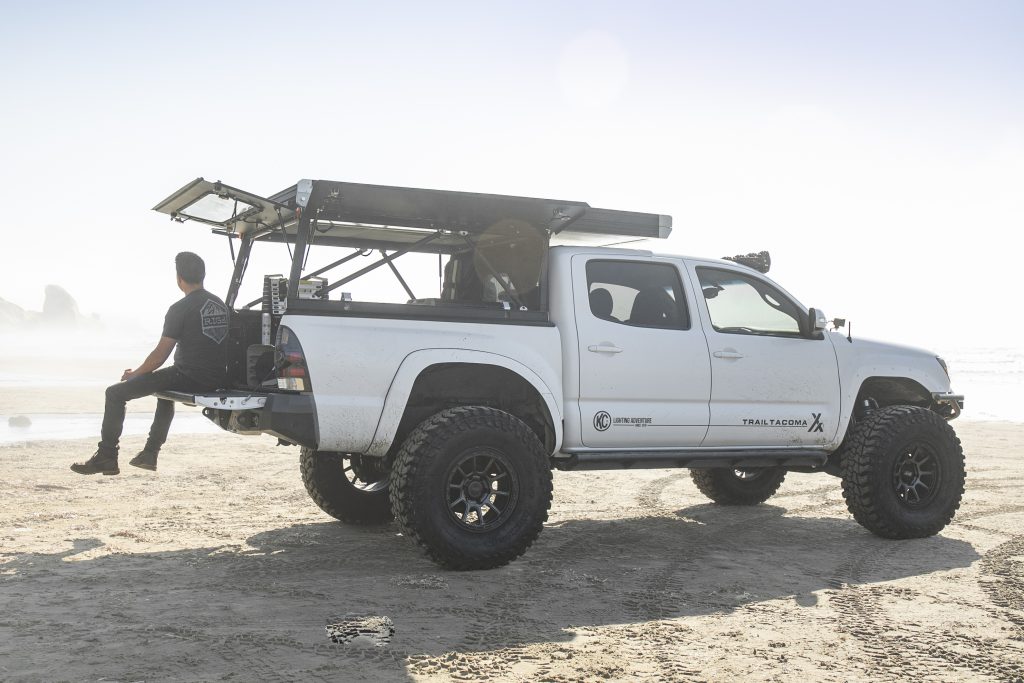 Go Fast Campers might be the company, which at least for me, sparked my interest in truck campers. Years before I even bought my Tacoma, GFC released their first-ever wedge camper. It was the first time I genuinely considered that a camper might not just be for that retired couple that lives KOA to KOA… Not that this particular lifestyle is anything I might envision myself doing.
GFC was started with a mission to create a better camper to see the world with and attempt something new and exciting. At the same time, you learn that the world really isn't that scary – at least that's the idea. Based in Montana, the team has been growing quickly and they seem to have plenty of happy customers.
The GFC camper is now on its second iteration, with the recent launch of the V2 Camper. I know these guys have plenty more in store and I'm always excited to see what they're working on. It's important to note that GFC also offers a V2 rooftop tent, for those not looking to jump straight into a camper.
We've covered the V1 Camper on a 2nd Gen Tacoma in a previous post. If you're interested, you can check out that post here.
Oh, and in more recent news, the team at GFC has achieved something wild. 
A camper made and sourced in the USA, get this – ready in as little as 8 weeks.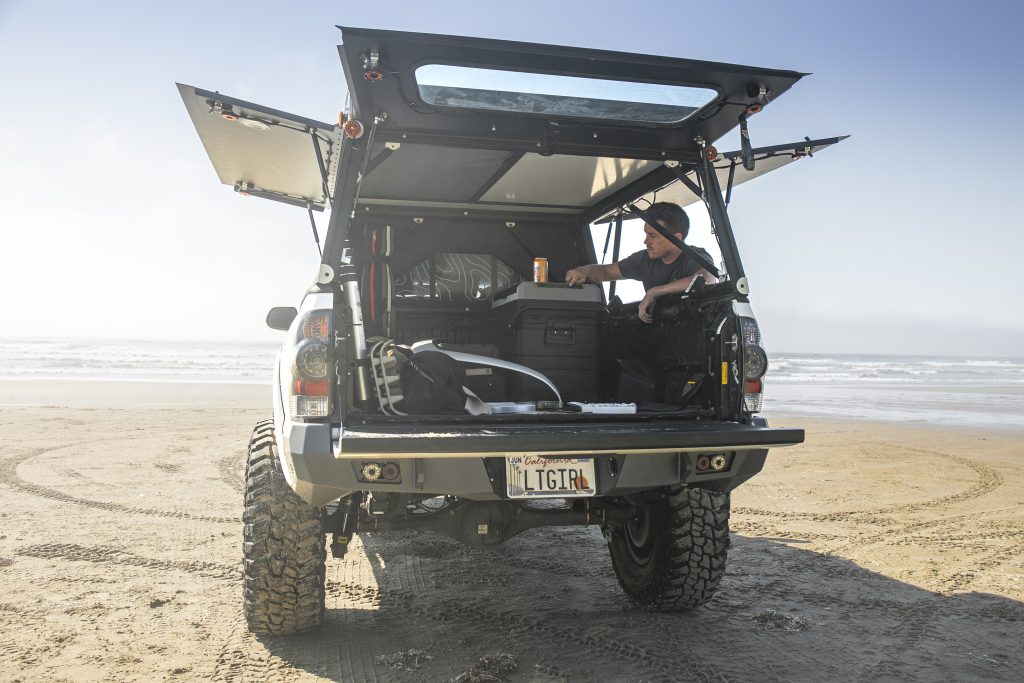 You heard that right. That's picked up and installed on your truck. Adventure and huck ready in no time! We sat down with GFC for an interview, and they brought us up to speed. Check out the Trail Tacoma / Go Fast Campers Interview post here.
Wondering what a road trip to pick up a GFC camper is like? Check out my recent post on a 3,000 mile road trip from Illinois to Montana to pick up my new V2 Go Fast Camper.
Notable Features
Extremely hackable
Operable hard side panels
Multiple color options
Vehicle specific installation kits
Options for additional add-ons
2. AT Overland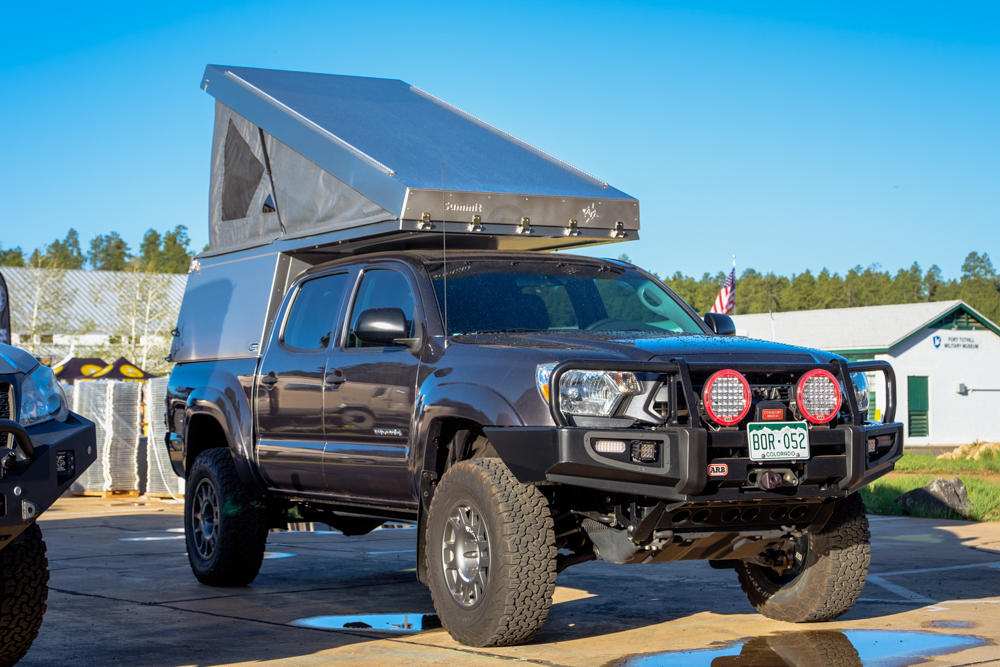 Another especially impressive company on the list, AT Overland, knows its stuff. Starting over 15 years ago building trailers, AT has branched into offering multiple services for the community. They're now a premier retailer, builder, and servicer of all things off-road and overland.
If you're looking for a one-stop-shop offering a slew of toppers and campers, AT Overland might be the way to go. They have three different truck toppers (AT Habitat, AT Summit, and AT Atlas) and three different truck campers (Aterra XL Flatbed Camper, FiftyTen Camper System, and OVE Camp-X)
Not only are there 6 options to choose from, but the extent of the ability to accessorize and modify your topper/camper is insane. The inventory and ability to customize your purchase seem to be unmatched.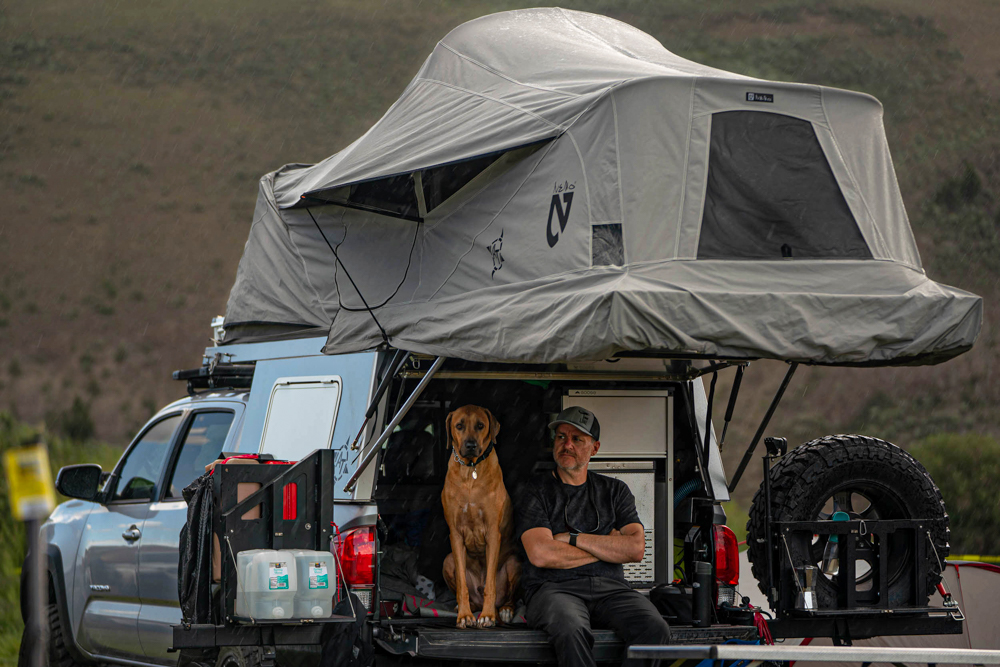 Notable Features
The scale of the AT Overland business is fairly large, relative to many of the other manufacturers on this list. Rather than outline way too many notable features, and there are quite a few for each of the models, I'll direct you over to their site so you can read everything in a native setting and decide which choice is best for your needs.
3. Four Wheel Pop-Up Campers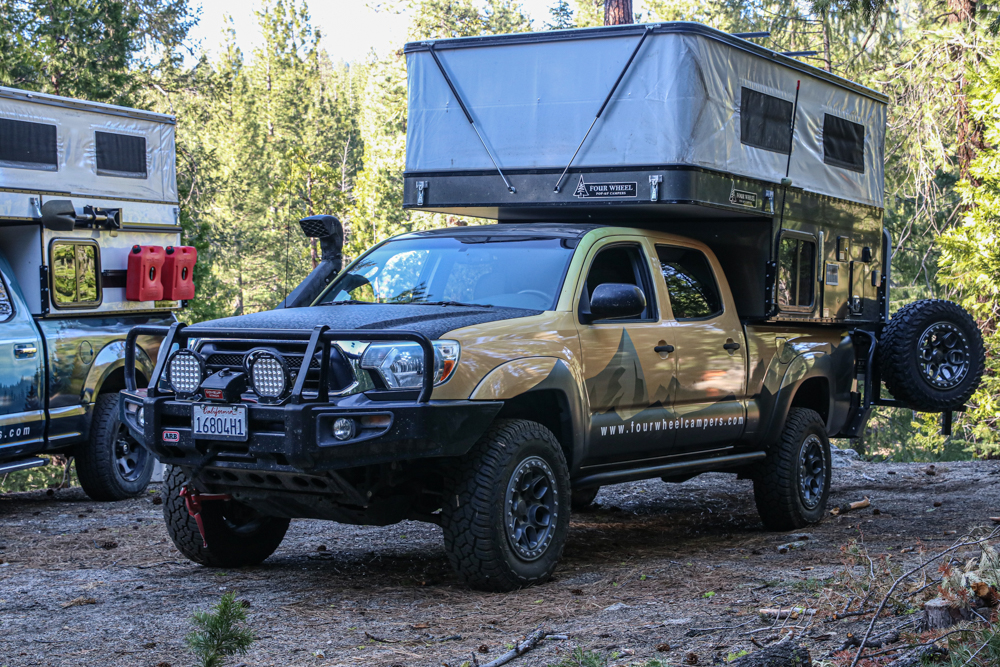 One of the oldest and most established companies on this list, Four Wheel Campers has been around since 1972 and is one of the few manufacturers left standing after many years in operation. First launched in Colorado, the company has grown and gone through several infusions of fresh ownership to get to where they stand today.
Trusted by countless customers, you can be sure these guys know their stuff. This company offers three different kinds of camper models (Slide-In, Topper, Flatbed). Every offering is impressive and offers a ton of functional space and intuitive design.
If you're looking to go with one of the oldest and most popular choices, you can't go wrong with Four Wheel Campers. I'm especially impressed when a company can offer multiple models, with tons of options to customize, and of course, who doesn't like to see a complete bed replacement with the flatbed option?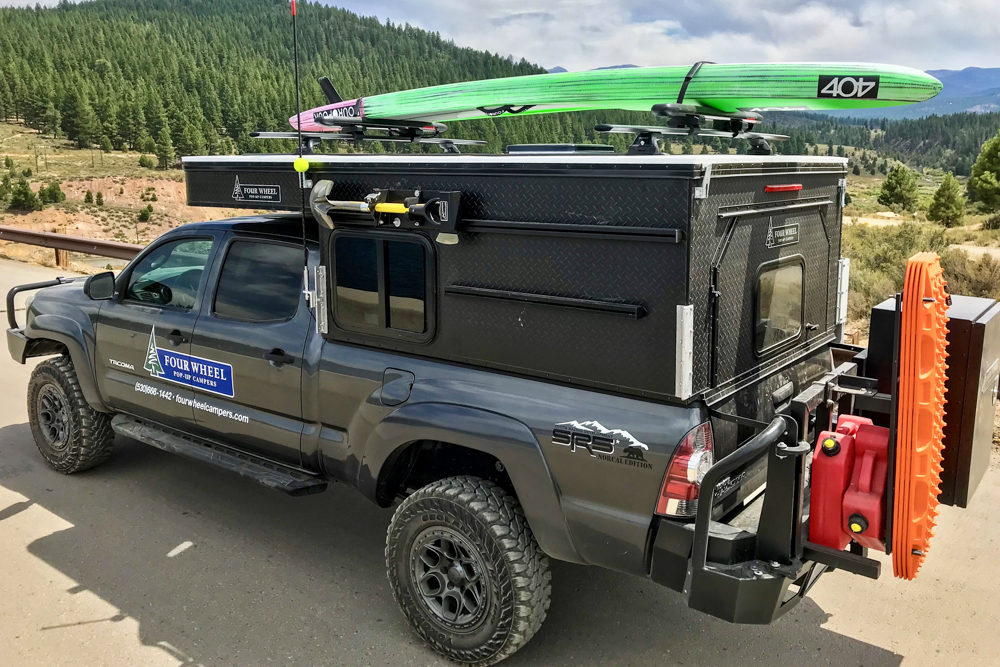 Notable Features
Multiple models and designs to choose from
Decades of experience
Models to suit everyone's wants and needs
Seemingly endless choices to upgrade and customize
4. Hiatus Campers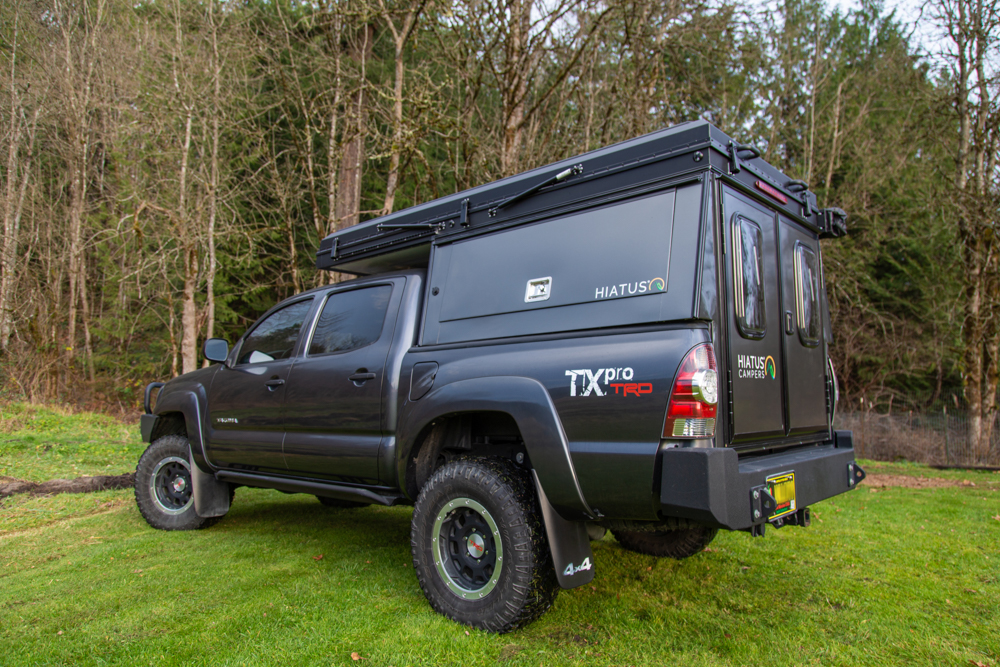 Hiatus Campers was founded with the purpose to build the best outdoor recreation equipment for all your adventure needs. The team actively supports those who want to live on the go outdoors. The campers are designed to help travelers feel at home while spending extended time in new destinations.
From the beginning, the focus was to find a great balance between function and design, all while not skimping on performance. The decision to start the company began with the company's position that nothing on the market could accommodate all the needs the founders were looking for.
With a few unique features, this camper is looking like a great option. The only downfall? Lead times to begin building your camper are over 2 years out from the time of order. But good things come to those who wait!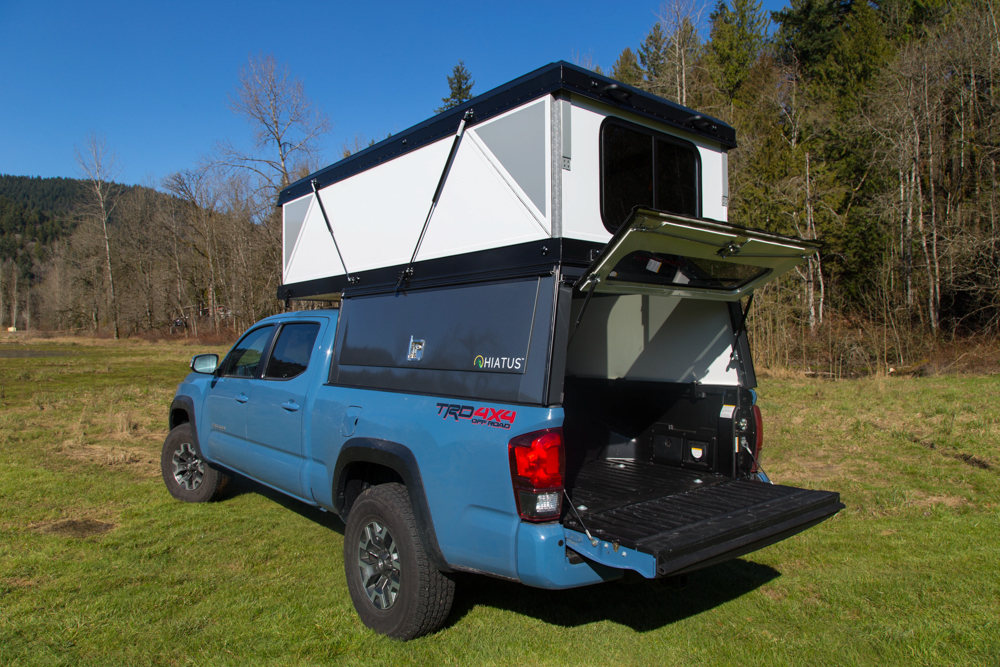 Notable Features
Insulated composite folding walls
Slide-out sleeping platform with cushions
Prewired LED lighting
Front and rear windows with screens
Roof vent
Locking rear double doors and side access doors
Optional Yakima roof tracks
5. Alu-Cab Canopy Camper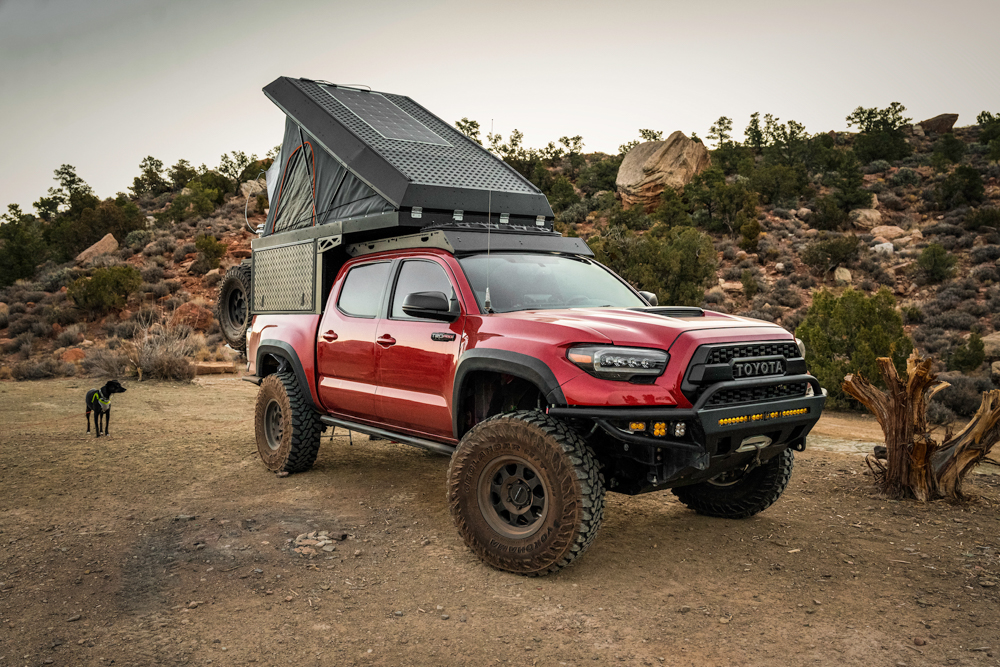 Photo credit: @seekoutbeauty
With over 20 years of experience and plenty of happy customers, the Alu-Cab name continues to live up to its self-appointed title of Ultimate Overland Products. Their journey started when their own African travels highlighted the need for attention to two important details: weight and space.
Many swear by the Alu-Cab name. This option is reported to be one of the lightest and most functional on the market. Having been tested in the safari rental market, you can be sure that the Alu-Cab will not disappoint. With tons of awesome features and a bunch of accessories and gear support, this choice is perfect for someone looking for next-level quality and attention to detail.
One of our favorite accessories? The propane heater. Yeah… you heard that right. This camper is ready for even the coldest nights as you explore the outdoors. The lead times are relatively low as well—that's always a big bonus. Especially when some lead times are over a year for other campers!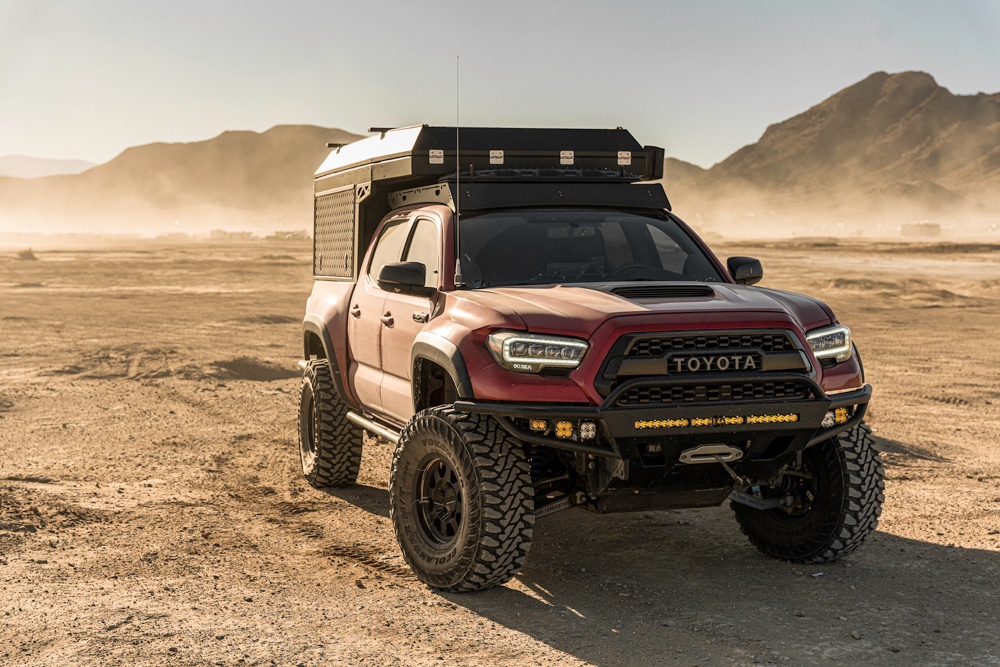 Photo credit: @seekoutbeauty
Notable Features
Easy access door with heavy-duty hinges
Easily mount a spare, no need for rear bumper with tire carrier
Mounting extrusions for accessories
Dual-layer tent canvas for optimal insulation
Split bed panels on gas struts
Bedding can remain inside of tent when closed
Roof rails for mounting of rooftop accessories
Easy side access doors
Lots of accessory support
6. Harker Outdoors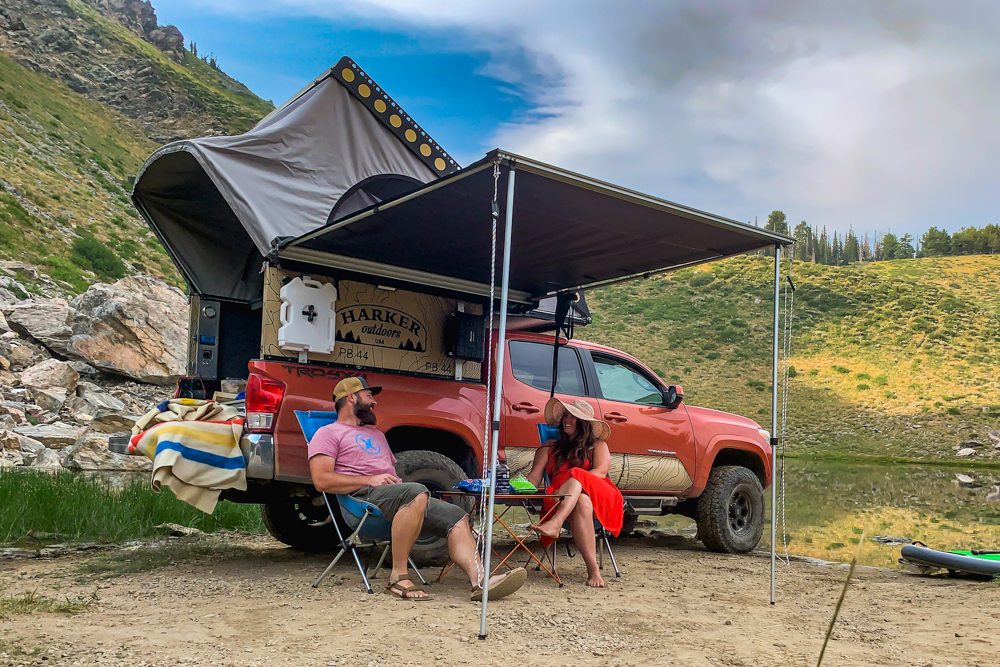 A smaller and newer company, Harker Outdoors began brainstorming the EDC about two years ago. They saw plenty of innovation potential left to be explored. The team focused on improving the entryway, bed size, and standing room.
Harker added a standing entry, a larger mattress, and an innovative tailgate annex which allows for 50-100% more room when compared to other wedge campers. All of this was accomplished while keeping the design lightweight and maintaining a fast setup and teardown time.
This camper setup currently touts some of the lowest lead time in the industry at 4-6 weeks. Several add-ons are being prototyped for things like kitchens, gear slides, and more.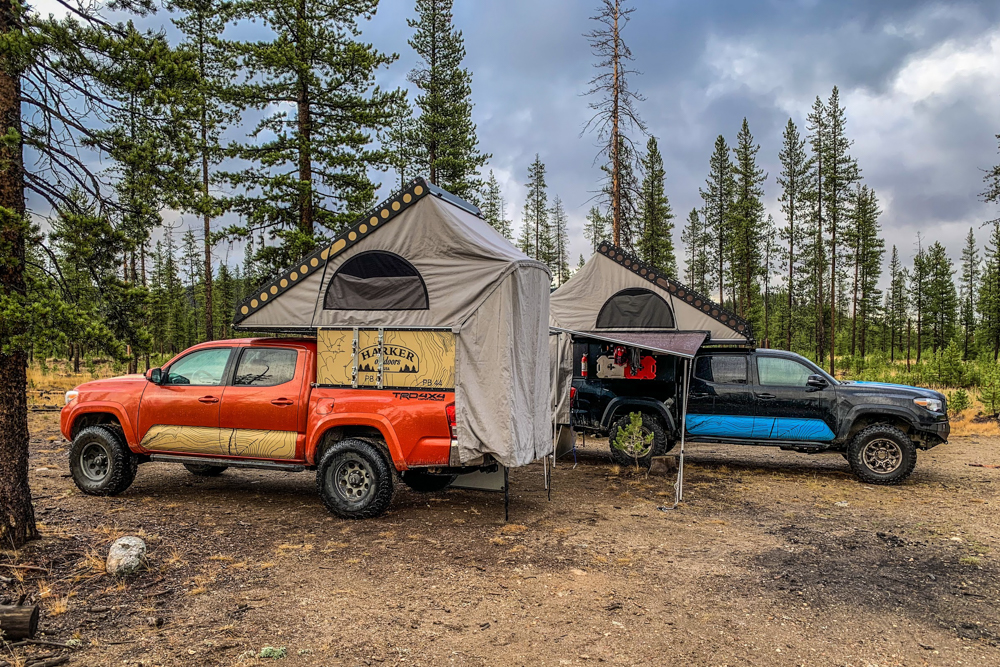 Notable Features
Standing entry
Larger mattress
Tailgate annex for increased interior room
300lb total weight
Options for solar and lighting
L-track accessory rails
7. Hower Built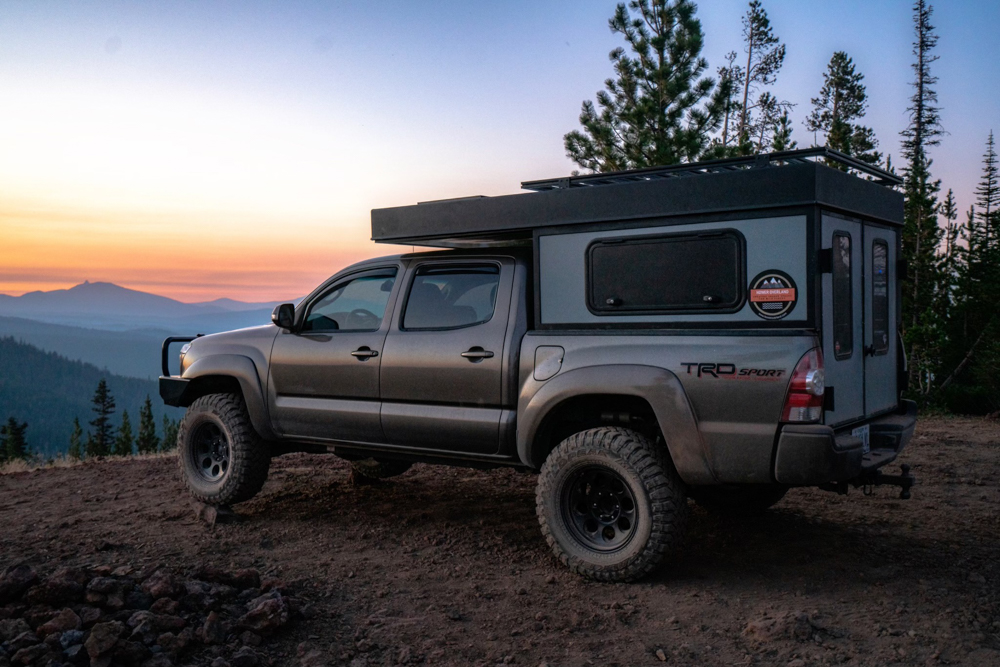 Hower Built is a relatively new company to the camper game, but Colin (the owner) comes from a background rooted in adventure guiding for outdoor excursions. Colin wanted to create something that was ideal for the overlander.
After a couple of prototypes, Colin launched the current production model camper Hower Built offers. An industry first, Hower Built offers the only electric pop-top camper for the Tacoma. These campers are built from the lightest and most durable materials in order to bring the comforts of your home to the outdoors.
Hower Built also builds many other vehicles and offers conversion services. If you're looking to get in on the ground level of a new company and have one of the more unique campers out there, this is the one for you!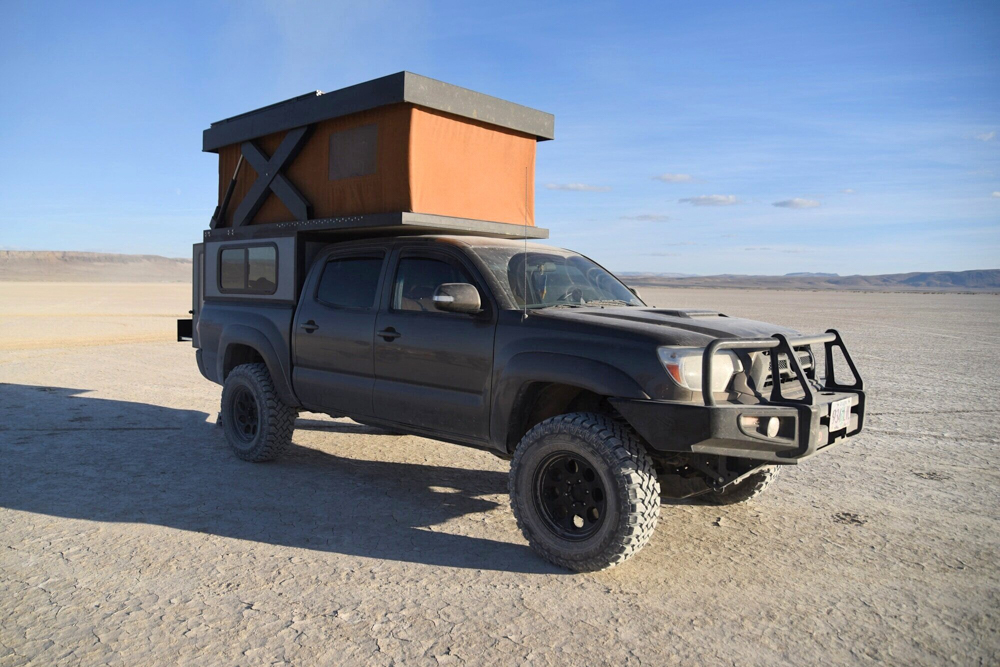 Notable Features
Electronically lifted pop-top
High roof load capacity
Perfect for mid-sized trucks
Multiple configurations and customization options available
8. Kimbo Camper 6 Series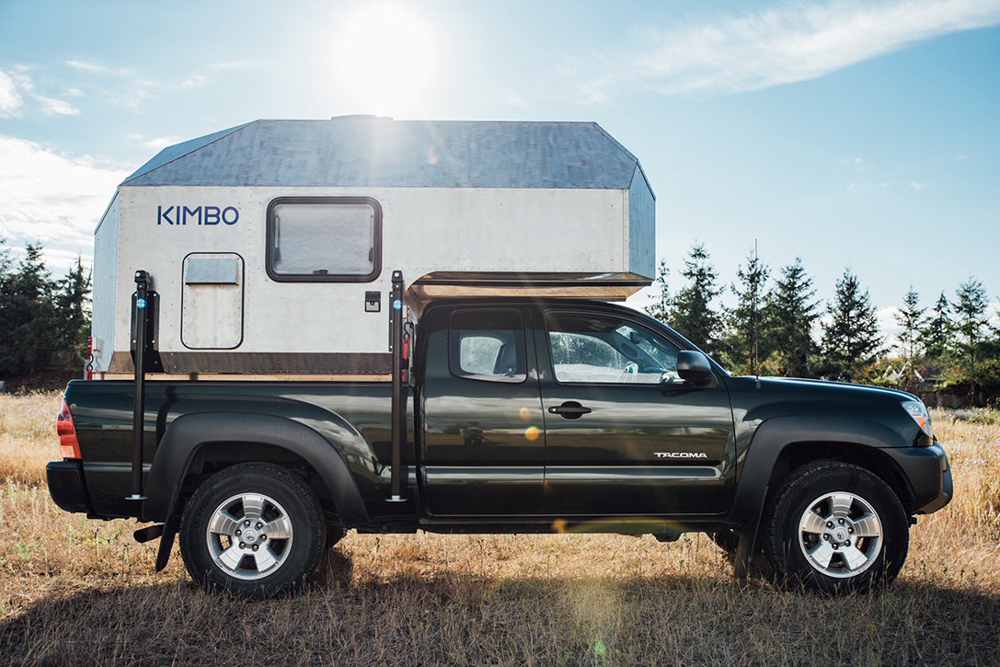 Kimbo campers were inspired by the interior of a nuclear submarine. You heard that right—a submarine! Mark, the owner of Kimbo, whose father is the Captain of the USS Alabama, knew he was onto something and didn't want to settle for anything average.
Mark was looking to build a mobile home that would allow him to leave the traditional idea of home behind, all while staying comfortable while exploring and camping all over the Pacific Northwest. Mark was a natural inventor, as well as a fabricator. So when he saw a vacuum for something that would work perfectly for his own purpose, he built his own camper.
Fast forward a few years and the Kimbo camper went viral and slowly became quite the internet sensation. While not the best camper for heavier off-roading, this camper provides the most creature comforts while staying mobile.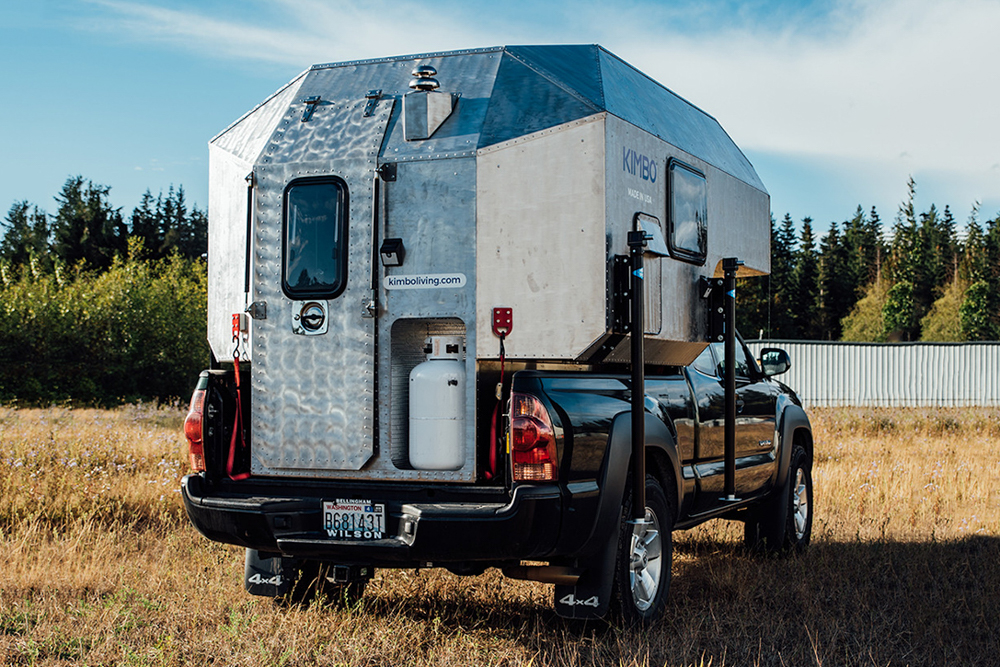 Notable Features
Frameless, aluminum construction
Maximal interior space
Built for extended off-grid travel
Modular interior choices
R-5 insulated interior
Double-paned windows with screens
Several power options
9. Super Pacific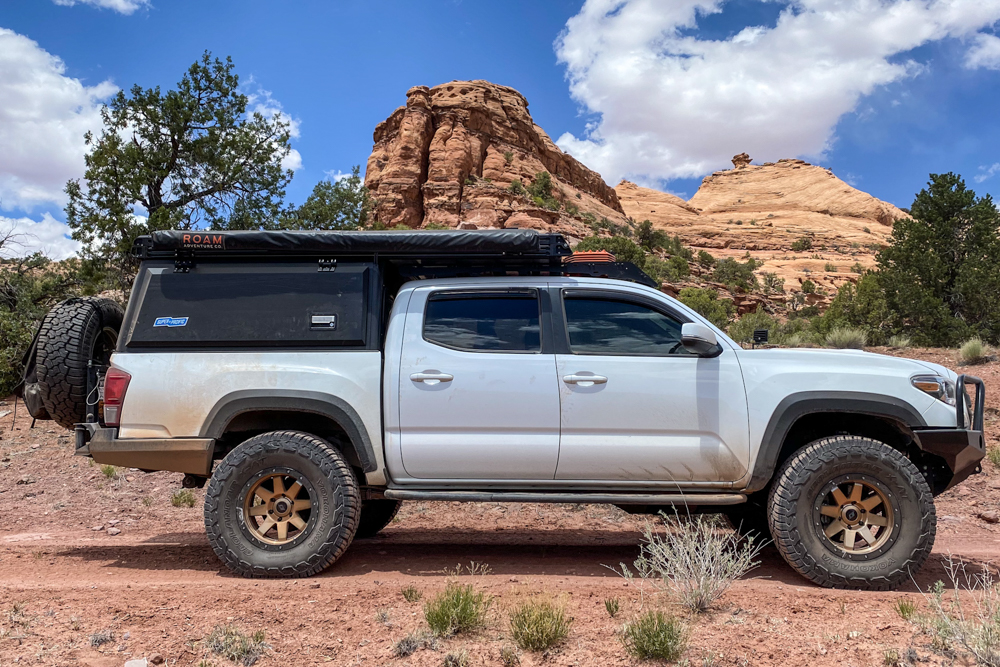 Photo credit: @pnwx.taco
The Super Pacific brand is one of the newest on the list. Like many companies, the idea for Super Pacific came about over a few beers and conversations with friends. Everyone involved wanted to get their families outside more, but was struggling with how to incorporate an outdoor lifestyle with the hustle of modern-day life.
After deciding that camper vans were beyond the budget, and the available space, and after deciding that the rooftop tent market was lacking, the team decided to break into a custom design for a new camper.
Fast forward to now, Super Pacific has quickly been gaining traction and the orders keep rolling in. The team has members with backgrounds varying from building, design, manufacturing, and product innovation—the collective experience ultimately culminated in a camper that has caught the eye of several consumers, and the interest shows no sign of stopping.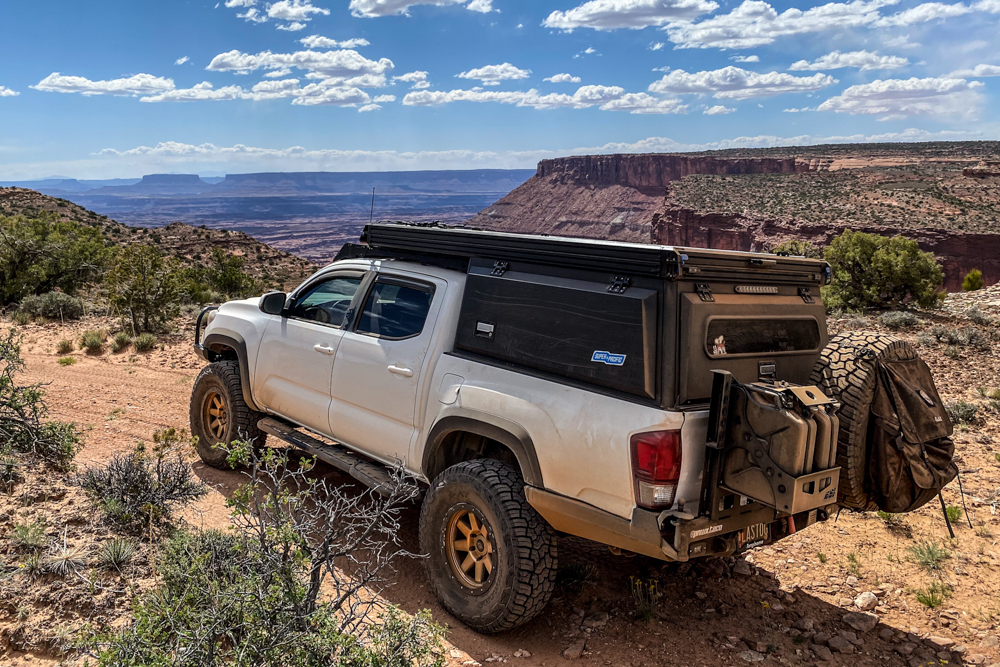 Photo credit: @pnwx.taco
Notable Features
4-season tent
Commercial grade canopy
Built for customizing
Wide side access
Countless custom parts
10. TrailFort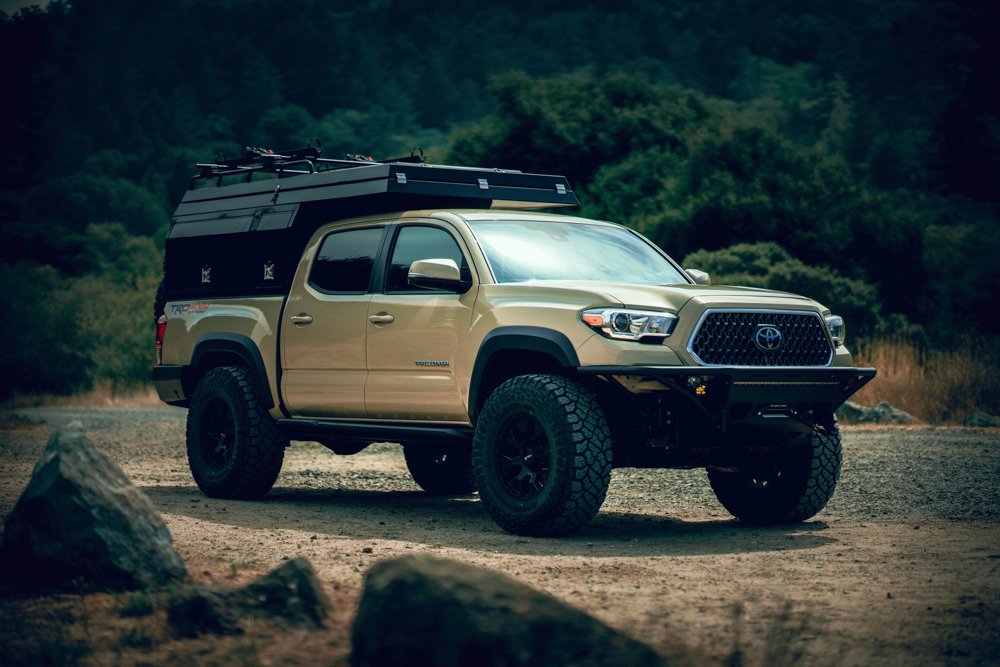 Another newer company to market, TrailFort is certainly shaking things up. The inspiration for the product came from building forts as children. Fast forward to today, and the TrailFort aims to bring that same experience to adult life.
Raised in the foothills of Northern California, the team used to rough it (like all of us at some point). The Trailfort team values preparation and safety—which culminate in this new overland camper design.
This camper is certainly visually appealing and has some features that you don't see on other campers on this list. This particular camper caught our eye early last year and has made a big impact on the community.
 Notable Features
5 lockable utility access doors
Falcon-wing side doors
Integrated tunnel storage and roof rails
Aerospace aluminum construction
Tripple zipper windows
3″ sleeping pad
11. Vagabond Outdoors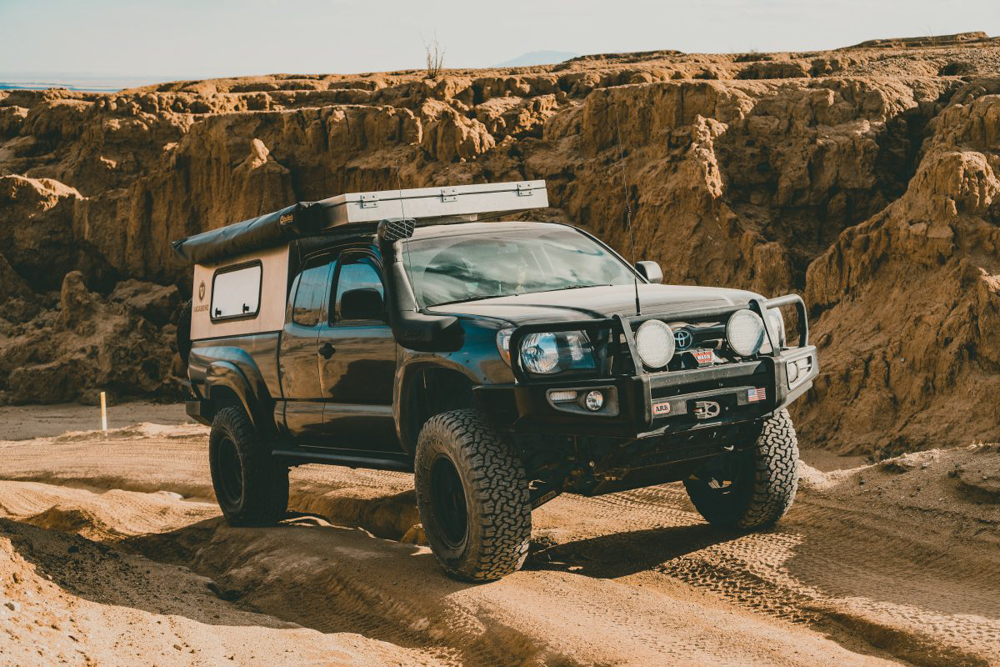 The best products come from necessity. Like many of the other companies in this compilation, Vagabond was founded after exploring and using countless setups, with the mentality of building and designing a custom camper. So, after selling their dream camper setup, Vagabond was started.
Fast forward a few years and Vagabond Outdoors offers a couple of different models—all with the idea that they needed to be stronger than anything that could be thrown at them. At this point, the campers have been refined and perfected.
As the final company on this list, I think this is a great way to wrap things up. There's something about this camper that has me really thinking!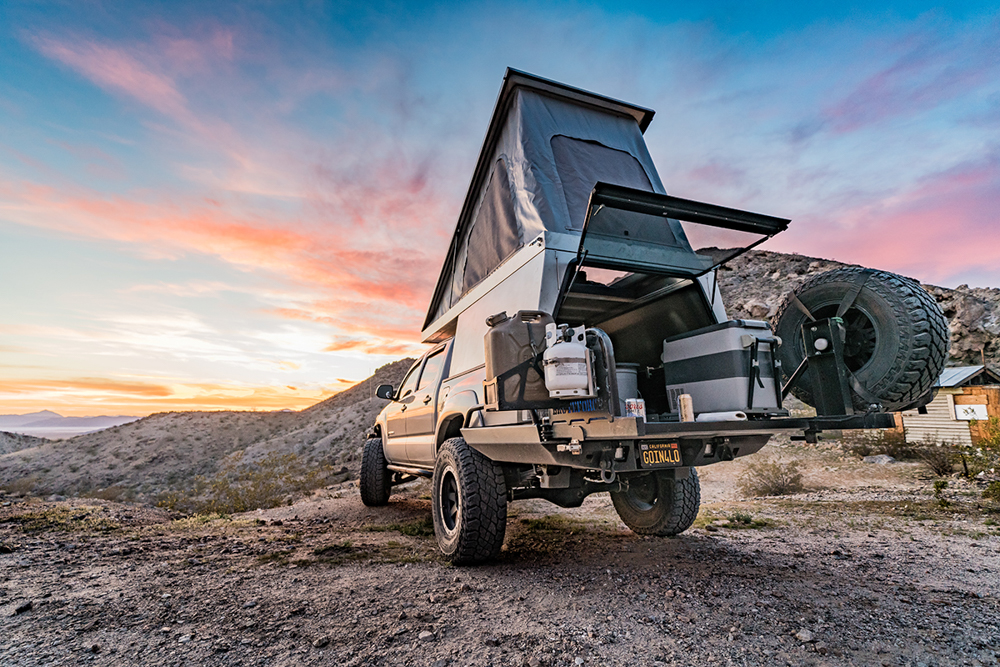 Notable Features
Perfect for mid-sized trucks
Patent-pending design
Plenty of customization choices
One-piece lid design
12. Special Mention – TruckHouse BCT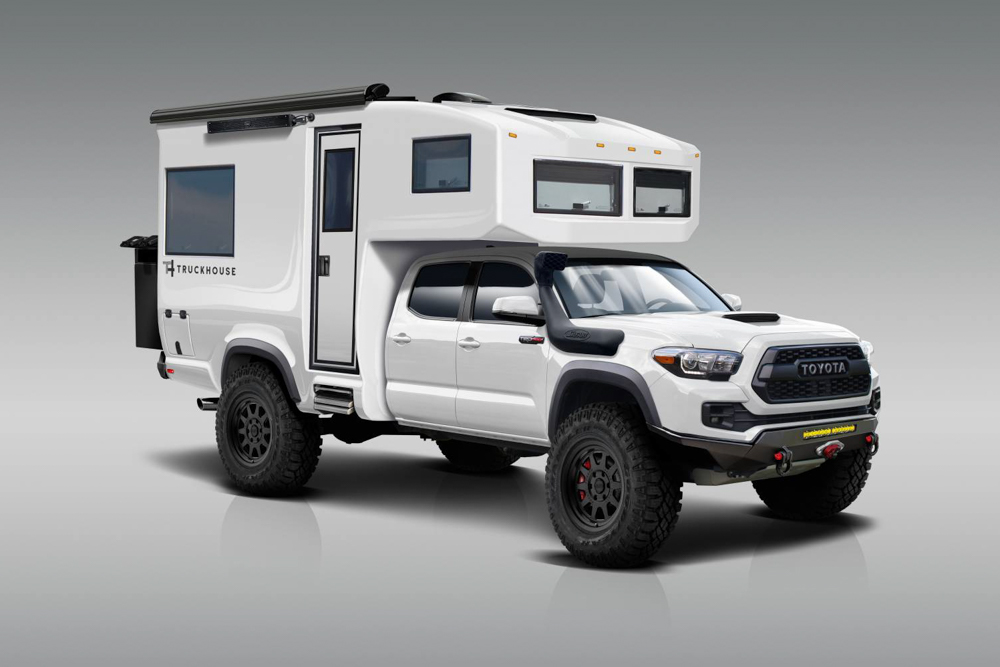 Find It Online
So I absolutely had to say something about this camper. Yes, you need deep pockets or you need to be really committed. But TruckHouse is the definition of dialed.
This is certainly not your average camper. The TruckHouse is the complete package. The purchase price includes the truck and the edgy design and next-level manufacturing are setting the benchmark standards for the high-end camper market.
Whether you're looking to take a weekend trip or a global expedition, this build will have you traveling in style. The base truck is completely and heavily revamped to be able to handle the added weight and luxurious add-ons.
With several available stages, performance packages, colors, off-road options, entertainment setups, remote power systems, and severe weather upgrades, the team at TruckHouse has literally not left a single stone, or more appropriately bolt, unturned. If you're looking for the best, look no further!
Final Thoughts
Now that is quite the list! Hopefully finding all the options for the Tacoma in one place was helpful. There may be other companies on the rise, but this list consists of the most popular and the latest additions to the market.
I know my future holds a camper…the only (and really the hardest) decision is which one?! All of these companies offer something a little bit different and they're all suited for a variety of outdoor explorers. Only time will tell which one I'll end up with. The decision isn't easy, but I'm sure I will settle for something awesome.