Agency 6 Heavy Duty Billet Aluminum Battery Hold Down Bar – Quick Installation & Review for this Battery Clamp Upgrade for 2nd & 3rd Gen Toyota Tacoma
An overlooked upgrade that most people tend to miss is their vehicle's battery. We all know a few guys that are running every kind of Baja Designs, Diode Dynamics, or KC lights that they can fit on their rigs. Even for those that are installing a Switch Pros system to power all their accessories, when you start tampering with electricals on your rig and start adding additional gadgets, it's time to consider upgrading your power source.
Most people upgrade their OEM True Start battery for an AGM that is more capable of handling that amount of workload. A factor that some don't consider is that the AGM batteries can be bigger and heavier than the factory ones.
Upgrading the crossbar that holds down the battery isn't a necessity, but it adds a nice touch to the engine bay and beefs up your battery mounting system. Agency 6 has its custom billet bars in either red or gray, and these things are sleek! This is an affordable upgrade and a quick and easy install. Besides, the OEM one just looks so bland.
Agency 6 Battery Clamp Bar
Who is Agency 6?
Agency 6 is an American-based company that designs and manufactures all of its products locally. American products built by real Americans.
They are committed to making superior adventure equipment, and they specialize in camping essentials like shovels and tools, as well as off-road and 4×4 vehicle components such as Hitch-Mounted Shackle Blocks, Grab Handles, Winch Shackles, and Adventure Mini Shovels. Make sure you check out the previous links if you want to learn more about the other Agency 6 products.
Find It Online
First Impressions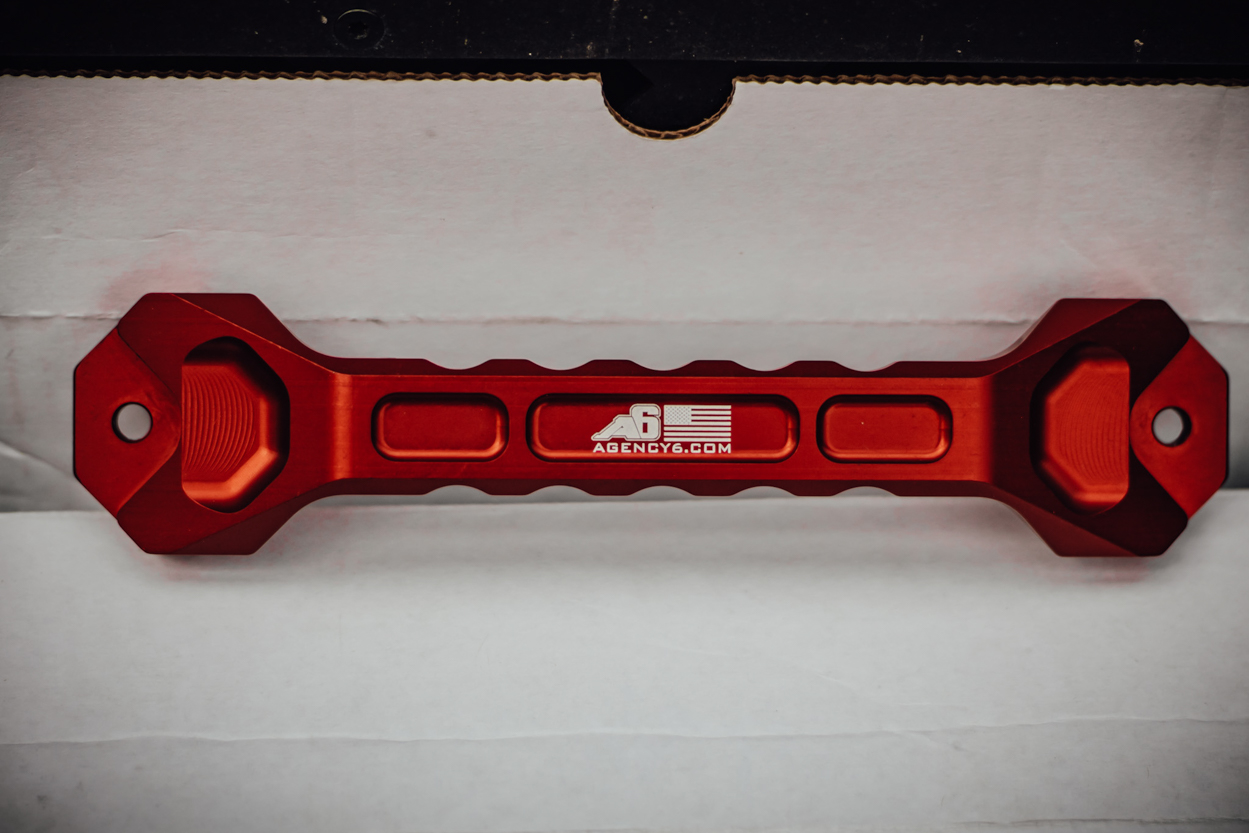 I was genuinely impressed when I first pulled this bar out of the box. It is solid yet extremely lightweight. Just holding it in my hand, it weighs next to nothing but is twice as thick as the OEM one.
The billet aluminum is high quality and extremely strong. Also, the anodized red finish pops!  The lines are super clean with a smooth texture. This accessory just looks way too nice to be hidden under the hood.
Installation
Out of the box, Agency 6 provides you with the Battery Hold Down Bar along with two nuts and two washers.
The install should take you less than five minutes from start to finish. Normally I break all my installs down into step-by-step instructions, but this one is so easy there is no need to.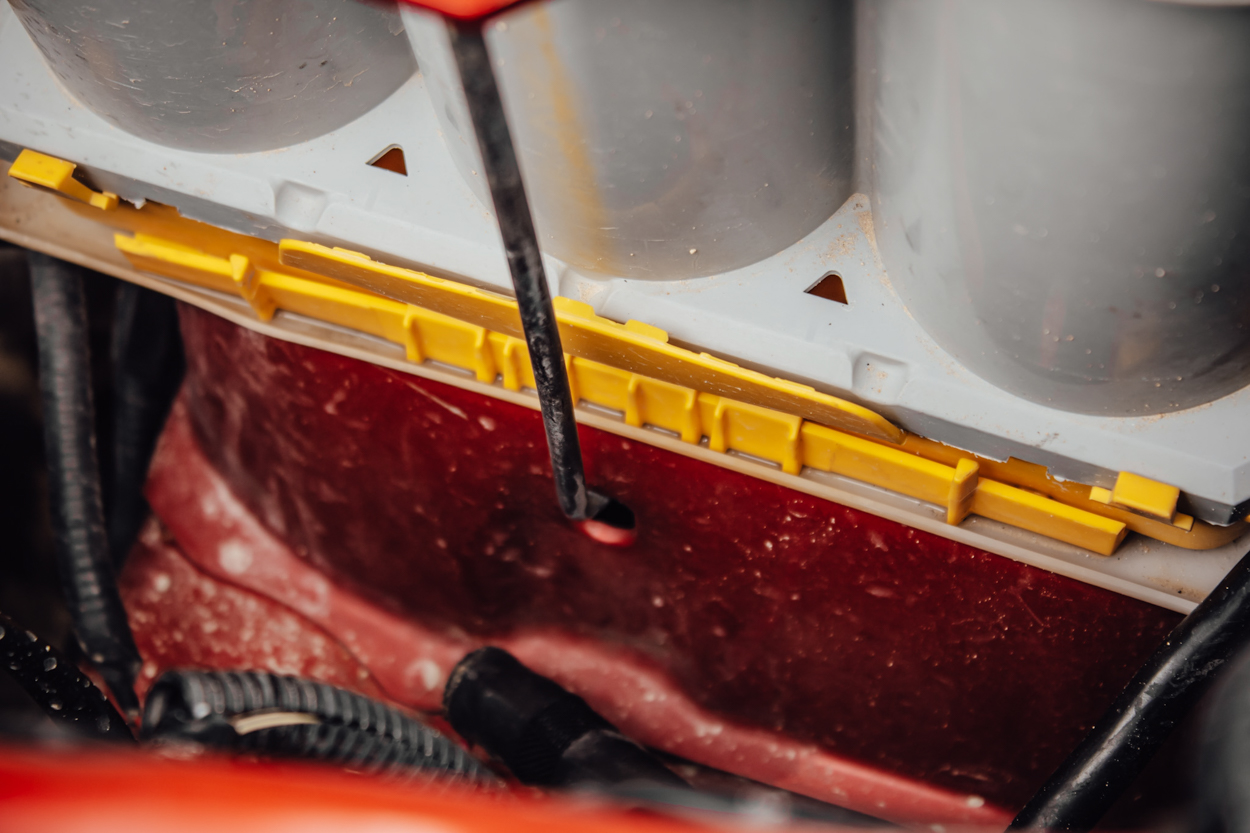 The first step is removing the OEM crossbar. Using a 10mm deep socket wrench or ratchet wrench you can remove the OEM battery crossbar, and replace it using the Agency 6 hold-down bar.
Next, slide the original J-hooks through the two holes on either side of the Agency 6 bar. Place the J-Hooks in the factory holes underneath the battery tray, then place the supplied black nylon washers followed by the 18-8 stainless steel flange nuts on both sides and tighten down fully.
Be sure to not over-tighten so you don't damage the battery.
Final Thoughts
Agency 6 pays attention to detail with all of its products. They are consistently putting out some killer items at affordable prices.
This is one of those affordable cosmetic upgrades that will make your engine bay that much nicer. This product paired with my ARB On-Board Air Compressor draws in attention. Sometimes it's the most subtle touches that have the largest impact.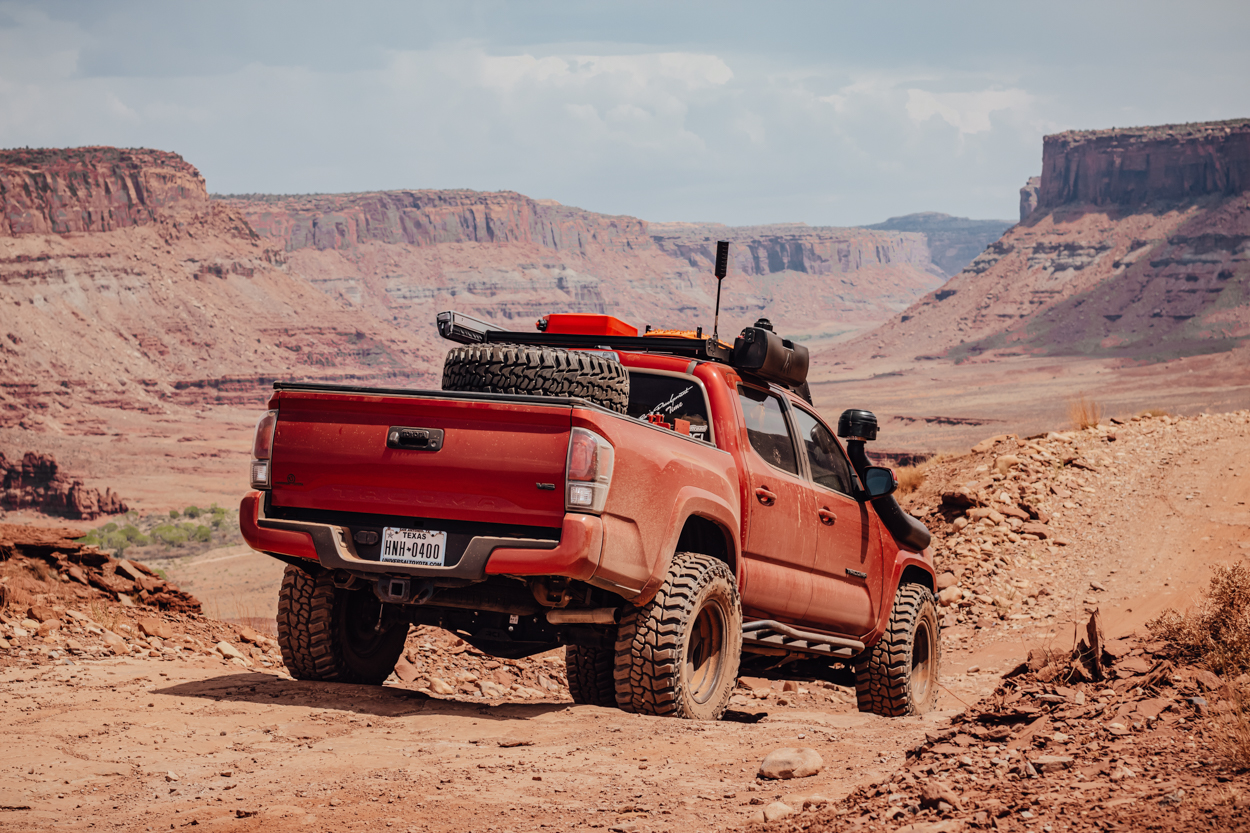 It's worth noting that while this might just seem like a cosmetic upgrade, which I'm not upset about at all, but there's function to be had as well. Factory battery bars do a fine job, but while you're at building and beefing your truck up, you want to make sure your battery isn't going anywhere. While it's not a full-fledged battery box, it certainly plays a variety of roles and doesn't break the bank.
Their customer service is exceptional as well. Products are shipped fast and delivered even faster. Do yourself a favor and draw some attention away from the nest of wires you have stuffed next to the battery. Agency 6 exists to inspire your outdoor adventures!