Bomber Strap VS. Race Face T2 Multi-Bike Tailgate Pad – Which Tailgate Bike Mounting Option is Best for Your Truck?
"Dude! Shred in 15 minutes, meet us at the trail!"
We have all gotten that call or text and if you are anything like me, scrambling to get out the door with your bike and gear is not fun. Being able to quickly load your bike on your tailgate and out onto the trails is paramount.
In this review, I will compare the traditional tailgate pad and the Bomber Strap with magnetic fid-lock buckles on a 3rd Gen Toyota Tacoma. Tailgate pads help protect your tailgate's integrity, defend against scuffs or scratches, and overall protect your bike's fork and downtube. Having a good tailgate pad will add life to your tailgate as well as your bike. I know what you may be thinking, why even use a tailgate pad or otherwise? Any moving blanket or folded towel will do the trick, right? Wrong.
We all know how much we love our mountain steeds and nowadays bikes have become more expensive with top-of-the-line components and countless upgrades. Protecting your investment to ensure its durability has become a real priority. You owe it to your bike to safeguard it in transport. Below I will compare the pros and cons of a traditional tailgate pad and the Bomber Strap. You can find a full review of the Bomber Strap here.
Find It Online
Bomber Strap VS. Tailgate Pad
Features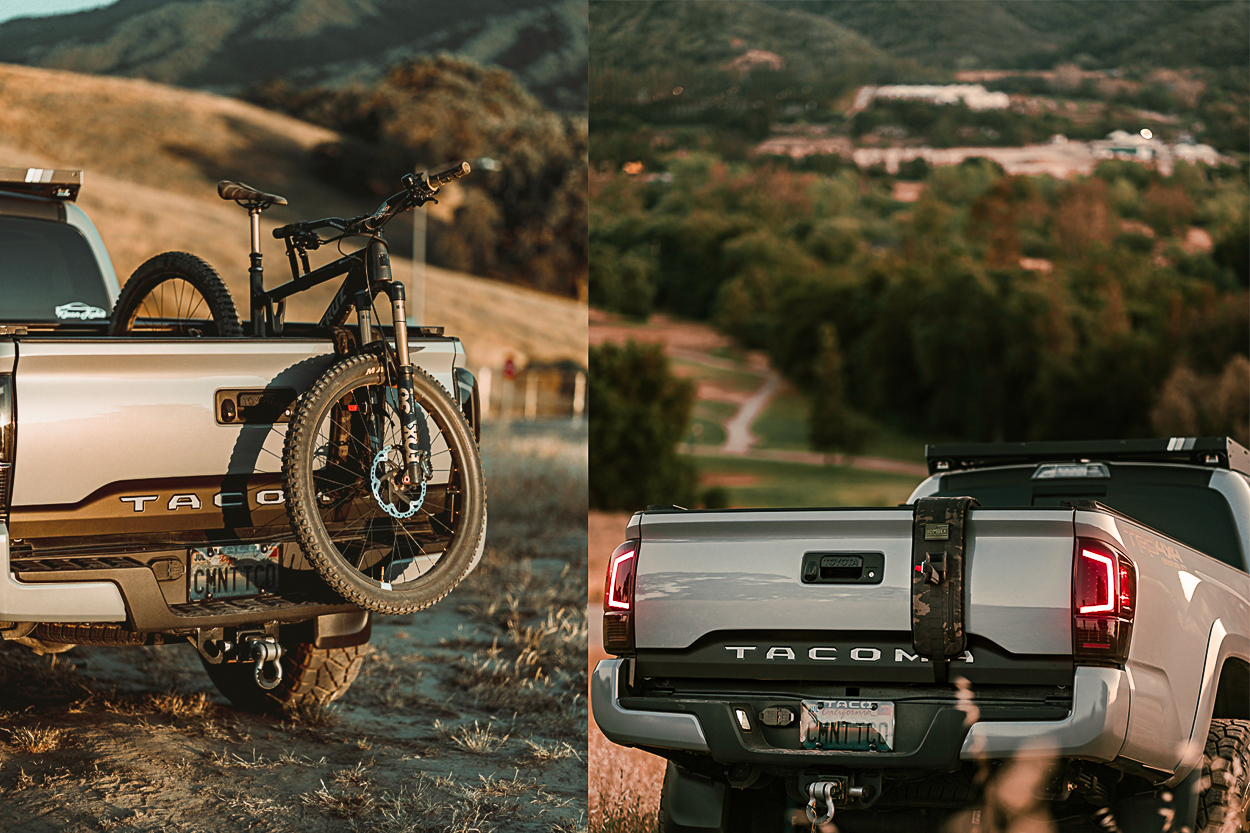 Bomber Strap
Install in under a minute

14 x 6 x 2 inches

Carries one bike
Fortified area, precisely placed to go under the tailgate for added protection
Two fully adjustable magnetic fid-lock buckles allow easy removal (reg. Velcro buckles available)
Backup camera compatible
Race Face T2
Install in a few minutes

58 x 6 x 13 inches

Can carry 5-6 bikes
PVC tarpaulin with micro brushed inner lining padding
Backup camera compatible (not all tailgate pads are)
Bomber Strap Construction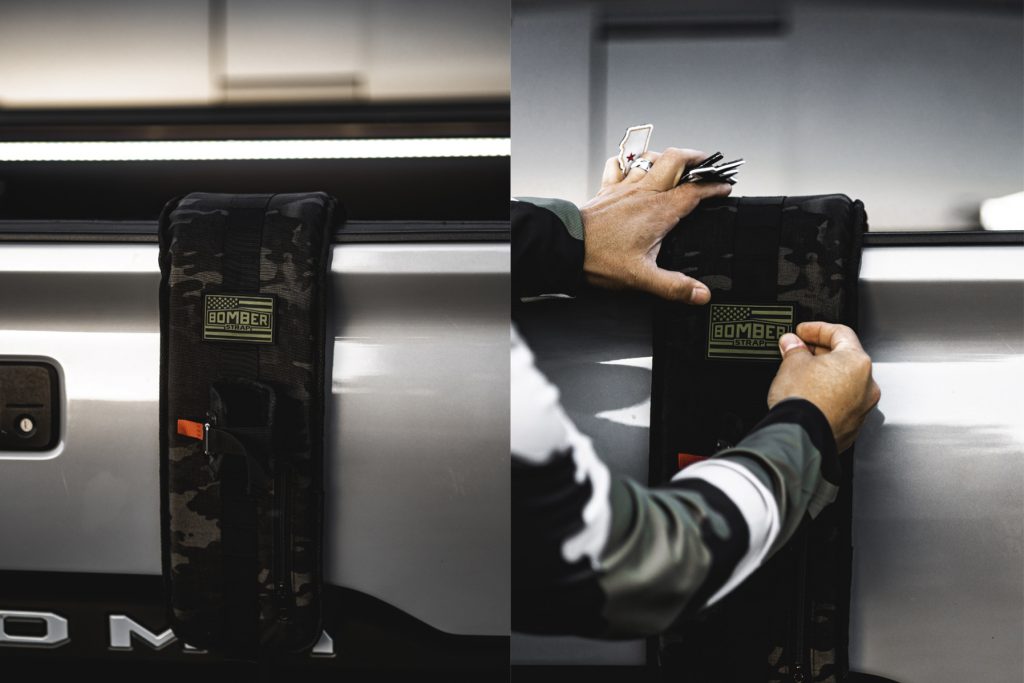 The Bomber Strap is made from durable 600D Cardura outer material with soft brush backing and a durable foam core. It comes with two magnetic fid-lock buckles – an upgrade option to the previous Velcro straps, a reinforced tailgate strap, and an ionized aluminum strap buckle which is pretty snazzy. It also comes with one easy-access front pocket as well as a 3D Bomber Strap Velcro patch.
The front pocket is handy as you can store anything from a bottle opener, patches, or extra CO2 cartridges. The patch is removable and easy to customize with your own patch if you'd like. Extremely well built, well made, and durable.
The Bomber Strap features two straps and a rotation control strap. The top strap of the Bomber is for the down tube and the other lower strap is for the fork lowers. The rotation control strap ties the top tube and handlebar together to ensure no unnecessary movement of the bike's front wheel as well as keeping the bike forks secure.
Race Face T2 Construction
RaceFace T2 size S/M tailgate pad is made from PVC tarpaulin, micro-brushed inner lining, and fits most mid-sized trucks (perfect for Tacomas). It comes with an adjustable slot in the middle, to accommodate the tailgate handle as well as a backup camera and it has six adjustment straps along the top edge of the pad to allow flexibility in securing multiple bikes.
Different from the Bomber Strap, the T2 can fit up to 5 bikes in a row and also contains straps for each of the bike's downtube. There are no additional straps as there are with the Bomber because the full-length tailgate pad by RaceFace allows the bike to rest fully against the tailgate, so there is no potential for scuffing your Tacoma with your wheels and components.
Pros & Cons – Bomber Strap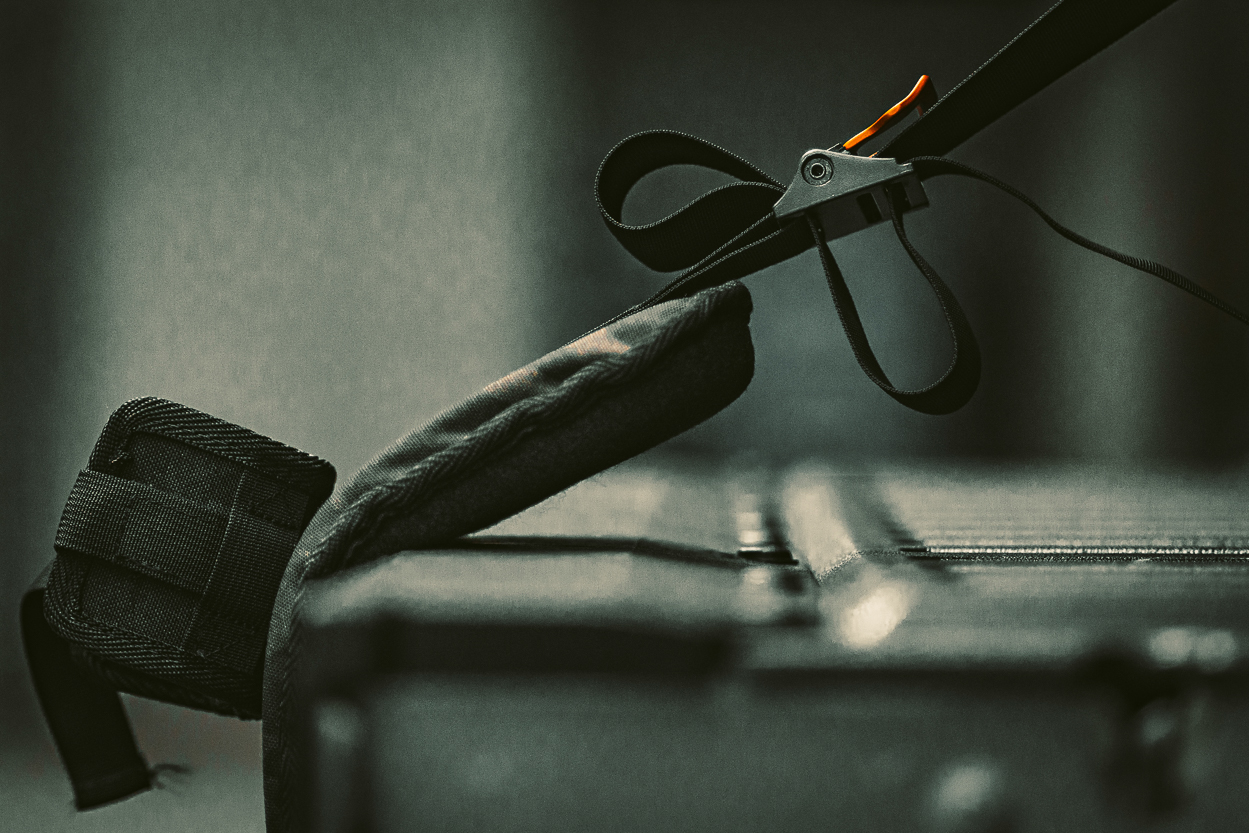 The pros of the Bomber Strap are easily identified such as easy removal and storage, its compact size, and the satisfaction of having a single-serve version of the tailgate pad that will not obstruct or hinder your tailgate handle or backup camera.
While I did not find a whole lot of cons with the Bomber Strap, I did experience a slight tilting of the bike while in transport. Though, that quandary was quickly solved by adjusting the top and bottom straps on the Bomber Strap to custom fit my bike. The available strap slots are fully adjustable to help customize pretty much any bike. You can slide them up and down to allow proper bike stabilization.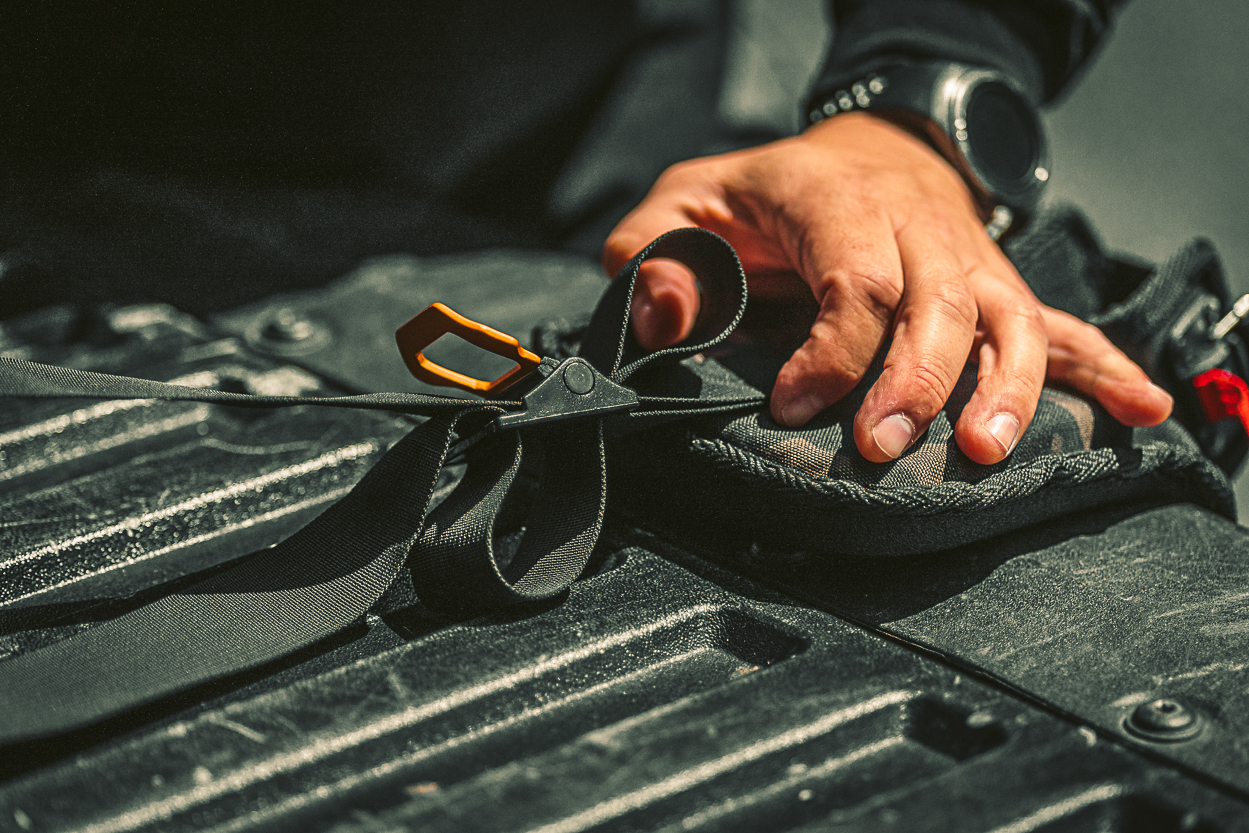 Another obvious but notable downside is that you can't transport more than one bike per bomber strap. So if you're shuttling the whole squad up the hill then the full-length tailgate pad will be the route for you.
Pros & Cons – Race Face T2
Some of the immediate pros that come to mind about the traditional tailgate include having the capacity to load more than one bike on the same pad. While not all traditional tailgate pads come with a cut-out to prevent from obscuring the tailgate and backup camera, the one reviewed here did. Another plus is that the RaceFace T2 costs the same as a Bomber Strap while allowing you to store 4 more bikes and you don't need to use as many security straps as the Bomber.
Some of the cons include the vulnerability of having your pad stolen off your tailgate. Alternatively, removing and installing the pad before and after a nice shredding session is not practical, not to mention the bulkiness of the tailgate pad storage. The thought alone seems tedious honestly, though some just keep the pad on the tailgate 24/7.
Loading Bikes – Bomber Strap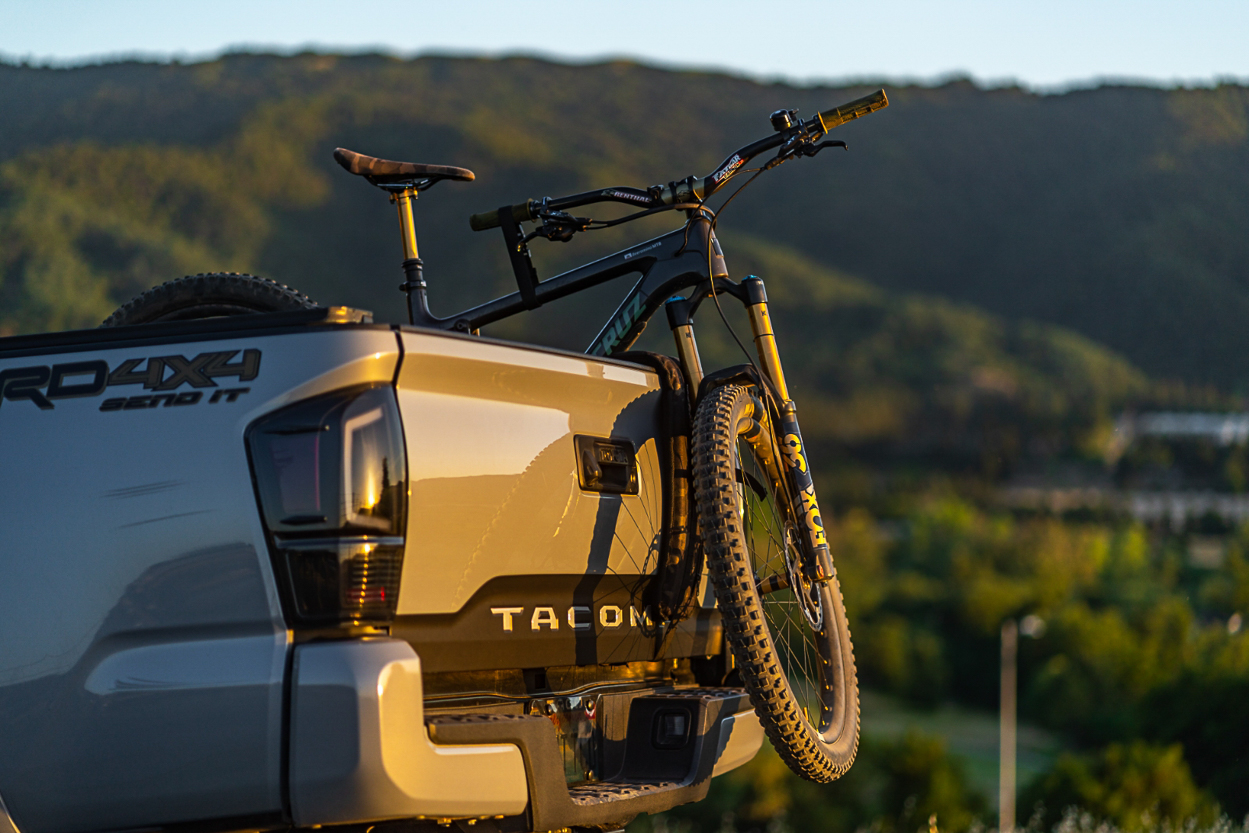 Load the bike's downtube so it lands on top of the Bomber Strap's top strap. Using the red elastic pull tab on the fid-lock magnetic buckle, pull the strap until it latches securely and adjust accordingly. Repeat the process on the fork lowers.
Finally, use the provided rotation control strap to buckle together the top tube and the handlebar grip. The rotation control strap is the key component as it helps stabilize the bike and ensures there is no wheel movement keeping the tire off your tailgate.
Final Thoughts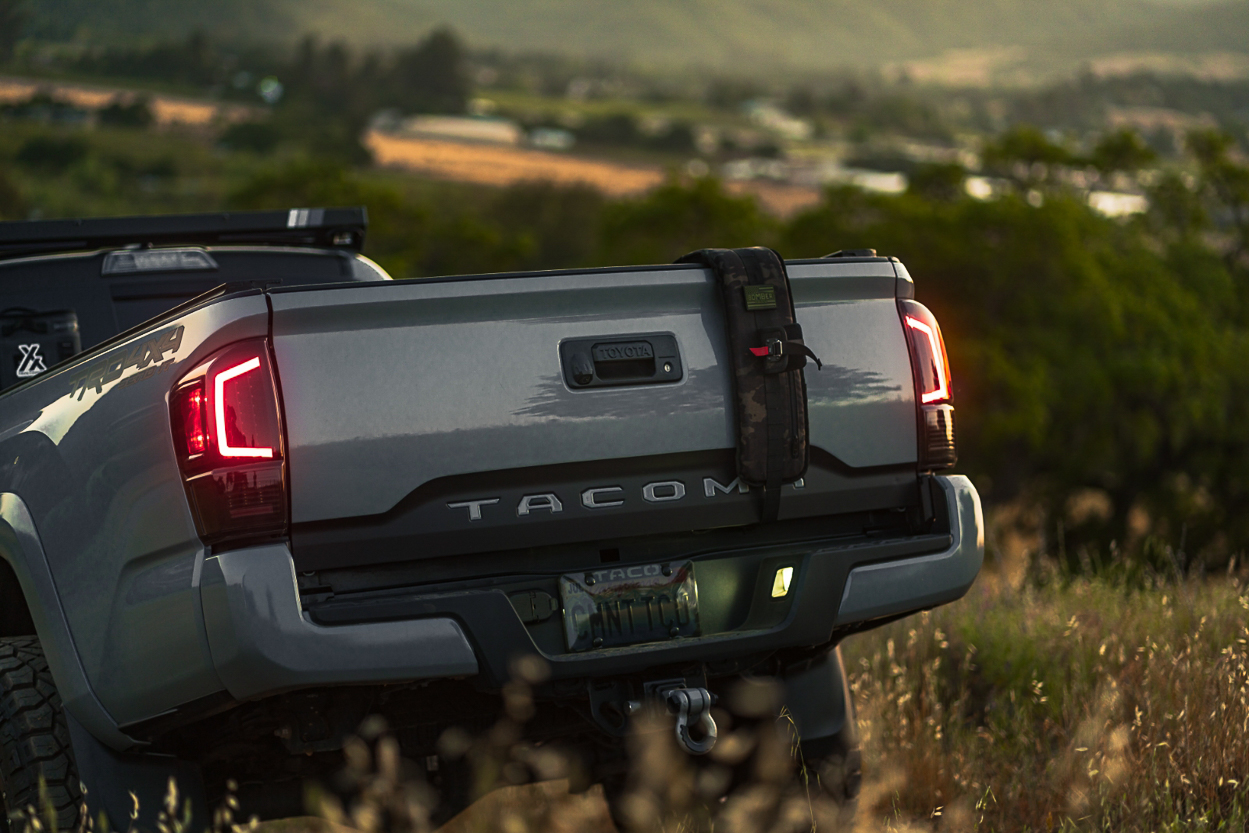 I used the Bomber Strap on my Tacoma for a few weeks while trying it out. In those weeks, I found the Bomber Strap to be very versatile and practical. Not only during installation but also in removal and storage. Having the freedom to quickly slap on the Bomber Strap with ease and get-up-and-go is invaluable. You may be thinking a few extra minutes spent on installing a traditional tailgate pad is no big deal, but trust me, try the Bomber Strap, you will not go back. You can thank me later!
Overall, when it comes to versatility, convenience, and overall aesthetics, the Bomber Strap is a great alternative to a traditional tailgate pad. I would highly recommend the Bomber Strap over a traditional tailgate pad if you are an independent shredder. The Bomber Strap also adds a "cool" factor to any tailgate receiving countless compliments out on the trails. Perfect for the unchained lone wolf who is not easily contained and who likes to hit the trails solo. Awooooo!