Six Wheels are Better Than Four – A Complete Overview & Guide to the Best Bicycle Mounting & Carrying Options for the Toyota Tacoma
One thing in common among all Tacoma owners and enthusiasts is that we like to go places and bring lots of gear, accessories, etc.! The places we go, and the stuff we bring, require careful planning and consideration. While most of us are not running the Rubicon trail weekly, we are trying to figure out how to fit our stuff into our trucks in an organized and stylish way.
Trucking with your bikes also allows for your adventures to get further off the beaten path. Getting into the backcountry in a truck is great, but getting up to those mountain lakes and ridges that don't have 4X4 access can be better explored with a capable bike.
So, if you're looking to explore further off the beaten path, or take the family on a weekend adventure, you may need to consider a good bike mounting solution. There is a range of mounting options for your bike, and most will work fine. However, if you are thinking about how to fit both your bikes and your friends or kids into your truck, while still being able to pack all the needed gear, then you're going to have to carefully think about the different rack solutions to understand the tradeoffs of each.
Below is a review of some of the most common styles of bike racks, with pros and cons to help inform your choice. I will also highlight the solution that I have found for my Tacoma. Ultimately, there will be downsides no matter which setup you choose, but a good rack system is going to ensure that you show up to your destination ready for an adventure with your bikes in working order.
As many of us have experienced, there is nothing worse than showing up to your favorite trail with a broken bike because you are out there to see the world, not mess with your derailleur.
Toyota Tacoma Bike Mounts/Carriers
Hitch-Mounted Bike Carrier Systems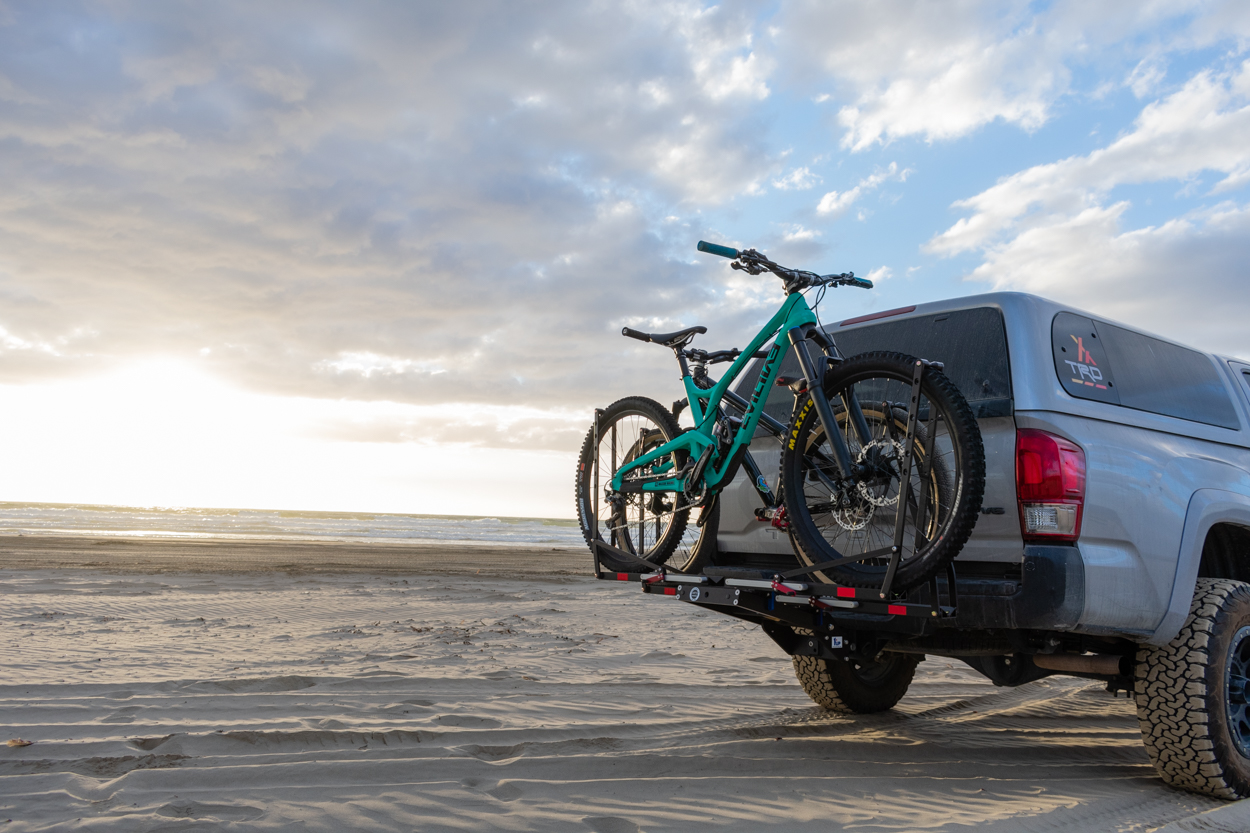 The hitch-mounted racks on the market fit into your vehicle's tow receiver and there are two basic styles: hanging and tray. The major benefit of these types of racks is the ease of getting the bikes loaded. Most racks will either swing out of the way or fold down for lift-gate access.
For the tray-style, there will typically be a series of trays that you place your bike's tires on with some type of system to secure the bike to the trays. Tray-style racks are typically a bit heavier but are a solid option for securing mountain bikes. Especially those full-suspension bikes!
Recently, many bike rack companies have been releasing vertical hitch-mounted racks. These hold your bikes vertically from a T-shaped rack and allow you to carry 4-6 bikes side by side. These are a great hitch-mounted option for families and groups because you can carry several bikes while only hanging beyond the tailgate by one bike length.
A horizontal hanging rack secures a bike by its top tube and similarly holds bikes as the platform racks, just in a slightly different way. These are best suited for road bikes or hardtails since the rear suspension on mountain bikes can get in the way.
Most major brands carry a version of hitch-mounted bike racks. When you're looking for your rack, consider the array of moving parts, how those will function over time, and how the rack will impact clearance behind the hitch. Since you are mounting to your receiver, this type of rack will be hanging outwards, which may be vulnerable on uneven terrain. A great option for the hitch mounted is the 2" Heavy Duty Double Rack by 1UP USA. You can read a full review of this product here.
Another great option to consider is the Rocky Mounts WestSlope. This rack has a modern and sleek design with a sloped frame body that eliminates handlebar interference between the bikes. A wheel hook and a ratcheted swing arm ensure a secure fit that eliminates bike frame contact. With the WestSlope, you can opt for a two or three-bike setup.
Find It Online
PROS
Easy installation out of the box
Can fit multiple bikes
Easy to load and secure bikes
Frees up space in the truck bed
CONS
Heavy and bulky
Adds a couple of feet to the back of the truck (think parking and clearance)
In my opinion, it looks terrible
Bikes are vulnerable to damage during reversing and driving off-road
Back up camera may be blocked
Expensive
Tailgate Mounted Bike Carrier Systems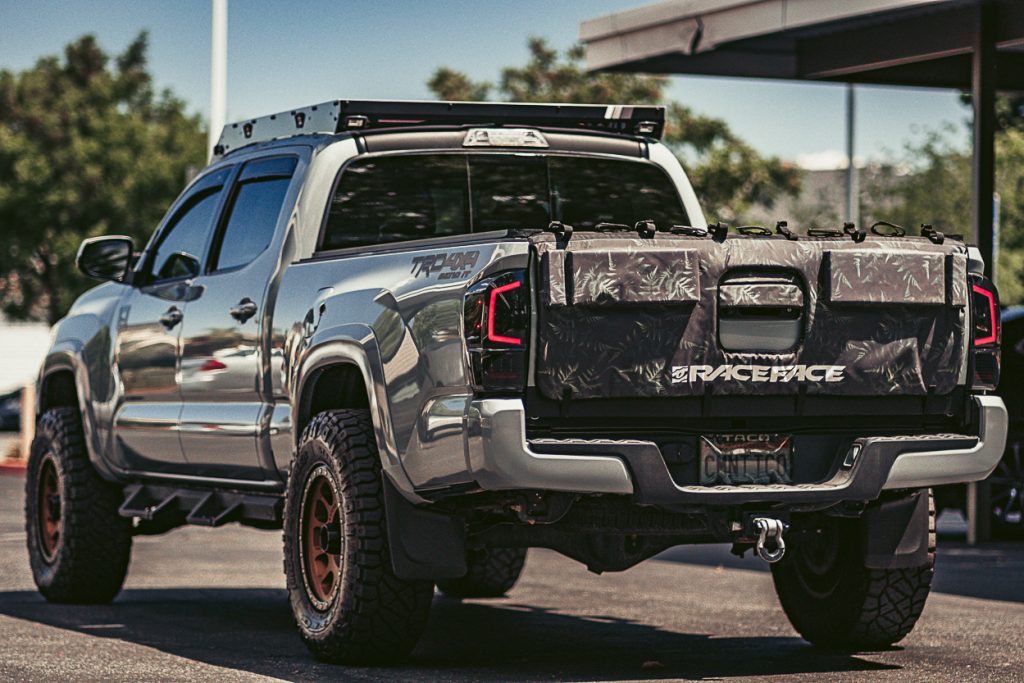 The tailgate pad is a simple, minimalist solution for transporting your bike. The pads are heavy-duty nylon fabric with a foam-filled pad that folds over the tailgate and is secured by a strap that runs under the tailgate. This ensures that the pad is secured and will not slip and slide as you travel to your destination.
The bike fork and front tire hang parallel, outside the tailgate, resting on the top tube and in most cases secured to the pad via an additional strap over the top tube. Some also offer an additional strap to secure the handlebars to the top tube to further stabilize the bike in the truck bed.
If you are traversing rugged back-country trails with additional gear for camping, this solution may not be for you as it will require most of the bed to be used for bike storage. Also, since the bikes are simply strapped to the tailgate, there is always the possibility that when traveling with multiple bikes, they'll be banging into each other and that could tweak some of those bike components.
If you are bombing downhill tracks and looking for a quick and easy way to shuttle a couple of bikes back up the hill this may be your golden ticket. Two major considerations when evaluating this type of bike mounting system: single pad vs. multiple bike pad. For a clean and simple single pad system check out our review of the Bomber Strap here.
For a multi-bike tailgate mounting system, check out RaceFace's recently released T2 tailgate pad. The T2 is a mountain biking favorite and can secure up to five bikes. The updated pad for 2021 can adjust to the length of the tailgate, adding extra stabilization, and features some beefy padding to protect that tailgate from damage. It even has a window opening for the backup camera.
The tailgate pad is a great option for transporting bikes as it does not require that you remove any tires, and allows for multiple bikes to be transported. However, you cannot lock or secure your bike to the truck, which is a major downside to this setup. An easy remedy to this is to bring a long cable lock and lock all the bikes to the truck. The beauty of this option is it's an affordable solution, simple to install, and easy to remove and store when not in use.
Finally, if you're looking for a post comparing both of the mentioned options, we got you covered. Check out this post –  Race Face Tailgate Pad vs Bomber Strap.
Find It Online
Bomber Strap Mega Bomber Tailgate Bike Mounting System: Check Price
Race Face T2 Tailgate Pad Mounting System: Check Price
PROS 
Easy installation out of the box
Compact and easy to store when not in use
Option for multiple bikes
Lightweight
Affordable
CONS
Requires a separate locking system
Uses up a lot of bed space
No built-in security system
Truck Bed Track Mounted Bike Carrier Systems
A bed-mounted system is a simple and practical approach. You can use a floor mount, wall mount, or track mount and it is easy to install, adjust, and load bikes. This is a fork mounting system, so you will need to remove the front wheel.
There are a few options you have for installing this type of mounting system, you can install it on a rail under the back window, along a side rail where bikes sit perpendicular in the bed, or on a track-mounted system.
The Thule Bed Rider is an aluminum telescoping bar with rubber feet that fastens to the side rails of the truck bed which doesn't require drilling holes. The 9mm swift-release style fork mount allows for transporting of up to two bikes which can be secured using the One-Key lock system.
This is a versatile option that is easy to install and remove when you do not need to transport your bikes. It also allows for you to adjust where the bikes are sitting in the bed, which may be a desirable feature if you're rocking a Tacoma with a 6ft bed. However, you might find the track mounting a bit unnecessary considering that you could just mount the fork mounts to a stationary track on the front or side of the bed.
If you are looking for a slightly cleaner mounting system, check out the wall or bed mounting setups on the market. My personal favorite would be Rocky Mounts rail system with a LowBall or Hot Rod mount. You have the choice of installing these mounts on the side rail or spending a few extra bucks and getting an additional rail for the front of the bed to add to the versatility of your overall setup.
I opted for an additional front rail to make loading and un-loading additional gear a bit easier. The side mounts seemed a little clunky for day-to-day use. The major benefit I see from this style of rack is the security it provides and the way it keeps everything organized inside the bed.
If you are looking to haul the whole family's bikes this is probably not the system for you. Bed mounts will also use up most of the bed since the entire bike is being stored there and you will need to secure the front tires separately. Like the tailgate mounting system, you will lose a bit of bed space. But if optimizing bed storage is your jam, then you will likely be looking towards a roof or bed rack mounting system.
Find It Online
PROS
Easy installation
Low visual impact
Clean look when bikes are loaded
Compact and lightweight
CONS
May require an additional track
Bikes take up bed space
Need to remove the front tire
Roof & Bed Rack Mounted Bike Carrier Systems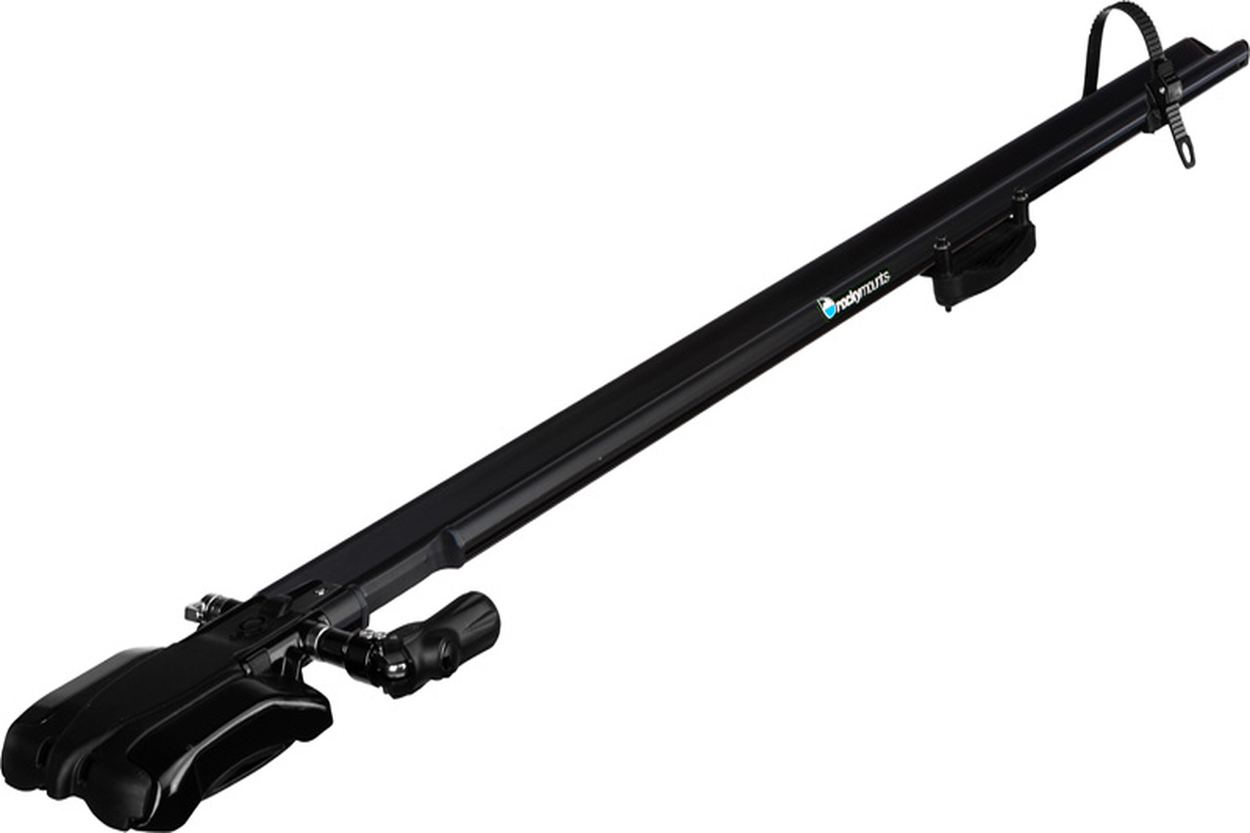 A roof or bed rack mounting system allows for the most efficient use of space. There are a lot of options for using a standard roof rack on a Tacoma so if you have rails on the roof, you can add crossbars and add a roof-mounted bike rack. Other options include installing this type of rack on a bed rack or on the side rail. To check out the best Tacoma roof rack options, read our top roof rack post for the 2005+ Tacoma here.
There is no shortage of options out there for roof-mounted bike racks, so if this is your desired approach it will save you space and keep your bikes out of your way during off-road adventures. I would argue this is likely the most appropriate rack solution for folks looking to set up their Tacoma for overlanding travel and looking to bring along their two-wheel toys. Depending on your needs and rack setup, you could travel with four or more bikes using traditional roof racks. You will also be paying the most since each bike will require its own rack setup.
As for options, I would look to the Rocky Mounts TieRod for a clean, modern-looking rack. This product includes a tire tray sized for oversized tires, an easy latching system, and a built-in lock. You can also lock the rack itself to the crossbar for more security. If you're rocking a full-suspension mountain bike and looking for additional stabilization, check out Rocky Mounts BrassKnuckles.
Find It Online
Pros
Optimizes bed storage
Clean look when bikes are loaded
Customizable placement to suit your rig
Cons
Requires additional racks
Expensive
Could impact other roof or bed rack attachments
Difficult to load and you'll have to remove a wheel
May reduce overhead clearance
Final Thoughts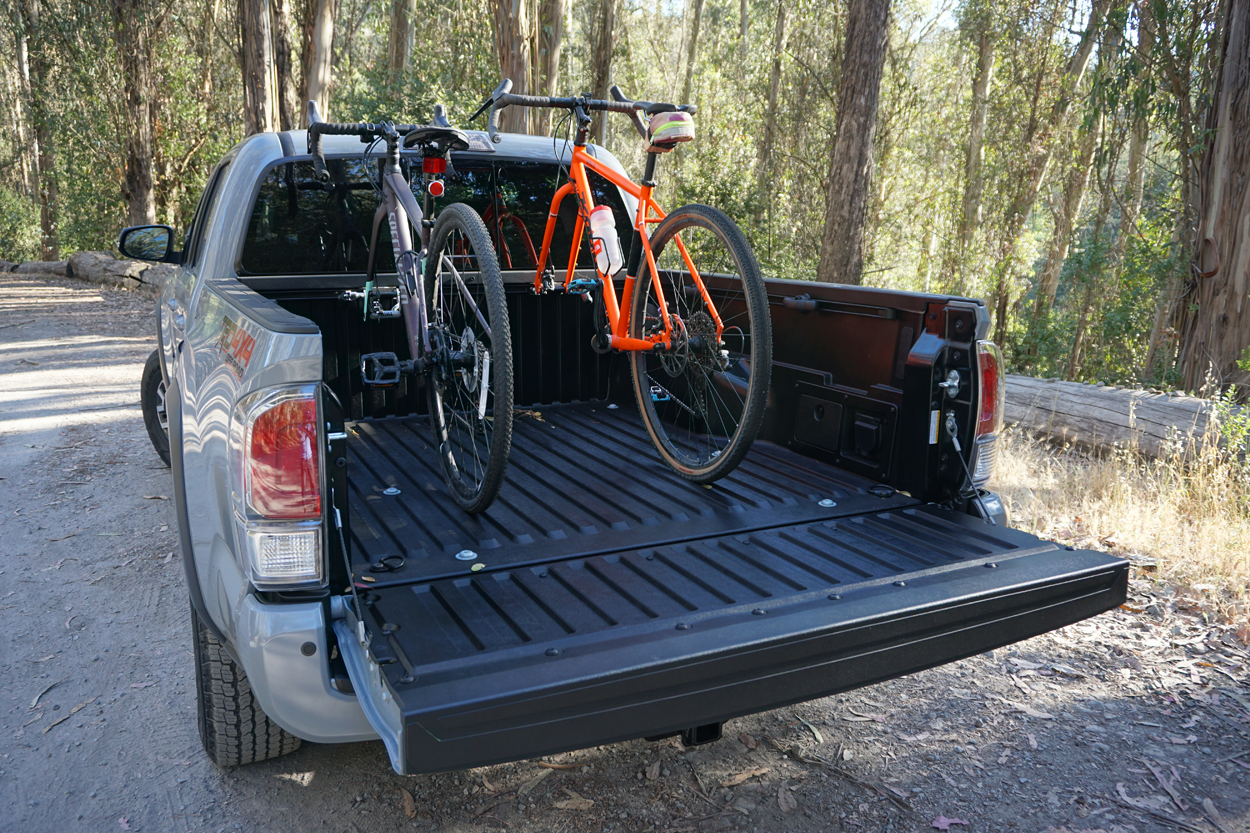 I opted for a track-mounted bike rack because I wanted to keep everything within the bed of the truck and I currently do not have a camper shell or roof rack.
However, my 2021 Tacoma TRD Off-Road did not come with the front rail system. While you can mount the bike rack to the side rails, I thought this configuration made for difficult access and a bit of a funky look. Though, it's a good option if you want to load more than two bikes. In the end, I purchased a front bed header rail system.
From there I purchased two of Rocky Mounts Locking LowBall bike racks. The locking feature was a must-have, as was the ability to keep things stored entirely within the truck bed. Toyota makes adding a front bed header super simple, as did Rocky Mounts with the installation of the rack. In total, we are talking eight screws correctly positioned and you are good to go.
The key to the installation is to install the Rocky Mounts into the rail system before installing the rails system to the truck bed. To install the Rocky Mounts, you simply screw the provided locking washer into the front header rail. Leave it a little loose so you can move it around once the header rail is installed because you may want to have the mount positioned over one of the header screws that connect to the truck bed.
Once the header rail is installed, you'll want to make sure that there is a minimum of two feet between the two Rocky Mounts to give adequate handlebar space for two bikes to be loaded into the racks. Also, be sure to keep the Rocky Mounts star key wrench in the truck because you may have a bike with wider handlebars and might need to adjust the spacing to fit the bikes.
Once installed, I loaded up my bikes for a gravel road adventure. I drove some wash boarded roads with the bikes loaded and was glad to see the Rocky Mounts kept the bikes secured, even though the back tires are sitting unsecured on the truck bed. The locking feature on the rack worked great and allowed me to make a couple of stops around town with the bikes in the truck and I was not worried about them being nicked.
The rack system makes loading bikes into the bed easy and securing them to the mounts can be done in less than 30 seconds. You'll want to take note of the hub you have on your bike and if you have a thru-axle, you'll need to pick up a thru-axle adapter. I opted for the Thule Thru-Axle Adapter and am pleased. I'm sure you can geek out on what adapter you'd prefer, but let's be honest there are more interesting Tacoma mods to investigate than bike adapters.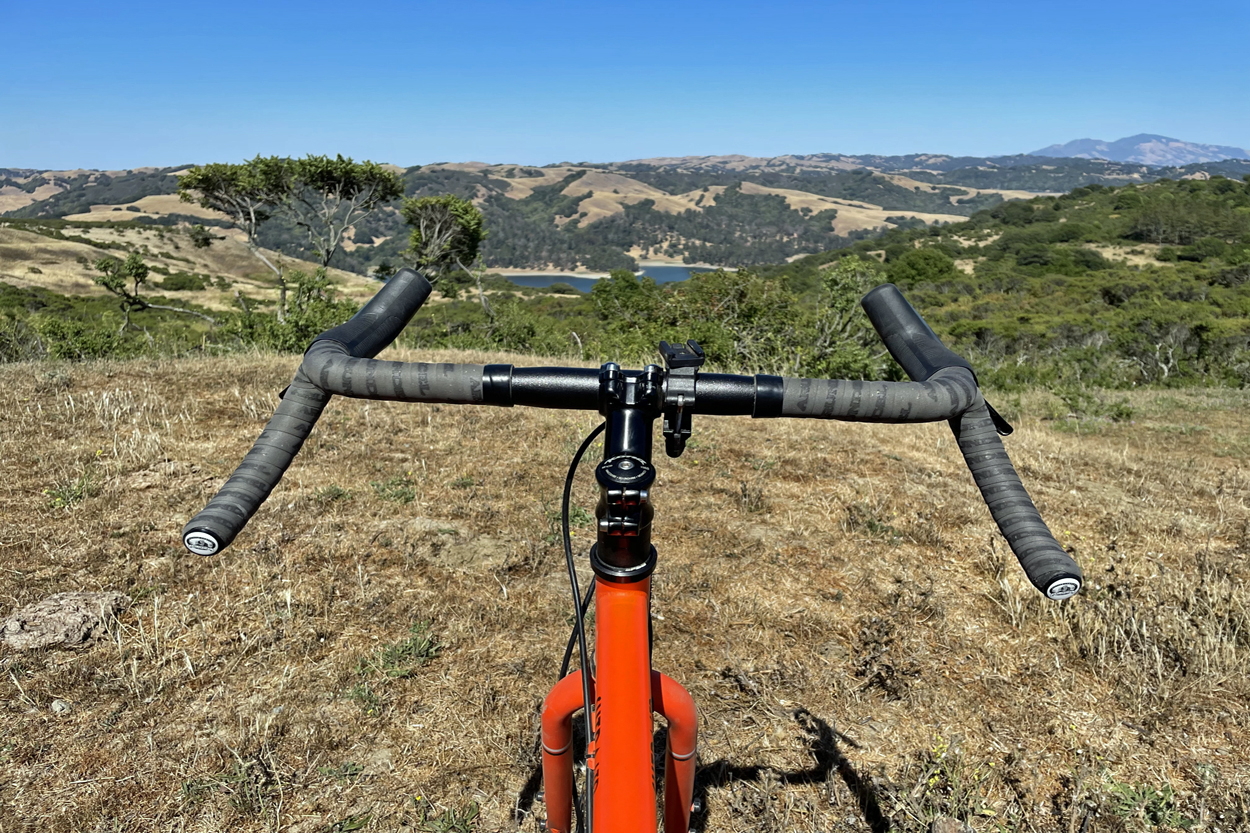 The only downside is that the mounts do stick out a few inches from the bed header rail, meaning that the bed is no longer a flush surface. This could be an issue for those who need to haul other stuff in their truck bed regularly. Especially if you are moving things like furniture that you do not want to scratch or damage.
However, if you are primarily using the truck for weekend recreational adventures, then you'll be fine with this setup, and you can easily loosen the mounts and slide them to the side when you need to haul something for a friend. Just remember to keep that star key wrench in the truck for those unexpected moments.
All in all, I'm stoked with the Rocky Mounts Low Ball Locking mount system and would highly recommend their products to other Tacoma enthusiasts looking for a bike rack setup.