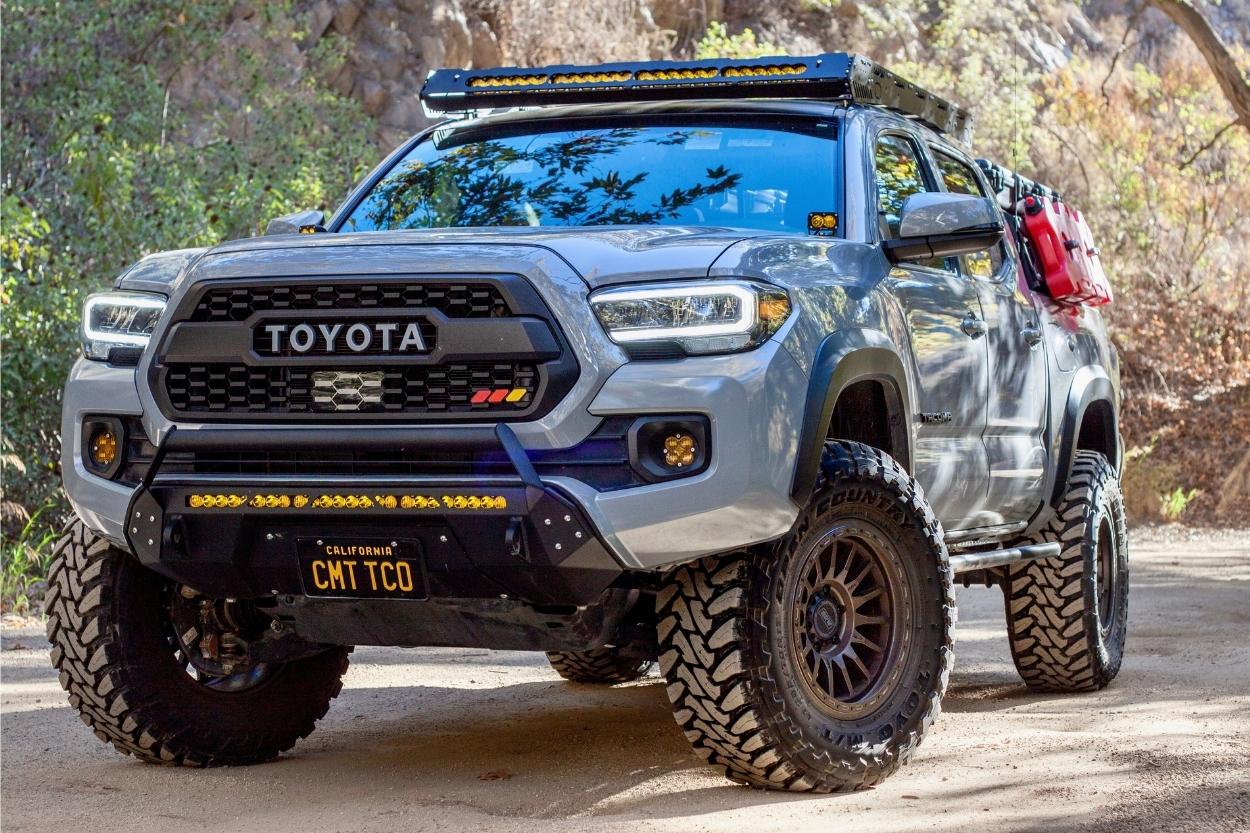 Pictured: @thatcementtaco
7 Cement Gray Toyota Tacoma Builds: A Featured Truck Compilation to Inspire Your Overland & Off-Road Rig
Taco Tuesday is HERE!! I am so pumped to bring weekly features here to Trail Tacoma. Every single Tuesday, we will feature a handful of submitted builds based on a specific topic.
Each week, we will be choosing a different topic. Some weeks it will be very generic like Cavalry Blue Tacomas and other weeks, we will get more specific like Suspension Setups. Regardless, everyone with a Tacoma can submit their truck to be featured here on Trail Tacoma. Just click this link!
If you want a better idea of what we are aiming for, check out all of our Feature Friday posts on Trail4R.com. We are featuring 4Runners weekly over there as well! We hope you all enjoy this series as much as we will.
This Week's Topic: Cement Grey Tacoma Builds
This week, you'll find seven different and unique cement-colored Tacomas that will undoubtedly inspire those on the overland build journey.
1.
Justin Respicio

 

(

@38k.yota

) 2020 TRD Off-Road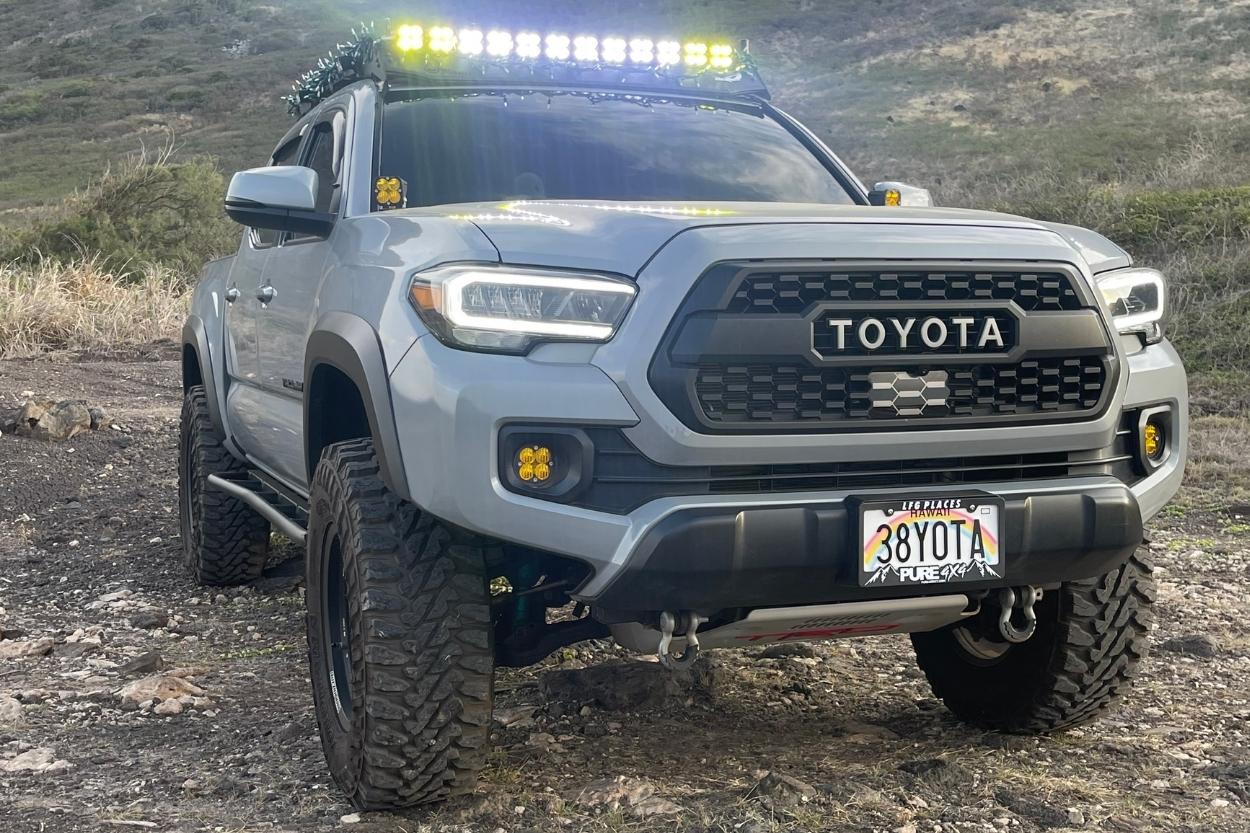 MODS LIST
Lighting & Electrical
Switch-Pro 9100 mounted on a Power Tray
Blue Sea Circuit Breaker and Fuse Box
Dark Defense Array Light Bar
Baja Design Squadron Sport (ditch lights and fog lights)
Baja Design S2s (scene lights)
Baja Design S1s (chase lights)
Infinity Off-Road Rock Lights
Suspension
Kings 2.5 Adjustable Shocks with Reservoirs (front and rear)
Archive Garage U-bolt Flip Kit
Exterior
RCI Rock Sliders
TRD Skid Plate
Anytime Camera
Performance
S&B Cold Air Intake
TRD Exhaust
KDMax Tune
Q&A – What Do You Like Best About Your Setup?
Everything to be brutally honest. This rig has the look I've been building and looking for from the start, and it functions on the trail, asphalt, or the sand.
The lighting and electrical mods allow me to have easy access to all my lights while I'm out to not only see through the dirt but also the sand.
The suspension handles like an absolute DREAM and takes any imperfections on the dirt trail or the asphalt.
The wheels have the nice rigid, yet, sophisticated look I wanted, and the tires grip amazing on hills, rocks, and mud.
The performance mods make the truck absolutely RIP and sound amazing. However, without the body mods, like the rock sliders and skid plate, my undercarriage would look like a honey badger attacked it haha. This build comes together and gives style and functionality all in one and I'm proud to be the owner of it.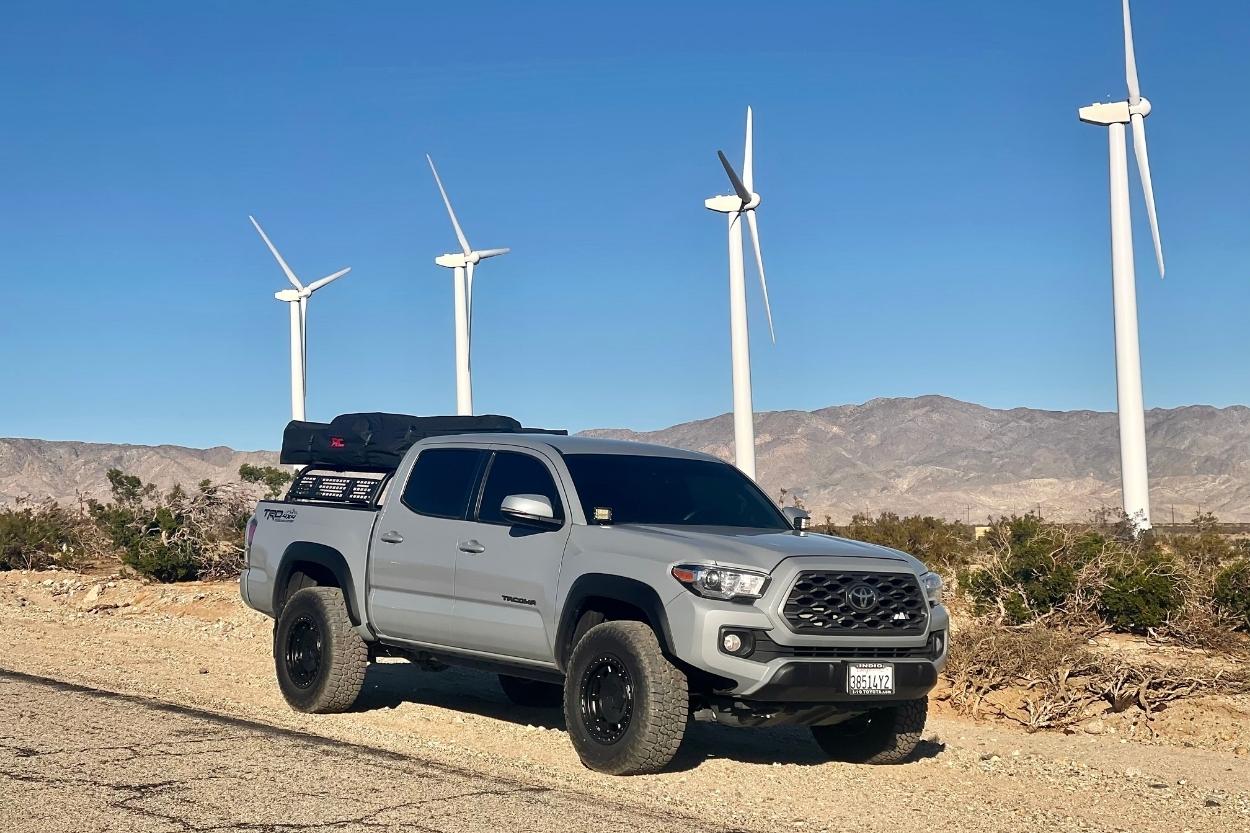 MODS LIST
Lighting & Electrical
LED Low Beam
LED High Beam
LED Fogs
Cali-Raised LED Ditch Lights
Rigid Industries 28″ Chase Light Bar
Auxbeam 8 Gang Switch Panel
Wheels & Tires
Fifteen52 Traverse HD
Falken Wildpeak AT3
Exterior
Cali-Raised Bed Bars w/ Molle Panel
Gear
Q&A – What Do You Like Best About Your Setup?
The things I like most about my setup are the lighting setup and my RTT! I love how the ditch lights give me the perfect wide-angle that I need upfront and the chase bar gives me optimal lighting in the rear especially on super dusty trails.
I haven't gotten a chance to actually use the RTT, but I have set it up and I am extremely excited to finally use it when I take my brothers on a camping trip this spring!
3.
Adrian Aguilar

 

(

@yoadriantrd

) 2021 TRD Off-Road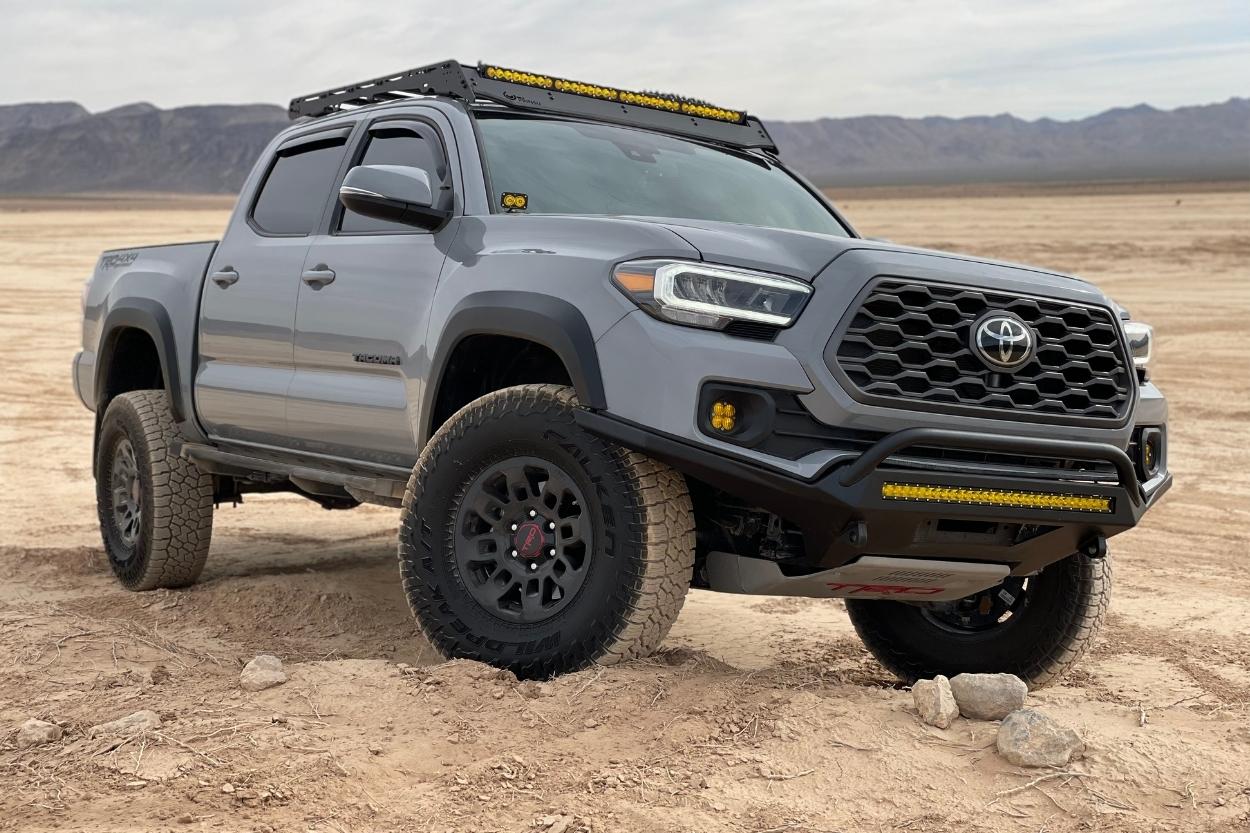 MODS LIST
Lighting & Electrical
Auxbeam Lighting – 8 Gang Switch Panel
Cali Raised – 32" Bumper Light Bar
Baja Designs – Squadron Pro Fogs
Baja Designs – 40" S8 Light Bar
Baja Designs – S2 Sport Lights
Tribal Whips – 4 ft Amber Light Whip
KC Highlights – (6) Cyclone Amber Rock Lights
Wheels & Tires
Toyota USA – TRD Pro Wheels (16")
Falken Tire – 285/75/16 Wildpeak AT3W
Suspension
Exterior
Prinsu Design – Roof Rack
Saints Off-Road – Alpha Bumper w/ Bull Bar
Toyota USA – TRD Pro Skid Plate
US Rally Stripes – Flat Black TRD Decal
AVS Autoventshade – Window Vent Visor
Miscellaneous
Omega Overland – ActionTrax Boards
Smittybilt – 5.65 CFM Compressor
Q&A – What Do You Like Best About Your Setup?
I believe this is my perfect setup for the weekend warrior! It screams office cubicle Mon-Fri and dirt bagging on the weekend. Being that it's my daily driver I wanted as close to a stock ride as possible and I'm pretty sure the 2" Eibach Stage 1 Lift Kit achieves that goal.
Living in Las Vegas, we rarely get rain but when we do, the roads turn ugly. The 33" Wildpeaks AT3Ws give me that extra confidence knowing they will stay on the ground. Not to mention it makes the truck stance look better.
Night riding in the desert requires all the lumens and with my collection of Bajas, I have no problem lighting up the night. The build is always in progress with backorders and cash shortage, lol. Stay tuned for what comes next.. sliders, suspension upgrade, rear bumper… it never ends.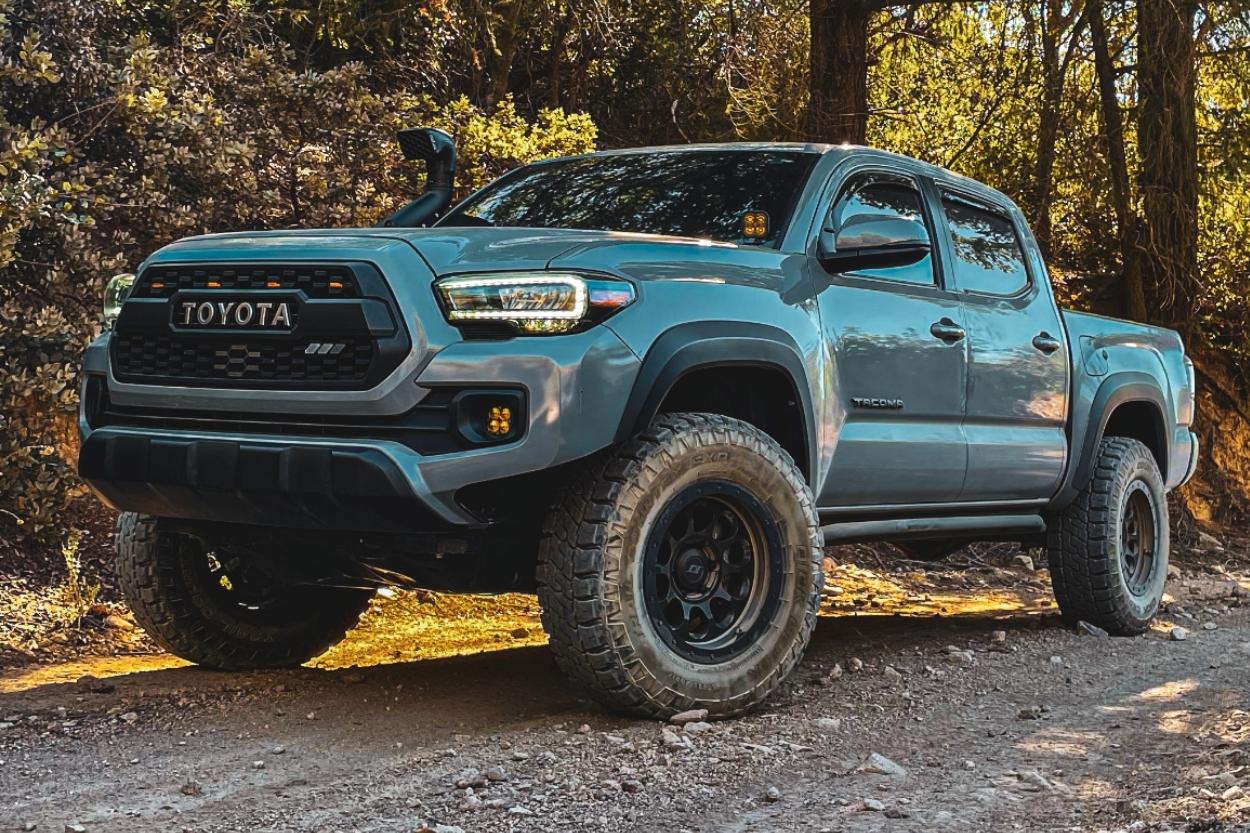 MODS LIST
Lighting & Electrical
Diode Dynamics Ditch Lights
Wheels & Tires
-10mm Offset SCS Ray 10s
285/70/17 Dick Cepek A/T
Suspension
8112 Bilstein Front Coilovers w/ 8100 Bilstein Rear Shocks
Exterior
Total Chaos Fabrication Bed Stiffeners
Miscellaneous
Q&A – What Do You Like Best About Your Setup?
The 8112/8100s have been great off-road and have had great results with desert running!
5. Oscar Sanchez
 

(

@beeronimomtb

) 2018 TRD Off-Road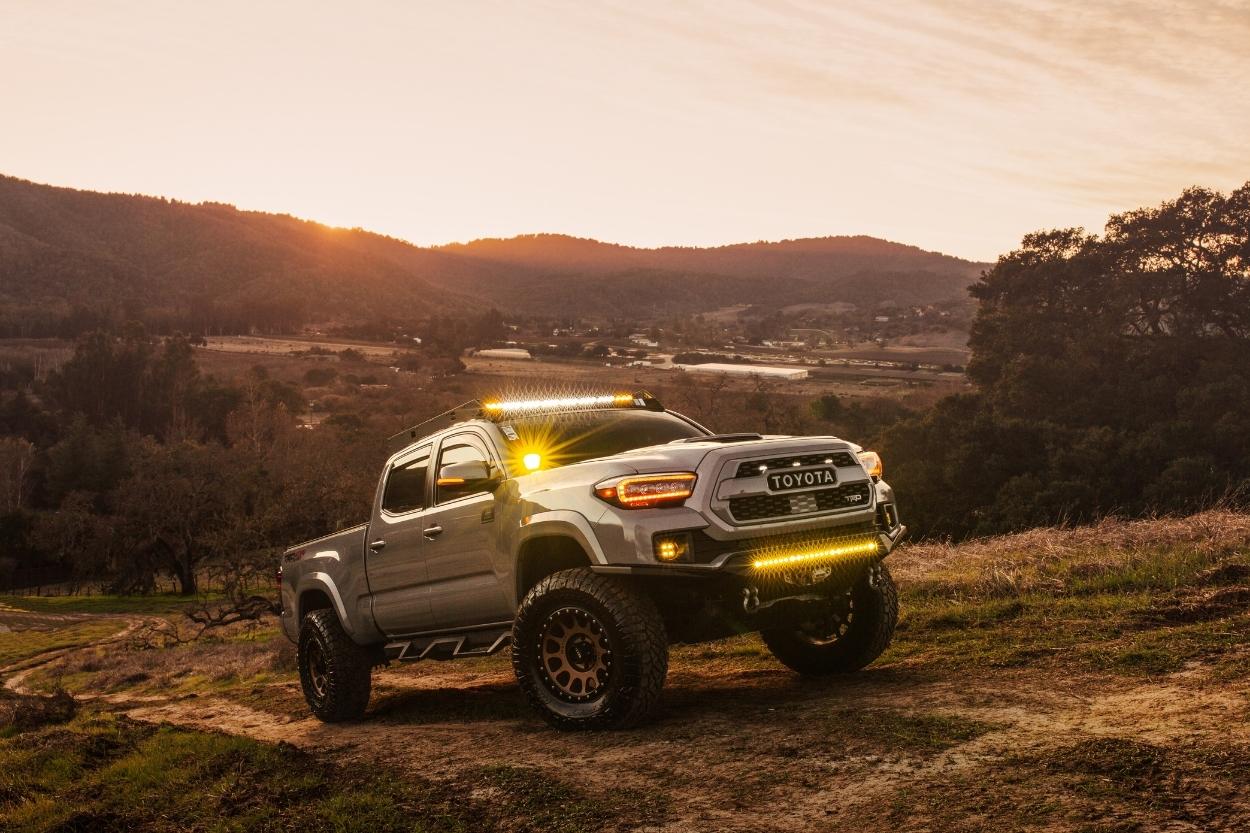 MODS LIST
Lighting & Electrical
Switchpros 8100
Bumper Light Bar: Baja Designs 30″ S8
Ditch Lights: Baja Designs Squadron PRO
Fog Lights: Baja Designs Squadron (SAE)
Headlights: Alpharex NOVA series (Black, not Alpha Black)
Taillights: Akkon – Smoked
Turn Signals: Sequential Turn Signals
Wheels & Tires
Wheels: Method NV 305 17″ Wheels
Tires: Nitto Ridge Grapplers 285/70/17
Wheel Spacers: 1.25″ Spidertrax Wheel Spacers
Exterior
Roof Rack: CaliRaised Premium Roof Rack w/ Pods (stripe decals from TacoVinyl)
Roof Rack Lightbar: CaliRaised 43″ Dual-function Light Bar (wrapped the ends with LaminX wrap)
Bumper: Saints Offroad Alpha Bumper
CA Flag Door Decal: from Tactilian
Grille: Color-Matched Grill from Taco Vinyl
Awning: CVT 55″ Hybrid Awning Series (Cascadia vehicle tents)
Pelican Case: 1700
Bed: Retrax ONE XR Bed Cover
Tailgate Letter Inserts: Tufskinz
Miscellaneous
Winch: Smittybuilt X20 12k Synthetic Rope
Factor 55 Ultrahook w/ Rope Guard
Steering Wheel: Carbon Fiber Steering Wheel with Stripes
Seat Covers: PRP Tacoma Seat Covers
Shift knob: Teton Workshop
Q&A – What Do You Like Best About Your Setup?
I love all my accessories so far! The crazy thing is that I don't even have a new suspension set up for this…YET!!
With a new year, comes new mods. KINGS OR BUST.
6.
Alex Mercado

 

(

@trdtacoboy

) 2020 TRD Off-Road Premium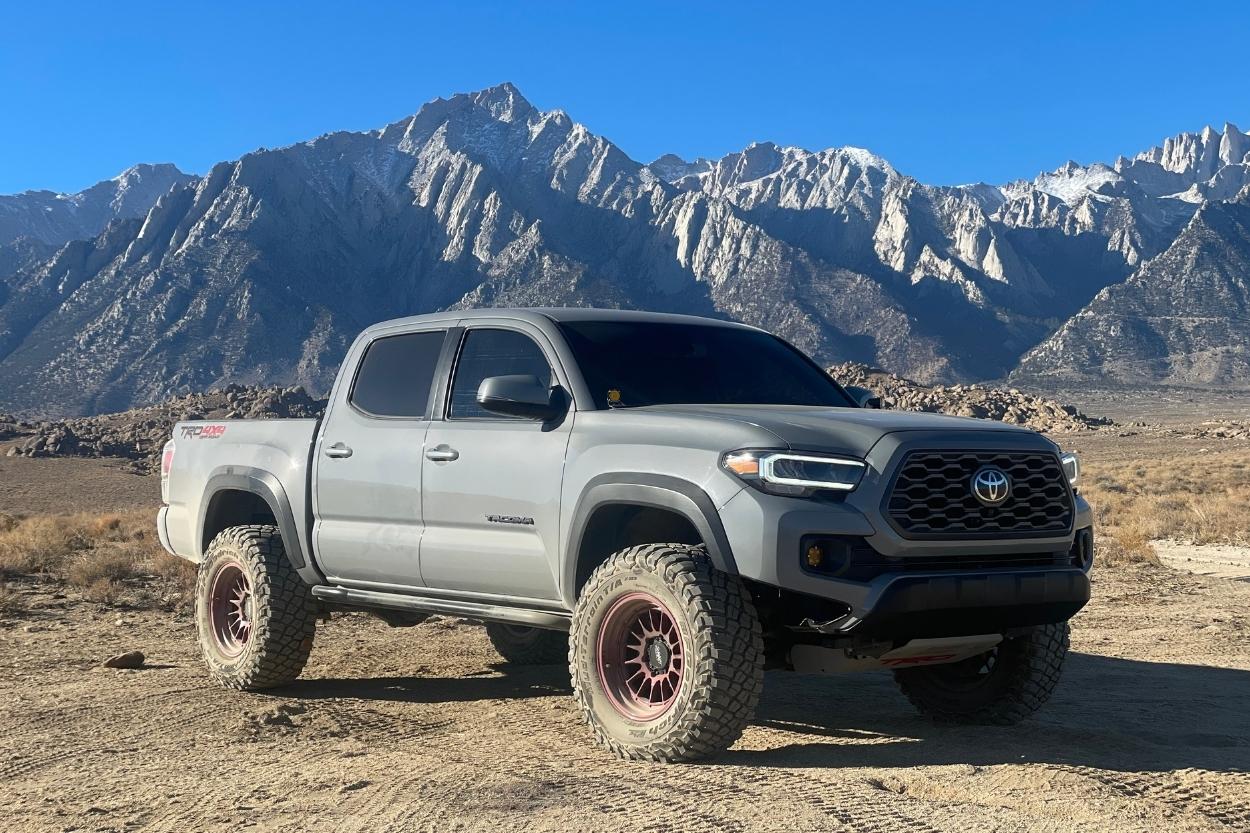 MODS LIST
Lighting & Electrical
Baja Designs S1 Ditch Lights
Wheels & Tires
Summit Dakars (powder-coated in Illusion Cherry)
BFG KM3 285/70/17
Suspension
Bilstein 6112/5160
Icon AAL
Exterior
Beastfab Rock Sliders
TRD Skid Plate
Q&A – What Do You Like Best About Your Setup?
My setup was built to be as comfy as possible in the streets and also capable to handle most trails. As for what I like the most from my truck, it would probably be the color combo. I didn't think illusion cherry would go so well with cement, but it ended up looking much better than I would have ever imagined. I think the wheels are what get the most compliments on this build.
7.
Jeremiah Goley

(

@thatcementtaco

) 2020 TRD Off-Road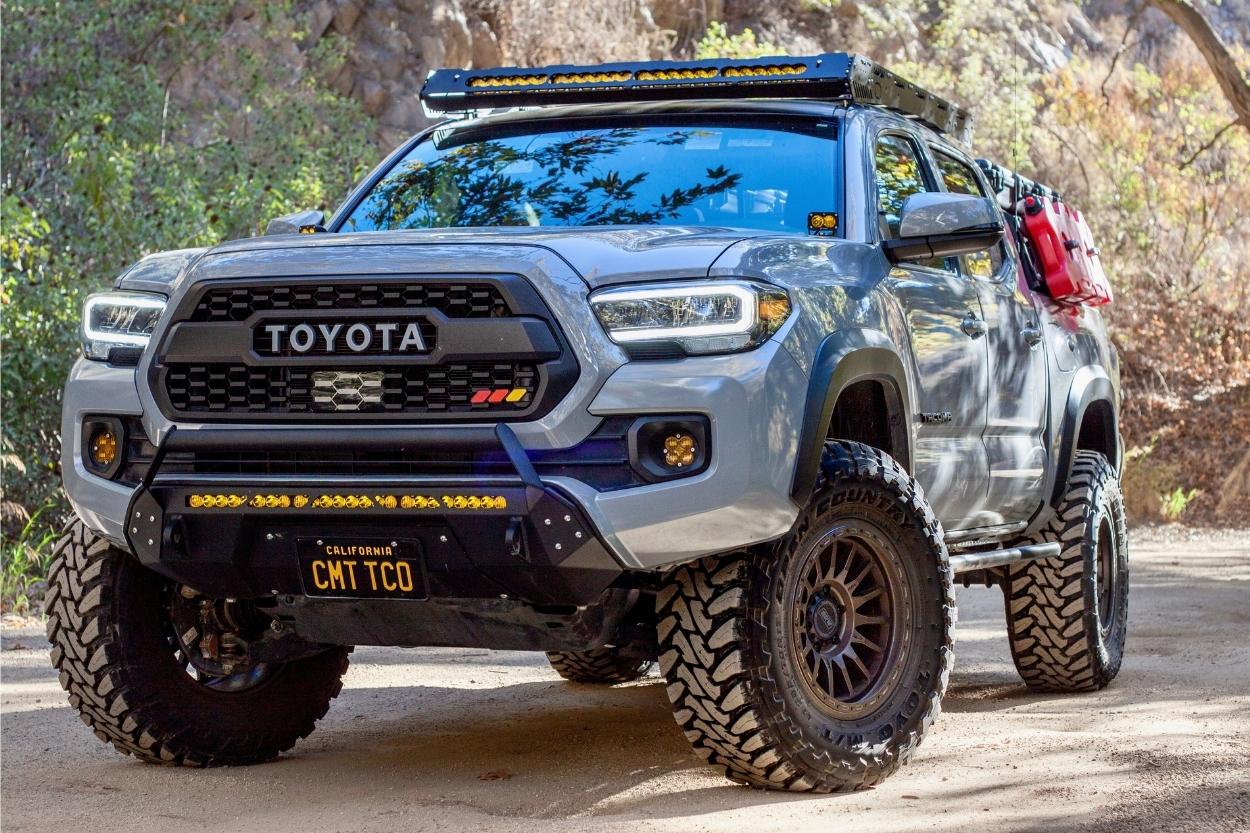 MODS LIST
Lighting & Electrical
Baja Designs
Auxbeam Lighting Switch Panel
Wheels & Tires
Toyo Tires M/T 295/70/17
Relations Race Wheels RR7-H |-12
Suspension
Bilstein US 6112, 5160 +2.5″
Deaver Stage 1 Rear Leafs
Camburg Racing X-Joint UCAs
Exterior
CBI Offroad Fab Covert Front Bumper
Relations Race Wheel Sliders
UpTop Overland Roof & Bed Rack
Communications
Miscellaneous
YankStraps Recovery Straps
MaxTrax
MorrFlate
ARB Compressor with DIY Quick Connect in Bed
Gazelle Tents
Q&A – What Do You Like Best About Your Setup?
The onboard air setup is the part of my build I probably like and use the most. Never needing to pop the hood and being able to easily access that quick connection in the bed has saved me countless hours. Super proud to have designed and built it myself.
A close second would be the wheel/tire/suspension setup. After 2 years of making a lot of tweaks, it's finally exactly where I need it to be as a daily driver and Overlanding.
Final Thoughts
Well? How did you all like our FIRST Taco Tuesday? Like I said in the intro, every single Tuesday we will feature a handful of rigs and a specific topic to be showcased on those trucks. So, if you missed out this week, that's totally cool! Just keep your eyes on our Instagram to know what the topic is for the following week to submit your build.
If you want to be featured for Taco Tuesday on 12/14, submit your build through TrailTacoma.com/Feature. Next week's Taco Tuesday will cover Front Bumper Setups. We're looking for awesome rigs to showcase. If this is you and you love your setup, send in your rig and details because we want to see it.
Thanks for reading guys, I'll see you next week!