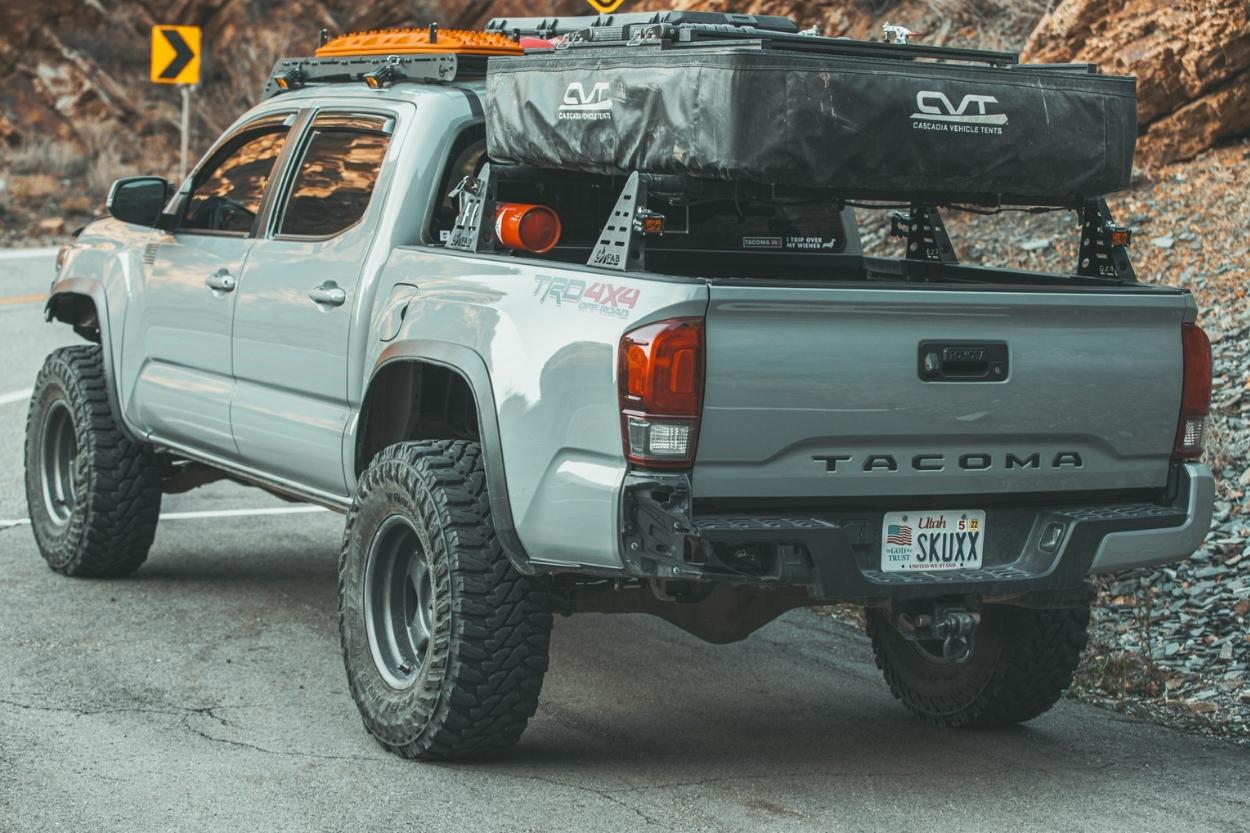 5 Unique Bed Rack Setups for Toyota Tacoma – Add Functional Space & Modular Storage for Off-Roading, Overlanding & Camping
This Week's Topic: Bed Racks
We all know the Toyota Tacoma lacks in one thing; STORAGE! The cab is pretty small on these trucks and the 5-foot bed, and even the 6-foot bed, can only take you so far. For the average Tacoma owner, all of this is fine. But those that use their trucks as an off-road or overland rig may require a little bit of assistance when it comes to the rear of the truck.
As it relates to camping, you do have a few options with the Tacoma. The first option is sleeping inside the cab. Have you seen the back seat of a Tacoma? Right… moving on. The next option would be to get a shell and sleep inside of it. I honestly do like this option because you are really protected by the elements and you can have a drawer system to help organize your camping essentials. Now, the drawback to this is that shells are heavy and they really limit your bed usability when it comes to weekend Home Depot runs.
Enter option 3 – the bed rack. As you'll see below, bed racks/bed bars are on the lighter side and more functional. You can still do weekend warrior Home Depot runs, throw lumber on top, and put items underneath with ease. You can also add a rooftop tent to a bed rack for your camping needs. Many bed racks will also have locations to add Maxtrax, shovels, RotopaX, etc. These simple bars really add a great deal of practicality to the bed of the Tacoma.
Daniel wrote a great post in 2020 on whether a camper shell, bed rack, or camper would best fit your needs. Check that post out here.
Enjoy guys!
Looking for even more bed racks? Check out the 2nd & 3rd Gen Tacoma Bed Rack Buyer's Guide.
Top Brands Featured
5 Bed Racks for Toyota Tacoma
1. Eric Cho (@choyota) – Welds Taco
BED RACK DETAILS
This bed rack/tire carrier was fabricated by a local Southern California welder and friend @welds_taco. You can message him there to get the latest price, as well as further specification details.
You can customize it any way you want! Weight and price will vary with a custom order.
WHAT DO YOU LIKE ABOUT YOUR SETUP?
This rack is perfect for those who aren't interested in a rear bumper swingout and simply need a way to carry their spare tire (as well as any other needed accessories).
This particular one I had fit up to a 35" tire but the beauty of customization is that you can have one that fits whatever tire size you need. I was able to mount my camp and travel accessories as well. It's clean, it's simple, and Robert is meticulous about his work.
2. Hee Joon (@toyo.da714) – CBI Offroad Fab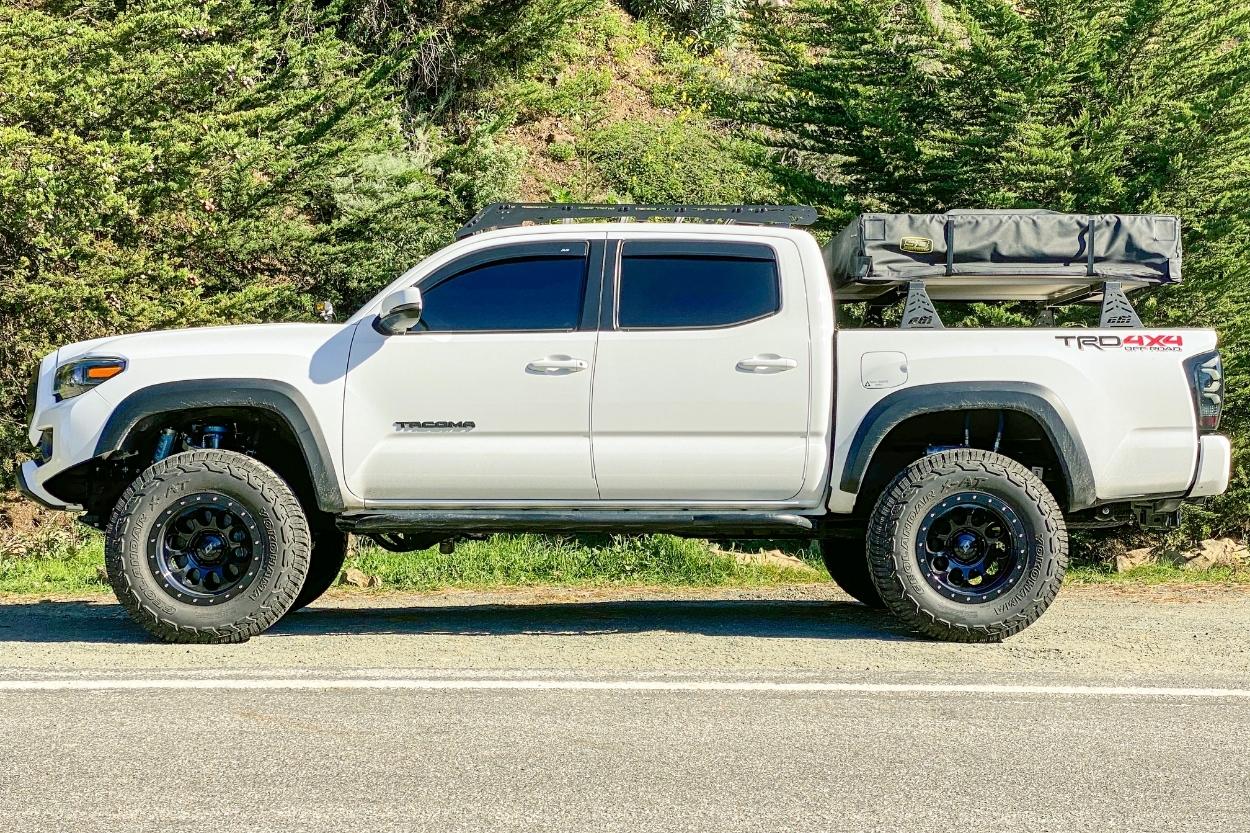 BED RACK DETAILS
Model: Bed Bars
Weight: 35 lbs
Price: $520
WHAT DO YOU LIKE ABOUT YOUR SETUP?
What I like about these overland bars (bed rack) is that it is very easy to install. It took me 10-15 minutes to install them with power tools. They hold a lot of weight and with my Smittybilt gen 2 rooftop tent. The RTT fits like a glove and holds the weight with ease.
The bars look phenomenal on the truck as well (not too low or high) and it gives that medium height look which makes it look level (or close to large) with a tent installed on top. The quality of the metal is very sturdy. I also loved the ability to accessorize this rack with the products CBI makes to utilize the rack for your traction boards, tools, jacks, bicycle, etc. I highly recommend it if you are in the market for a less expensive but great quality rack!
3. Sary Ven (@yotaflame) – Front Runner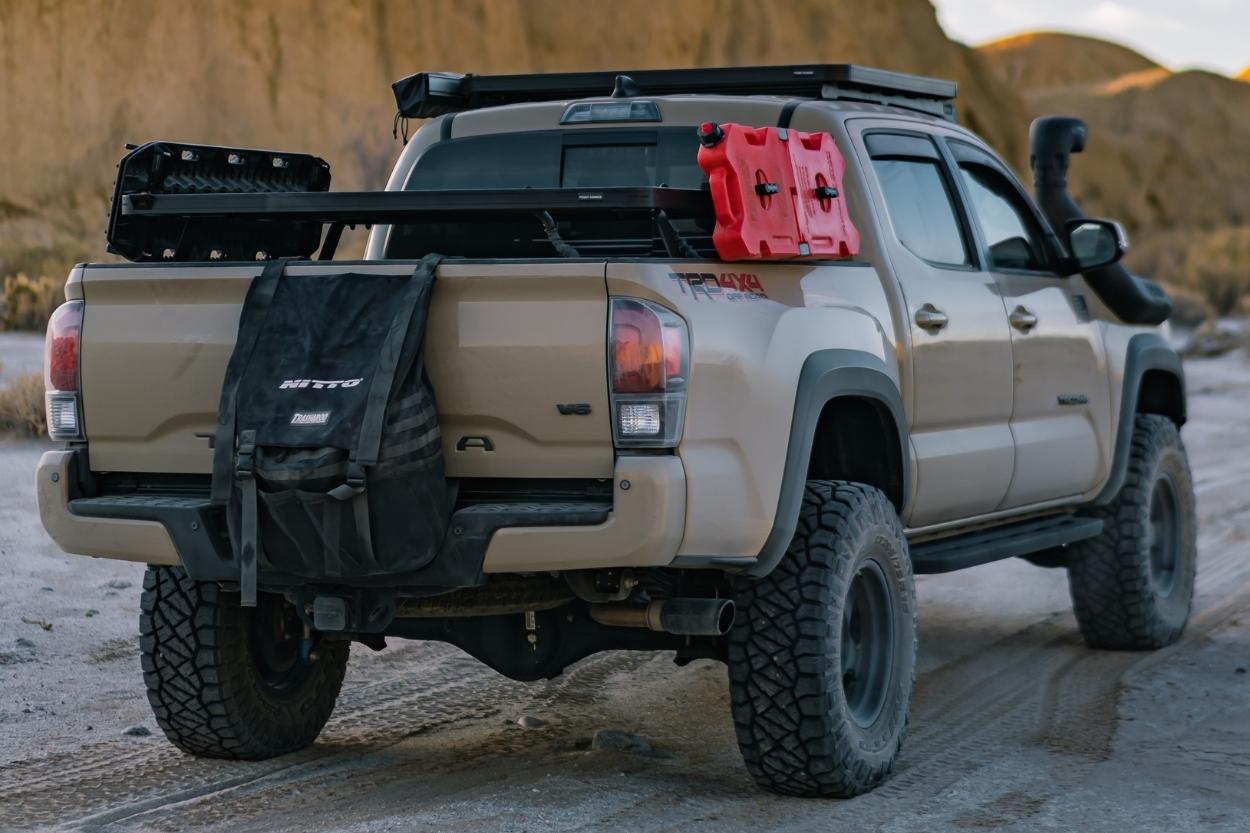 BED RACK DETAILS
Model: Slimline 2
Weight: 53 lbs
Price: $1,115
Load Capacity: 660 lbs
WHAT DO YOU LIKE ABOUT YOUR SETUP?
When I first started on my build, I always wanted a bed rack. I wanted something simple with a lot of accessories. Front Runner has those options.
So if I ever want to switch things around, I can with ease. It just looks good. Not too high, not too low. Once I get my rooftop tent, it will look even better!
4. Johnny Sun (@yota_sun) – upTOP Overland
BED RACK DETAILS
Model: Truss Bed Rack
Weight: 55 lbs
Price: $1,199
Product Dimensions: 50-inch (L) x 50-inch (W) x 19-inch (H)
WHAT DO YOU LIKE ABOUT YOUR SETUP?
The best thing about this rack is the versatility it gives you. There are so many mounting points with the two side armors, one on each side of the bed rack that is provided. Also, UpTOP provides Maxtrax brackets which you're able to mount on the side armor; I have them mounted to the middle crossbar in the bed. On their website, they have many options for adding accessories to the bed rack, such as the UpTOP Scene Pods, which I have. The brackets give me the ability to mount the Baja Designs Rock Lights, which provides me ample light at night in my tailgate area.
Another accessory I would like to get in the future is the Bravo Ex Cap Rack. It's a rack that is mounted to the top of the bed rack, and if you have the UpTop Bravo Roof Rack, it makes the flow from the front to the back very nice. Lastly, I'm able to mount my rooftop tent, which is my iKamper Mini that weighs about 125-150 lbs. When I sleep in the tent, it's me, my fiancé, and my dog, and I feel safe being in the iKamper knowing that my UpTOP bed rack will not break or fail on me. They do offer the bed rack in 3 heights; short, mid, or full cab.
Overall, I highly recommend this bed rack if you're looking into getting one. I definitely do not regret buying it one bit!
5. Chris (@skuxx.taco) – C4 Fabrication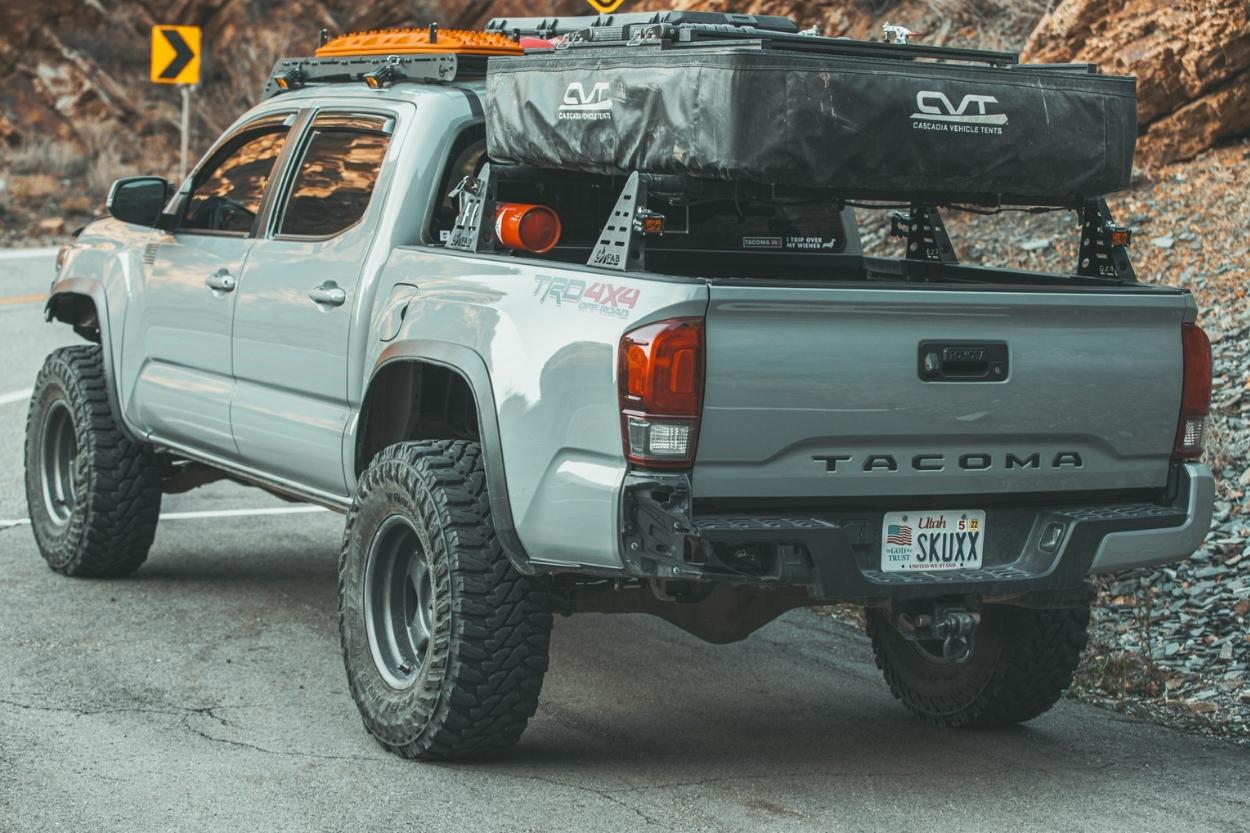 BED RACK DETAILS
Model: Mid Height Bed Rack (10″) – discontinued
Weight: 30 lbs
Price: $445
WHAT DO YOU LIKE ABOUT YOUR SETUP?
What I enjoy most about this rack is how sturdy it is while retaining modularity. Having the front and back pieces separate allows you to move things around and adapt to your setup. At times I swap the tent for a basket-type storage system that requires the bars to be closer together. Other times, I do away with the rear bar entirely to do 'truck stuff' (aka, haul things around), then scoot the front bar further forward so I can keep some mounting options and the fire extinguisher handy.
I also very much appreciate the height C4 chose to make these. While I don't get a great view out my back window, I do get a bit of a view. Plus with a fold-out RTT, the 10" profile is perfect to line up the tent with the cab rack. Giving it extra functionality and a very balanced road presence. There have been a few times where I have strapped extra long things like rugs and 2x4s to the roof and the tent which is a nice perk of the hybrid CVT, but only possible with this exact height rack. At the end of the day, I've found a hundred challenges that this setup will work for and none that it couldn't. Unless you plan to get a big hard shell tent, I would recommend these babies all day. Mid-height is king!
Final Thoughts
There ya have it! Five solid bed rack options for your Tacoma. I truly liked the versatility, price, and weight of the bed bars versus a full bed cage. What are your thoughts? Leave them in the comments.
If you want to be featured for Taco Tuesday on 2/22/22, submit your build through TrailTacoma.com/Feature. Next week's Taco Tuesday will cover Suspension Setups. We're looking for awesome rigs to showcase. If this is you and you love your setup, send in your rig and details because we want to see it.
Thanks for reading guys. I'll see you next week!