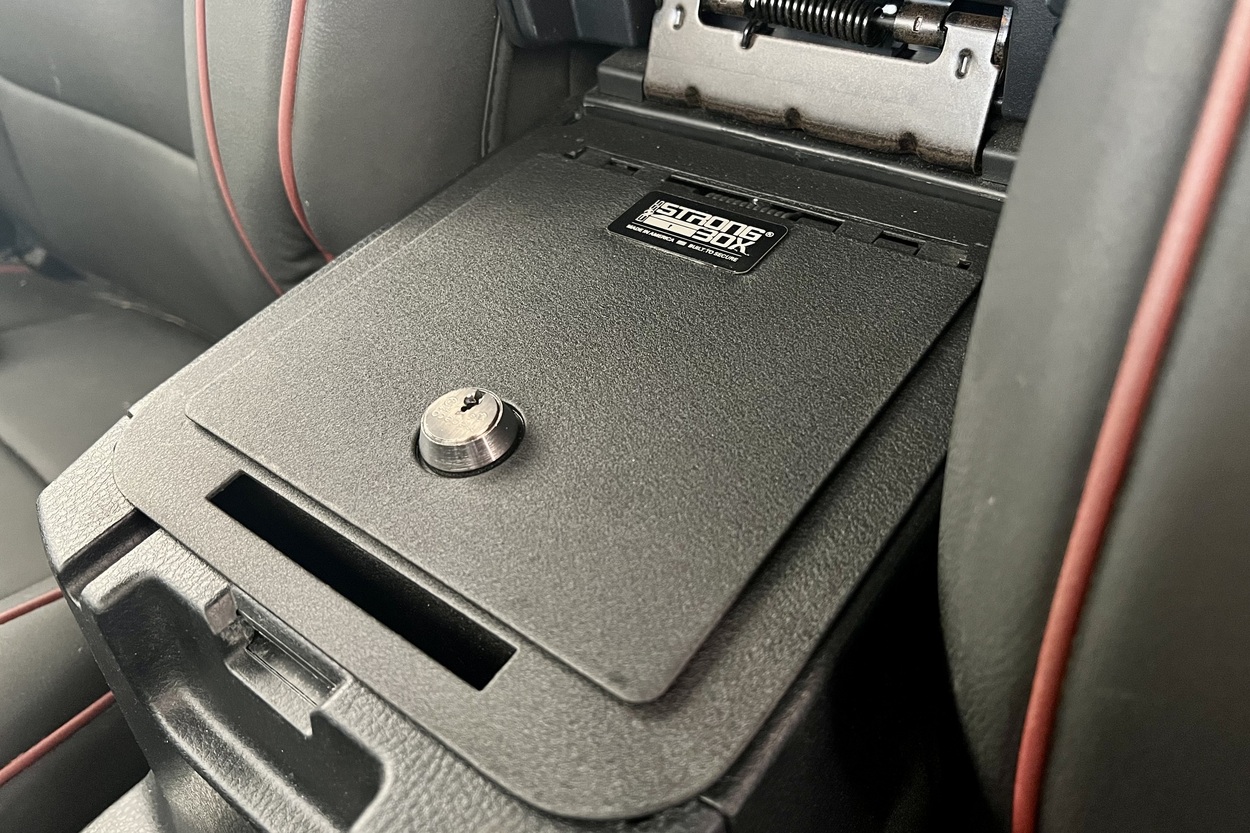 Made in the USA: The BOSS StrongBox Vehicle Specific Center Console Safe for Your Daily Security Needs – Installation Guide, Overview & Initial Thoughts for 3rd Gen (2016+) Toyota Tacoma
I once had this really nice two-tone gray/black Glock 19. I carried it for my EDC and in my vehicle a lot. But over time I grew negligent and began leaving it in the vehicle overnight. Bad idea!
One night my truck was broken into and the gun was stolen. I had for sure thought I'd locked my doors, but that morning I found the passenger door ajar, and my heart sunk. Oh no! I checked the center console right away. Sure enough, my Glock was gone.
I felt so bad, for one because I had been robbed, but even more so because I irresponsibly let a gun out onto the streets. Perhaps someone could be harmed with my weapon! I filed a police report right away, and, fortunately, the gun and thief were soon found. However, due to "public records" I never did recover my firearm. Lesson learned – lock your stuff up! Looking back, I wish I'd have gotten the BOSS StrongBox for my Tacoma's center console. 
The BOSS StrongBox for the Tacoma is super tough and heavy duty.
The lid is double-layered 14 gauge cold-rolled steel with 16 gauge sides and bottom. This thing is built like a tank. It feels like it too – weighing in at 10 lbs! It has a high-security lock and comes with three serialized keys. The lid is heavy duty, spring-loaded, and pops up immediately when the lock is turned. This product is a true mini safe inside your Tacoma! 
Find It Online
Center Console Safe for Tacoma
Installation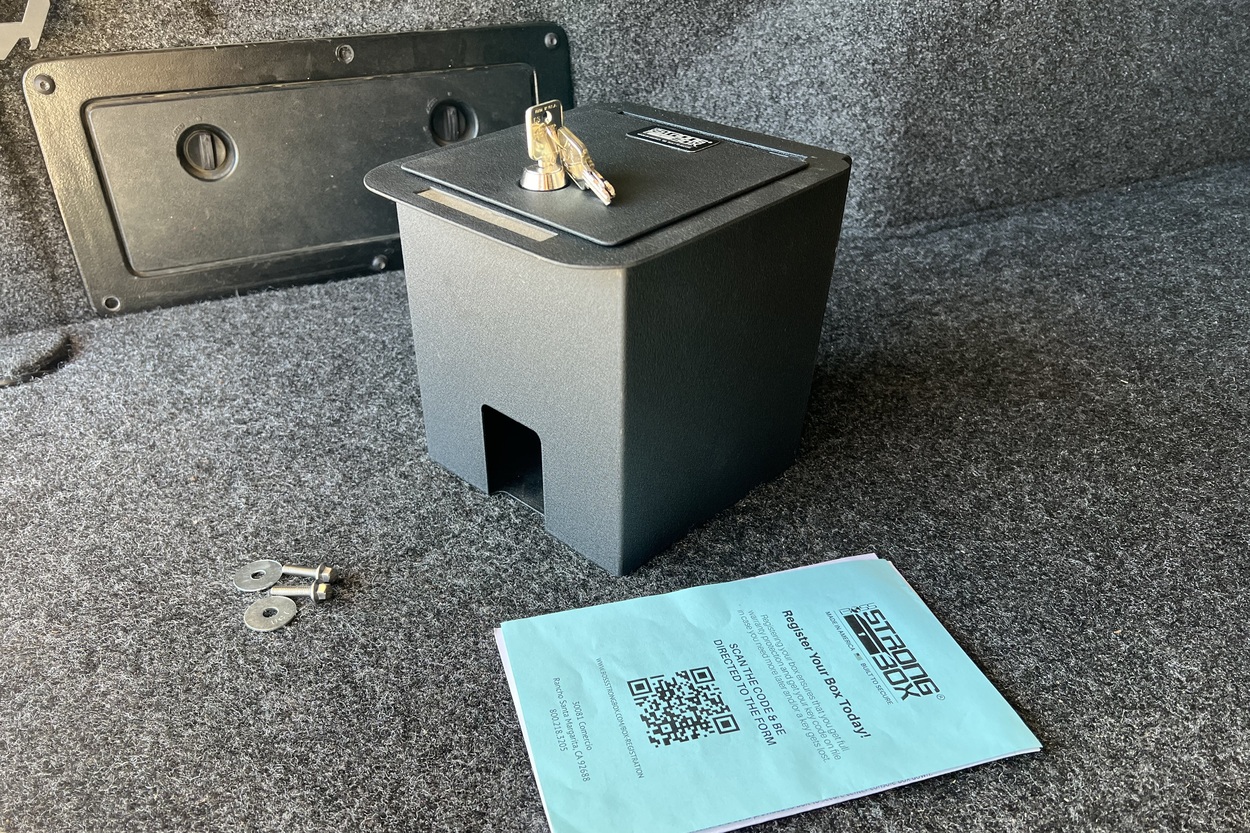 Tools and Materials
Step 1. Prep Center Console
The stock center console box needs light prep work. Pop open your center console, remove the pad at the bottom (the StrongBox won't fit if you leave it in), and locate the two 10mm bolts. Remove them and then clean up inside that compartment. Mine had light dust, as you can see. But sometimes gunk and junk and funk get all up in there.
This new StrongBox will be housed in this area, and you'll want it free of debris. 
Step 2. Install the StrongBox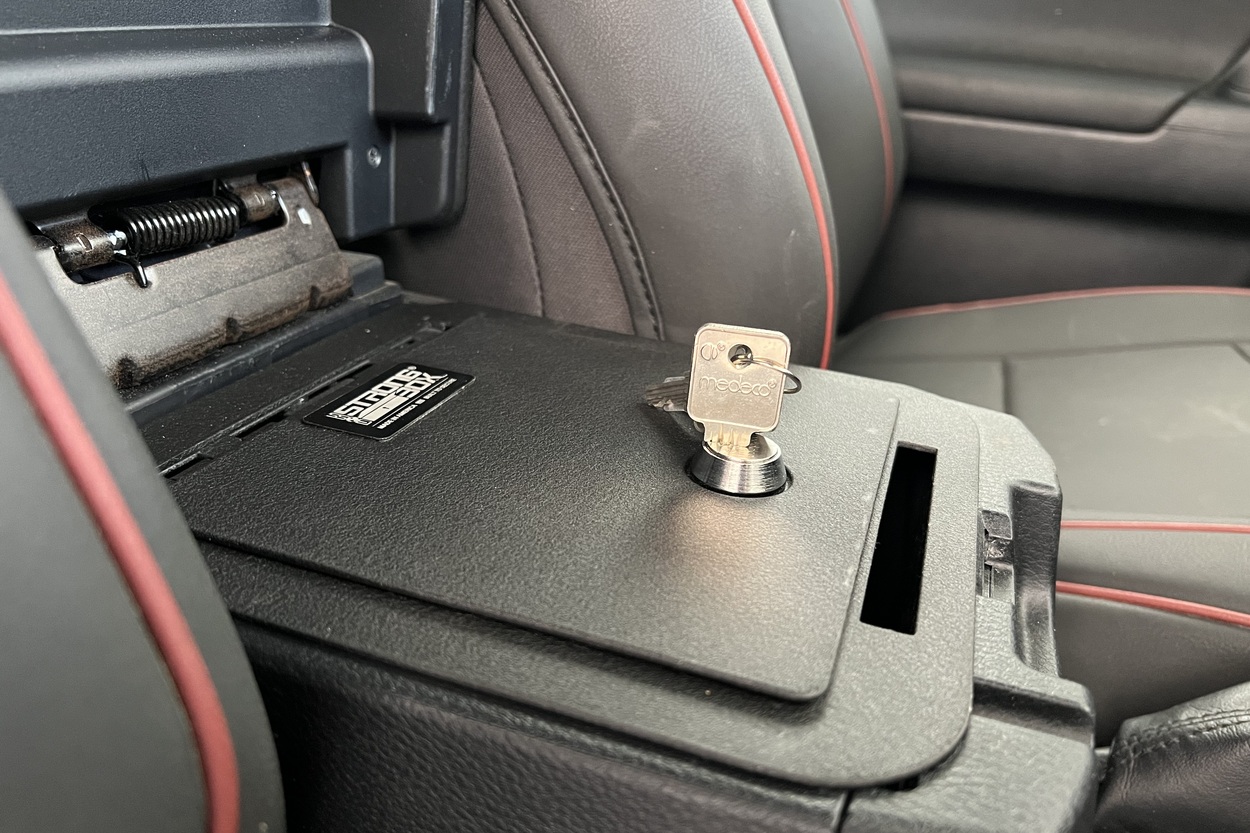 Now let's slide that StrongBox into place. It fits snug and trim. Align the bottom slots with the factory thread holes and then install the supplied screws and washers with the 8mm socket and ratchet. This thing is solid and flush! 
Don't forget to insert the black foam pad that came with this StrongBox. That piece looks like packaging but don't toss it out! It lines the bottom of the box, so that you don't have items rattling around on a hard steel floor. Try opening and closing the center console lid with the StrongBox lid shut, to ensure proper fitting. 
User Overview
After installing, I immediately wanted to see what I could stuff inside this bad boy.
First up was my new (and unstolen!) Glock 19X with a True Precision threaded barrel. This thing plus a Bravo Concealment appendix holster fits completely inside, no problem. The lid shuts and locks, and the center console lid closes securely.
Alas, the G19X is not my EDC anymore. It's an awesome gun, and I don't want to get into arguments here. However, I'm now carrying a Sig P365X RomeoZero. So, I wanted to see how it – along with my other EDC items – all fit into this StrongBox. My carry items are minimalist, but this StrongBox absolutely swallows everything I could use on any given day. The pepper spray is my nonlethal option, which is always an important alternative to have. The Gerber multitool is my trusty workhorse.
With the added security and ample space, I'm thinking of stowing more items to expand the adaptability of my daily carry setups.
However, this box will not fit my Bowie knife and .45 Long Colt revolver. There goes my bushwack-overlanding EDC!
Final Thoughts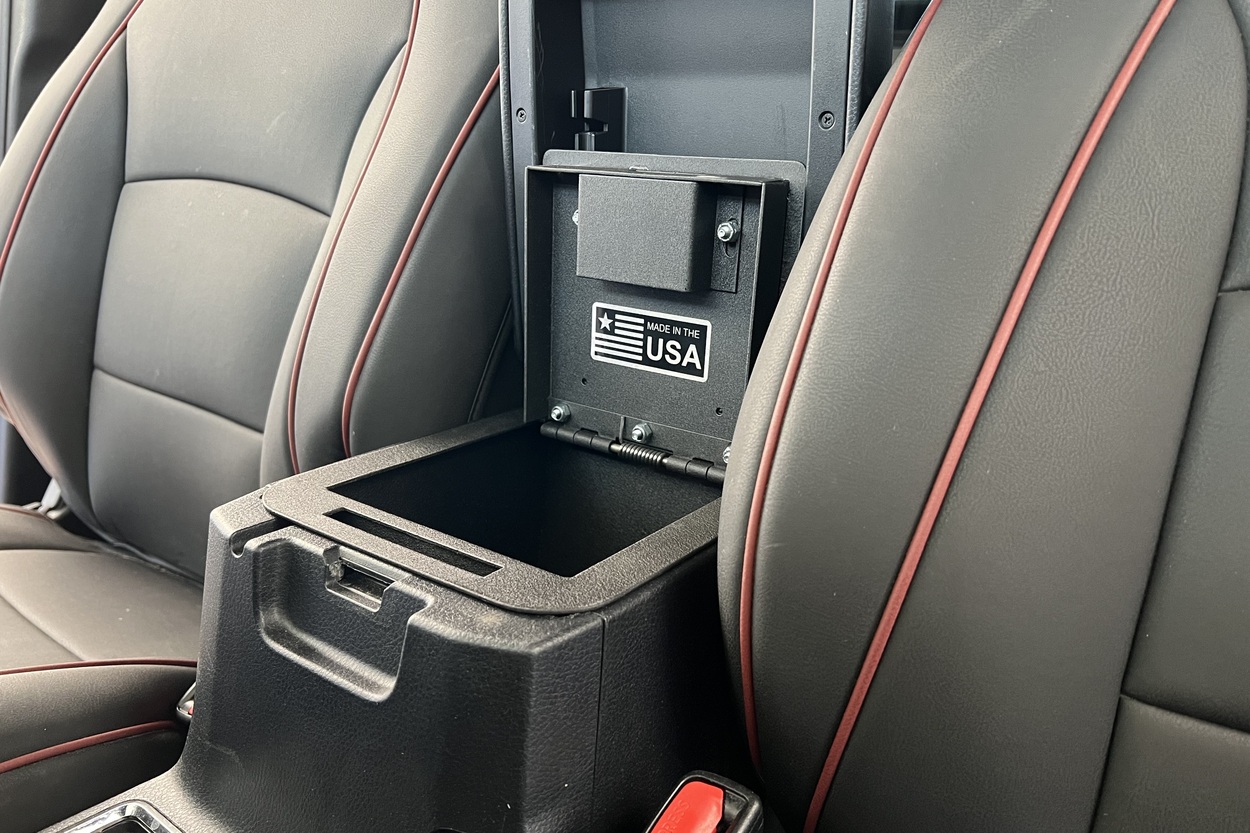 Joking aside, BOSS' StrongBox for the Tacoma is more than I expected. But I shouldn't have been surprised – BOSS has been manufacturing boxes for Law Enforcement and the Federal Government for 10+ years. Designed and built in the USA, this center console box for your Tacoma is heavy-duty, pry-proof, and high-security all around. From the look, fit, and finish of BOSS' StrongBox, you can tell it will last beyond the lifetime, yes, even of a Tacoma.
It's like the blackbox in airplanes. It'll survive a crash and burn. Also, no two boxes have keys that are alike. So, be sure to register your box with the supplied scan code, order number, and key serial in order to get the full lifetime warranty and any backup keys you may need if you lose one. If you lose the keys, you are not getting this thing open without a torch!
From past experience I was worried about my security needs inside the vehicle. Not anymore. My friend's truck was also recently broken into while he was hunting. He was out in the countryside, and his truck was parked off a dirt path. Seemed remote, peaceful, and alone, right? No. Someone either jimmied his door or used an unlocking device (his truck auto-locks when the one with the keys walks away from the vehicle), and then took a few really important items which I'll leave unmentioned. It happens, my friends. Keep your items safe. Keep guns off the street. Get some real security for your Tacoma. Get the BOSS StrongBox.