High-Quality, Light & Strong Bolt-On Steel Rock Sliders from Westcott Designs – A Complete Review & Overview for the 3rd Gen Toyota Tacoma
So, you are in the market for a new pair of rock sliders. You've wandered around aimlessly from website to website, brand to brand. Do you pick them with a top plate or without a top plate, angled or flat, black powder coat or raw? Your head is going to explode from all the options!
I'm here to tell you that your search has ended; look no further than these sliders from Westcott Designs!
If you're still interested in seeing more options, check out our 2nd & 3rd Gen Tacoma rock sliders buyer's guide post here.
Westcott Designs Rock Sliders for Toyota Tacoma
Who is Westcott Designs?
Westcott Designs is a fabrication company based out of Phoenix, AZ; it is led by Jeff Westcott and his team of highly skilled technicians specializing in high-quality off-road products. With everything fabricated in-house, their products include roof racks, bed racks, suspension components, ladders, hitch-mounted accessories, and what caught my attention, rock sliders.
With years of experience, Jeff and his team have set out to design solutions that overcome issues that similar products on the market have. They do that with a fantastic design team and extremely high build quality, some of the best you'll find.
Find It Online
Which Options Do They Offer?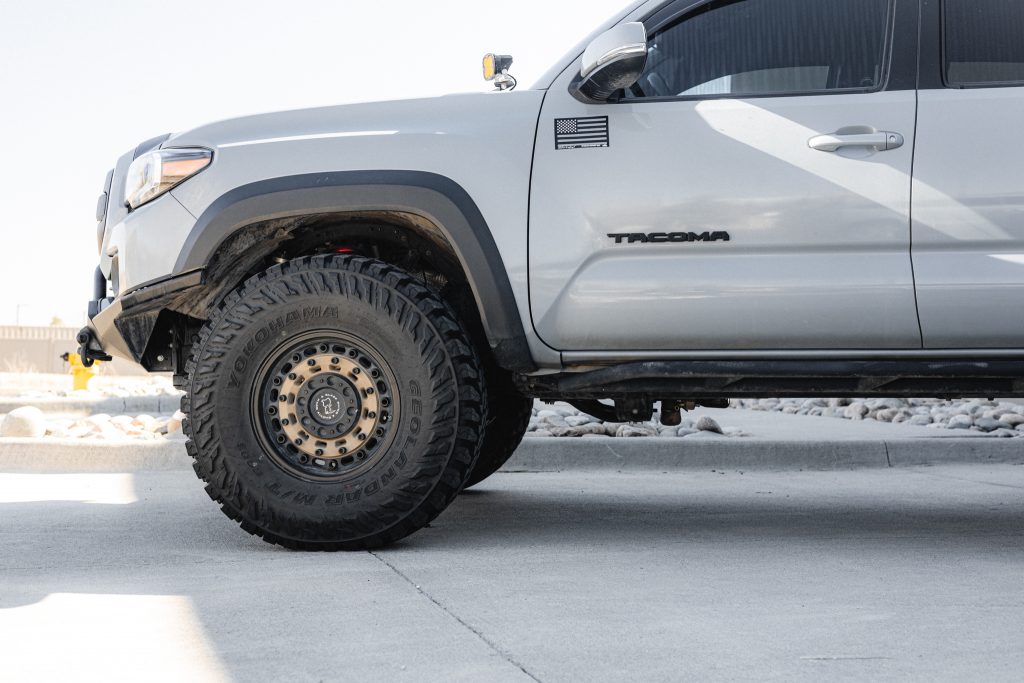 When looking at their rock sliders, you will see that they have a few options.
You can choose between a black powder coat (BK08), clear powder coat, or raw steel for the coating. You can also decide if you want these sliders with or without top plates and if you want them flat or at a 20° angle. They even offer several weld options and two different materials.
The welding process and material choice come in three configurations…
Raw HREW (Hot Rolled Electrically Welded) with MIG Welds
Raw DOM (Drawn Over Mandrel) with MIG Welds
Raw DOM with TIG Welds
Powder Coat VS. Raw Finish
Powder coating is when an object is covered with a polyester or epoxy powder heated to fuse into a protective layer. You'll have the option of choosing a traditional black powder coat using BK08, which has a semi-gloss finish and is very durable. Opting for the powder coat will add an additional $250 per set. You can also order clear powder coat – a unique option I haven't seen anywhere else.
Raw sliders will come without any finish, leaving it up to you to decide what coating to choose. Popular options in the community include adding a clear coat and maintaining that raw look, using spray can options like Line-X or Raptor Liner, or in some cases, leaving it unfinished!
So, is the in-house powder coating worth it?
In my opinion, it is. Instead of hunting down an option after your sliders arrive, whether that be DIY or shopping prices at local businesses, you pay the extra fee at checkout and have them ship to your doorstep ready to be thrown on your Tacoma. Win, win.
Plus, carefully prepping your metal items for paint can be a tedious process. If your budget won't allow it, that's understandable, but you can potentially save yourself any hassle. If you do go the DIY route, we've got you covered. Check out our post on how to paint/prep your metal parts here.
Are The Top Plates Necessary?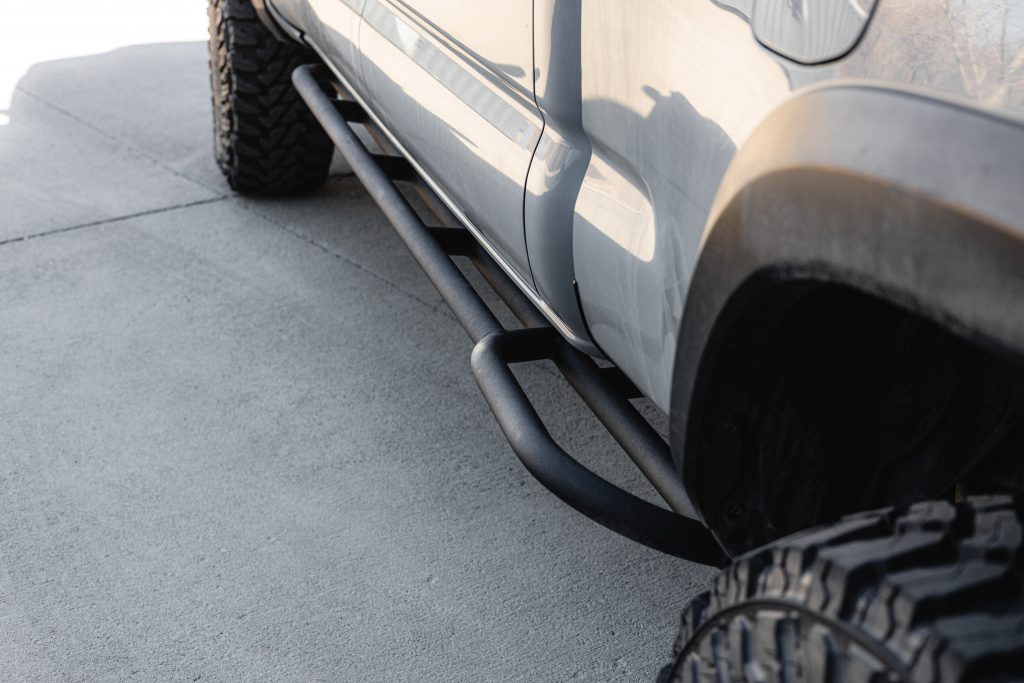 Top plates are optional for an extra $150.00. Top plates are a great option to assist with ease of either entering or exiting the vehicle; especially helpful if you have little ones or pets around. These plates are welded on top of the slider, making the slider more valuable as a step.
The plates are laser cut out of .188 *HRPO steel, a process in which the metal has been descaled of an oxide film and oiled to help fight corrosion. The material provides excellent rigidity and corrosion resistance while still being lightweight.
Although the top plates have their uses, there are some negatives to note. First of all, mud, snow, and debris can become stuck in-between the bars and the plates, causing obstacles when entering/exiting the vehicle and an extra cleaning step post-wheeling. Secondly, they are an additional cost for an already pricey modification.
Flat VS. Angled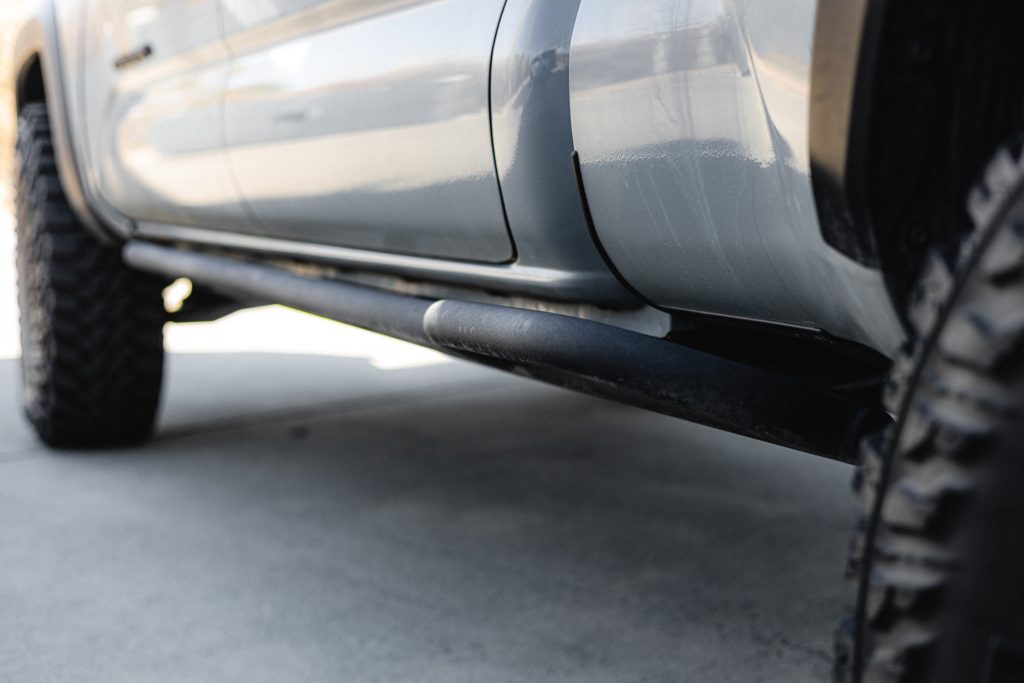 One option that a few companies offer is a 20° angled slider, meaning instead of being parallel to the ground, they are angled upwards by 20°. This gives you more clearance when hitting obstacles and makes them more subtle when mounted on your rig.
Flat sliders have some benefits as they double as a side step for loading/unloading things into or onto your vehicle, especially with a family or pets. But they also prevent door dings more effectively as they stick out further than the angled do.
Angled rock sliders still have some of the same functionalities as flat sliders. However, they don't do them as well. The angled sliders shine in more critical areas, off-road. The 20-degree angle allows the slider to tuck up closer to the cab, allowing for more clearance over obstacles and actually sliding on/over objects.
The choice between flat vs. angled comes down to preference and what you use your rig for; I chose angled for the off-road performance and the subtle look they give off by not sticking out as much.
Note: If you plan on opting for the angled option, I would recommend skipping the top plates discussed above as they do not add any functionality.
DOM Vs. HREW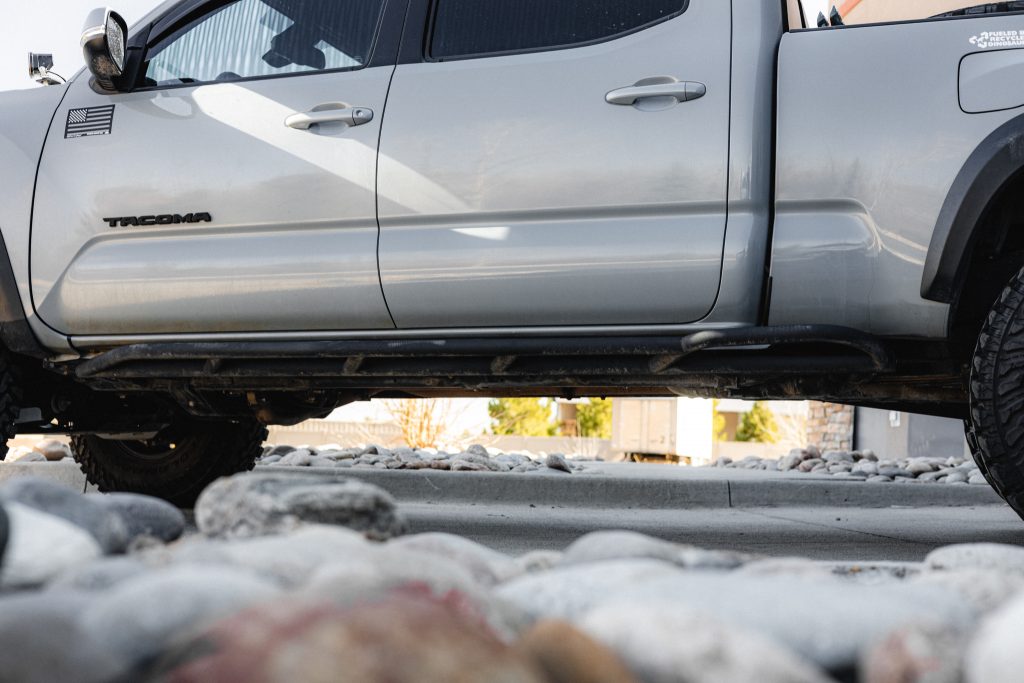 Hot Rolled Electrically Welded (HREW) is produced from hot-rolled strip steel that has been pickled to remove scale then oiled to provide a clean surface. Due to its more straightforward process, its cost to manufacture is not as high as DOM, making it cheaper for you!
Drawn Over Mandrel (DOM) is the same material as HREW but put through a secondary process where the tube is cold drawn over a mandrel, producing a more consistent and stronger tube. This process creates a tube that has a yield strength of around 70 KSI (kilo-pounds per square inch) vs. 40 KSI for HREW. Note that 1 KSI equals 1000 pounds of force per inch (PSI). Looking for more information on steel? Check out our detailed post breaking down the differences between DOM and HREW steel here.
Along with the two material options, Westcott Designs has three weld options. I previously mentioned those too. The only noteworthy point here are the TIG welds. Westcott Designs is among the very few to offer this option. They go about it by double beading their welds at each joint, increasing the strength over traditional MIG welding.
What does all of this mean? It means that DOM is stronger, can take more punishment, and is best suited for use against rocks; however, it is more expensive. Although it comes at an increased price, I personally would choose DOM over HREW.
Additional Features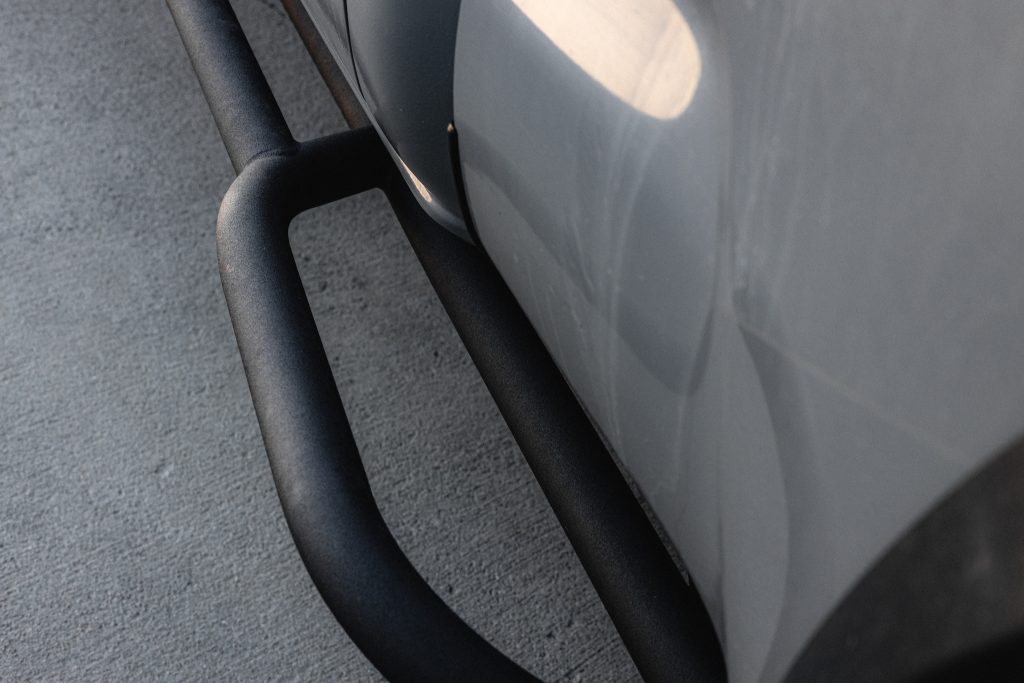 Included with every pair of Westcott sliders is a rear kick out. Instead of having a slider that runs straight from front to back, the rear kick out flares outwards away from your cab or bedside, so when approaching obstacles, it *kicks out* pushing you away from said obstacles.
Final Thoughts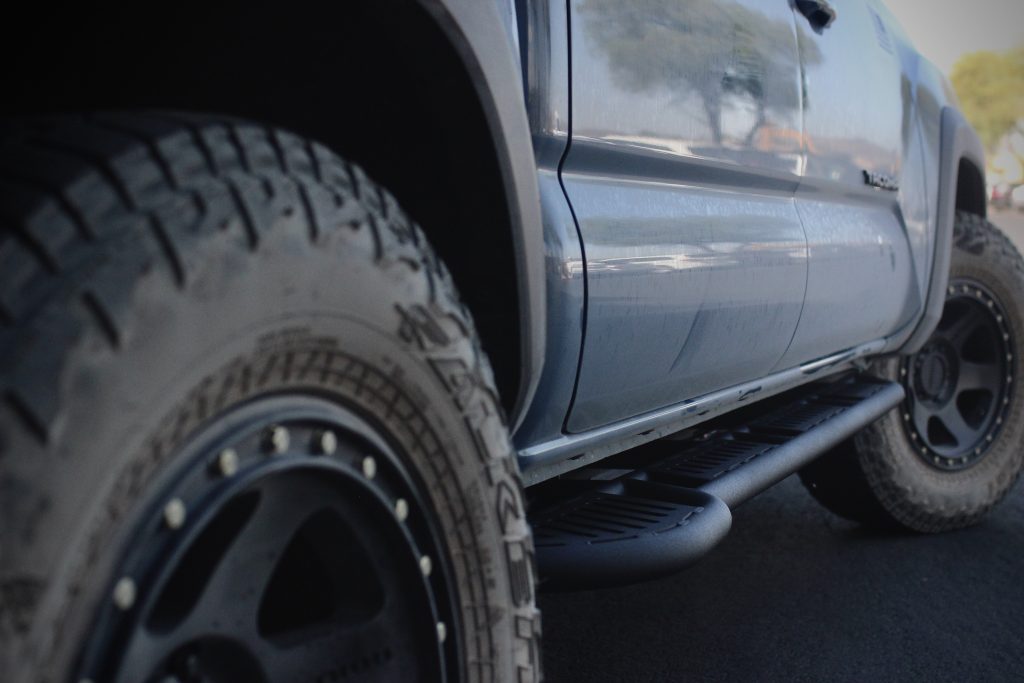 After a conversation with the team at Westcott Designs, I chose black powder coat for a finished look, no top plates, the 20° angle for more clearance, and the DOM with TIG welds for extra strength. Each set of their sliders will automatically come with a rear kick out to help you off-road and steer your rear and away from obstacles. The total price for the options I chose came out to around $1400, which is more than most for this specific product. However, when it comes to protecting your $40,000+ rig, I wouldn't want any other brand giving me that peace of mind. 
Westcott Designs undoubtedly makes some of the highest quality sliders on the market. Everything about their products screams top-notch, from the welds to the powder coat. They are extremely tough, robust, and incredibly lightweight, coming in (near as I can tell) less than 5lbs per side compared to other comparable options. In my opinion, I would even go so far as to deem the Westcott sliders as the "Ferrari of Rock Sliders".