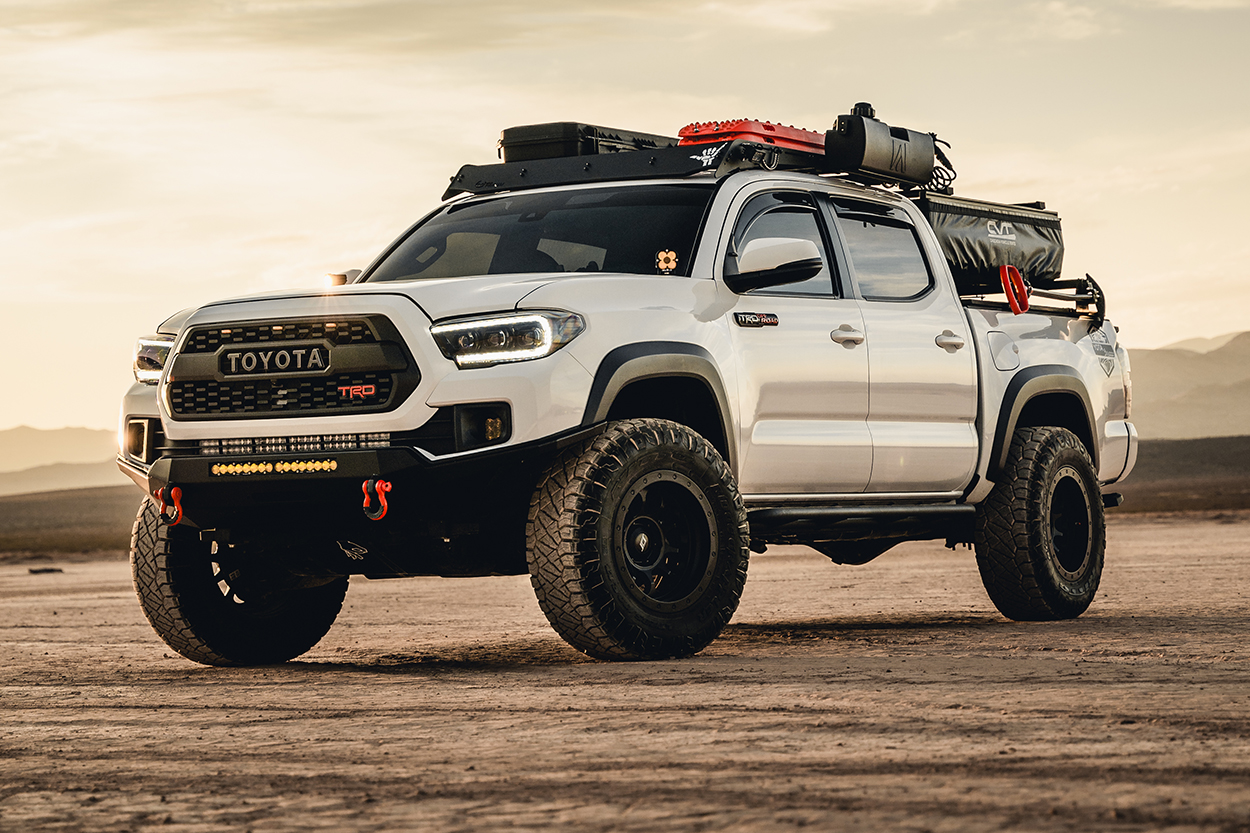 8 Roof Rack Options for Off-Road & Overland Build Inspiration for Your 3rd Gen (2016+) Toyota Tacoma
This Week's Topic: Roof Racks
Hey, guys welcome to another Taco Tuesday! This week we are taking a deep dive into adding functional storage with roof racks for your Toyota Tacoma.
We all know that the Tacoma is a pretty small truck, after all, it's a baby Tundra. With the smaller design, unfortunately, comes limited usable storage space. This is not only an issue for off-road gear, but pretty much anything you want to put in the truck – space is limited. Let's see what these 9 trucks are running and dive a little deeper into each setup.
If after you finish this post, and maybe in addition to, you can check out our 2nd & 3rd Gen Tacoma Roof Rack Buyer's Guide here.
Top Brands Featured
8 Functional Roof Racks For Toyota Tacoma
Why Get A Roof Rack?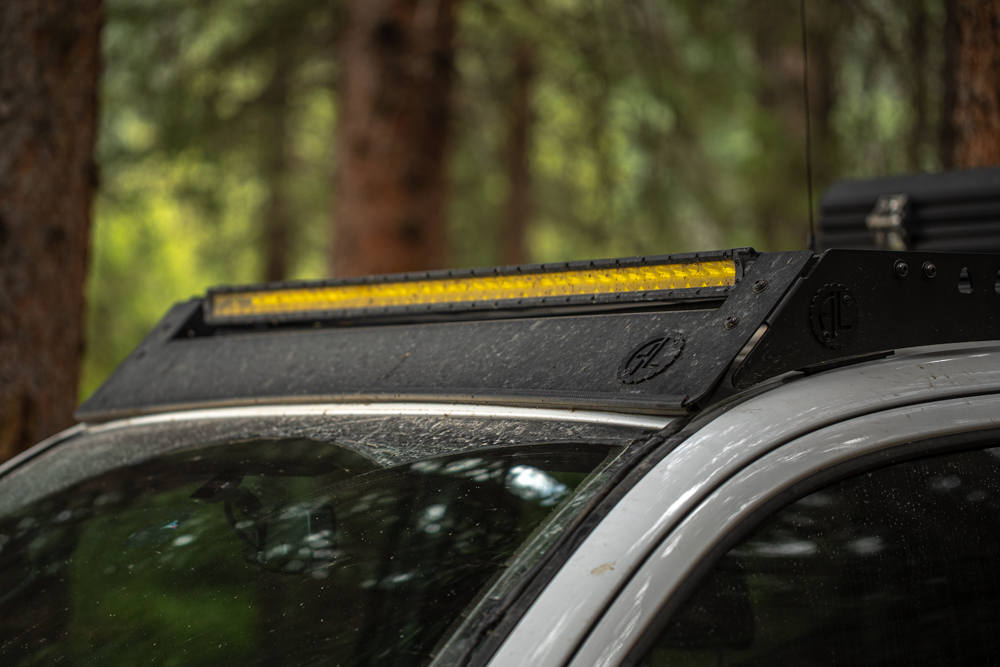 The only cabin storage the Tacoma offers is under the rear seat. And well… that's it actually. Now yes, the truck does have a bed where you can place a good amount of items. However… you can't just throw everything in your bed. Even with simple storage boxes, you still need a way to organize some of your other gear, without shelling out mad money for a drawer system.
If only there was a way to secure your items while also placing them in an easy-to-reach location… This is where a roof rack comes in handy. They allow you to secure a plethora of overland/off-road gear to the roof of your Tacoma for easy access when out on the trail. Easy access also applies to early morning runs to Home Depot
The most common item you will find on a roof rack would be some sort of organization/storage box. Whether it is a long skinny rifle case or a thicker Front Runner storage box, these cases allow you to throw all sorts of small miscellaneous items into for easy quick access. They can house everything from recovery gear to cooking utensils. The storage options are almost endless.
Another popular item that you may see on top of a Tacoma's roof would be some form of recovery boards. If you have ever dealt with full-size non-folding recovery boards, you'll know that they take up A LOT of space. Placing them on a roof rack with proper mounting hardware is honestly the best and easiest way to store these boards.
Check out what each owner below uses their roof rack for to help you get some inspiration for your build.
Enjoy guys!
1. Brandon Burrows (@outdoors_ready) – Front Runner Slimline II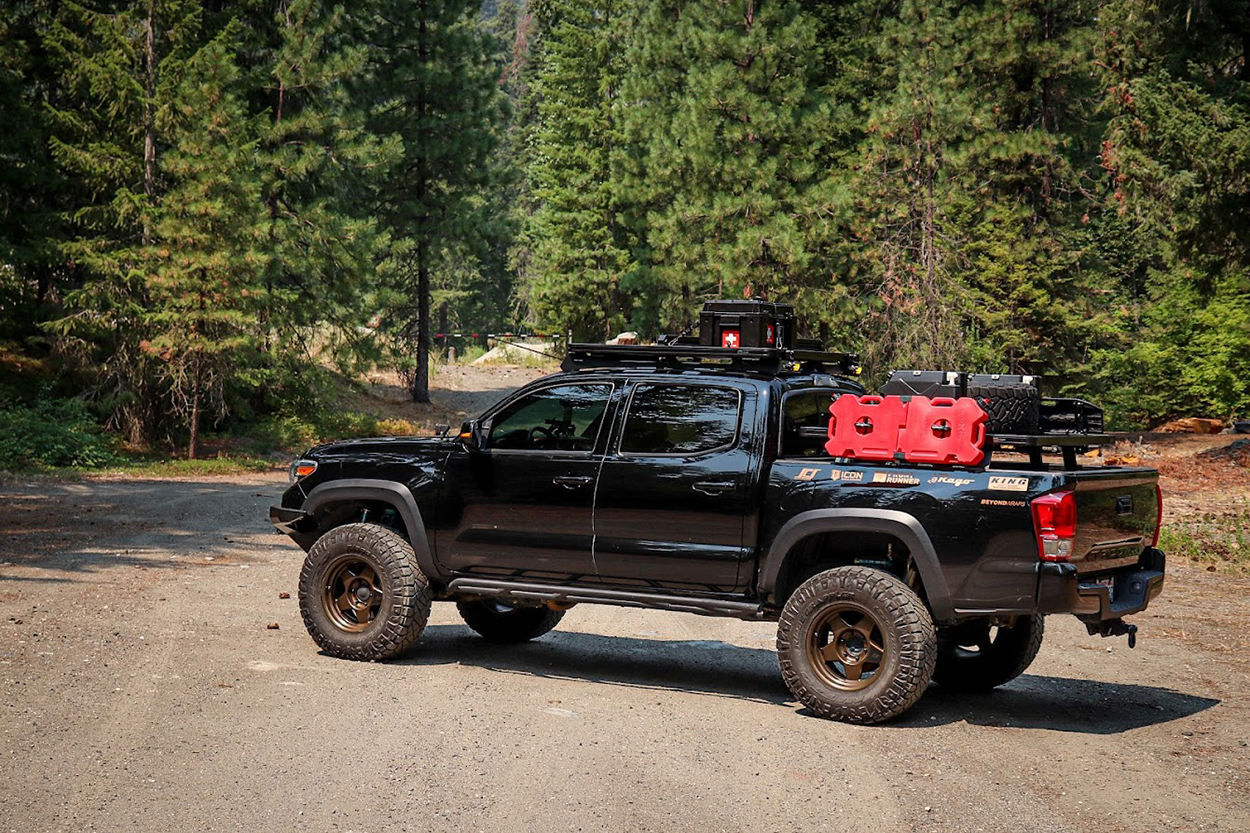 Rack Details: 
Front Runner Slimline ll Roof Rack
Price: $1,035
What's On Your Rack?
Front Runner Fishing Rod Holder
Front Runner Wolf Pack (2)
Front Runner Wind Deflector
Diode Dynamics SSC2 Amber Chase Lights w/ Front Runner Bracket
Front Runner Tie-Downs
Fiskar Axe w/ Front Runner Mounting Bracket
WHAT DO YOU LIKE ABOUT YOUR SETUP?
The versatility of this roof rack is unprecedented with its ability to mount each piece of equipment in a variety of locations. The dependability, strength, and simplicity of both the roof rack makes the Frontrunner brand a tier one competitor! Combining the bed rack with the roof rack also allows me to maximize my exterior storage space.
2. Oscar Sanchez (@beeronimomtb) – Cali Raised LED Premium
Rack Details: 
Cali Raised LED Premium Roof Rack
360 Degree POD Lighting
Price: $799 (starting)
What's On Your Rack?
CVT 55″ Hybrid Series Awning
Pelican 1720 Case
WHAT DO YOU LIKE ABOUT YOUR SETUP?
The roof rack was easy to assemble and install. It was 100% bolt-on with no major modifications required. The rack is lightweight, sturdy, and comes powder-coated black with 6 black extrusion bars. I of course had color-match the sides cement grey.
The low-profile design ensures low vibrations and wind noise. It has an adjustable LED wind deflector, which was a big selling point for me. The 43″ Dual Function CaliRaised LED light bar is hidden behind the adjustable fairing when not in use, keeping everything street legal whenever off the trail (CA laws). The roof rack also comes with slots for 6 high-powered LED PODs for 360-degree lighting making it easy to see your surroundings. It's a sturdy place to mount my CROCS too!
3. Jesus Dela Cruz Jr. (@tacodobowrx) – Prinsu Cab Rack
Rack Details: 
Prinsu Roof Rack
Price: $700
What's On Your Rack?
Pelican Case (overlanding gear, recovery straps/gear, cooking utensils, first aid kit)
Maxtrax Recovery Boards
Baja Design 40″ LED Light Bar
Ironman 4×4 Awning & Instant Shower Tent
Prinsu Side Handles
WHAT DO YOU LIKE ABOUT YOUR SETUP?
I love how the roof rack changes the look of the Tacoma. It also helps that you can put a lot of stuff on it like storage cases, Maxtrax, solar panels, etc. The option of having an LED light bar on it is also cool, and it helps when you are driving at night or early morning. If you are thinking of doing lots of camping/overlanding, buying a roof rack is a must, in my opinion.
4. Paul V. (@savage_tacoma) – upTOP Overland Bravo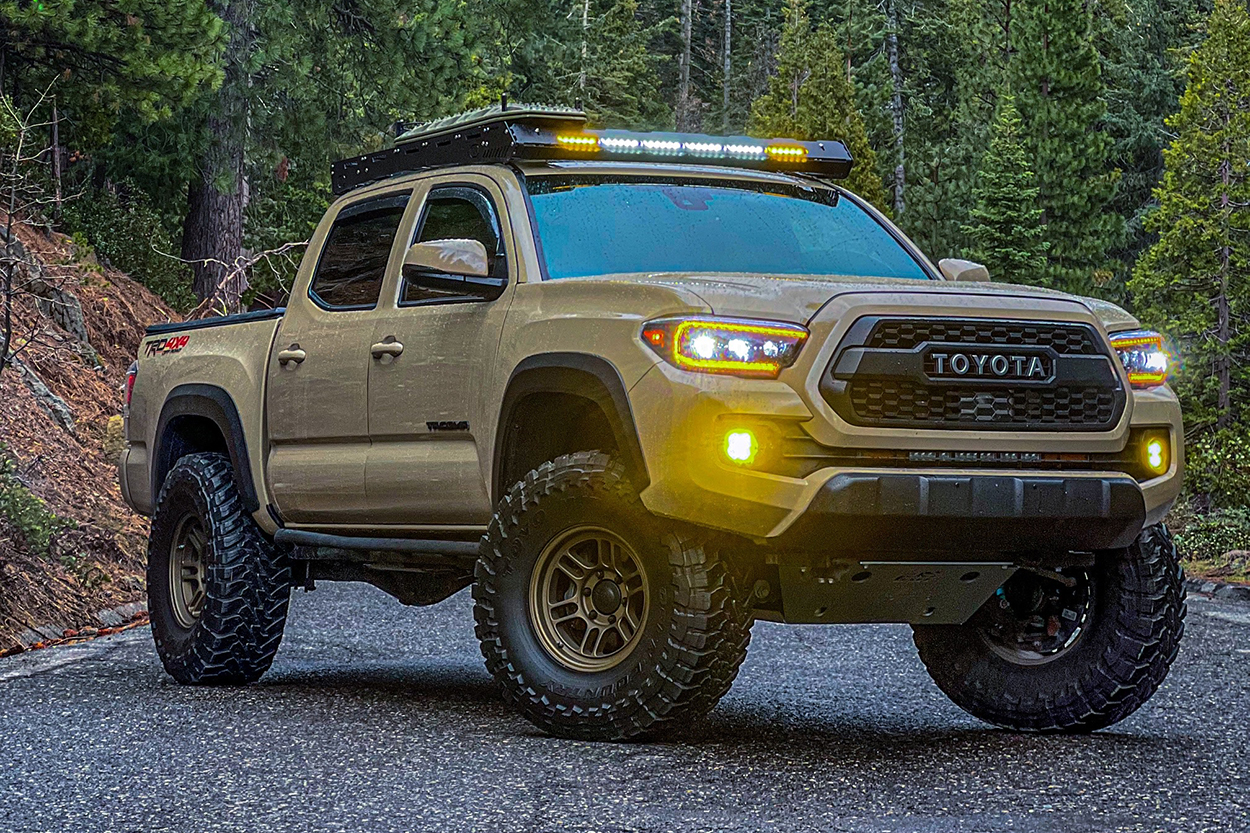 Rack Details: 
upTOP Bravo
Extreme LED Windscreen Cut Out
Price $699
What's On Your Rack?
Extreme LED X6S 38 slim light bar
Prinsu Maxtrax universal mount
Maxtrax Pins
Maxtrax MKII Olive Drab Recovery Boards
Diode Dynamics Stage Series 2" SAE/DOT Yellow Pro Standard LED Pod (SAE fog)
WHAT DO YOU LIKE ABOUT YOUR SETUP?
Let me start off and say thank you to Drew and the staff at upTOP Overland for the best customer service by answering all of my questions. UpTOP has a lot of features on their roof rack, but I'm going to start off with my top 3.
The first thing that I like about the upTOP is that they made six different windscreen cutouts for your light bar, this allows guaranteed fitment. Second, I like is that the rack has grooveTEK that is located on the sides. This optimizes the use of bungee cords & straps by hooking on the teeth to prevent them from sliding down and out. The last thing is the pre-cutout area for scene POD lights. This allows you to add Baja Designs rock lights easily.
5. Jonathan Branshaw (@sdtacomabeast) – Prinsu Cab Rack
Rack Details: 
Prinsu Roof Rack
Price: $700
What's On Your Rack?
Pelican Rifle Storage Box
Maxtrax Recovery Boards
WHAT DO YOU LIKE ABOUT YOUR SETUP?
Being a truck, we're very limited in storage space. I love my Prinsu rack now with my extra storage being on the roof. The case allows me to store all the essential off-road recovery gear and tools. I'm able to keep my recovery tracks alongside my storage case. I hope to add on some more accessories such as lights, a shower, and a retractable shade in the near future. I love the fact there are almost unlimited configuration options with this roof rack.
6. Sary Ven (@yotaflame) – Front Runner Slimline / Low Profile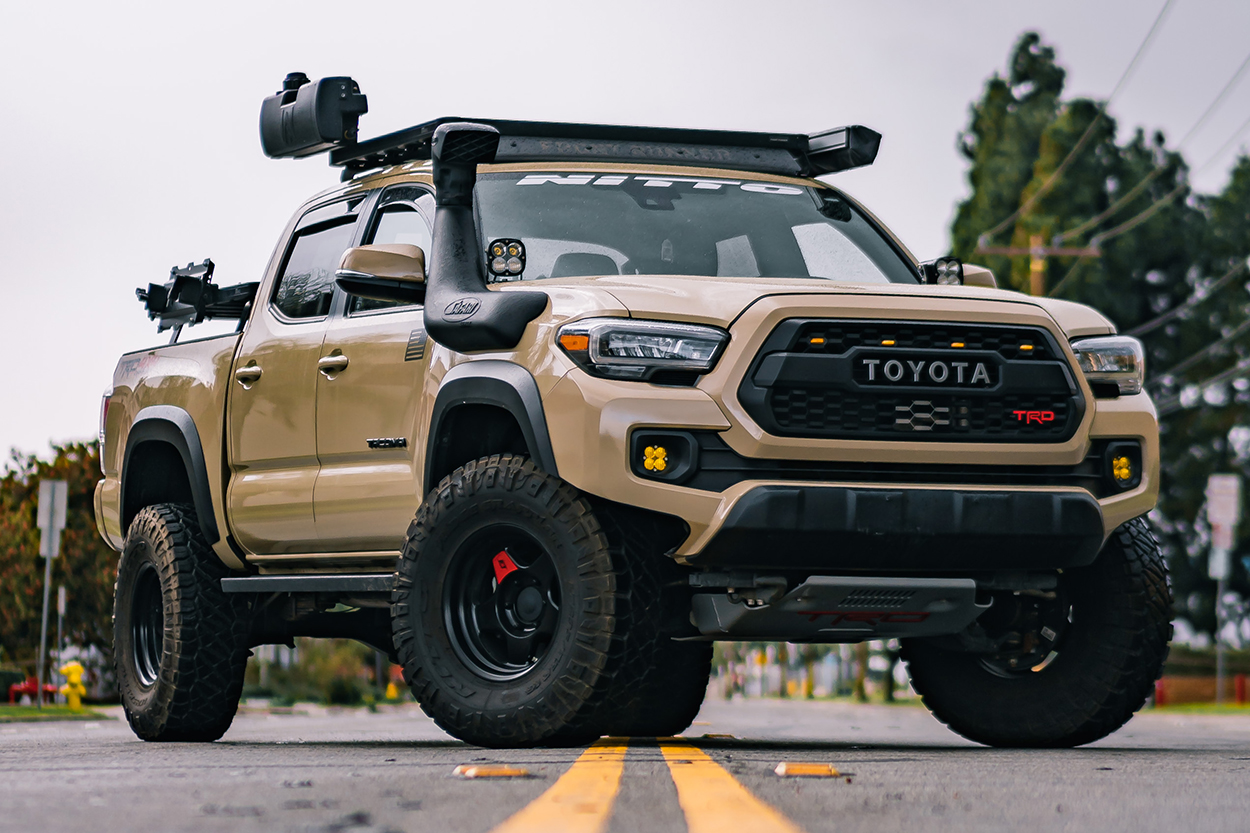 Rack Details: 
Front Runner Slimline II / Low Profile
Price: $915
Material: Black Epoxy Powder-Coated T6 Aluminum
High Strength Steel
Weight: 54.04lbs
What's On Your Rack?
WHAT DO YOU LIKE ABOUT YOUR SETUP?
When I was hunting for roof racks, I wanted something simple and low profile. The low-profile Front Runner roof rack was a perfect fit for me. It matches my bed rack and has endless accessories options. Overall, it's a good rack. I love it!
7. Anthony Parilla (@antacoma) – Prinsu Cab Rack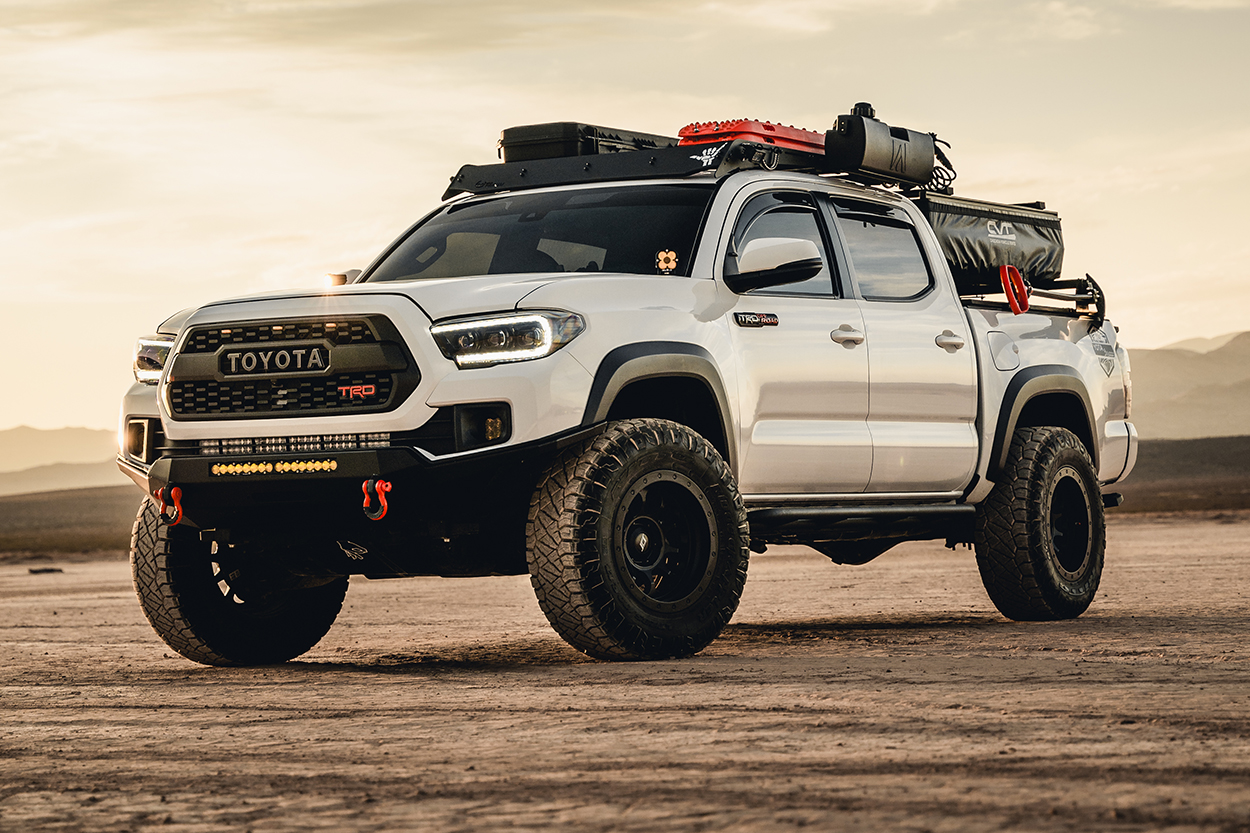 Rack Details: 
Prinsu Cab Rack
Price: $700
What's On Your Rack?
I currently have a Plano 42" rifle gun case that I use to store all my recovery gear. I also have my recovery boards mounted up top. On the sides, I have paracord handles and also diode dynamic floodlights (two on each side).
WHAT DO YOU LIKE ABOUT YOUR SETUP?
I love this rack because of its sleek and stealth design. The modular design gives me endless options to mount anything I want up top. I always loved the way it sits and forms to the truck! Buy it and never look back!
8. Konrad Chojnowski (@trail_tacoma) – AL Offroad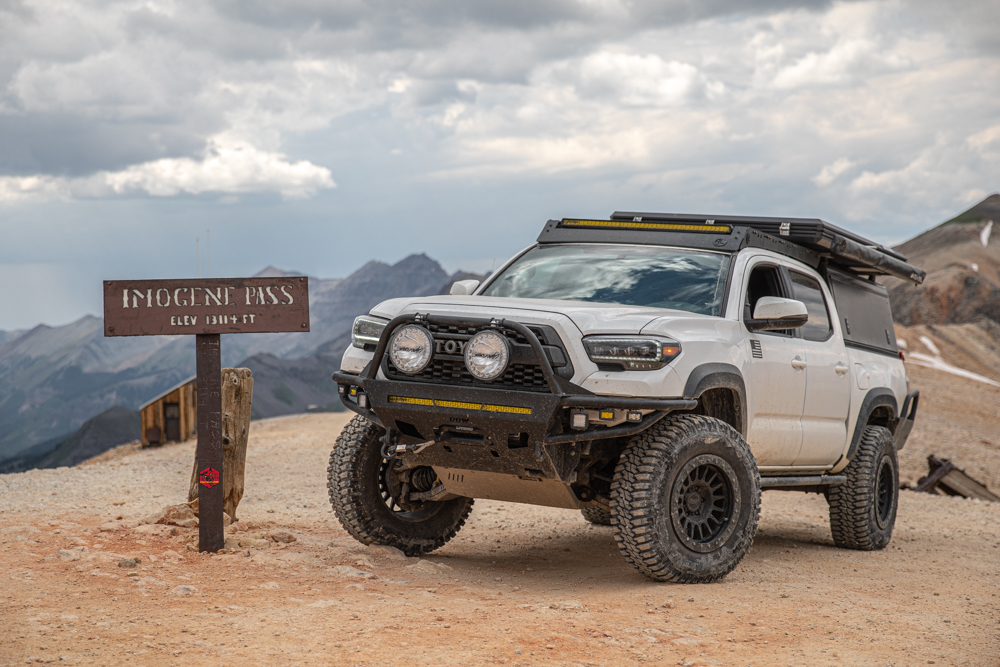 Rack Details: 
AL Offroad HD Onyx Roof Rack
Price: $950 (starting)
What's On Your Rack?
Lightforce 40″ Nightfall LED Bar
AL Offroad Hook Point (tie-down)
Agency 6 Billet Aluminum Grab Handles
WHAT DO YOU LIKE ABOUT YOUR SETUP?
What I love most about this rack is how unbelievably strong it is. I would say without much hesitation, I don't think there is another rack out there like it on the market today, at least in terms of overall strength and rigidity. This is partly due to the beefy mounting system but primarily due to the massive crossbars. I've also grown to love the look. Sleek, but beefy. I'm also running a set (not pictured above) of Agency 6 Universal Grab Handles, which are drilled directly into the side of the rack. Check out my AL Offroad HD Roof Rack install and review post here.
Final Thoughts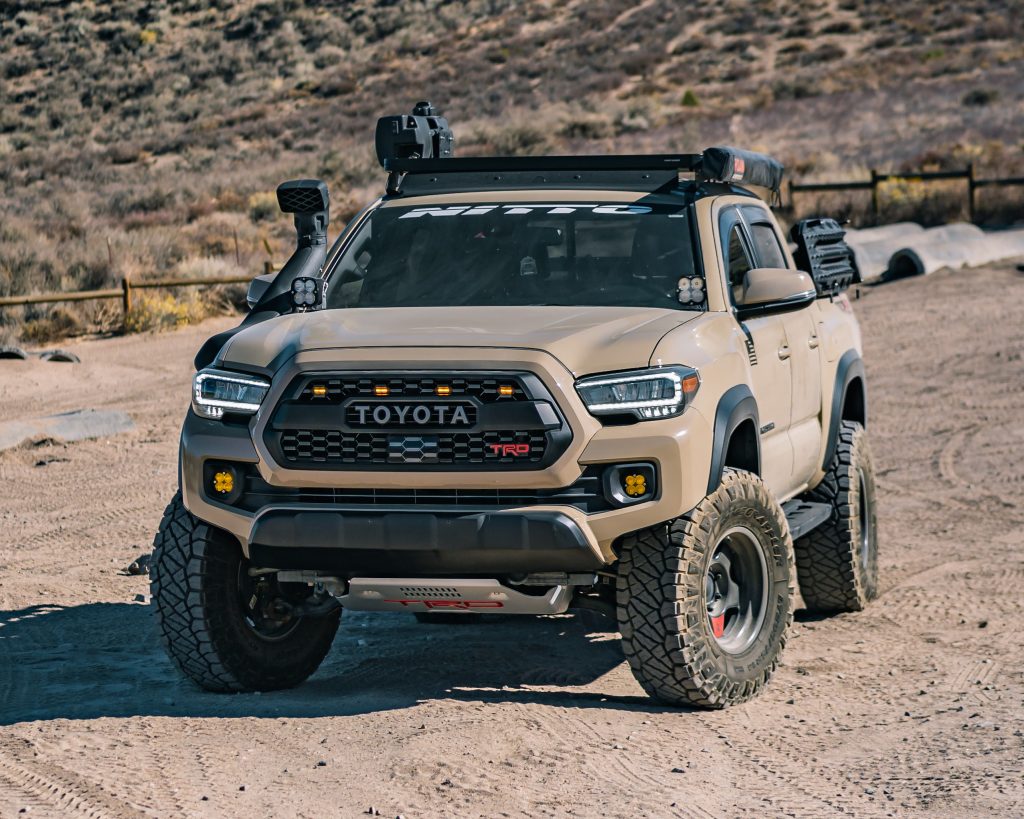 What a great group of trucks to show us how versatile roof racks for Toyota Tacoma can be! I need to throw mine on this weekend after seeing these rigs. I've been putting that off for too long! These trucks got me hyped to install it!
If you enjoyed what some of the owners have done to their rigs, make sure you follow the link to their Instagram and give them a follow to show some love.
If you want to be featured for Taco Tuesday, submit your build through TrailTacoma.com/Feature. Next week's Taco Tuesday will cover various Ditch Light Options for the Toyota Tacoma. We're looking for awesome rigs to showcase! If this is you and you love your roof rack setup, send in your details because we want to see it.
Thanks for reading guys. I'll see you next week!