Are FlipPac Campers Worth The Hype? A Complete, Detailed One-Year Review & Overview with Specifications, Features, Pros & Cons + More!
With companies like AT Overland and Go Fast Camper releasing some of the best Tacoma truck campers money can buy, the FlipPac often goes overlooked.
Most people haven't even heard of a FlipPac canopy.
A big reason for that is the company that owns the rights to the design, FRP (Fiberglass Reinforced Products), stopped making them in 2015. With FlipPacs no longer being made, they've become harder to find.
The question is, are they still relevant now? In this post, we will dive into the specifications, general thoughts, and the pros and cons of this camper setup. Let's check it out.
Flipac Camper Review on Tacoma
What Exactly Is A FlipPac & How Does it Work?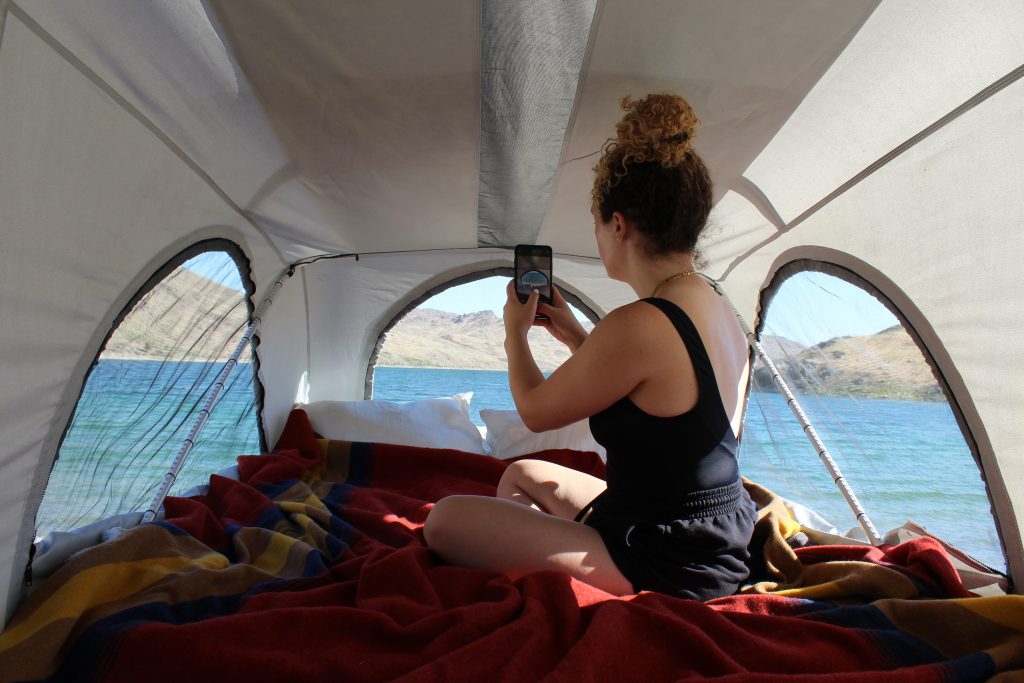 Put simply, a FlipPac is a pop-up camper that uses a flip-open design. The elegant design of the FlipPac lets you double the space of your living area when it's deployed and is much more compact than a traditional pop-up camper when it's stowed away. Setup is easy, taking only a few minutes to be camp ready, and once it is deployed, you can stand fully upright in the bed of your truck.
The interior is very spacious, allowing you to use the truck's bed as a living area. The sleeping area extends out over the truck's hood and can comfortably fit two people. The best part of this design is when it's time to pack up. Closing down a FlipPac is quick, and the design is so well done that most people will mistake a closed FlipPac for just another oversized canopy. Unless you recognize the distinct clamps and seams at the bed lid, you will completely miss it too.
Specs + Features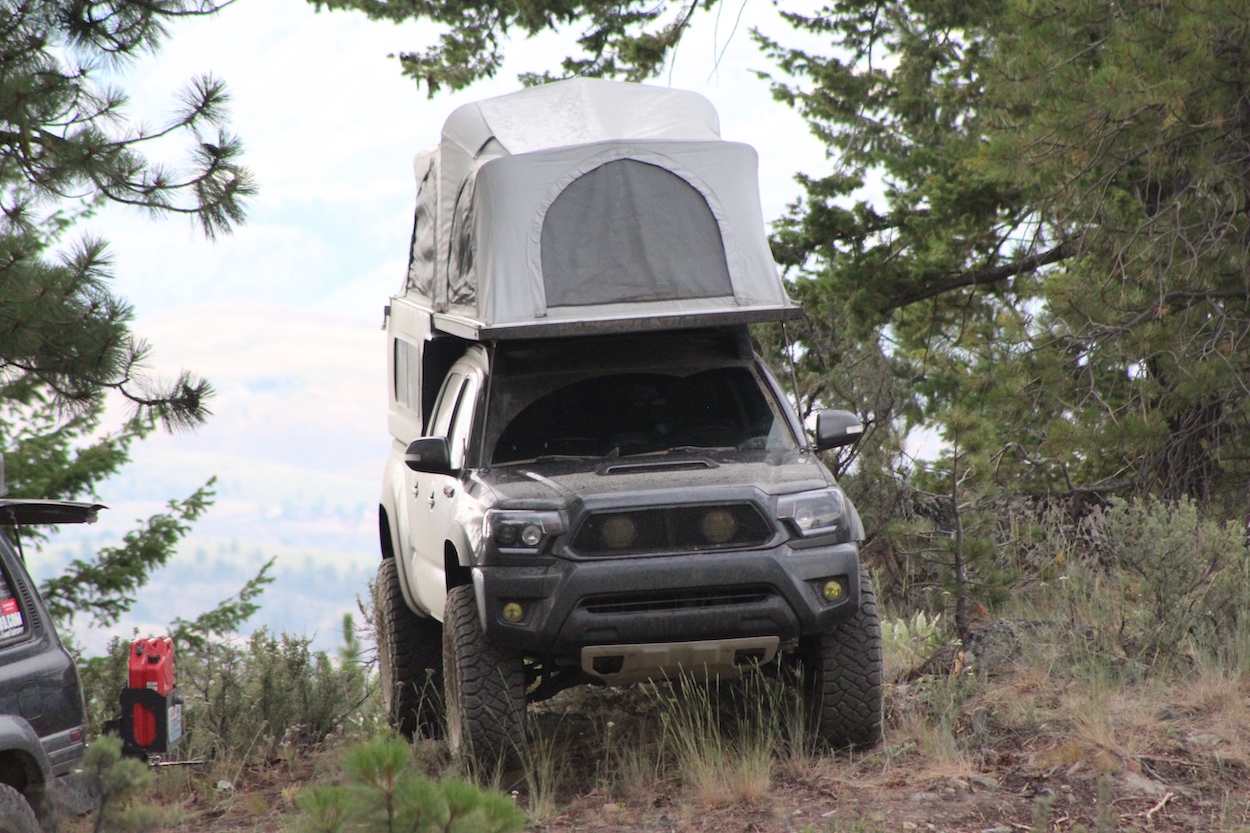 FlipPac prototypes were being made as early as the late 90s. In the early 2000s, they were developed and sold commercially across the country until 2015. During that time, FlipPacs were built for almost every truck bed imaginable, ranging from full size 8′ and 6.5′ beds to mid-size trucks with 6′ or 5.5′ beds. The most desirable and expensive ones today are the ones that fit mid-size trucks like the Tacoma.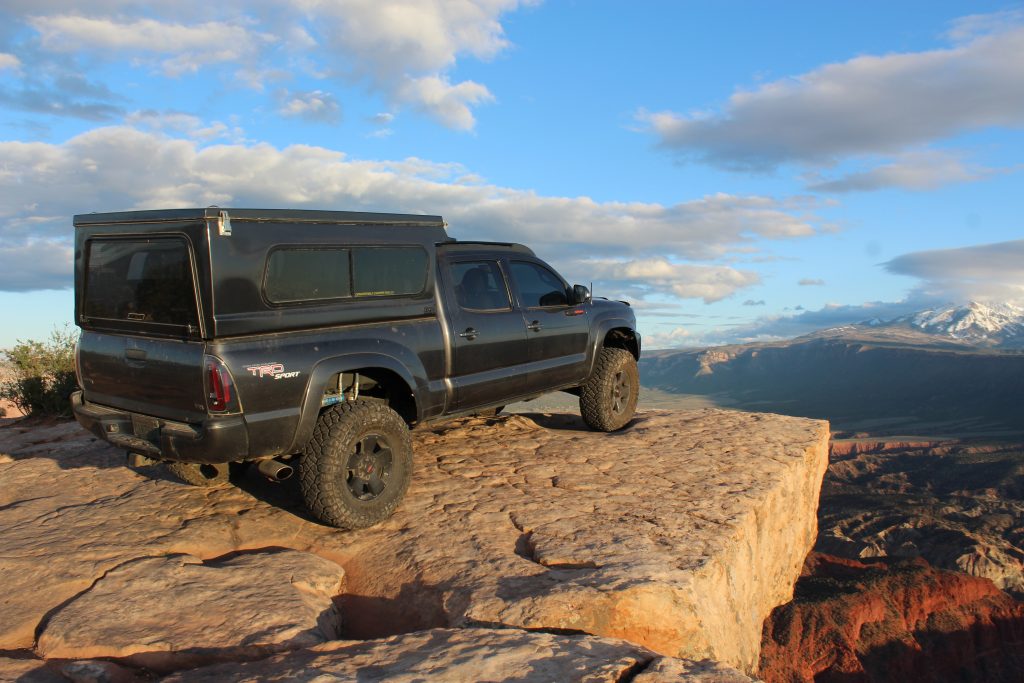 The short bed and long bed FlipPac weighs around 290 lbs. Additionally, the sleeping area of both is the same and measures to be just under the size of a queen-size bed. Pricing for FlipPacs can vary based on condition and size. Expect to pay around $4000-5000 for one that is in decent shape. FlipPacs that are color-matched and have had some tasteful modifications done like interior lighting or exterior storage modifications usually sell for a few thousand more.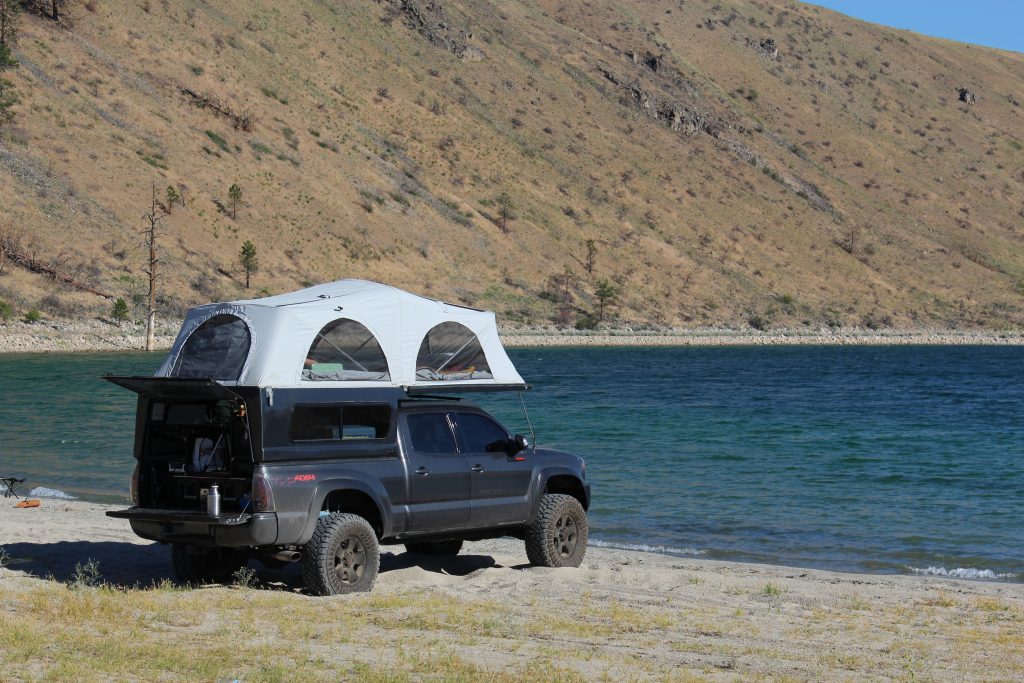 FlipPacs also require stability bars, which are leg supports mounted on both sides of the hood when deployed. As the name implies, they are there to stabilize the FlipPac lid when it's open but do not hold any weight. When purchasing one, make sure that these come included. If they don't, it is relatively easy to make your own, which is what I did.
FlipPac PROS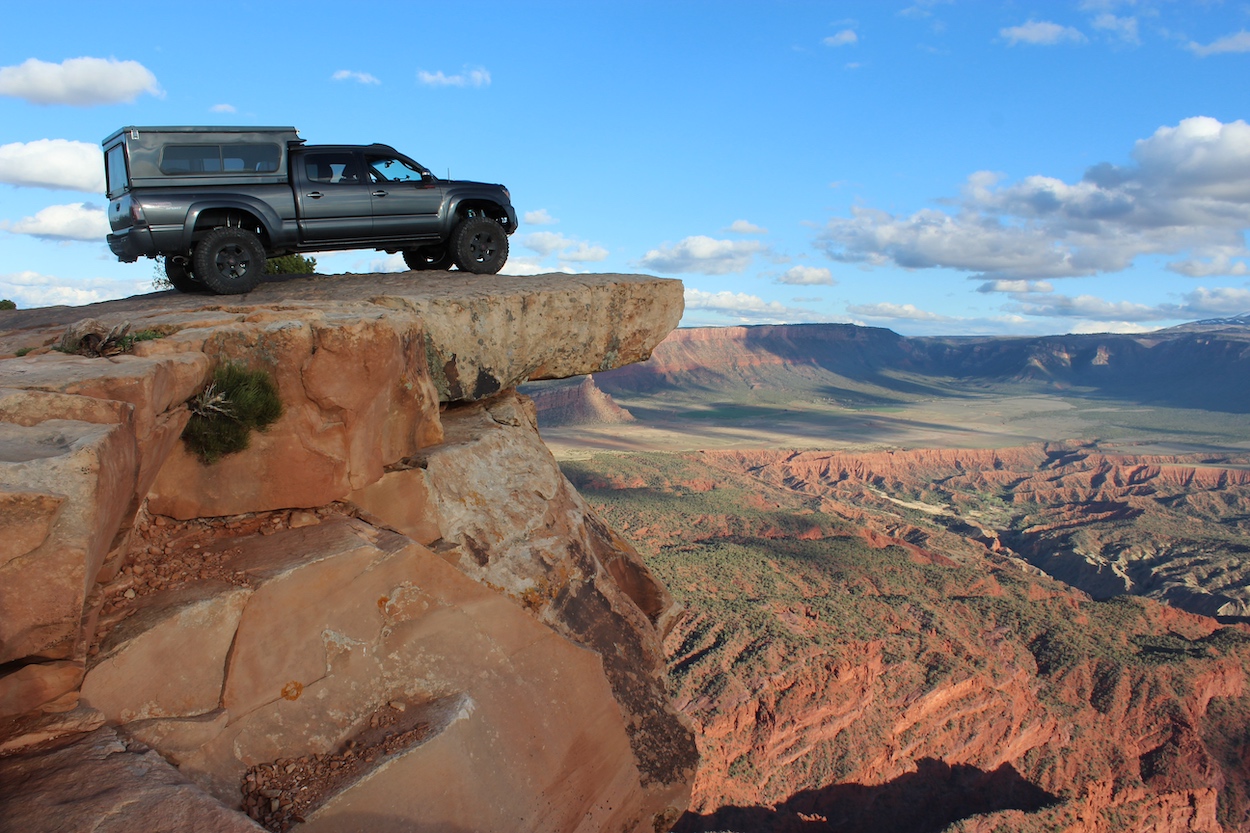 I can confidently say that the pros far outweigh the cons. To start, the amount of usable space you get when it's deployed is tremendous, practically doubling the amount of room a Go Fast Camper provides while weighing only a few pounds more. What you get for the price is hard to beat. The closest comparison as far as design and layout is the AT Habitat, which has a base price of $12,000.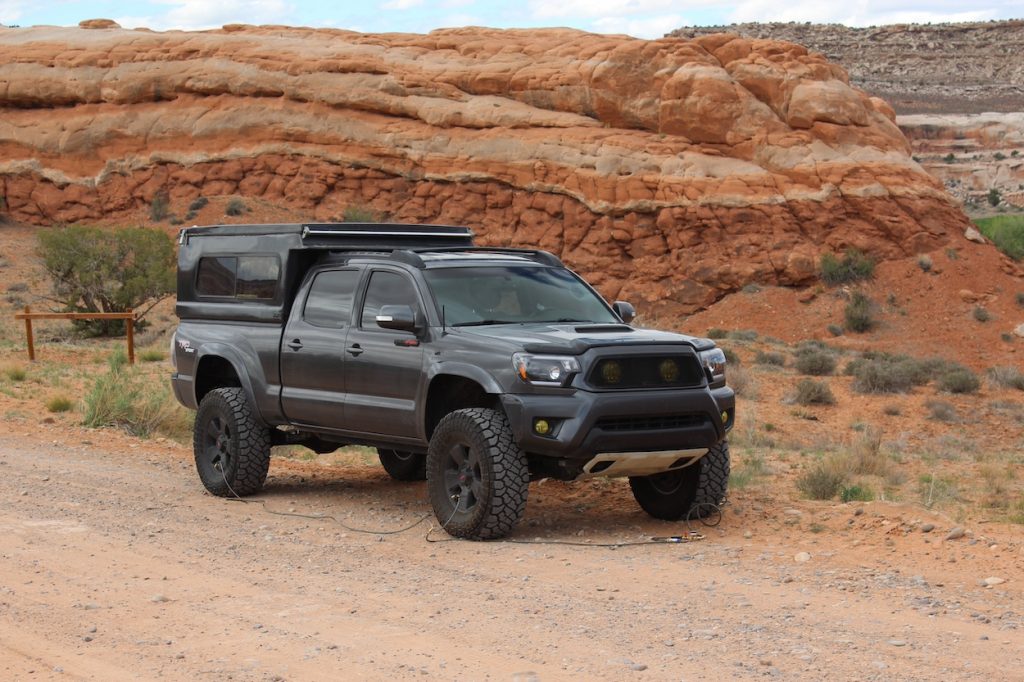 An advantage FlipPacs have over the AT Habitat is how practically it deploys. The FlipPac deploys in the same footprint as your truck when setting up, whereas the AT Habitat deploys out over the back of the truck, taking up additional space. This feature can be handy when setting up in some tight areas such as ski resort parking lots or tight camp spots while out on the trail.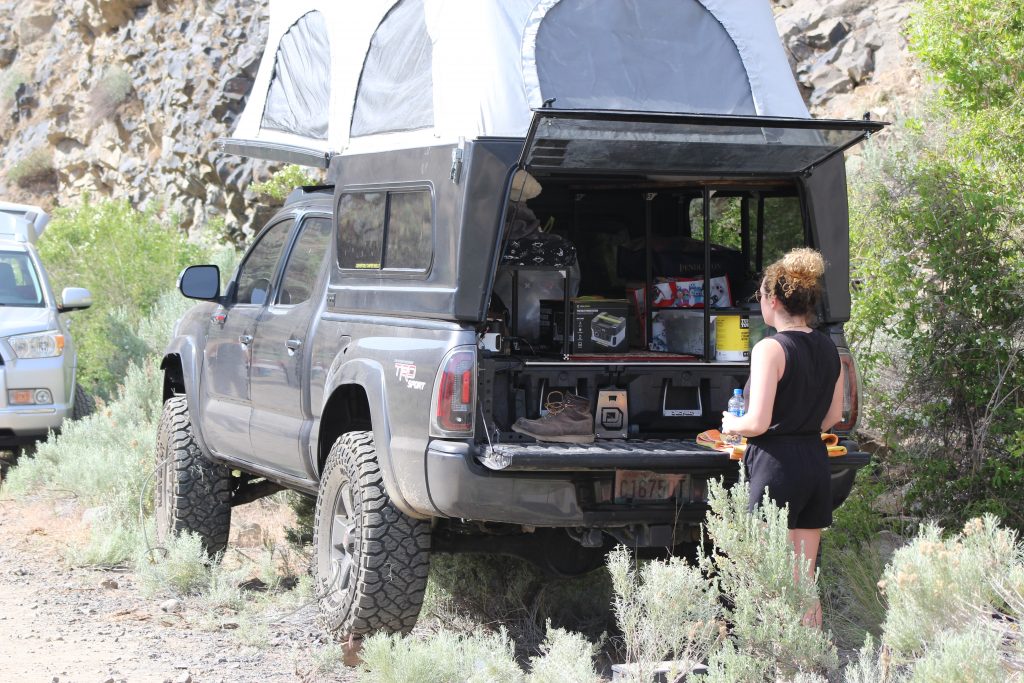 My favorite pro of the FlipPac is that you don't need to compromise your driving style at all. I have personally taken my FlipPac all over Moab for some fun rock crawling and on all the sections of my local WA-BDR trail for high-speed back road driving, and it has held up fantastically. Most of the time, when I am driving with it on, I forget that it's there, which is exactly what I love about it.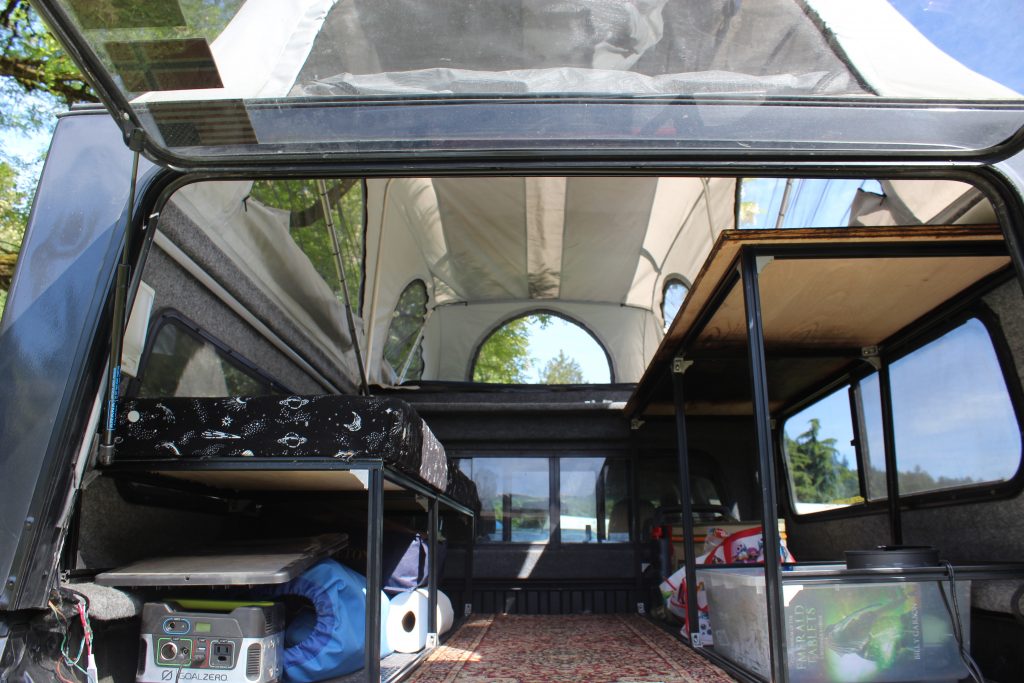 Lastly, the amount of enclosed living area you get with a FlipPac is incredible. When deployed, you get over 7′ in headroom while walking around in the back of your truck. It allows for plenty of possibilities when designing this area. I have a long bed Tacoma and have built out an entire kitchen and seating area with a hard-mounted stove and sink. It has all the best aspects of a full-size camper without any of the drawbacks.
FlipPac CONS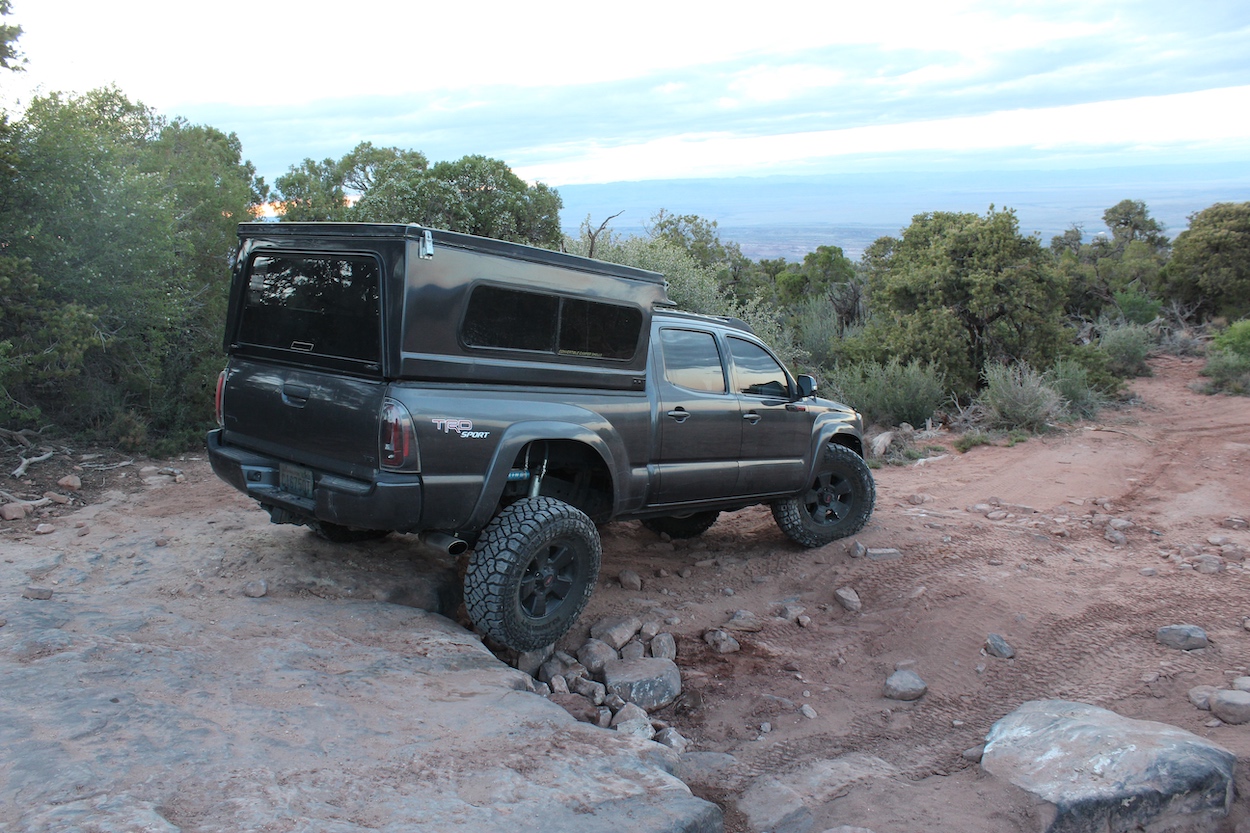 Although there aren't many cons, they are still worth noting. One significant con is that FlipPacs can be extremely hard to find. Most people that have them aren't willing to part with them, and when they do, they get bought up very quickly.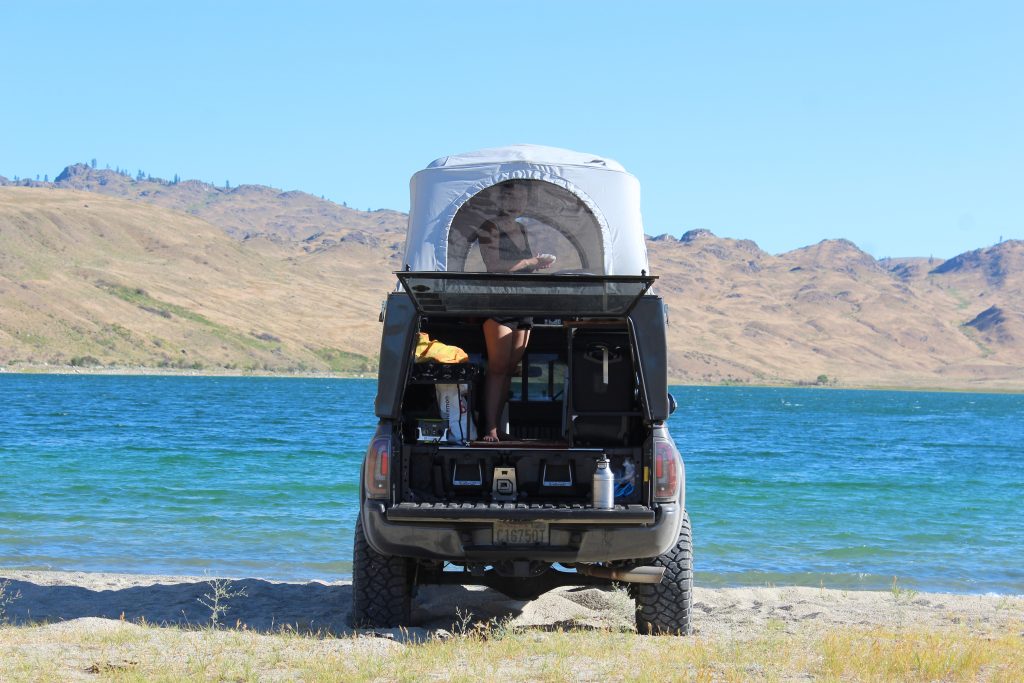 Another drawback is that you have to buy them used. While you can find some that look to be in new condition, most of them have some light cracking and scratching on the outside. This might not be an issue for some, but just something to keep in mind when searching for one.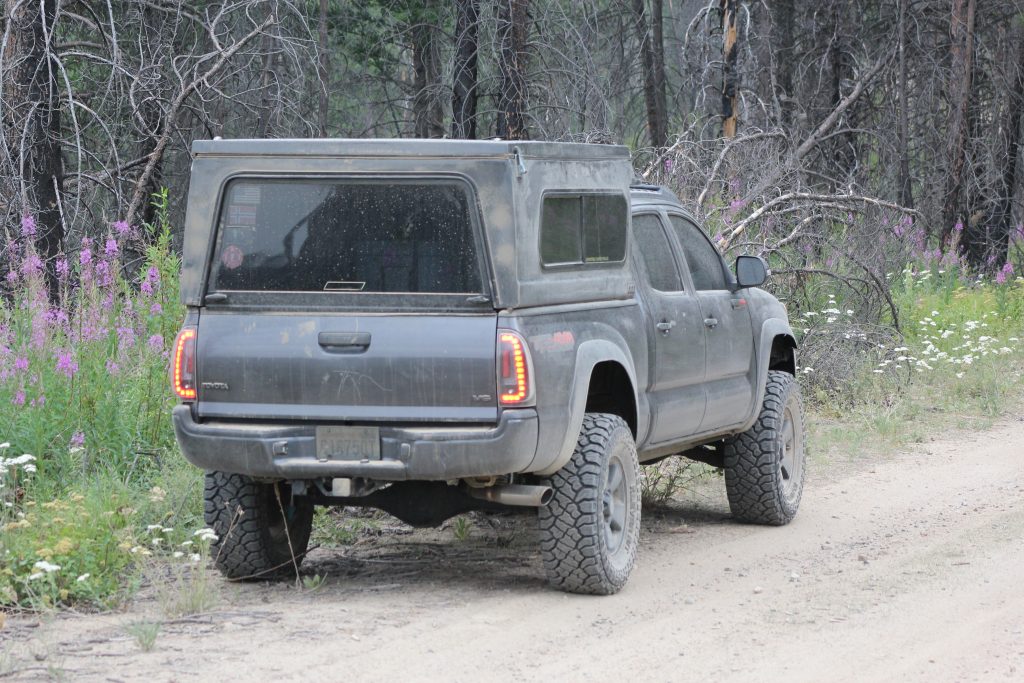 Lastly, FlipPacs are made out of fiberglass, whereas the AT Habitat and Go Fast Campers are made out of metal. When comparing these three campers, it's safe to say that the more expensive AT Habitat and Go Fast Campers have a much higher build quality. Let's just say you get what you pay for. However, I think the FlipPac is still the best bang for your buck.
Final Thoughts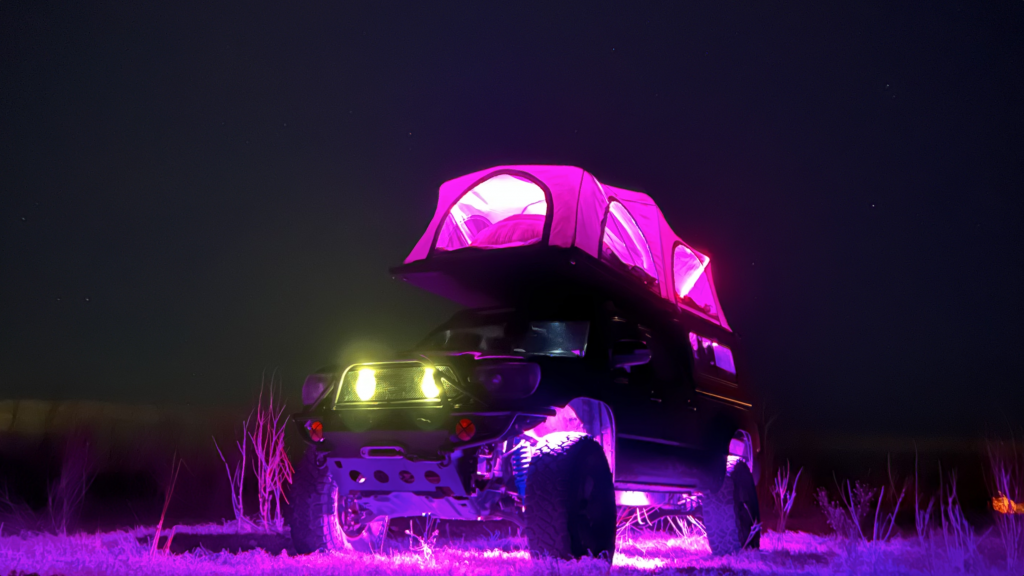 Overall, I wouldn't trade my FlipPac setup for anything at this point. It's truly the jack of all trades and master of none and compliments the Tacoma perfectly. If you have any questions, please reach out to me on any of our social media platforms or throw them down in the comments below!
Thanks for reading!