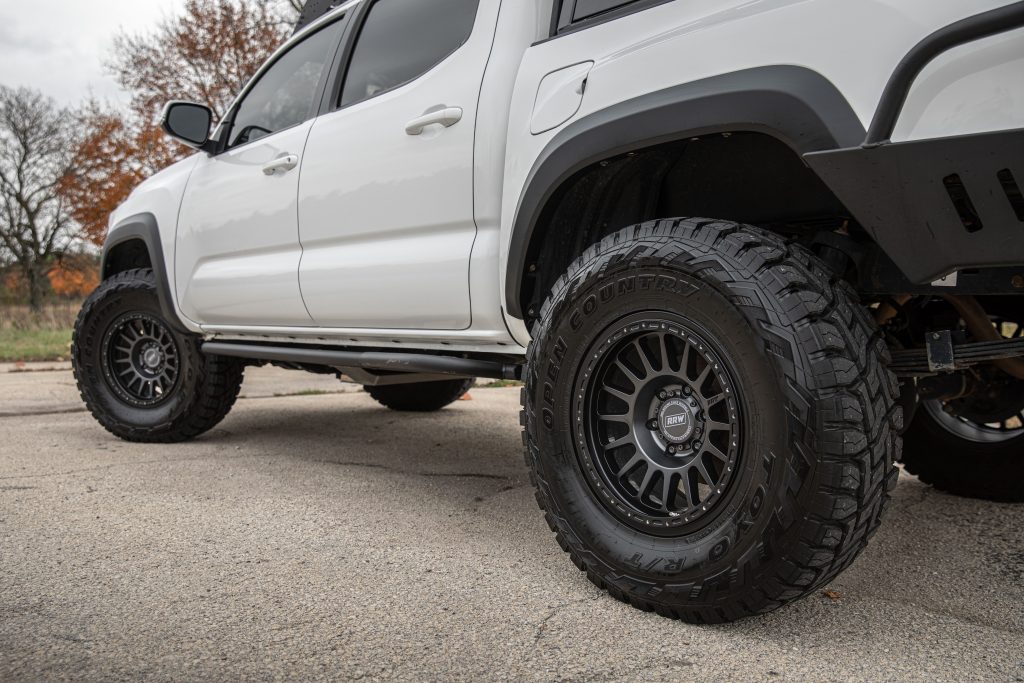 Pictured above: 2017 TRD OR Tacoma with Relations Race Wheels (RRW) RR6-H Wheels (-12 offset)
A Buyer's Guide: Off-Road & Overland Wheel Companies, Designs & Options to Consider for Your 2nd & 3rd Gen Toyota Tacoma
Let's talk wheels.
Wheels might be the most universal modification of them all. Regardless of build intent, pretty much all of us consider upgrading our wheels at some point. New wheels can drastically change your truck's appearance, and if you go with a quality company, changing your wheels can offer other performance benefits.
Most aftermarket wheels, at least the options on this list, offer offsets that are much different from factory wheels. Larger negative or smaller positive offsets, as compared to factory wheels, can offer clearance from suspension components and give your truck a wider, more aggressive stance. You could also argue that a wider stance can help stabilize your truck once it's lifted.
Strength is also a significant factor. Not to suggest that OEM wheels are weak, but often, especially with forged options, aftermarket wheels can be much stronger and handle the load better. This translates into peace of mind when wheeling hard on the trail or cruising long distances on road trips.
Most notably, Relations Race Wheels offers a rad wheel option unique to their line (as far as I've seen). Hybrid wheels. These wheels give you a choice to run each set of hybrid wheels in 5 different configurations. Name another wheel company that does that! More on that later.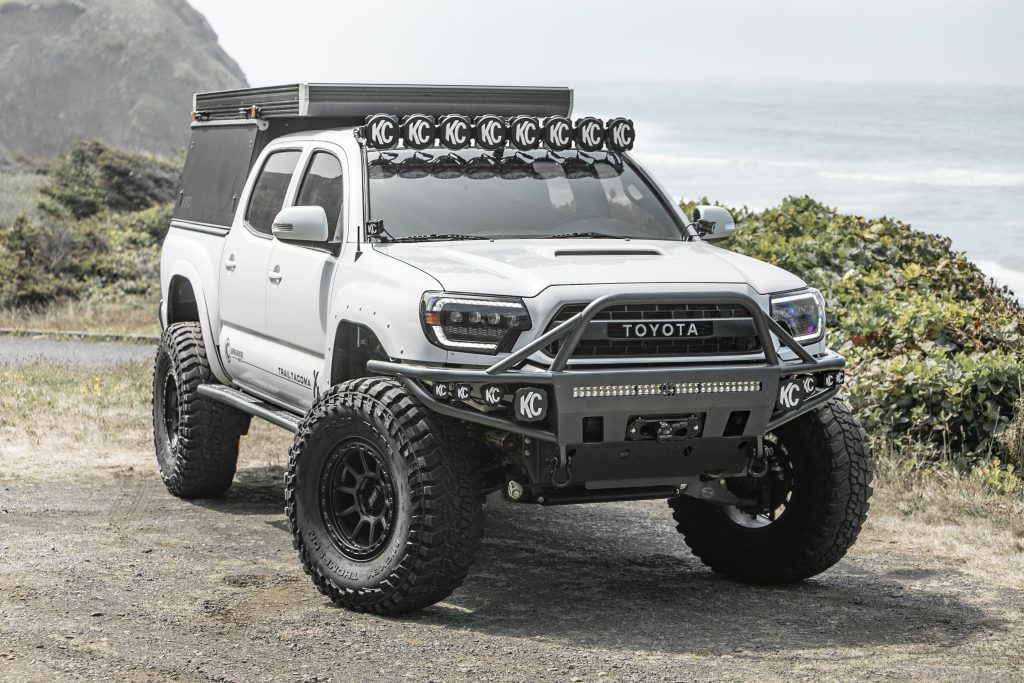 Relations Race Wheels (RR8) on Toyota Tacoma
Choosing a new set of wheels can be challenging, so I've created this list of some of the best and most popular wheel companies and designs to make your buying decision a little easier. There are tons of options on the market, but I genuinely believe this list is an excellent compilation of where the market and interest are currently focused.
In this post, I will run through nine of the most popular wheels in the truck game right now and hopefully help guide your purchasing decision towards a rad set of aftermarket wheels to help take your build to the next level.
Let's run it!
1. Relations Race Wheels (RRW)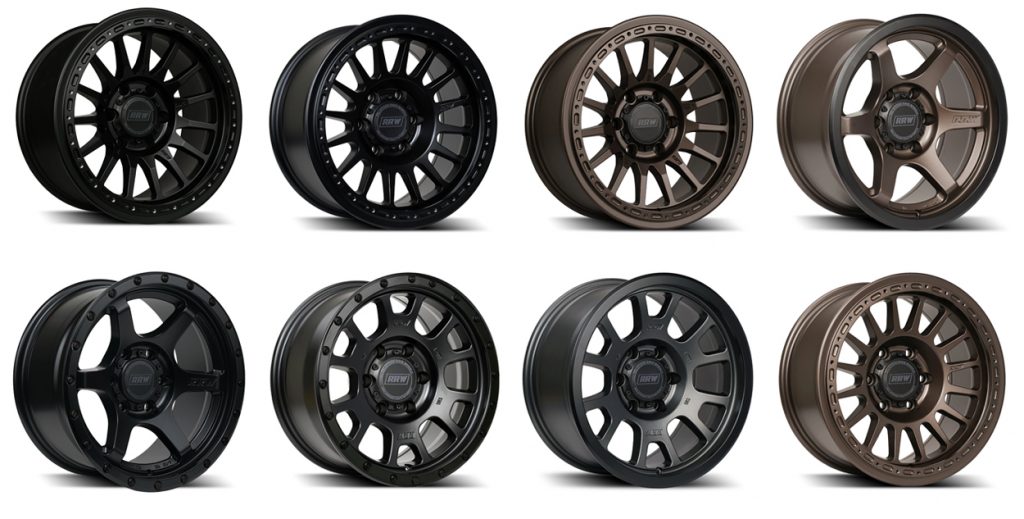 Find Them Online
RRW has been going strong since being founded in 2016. These guys have some of the cleanest wheel designs, and in the last couple of years, we've really seen the market flooded with new builds running Relations Race Wheels. And for good reason.
Relations is all about quality over quantity, and their passion for the outdoors and design infuse their brand and wheels with a look that is hard to pass up. As I mentioned before, they offer a line of hybrid wheels, which makes them stand out among the rest. The hybrid wheels allow you to run the wheel in "street" form, without any additional add-ons, with decorative bolts, a protection ring option (that comes in steel and aluminum), and finally, a true beadlock. That gives you a grand total of five ways to run one set of wheels. Epic!
We've heard that RRW is working on some dope projects, and we cannot wait to see what else they come up with.
Once again, keep an eye out for our 4/13/22 launch date for the group buy!
2. KMC Wheels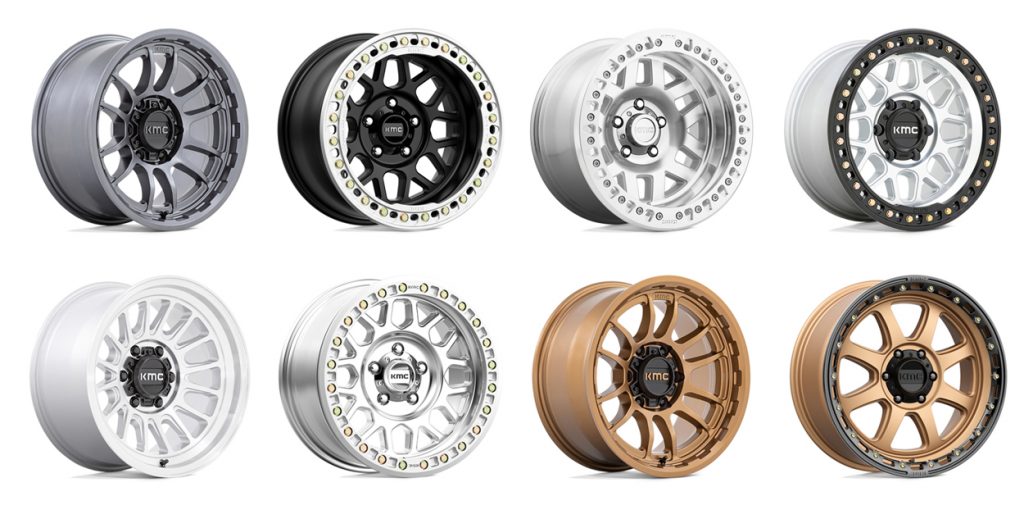 Find Them Online
Next up, KMC. KMC has had a considerable influence on the off-road wheel space. And they should! These guys have been around since 1982, so they have to be doing something right. This is true to a great degree in the last couple of years, where we've seen lots of hype in the community. Many popular trucks that you might see on Instagram and beyond are running KMC Wheels.
KMC steadily produces new designs and has had a huge impact on the entire wheel game. Most notably, we've seen KMC push a lot of machined wheels, which seem to be making a big comeback – and rightfully so. I didn't use to like machined wheels, but now I find myself browsing those options more and more… Either way, whatever your taste, KMC has quite a few wheels to satisfy just about everyone.
3. Stealth Custom Series (SCS) Wheels

Find Them Online
If you've spent any time in the world of Toyota, you've likely seen SCS wheels around. These guys exploded onto the off-road wheel scene a few years back and have been steadily cranking out simple and effective designs.
These guys believe that less is more, and their designs are clean and straightforward. With unique colors, big negative offsets, and limited inventory, SCS wheels are always in high demand. I used to run a set of their wheels on my old 4th Gen 4Runner, so I'm well acquainted with the company. If you're looking for some of the most popular and trending wheels, Stealth Custom Series wheels should be on your radar.
4. Black Rhino Wheels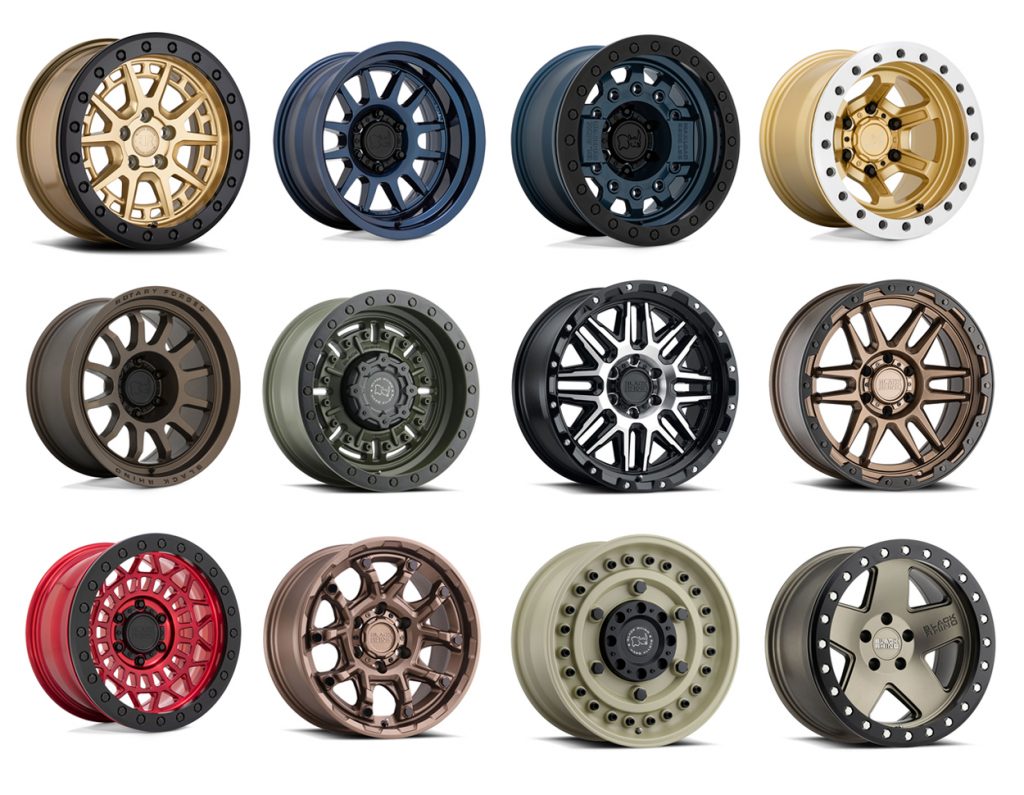 Find Them Online
Black Rhino is another brand that flooded the truck scene more recently. This company is rooted in South African heritage, an area known in the off-road industry as one of the great testing grounds for tough outdoor products. They are named after one of the toughest animals in the world, the black rhino, which is an iconic figure of the African bush.
Black Rhino focuses heavily on truck and SUV wheels, with lots of attention to high-quality, aggressive designs that pair wheels with all calibers of off-road and overland builds. These guys have some of the toughest wheel designs, with many of their wheels taking some inspiration from a more rugged, military-style design that pairs well with the outdoors. If you like the mil-spec look, strongly consider these guys.
5. Method Race Wheels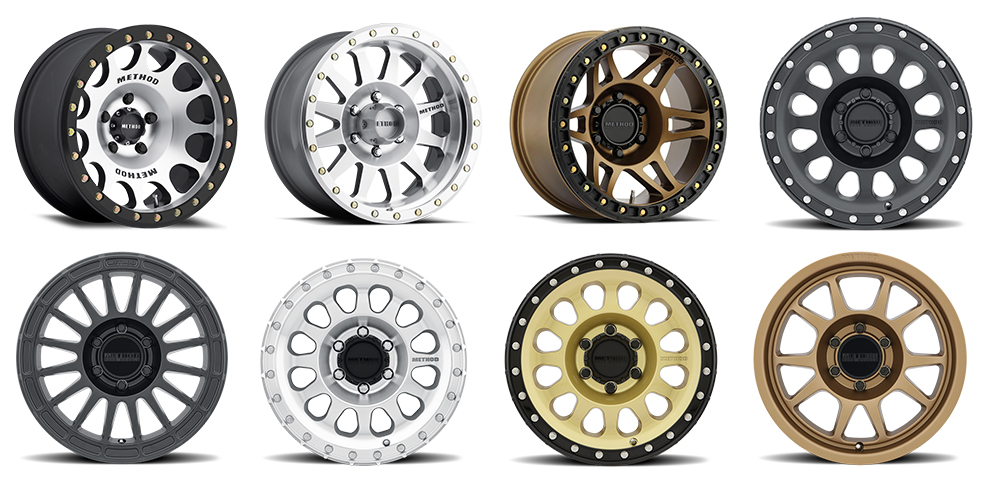 Find Them Online
A company that doesn't need much introduction, Method Race Wheels has also been around for quite a while, and their designs are some of the most popular today. Method has a strong focus on high-performance wheels that also look great.
The team and Method are not only race enthusiasts but also participants, so they bring the heat and loads of experience when it comes to wheel design. Working outside of the box is a staple for this brand, and you really can't go wrong with a set of Method wheels. High-quality standards and an endless pursuit of the best wheels have put Method on top of the wheel game.
6. Fuel Off-Road Wheels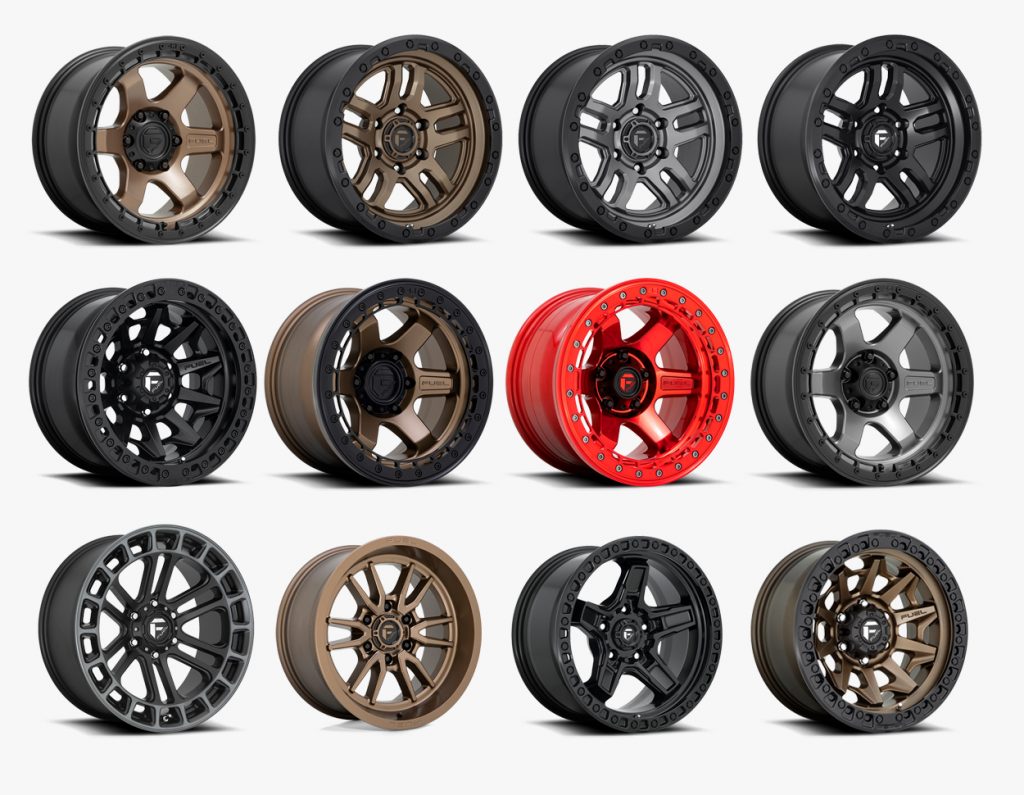 Find Them Online
Since 2009, Fuel Off-Road has been steadily producing wheels for the truck fanatic. They push to design wheels that offer great aesthetics without losing focus on function. With tons of designs, you can bet there's a wheel out there for you.
The team at Fuel strives to stay ahead of the game by offering new designs and bringing as much innovation to the industry as possible. With plenty of happy customers, you can bet that Fuel has you covered.
7. Rays Wheels

Find Them Online
A company that may need no introduction, Rays Wheels. These guys have been involved in the world's highest level racing, including, but not limited to, F1. So there's literally no question when it comes to quality and engineering. Rays is not messing around.
Rays has a strong background in the car scene, but in recent years, they've been making a bigger impact in the world of off-road. Most notably, these wheels are entirely developed and produced in-house in Japan. These wheels are likely the most expensive on this list, but if you want this level of quality, you can expect a heftier price tag.
8. Fifteen52 Wheels

Find Them Online
Since 1996, Fifteen52 has had an intense passion for all things automotive. They take a unique approach to wheel design, mixing minimalist design with their experiences both on and off the track. Race-bred performance styling is a crucial direction these guys don't deviate from.
With several super unique and interesting designs, you can really see where their race inspiration comes from when browsing their lineups. If you're looking to stand out from the crowd and you share Fifteen52s passion for race-inspired wheel designs, these might be the wheels for you.
9. Icon Alloys Wheels

Find Them Online
Last but not least, Icon Alloys. You might already be familiar with Icon suspension products, but fewer people know that they also make some cool wheel designs. Their wheels are a relatively newer offering, but you can bet that the same quality they strive for in suspension is translated into their wheels.
With several designs, there are plenty of options to choose from. Icon Alloys also have some great features, like the bead retention system and other bead grip technology. Not to say this is unique to Icon, but a nice feature to note.
Final Thoughts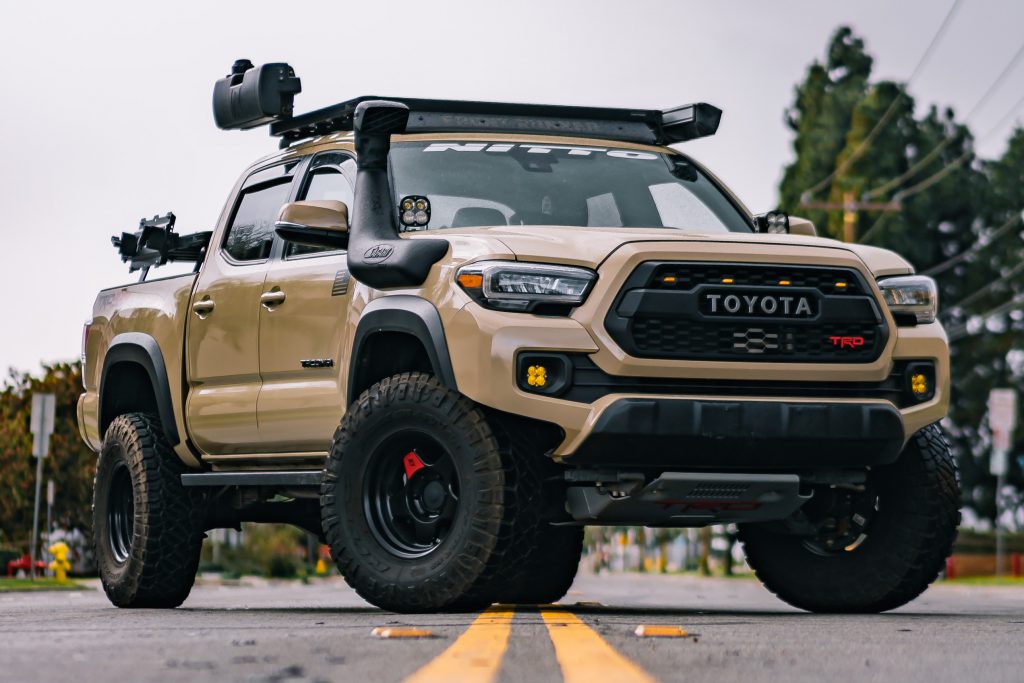 There you have it! Probably one of the best wheel compilation guides I've seen… Maybe I'm biased. Maybe. But we do have some of the best looking and performing options available on the market today.
Hopefully, this post was able to help you choose a clean set of wheels for your truck. There are enough options to make your head spin, so we tried to compile a solid list to choose from.
Looking for some inspiration? Check out our Taco Tuesday post – 5 Unique Wheel & Tire Setups For The Tacoma.
If you think we missed anything, or if you have any noteworthy experience with any of these brands, drop us a comment and let us know!