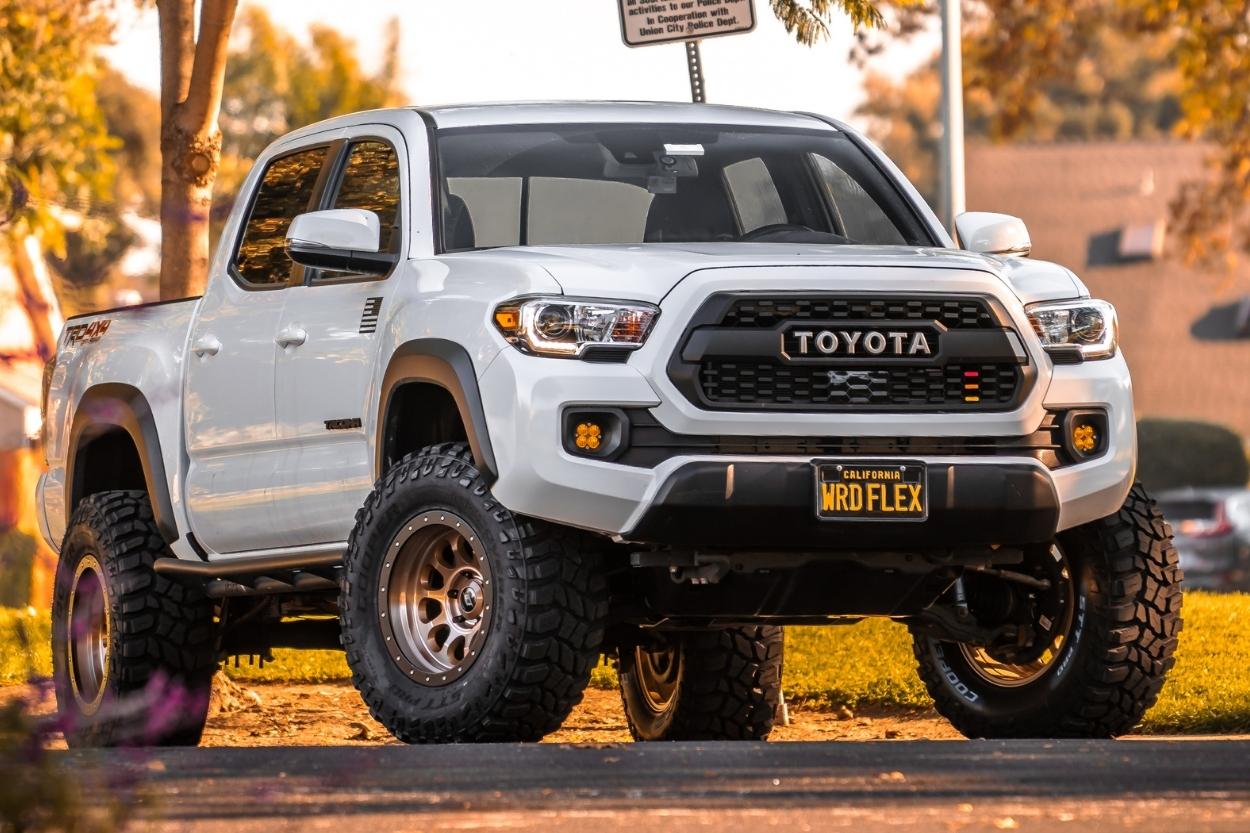 Pictured: Joshua Evangelista (@StrykerHype.4×4) – SCS/Cooper
5 Wheel & Tire Combos – Inspiration to Consider for Your Toyota Tacoma Build in 2022
This Week's Topic: Wheel & Tire Combinations
What's up, guys? Welcome back to another Taco Tuesday! This week we have 5 prime examples (including yours truly) of wheel and tire combinations that you may want to consider when upgrading your Tacoma's shoes. What I like about these features every week is that not only are we able to visually see how these products look on the truck, BUT, we get to understand why the owner likes their setup and how it works for them.
The 5 Tacomas in this week's lineup features a very OEM+ style – which I truly appreciate. None of them were over the top preventing the truck from continuing to perform as a great daily. When you are in the market for wheels and tires, that is definitely something to keep in mind. Some think, "oh I'll just throw 35's on it". This is a snowball effect that culminates in a suspension lift, body mount chop, bumper trimming, and fender liner removal. Not only that, but then you may want to consider re-gearing to allow your underpowered Tacoma to handle the added wheel weight/size. Check out this article to see other items to consider before upgrading your Tacomas wheels/tires.
This week, we are featuring 5 Wheel & Tire setups for the 2nd & 3rd Gen Toyota Tacoma to help guide and inspire your build.
Aftermarket Wheels/Tire Options for 2005+ Toyota Tacoma
1.
Joseph Stephens

 

(@exploringyahweh) – Summit/Mickey Thompson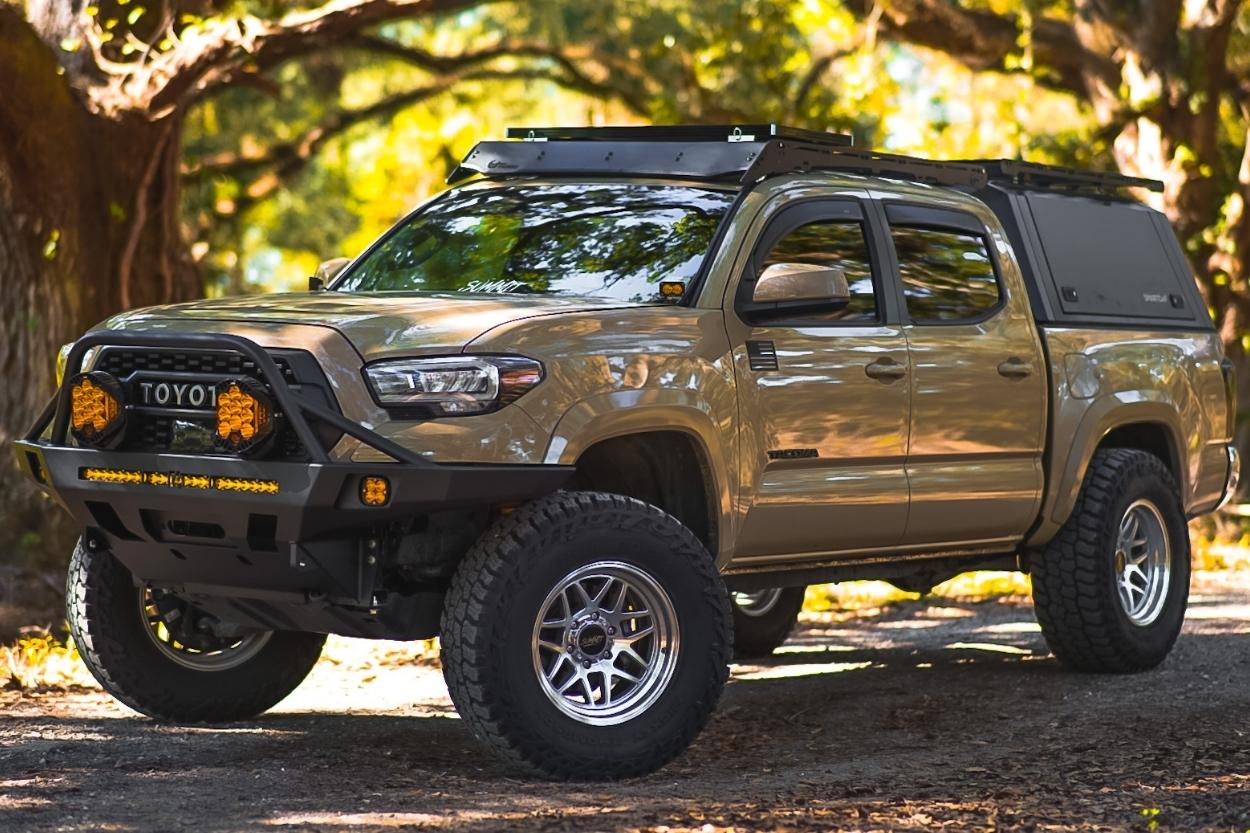 SETUP:
WHEELS
Machined Silver

17X9.0 -25
TIRES
295/70/17 – E Load

Price: ~$325
Q&A – What Do You Like Best About Your Setup?
This setup has been by far my favorite setup to date, solely based on the brands that I use. Quality is at an all-time high. From the beautiful machined wheels to the tires and their amazing beefy mud-terrain look, yet perform like an actual all-terrain tire! The road noise on these things is nonexistent, almost silent honestly.
The machined silver wheels were an absolute must for the rig! The Sierra is actually my favorite wheel on the market right now! All of Summit Off-Roads Wheels are fire! The Sierra machined silver is ahead of the curve, a beautiful deep wheel with an amazing offset. The stance on these things is mean! I absolutely love this setup!
2.
James Nieva

 

(@

aoi_trdpro

) – Advan Racing/Yokohama
SETUP:
WHEELS
TIRES
295/70/17 – E Load
Price: ~$245
Q&A – What Do You Like Best About Your Setup?
I've always wanted to get JDM Wheels, Advans in particular. The reason is because of the research and strength that's behind the name. Almost every Tacoma around here had black wheels and I didn't want my truck to look like everyone else's. The Advan RG-D2 in Umber Bronze Color was the perfect candidate to match the Voodoo Blue Taco.
The best part is the combination of its convex and concave characteristics providing an aggressive look at different angles and some "poke" with the -10 offset. Wrapped in Yokohama Geolandar MT G003, with its aggressive tread, it's comfortable and pretty quiet on-road but will also do its job off-road.
SETUP:
WHEELS
TIRES
Q&A – What Do You Like Best About Your Setup?
Sometimes you are forced to choose either form or function when building out your overland rig. With this setup, I get both.
Relation Race Wheels make the best wheel on the market. Period. And in my opinion, the RR7 is their flagship model. The details of these works of art just never stop. Those sharp corners at the hub, that inner angled edge, the divots on the perimeter, that aggressive outer lip… sheesh, it's just all so perfect. Throw a blanket of deep bronze over all that and it stops me in my tracks every, single, time. Also, the versatility couldn't be better with the hybrid design which allows you to run it as a street wheel or as a true bead lock. I went with a -12 offset on these, giving me a perfect stance with enough poke for that aggressive look.
The only thing that could make the RR7s look even better is to wrap them in the Toyo Open Country M/Ts. That sidewall and tread pattern couldn't be beefier. The tires chew up every pebble and boulder I encounter on the rocky terrain of my local trails. I see lots of sharp rocks, but with the Load-E rating, I don't have to be concerned about punctures. These things are beasts!
4.
Jon Gangloff

 

(@

trd.jon

) – VTX/Nitto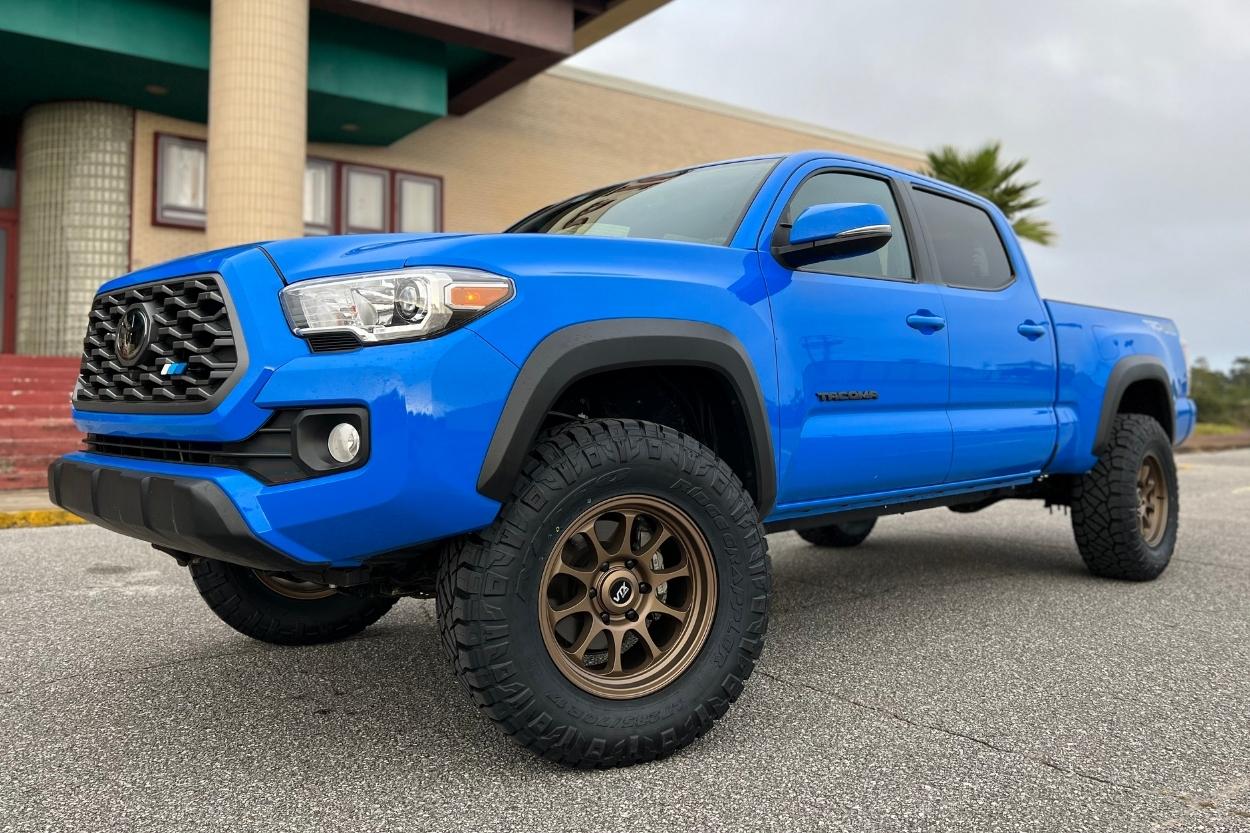 SETUP:
WHEELS
TIRES
Q&A – What Do You Like Best About Your Setup?
I love how quiet these tries are from Nitto. They are a hybrid of MT tires and AT tires blended into perfection to somehow make one of the quietest off-road tires I've ever heard. The satin bronze VTX wheels pop against the bold Voodoo Blue color that my Tacoma has. I wanted to be different with this build and not just throw black wheels against this and be done with it. The -10 offset just barely pushes the tire outside the wheel wells and the tires aren't overly big for the Tacoma to struggle with.  I am super pumped about how it came out.
5.
Joshua Evangelista

 

(@

StrykerHype.4×4

) – SCS/Cooper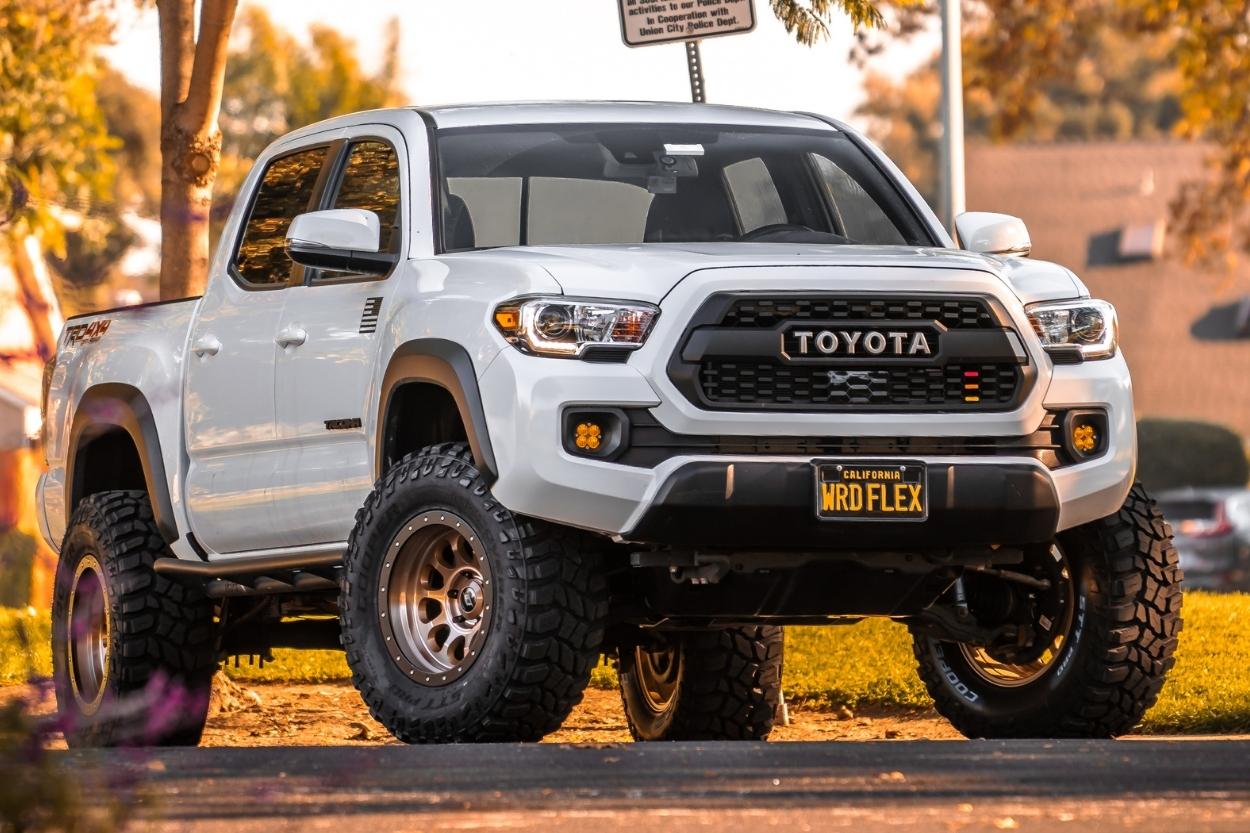 SETUP:
WHEELS
TIRES
Q&A – What Do You Like Best About Your Setup?
I wanted something that could resemble OEM as close as possible but with slightly added utility. The aesthetic of the wheels gave me a retro-esque nod to the trucks that came before. The suspension setup allowed me to have a comfortable time off-road while achieving the stance I desired. It's great to have a daily driver that can be ready for adventure at a moment's notice. 
Final Thoughts
As you see, aftermarket wheels and tires completely change the look and function of a Toyota Tacoma. We hope this compilation of trucks was enough to give you an idea of what kind of setup you would like to have on your Tacoma moving forward.
Each week, we will be choosing a different topic. Some weeks it will be very generic like Front Bumper Set-Ups and other weeks, we will get more specific like Suspension Setups. Regardless, everyone with a Tacoma can submit their truck to be featured here on Trail Tacoma.
If you want to be featured for Taco Tuesday on 12/28, submit your build through TrailTacoma.com/Feature. Next week's Taco Tuesday will cover White Tacomas. We're looking for awesome rigs to showcase. If this is you and you love your setup, send in your rig and details because we want to see it.
Thanks for reading guys. I'll see you next week!