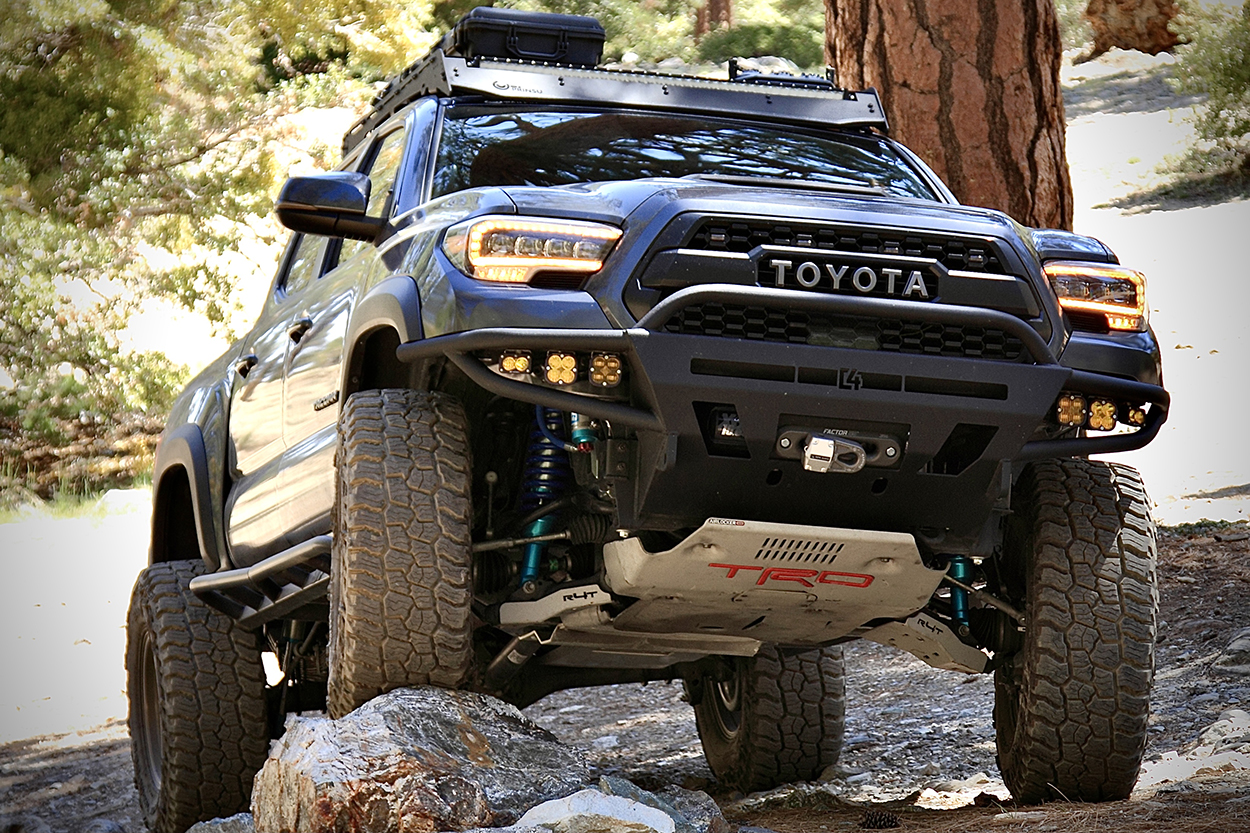 What Are The Top Armor & Protection Mods For The 3rd Gen Toyota Tacoma? Here is What 7 Tacoma Owners Said…
Hey guys, welcome back to yet another Taco Tuesday! If you missed last week's TT, we asked Tacoma owners what their Top 5 must-have mods are for their rigs.
This week we are taking a look at Tacoma protection in the form of armor. We asked 3rd Gen Tacoma owners, what bumpers, sliders, and skid plates they were running on their builds. We then asked them what they liked about the brands that they chose and why.
Below you will find a vast compilation of brands, and if that isn't enough for you, then you can check out our entire category on Tacoma armor, where we have plenty of articles to help you decide what piece to pick up.
7 Tacoma Build Set-ups: Protection & Armor Mods
Why Should You Protect Your Tacoma?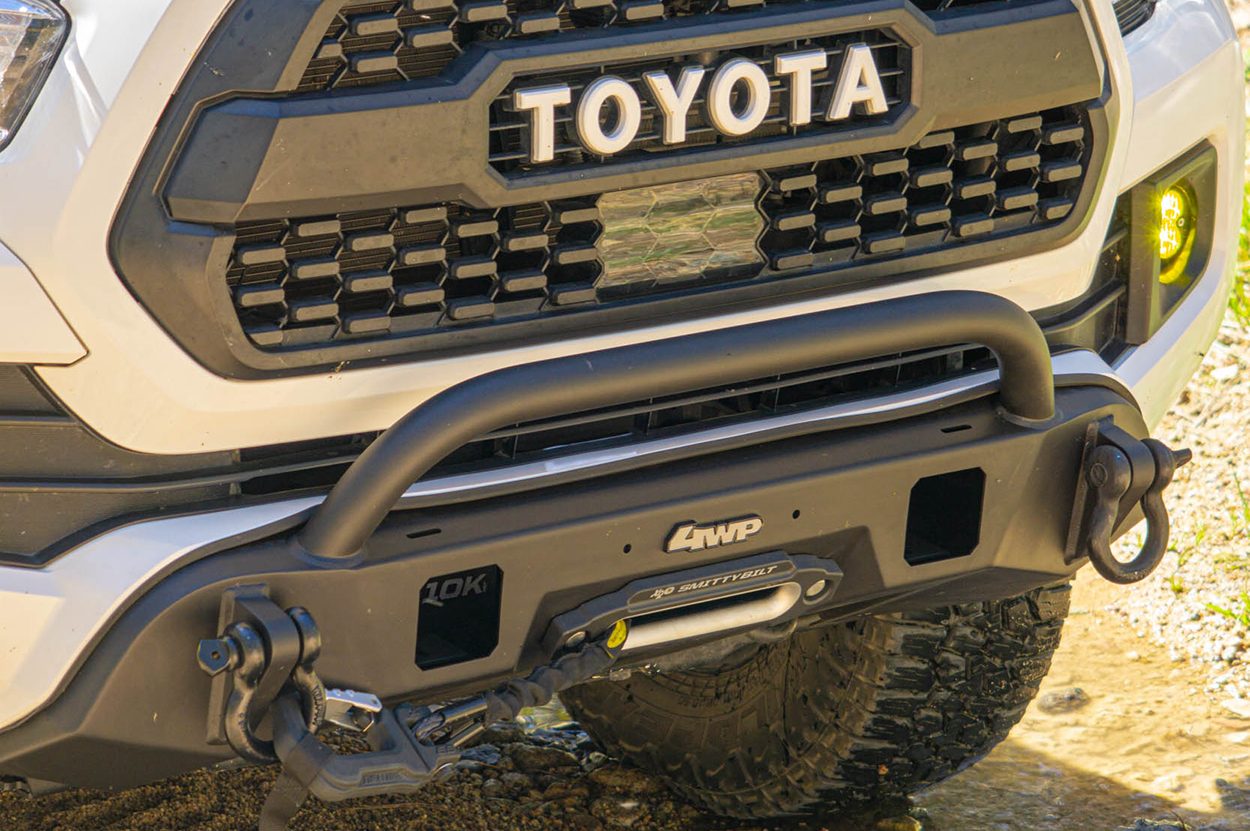 For one, these trucks are expensive!
Skid Plates
Toyota honestly did a great job with their TRD skid plate, but that is about where proper protection stops. The other stock skid plates offered by Toyota under your gas tank are mediocre at best. They are better than nothing but definitely won't work as well as the aftermarket brands listed below. This is because the stock skid plates (if your model Tacoma even came with any) are just hard thin plastic, that's it! Your average trail-sized rock will take its toll on them with ease.
Rock Sliders
When it comes to rock sliders, they provide two major functions on your Tacoma. First, they work as a "running board" to get in and out of your vehicle. Second, they protect your truck's rocker panels from damage on the trail. If you elect for a kick-out feature, then you are also giving the cab and bed panels some protection against trees or other obstacles that may come close to your truck when you are on a very narrow trail. I feel that rock sliders are the most important piece of protection that you should consider if you are on a budget.
Bumpers
If you want to take your Tacoma's protection to the next level, you ditch your plastic front and rear bumpers and replace them with some solid steel or aluminum ones. Just like rock sliders, this upgrade has more than one benefit as well.
With a full hybrid front bumper, you get the best value out of a single purchase. You gain the ability to run larger tires, better ground clearance, add approach angle, and add winch mounts for easier recovery. Oh, and tons of front-end protection! The same concept applies to the rear bumper as well, with improved ground clearance and improved departure angles.
Again, if your budget allows for only a few or one of these armor mods, then I would strongly recommend high-quality rock sliders and a front skid plate at the bare minimum if you plan to do any mild off-roading or more.
Enjoy guys!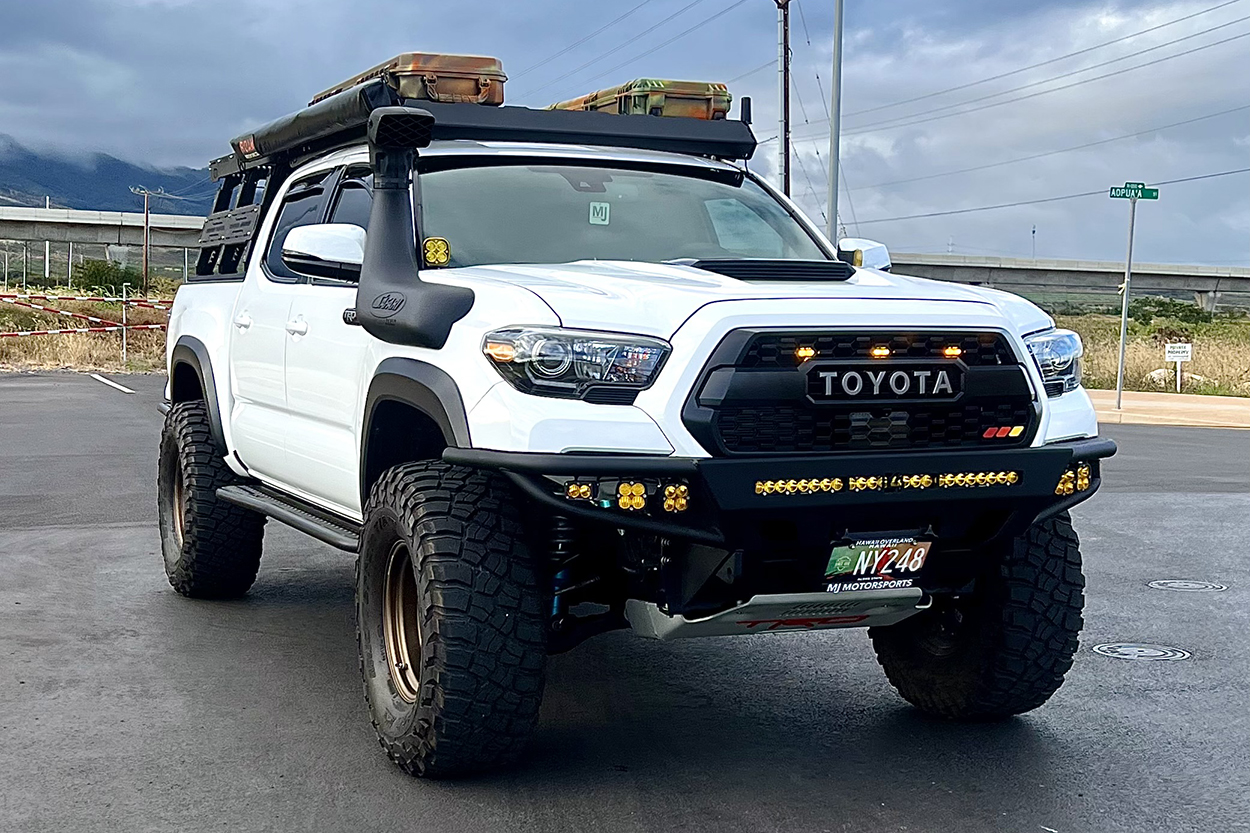 Armor Details
Front Bumper: C4 Fabrications Hybrid Tubular
Rear Bumper: Outgear Solutions Tubular High Clearance
Sliders: RCI w/ Kick-Out
Skid Plate: TRD Front Skid
What Do You Like Most About Your Setup?
My favorite part about these mods is their simplicity and functionality. They also fit my needs for daily use, camping, beach days, and sometimes trail runs to Kaena point or Peacock flats. I have full confidence that this armor will protect me on whatever trail I go down in my Tacoma. The kick-outs on my RCI sliders really help with all the trees that we have in Hawaii as well.
2. Jaume Martinez (@jnm_beachyota09) – 2017 TRD Sport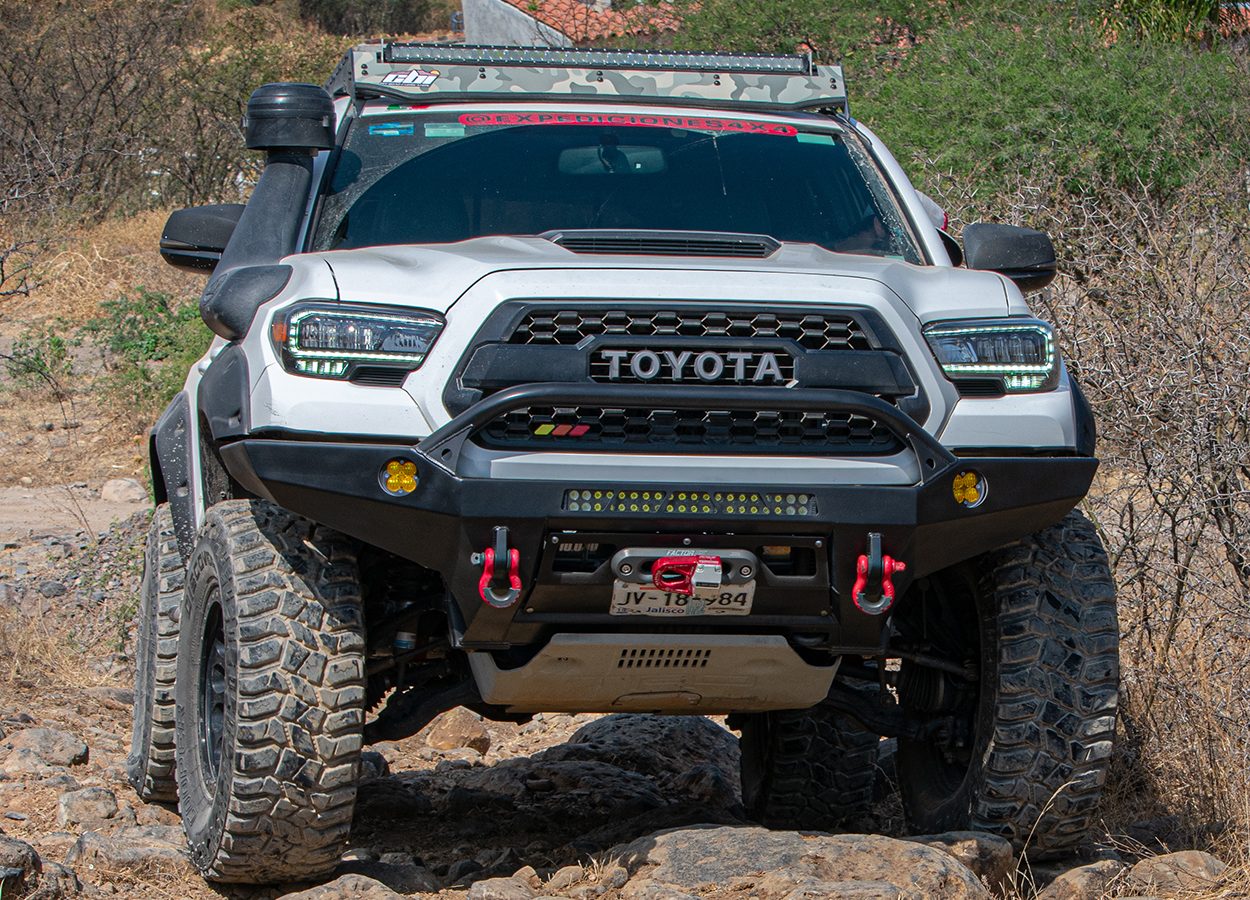 Armor Details
Front Bumper: CBI Off-Road Steel With Center Grille Guard
Rear Bumper: CBI Off-Road High clearance (No Swingarms)
Skids: TRD Front Skid & RCI Gas Tank Skid
What Do You Like Most About Your Setup?
The front bumper offers great protection to the front of the truck and greatly improves the approach angle. Its low profile follows the lines of the truck perfectly. The rear bumper is excellent and also made of steel. It has the function of improving the departure angle while offering great protection to the sides of the bed with excellent design, quality, and durability.
3. Jay Andersen (@lowcountrytaco) – 2017 TRD Pro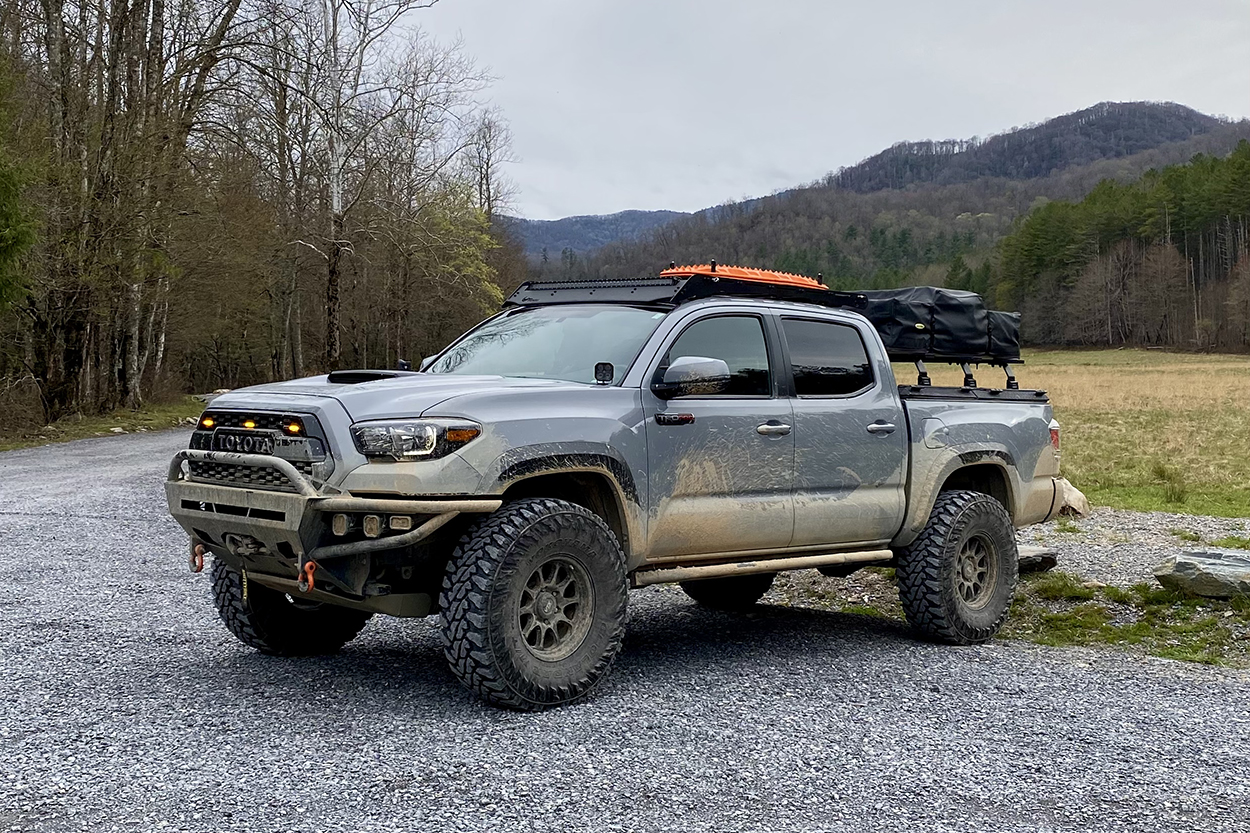 Armor Details
Front Bumper: RRW Hybrid
Rear Bumper: ATH Fab High Clearance With Swing-Out
Sliders: SOS Concepts
Skids: TRD Front Skid and RCI Transmission/Transfer Case Skid Plates
What Do You Like Most About Your Setup?
In my opinion, sliders are the most important price of armor you can buy for your truck. The SOS Concepts sliders have held up incredibly well, even with the abuse I've put them through. I can 100% count on them to protect the rig! They are made from DOM steel and are custom-built at 10 degrees to be better utilized as a step for my dogs.
The skids have also taken a beating, especially the front factory TRD one, and have done their job. I went with aluminum for the RCI transmission and transfer-case skids, mainly to save weight. My skid plates are the only aluminum armor on the truck.
I've only had the RRW hybrid bumper for a few months but so far I absolutely love it. Aesthetically, it's exactly the look I wanted and it's also built super solid. It has a one-piece DOM tube that spans the entire top of the bumper which gives it more rigidity.
For the rear bumper, I went with an ATH Fab high clearance with a swing-out. This hasn't been installed on the truck yet but I'm anxiously waiting to get it back from powder coat. This will allow me to run a full-size 35" spare without taking up the majority of the bed space plus greatly improve my departure angle.
4. Alyssa Salemi (@holdmycoffee_az) – 2018 TRD Off-Road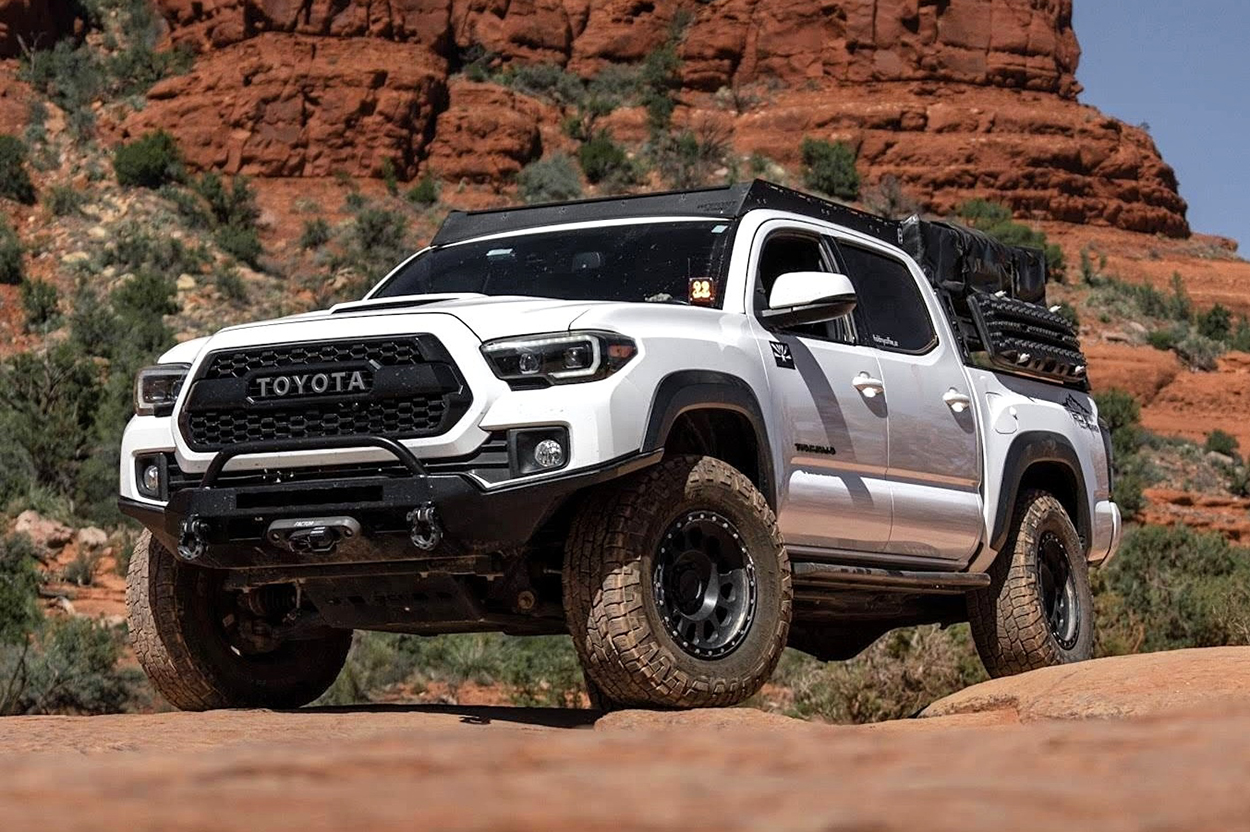 Armor Details
Front Bumper: SSO Slimline Full Plate Bumper With Winch and Light Bar Cutouts, and Bull Bar
Sliders: RCI 5 Degree With Top Tread Plate
Skids: RCI Full Skid Plates (Front plate is steel, transmission, and transfer are aluminum)
Misc: Ceramic Coating and Clear Bra For Paint Protection, by Ceramic Pro
What Do You Like Most About Your Setup?
My first armor purchase was my RCI front skid plate, followed by my rock sliders. I specifically chose these because I knew they could take a hit on the rocky Arizona trails and protect my truck frame. I added the next two skid plates as a precaution.
Two less seen pieces of protection I also have installed are Durobumps bump stops and ceramic coating. The bump stops make a night and day difference absorbing shock load and helping protect pieces like your suspension, tie rods, and steering rack. The ceramic coating and a clear bra protect my paint from rocks, sand, branches, bugs, and UV rays.
5. Vince Cordero (@vince4x4) – 2019 TRD Sport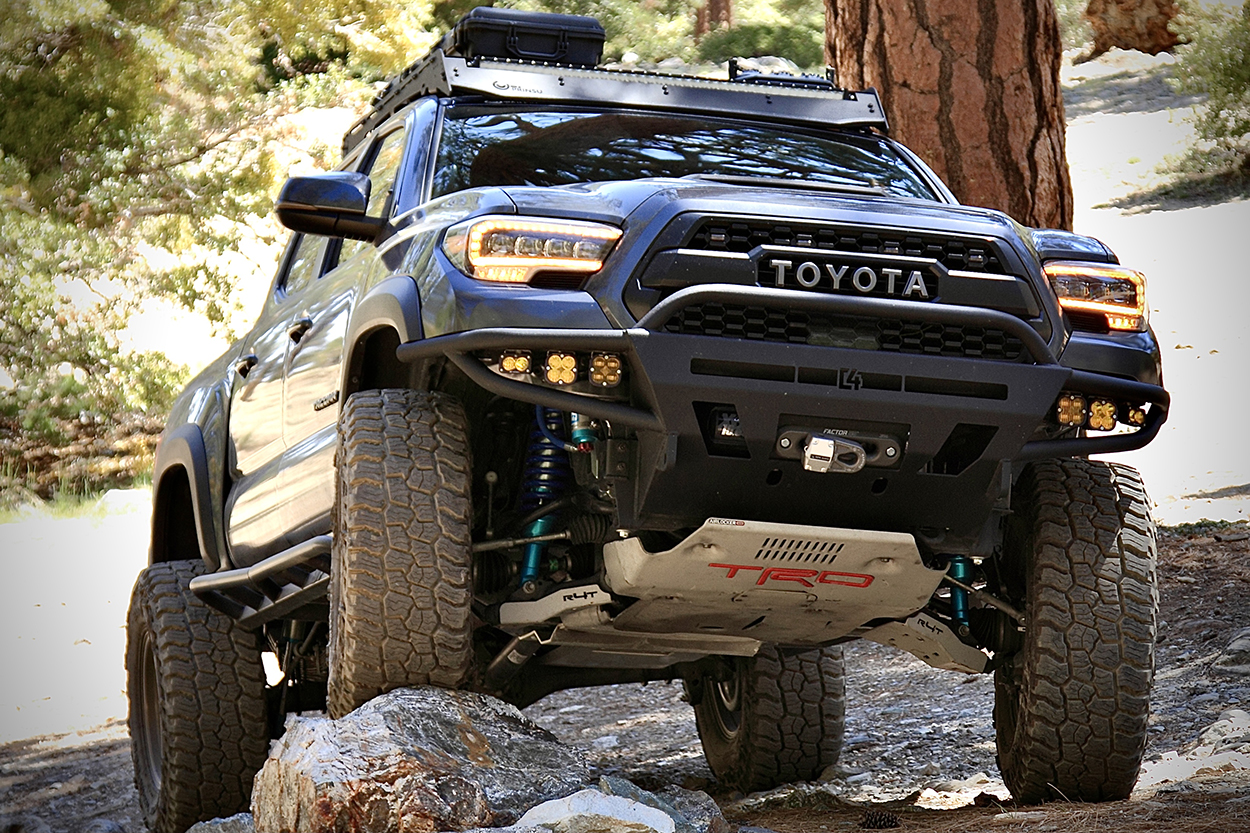 Armor Details
Front Bumper: C4 Fabrication Hybrid Bumper
Sliders: Bay Area Metal Fab 20 Degree Bolt-On Sliders With Kick-Out
Skids: RCI Transmission, Transfer Case, Fuel Skid Plate (all aluminum). TRD Front Skid
Misc: Runnin4Tacos LCA skids
What Do You Like Most About Your Setup?
It's basically peace of mind out on the trails, knowing your truck is protected especially on the technical section. Armor should be the first mod you should consider before all other upgrades.
Rock sliders pretty much do what it says, which is to protect the rocker panels. I would highly recommend going with the rock sliders first than the other armor modification as this is the most protection you will get. Aside from protection, you can use the sliders as a step to get in and out of your truck or access your roof rack. BAMF rock sliders are easy to install, pretty solid, and can take the full weight of the truck.
Skid plates prevent damage to the underbody components. Without them, I would have some expensive repairs as all of my body armor have scrapes and dents. R4T LCA skids protect your LCA from rocks which is the lowest part of the front of the truck and most often gets hit the most.
The C4 hybrid bumper adds extra protection against trail hazards, but the main purpose I got them is to have a better approach angle, fit bigger tires, and add a winch.
6. Adrian Aguilar (@yoadriantrd) – 2021 TRD Off-Road
Armor Details
Front Bumper: Saints Off-Road Alpha Front Bumper With Bullbar
Sliders: RCI 20 Degree Rock Sliders With Top Plate
Skids: TRD Front Skid Plate
What Do You Like Most About Your Setup?
All of the armor that I have put onto my Tacoma serves a purpose and does a great job in protecting me both on and off-road. The rock sliders are a must-have for body armor if you planning on hitting any trails. Full under-body skids are next on the list, especially if you are going to be on some rocky terrain like I usually am.
Photo Credit: @kittenbear
7. Sean Wright (@drktacoma) – 2019 TRD Off-Road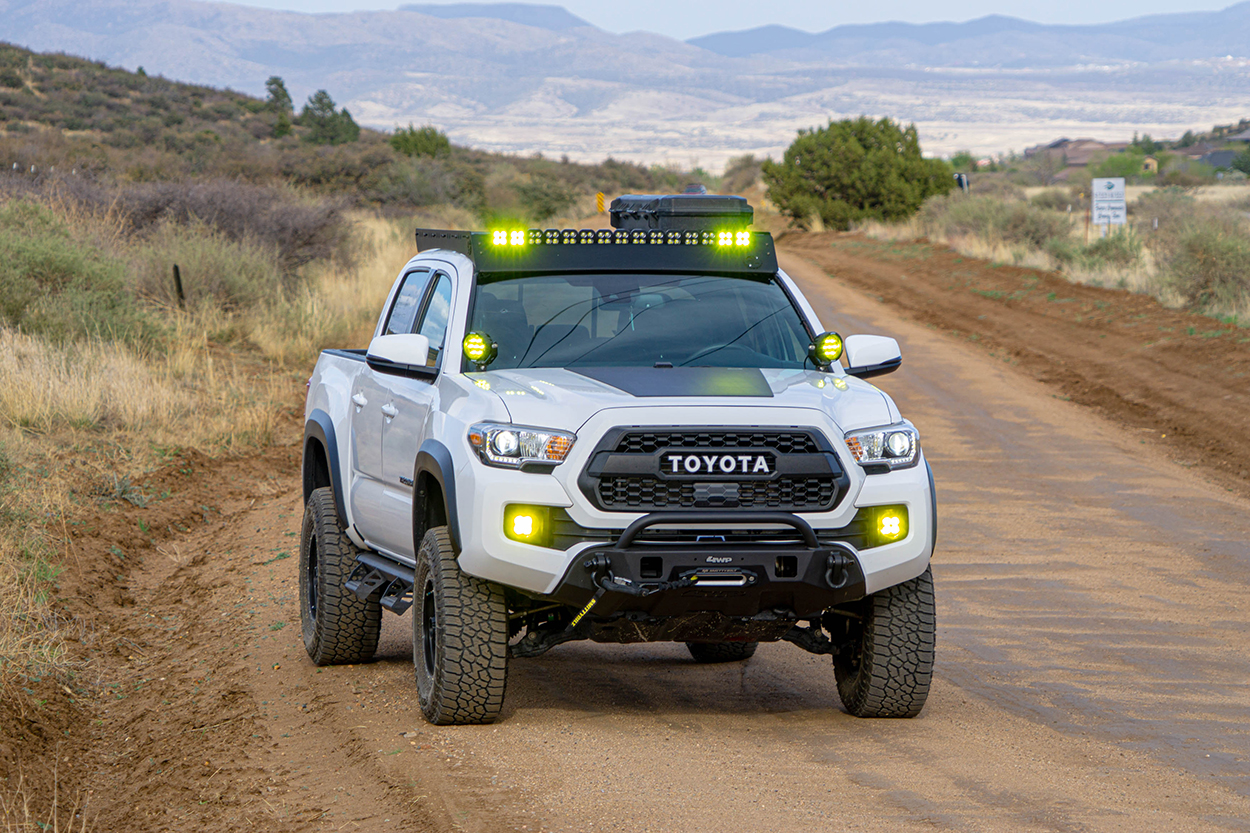 Armor Details
Front Bumper: 4 Wheel Parts (4WP) Factory Tacoma Front Bumper
What Do You Like Most About Your Setup?
This bumper comes in at a base price of $769.99 without any of the options like the high clearance wings. I've specced mine without the high clearance wings as I dig the more factory look that this bumper gives. Along with the bumper, I have the SmittyBilt X20 Gen3 10k Synthetic winch paired with it.
In less than a month, I'm getting the 4 Wheel Parts Factory Tacoma rear bumper which is part of their new lineup.  It is made of the same material as their front bumper and fully replaces the stock bumper with the option to add a single or dual swing out!
The main thing I love about the new 4WP bumpers is that they're completely customizable and have tons of options to tailor them exactly to your liking. The front is merely a replacement of the front valance piece with minimal cutting, allowing for a stock look while also providing the functionality that aftermarket bumpers provide.
The installation is super straightforward and helps make the process seamless. Furthermore, the addition of a 4WP Tacoma-specific lineup has provided the option to kit your truck out using the same brand and quality products throughout.
Final Thoughts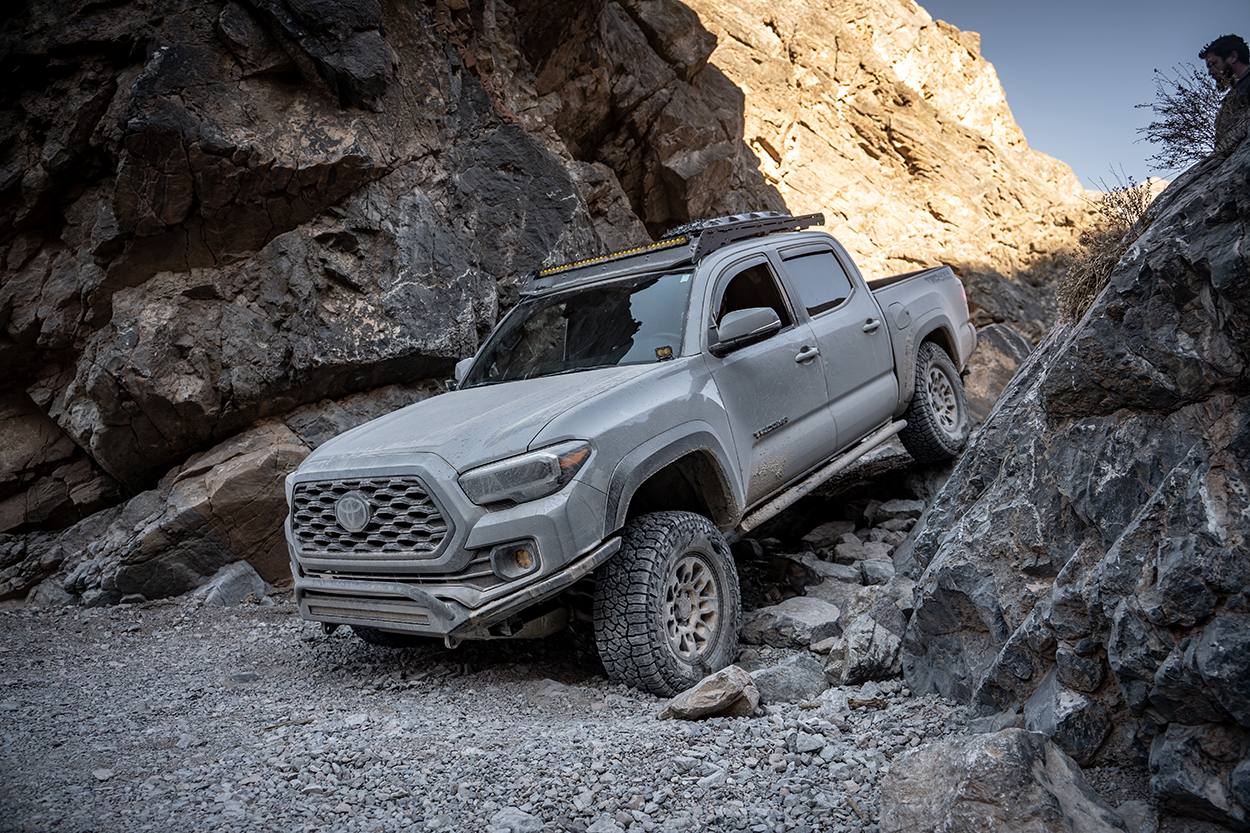 What a great group of Tacomas! I hope that you got a solid idea of how important off-road armor really is for your truck. Benefits like increased protection, improved approach angles, departure angles, and more are all made possible by adding armor to your Tacoma.
If you want to be featured for Taco Tuesday, submit your build through TrailTacoma.com/Feature. Next week's Taco Tuesday will be asking owners what TIRES they are running and what they like about them. We're looking for sweet rides to showcase! If this is you and you love your setup, send in your details because we want to see it.
Thanks for reading guys. I'll see you next week!