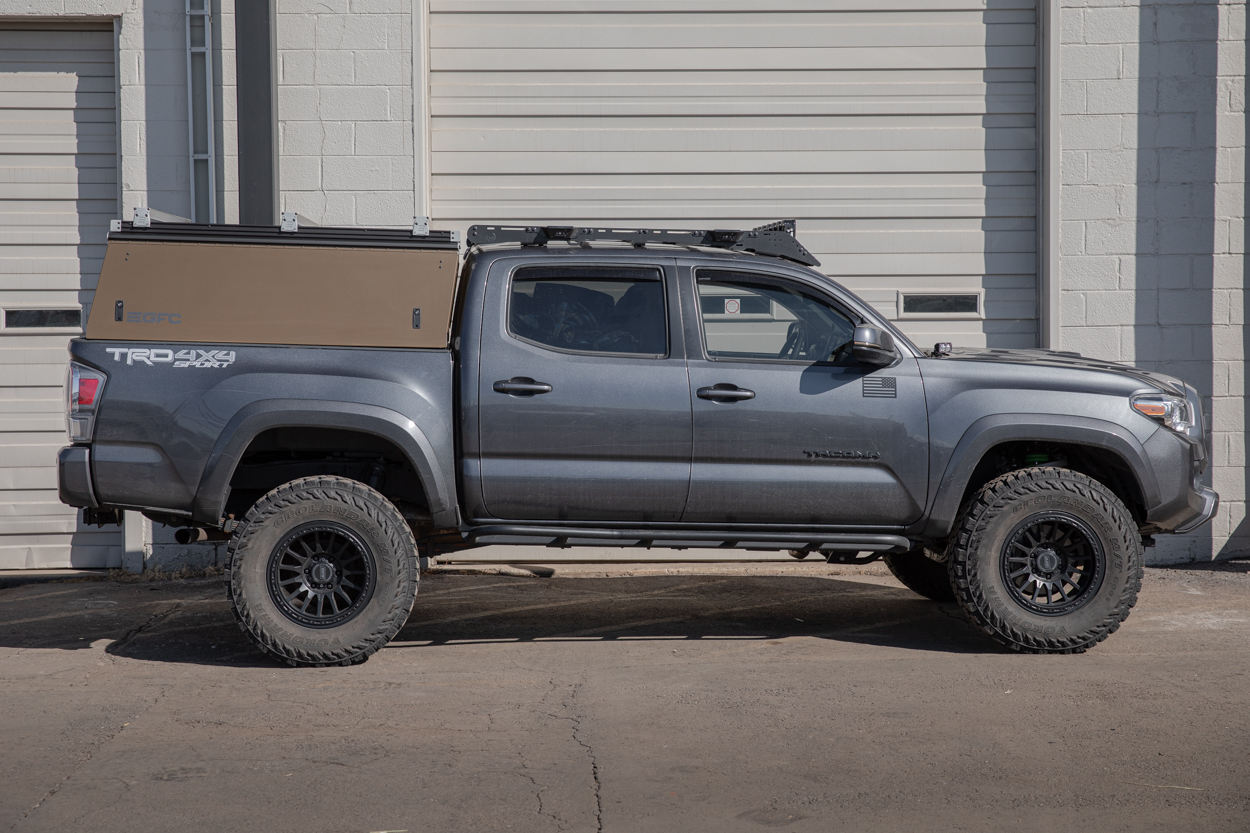 Popular Rock Slider Options By Style, Design & Types For The 2nd & 3rd Gen (2005-2023) Tacoma – Complete Buyer's Guide & Everything You Need To Know
If you're in the market for sliders you might be overwhelmed with the different types and options available.
Kickout or no kickout, DOM or HREW, with or without fill plates, the list goes on and on. Once you've nailed down what you want, you now have to begin the process of choosing from a long list of companies. To help you with this process, I will explain the options and terms you need to know and list the top brands of sliders to help you narrow in on what's right for you.
Ultimately, the right sliders will depend on your usage…
Do you need them mainly for protection or will you need it to function as a step as well?
How much abuse will they get, once a week or a few times a year?
All of these are questions you should answer before your search to help you determine the perfect set up for your vehicle.
What Are Rock Sliders?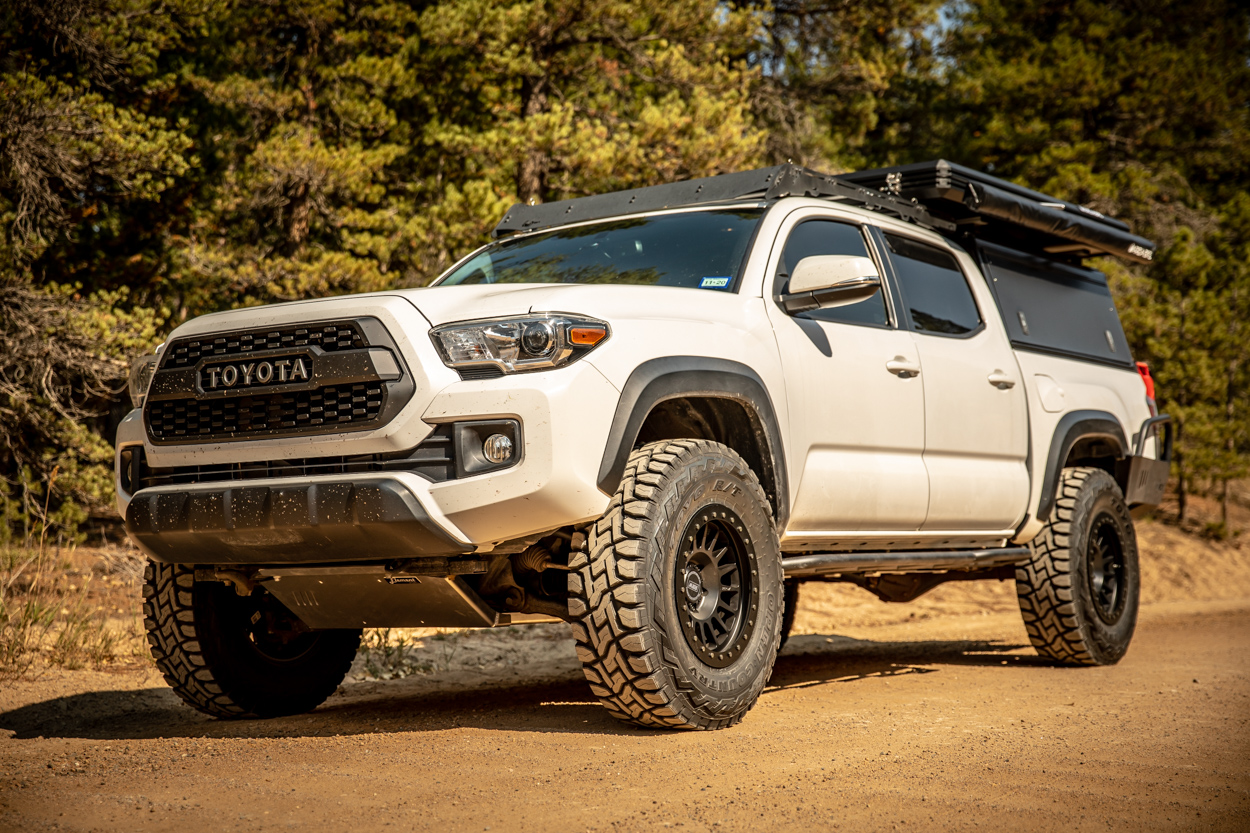 Rock sliders are (usually) made of steel and play the role of protecting your rocker panels and doors while out on the trail. The term slider means exactly what you would imagine. They allow your truck to "slide" over big rocks, trees and steep hills.
The rocker panels are one of the most likely areas to take damage due to the large distance between the wheels, especially on a longer wheelbase truck like the Tacoma. They're typically installed to take the brunt of any impact from rocks, trees, etc., while off the beaten path.
While their primary purpose is for protection, they can also be used as a step to enter or exit your vehicle or to allow easier access to your roof rack and the items you may have mounted to it.
Do You Really Need Them?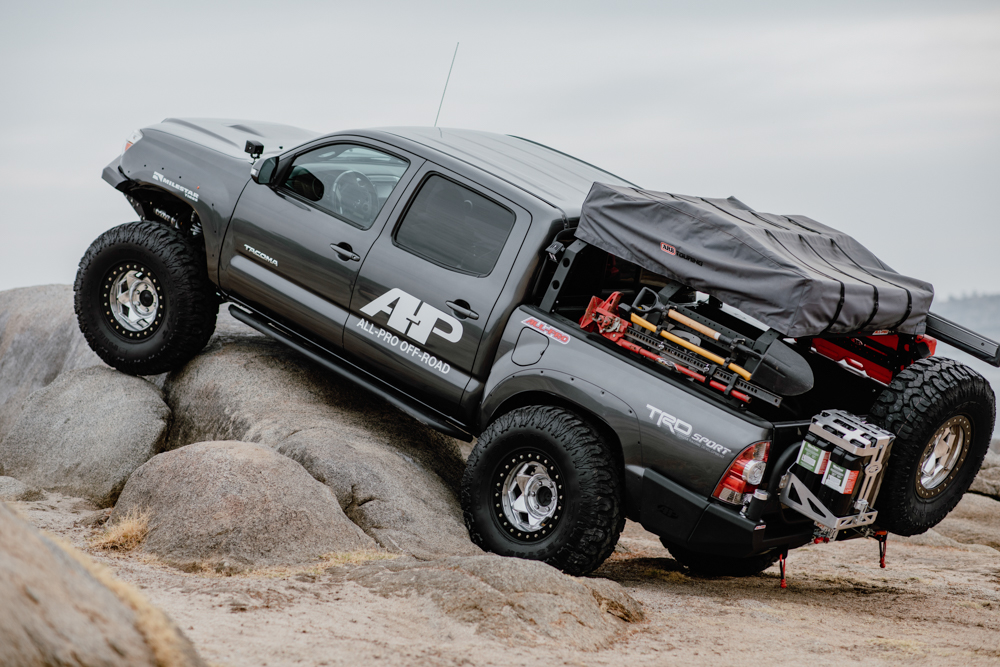 Well, that depends.
Sliders are crucial if you're going to spend a lot of time on technical roads/trails. If you expect to push your truck more and more, you'll definitely want to start with this type of armor. If you're more of a forest road overlander, the likelihood of damage to your rock panels or doors is much, much lower.
If you're going to be sticking to paved roads and easy dirt roads, sliders are probably not necessary. They give the truck a rugged look, but that rugged look might not be worth $500-1,000+ to you.
Strength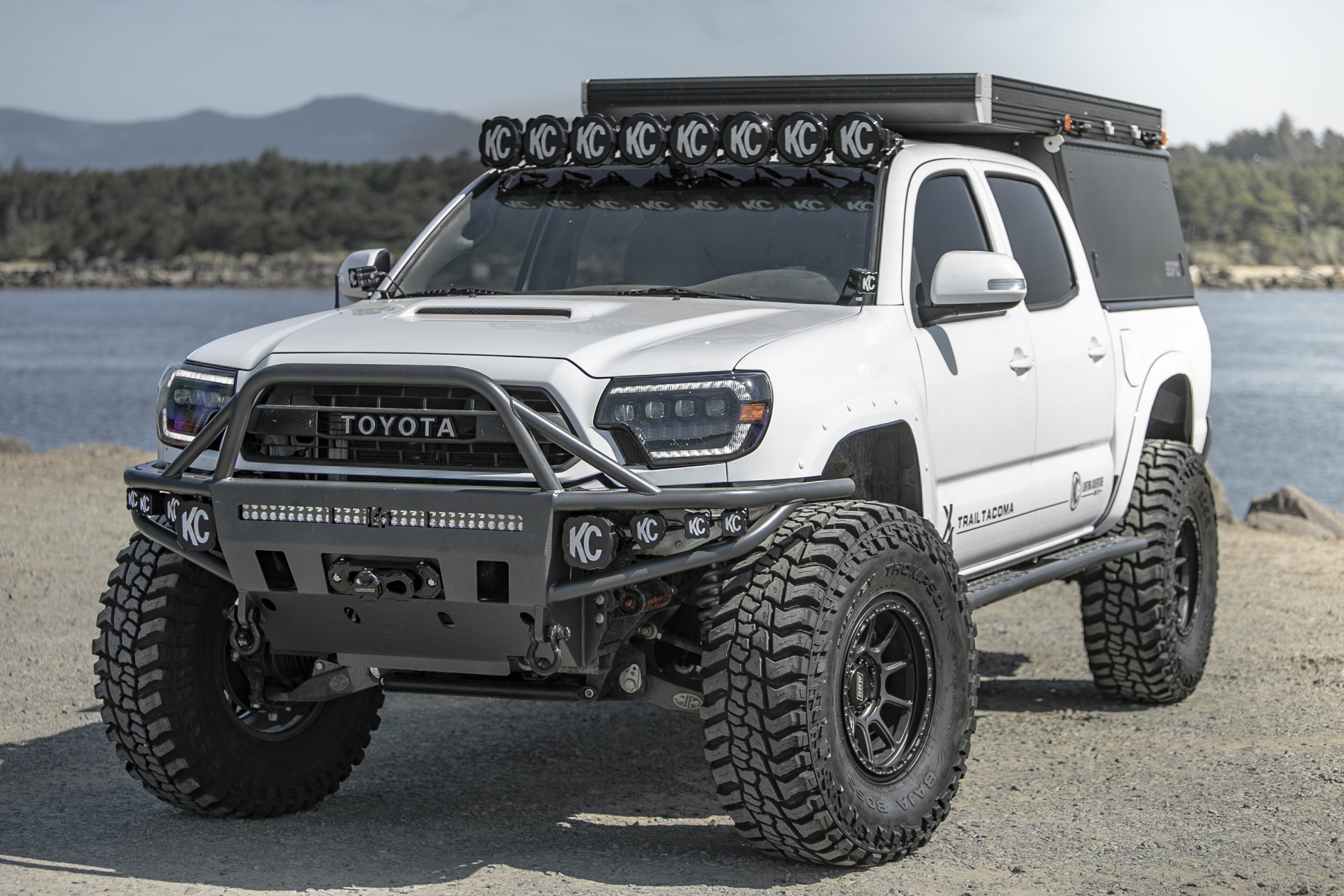 Two types of steel are typically used for sliders, HREW and DOM.
Hot Rolled Electric Welded steel (HREW) is the basic model. It has a tensile strength of around 40 KSI (kilopound per square inch), so a breaking point of roughly 40,000 lbs/in².
Drawn Over Mandrel steel (DOM) is the upgraded version with a tensile strength of around 70 KSI. That's a breaking point of 70,000 lbs/in².
If you don't actually plan on sliding over rocks, but you might find yourself on a trail a little tighter than you anticipated, then HREW will provide plenty of strength when you need it. If you know there is a very good chance your sliders will frequently be up close and personal with rocks and logs, go ahead and upgrade to a DOM slider to get maximum protection.
If you want to learn more about these two different steel options, check out our complete guide – DOM vs HREW.
Design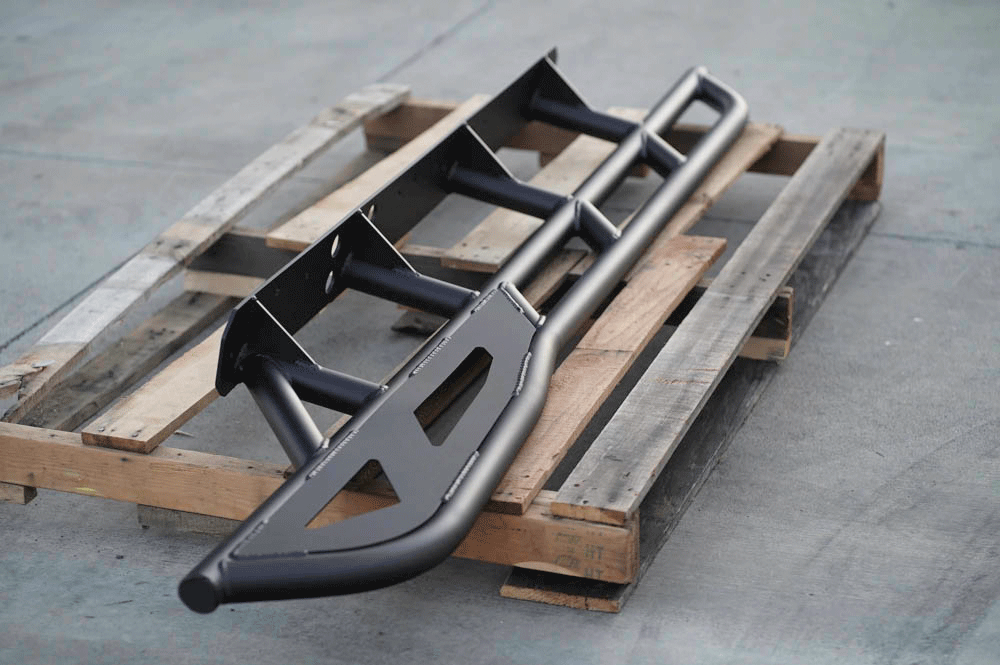 There are several options that you can pick from to customize the look and function of your sliders. Almost every company that sells sliders provides options for kickouts and fill plates. The angle of the sliders will typically vary from company to company, but some do offer to make them custom as well.
#1. Kickout
A kickout is an extended or wider portion at the end of the slider closest to the rear wheels. The purpose of a kickout is to push your vehicle away from the obstacle it is riding on so that the obstacle doesn't hit your wheel/tire or the body. I recommend you go with this option, if possible.
#2. Fill Plates
If you plan to use your sliders as a step, fill plates provide a larger and safer surface for your feet. Without fill plates, the only surface is a less than 2" wide tube. Not the best for stability, especially when wet or muddy.
#3. Angle
Sliders are generally offered with an angle between 0° and 25°. To function as a step as well as protection, the 0° slider is the best option as it will be a level surface. As the angle goes up, the more the slider will tuck up to the side of the vehicle. If you frequently off-road and travel down tighter trails then a higher angle slider, such as 15°-25°, might be better suited for your needs.
#4. Length
When purchasing sliders, something simple but important is to ensure you are getting the right size and setup. There are typically two sizes that I've come across for 3rd Gen Tacomas. One size is shorter and fits double-cab short beds (DCSB) as well as access-cab long beds (ACLB). The other size is longer so that it fits double-cab long beds (DCLB). Longer sliders take more materials which means a higher price.
Coatings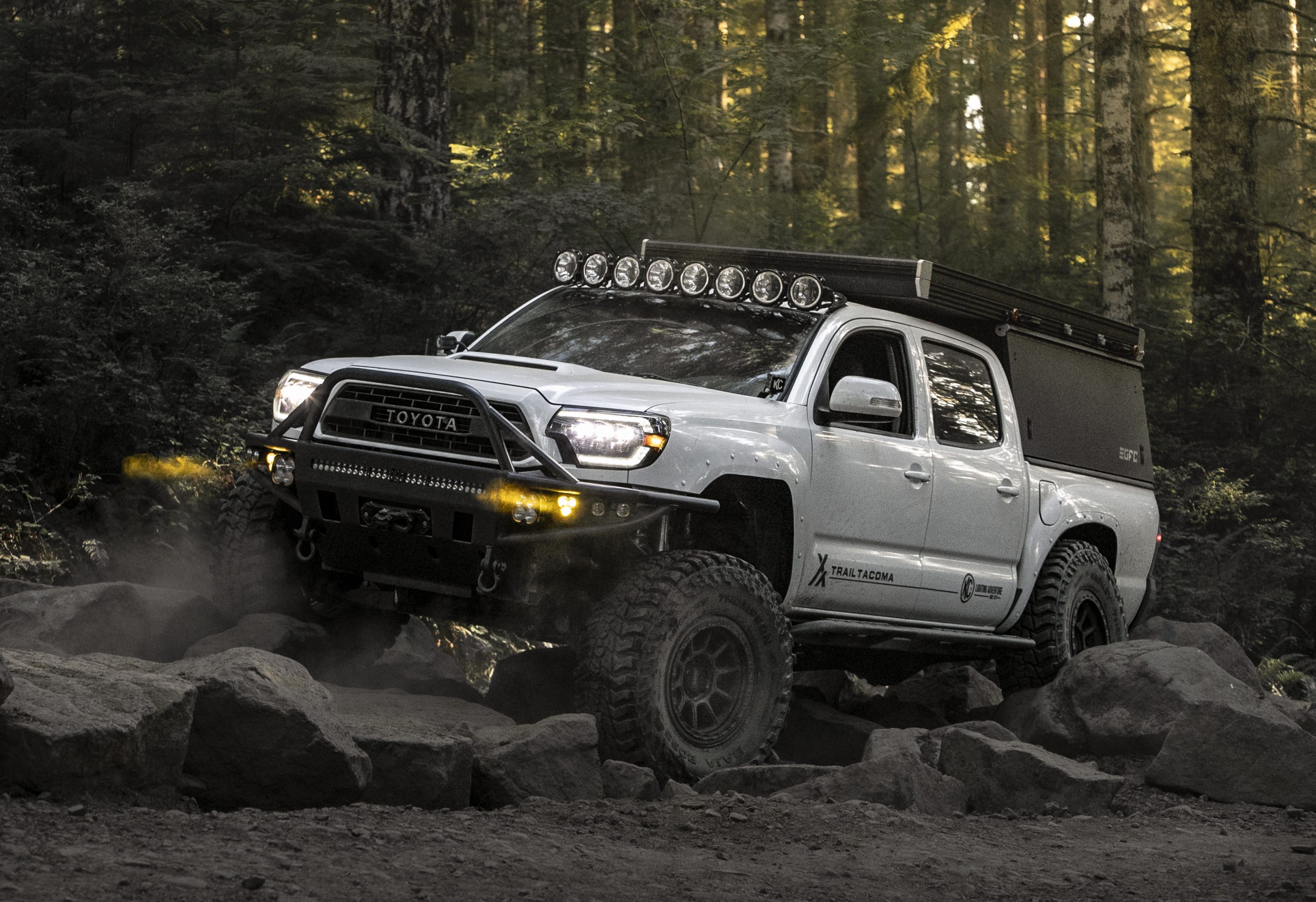 Since sliders are built out of bare steel, most people apply some type of coating put on them to protect them from rust and deterioration.
A good coating will also provide traction when using them as a step, especially in inclement weather. The most common options are powder coating, Line-X or some kind of bed liner. All the options will likely add a couple of hundred dollars to the total but will protect from rust and minor dings. However, if you do put them to good use out on the trails, you will end up with scuffs and chips in the coating that will at some point need to be touched up.
The third option for coating is doing it on your own at home. We have a great write-up on how to prepare and paint bare metal parts here. I chose to go this route for my own sliders for the savings and because I can touch it up whenever I need to without going back for a professional coating. If you follow the right steps, a DIY coating will keep your sliders in good condition, looking great, and won't break the bank.
Before I get into the list, I want to preface this by saying, I only have first-hand experience with one brand.
All of the other brands are ones that have been highly recommended by other Tacoma owners. This is not a ranking system, this list is in no particular order. For each brand I list, I will briefly introduce them and then list the options available for their sliders and the price range.
1. Cali Raised LED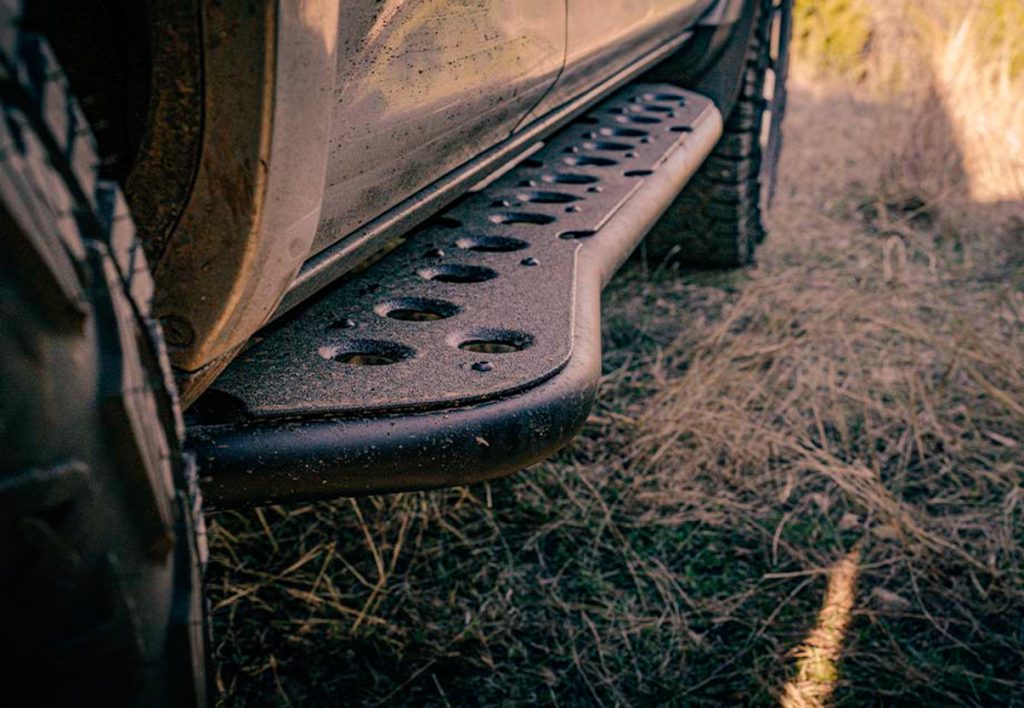 Making The Complex Simple, Quality Products, Solid Team
Cali Raised LED has been around now for close to a decade. Many enthusiasts in our space trust these guys for quality products. Cali Raised LED does much, much more than just LED lights. Although they sell quality lights, they also have a strong presence in the armor category.
One really rad thing about Cali Raised rock sliders – they come in two different version.
Trail Edition

Tucked close to the body and set at a 25 degree angle

Step Edition

Set at 0 degrees, same tough construction, more emphasis on use as a step
These rock sliders are completely bolt-on, can come with or without a kickout, they have three different finishes (raw, power coated, bed-lined), fit every Tacoma bed and cab size, and the step edition has four options for a filler plate. Made standard with American sourced 1.75″ DOM tubing – these should definitely take a beating.
With a crazy amount of configurations and options, all while coming in at a great price point, you can't go wrong with Cali Raised LED. Oh, and you can't forget the two year warranty and consistently low lead times!
PROS
Established company
Loads of options and configurations
Low lead times
Good warranty
100% bolt-on
DOM tubing standard
Long and short bed choices
CONS
2. All-Pro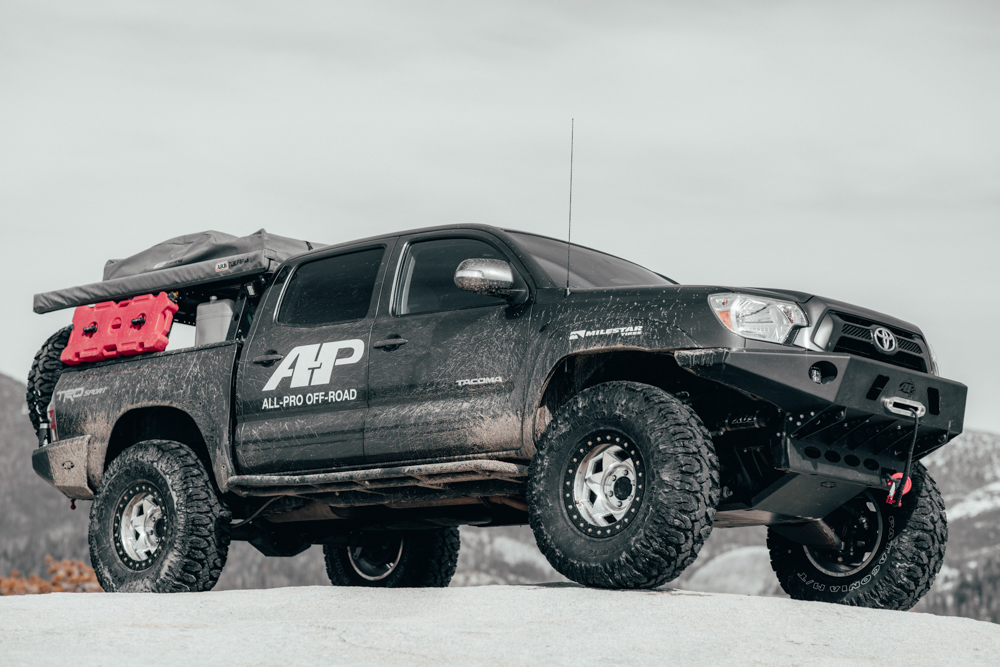 "Toyota Rock Crawling Specialist", Quality Aftermarket Products
Find It Online
Another well established company, the team at All-Pro has been around since the mid-90s. In recent months, we've seen them testing some new long travel kits and have been told they are continuing to expand their product lines.
All-Pro makes their rock sliders 1.75″ x .120 DOM tubing. The heavy duty materials make for some very strong rock sliders. Another neat offering, All-Pro also has several lengths of universal Toyota weld-on rock sliders that are SUPER affordable. Running around $300-400, a great deal – especially if you have access to a welder.
Products from All-Pro come with a 1-year limited warranty and have a ton of attention to details.
PROS
Established company
Lots of options
Low lead times (many products in stock)
Solid warranty
Bolt-on and weld-on options
DOM tubing standard
Long and short bed choices
CONS
3. CBI Offroad Fabrication
Well-Known, Trail Proven, Adventure-Ready
CBI Offroad is based out of Idaho and sells products for Toyota and Lexus vehicles as well as Jeep, Subaru, Dodge, Ford, and Chevy. If you've been around Toyota off-road, you've likely heard of them. Another neat note, they acquired Prinsu roof rack not too long ago and have continued to do the iconic name justice.
If you're looking for a reputable brand that gives you all of the options, CBI should be towards the top of your list. They offer both types of steel (DOM + HREW) for their sliders, both lengths, kickouts or non-kickouts, angled or flat, and with or without powder-coating. Tons of customization. Long and short bed available.
The only thing to note is that they offer different versions of sliders. The Classic Series, the Overland Series, and the Trail Series. All different from each other and for a variety of applications and tastes.
PROS
Well established
Strong design
Many options to choose from
No cutting or welding required
Choices for long and short beds
CONS
Potentially high shipping costs
No weld-on version
4. True North Fabrications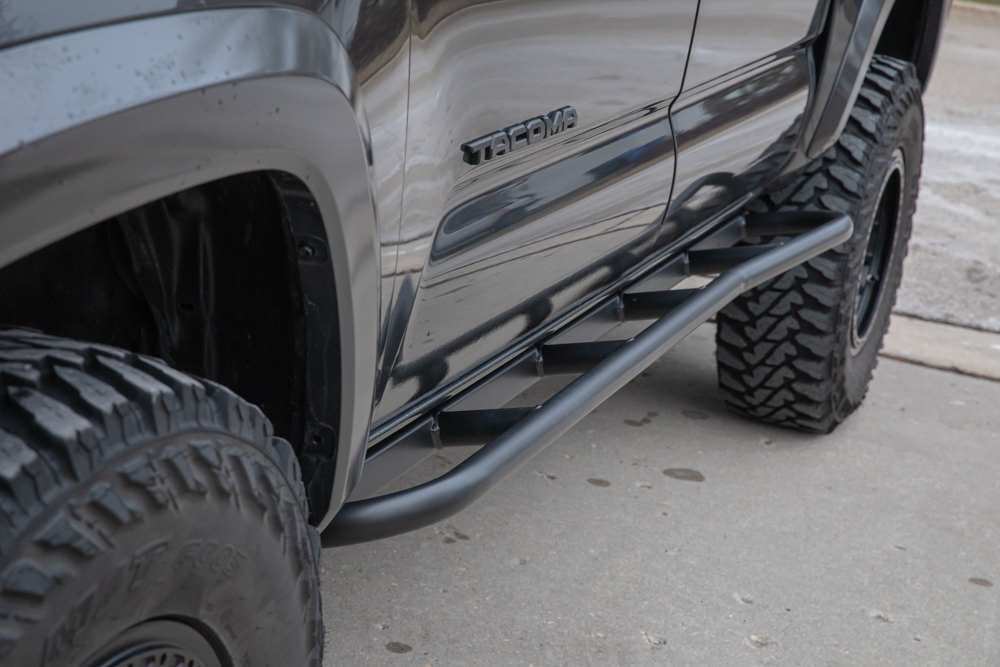 Precise Fabrication, Functional Design, Passionate Team
True North Fabrications (TNF) is based out of Sarasota, Florida. They have a pretty wide product range, covering many Toyotas, Lexus, and even the new 6th Gen Bronco. They focus on attention to detail, and are driven to create quality designs.
The neat thing about TNF is that they offer not only a bolt-on version, but also a weld-on one. This is one of the only options on the market that has a welded option. Regardless of the option you choose, you have the choice of getting them in raw steel or satin black powder coat. Both offer a primary square tube with ERW round tubing and beefy mounting plates.
TNF offers prices on the lower end of the spectrum, especially if you option for raw version that is welded to the frame. Shipping seems to be reasonable as well. A up and coming armor company, keep your eyes on this team. Lead times are a little on the longer side. They are currently only available for the 3rd Gen Tacoma. No option for long beds.
Check out Kenny's True North Fabrication Bolt-On Rock Slider install and review.
PROS
Beefy design
Bolt-on and weld-on options
Raw steel and powder coat available
Reasonable shipping costs
CONS
Long lead times
No 2nd Gen or long bed option
5. C4 Fabrication
USA Sourced Materials & Components, Innovative Design, Industry Standard
C4 Fab, based in South Dakota, is a well-known brand in the Toyota off-roading community. They have many years of experience building sliders, skid plates, racks, and more for several different Toyota models. They are at the forefront of innovation with Toyota armor, continuously tweaking or developing their products to better serve the community.
C4 sliders come standard with DOM steel. They provide only one length, which works with short beds and access cabs. Their sliders are built with an angle so they tuck up nicely for plenty of clearance. Step plates are now standard, and they are bolted to the slider.
Kickouts are also a standard feature, which again, helps to protect your truck when maneuvering around obstacles. One thing that C4 doesn't provide is powder coating. Their sliders ship to the customer in bare steel and it is your responsibility to have it coated. Their pricing is a little higher than most other companies on the list when you factor in the cost of coating the sliders.
PROS
Well established
Strong design
100% bolt-on
Removable step plates
No cutting or welding required
DOM tubing standard
CONS
Longer lead times
No coating service, come bare steel
No long bed option
6. RCI Offroad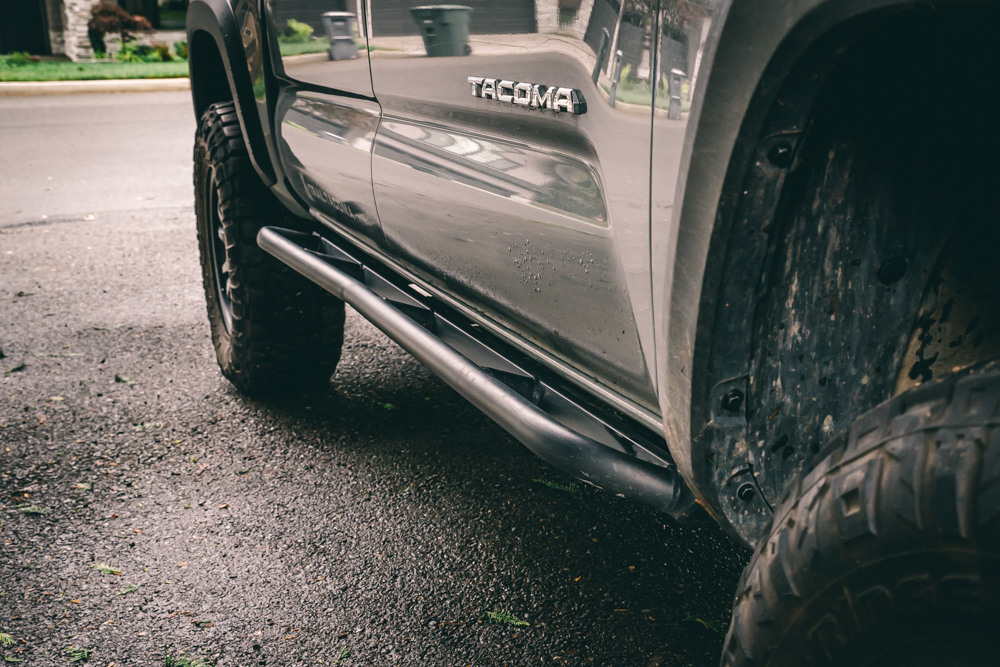 Precision Engineering, Made to Impress, Quality Protection
RCI is another Colorado-based company and the first company on the list that serves vehicles outside of the Toyota world. RCI fabricates their own bed racks, sliders, skid plates, and bumpers for Toyotas. They also provide bed racks, some skid plates, and mounting brackets for several makes and models.
RCI builds all of their sliders with DOM steel standard, with no option for HREW. Both lengths of the sliders are available, with an upcharge for the longer double cab long bed (DCLB) model. They offer two different angles, 5°, and 20°. RCI recommends the 5° if you opt for the step plates, as that will offer a more stable surface. All of their sliders come standard with a kickout and you do have the option of powder coating through RCI.
PROS
Well established
DOM tubing standard
Strong design
Option for top tread plates
In-house powder coating
Main slider rail is square tubing
Long bed option
CONS
Potentially high shipping costs
No weld-on option
7. RSG Offroad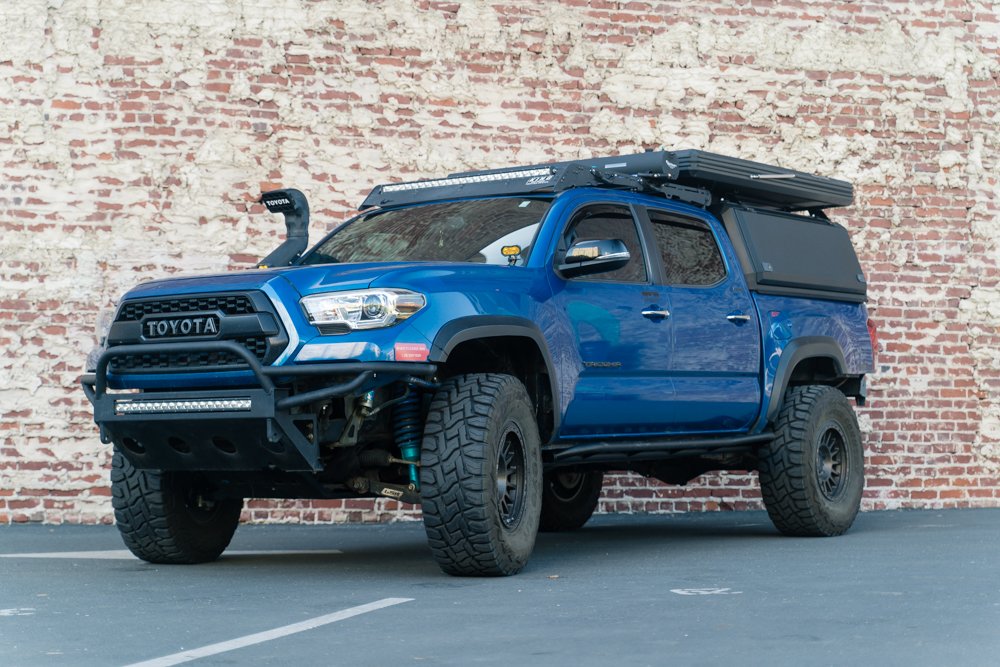 Established, Experienced, Short Lead Times
RSG Offroad is based out of Lakewood, CO. They provide everything from recovery gear to superchargers for multiple Toyota models and even a couple of Lexus models. They are a one-stop-shop for all you need to get off-road.
RSG offers their sliders in both DOM and HREW steel. If you don't need heavy-duty sliders and want to save some cash, the HREW steel sliders still provide great protection for your Tacoma. If you drive a double cab long bed (DCLB), unfortunately, you don't have an option available from RSG. According to their site, all of their sliders are for access cab long bed (ACLB) and double cab short bed (DCSB) only. They do offer both an angled and flat version if you're looking for a sturdier step.
One cool thing that RSG provides is a grip top plate along with a top plate. Their grip top plate has extra texture to give better traction when stepping into your vehicle. RSG sliders are available in both kickout or non-kickout versions. You do have the option of having these sliders powder coated, and you can also choose whether the RSG logo is stainless or blacked out.
PROS
Well established
Strong design
Larger main tube
Many versions to choose from
CONS
No option for DCLB trucks
No weld-on option
8. Westcott Designs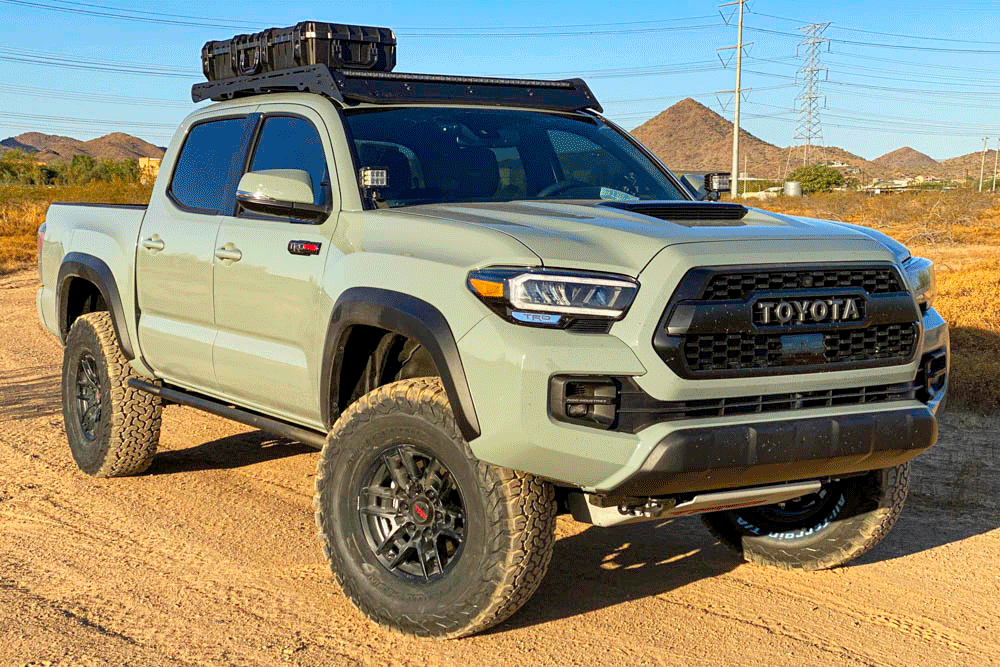 If It Doesn't Challenge You, It Doesn't Change You
Westcott Designs is kind of the new kid on the block. However, they've been in the automotive game for a very long time. It's a mom and pop business based in Phoenix, Arizona, started by Jeff Westcott, who brings 20 years of experience working for Toyota, and a lifetime of being around car manufacturing thanks to his father, who worked for GM.
They are slowly growing their product base, but their claim to fame is the hitch receiver rack/carrier and TRD Pro model lift kits. They pride themselves in providing the absolute highest quality parts on the market made with the very best craftsmanship. These rock slides offer a ton of customization. From coating options, to steel choices and top plates, you should be able to find something you like. There are no 2nd Gen sliders available. A unique option, you can choose between MIG and TIG welding for your sliders.
PROS
DOM tubing standard
Strong design
No cutting or welding required
Long bed choice
Unique customization
CONS
No 2nd Gen option
No weld-on choice
9. White Knuckle Offroad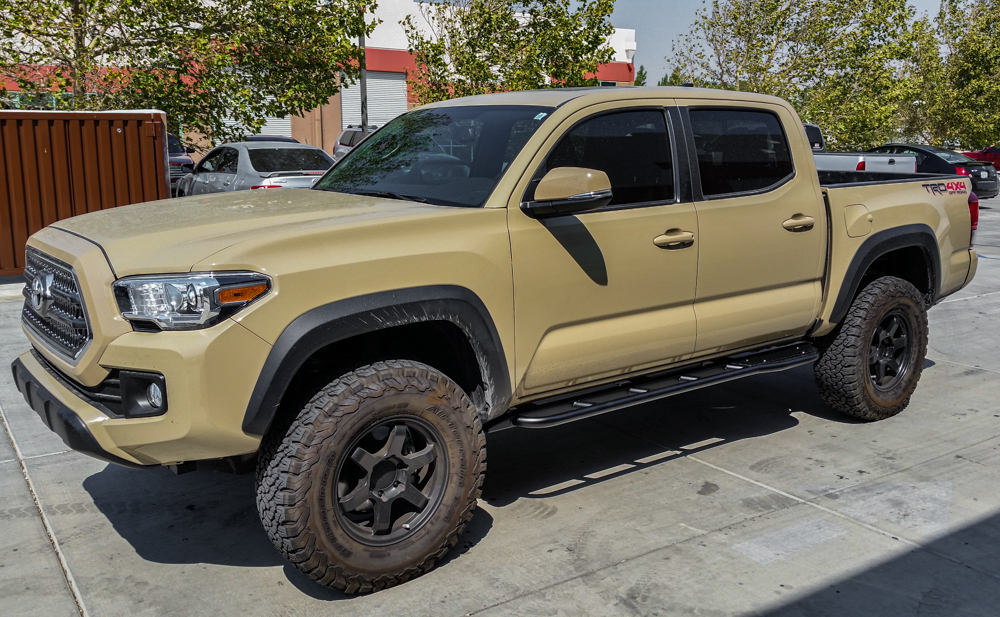 Heavy-Duty Armor for 4X4 Enthusiasts
White Knuckle Offroad is another California based fabricator. They make sliders for almost any truck out there right now, they even go back to 1st Gen Tacomas! So if you've got a friend looking for sliders for their Ford, Chevy, Dodge, Nissan, or Jeep, these guys will have you covered.
White Knuckle offers both HREW and DOM steel for their sliders. They do provide sliders for a double cab long bed (DCLB), and it looks like they might customize the slider depending on if it is a double cab or access cab. Kickouts are standard and they do offer diamond top plates on either the entire slider or just at the rear. The default option is for 15° but you can choose to have it flat at 0°. White Knuckle does provide powder coating to keep those sliders protected from the shop.
PROS
Well established
Strong design
No cutting or welding required
Customizable
Main slider rail constructed from square tubing
CONS
10. Demello Off-Road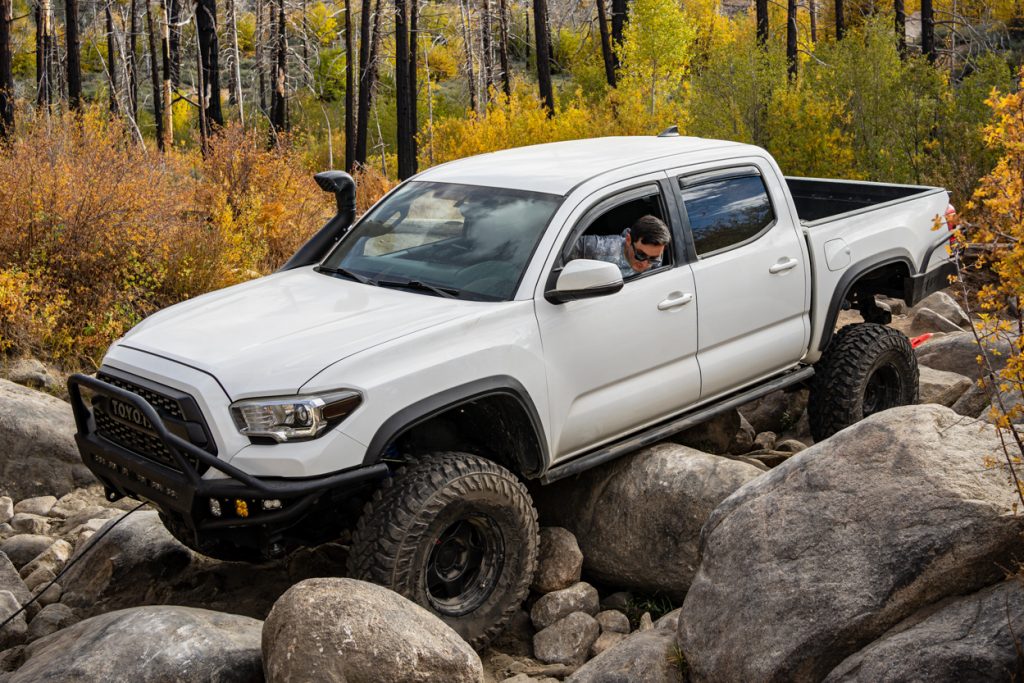 Toyota Truck Specialist, Premier SoCal Installer
Demello is another company that sticks to the Toyota/Lexus family and is based out of Riverside, CA. Aside from fabricating armor, they also offer suspension, lighting, wheels, and other accessories. Demello has the most variety of choices when it comes to their sliders. They have 2-3 different variations of the traditional slider along with a few more unique designs as well.
Demello only uses DOM steel for their sliders. They make specific kickout and non-kickout models. They also have some step plate options, and what seems to be a good amount of choices. All Demello sliders have the option to have them powder coated. If you want to have solid sliders that stick out in the crowd, this brand would be one to look at with their many different styles. They're a dependable company with a good reputation so you can't go wrong with Demello.
PROS
DOM steel standard
Well established
No welding or cutting required
Multiple unique designs
Main slider rail constructed from square tubing
CONS
Kickout is only available on shorter length
11. 4x Innovations

Hardcore Toyota Rock Crawling Armor
4x Innovations was started by one guy in Wisconsin who felt that the parts and designs he needed weren't available on the market. He took his background in mechanical engineering and used that to learn and develop his skills as a fabricator. Over the years 4XInnovations has grown quite a bit and now offers bumpers, sliders, skid plates, and even roll cages for hardcore Toyota wheelers.
4x Innovations sliders are meant to get the job done. The only options available are the model of truck and a few different types of step plates. All of their sliders are made with DOM tubing, come with a 2″ kickout, are angled to provide better clearance, and are only offered in bare steel. There are a few options for step plates though, and you can also choose to include a TRD logo on the plate.
PROS
Well established
Built with hard wheeling in mind
DOM tubing standard
Shorter lead times
CONS
No long bed option
No coating service; comes bare steel
No weld-on choice
12. Victory 4×4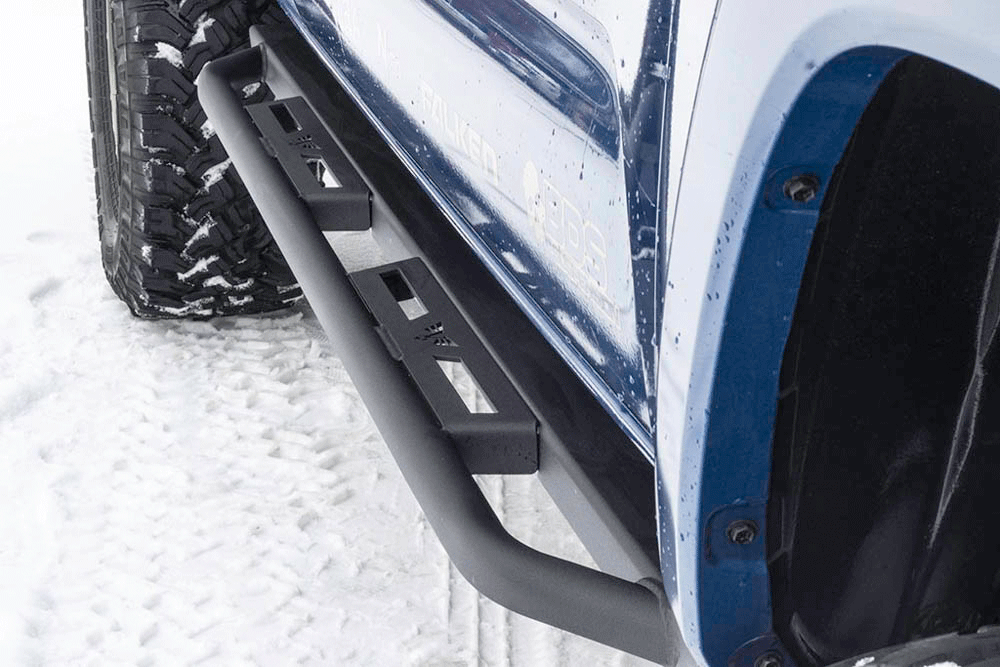 Experienced, Off-Road Pedigree
The next company on the list comes from Portage, Michigan. They only sell Toyota products but their sister company, JcrOffroad has been in the Jeep community for 15+ years. Their sliders are one of the more budget-friendly options on the list.
Victory sliders, for the most part, look like any other non-kickout slider, but a closer look reveals that they have their own unique design. Victory's website doesn't actually say DOM or HREW steel. We are going to assume they use HREW. They do offer their slider in both lengths, but it comes standard at 0° with no option for an angle. Although it doesn't have an option for step plates, you'll notice that step plates are naturally part of their design while still leaving a lot of the slider open. Victory does offer powder coating for their sliders.
PROS
Well established
Unique design
Main slider rail constructed from square tubing
No cutting or welding required
CONS
Not very customizable
DOM tubing seemingly not available
13. Bay Area Metal Fabrication (BAMF)
Passionate Team, Quality Affordable Toyota Offroad Products
BAMF was started in 2011 by Jerry Lee in a 600 sq ft garage in the San Francisco Bay Area. In less than 10 years they have grown so much they now occupy a large warehouse where they fabricate armor for Tacomas as well as almost any other metal fabrication work. They even have their own in house powder coating.
To cut down wait times, BAMF provides a pretty standard slider that they build in batches. They are available for 2005+ Tacoma, both access cab long bed/double cab short bed and double cab long bed. They come standard with a kickout and mounted with a 20° but no step plates. You get to choose between HREW and DOM outer tubing and whether or not to have powder coating.
PROS
Well established
Strong design
Customizable
No cutting or welding required
CONS
Very long lead times, especially if you want more options
Non-kickout is not available
14. TJM USA
Take The Lead, Overlanding Accessories
TJM USA is the American branch of TJM, a company that has been developing off-road products to survive in the Australian Outback for decades. Started by three friends, Taylor, Jones, and Mollenhauer, in 1973 (two years before ARB), they were the first offroad equipment manufacturer in Australia. They design and build their own bumpers, sliders, suspension, and locker systems. TJM ventured into the US market in 2011 and currently has almost 70 distributors across the country.
TJM USA sliders are a very simple product with no options or changes available. Their sliders are made of 5/32″ thick steel tubing with a 1/8″ thick skid plate that spans the entire length to help you slide over obstacles. The skid plate is engineered with four T-slots which are designed for a hi-lift jack, ensuring an extremely secure lift point in those treacherous situations.
It also has an additional mounting point that mounts to a cross-member on the frame. These sliders do come powder coated standard as well.
PROS
Well established
Strong design
Specific hi-lift jack points
No cutting or welding required
CONS
No options available
Not designed for double cab LB
Review
Below, I created a table comparing all of the different brands and the options they offer.
Just as a reminder, all brands offer sliders in the Access Cab Long Bed and  Double Cab Short Bed length. I've also noted with an asterisk (*) the brands that offer a 0° option on their site. If you really like a brand that doesn't offer the 0° on their site, I recommend reaching out to them!
Most of these are made to order so they might just make a special set just for you. I hope you find this table helpful in quickly reviewing the ten brands mentioned above.
Available Options By Brand
| Available Options | C4 Fab | RSG | RCI | CBI | True North Fab | Westcott | White Knuckle | Demello Offroad | 4X Innovations | Victory 4x4 | BayAreaMetalFab (BAMF) | TJM USA | Cali Raised | All-Pro |
| --- | --- | --- | --- | --- | --- | --- | --- | --- | --- | --- | --- | --- | --- | --- |
| DOM Steel | ✔️ | ✔️ | ✔️ | ✔️ | | ✔️ | ✔️ | ✔️ | ✔️ | | ✔️ | | ✔️ | ✔️ |
| HREW Steel | | ✔️ | | ✔️ | ✔️ | | | | | | ✔️ | | | |
| Double Cab LB | | | ✔️ | ✔️ | | | ✔️ | | ✔️ | ✔️ | ✔️ | | ✔️ | ✔️ |
| Angled | ✔️* | ✔️* | ✔️ | ✔️ | ✔️ | ✔️ | ✔️* | ✔️ | ✔️* | ✔️* | ✔️ | ✔️ | ✔️ | ✔️ |
| Step Plates | ✔️ | ✔️ | ✔️ | ✔️ | ✔️ | | ✔️ | | ✔️ | ✔️ | | | ✔️ | ✔️ |
| Kickout | ✔️ | ✔️ | ✔️ | ✔️ | ✔️ | ✔️ | ✔️ | ✔️ | ✔️ | | ✔️ | | ✔️ | ✔️ |
| Powder Coat | | ✔️ | ✔️ | ✔️ | ✔️ | ✔️ | ✔️ | ✔️ | ✔️ | ✔️ | ✔️ | ✔️ | ✔️ | ✔️ |
| Line-X/Bedliner | | | | | | | | | ✔️ | | | | ✔️ | |
Final Thoughts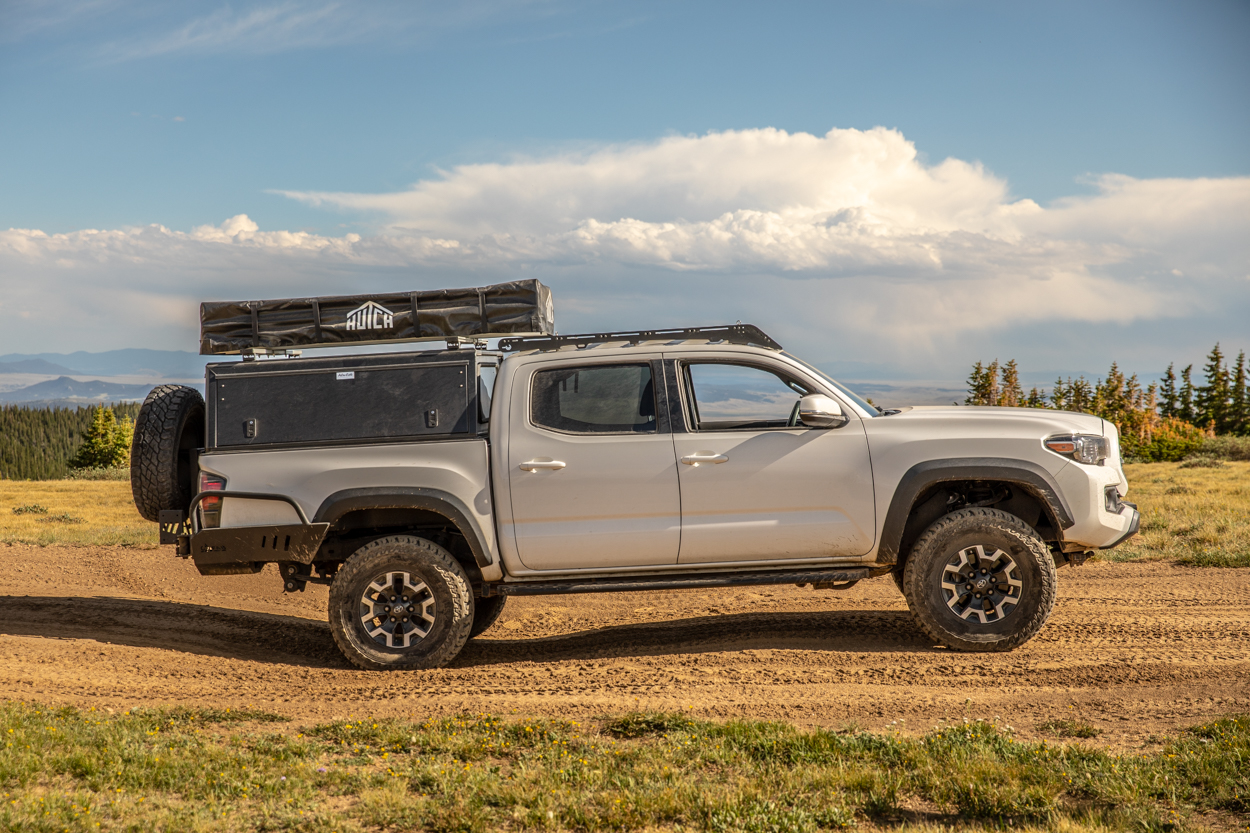 With so many sliders available, choosing one for your truck can seem like a daunting task. Hopefully, this article will help you determine which slider is the right fit for your needs.
All of the sliders on this list are great options and have been put to the test by many off-road rigs. If you think seeing them in person would help you decide, then try attending a local truck or off-road meet. There's a good chance a few of these brands will be on someone's truck and that could be an easy way to get an up-close look at the product.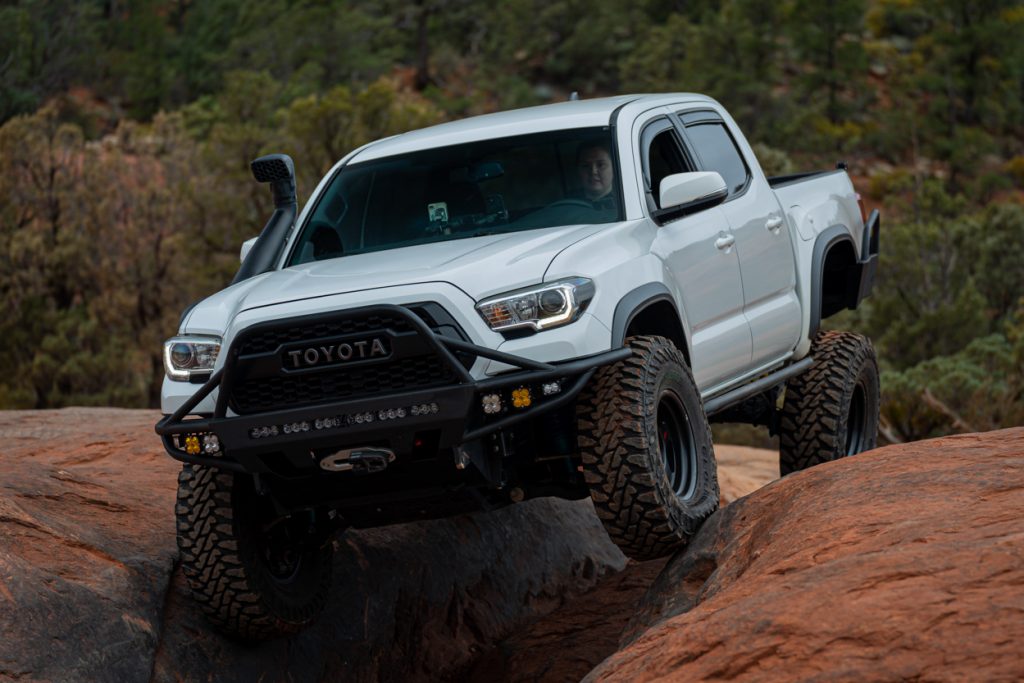 Another thing to consider, especially if your main function is a step, is that sliders are much more expensive than running boards. It might not be worth the investment if you never plan on leaving the pavement. On the flip side, if your purpose is mainly a step, but you do plan to hit some trails, running boards will not hold up as well and the loss of clearance could be an issue.
If you do think you need some sliders, don't procrastinate! Many of these companies don't keep many in stock, but instead, build to order, so it can take anywhere from 4-8+ weeks depending on how busy that company is at that time. No matter what brand or style you choose, you can be sure your truck will look great and have the protection it needs!