6 Low Profile (Lo-Pro) Bumper Setups For 3rd Gen (2016+) Toyota Tacoma – Unique Aftermarket Front Bumpers For Off-Road & Overland Truck Build Inspiration in 2022
Hey everyone, welcome back to yet another Taco Tuesday! If you missed last week's TT, we asked owners to talk about their aftermarket black wheels for the Tacoma. Pretty sweet line up.
This week, we will be looking at 6 low-profile front bumper options for the 3rd Gen Tacoma. A low-profile bumper isn't as aggressive as a full-width hybrid or plate bumper replacement, but you might be surprised by the benefits of running a slimmer, more lightweight focused bumper. These bumpers still offer protection and allow you to run all of the standard accessories without the commitment of a full bumper
If you want to see even more options or are maybe looking to see more full front bumpers, then check out our post on front bumpers for the 2nd & 3rd Gen Tacoma here.
Top Brands Featured
Low Profile Bumpers For Tacoma
Should I Buy A Low Profile Bumper?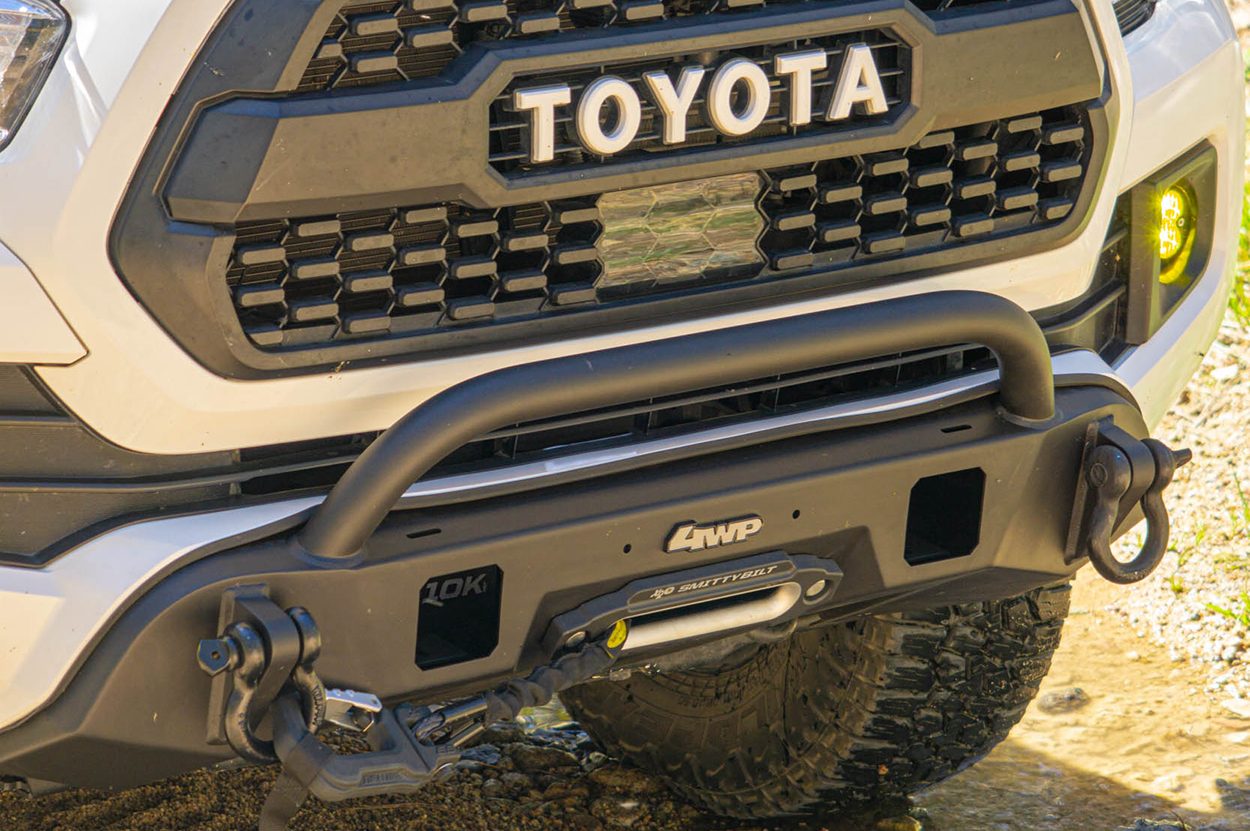 Honestly, this depends on what you are really using your truck for. A low-profile front bumper gives you a very similar effect relatively to a full plate bumper but without the larger price tag and added weight.
These slim bumper designs typically take up the lower part of the front bumper and replace the OEM black front valance. In exchange for replacing the plastic valance, you get added protection, additional recovery points, and mounts for a winch and mounts for accessory lights along with a center light bar.
One drawback of a low-profile bumper is the lack of any real gain in approach angle for the front end of your truck. Now, you can definitely gain a confidence boost when approaching an obstacle knowing that you have some armor installed. However, these bumpers only replace the OEM lower valance, essentially leaving all approach angles pretty much the same. Another drawback to a low profile vs a full front bumper is no additional real estate for clearing larger tires – unless you opt for a bumper with high clearance "wings". This is to be debated by many though as more problems are usually found at the pinch weld, firewall, and cab mounts when looking to run larger tires as opposed to in the front of the Tacoma. Just don't go into a high clearance with wings for the sole purpose of wanting to run larger tires.
The purpose of a low-profile bumper is to remain as OEM as possible by adding some protection without cutting up your whole bumper to do it.
I really like this style bumper for the Tacoma. I am a huge fan of OEM+ functionality and a bumper like this really checks a lot of boxes for me personally. Enjoy the compilation of trucks below!
1. Erik Calvo (@chacataco) – DV8 Off-Road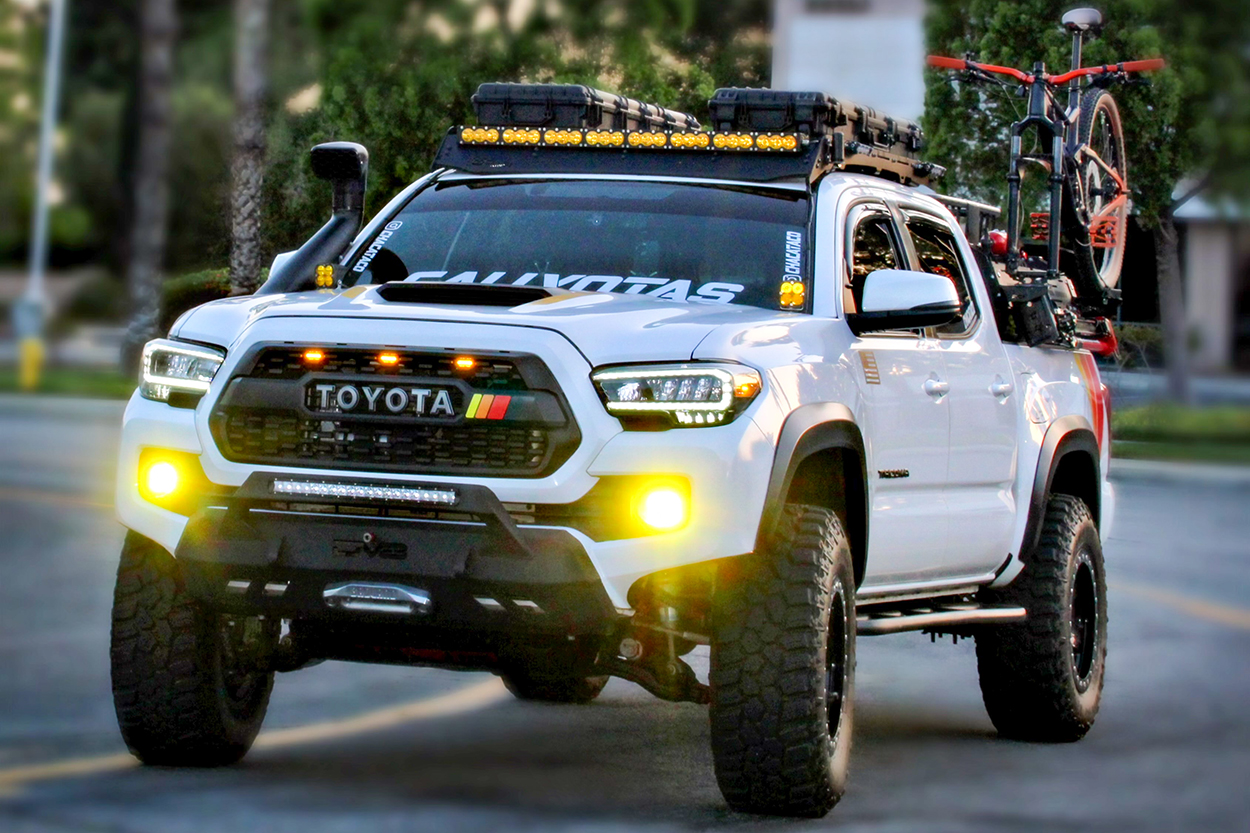 Bumper Specs
Model: Center Mount
Price: ~$569.99
What Do You Like Most About Your Setup?
This bumper is for those who want exceptional looks and function without committing to a full-length bumper. There is an optional light hoop that fits a single row 20-inch LED light bar. However, if you don't need the extra lighting you can opt to not install the light hoop. I really like how strong this bumper is and also just can't get over how good it looks.

Bumper Specs
Model: Covert Series
Weight: 75lbs
Price: ~$1,000
What Do You Like Most About Your Setup?
This bumper is mainly for looks. I like the thinner low grille guard that this bumper offers compared to others on the market. Before I eventually switch it out to a full-size bumper, I wanted the sleek low profile look of this CBI. It almost looks stock, which is one thing I really like about it.
3. Paul Nguyen (@gordi17_) – Southern Style Off-Road
Bumper Specs
Model: Slimline Tube Bumper
Weight: 70lbs
Price: ~$1,100
What Do You Like Most About Your Setup?
I love the low-profile look of the bumper that still retains the OEM fog mounts while offering better clearance and approach angle. The bumper is of full steel construction, yet it comes in at 70lbs according to SSO. This is lighter than some aluminum bumpers on the market and means that I don't have to upgrade to heavier front coil springs. It comes with a weather-strip to make the long cut across the bumper look super clean.
4. Alexandre (@el_taco_julien) – Body Armor 4X4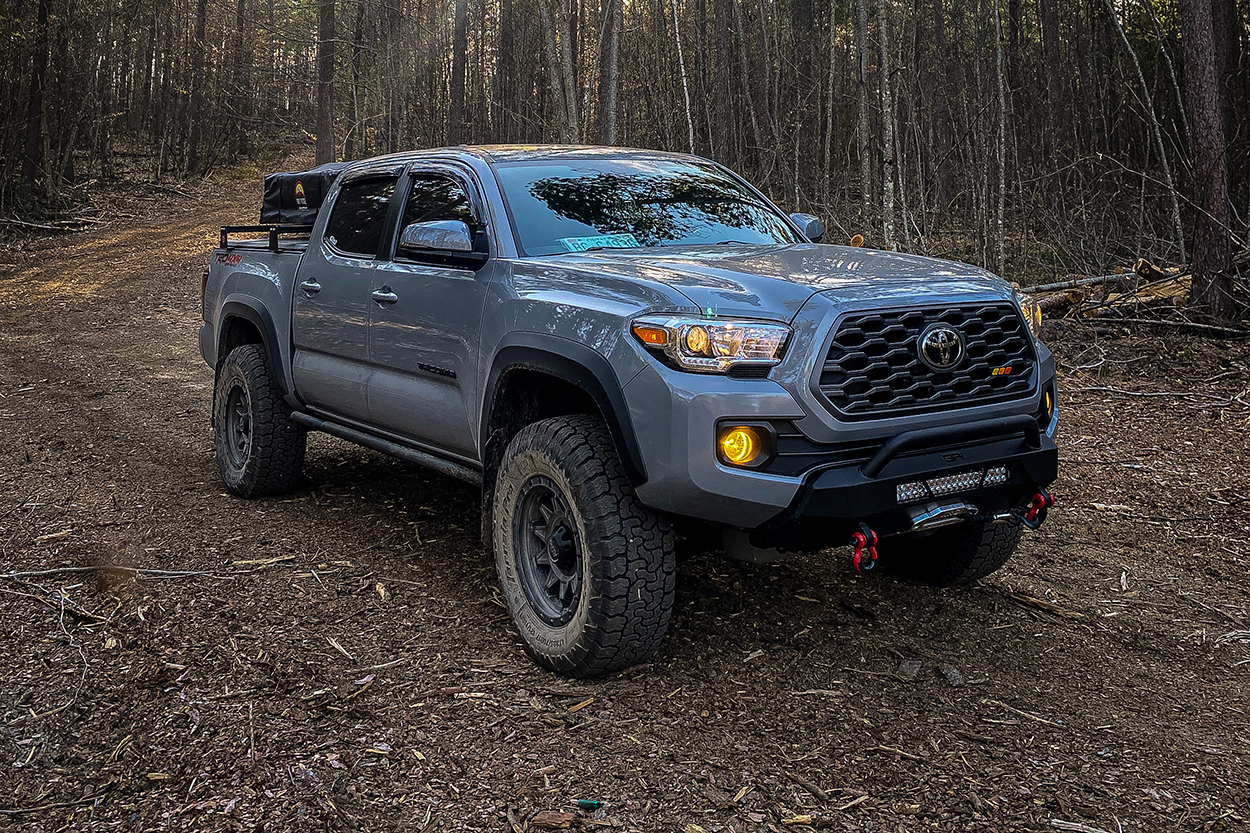 Bumper Specs
Model: HiLine Series
Weight: 70lbs
Price: ~$650
What Do You Like Most About Your Setup?
I like this bumper because I was able to integrate both an LED light bar and a winch into it. I'm not a big fan of winches because of how bulky they are, so being able to hide it behind the bumper is great. I can also face bigger obstacles because the approach angle is improved a little bit and feel more secure when I go off-road knowing that I am less likely to break anything. I was able to add two recovery points and the coating is guaranteed for 3 years.
5. Mason Tandal (@thatolivedrabtaco) – Southern Style Off-Road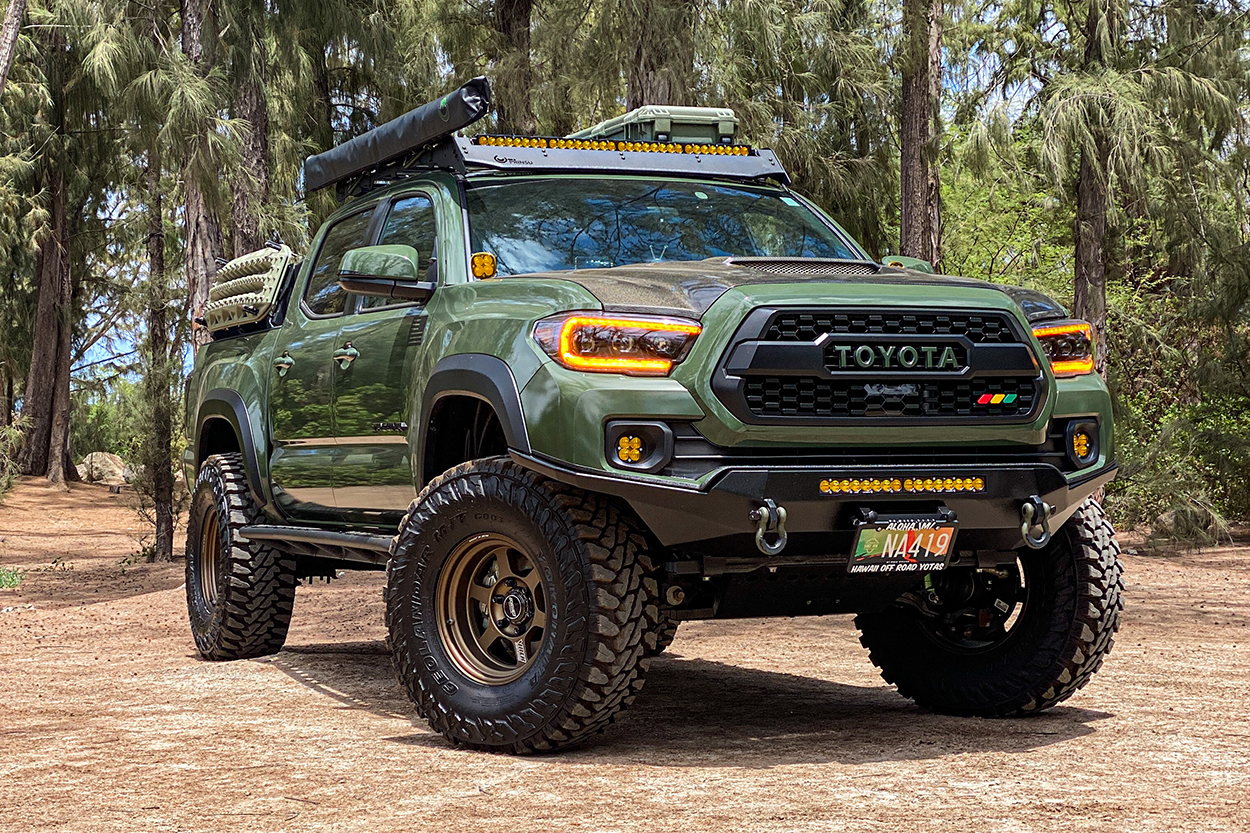 Bumper Specs
Model: Full Plate Slimline Bumper
Weight: ~90lbs
Price: Starting at ~$1,150
What Do You Like Most About Your Setup?
The best thing about this specific one-piece full plate bumper is how clean and simple it looks while having a variety of options that will fit your off-roading needs. These options include light bar cutouts, winch access holes, and angled bull bars. It just straight up looks great!
6. Sean Wright (@drktacoma)- 4WP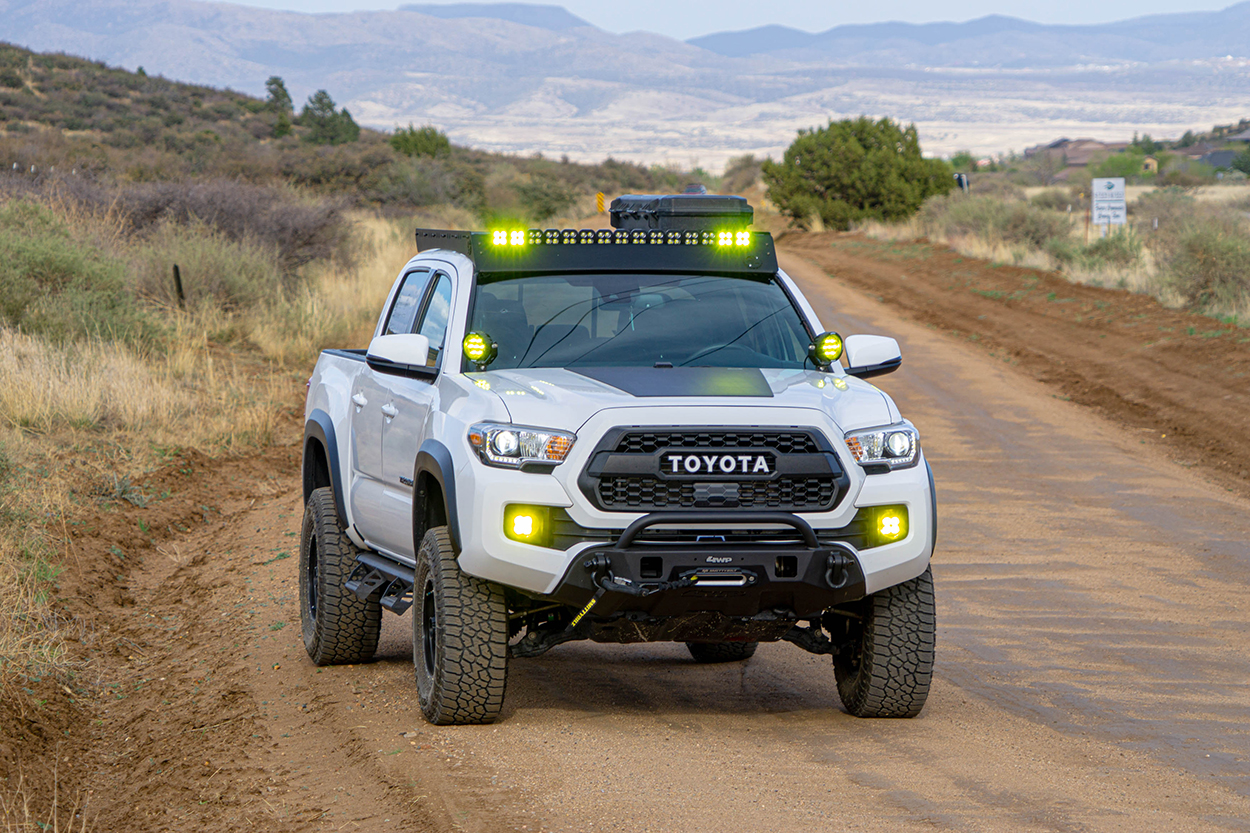 Bumper Specs
Model: Front Bumper Base
Weight: 80lbs
Price: ~$775
What Do You Like Most About Your Setup?
This bumper comes in at a base price of about $775 without options like the high clearance wings. I've spec'ed mine without the high clearance wings as I dig the more factory look that this bumper gives. Along with the bumper, I have the SmittyBilt X20 Gen3 10k winch paired with it.
The main thing I love about the new 4WP bumpers is that they're completely customizable and have tons of options to tailor them exactly to your liking. The front is merely a replacement of the plastic front valance piece with minimal cutting, allowing for a stock look while also providing the functionality that aftermarket bumpers give.
Final Thoughts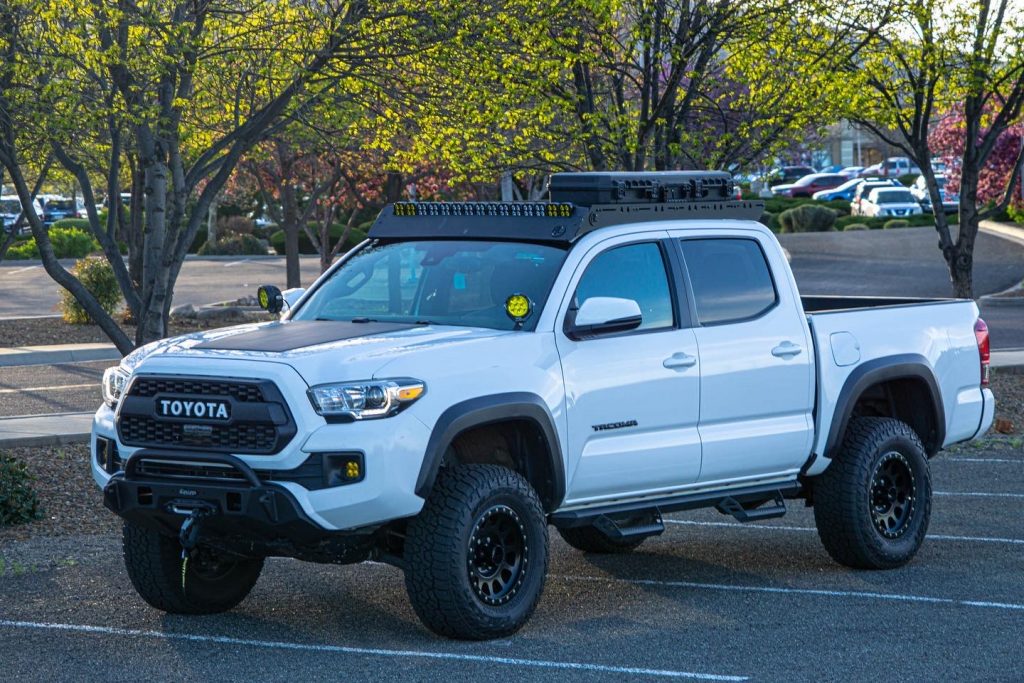 Man, I really like the simplicity of these low-profile bumpers. You can definitely see the added functionality that they provide along with keeping the style of the truck pretty OEM. This would definitely be the path I take if I ever swapped out the front bumper on my Tacoma.
If you want to be featured for Taco Tuesday, submit your build through TrailTacoma.com/Feature. Next week's Taco Tuesday will be featuring TRD Pro Tacomas and asking owners what their Top 5 mods are. We're looking for sweet rides to showcase! If this is you and you love your setup, send in your details because we want to see it.
Thanks for reading guys. I'll see you next week!