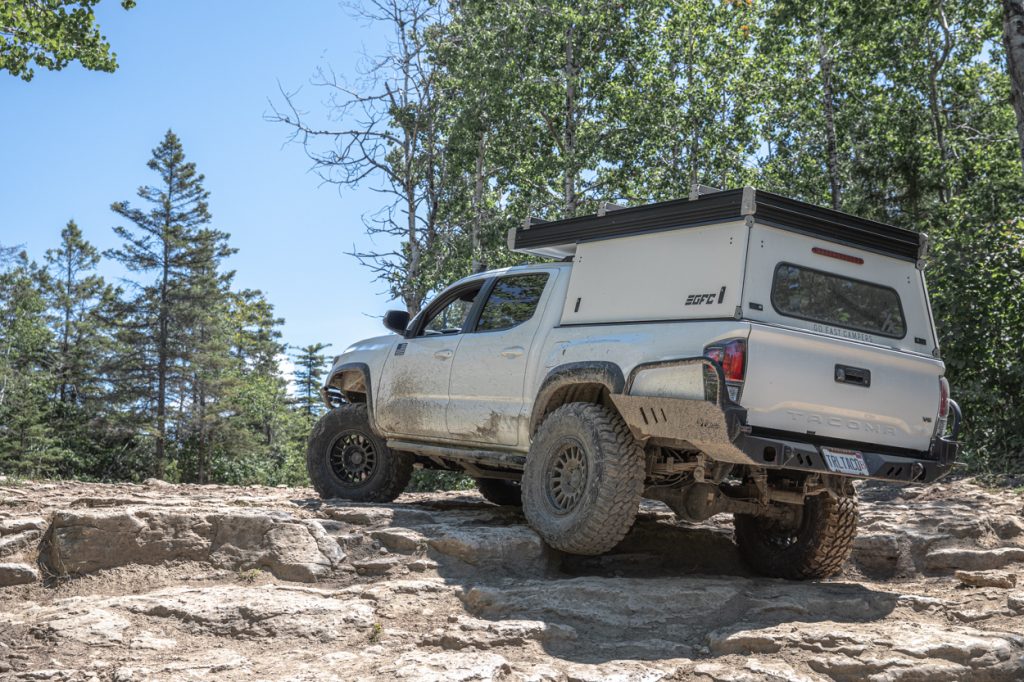 What is the Biggest Tire You Can Run on a Tacoma? A Guide to Choosing the Correct Tire Size for Your 3rd Gen Tacoma
Jump To 2nd Gen Resources:
Easily the most frequently asked question in the Tacoma community is how big of a tire can I fit on my truck. It is a very valid question; you want your truck to have an aggressive stance with the biggest tires possible to gain optimum traction while still being able to turn out of your driveway.
However, when it comes to asking this question on a forum, you can receive lots of snarky comments from "experts", or they may just refer you to another thread on the forum.
Well, look no further, here at TrailTacoma.com your comments and questions are more than welcome.
Tire Size Designed for Factory Suspension
Making the decision to go up in tire size is not always an easy one to make. When a vehicle is manufactured, the engineers at Toyota have done everything to optimize the truck as far as tires and what will fit.
They consider fuel efficiency, on-road performance, off-road performance and making sure it does not bind up the truck. There are a few things to note early on. The Toyota Tacoma is produced in six trim levels with different wheel sizes. Each trim level offers a wide variety of features that appeal to different customers based on their needs and their wants.
Largest Tire Size for Tacoma? 
In this article, I will go over the biggest tire you can fit on some of the most common setups seen on Tacomas today as far as the factory "stock" suspension, and then Tacomas with a spacer lift, a full suspension lift, and if trimming is required.
Working at Discount Tire we see thousands of combinations of tires and wheels, one couldn't possibly go over every single combination in a single article. I will go over the most common options seen out there today. If you have a question about your potential setup please leave it in the comment section, and I will respond shortly.
Here is a quick start answer to most tire size questions.
Largest Size on Stock Tacoma?
The largest tire for stock a 3rd Gen Toyota Tacoma suspension is 265/75r16 or 265/70r17. Many guys have verified that these tires work with no rubbing whatsoever on our stock suspension.
Largest Size With Leveling Kit?
The largest size on a leveling kit or lift kit is relative depending on kit height. These terms "leveling kit and lift kit" are relative as they both can achieve similar ride heights. For 2″ heights 275/75r16 and 275/70r17 seem to clear with no major issues. For 3″ heights 285/75r16 and 285/70r17 seem to clear with no major issues.
Please keep in mind that every tire size and wheel size along with the tires' tread pattern is technically different so your exact tire and wheel set up may vary greatly depending on the variant. Please read through this entire guide in order to understand how your wheel offset and tires work together. Once you understand that wheel offset, tire size, and tire tread type add up to create a final range of motion in the wheel well, you will have a better understanding of whether or not your tires will rub.
Let's jump right in.
The Tacoma Tire Size Guide
What is Offset?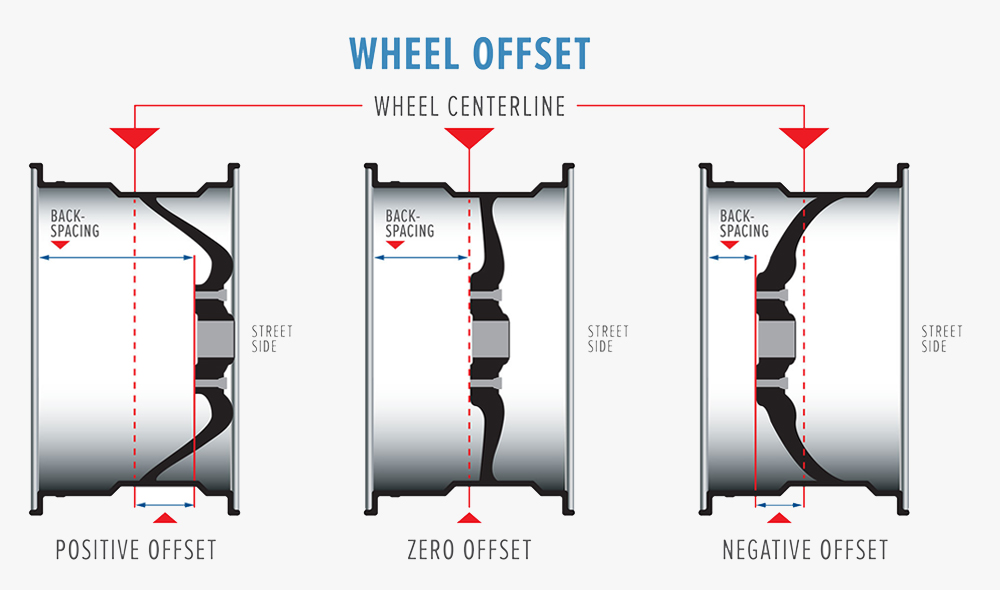 To start, we look at offset.
Offset measures the distance from the mounting face of the wheel to the middle of the wheel. Offset is measured in millimeters. This is a very important factor to consider when purchasing new wheels or tires depending on your trim level. Offset is important to remember if you plan to stay with your stock wheels.
A common problem is seen while running stock wheels with oversized tires is clearance issues with the Upper Control Arms due to the tire's width. As time goes on most wheel manufacturers are slowly moving away from backspacing measurement and transitioning to Offset. While backspacing measurements will always exist, they are not often used.  Backspacing is an older system of measurement to determine how deep the mounting pad is located in the wheel.
Correct backspacing allows enough room for the suspension, brake, and steering systems to operate without interference from the wheel. Positive offset creates more backspace, while negative offset reduces backspace.
How does this affect tire size?
Negative (-) offset pushes your tire/wheel out of the wheel well.
Positive (+) offset pulls your tire/wheel inside the wheel well.
When you push your wheel out of the fender well (negative offset), you change the geometry of the wheel and tire distance to the surrounding fender well components. The entire fender well includes but is not limited to the body plastics, frame (body mounts), plastic fender liners, rocker panel caps, splash guards, fender mount brackets, firewalls, and the actual fenders themselves.
The more negative offset you add to your wheels, the more likely you are to cause rubbing in any of these one areas, but this is not always the case as many other factors come into play like tire size and even tread type.
In most cases though, the more negative offeset you have, the more rubbing you will have.
Example 3″ lift 285/70r17 Tires:
0 offset: Possible fender liner push back
-10 offset: Fender liners and body trimming
-38 offset: Fender liners, mud flaps, body trimming, cab mount chop, etc.
Keep in mind this is not going to be 100% correct for every situation. Every tire size is technically different due to the tread type. Also, other variables and components on the Tacoma come into play as well.
Most Common Tire Questions
Should I run my stock wheels?
How big can I go stock?
How big should I go?
Should I go as big as possible?
What is the best wheel size for Off-Road use?
What is a Cab Mount Chop, and do I need one?
Before answering all these questions, in a previous article, I mentioned I worked at Discount Tire. We have a huge number of 3rd Generation Tacomas that come through.  We have seen larger tires fit on some stock trucks and not on others.  What this comes down to is the tire manufacturer.
Each tire is not the exact same size due to the tread depth and tread pattern.  This article should serve as a guide to help you make your decision.  When it comes time to get the tires installed, Discount Tire is always willing to test fit tire and wheel combinations first to make sure you leave happy.
Tire Size Fitment Examples
16″ Wheel/Tire Options (Examples for Rubbing Vs. Non-Rubbing)
265/70/16 (30.6″ – Stock Tacoma Size)– Won't Rub
265/75/16 (31.6") Won't Rub
255/85/16 (33.1″) – Will Rub – Adjustments Needed
275/70/16 (31.2″) – Will Rub – Adjustments Needed
285/75/16 (32.8″) – Will Rub – Adjustments/Mods Needed
305/70/16 (32.8") – Will Rub – Adjustments/Mods Needed
315/75/16 (34.6") – Will Rub – Adjustments/Mods Needed
17″ Wheel/Tire Options (Examples for Rubbing Vs. Non-Rubbing)
265/65/17 (31.61″ – Stock Tacoma Size) – Won't Rub
255/75/17 (32.06″) – Won't Rub
275/70/17 (32.16″) – Questionable Adjustments/Mods possibly
285/70/17 (32.71″) – Will Rub – Adjustments/Mods (BMC Might be Needed)
305/65/17 (32.61″) – Will Rub – Adjustments/Mods Needed
255/80/17 (33.06″) – Will Rub – Adjustments/Mods Needed
305/70/17 (33.81″) – Will Rub – Adjustments/Mods Needed
285/75/17 (33.83″) – Will Rub – Adjustments/Mods Needed
35×12.50R17 (34.76″) – Yes, you guessed it – Adjustments/Mods Needed
In order to gather tire size date, or even compare tires, you can visit Tacoma World. They have a useful Tire Calculator that allows you to compare tire sizes back to back and find your "close to exact" tire size.
Should I run my stock wheels?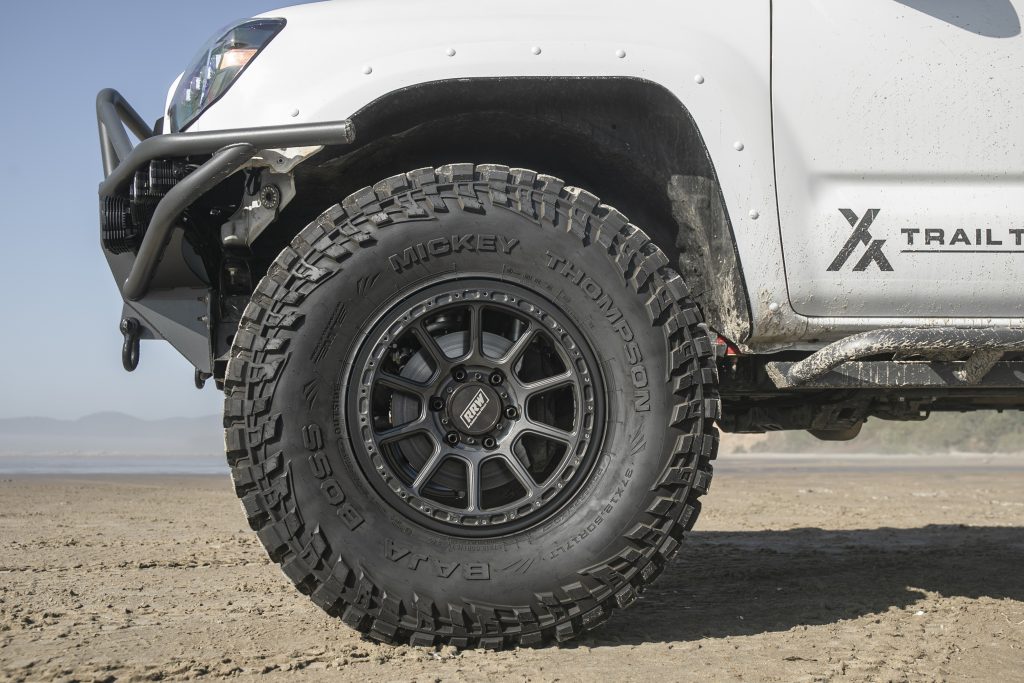 Running your OE wheels can obviously save you some money, you may also like the look of them. However, with your stock wheels, you may run into issues with oversized and wider tires hitting or rubbing your upper control arms (UCA).  When going into larger tires you typically will need a wheel with a zero or negative offset to push the tire away from the UCA giving you better clearance.
There are a ton of factors that come into choosing aftermarket wheels. Whether you are looking for off-road use or aesthetics, there is a wheel for you.
Here are some specs I make sure a wheel has first:
Bolt Pattern: 6×139.7mm or 6×5.5"
Wheel/Center Bore: 106mm
Offset: Zero or negative offset
-38mm SCS (Stealth Custom Series) F5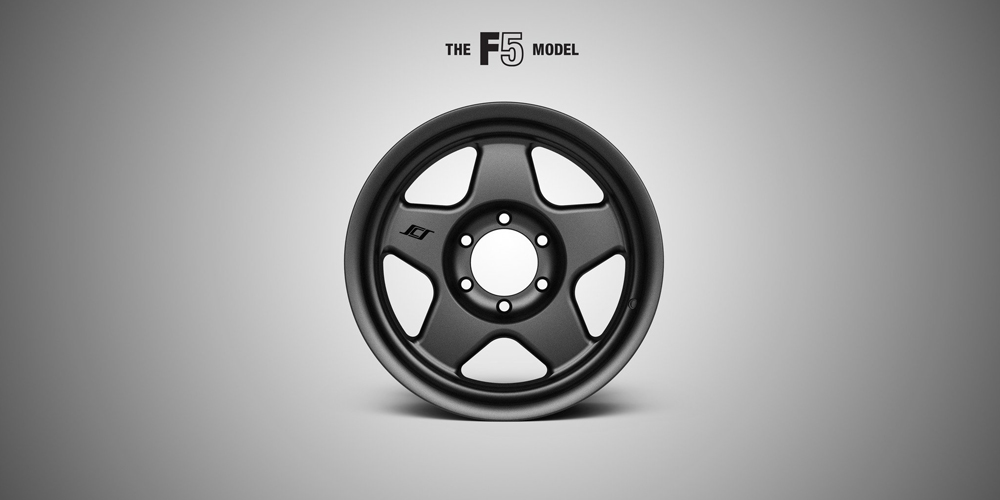 I personally prefer a wheel with 0 offset which pulls the tire out to the edge of the fender and sticks out just a little, keeping a streamlined look while keeping width low for narrower trails.  An extreme example of offset is the -38mm SCS (Stealth Custom Series) F5. That is going to push your wheel out of the well 1.5″ which is a lot. Most wheels are going to come in a -6mm (.2″) or -10mm (.4″) offset.
0 Offset Wheel Example: METHOD MR305 NV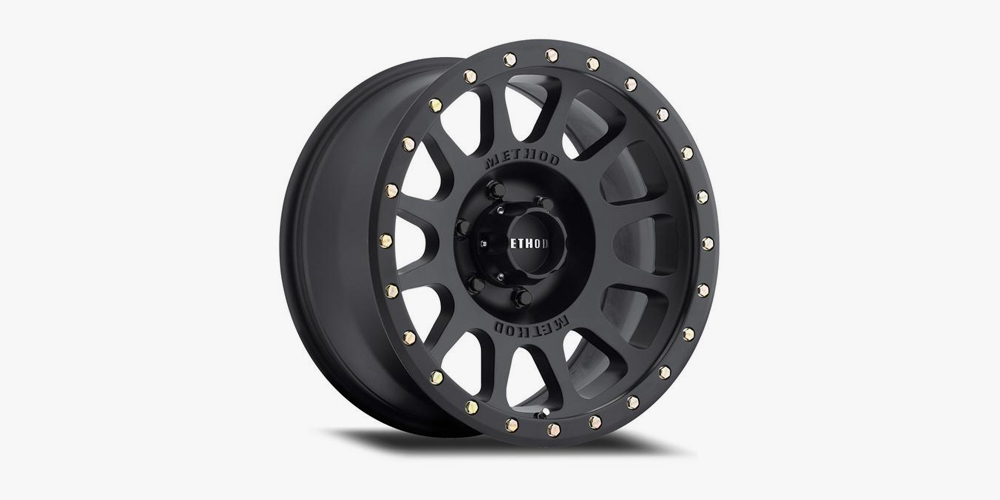 Tacoma Models – Wheel Specs
SR – 16" Wheels +30MM Offset    
SR5 – 16" Wheels +25MM Offset
TRD SPORT – 17" Wheels +30MM Offset
TRD OFF ROAD – 16" Wheels +25MM Offset
TRD LIMITED – 18" Wheels +30MM Offset
TRD PRO – 16" Wheels +13MM Offset
4Runner Pro – 17" Wheels  +04MM Offset (~0 MM)
Note: I have listed the 4Runner Pro wheels due to this being a common choice for people who want wheels to stick out a little further while maintaining an OEM look.
Choosing the Correct Lug Nut Size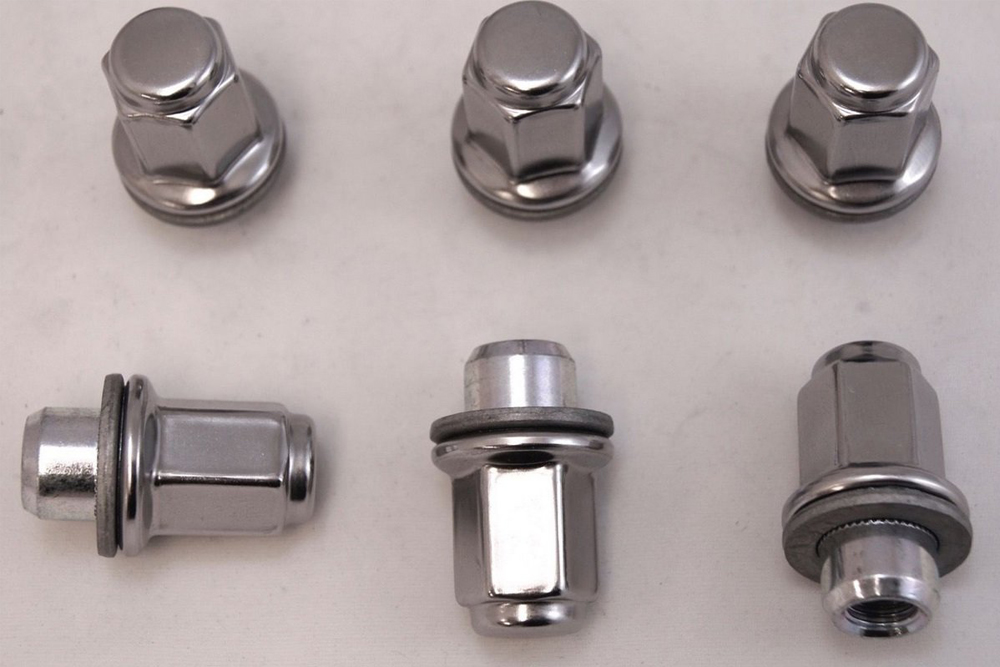 If you have ever unbolted your wheels on your truck, you have probably noticed the lug nuts have extended threads that sit inside the lug hole on the wheel.  This is due to Toyota's short stud design.  Each lug nut is supposed to have 7 full turns before it stops spinning to safely bolt on the wheel.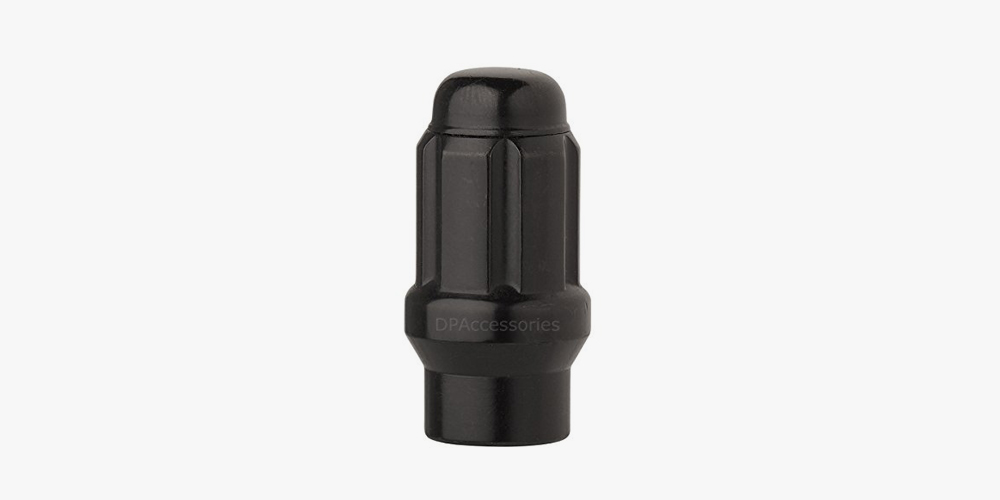 When purchasing new lugs be sure that they have the extended threads as shown. Pictured are your original equipment lug nuts and the correct lug nuts for most aftermarket wheels. Toyota's thread pitch for the Toyota Tacoma is 12×1.5.
How big can I go stock?
If you are running stock suspension and don't want to cut your truck up, realistically the answer is 32″.
My stock Tacoma had a 30.6×10.4″ tire (265/70R16). Going to a slightly larger tire size (265/75/16 – 31.6×10.4) is the ideal route if you don't want to make any modifications to your truck whatsoever.  Make sure when selecting a tire, it is a true 32" tire or close to it.
Some tires can measure 32.8 which is actually a 33" tire and you will definitely run into some issues as far as rubbing.  I recently spoke with a member of the off-road community who has 33" tires on his stock Toyota Tacoma. He informed me that he had to trim his cab mount back extremely far and cut his fender liners very high to make the setup work.
So, if you wish to run 33" tires on your stock Tacoma, it is doable, but be prepared to cut a lot.
How big should I go?
Pictured: Nitto Ridge Grapplers 305/70R17 (33.86″) Icon Rebound 17×8.5 0 offset 1.25 Spidertrax Spacers
This is one of the most important questions you need to ask yourself.
Are you looking for fuel economy?
Are you looking for a stance?
Are you looking for traction?
Based on customer feedback, friends, and personal experience the Toyota Tacoma fuel economy hits the floor when going up in tire size.
Due to the Tacoma's lack of power and gear ratio, it struggles to get good gas mileage as soon as you step into a 33" or 285/70 series tire.  If you're still running stock tires, you are probably seeing anywhere from 18-21 miles per gallon. Unfortunately, with oversized tires, you see roughly 12 miles per gallon in the city and 16 miles per gallon on the highway.
Note: A trick to achieving optimal gas mileage is driving 55-60 MPH and you can see 17 MPG.
Then there is always an option of re-gearing the truck which drastically improves fuel economy. However, re-gearing comes with a price tag of roughly $1,500 in parts plus install which, with IFS (Independent Front Suspension) can be in the $1500 range. Total out-the-door cost for regearing can range from $2000-$4000+ depending on other parts such as aftermarket lockers.
I have not had the opportunity to re-gear my truck personally but plan to do it at some point in the future.  This does not mean the Tacoma feels sluggish with oversized tires, it just affects your fuel economy.
If you are looking for the stance you are going to want to go with a wider tire and a wheel with a negative offset -10 or higher. Traction comes down to tread design.
Obviously, you do not want to roll around on pizza cutter (really skinny) tires. In my personal experience, anything 10.5" wide or more is going to offer plenty of traction and will be able to get you home.
While tire width will give you an aggressive stance, it is not going to do you any good if your sidewall is only 3 inches tall.  If you are purchasing a tire for its off-road capability, you want the tire to be able to flex and absorb the surface it is driving on which leads me to the next question.
What is the best wheel size for Off-Road use?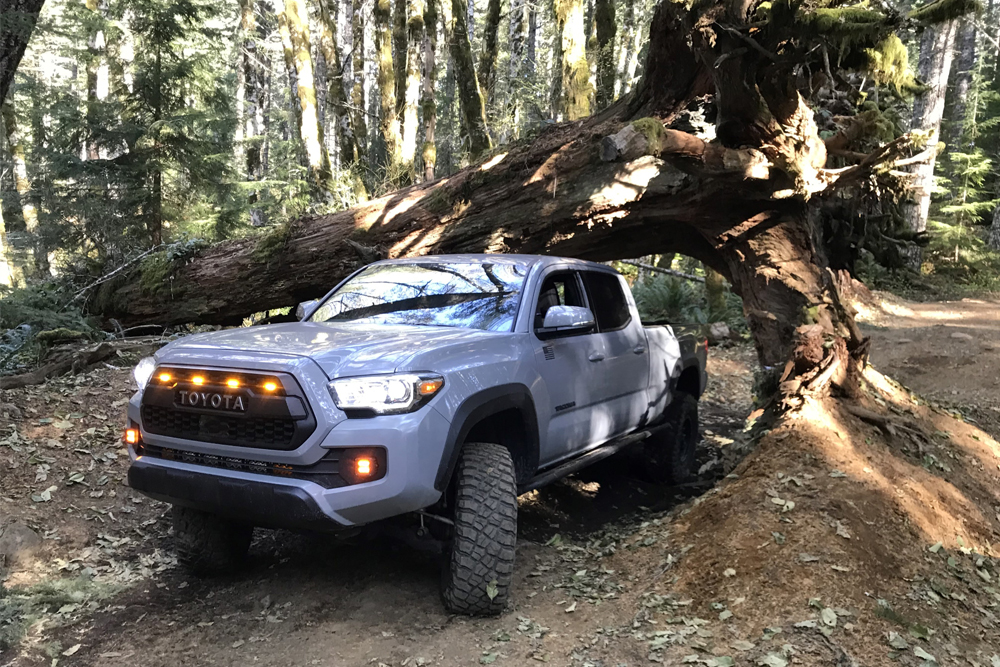 This is a very simple one to answer. Smaller is better except for looks, depending on what you are into. Some guys like the look of really small wheels and some do not. Regardless, smaller wheels allow you to air down further in order to gain more flotation and traction.
When off-roading there are more than likely going to be instances where you will want to air down.  Airing down allows your tire to flex and absorb the ground and its obstacles.  Tire exterior dimensions remain roughly the same when wheel size changes.
Having a smaller wheel means that there is more tire to wheel ratio which allows you to get more flex out of your tire.  I have also found that staying in a 16" wheel is cheaper when it comes to buying wheels and tires compared to a 17" wheel.
What is a Cab Mount (Body Mount) chop?
Ahhhh, the Cab Mount chop.
For some people, it is the thing you never want to do, for others, you say "just send it".  For those of you have been researching going with larger tires you have probably read somewhere that you might need to trim your cab mount (body mounts) back a bit depending on your setup. Depending on where you traverse on the internet, some guys refer to it as a cab mount and others a body mount. They are somewhat interchangeable terms.
Cab Mount Chop = What size Tire?
With the introduction of the 3rd Generation Toyota Tacoma, owners began running into an issue with oversized tires that wasn't such a big deal on 2nd Generation trucks. On 2nd Gen Tacomas, you will have fewer issues rubbing on your cab/body mounts as opposed to the 3rd Gen.
The cab mount is what mounts the body of the truck to the frame and is connected by a bolt and two bushings then surrounded by a piece of the steel frame to cover the bolt and two bushings. On the 3rd Gen Tacomas, the cab mount is ginormous, and on the 2nd Gen, not so much. The problem with the cab mounts is that they fill the whole back of the wheel well just under the firewall and limit your large tire capabilities. Chopping the cab mounts will allow you to comfortably run larger tires.
What size tires? With a cab mount chop, you should be able to run 33″ – 34″ comfortably and even into the 35″ range. At the 35″ tire range, though you may need to start cutting into your actual firewall.
No Cab Mount Chop = What Size Tire?
I recently learned that Toyota designed the cab mount to be so large to help increase the front-end crash rating of the truck. So now you might be asking what are your options? Many 3rd Gen Tacoma owners have been trimming off a portion of the large metal bracket and rewelding a plate to the front of the cab mount further back giving them extra clearance.
Another option is to choose a setup that does not interfere with the cab mount and keeps you in the clear.  So, what setup works if you don't want to cut your truck? Personally, I did not want to cut the cab mount on my 2019 TRD OFFROAD 4×4.
What size tires? I installed a Bilstein 5100 lift with Old Man Emu 2888 coil springs and SPC upper control arms.  This lift kit gave me roughly 3.5" inches of lift.  I then installed 285/75/16 (32.8×11.2) BFGoodrich KM3s mounted onto Method Race Wheels NV305s with a zero Offset. The truck now sits 4" higher than a stock Tacoma.
With this current setup, I experience absolutely no rubbing anywhere inside the wheel well or on the cab mount.
Leveling Kits and Spacer Kits
A very affordable way to increase the looks and height of your Toyota Tacoma is to install a metal spacer to the front coil springs.
These spacer style lifts are commonly referred to as leveling kits.  While a spacer will increase your ride height, and give you more clearance for bigger tires, it does not increase your off-road performance.  The largest tire size you can run with a leveling kit really depends on how much you want to chop up your beloved vehicle.  With a 2″ leveling kit, and no cutting or trimming you most likely will be stuck with a 32" tire.
If you move up to a small 33″ (32.7″) tire with a 2″ leveling kit, you will more than likely need to do some trimming of the fender liner.  33" tires are definitely doable, as long as you are okay with trimming and adjustments as you learn where it hits each time.
Lift Kits and Suspension Kits
Pictured: Daniel – @SeekOutBeauty
The most common suspension lift kit done to the 3rd Generation Toyota Tacomas is the Bilstein 5100 kit.
Like I previously stated I run these components on my own vehicle, and I am extremely happy with the results.  This lift kit is very popular due to its affordability, quality, and reputation.  Using this kit will get you in the ballpark of roughly 2.75"- 3.5" of lift.
So, what is the biggest tire you can run on a 3" lift?  The easy and safe answer is a 33" tire.  Wheel offset also plays a huge factor.  While you could clear a 285/75/16 on a zero offset, you might not be able to clear that same size on a -25 offset.  So, you might not clear your tires with a huge negative offset without cutting anything.  However, some minor cuts and trimming may be all that you need.
Working at Discount Tire, any time we work on a 3rd Generation Tacoma we test fit a wheel and tire every time.  This is just a precaution we take because there are so many different combinations out there.
Common examples with a 3″ of kit:
285/75/16 (32.8″): Rubbing unlikely
275/70R17 (32.16″): Rubbing unlikely
285/70R17s (32.71″): Mild rubbing on fender liners and possibly cab mount
285/75R17s (33.8″): Rubbing is highly likely
What About My TRD PRO?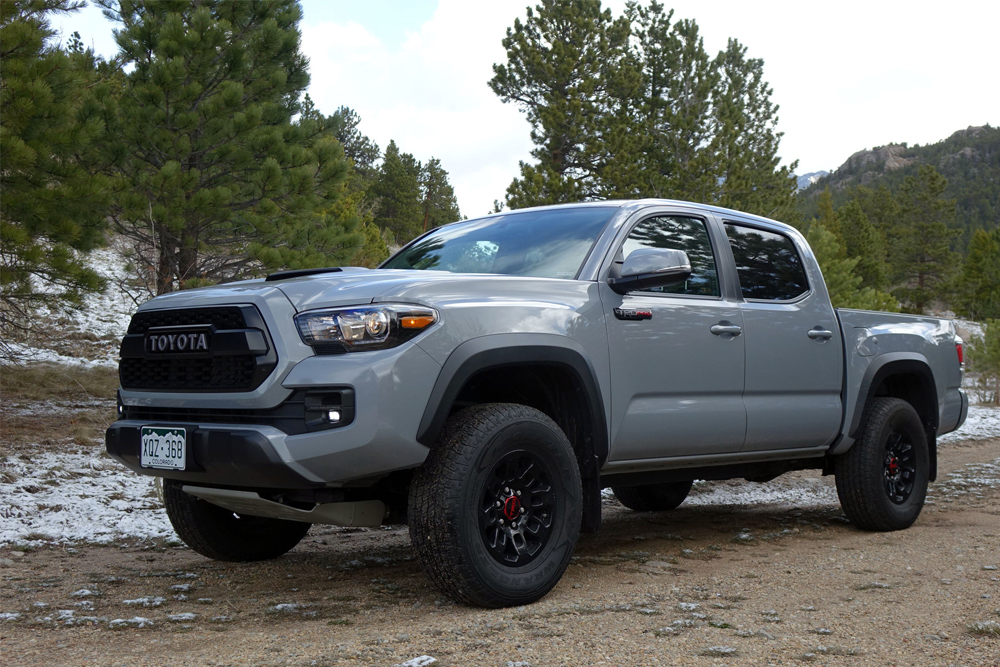 The TRD PRO is a finely tuned machine.
If you bought that truck you paid close to $40,000.  A huge amount of time and engineering went into the design of the TRD PRO.  However, there are only a few things that separate it from the TRD Off-Road.  Notably, the first thing is the FOX Racing Shocks.
If you plan to lift your TRD PRO, I urge you to toss the suspension completely and not ruin the ride quality by installing a spacer lift.  If keeping the FOX Suspension in the truck, the smart move is to upgrade the wheels and tires.
With a zero offset or potentially a -6 or -10, you can tuck a 285/70 series tire into your TRD PRO with only minor trimming and modifications needed.
So you want to run 35s
Pictured: Daniel – @SeekOutBeauty
I really don't know how else to say this besides, drop the face shield and start the flush cutter.
If you really want to run 35" tires you will need a huge cab mount chop or even a relocation of the cab mount. You will need to trim your fender liners very high and have adjustable suspension to play with ride height and quality.  Not to mention re-gearing the truck will almost be a requirement because of how big and heavy 35" tires are for the little 3.5L V6 Tacoma. Additionally, you can forget about fitting a spare tire in the spare tire mount location as anything above a 34″ tire warrants the need for relocating a spare.
Here is a breif overview of what it takes to fit 35″ tires on the Tacoma.
Below I have listed some of the most popular tires in the mid-size pickup range. These tires range from $100 per tire up to $500 per tire.
$100–$200 / per tire:
Yokohama Geolandar
Firestone Destination
General Grabber
Nitto Terra Grapplers
Toyo Open Country
Cooper Discoverer AT3 4S
Cooper Discoverer AT3 LT
Cooper Discoverer AT3 XLT
Cooper Discoverer ATP
Cooper Discoverer S/T MAXX
Falken Wildpeak
$200–$500 / per tire:
Cooper Discoverer STT Pro
BF Goodrich KO2
BF Goodrich KM3
Toyo Open Country AT 2
Toyo Open Country MT 2
Cooper Discoverer STT Pro
Cooper Evolution MT
Cooper Discoverer MTP
Goodyear Duratrac
Nitto Trail Grapplers
Goodyear Wrangler Duratrac
If you found this article, you probably already have an idea of what you want and came here to clear up your doubts.  If you just bought your truck and have no idea what you want to do, hopefully, this gave you some ideas.
Now if I could give my professional opinion as far as stress on the vehicle, fuel economy, modifications required, and total cost; the best route to go with your Toyota Tacoma is to install a 3" lift and a 33" tire with wheels that have a zero or negative offset.