A Detailed Compilation of the Top Aftermarket Performance Cat-Back Exhaust Systems for 3rd Gen (2016+) Toyota Tacoma – Complete Buyer's Guide & Product Overview
Toyota did a great job designing the 3rd Gen Tacoma, but they left a few things to be desired in some key areas. One of these areas is the powertrain and exhaust. If you've ever been behind the wheel of a Tacoma, you know that the engine noise is pretty muted, and the performance is nothing to write home about either. That's generally expected for the consumer market, but as people who like to mod their trucks, we want more!
Luckily, there are plenty of mods you can do to remedy this issue, starting with a quality exhaust kit upgrade. In this post, I'll be diving deep into all of the exhaust options for the 3rd Gen Tacoma to help you decide which one to go with. Check it out below.
Engine Exhaust Explained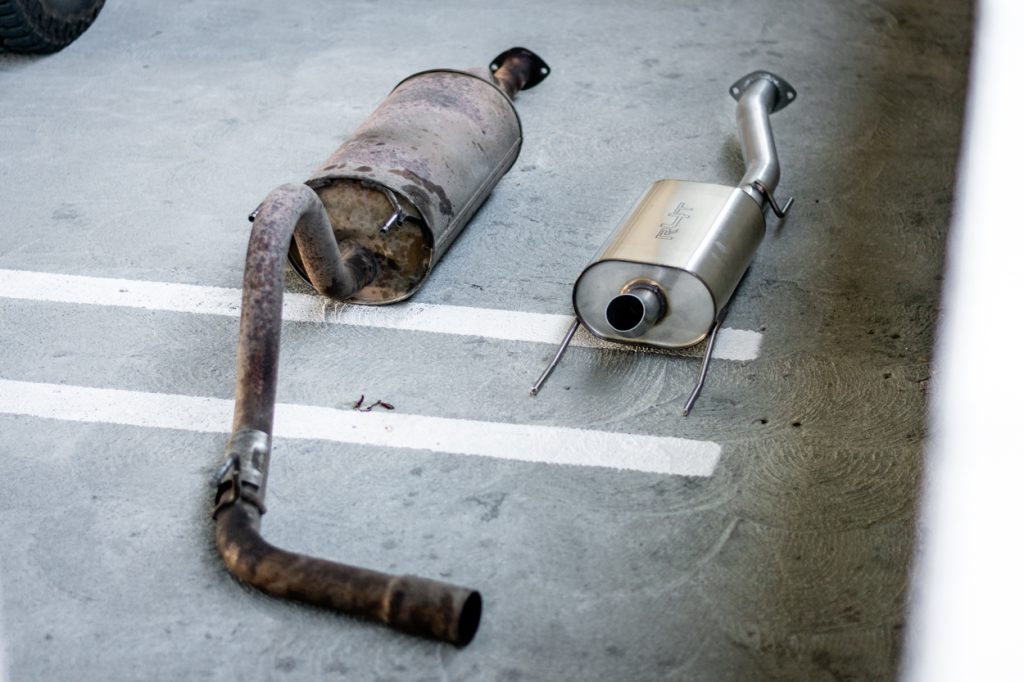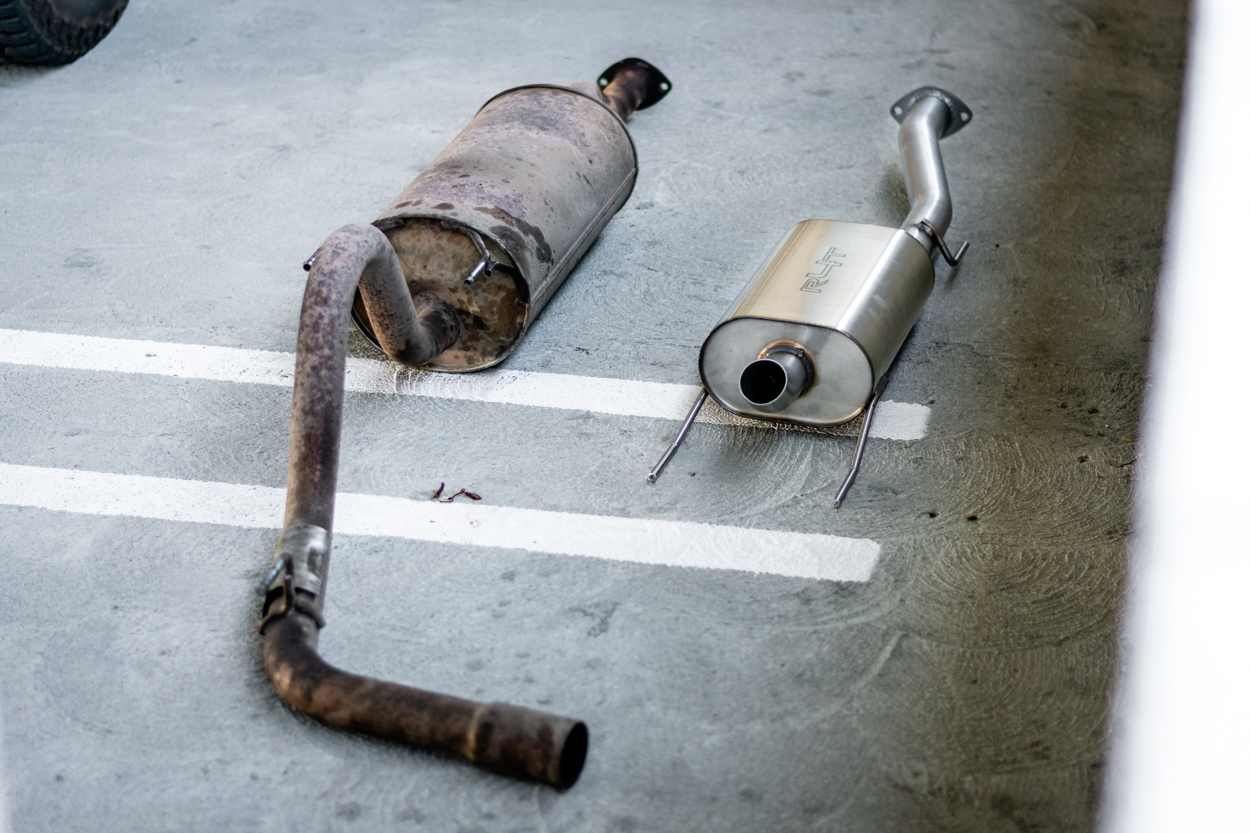 A car's exhaust is an often-overlooked system that's crucial for the vehicle's performance. During the last stage of a typical engine's combustion cycle, the exhaust gasses are ejected from the engine by the piston. This exhaust gas then travels into the headers, through the catalytic converters, and into the exhaust piping, where it travels through the muffler and ultimately exits the vehicle. Allowing this gas to move as freely as possible through these stages can increase your engine's power output and keep it running smoother for longer.
What Does An Upgraded Exhaust Kit Do?
Changing out the OEM exhaust system has many benefits. These kits all allow exhaust gasses to exit the engine more effectively, meaning you get smoother and more powerful performance. Based on which kit you choose, you also get an enhanced engine sound both inside and outside the vehicle.
Some systems are tailored for a deeper, lower volume, while others prioritize a loud and aggressive sound. You also have your choice of various finishes and exhaust tips as well, adding to the aesthetics of your build. In some cases, you can even gain some valuable ground clearance by switching to a turn-down style, high-clearance exhaust system.
While each of the kits below advertises slightly different sounds and performance gains, they are all CARB certified and are legal to use in all 50 states. These kits are also considered cat-back style systems, meaning they replace everything after the catalytic converters. There are more involved kits that replace the factory headers and catalytic converters, but this article will focus on the more DIY-friendly cat-back options.
Before purchasing, we recommend checking out the manufacturer's website to ensure a kit fits your specific vehicle. Images and videos of the exhaust in action are provided when possible.
1. aFe Power
aFe Power has several different options for the 3rd Gen Toyota Tacoma. So you've got plenty to choose from. Let's quickly run through all of them.
Find It Online
Rock Basher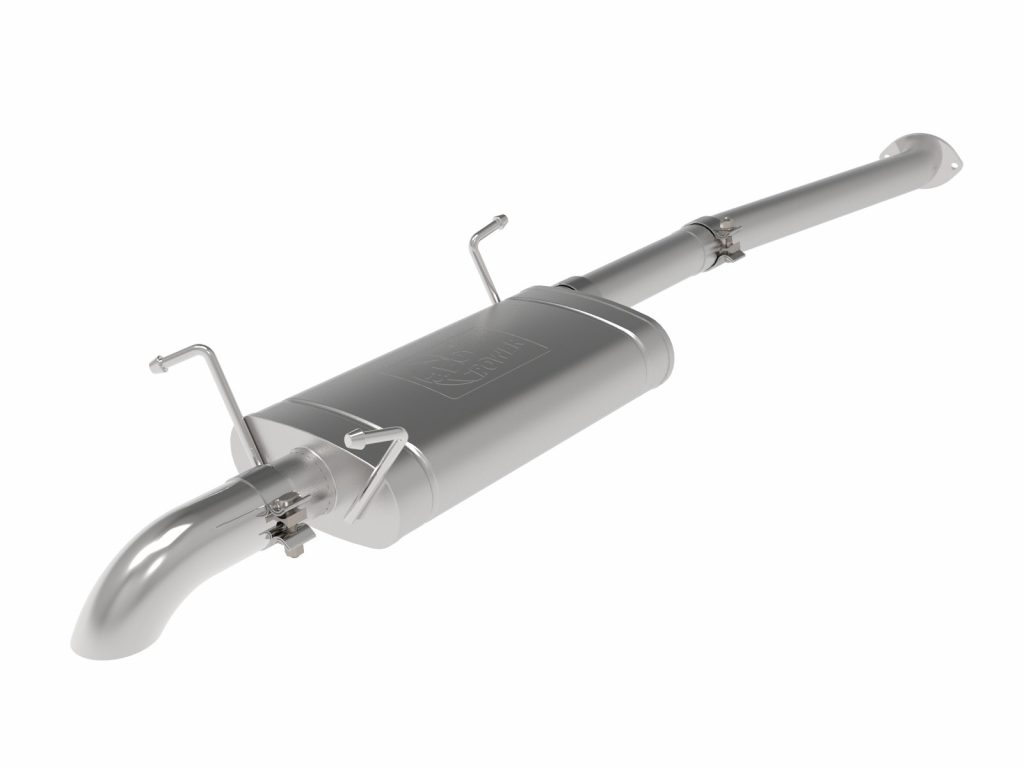 This cat-back exhaust system comes with a hi-tuck tip that is designed to give you extra clearance on steep, technical off-road features, protecting your exhaust over rough terrain.
Constructed of 2.5″ mandrel-bent 409 stainless steel tubing, it offers maximum strength and durability. Finishing off this exhaust system is a 2.5″ diameter 304 stainless steel clamp-on exhaust tip.
Rock Basher Video Clip
Mach Force-XP – 2.5", 3″ & XP Hi-Tuck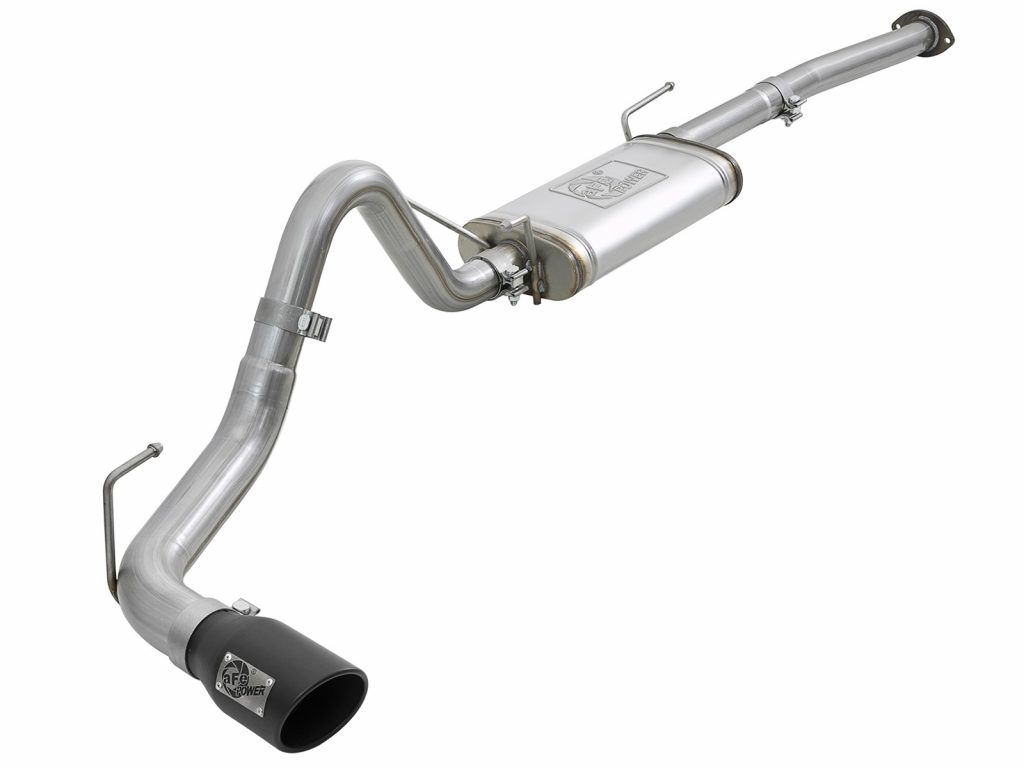 Release the untapped horsepower, torque, and sound from your Tacoma with aFe's Mach Force-XP exhaust system. All of these exhaust systems are constructed from 2.5″ to 3" mandrel-bent 409 stainless to improve flow and provide lasting performance. On their in-house dyno, these exhausts offer an average of +9 horsepower and +10 ft-lb torque.
The Mach Force-XP system features a high-flow, straight-through designed, 409 stainless steel muffler for improved performance that delivers an aggressive tone. To finish off the exhaust, the 2.5″ and 3″ systems come with black tips, and the Hi-Tuck comes with a polished tip.
Mach Force-XP 3" Video Clip
Mach Force-XP Hi-Tuck Video Clip
2. Bold Performance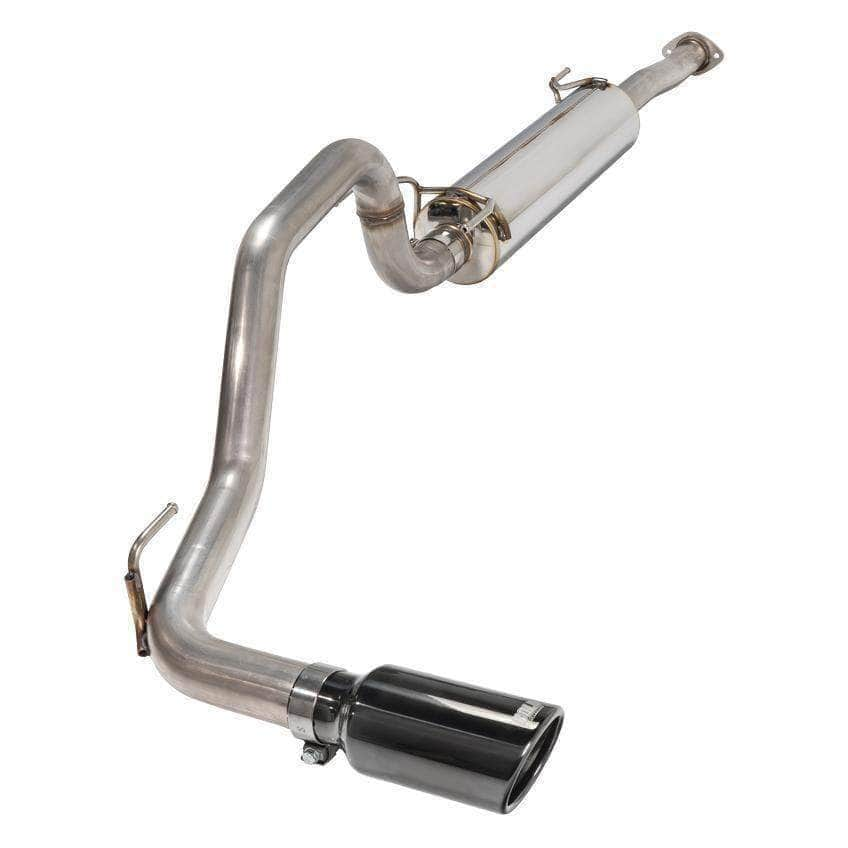 Bold Performance exhausts offer a high-quality upgrade and serve as a clean and cost-effective solution to toughen up your 3rd Gen Tacoma. It's constructed of 2.5″ mandrel-bent T-304 stainless steel with a polished 304 stainless steel hi-flow muffler. This kit comes with both a black polished and chrome polished tip, so you can decide after installing which one you'd like to run!
Find It Online
3. Borla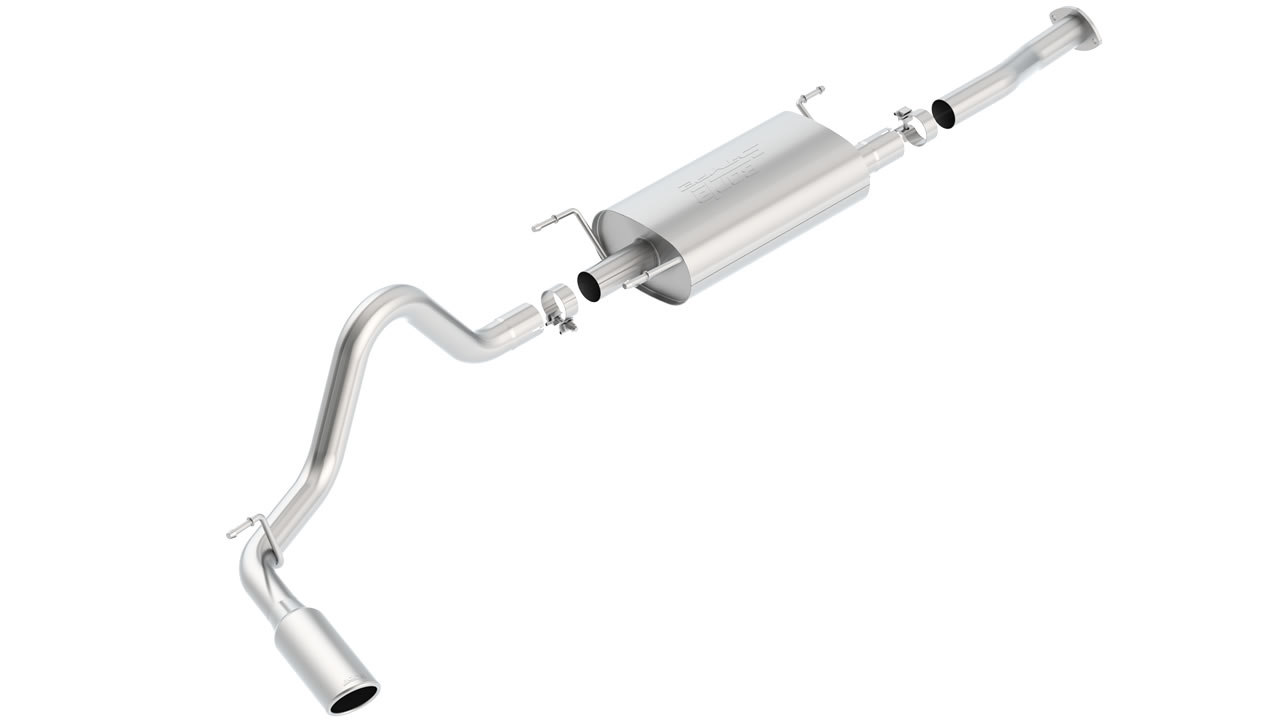 This exhaust system is built from premium T-304 austenitic stainless steel to give you the best performance and durability. Ultra-smooth mandrel bends ensure maximum flow and power, and precision CNC manufacturing ensures an accurate fit. Finishing the exhaust system is a bright chrome T-304 stainless steel tip.
Borla Cat-Back exhaust systems feature patented straight-through and multi-core technology to unleash the hidden horsepower in your Toyota Tacoma.
Find It Online
Borla Video Clip
4. Carven Exhaust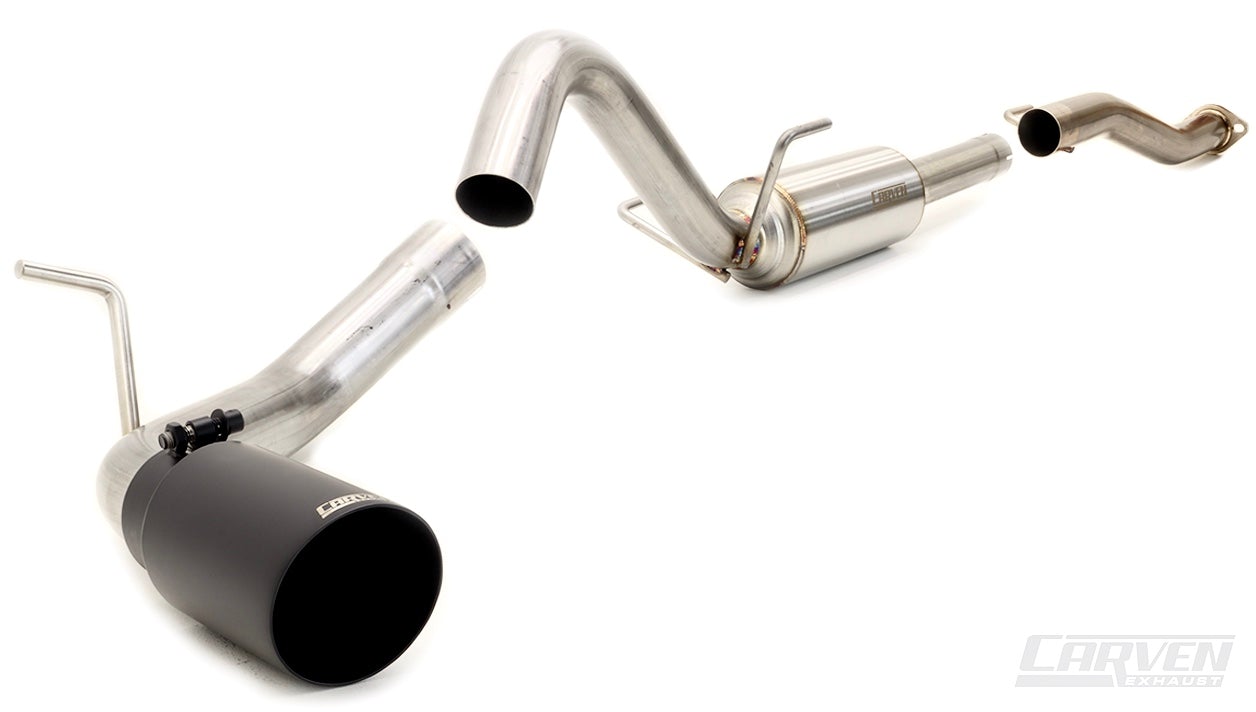 Carven Exhaust systems are built from stainless material assembled with TIG welding processes and are engineered to maximize performance, offering noticeable horsepower and torque gains.
The Carven Exhaust delivers an overall aggressive tone at idle, cruising, and on acceleration with minimal in-cab noise. To finish the system, you have your choice of a smoked black tip or a polished silver tip. As a bonus, this exhaust system is proudly made in the USA!
Find It Online
Carven Video Clip
5. R4T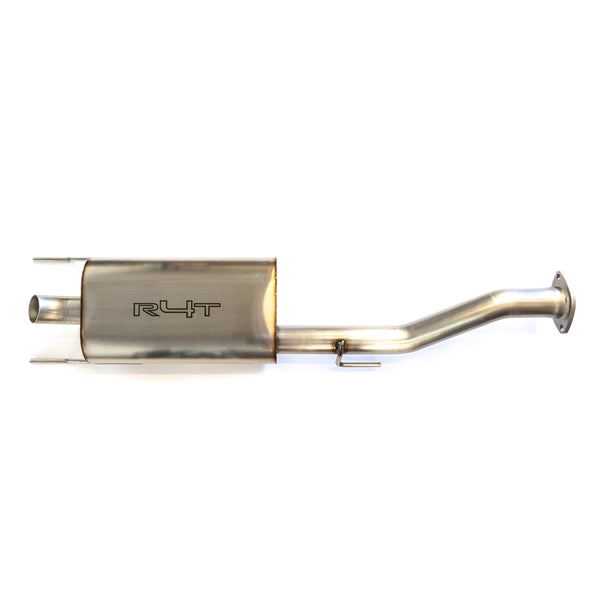 One of the most popular names in the aftermarket Tacoma community has finally released its take on a high-performance, high-clearance exhaust kit. The Runnin4Tacos high-clearance exhaust is made of stainless steel, so there won't be rust or corrosion issues like cheap exhausts on the market.
As they say, "We have tested a lot of cat-back exhaust systems in the past and most of them are either too loud and/or they have a bad drone at highway speeds." That's why this exhaust kit is specifically designed to provide the perfect sound and performance for your 3rd Gen Tacoma.
Check out our R4T exhaust install, review, and overview post here.
Find It Online
R4T Video Clip
6. Corsa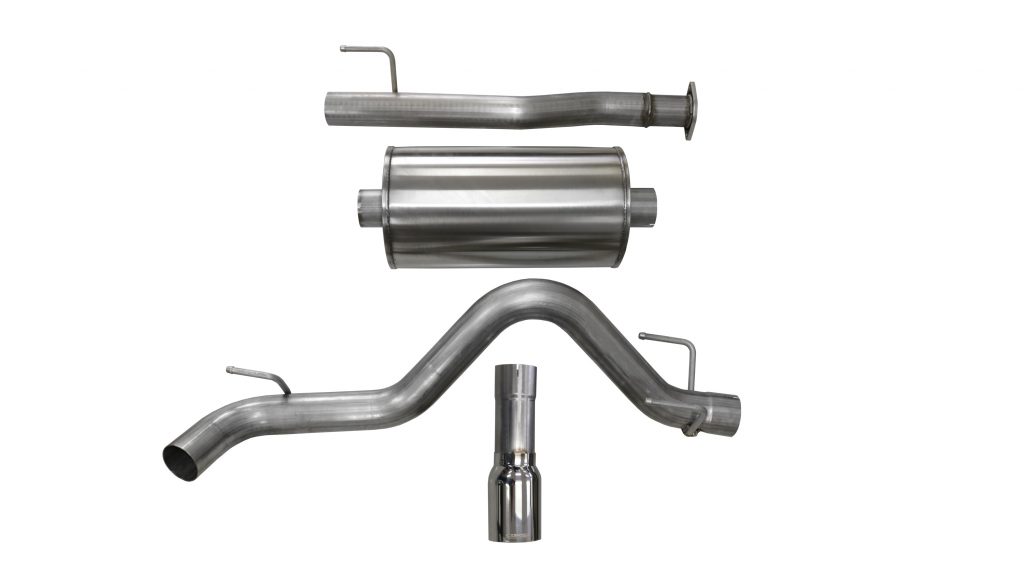 This Corsa Tacoma exhaust kit is made from premium stainless steel and features mandrel-bent straight-through tubing to maximize performance with a polished stainless tip to finish. Corsa also includes its patented no-drone, reflective sound cancellation technology in this system, so you can be sure it'll sound great with heavy throttle and tame when needed. Corsa also proudly manufactures its exhaust systems in Berea, Ohio!
Find It Online
Corsa Video Clip
7. Flowmaster
One of the more recognizable names on this list, Flowmaster is one option you should definitely consider. These guys have been around for a while, and they have a TON of options for the Tacoma. Enough options to make your head spin! Be sure to give a close look to this lineup.
Find It Online
Flow FX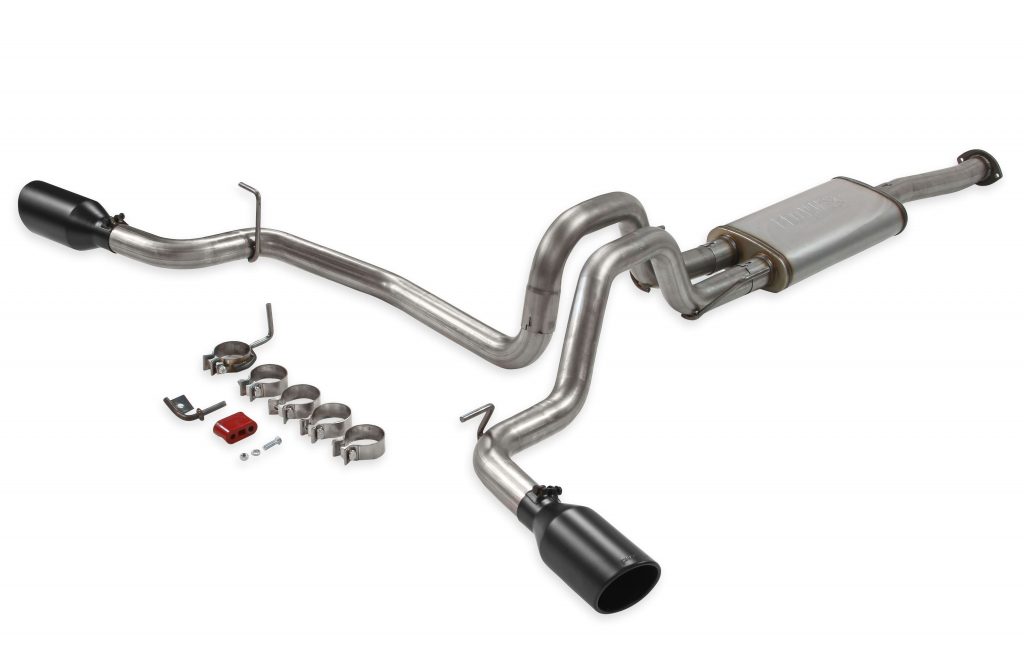 The Flowmaster Flow FX exhaust systems are manufactured using durable 409 stainless steel and feature a 2.5″ inlet pipe leading to a single inlet/dual outlet Flow FX straight-through muffler for great sound and performance. Depending on which model you purchase, the exhaust features a single or dual 2.5″ mandrel-bent stainless steel tailpipe that exit out each side, venting exhaust away from your vehicle and towing load.
The single and dual systems are finished off with a pair of 4.5″ diameter black ceramic coated 304S stainless steel tips for an aggressive look. The Extreme version of this system features a turndown-style dump exit right after the muffler to eliminate the over-axle tailpipe, improving ground clearance.
Flow FX Single Video Clip
Flow FX Dual Video Clip
Flow FX Extreme Video Clip
American Thunder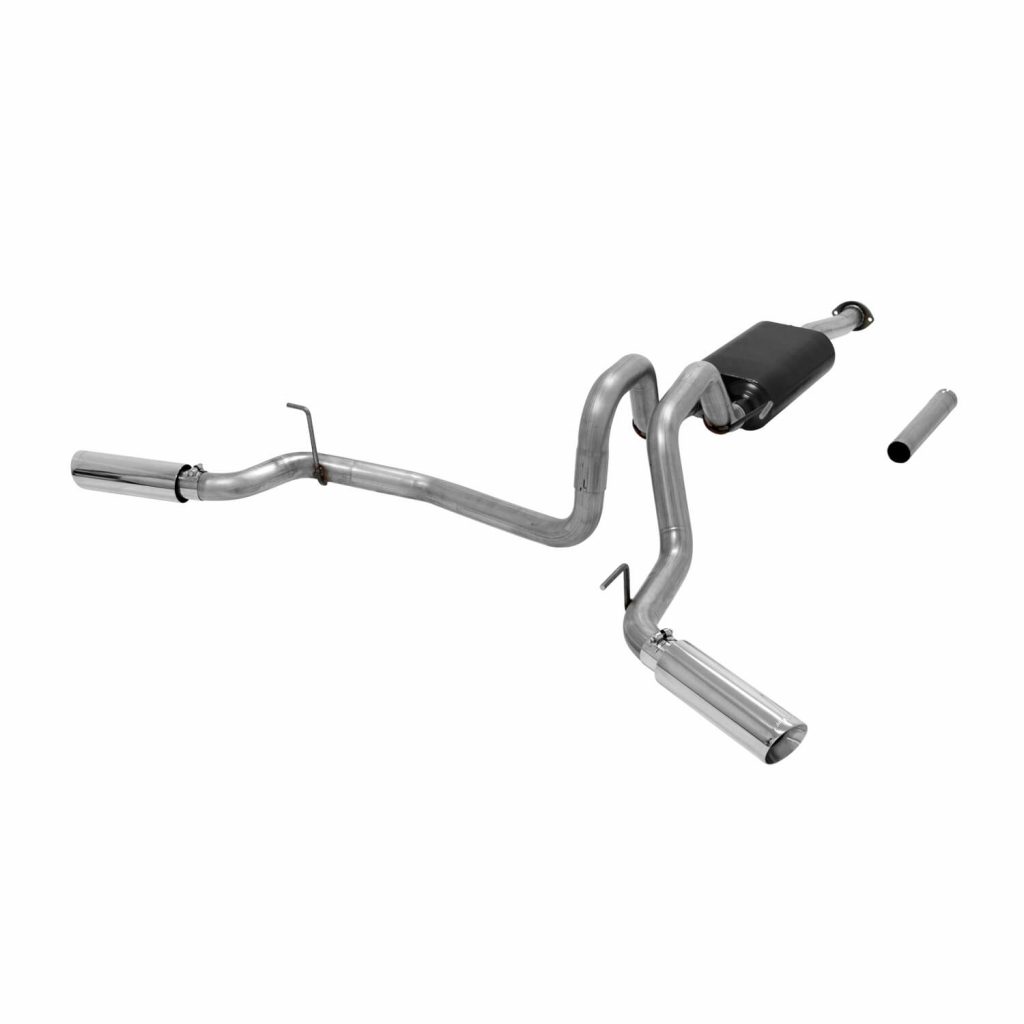 The American Thunder cat-back exhaust system for the 3rd Gen Toyota Tacoma is perfect for those looking for a moderately-aggressive exterior sound level while maintaining a moderate interior tone. The flanged stainless steel system connects directly to the back of the catalytic converter, and the 2.5″ mandrel-bent tubing runs into a single inlet/dual outlet Super 50 Series muffler exiting into dual 2.5″ mandrel-bent stainless steel tailpipes.
American Thunder Video Clip
Outlaw Extreme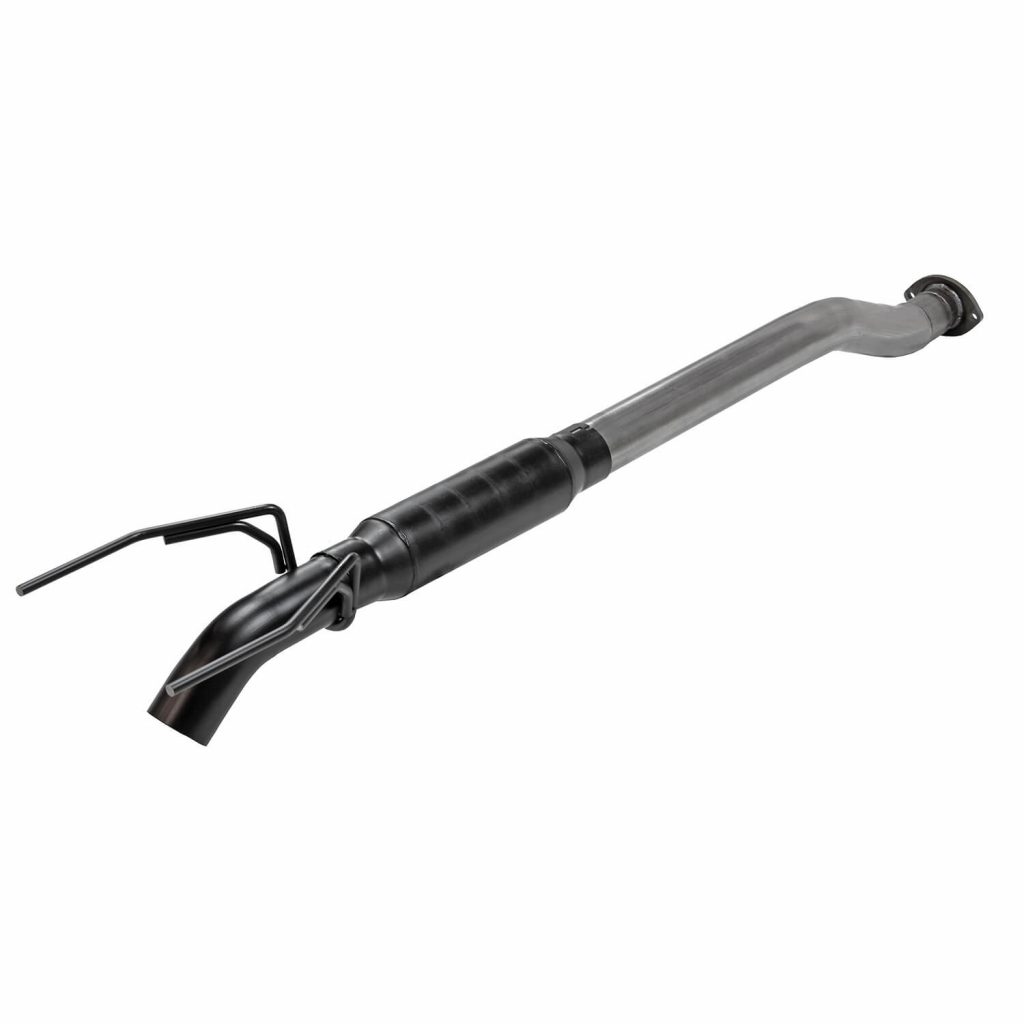 As Flowmaster's most aggressive offering, this system uses an Outlaw series muffler for a deep, powerful sound and increased performance. The 3″ mandrel-bent 409 stainless steel tubing allows for maximum exhaust flow and durability. The system has a turndown-style dump exit right after the muffler for improved ground clearance.
Outlaw Extreme Video Clip
8. Gibson Exhaust
Gibson Exhaust's offering for the Toyota Tacoma is specifically designed to provide ample power and torque while remaining quieter inside the cab than other performance exhaust systems from other manufacturers. The exhaust is constructed from T-304 stainless steel and finishes with a polished steel tip. Gibson's 3rd Gen Tacoma exhaust is backed by a lifetime limited warranty for peace of mind.
Find It Online
Gibson Exhaust Video Clip
9. JBA Exhaust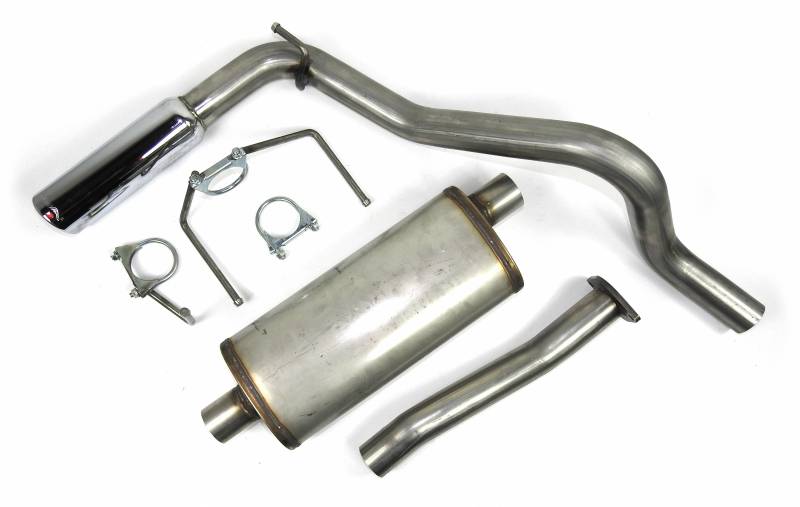 JBA delivers the best of both worlds when it comes to performance exhaust systems, giving your Tacoma great looks and solid performance boosts. Knowing exhaust is often the first "performance" upgrade many people make, JBA builds each system by replacing the restrictive factory exhaust system with free-flowing mandrel-bent stainless tubing and quality performance mufflers.
They also tune them to provide the best possible exhaust tone without being overwhelming from within the vehicle. Each kit is finished with a polished chrome-plated stainless steel tip that resists discoloring, high-quality hardware, and thorough instructions for a simple bolt-on installation.
Find It Online
10. MagnaFlow
MagnaFlow is dedicated to engineering and manufacturing the finest exhaust systems on the market. Their kits are constructed of premium materials and carefully designed for the best fitment and performance for your peace of mind. Another solid contender that has designed quality exhausts for a while. A lifetime warranty backs each MagnaFlow kit.
Find It Online
Street Series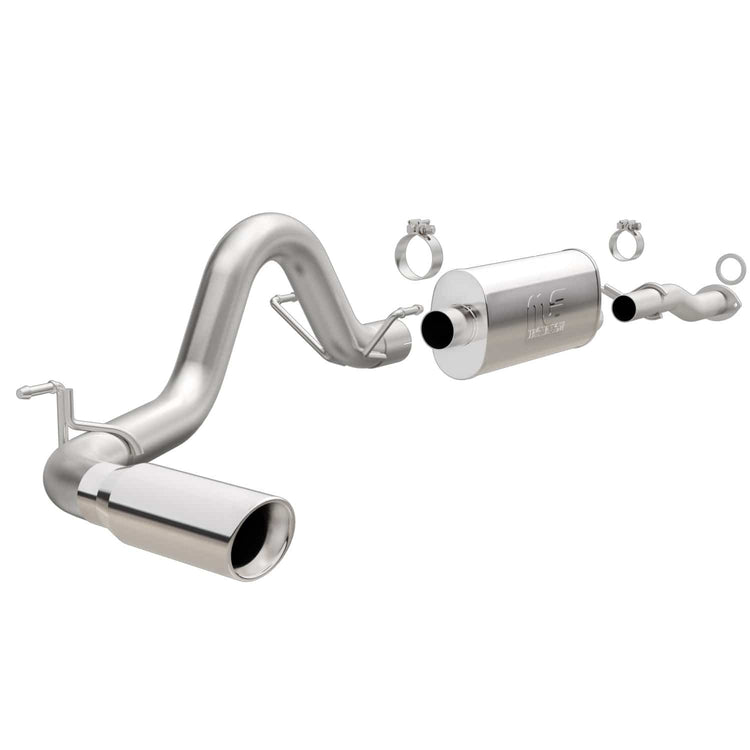 Let's first take a look at the Street Series. This Stainless Performance Exhaust system delivers dyno-proven power while maintaining a comfortable interior sound and a more aggressive exterior sound.
Street Series Video Clip
Overland Series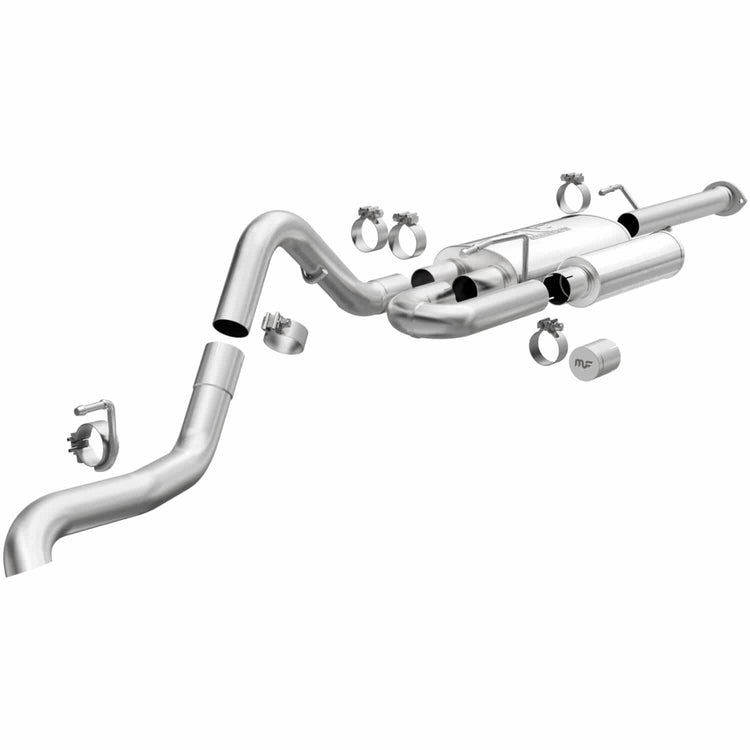 The MagnaFlow Overland Series Performance Exhaust System brings MagnaFlow's signature deep rumble and dyno-proven performance to your 3rd Gen Tacoma. Each exhaust kit's weight is optimized to improve performance and clearance. The mandrel bent 3" piping and single straight-through muffler are tucked up closer to the body of the vehicle, and the no-tip, high-clearance passenger-side rear exit improves the ground clearance of your Tacoma.
This exhaust kit also features a built-in "No Drone Technology" resonator, which eliminates unwanted interior noise by canceling the natural droning frequencies your Tacoma produces at highway speeds. MagnaFlow's NDT resonator does all this while retaining the characterful exhaust tone of your truck's motor. A lifetime warranty backs each MagnaFlow kit.
Overland Series Video Clip
11. MBRP
MBRP is a popular choice among many Tacoma owners. We've seen many builds run these setups. MBRP has a good reputation and may be an excellent choice for your truck. MBRP offers a three-year limited warranty on all exhaust kits.
Find It Online
XP Series
MBRP's XP Series exhaust systems offer a free-flowing design, 16-gage aluminum construction, moderate engine noise improvements, and various exit options. The single-exit kit comes with a turn-down style exit that eliminates a large portion of exhaust tubing, providing more ground clearance when driving off-road.
Both the single and dual side exits provide better exhaust evacuation from the rear of the truck than stock and come with either a black or polished exhaust tip.
Check out our MBRP XP Exhaust install, review, and overview post here.
XP Series Rear Exit Turn-Down Video Clip
XP Series Dual Side Exit Video Clip
Installer Series
The Installer Series exhaust kits from MBRP are a more traditional exhaust kit made from heavy-duty aluminized steel. These kits offer a slightly richer, louder tone than the XP series but avoid excessive droning and cabin noise. You have your choice of turn-down, single, and double side exits, just like the XP series. The single and dual exits are finished with a polished steel tip.
Installer Series Single Turn Down Video Clip
Installer Series Dual Side Exit Video Clip
Black Series
The Black Series kits from MBRP provide an aggressive blacked-out appearance and a more aggressive boost in performance and engine sound. Both options are finished with a black exhaust tip.
Black Series Single Side Exit Video Clip
Black Series Dual Side Exit Video Clip
Performance Series
MBRP's power-focused kit, the Performance Series, delivers the optimal exhaust note and maximum power for those looking to get the most out of their exhaust upgrade. This kit comes with a single side exit without an exhaust tip and is made of the same heavy-duty aluminized steel as the Installer Series.
Performance Series Single Side Exit Video Clip
12. Stromung
Stromung is the final choice on the list and offers two different options for the Tacoma.
Find It Online
OEM Style
Stromung's OEM-style exhaust kit for the Toyota Tacoma is a purpose-built, high-quality upgrade to your truck. The kit boasts modest performance gains and a mild, deep exhaust tone, and finishes in a standard steel tip.
Tucker Style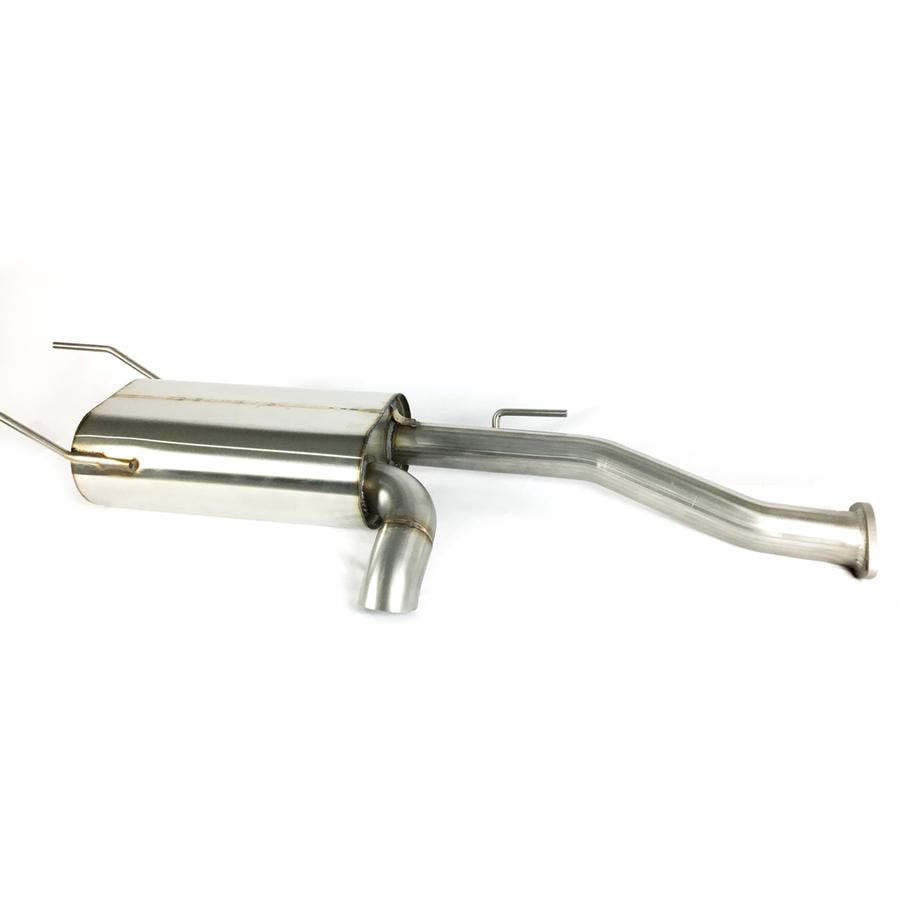 Stromung's Tucker-style exhaust kit for the Toyota Tacoma is constructed in the same way as the OEM kit but with a rear turn-down exit instead of a standard side exit. This high-quality, high-clearance kit improves the tone of your exhaust, offering a slightly louder sound than the OEM kit.
Final Thoughts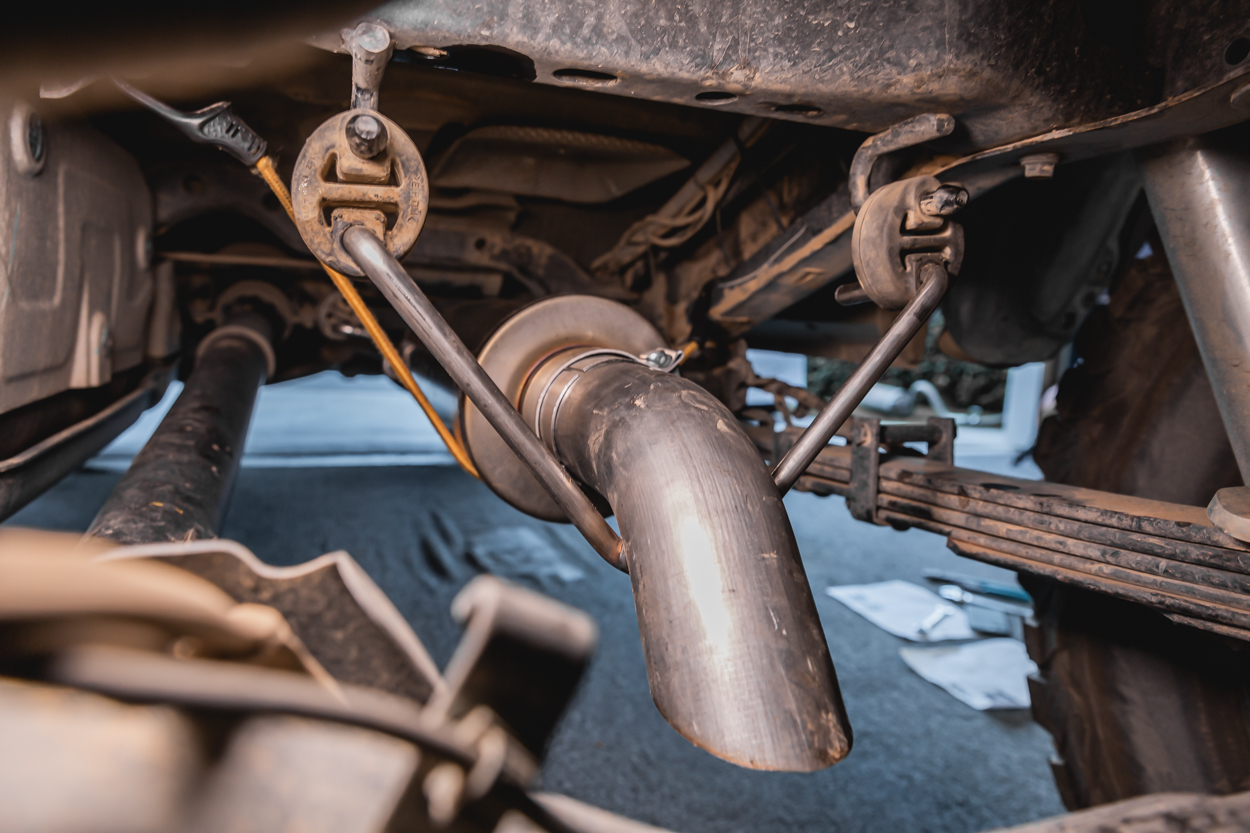 Replacing the exhaust on your 3rd Gen Tacoma can improve your truck's looks, sound, and performance. These reputable companies make great, high-quality products and offer warranties on their kits, giving you peace of mind. We know someone personally that runs almost every one of these replacement kits and feel comfortable recommending them to the Toyota community!
Hopefully, I've helped open your mind a bit to the world of exhaust options for your rig. Check out the links to any of the exhausts that interested you for more information, but if you still have questions, feel free to comment below!