7 TRD Pro Tacoma Setups & Their Owner's Top 5 Must-Have Mods – Tacoma Off-Road & Overland Inspiration in 2022
Hey everyone, welcome back to yet another Taco Tuesday! If you missed last week's TT, we focused on Tacomas with Lo-Pro bumpers. This week we are taking a bit less of a mods-specific approach and instead of taking a look at the TRD Pro trim level for the 3rd Gen Tacoma.
I thought that this would be a cool topic since Toyota USA just announced that the 2023 Toyota Tacoma TRD Pro exclusive color will be Solar Octane. Before we dive into these 7 rigs and their top 5 mods, let's get a quick recap of the previous TRD Pro exclusive colors offered for the Tacoma.
7 Overland Ready TRD Pro Tacomas
Brief History Of The TRD Pro
Oddly enough, the TRD Pro trim started with the 2nd gen Tacoma. For the 2015 model year, the last of the 2nd generation Tacoma, Toyota went ahead and ended the 2nd Gen's run with the rare Inferno colored TRD Pro.
This truck was only available in 2015 and it is still one of the rarest Tacomas out there today. That rarity factor pretty much started the whole craze for the TRD Pro trim. Their "exclusive colors", unique looks, and additional off-road features put them over the top when compared to their TRD Off-Road counterparts. They are perfect for buyers who want a rig worthy of the trails right off of the lot. Only 1,200 ish units are made every year.
The 3rd Gen Tacoma debuted in 2016. Unfortunately, this was a gap year for the TRD Pro trim for the Tacoma. While both 4Runner and Tundra received Quicksand as the exclusive color, the Tacoma just wore it on other trims with no special off-road goodies.
For 2017, Toyota finally brought back the TRD Pro for the Tacoma in the Cement color. Cement is a crowd favorite when it comes to TRD Pro colors. It has some metallic flake to it that takes a different hue depending on the lighting.
For 2018, the best color came on the TRD Pros, Cavalry Blue. This muted blue color wasn't all that popular at first. It was more of a "baby blue" to a lot of people. However, this awesome color ultimately started to win people over as build after build started to take shape on Instagram.
In 2019 Toyota hit us with another blue, but this time it was not another muted baby blue. This blue was BOLD, enter Voodoo Blue. It definitely popped and you could see these TRD Pros from a mile away!
2020 toned it back down with Army Green and 2021 was a mix of Army Green and Cement in the form of Lunar Rock. Lunar Rock is one of my favorite colors for the Tacoma, hands down.
The most recent TRD Pro exclusive color is Electric Lime Metallic for the 2022 model year. This color is one of those love-it-or-hate-it colors for sure. However, Toyota now gave the TRD Pro some TRD Billet Aluminum UCAs and stretched the fox suspension another inch to make the TRD Pro even more aggressive.
The TRD Pro is cool for sure, and you'll always have those that build up a TRD Off-Road to be better than a Pro (at least in stock form) for less money as I did with my Tacoma. At the end of the day though, we all know a real TRD Pro when we see it and we as Toyota enthusiasts know just how rare they truly are.
1. Kevin Gomez (@ghost_trdpro) – 2017 TRD Pro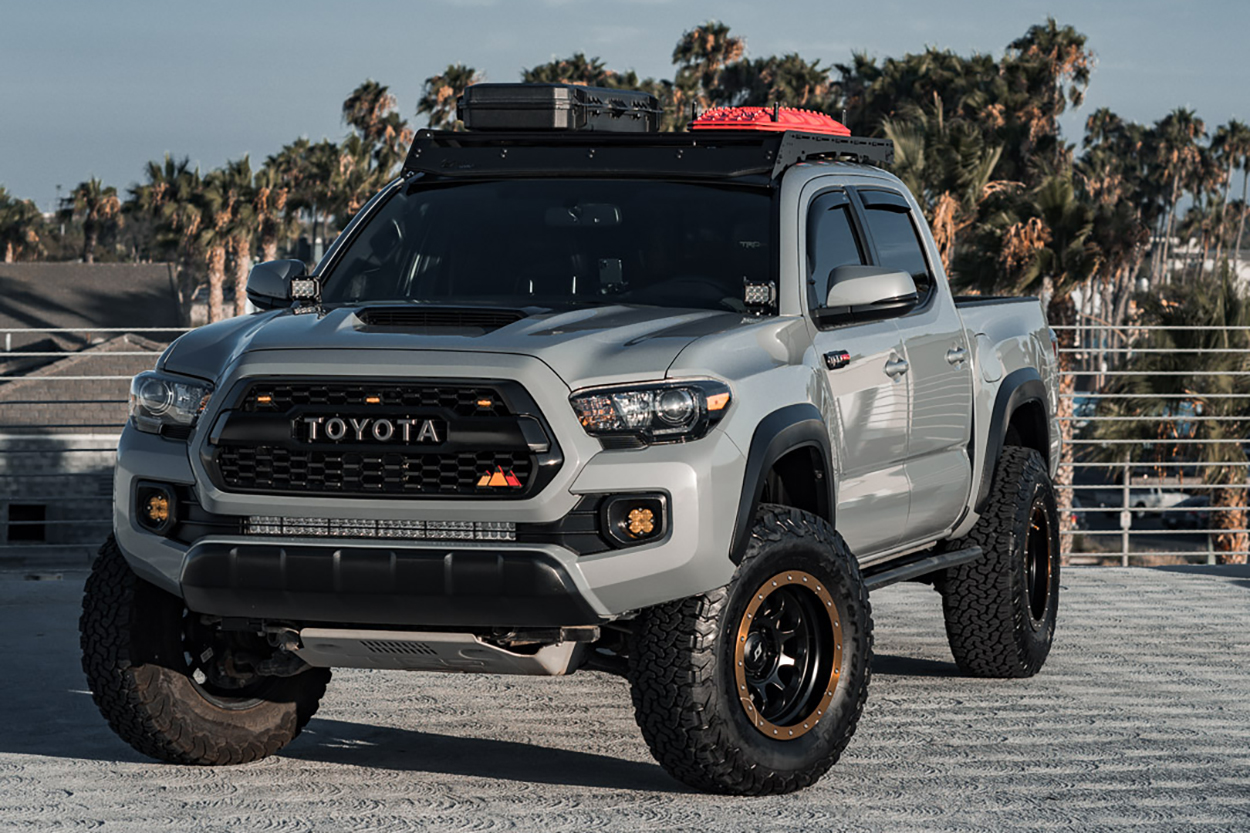 Top 5 Mods
Westcott Designs TRD Pro lift kit
Beyond Wraps roof wrap
What Do You Like Most About Your Setup?
One of the things I appreciate about my rig is the onboard ARB twin compressor. It is mounted using a Slee off-road compressor mount designed for use under the hood, next to the air intake. It just makes life a lot easier. The ability to pop the hood and plug in the air hose is easier than having to set up a portable compressor on the floor. A lot of people don't like having to open the hood, but an added bonus is allowing the engine to cool down, especially if you've been wheeling for hours.
2. Cole Gilliland (@wvytaco) – 2018 TRD Pro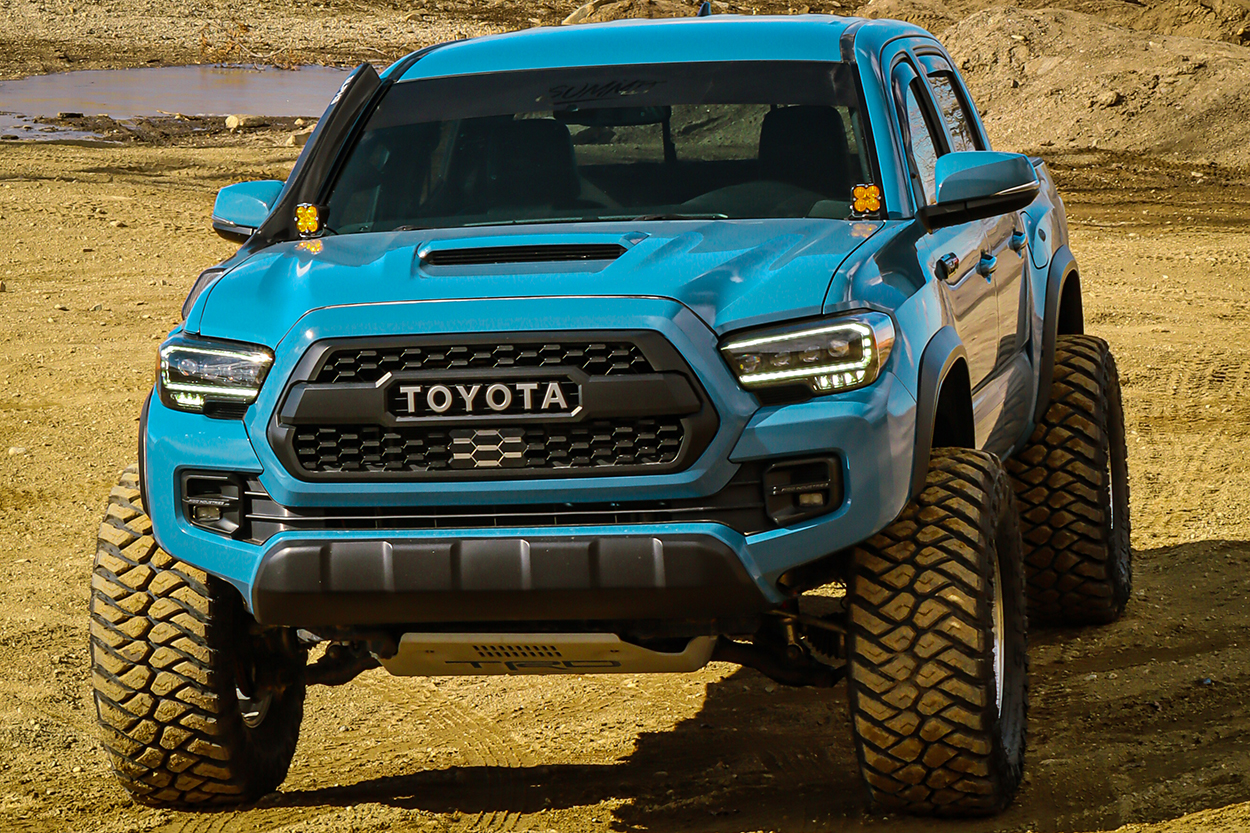 Top 5 Mods
Go Fast Camper
Maxxis RAZR Tires (35×13.5/17)
Summit Off-Road Sierra Wheels
Deaver HD Stage 3 Leaf Springs
What Do You Like Most About Your Setup?
This Cavalry Blue Tacoma has been an amazing vehicle for me! I love the leather interior as it is a piece of cake to clean from the dirty dogs! The 2.5-inch Fox Coils and Shocks that come standard on the TRD Pros ride AMAZING. The Go Fast Camper has made the camping experience both simple and enjoyable as it's the quickest setup and tear-down you can get! Last but not least, the 35-inch tires are almost a necessity for off-road clearance and comfort when aired down.
Top 5 Mods
Addictive Desert Designs HoneyBadger Front Bumper
Cali Raised LED Ditch Lights
RCI Low Profile Bedrack
18″ Fuel Anza Rims
Nitto Ridge Grapplers A/T Tires (33×12.5)
What Do You Like Most About Your Setup?
There are so many things that I love about my TRD Pro Tacoma but if I had to pick one, it would have to be the reliability of not just the truck, but also the high-quality mods that are being developed. This truck has given me the ability to go almost anywhere I've wanted to go. I could go on and on about mods all day long, but at the end of the day, the truck itself is just amazing!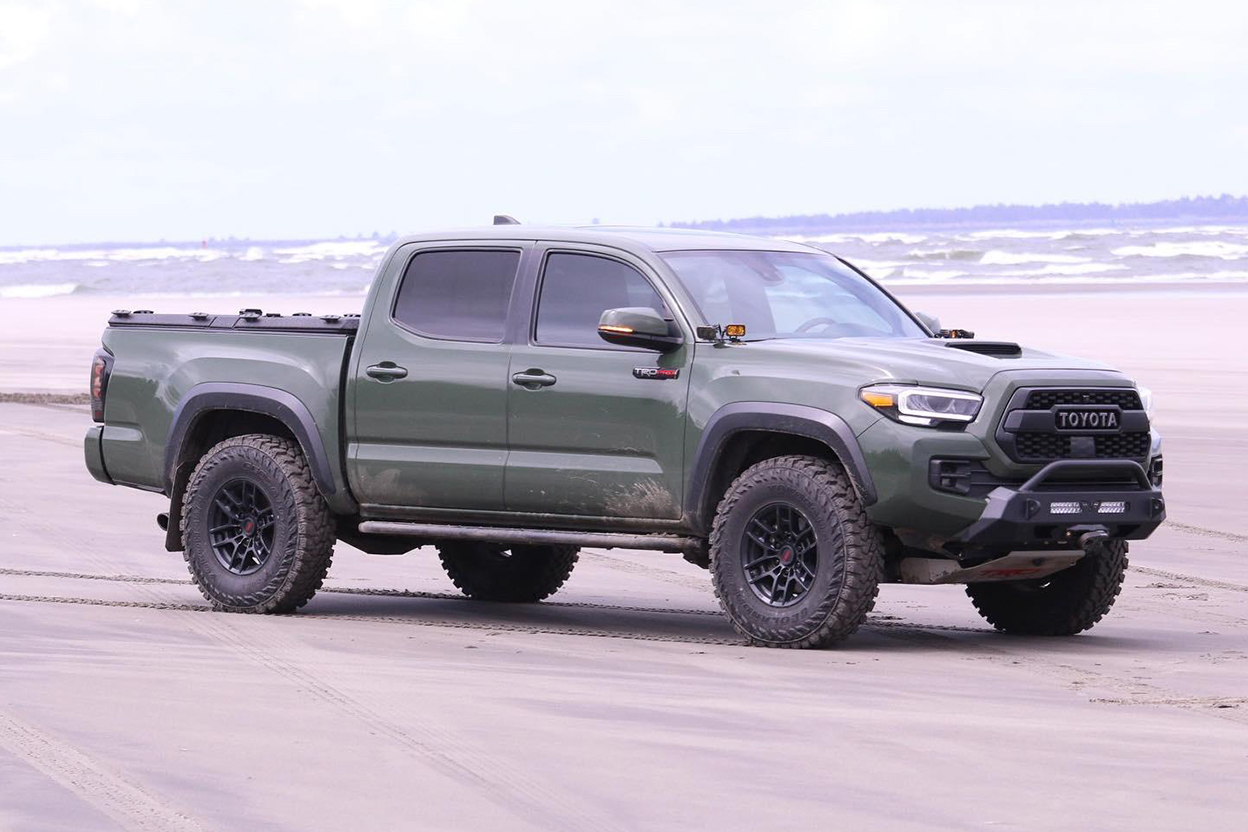 Top 5 Mods
Victory 4×4 Blitz Front Bumper
Cali Raised Off-Road Rock Sliders
RCI Transmission + Transfer Case Steel Skids
Diamondback HD Bed Cover
Yokohama MT Tires (255/85r16)
What Do You Like Most About Your Setup?
My favorite part of this truck is the paint color. Toyota really outdid itself with Army Green on the 3rd Gen Tacoma. The color changes quite a bit depending on the lighting. It also hides scratches and dirt pretty well. Paired with black badging and no chrome, it's a great-looking color scheme.
5. William Briones (@sick.taco) – 2021 TRD Pro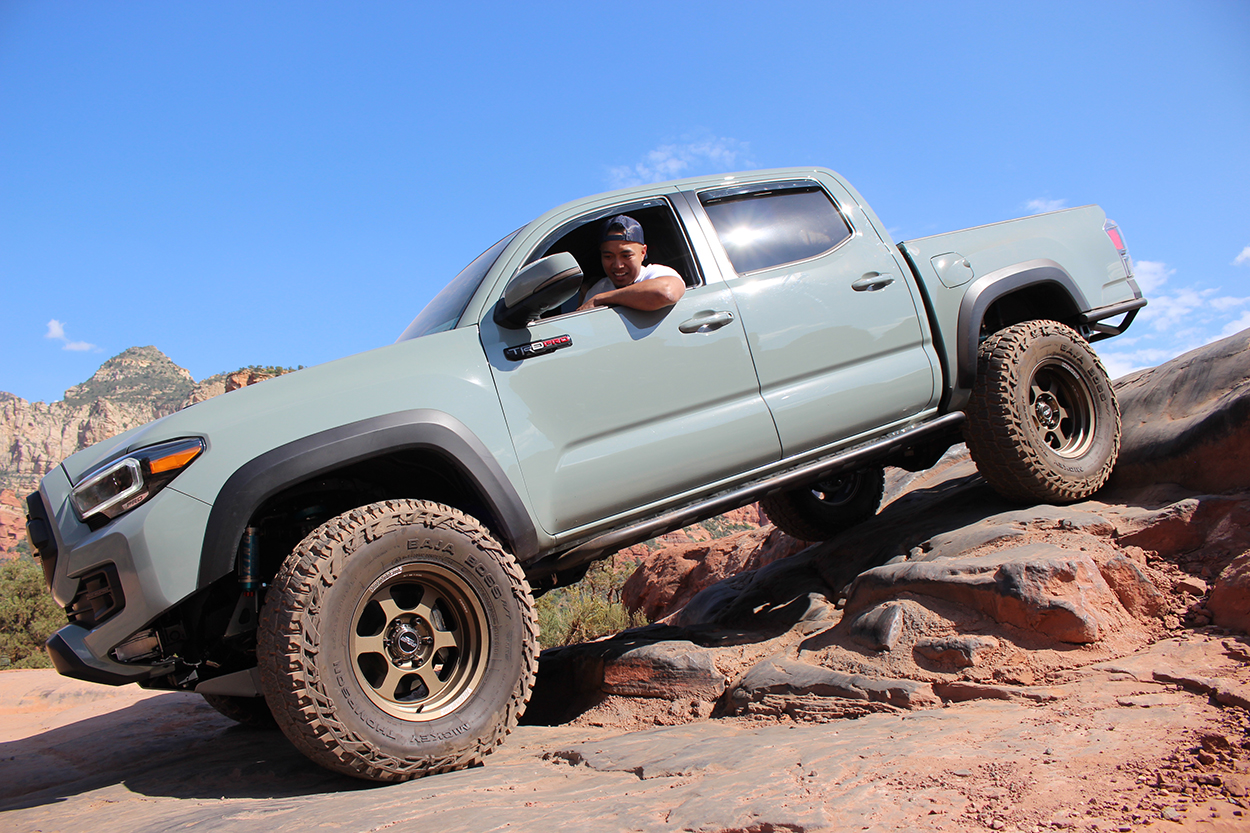 Top 5 Mods
Rays Volk Racing TE37XT M-Spec Bronze Wheels (17×8.5 | -10 Offset)
Mickey Thompson Baja Boss A/T Tires (35×12.5)
Outgear Solutions High Clearance Straight Tube Rear Bumper
Viper Cut Front Bumper
What Do You Like Most About Your Setup?
What I like best about my rig is the color. Lunar Rock just looks too good. When I saw that the next TRD pro color was the Lunar Rock, I had my mind made up that I'd be buying this truck and couldn't be happier. The mods are just an added bonus!
6. Niel Cabrera (@tacomakoma) – 2021 TRD Pro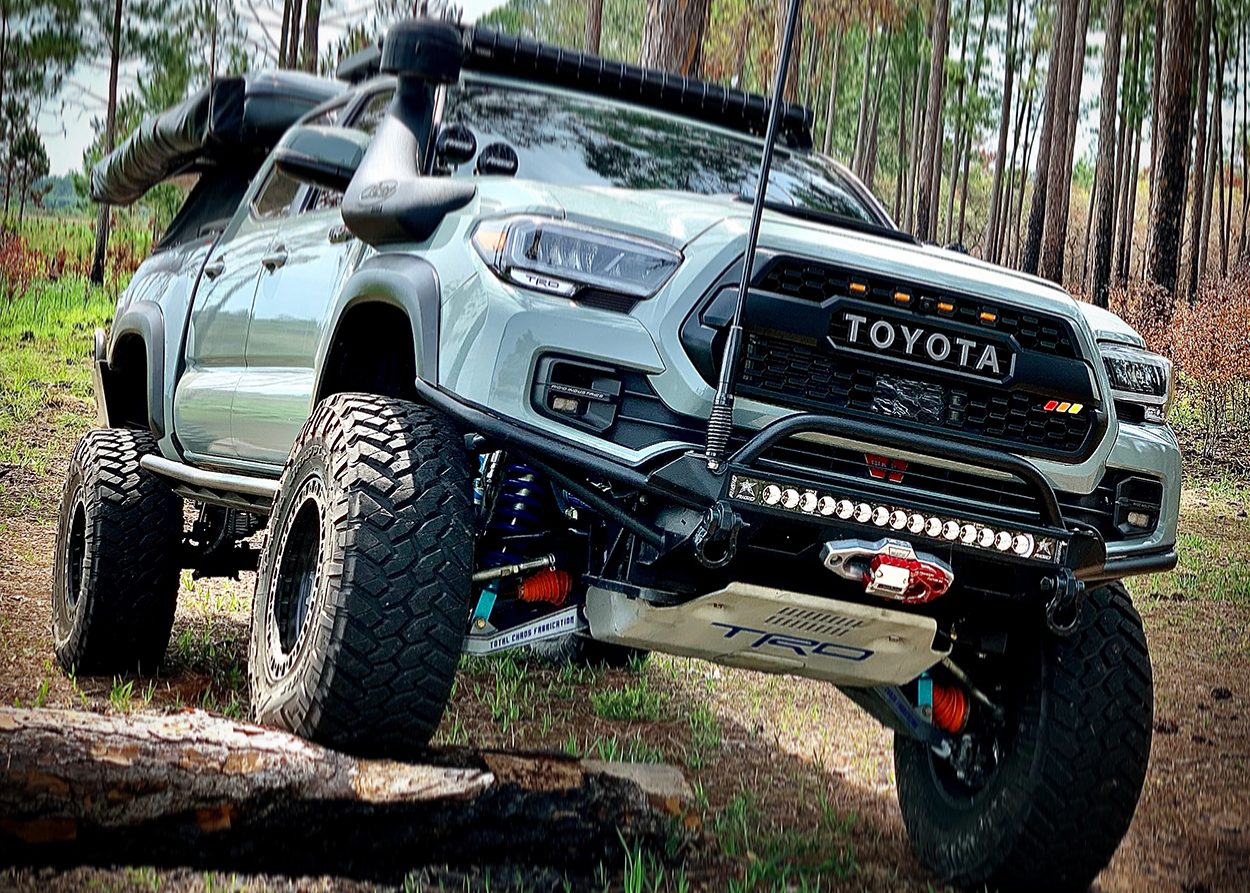 Top 5 Mods
Magnuson Supercharger
Total Chaos Long Travel Suspension
Nitro Gears 5.29 & ARB Front Lockers
RCV Front Axle
Landcruiser 200 Steering Rack & Tie Rods
What Do You Like Most About Your Setup?
This is an Overlanding rig that is set up for serious off-roading. It can tackle some of the most challenging obstacles reliably and in comfort. I can both race or crawl with the truck if I want. It is dual locked and dual winched. Pair that with Toyota reliability and solo trips are something I never fear doing.
7. Dominic Sanchez (@guaco.taco_pro) – 2022 TRD Pro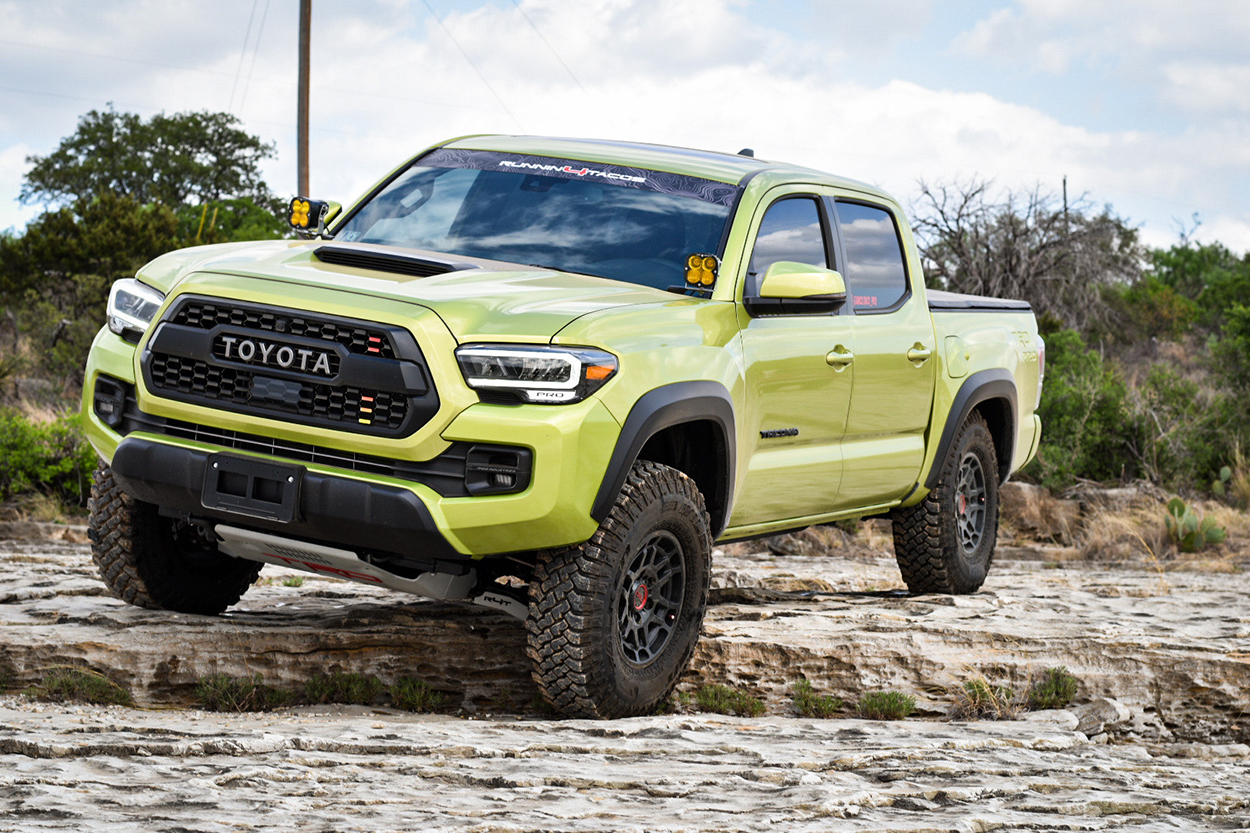 Top 5 Mods
Westcott Shim & Deaver AAL
S&B Cold Air Intake
Falken Wildpeak MT Tires (255/85R16)
Baja Designs XL Sport Ditch Lights
Alpharex Pro Jet Black Taillights
What Do You Like Most About Your Setup?
The Electric Lime Metallic color!!! It gets a lot of attention and really gets spotted on the road and trail. I also enjoy the new TRD upper control arms, they are a nice touch and very beefy. I have never gotten so many compliments before with any other car until I started driving this truck. Compared to all the other TRD Pros that I've had, this one truly stands out. This Tacoma is one of the best Tacos ever!
Final Thoughts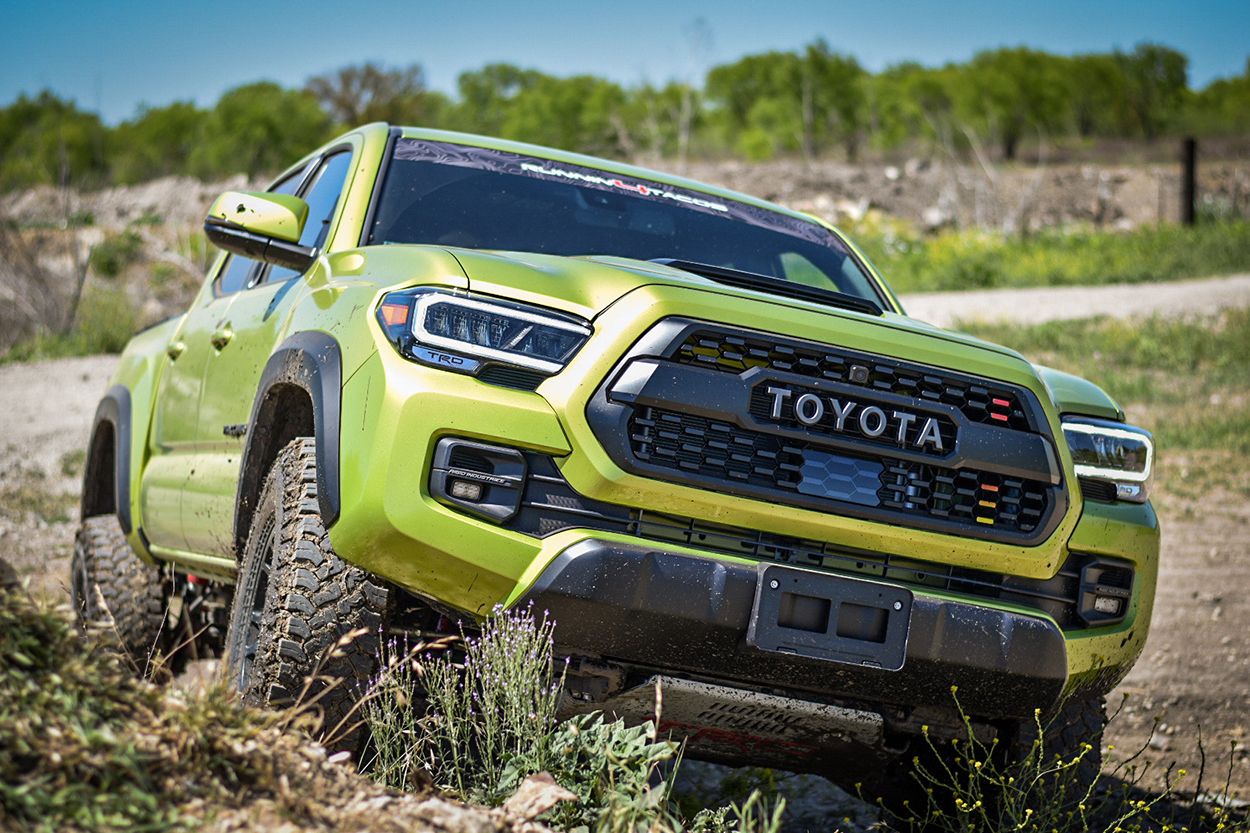 What a great group of rare TRD Pro Tacomas! I'm super excited to see Solar Octane on the 2023 model, it is going to look so good! I hope you gained some insight on what top 5 mods these owners chose to showcase. I was really surprised to see a few rigs with 255-width tires putting in the work! Super solid!
If you want to be featured for Taco Tuesday, submit your build through TrailTacoma.com/Feature. Next week's Taco Tuesday will be featuring TAIL LIGHT OPTIONS and asking owners what they like about the brand that they chose. We're looking for sweet rides to showcase! If this is you and you love your setup, send in your details because we want to see it.
Thanks for reading guys. I'll see you next week!