A First Look & Feature Overview: ARB Elements Fridge + Freezer – Completely Weatherproof Portable Cooler for Effortless Truck Camping
Since the dawn of time, one thing has remained true. Cold beer is good. Since that marvelous realization, mankind has been obsessed with finding ways of keeping your frosty camp beverages – well, frosty. In this modern age of enlightenment, we no longer have to tie our canned concoctions to a rock and let the cold river waters chill them down. Even the one rock-solid technology that never fails us – bags of ice in a cooler – has its downside… the ice eventually melts – drowning your beverages, failed zip-locked and now soggy sandwiches, that pack of raw chicken breasts you were saving for camp dinner tomorrow, and the head of lettuce for burgers. Now, it's all in a slushy cesspool of bacteria and funk. How did we even get here??
Enter the portable fridge/freezer. Finally, someone has heard our lamenting and gnashing of teeth and felt our frustrations. ARB is someone. ARB cares. ARB has been around so long that, like Madonna and Drake, no one even knows or cares what their last name is, but universally we all know who they are and what they do well.  ARB probably invented the wheel, and shortly after, developed ways for said wheel to traverse the Australian outback and, eventually, the world.
That being said, ARB, in its collective wisdom, knew that wherever we travel, cold drinks must follow. And it was so. As long as you can tap into your vehicle's power source, you can power an ARB cooler and not rely on ice to keep things mad chill. ARB's list of portable fridges is impressive and vast. Their technology continues to be the most forward-thinking on the market, constantly releasing surprising new features. 
Find It Online
ARB Elements Review & Overview
A Chef's Take – Fridge/Freezers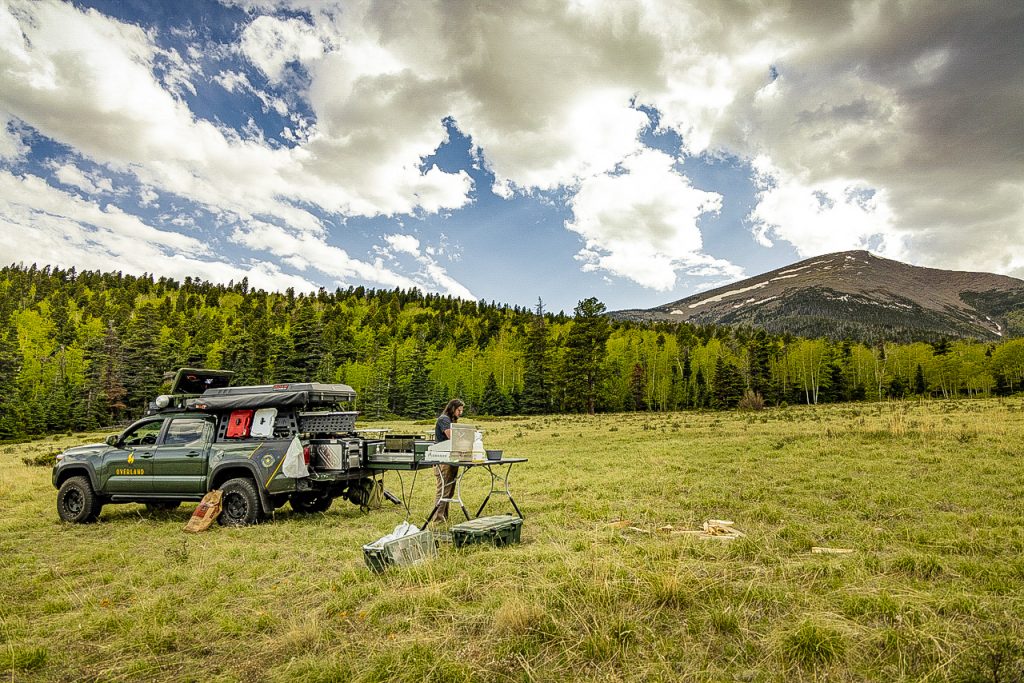 I am no stranger to the portable fridge. I have had several during my tenure as an Overland Chef. It was the switch from my old 4Runner SUV to a Tacoma pickup truck that led me on the journey of finding a new one, a portable fridge that would suit the needs of a truck bed that was exposed to rain, snow, and trail dust. So, I figured if anyone knew how to help me, it was Trail Tacoma. I reached out to the guys on Instagram, and as fate would have it, Konrad and I had an incredible conversation on trucks, camp kitchens, and culinary empires.
After talking for untold hours about what direction I wanted to take my rig, in his silky voice, Konrad suggested I look into the ARB Elements fridge. My Taco build usually consists of chopped onion, cilantro, and lime. In this case, my Taco is outfitted with a bed rack – which meant my expensive electronic space fridge would be exposed to whatever it is I drive through or set up to camp in. The elements. No, we aren't talking about Bruce Willis or a boxy Honda here; we are talking about one fridge to withstand the elements, one fridge to rule them all. 
Another criterion that I needed for a Tacoma truck bed fridge was the ability to fit underneath a tonneau cover should I ever choose to go that direction to keep everything else in my truck bed dry. At a meager 17.1" high, the ARB Elements fridge does exactly that.  The fridge gets its cavernous 63 quarts by relying on a little bit of extra depth and width at 32.3" and 19.3", respectively. Outside fridge? Check. Inside fridge? Also, check. With this information in hand, along with the ARB name and the available tech, I was sold. I ordered my fridge from Mudify, which was on my doorstep in no time. 
Unboxing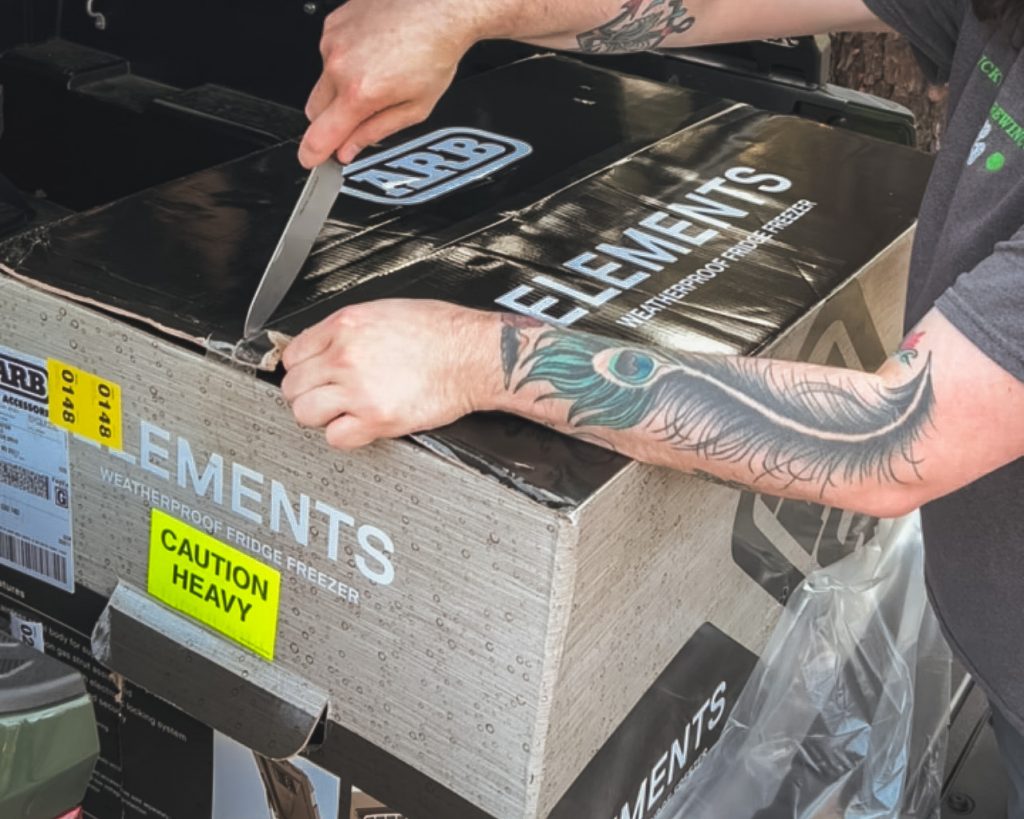 Don't mind me; just using my chef's knife to cut through that gorgeous packaging…
Delivery day was pretty darn exciting. Unlike my previous fridge shipments, this one had a beautiful, full-color box with a layer of clear shrink wrap so you could see all of that fancy printing. It seemed a little too simple at first. The box wasn't strapped down; it didn't have huge cardboard corners to prevent it from getting damaged. ARB's confidence in its packaging was justified after opening the box. The fridge was encased snuggly in form fit Styrofoam, and all contents were completely secured. 
This fridge is absolutely packed with features.
In the following sections, I'm going to dive a little deeper into the most important ones.
Weatherproofing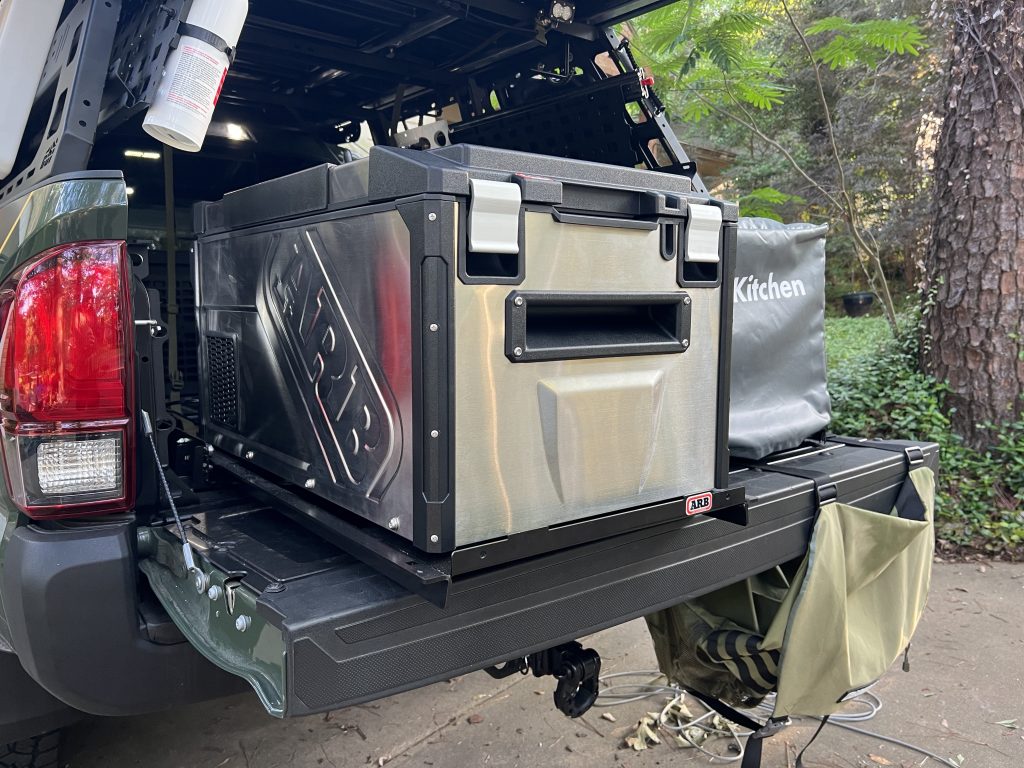 Damn, that's some sexy stainless steel on the ARB Elements fridge. Shown here above on the optional ARB fridge slide.
Once that box is opened, you'll immediately notice the Elements fridge is packed full of cool tech, valuable features, and some surprises. Right off the bat, you'll see the rugged construction. The use of 304-grade stainless steel in the cabinet and hinges, ASA UV resistant plastic for the protective corners, and anodized aluminum in the latches make this thing, as ARB states, WEATHERPROOF.
They've also recessed and protected the electrical connections in the back of the fridge. I can attest that to this point; the fridge has withstood several thunderstorms, power washing at the local car wash, and a metric #@&$ ton of spring pollen from the beautiful Mississippi trees. Maybe ARB can help design my next dose of allergy medicine because the neon yellow dusting of pollen is killing me and not the fridge.
Security & Transporting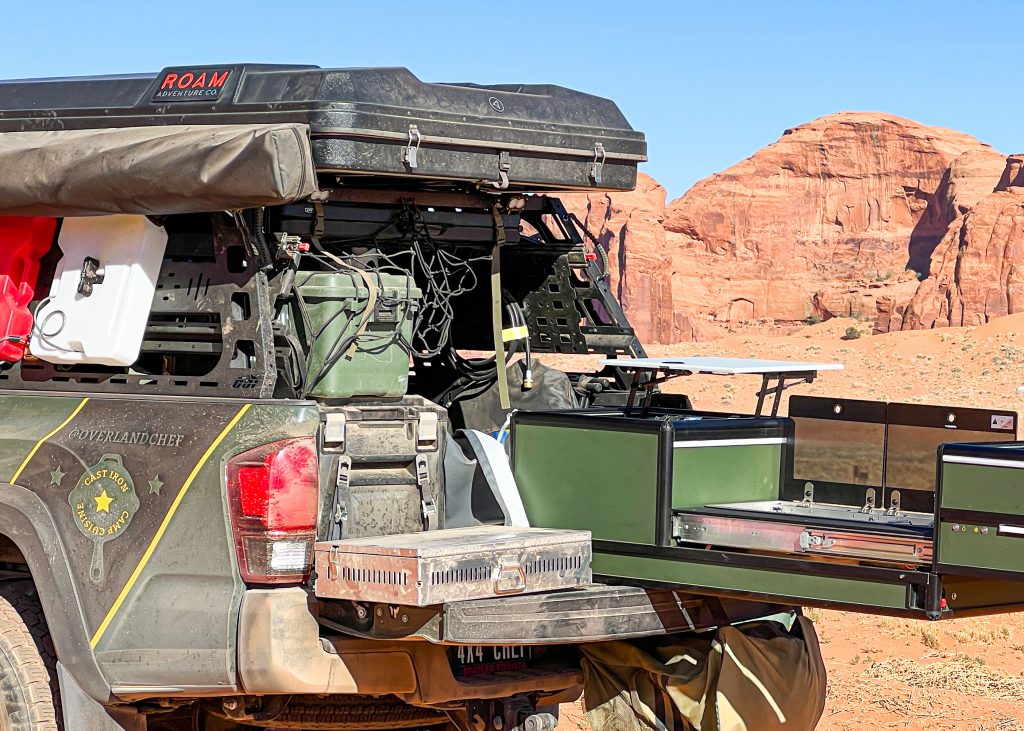 The ARB Elements fridge loaded in the back of my Tacoma is COVERED in trail dust. The fridge just keeps on ticking. But back to the post.
On the outside, you'll notice some handy dandy carrying and hauling features that protect more than just the functional components of the fridge. Front and rear handles are recessed into the body of the fridge and make it easy to carry from your garage to the bed of the truck despite it being a bit hefty. However, I would recommend moving the fridge when it's empty; it gets cumbersome loaded down with food. You'll also find that it has a unique fridge tie-down system should you decide to mount it to the optional ARB Elements fridge slide. Tamperproof bolts secure the ARB tie downs directly to the fridge and slide so that no one can just walk off with it. For extra security, the fridge is padlock compatible and has a digital locking system.
Since the Elements was designed to be left outside on your rig, ARB didn't want just anyone to stroll up to your fridge and walk away with your cold beer and cold cuts. The electronic control panel is also weatherproof and features the ability to program your own 4-digit code to make locking and unlocking the fridge a breeze. Not only that, but the temperature controls and power button are underneath the lid when it's closed, ensuring some random jerk doesn't turn the temperature to unsafe conditions and spoil all of the food for your journey.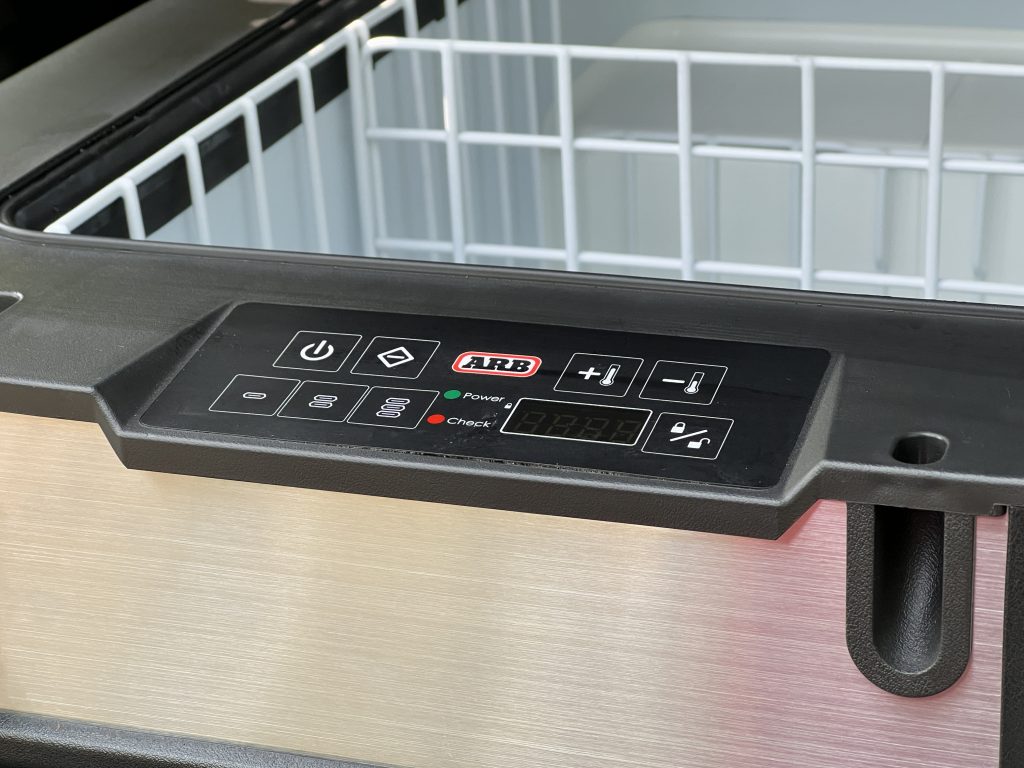 The electronic control panel brings me to one of the greatest features of the ARB fridge: ARB customer service and support. I won't lie. This article isn't some fluffy feel-good piece on how this particular fridge is without flaws. It isn't.
Within an hour of unpacking my fridge and recording an unboxing video, I was demonstrating how to use the digital locking system when the lid of the fridge popped open while in locked mode.  After a few attempts of opening and closing, locking and unlocking, hoping it was just a fluke, the fridge decided it would STAY locked. So much for the unboxing video.
After many failed attempts to open the fridge back up, I called ARB to discuss my situation. Within minutes, they emailed me instructions on how to manually reset the locks to open the fridge. Open sesame! The trick worked. However, regardless of that, it stayed locked again after shutting it. After a second call, ARB decided to send me a completely new fridge. They didn't wait for me to ship the faulty one back, and within a few days, it arrived at my doorstep. I couldn't believe it. ARB really stands behind its products. 
Functionality
Another great feature of the Elements fridge is the lid itself.  Once unlocked, simply undo the two aluminum clasps that seal the lid to the body and open the lid from the front – a departure from many fridges that are side opening. A single gas strut placed within the body of the fridge holds the lid open at just about any angle from 0-90 degrees – thanks to innovative design. No matter where in the truck you place it, you'll have full access to your sparkling wine and little gem lettuces, cave-aged cheeses, and golden osetra caviar.
By the way, the Elements can also be used as a freezer. Set it to -8 degrees Fahrenheit and keep ice cubes, ice cream, ice pops, Vanilla Ice, Italian ice, Iceman, Ice-T, and the sabretooth squirrel from Ice Age – frozen solid. Or, you know, frozen meats or veggies for those long trips. Whatever floats your boat or sinks it – if you're packing icebergs. Chill out; I can't help myself.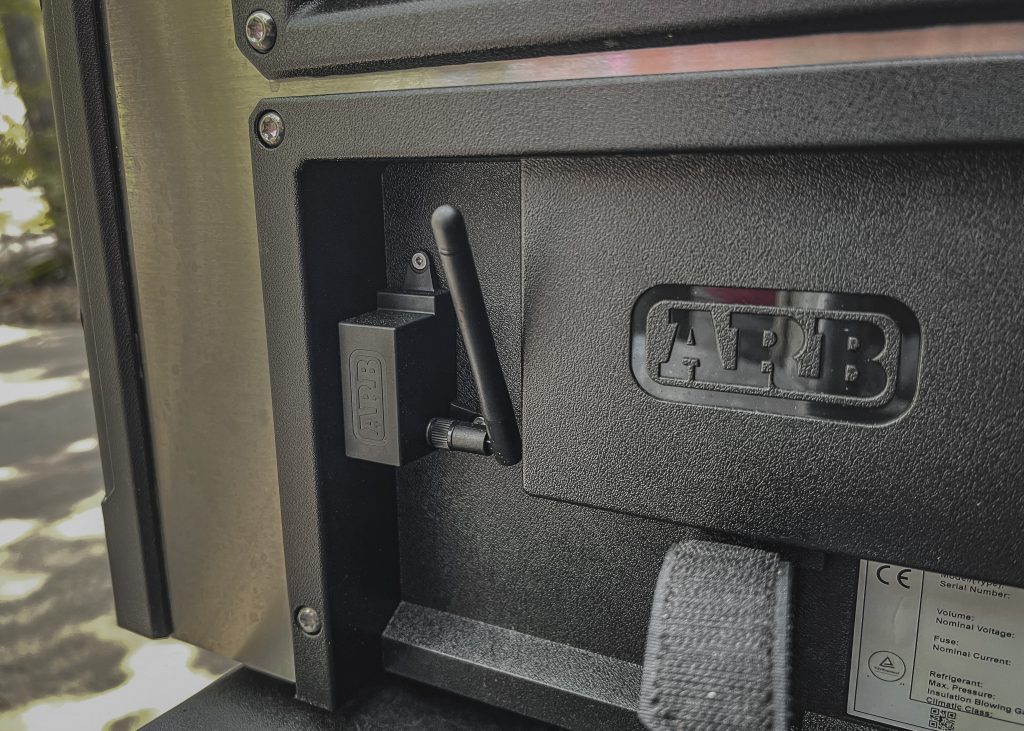 Oh, and also, the Element's fridge supports ARB Fridge Connect, a wireless antenna that you install to the fridge and connects to your phone, allowing you to view the fridge temp and settings from a distance, like the comfort of your tent and sleeping bag.
Mounting & Powering The Fridge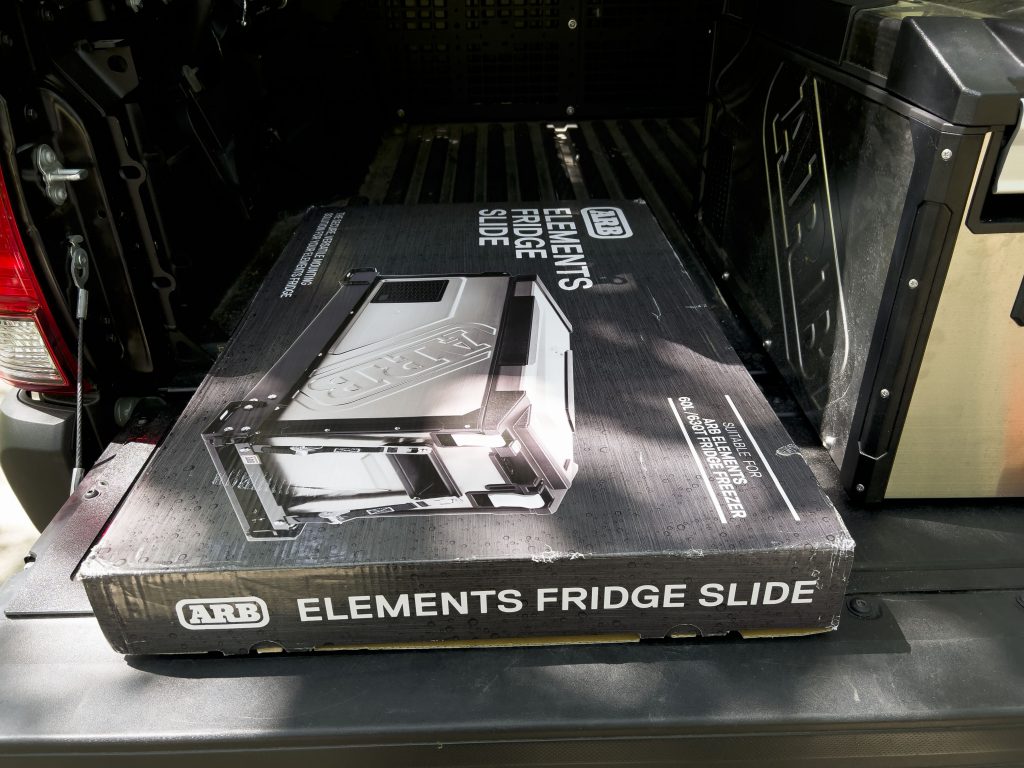 In a Tacoma, you have two real options for placement. The Elements fridge is designed to be outside, so the bed of your truck is a safe bet. If you are going to place the fridge in the bed, I would recommend having the factory Tacoma bed mat so that it doesn't slide around. ARB also offers a specific fridge slide for the Elements for a more permanent option – it works really well. The fridge also fits perfectly in the back seat of the Taco, especially with the 60% seat folded down.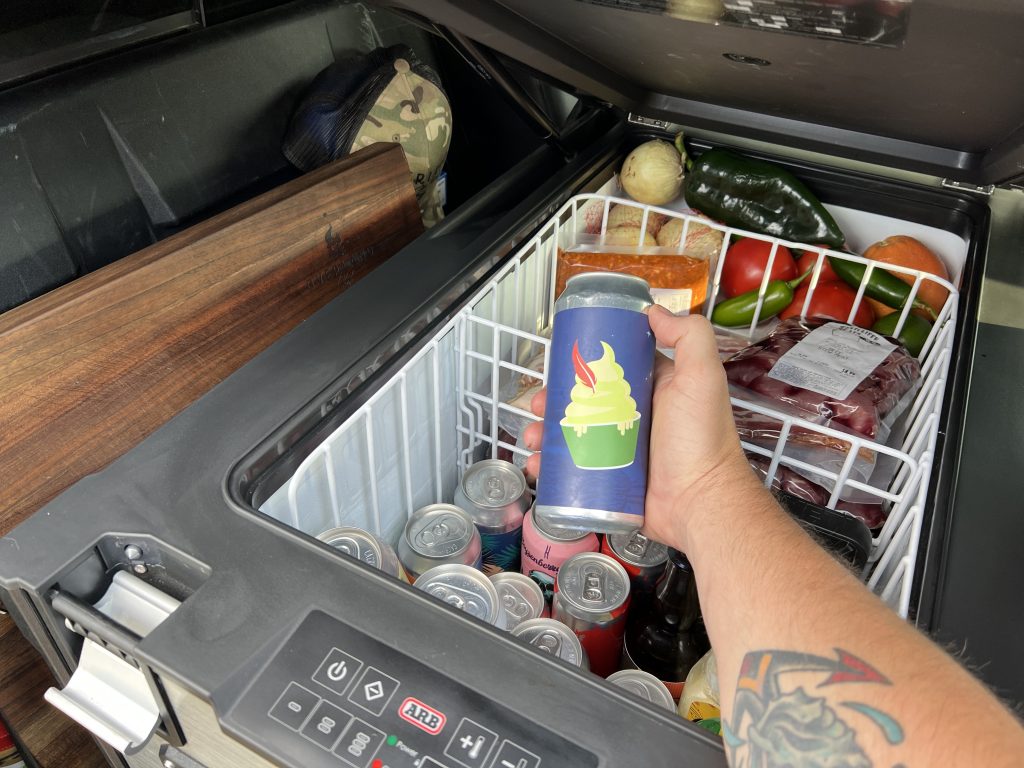 Above, you can see the ARB Elements placed in the backseat of the Tacoma, loaded with frosty beverages and everything needed for a tasty meal.
For powering the fridge, you have a few options. If the fridge is in the bed, you can plug it into the factory outlet, but it will only work with the truck running, and ONLY if you remember to turn the outlet on from the switch inside the cab. From inside the cab, you can plug it into the 12v outlet with the cigarette adapter-style plug. It, too, will only power the fridge when the truck is running. For either of these options, I recommend having a portable power station as a go-between.
I have a Goal Zero Yeti 400 plugged into one of the outlets so that it charges when the truck is on and powers the fridge simultaneously. When I turn the truck off, the battery will keep the fridge going, even overnight. The ARB Elements does draw more power than some of the fridges I've had in the past, without an eco-mode present. So, keep an eye on your battery pack, especially if you have a lot of perishables.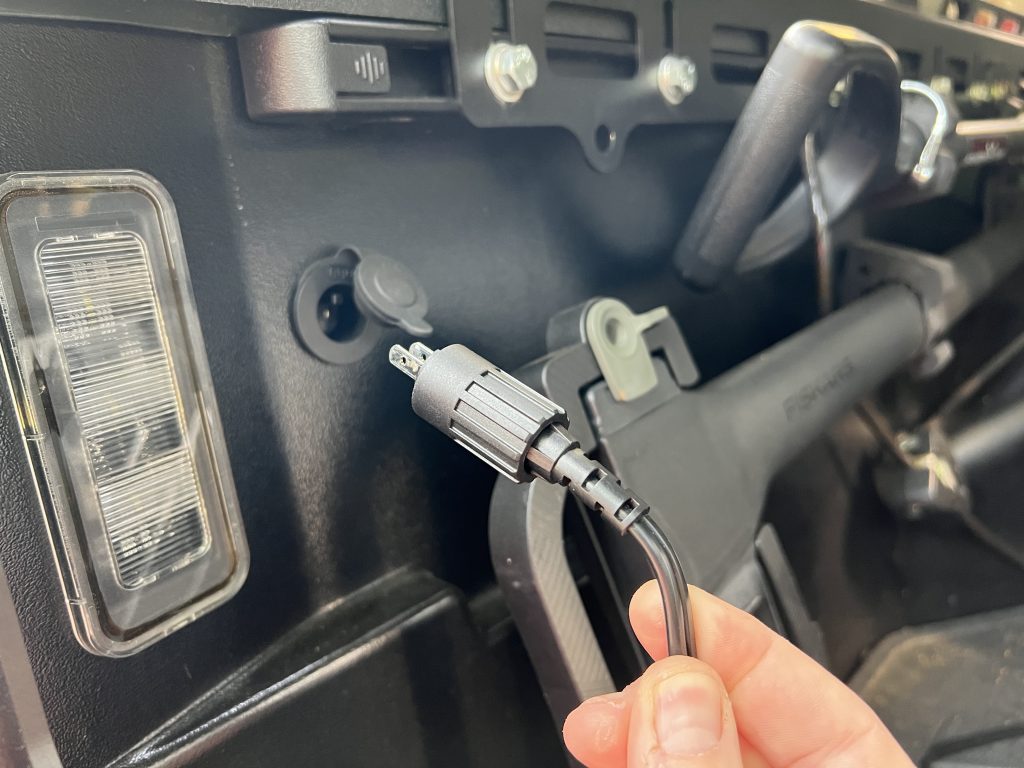 I've installed the optional ARB fridge wiring kit, including this special outlet to wire your fridge directly to the battery, allowing me to run it 24/7.
Although I have run the scenarios previously mentioned above, I ultimately decided to install ARB's fridge wiring kit to connect the Elements directly to my Tacoma's battery. It's a super simple modification, and I was able to add an ARB-specific outlet into the bed of the truck to power the fridge. This keeps the fridge running 24/7 as long as you don't drain the battery. It's also worth noting that the ARB wiring kit is specifically designed to run a fridge safely. The gauge of wire is more appropriate, and even though I didn't have any issues with the factory power outlets, it's strongly recommended that you add the wiring kit. At worst, you can avoid blowing fuses if the fridge works super hard on a hot day.
If you drive the truck every day, from destination to destination, you shouldn't have to worry about powering the fridge, even with a stock battery. For extra peace of mind, I've upgraded to a Group 31 deep cycle battery and a hood-mounted solar panel that keeps the juice flowing. I've literally powered the fridge for a solid month at this point with zero issues. Unlimited power! Insert Chancellor Palpatine meme here.
Final Thoughts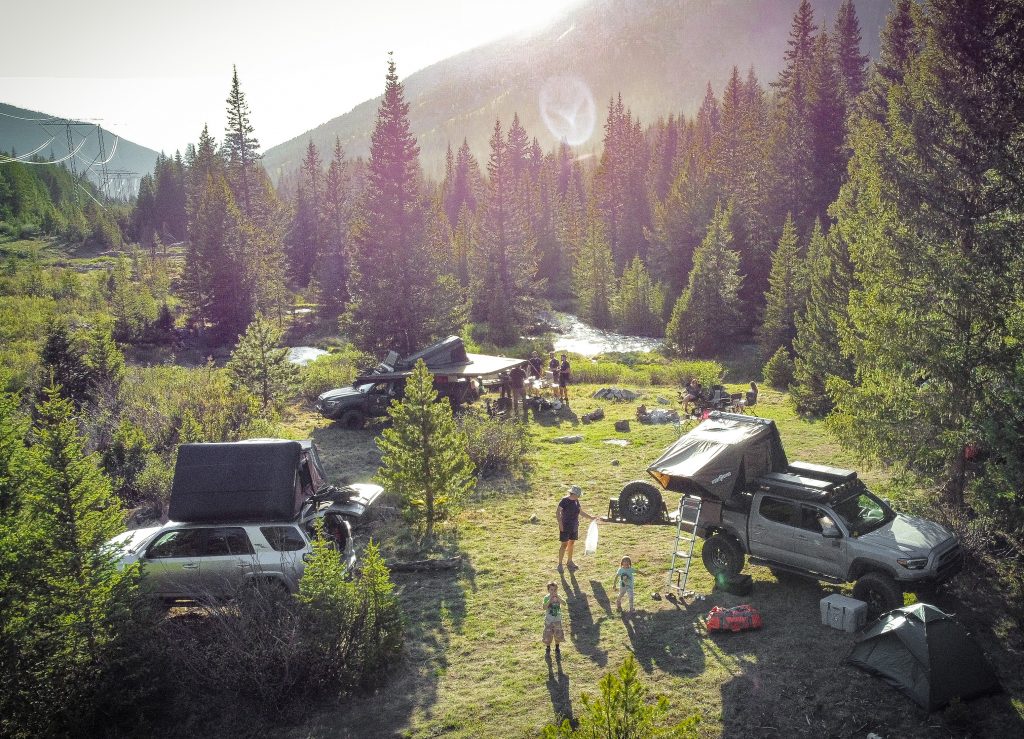 If you're running a fridge in your Tacoma without a topper or camper, you should be running the ARB Elements fridge. There really is no question. The fridge simply does its job.  Rain, dust, mud, freaking pollen, this thing takes whatever you can dish out and simply offers icy cold beverages in return. Stay tuned as I continue to put this fridge through its paces with a trip through the wild, wild west, including a trip to the Top of the World. Yeah, you better believe I'm going to open a cold one when I get there. Stick around for the detailed review post coming soon!