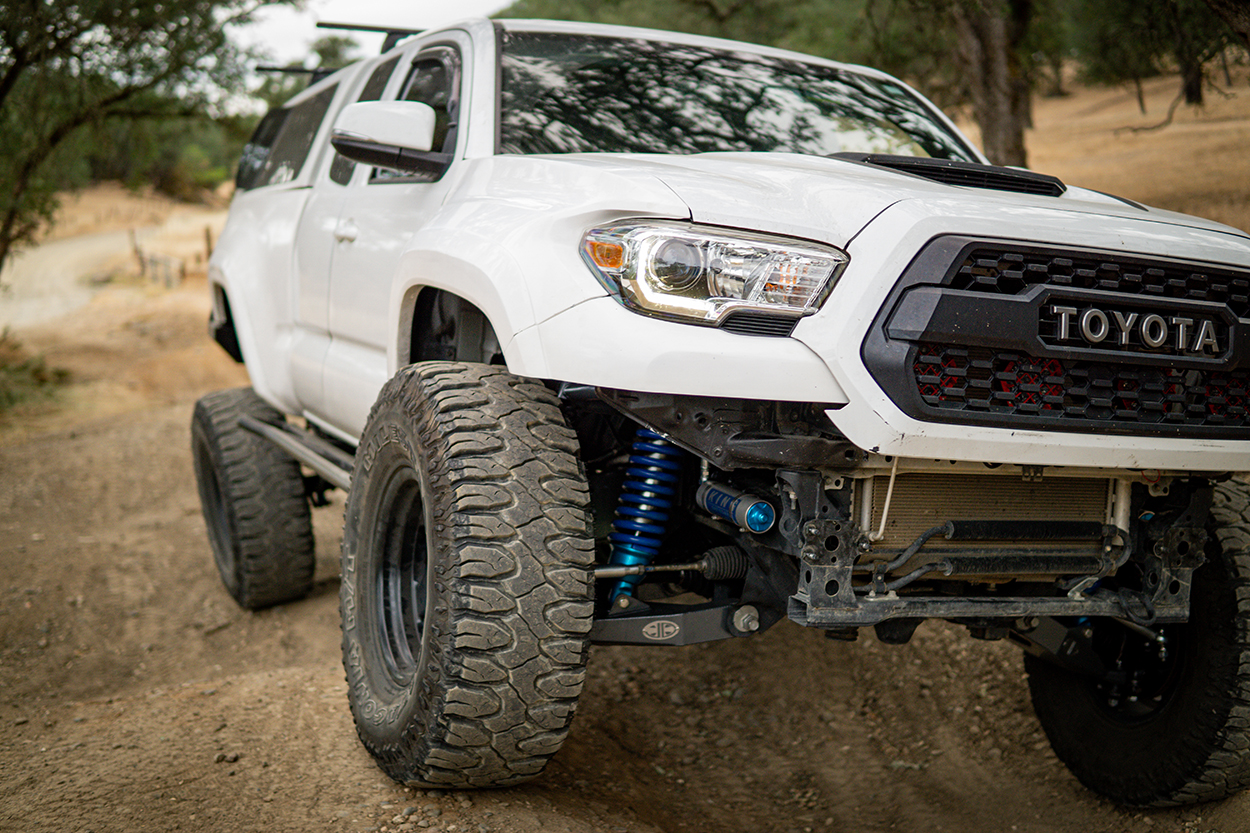 Which Mud-Terrain Tire Is The Best Choice For Your Build? We Asked 15 Tacoma Owners What M/T Tires They Run & What They Like About Them
This Week's Topic: Mud-Terrain Tires
Welcome back to another Taco Tuesday! If you missed last week's TT, we checked out some 2nd Gen Tacoma armor. This week, we are taking a look at several mud-terrain (M/T) tire options for the Toyota Tacoma.
If you've been looking for real-world feedback on M/T tires before pulling the trigger on some new shoes for your Tacoma, you're in for a treat! 
A few weeks ago, we did a similar Taco Tuesday for tires, but we focused on popular all-terrain tire options for the Tacoma that often get recommended on Social Media.
Ultimately, both A/T and M/T tires get the job done both on and off-road. However, there are some key differences between these two tires that you need to look out for. Read this post on A/T VS. M/T tires to learn more.
Most Tacoma owners daily drive their trucks and only get to take their rigs off-road a couple of times a month, maybe even less. We would all love to get out there more, but we have to pay for this expensive hobby somehow!
An A/T tire is a great all-around tire with minimal on-road sacrifice over stock street tires. What makes them so popular is their excellent traction on the occasional off-road adventure.
M/T tires, however, excel as dedicated off-road tires. For the Tacoma owners who get to enjoy more time off-road than the occasional weekend warrior, they can't be beaten. M/T tires have a softer compound for better traction on rocks. They also have pretty large tread blocks and voids plus a super beefy sidewall when compared to their A/T counterpart.
M/T tires definitely prioritize off-road performance and durability over daily driving, but hey, they look freaking sweet right?
With increased performance off-road comes some sacrifices on-road in the form of road noise and handling. Some owners below confessed that there is noticeable road noise with their tires, especially after several thousand miles. Some owners embraced it, while others went through multiple brands before finding a decently quiet option.
Below we have 13 owners' feedback on their M/T tires. Hopefully, this will make your decision a little easier for your rig's next set of shoes. If after reading this week's Taco Tuesday you would still like additional tire guidance, then take a look at our post – Tacoma Tire Buyer's Guide.
1. Kyle Kunstmann (@the_yeti_yota) – Falken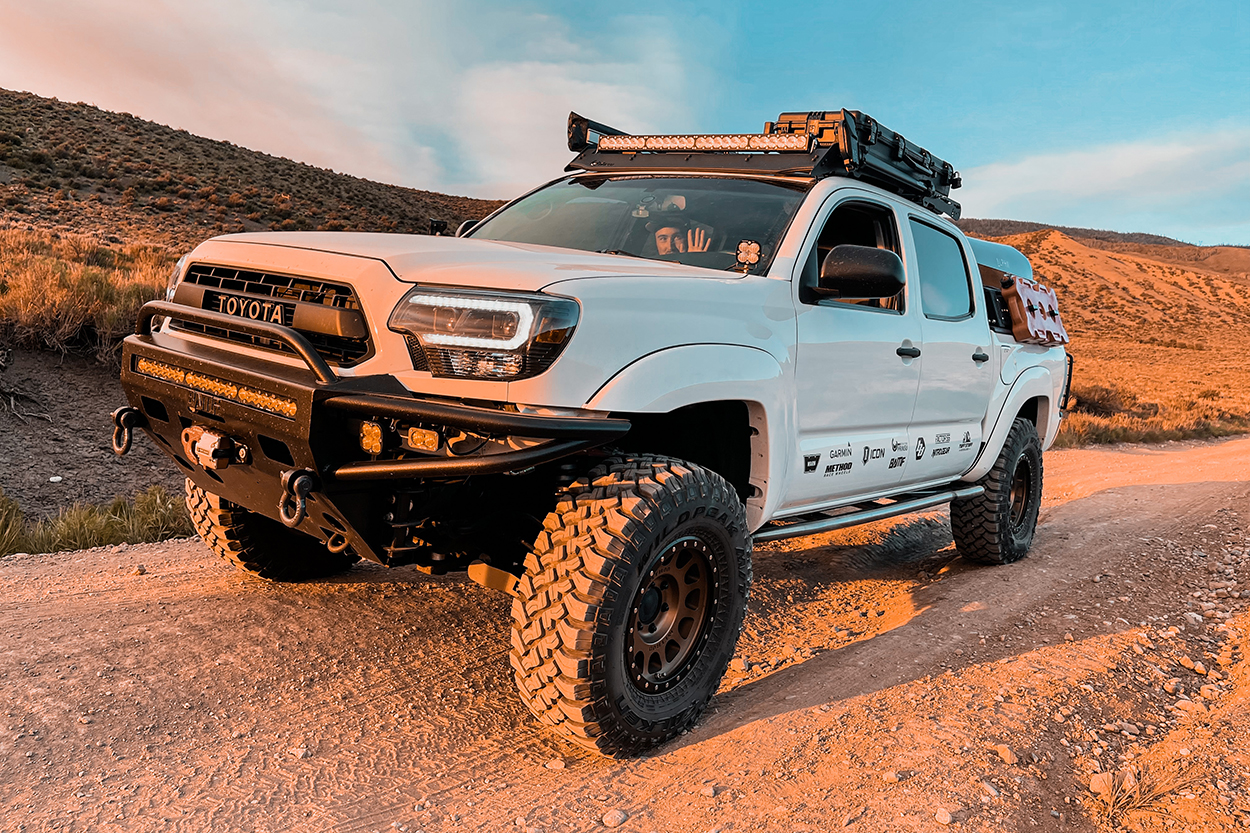 Tire Details
Model: Wildpeak M/T01
Size: 285/75R16
Load Range: E
Price: $325/each
What Do You Like About Your Setup?
After having many different sets of A/T and M/T tires, and trying to decipher if I would rather stick to a full-time M/T or A/T, my final choice was the MT01. These tires just seemed like an all-around great choice as far as performance, grip, size, price, weight, and longevity.
I needed a tire that can still be daily driven but can handle anything off-road I throw at it and this tire has seemed to exceed it all. I have approximately 43,000 miles and still going with about 40% tread left.
2. Brett Cifaldi (@sfsmedic) – Falken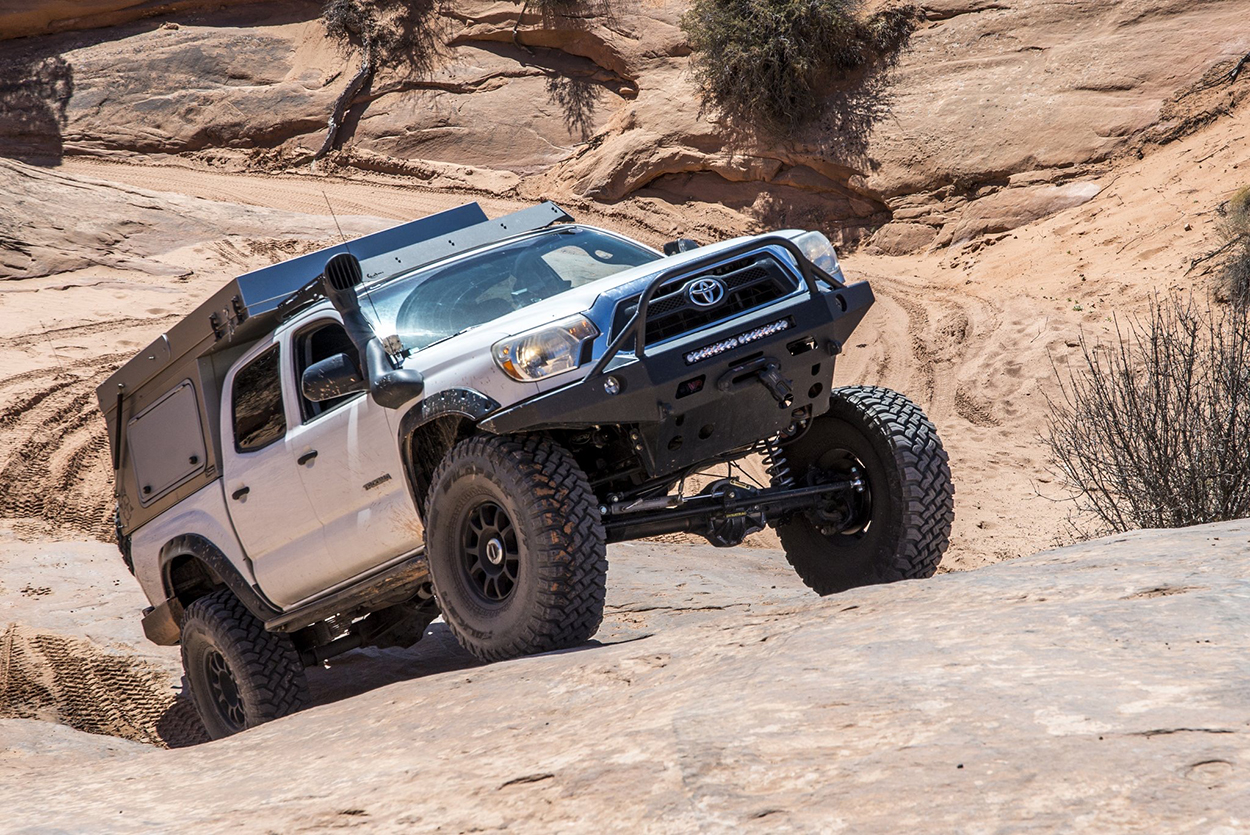 Tire Details
Model: Wildpeak MT/01
Size: 37X12.5R17
Load Range: D
Price: $525/each
What Do You Like About Your Setup?
These tires have great traction, especially on the rocks. Their durability has proven to be top notch, I've yet to cut a sidewall even on the sharp rocks of Utah and Arizona. The tread pattern isn't overly loud for an M/T either and the tire airs down well.
3. Chuck Ellis (@ellisconcepts) – BFGoodrich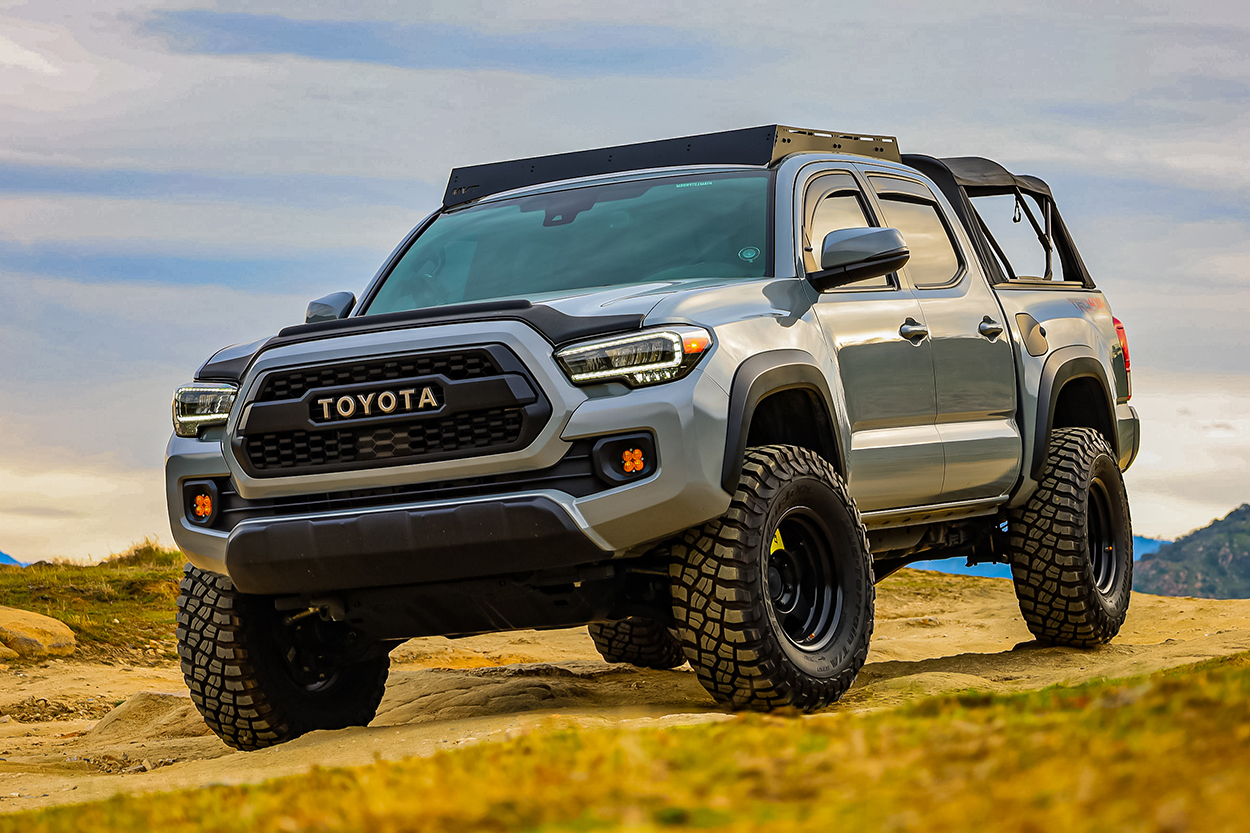 Tire Details
Model: KM3
Size: 285/75R16
Load Range: E
Price: $340/each
What Do You Like About Your Setup?
The grip is surgical on these tires. They are great on rocks, dirt, and sand. The tire's happy place is in slippery conditions like mud and snow. I spent years between KO2s and Grabber M/Ts but these tires make 4Hi optional.
The improved sidewall BFG spent years developing definitely pays off. We all have those wincing moments where we worry about rocks digging into the sidewall too deep but the contact strip just eats them.
Overall, the tires just find grip and it's a proper, functional, aesthetic M/T, so I might have a bias from now on. These do justice to BFG's legendary name and I do consider them a higher-tier tire, especially for the price.
Other tires that I've had were cheaper than these, and not just in price. I've questioned my setup at the wrong time before and it almost cost me a shortcut down the mountain. If you're on the fence with the KM3, just get them. Buy once cry once.
These won't leave you stranded and you can really enjoy yourself a lot more having full confidence in your ground setup.
4. Remar Pasalo (@4lo_mar) – Milestar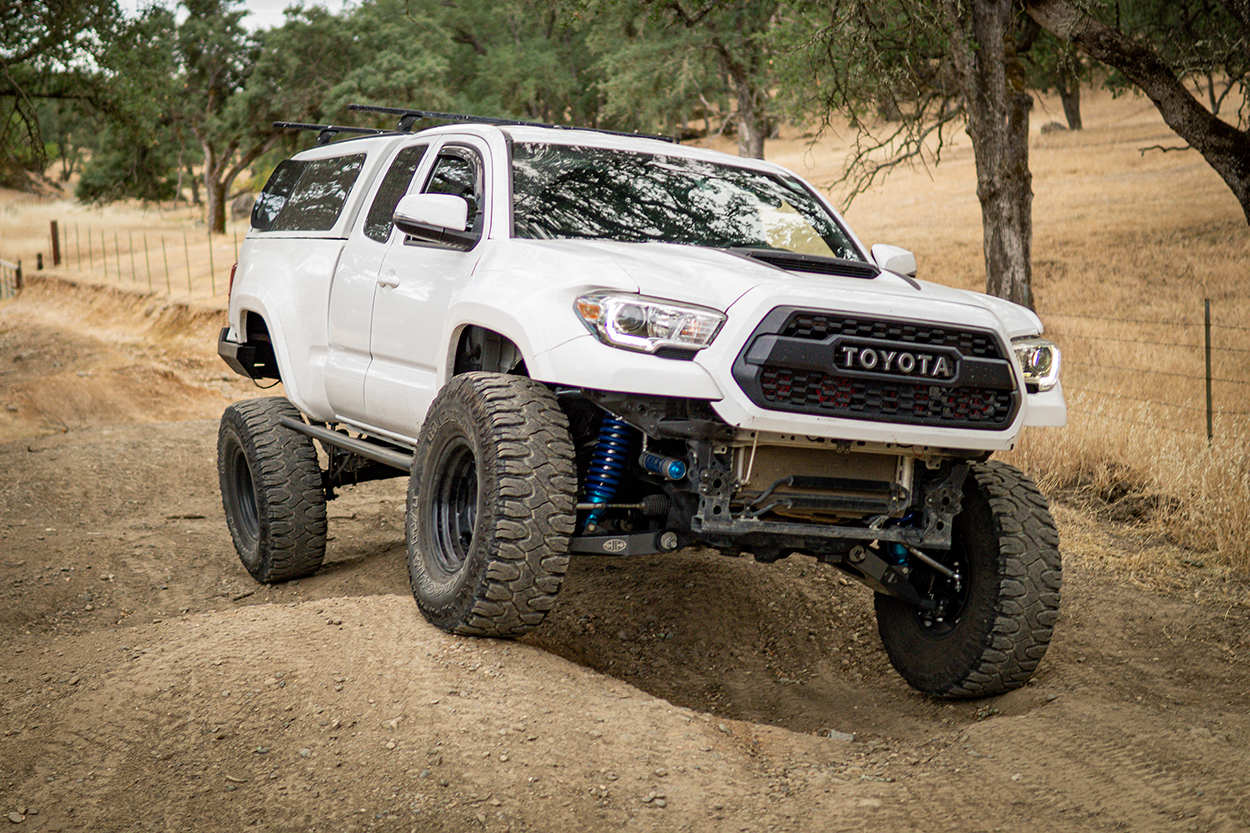 Tire Details
Model: Patagonia M/T
Size: 315/75R16
Load Range: D
Price: $295/each
What Do You Like About Your Setup?
The Milestar Patagonias were really affordable when I purchased them. The tread is very aggressive but still maintains a reasonable level of road noise. They perform great and they haven't disappointed me off-road yet.
5. John Buchan (@jyota16) – BFGoodrich
Tire Details
Model: KM3
Size: 315/70R17
Load Range: E
Price: $415/each
What Do You Like About Your Setup?
These tires excel in an off-road environment as well as on-road. I have had other M/T tires in the past and these have less road noise and vibration. I have been able to push through sand, mud, and rocks with ease.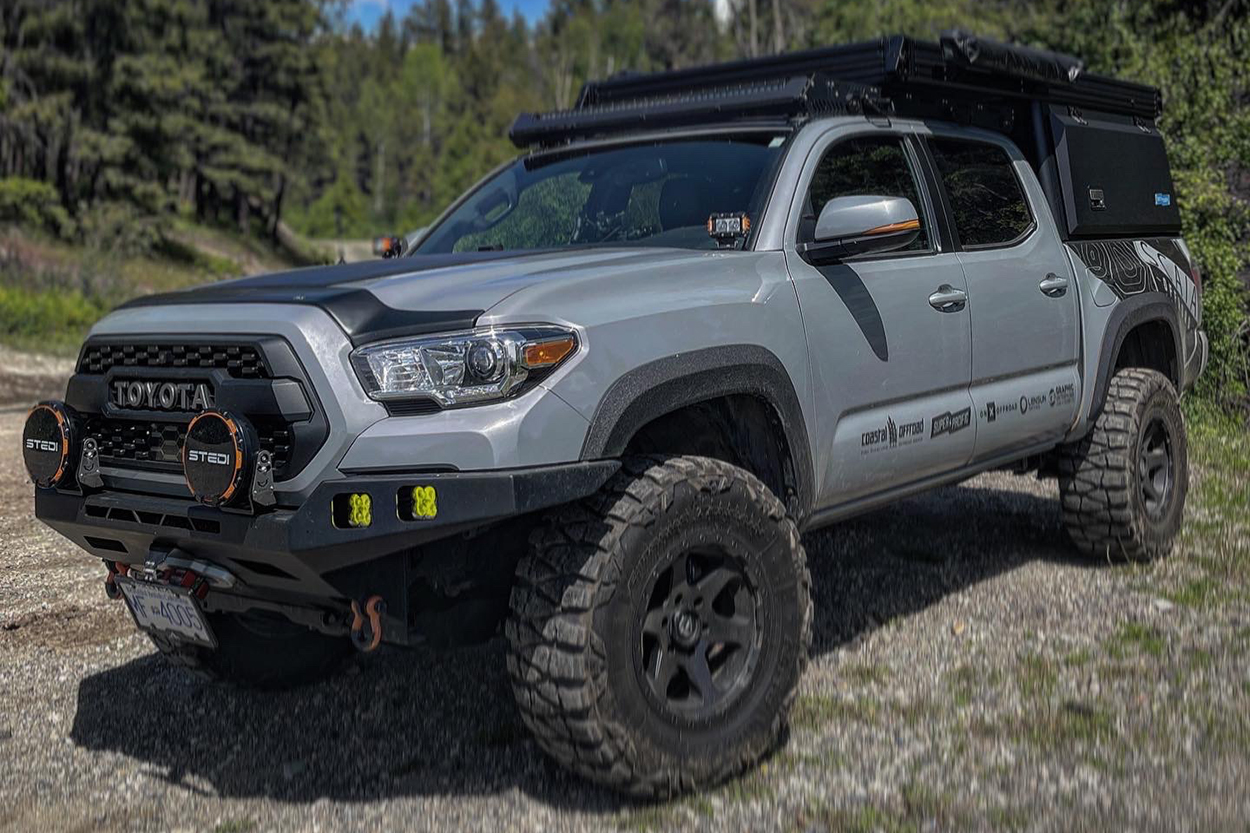 Tire Details
Model: Mud Grappler
Size: 33X12.5R17
Load Range: E
Price: $365/each
What Do You Like About Your Setup?
The performance of these tires in both mud and gravel off-roading is second to none. They also look phenomenal and draw attention with the most aggressive look and tread pattern that I have seen on an M/T tire.
7. Iman Rahmankhah (@duneserpent) – BFGoodrich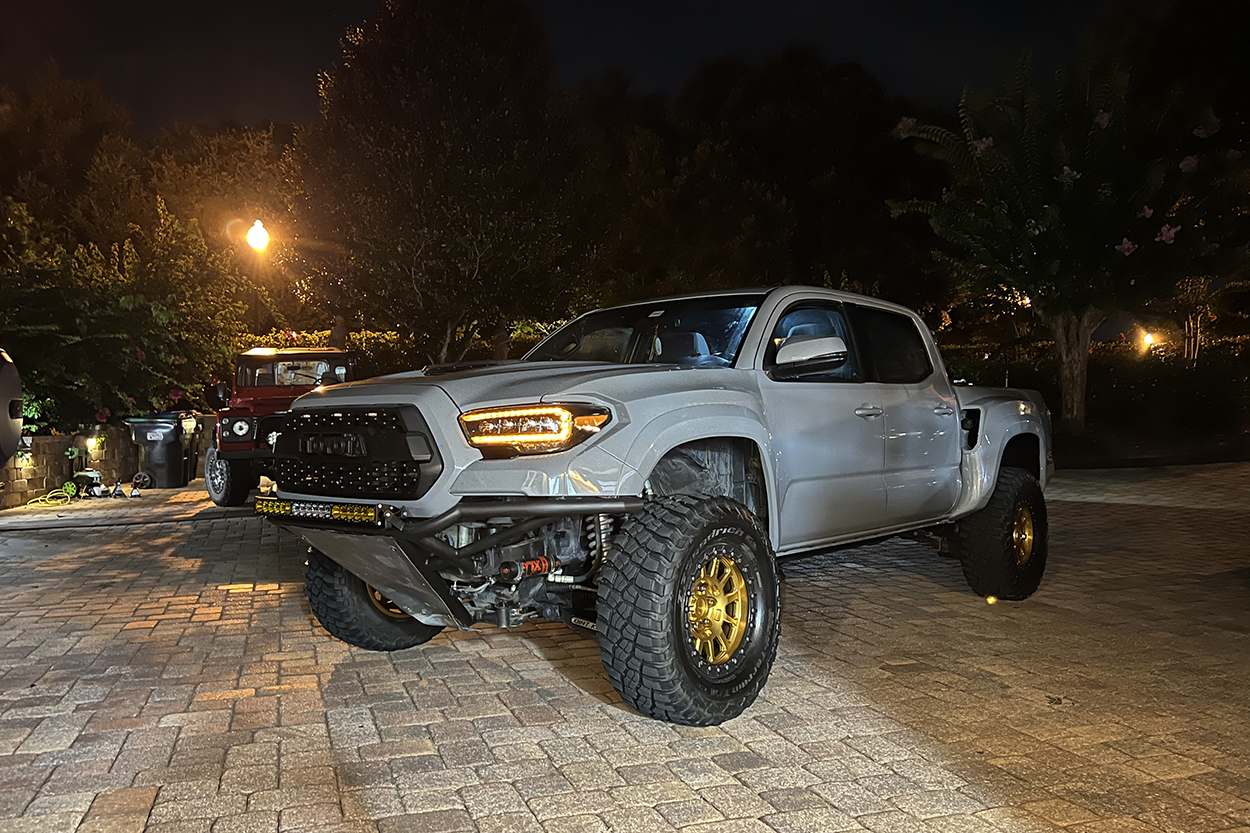 Tire Details
Model: KM3
Size: 285/70/R17
Load Range: E
Price: $375/each
What Do You Like About Your Setup?
I like the off-road reliability that these tires have to offer. I'm not just talking about durability either, but also how these tires react to you're driving. They are very predictable and you can trust them with everything crazy you do off-road. Performance is okay on the street but amazing on the dirt.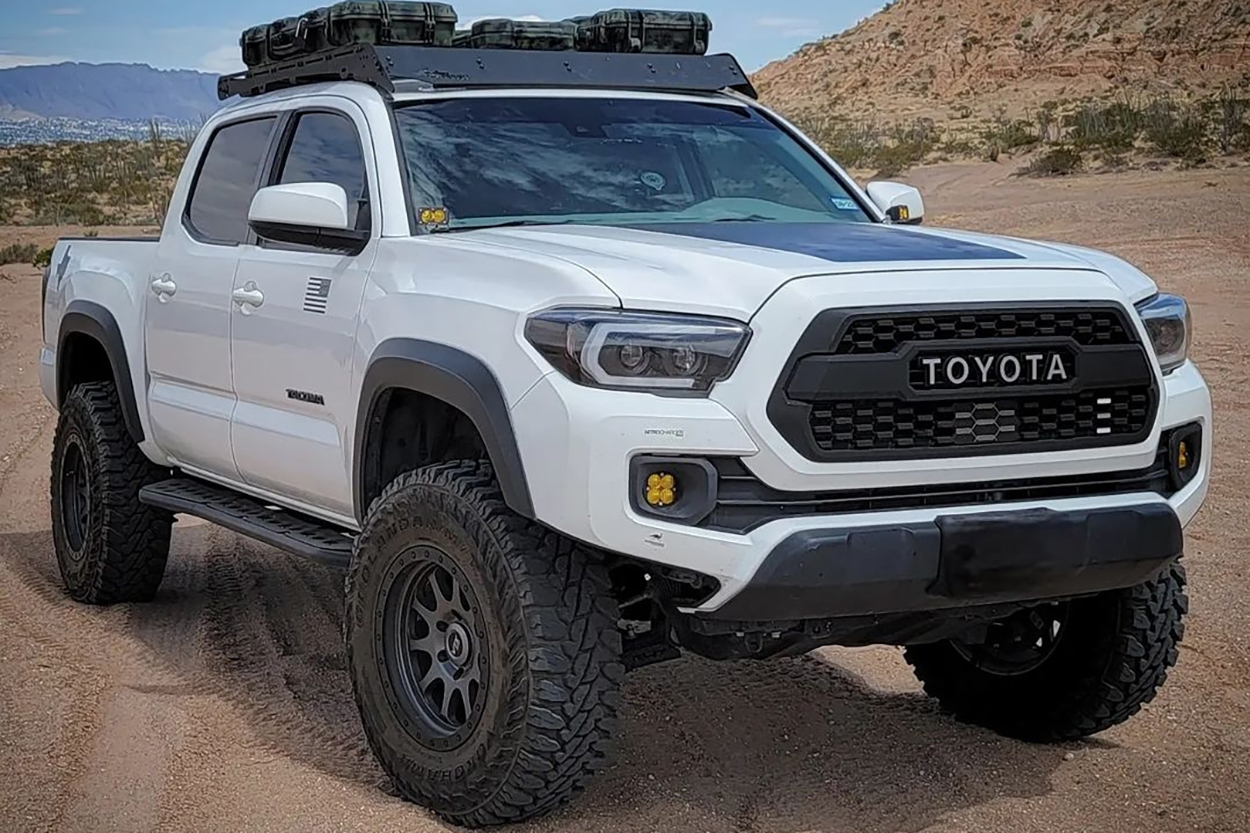 Tire Details
Model: Geolandar G003 MT
Size: 285/75R17
Load Range: E
Price: $355/each
What Do You Like About Your Setup?
I love the fact that these tires are great in any terrain. They're extremely light and quiet on the highway. They are very reliable on the trails and the tread is holding up well over the miles. Performance in the rain is great as well.
9. Reilly McCarthy (@subzero_taco) – Toyo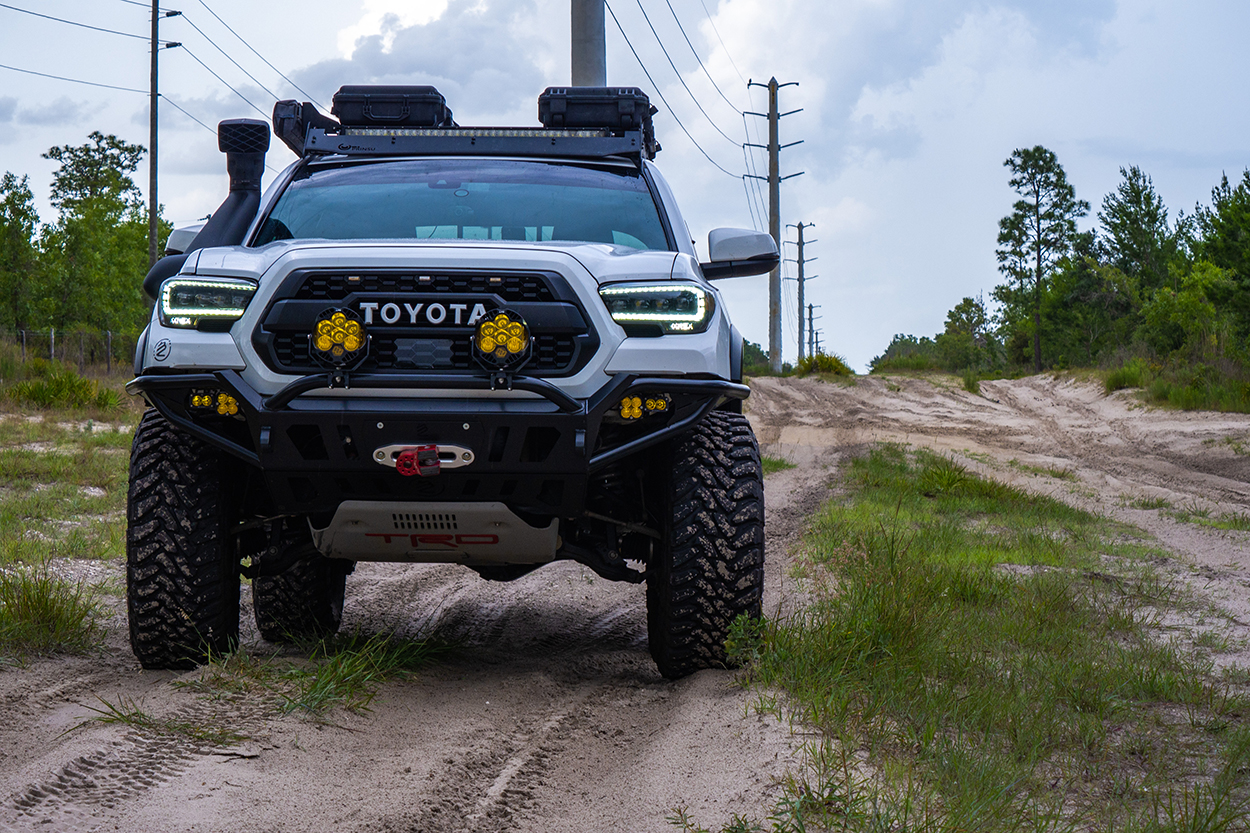 Tire Details
Model: Open Country M/T
Size: 315/75R16
Load Range: E
Price: $370/each
What Do You Like About Your Setup?
Having run Falken Wildpeaks, Cooper STT Pros, and Milestar Patagonias, I am most impressed by the capability, tread wear, and performance of the Toyo Open Country M/T tire.
One issue that I ran into with the other tires is how they performed on road in the rain. I would always catch my Tacoma fishtailing or having an issue catching traction when accelerating from a red light. The Toyo M/Ts do not have that issue.
Although they are expensive and people dislike their weight compared to other M/Ts, I am impressed by them overall.
10. Travis Shea (@tacoma_terry) – BFGoodrich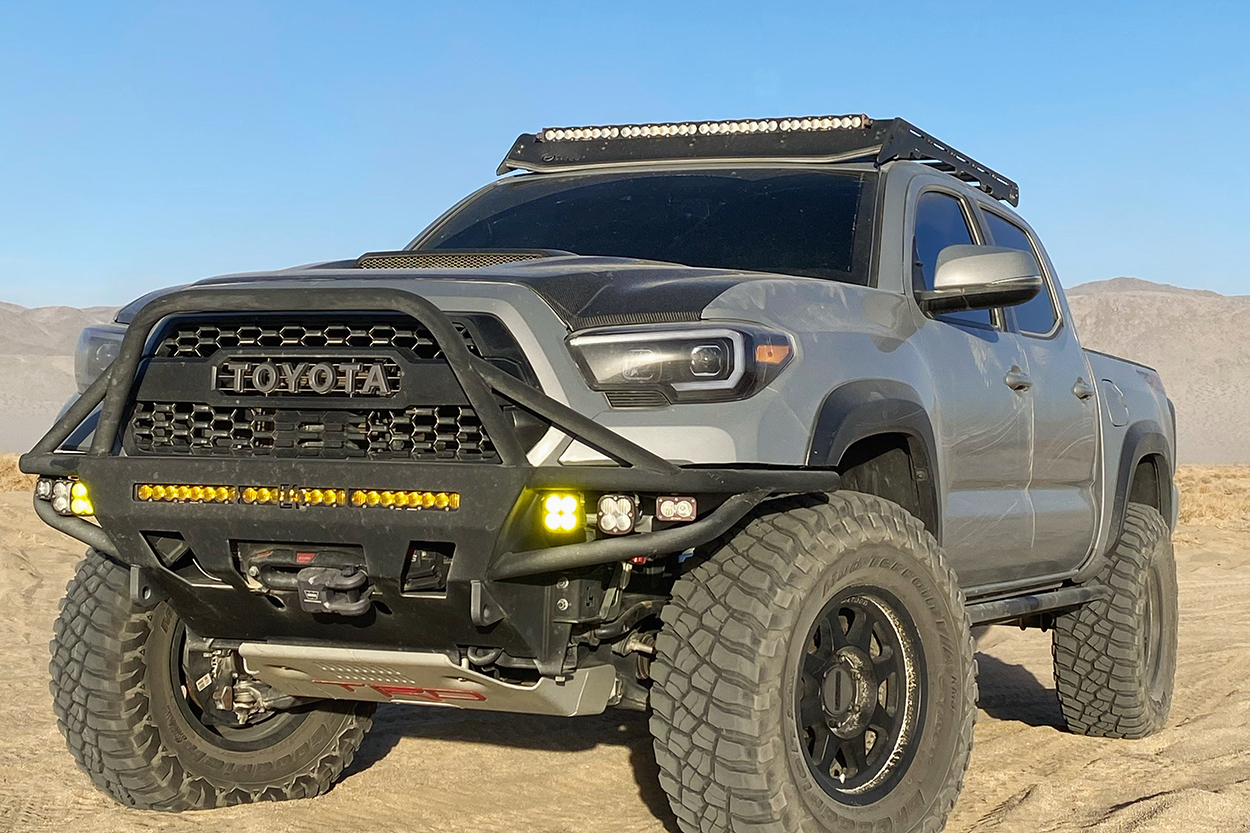 Tire Details
Model: KM3
Size: 35X12.5R17
Load Range: E
Price: $435/each
What Do You Like About Your Setup?
There's a reason BFGoodrich has been a prevalent tire company since 1870. In my opinion, the KM3 is one of the best M/T tires on the market. What I like most about the KM3s is their performance both on and off-road along with their aggressive look.
On road, they're a quiet tire, even at highway speeds. I've done everything off-road from high-speed desert driving, and rock crawling, to different trails with various terrains. All in all, I think the KM3 is a great tire for anyone.
11. David Zamora (@taco_vice) – Nitto
Tire Details
Model: Trail Grappler
Size: 35X12.50R17
Load Range:
Price: $405/each
What Do You Like About Your Setup?
What isn't there to like about these tires?!
They have amazing traction in all weather I've encountered (no snow because I live in Florida but I'm positive they'd handle it perfectly)!
I absolutely love the aggressive look of these tires. Although they're obviously intended for off-road use, this truck is my daily driver and it has performed exceptionally well on roads. They offer incredible handling and responsiveness both off-road and on-road.
Nitto did a phenomenal job with the design. The 3-ply design helps to prevent punctures and road noise is surprisingly minimal as long as your expectations are in line with an M/T tire. All in all, the Nitto Trail Grapplers are a perfect choice for anyone looking for a great M/T tire. I 100% recommend them.
12. Travis Penrose (@mntnoffroad) – Yokohama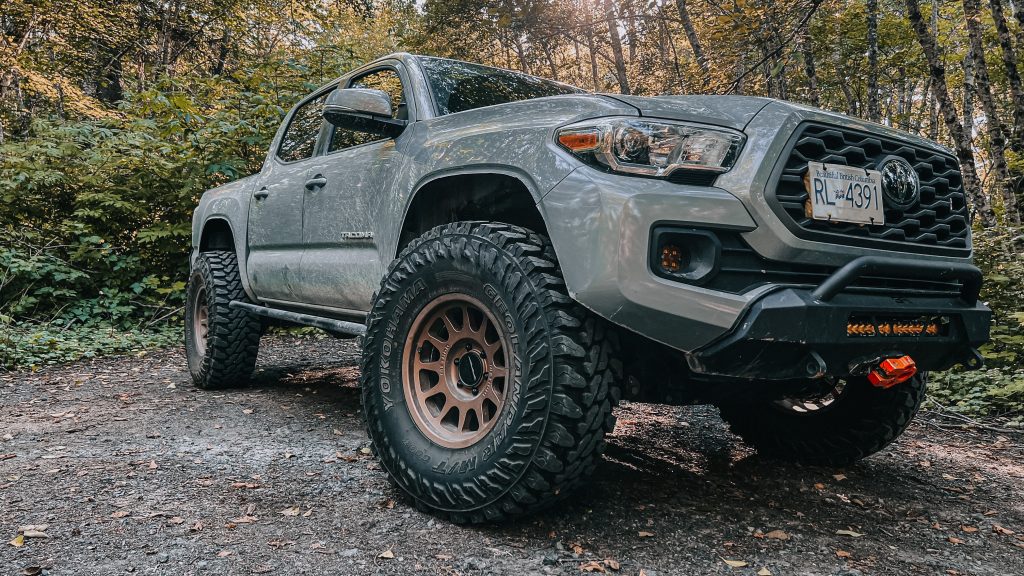 Tire Details
Model: Geolandar M/T G003
Size: 37X12.5R17
Load Range: D
Price: $430/each
What Do You Like About Your Setup?
Yokohama nailed it with this tire. Just looking at them, it's pretty obvious they are going to perform well off-road. What surprised me the most is how well they do on road.
The road noise is by far the lowest of any M/T I've tried and they handle much more like an A/T in the corners. It looks like I'm that guy reviewing M/Ts by raving about on pavement characteristics but I think it deserves mentioning especially for those of us who drive our rigs both to work and on the trails.
13. Oscar Sanchez (@beeronimoMTB) – Nitto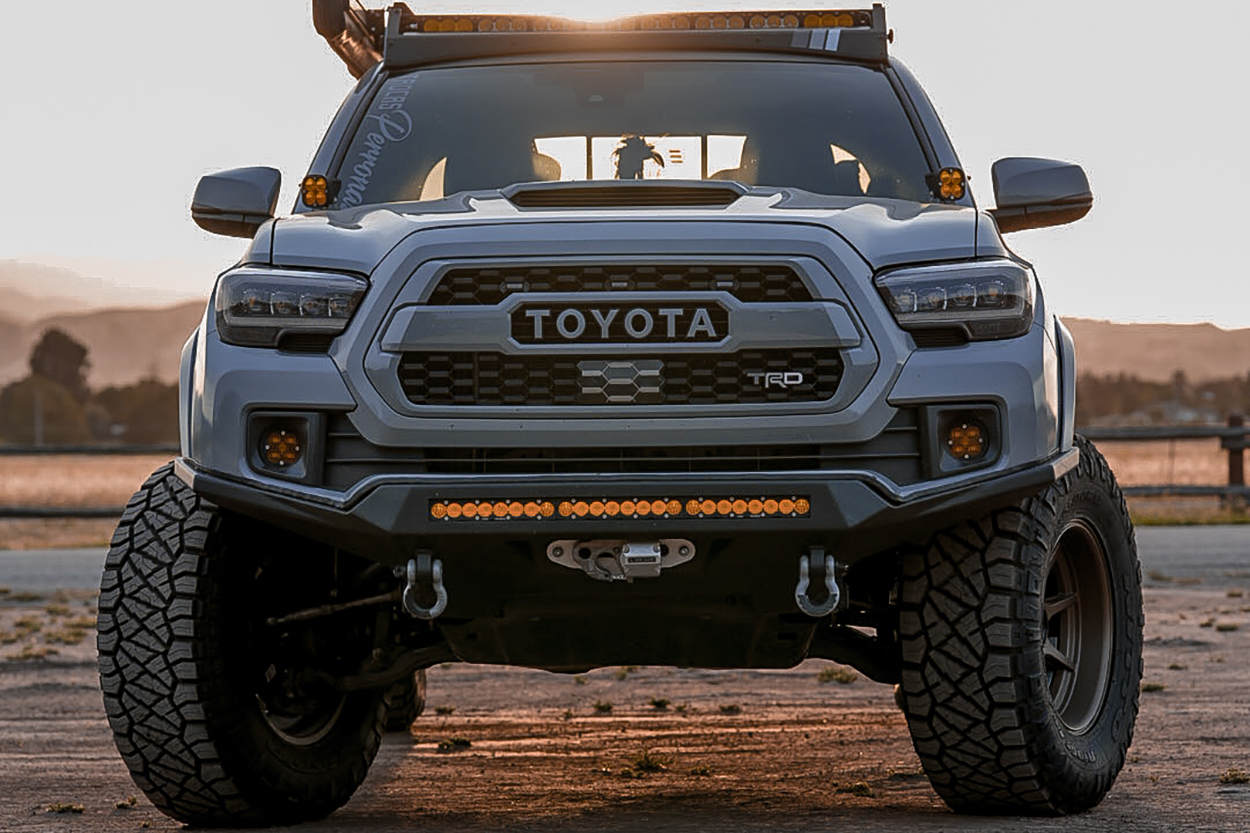 Tire Details
Model: Ridge Grappler
Size: 305/70R17
Load Range: E
Price: $355/each
What Do You Like About Your Setup?
The reduced road noise was a great selling point for me with these tires. The Ridge Grapplers are quiet yet perform adequately in multiple terrains. When your Tacoma is your daily commuter, a quiet cab makes the commute much more enjoyable!
14. Brenan Greene (@Trail4R) – Mickey Thompson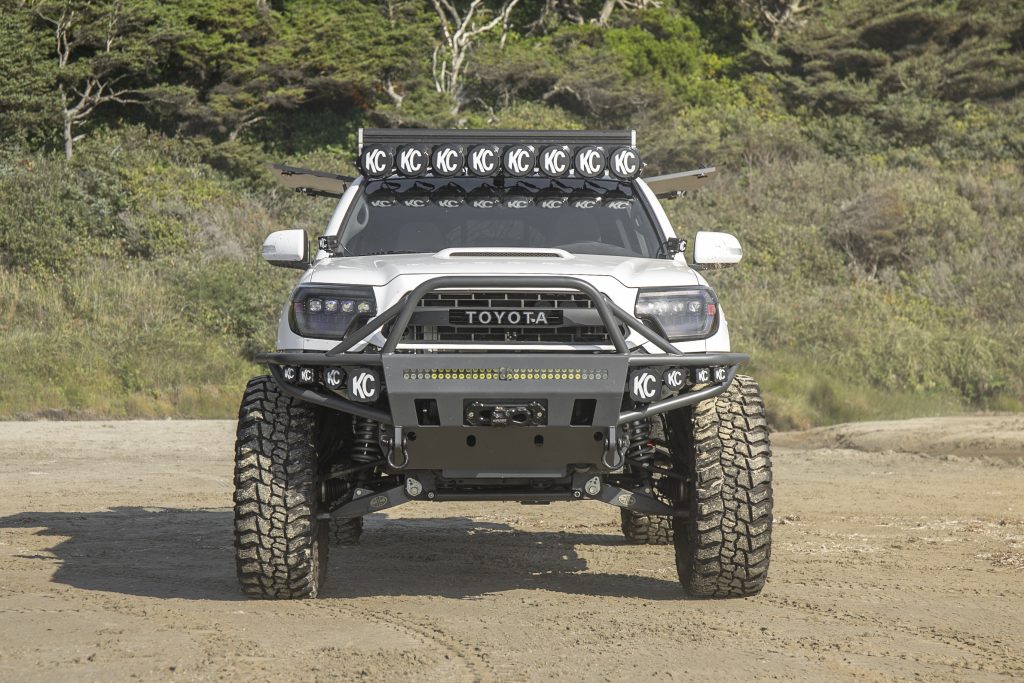 Tire Details
Model: Mickey Thompson Baja Boss M/T
Size: 37×12.5R17
Tire Load/Speed: 124Q
Load Rating: D
Ply: 8
Price: $500/each
What Do You Like About Your Setup?
After putting about 1000+ miles on the @mickeythompsontires Baja boss MTs (37×12.5), they definitely stand out as a top contender in the M/T segment. After running over 4 different M/Ts, I've grown to run love the functionality and look as well. You definitely sacrifice on road noise, weight, and longevity but these Baja Boss M/Ts should be at the top of your list for M/Ts in 2022 and heading into 2023.
They feature an asymmetrical tread pattern that offers killer on-road handling and has proven to offer good grip on wet roads. The sidewall lugs offer four unique aggressive lengths and depths and are backed by their PowerPly XD which beefs up these already impressively strong bias ply, load range D tires. The shoulder lugs boast an impressive 22mm tread depth. Compare that against 21mm TOYOs, also a very deep tread depth. The grip on the wet sand while balancing floatation was incredibly impressive. We felt planted as hell all while being able to have a little fun while hitting the skinny pedal with trac off.
What's really impressive is the stone ejectors on this M/T. When returning to the pavement after a long stretch of trail/gravel, the tires didn't launch stones at our body or at vehicles in the rear. While other M/Ts like the popular TOYO hold onto stones and throw them fiercely hours later, the Baja Boss M/T seems to let them go almost instantly. Weight is always a concern. For reference, these weigh 79lbs whereas the TOYOs weigh 84lbs.
Too early for a full review but I thought I'd update you on our experience so far.
15. Konrad Chojnowski (@trail_tacoma) – Pro Comp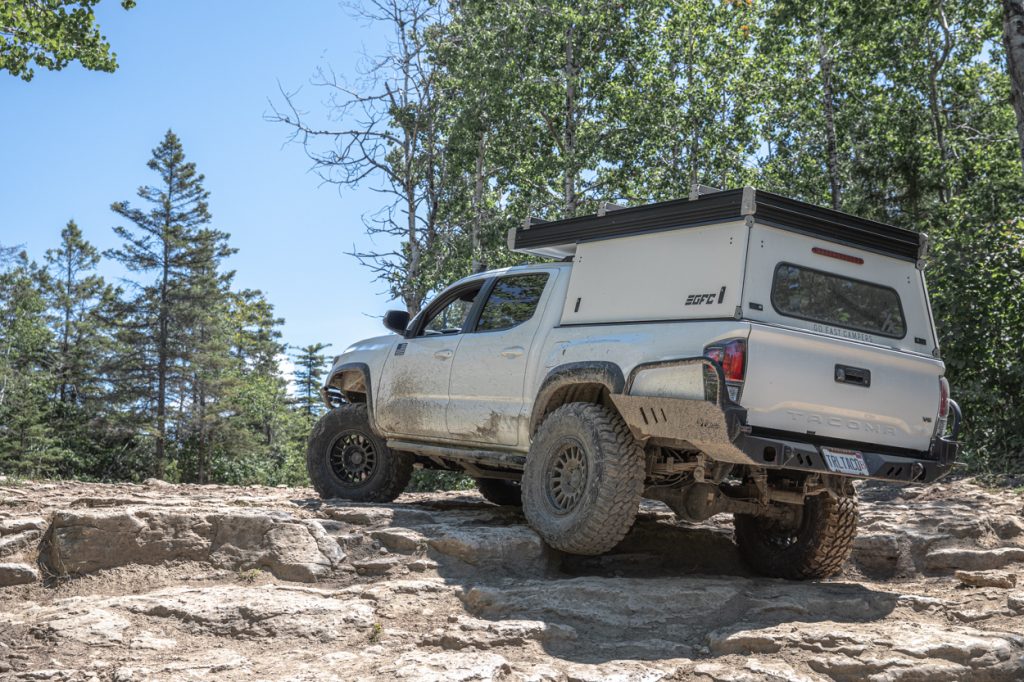 Tire Details
Model: Pro Comp Xtreme MT2
Size: 315/70/17
Load Rating: E
Ply: 10
Price: $375
What Do You Like About Your Setup?
I've got roughly 2,000 miles on this set of tires. This is my first time jumping into a 35″ tire. Yes, I know that a 315/70/17 is not technically a true 35 – but neither are many tires labeled as 35s. In any case, they have been great so far. I got them mounted up right before we did a week long trip in Michigan's Upper Peninsula. We saw water, rocks, mud and plenty of moderate obstacles. I have no complaints thus far. A good tire that was readily available at my local 4WP store.
I'll be diving into a deeper long term review in the future. Looking forward to seeing how these perform in the rain and snow in the coming months. One thing I will say for now, these tires look really good and I'm happy to be testing a tire that I really haven't seen many people running, especially in the Toyota community. More to come!
Final Thoughts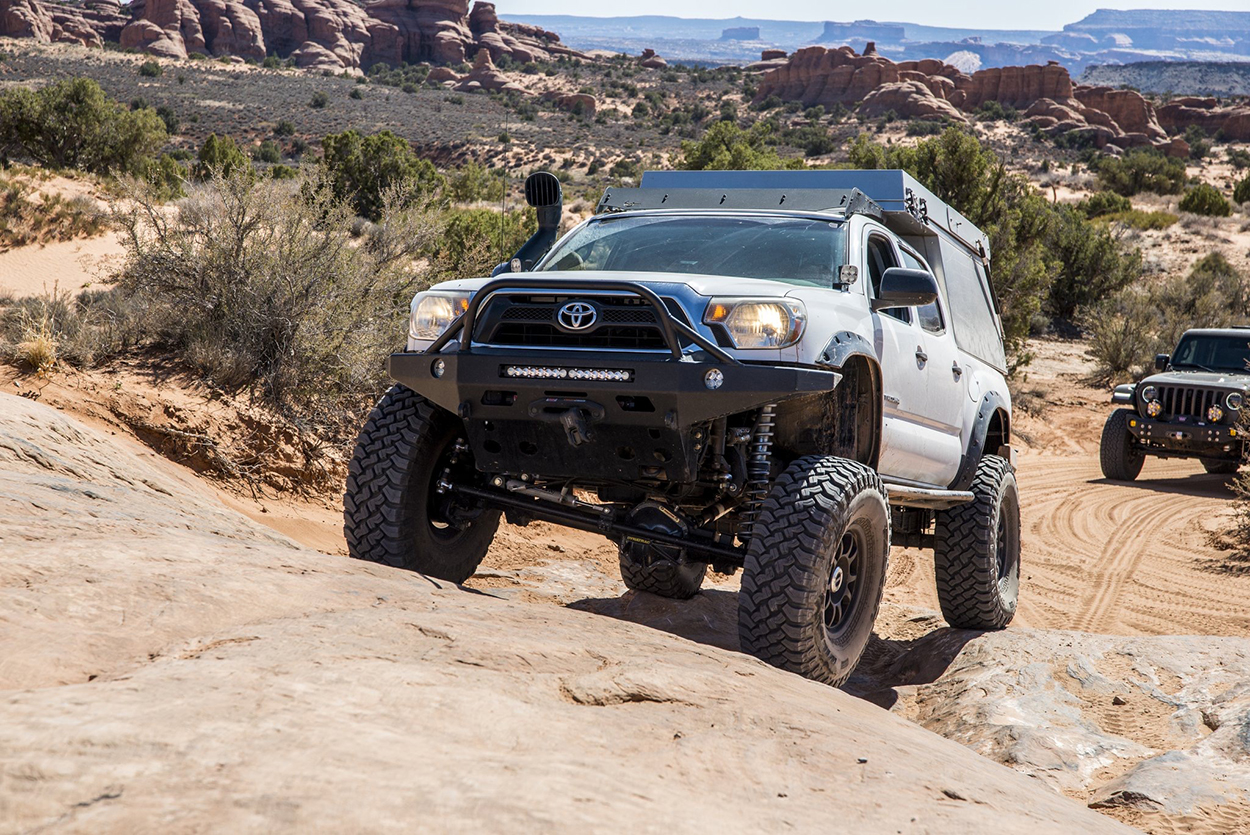 What a great variety of rigs and tires for this week's Taco Tuesday! For my Tacoma, I went with the Nitto Ridge Grapplers. These tires are a nice hybrid between an A/T and M/T tire. They perform very well on the street and absolutely grip the crud out of the Florida sand. I would highly recommend them to anyone who isn't sure if they desire an A/T or M/T tire for their Tacoma!
If you want to be featured for Taco Tuesday, submit your build through TrailTacoma.com/Feature. Next week's Taco Tuesday will be featuring 2nd Gen Aftermarket Headlight Options and asking owners what they like about the lights they are running. We're looking for sweet rides to showcase! If you love your setup, send in your details because we want to see it.
Thanks for reading guys. I'll see you next week!