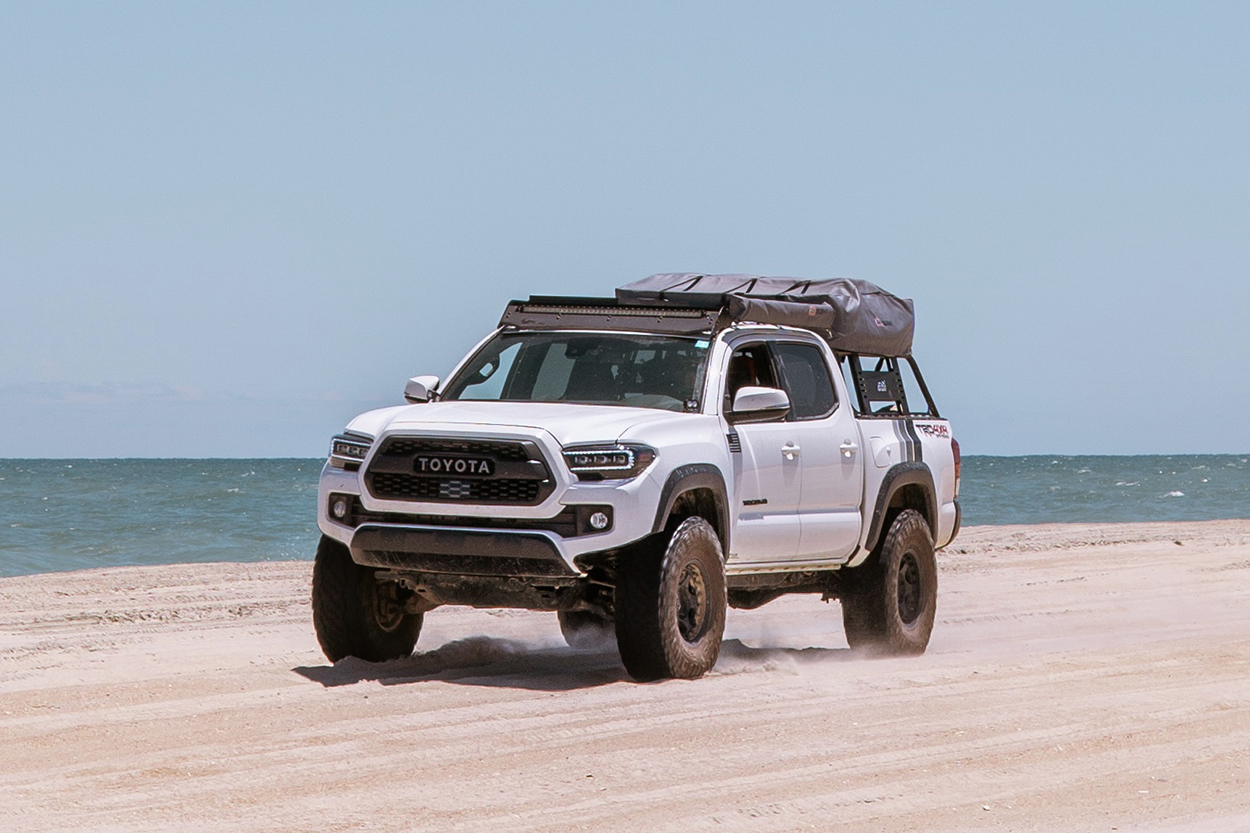 2nd & 3rd Gen Toyota Tacoma TRD Off-Road Builds & Their Owner's Top 5 Overland/Off-Road Mods
Hey guys! Welcome back to another Taco Tuesday! If you missed last week's TT, we looked at camper shells/toppers/caps for the Tacoma.
This week, we asked 10 TRD Off-Road Tacoma owners why they chose this trim level over any of the others.
Why Buy A TRD Off-Road Tacoma?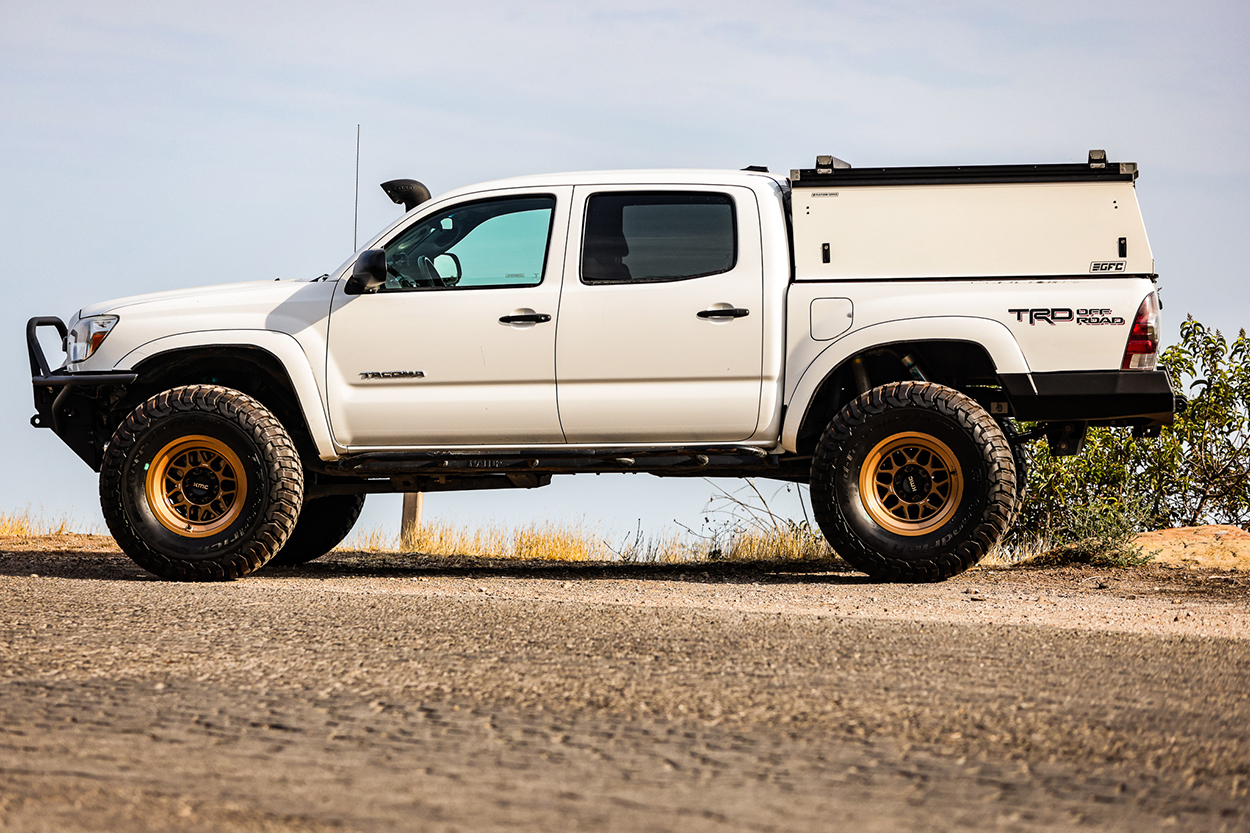 The Tacoma TRD Off-Road (OR) was purpose-built by Toyota to conquer pretty much any terrain you throw at it, even in stock form.
The TRD OR package comes with a good amount of off-road tech compared to a standard SR5 4×4.
These extra features (in the 3rd Gen) include Multi-Terrain Select, Crawl Control, a rear locking differential, "upgraded" skid plates, and off-road-tuned suspension. Another notable feature of the 3rd Gen TRD Off-Road is black plastic wheel fenders. This helps easily distinguish a TRD Off-Road from the other trim levels.
Now if we are talking 2nd Gen, in 2014, they received the read locking differential, DAC, and A-Trac.
So why not just get a TRD Pro with all the features above, plus better suspension, tires, and wheels? Well, that is simple, MONEY!
Many owners end up building their TRD OR Tacomas into much more capable trail rigs than a stock TRD Pro. Even with mods, the final cost is still usually less and leaves some cash left over for camping equipment, etc. I always recommend a TRD OR over a TRD Pro if you don't really care about the exclusiveness of a TRD Pro. Or, if you plan to swap out suspension, wheels, and tires anyway.
Now let's see what made these owners choose a TRD Off-Road Tacoma for their trail rigs!
1. Jim Bob Barnett (@

_jim_bob

) – 2014 TRD Off-Road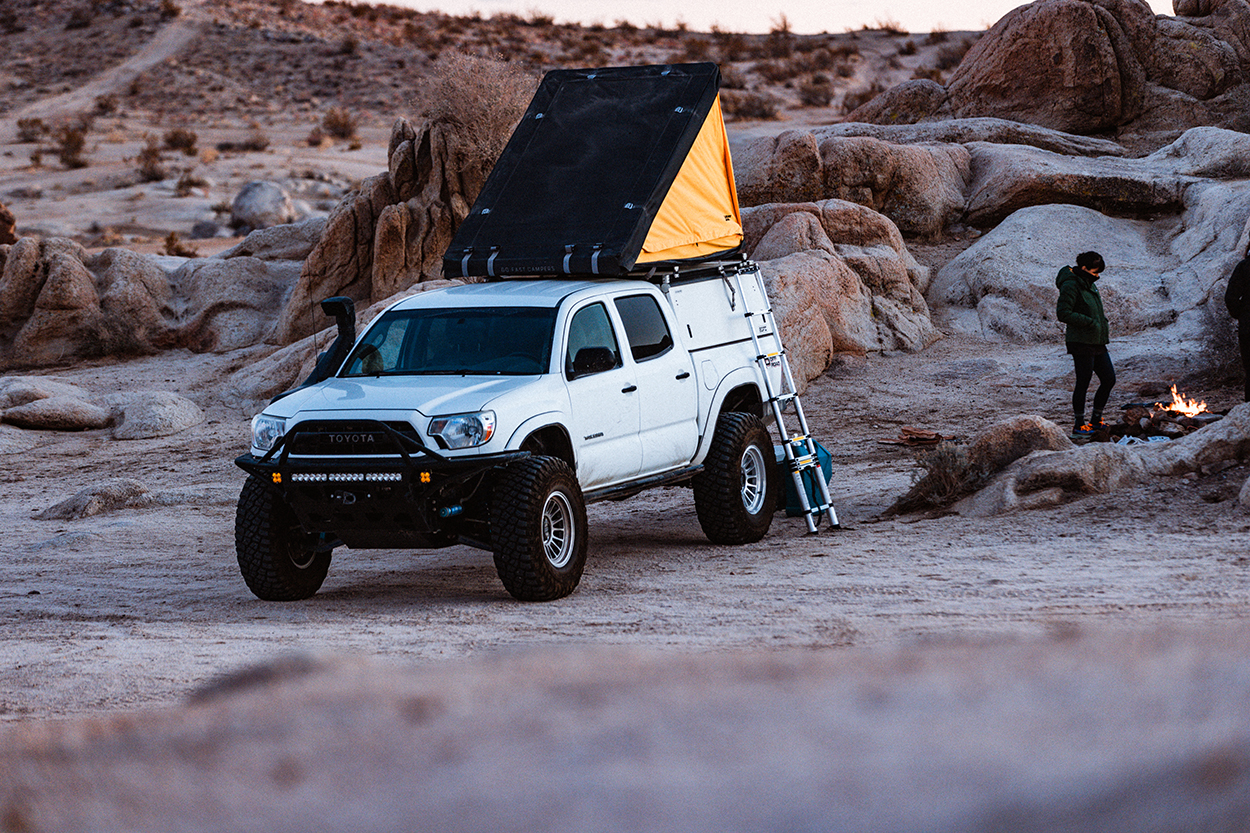 Top 5 Mods
Total Chaos +2 LT

Custom rear shock tower w/ through the bed brace & 12″ 2.5 King IBP rear shocks

Relentless bumpers

37″ KM3 tires

Go Fast Camper (GFC – not pictured above)
Why The TRD Off-Road? What Do You Like Most About Your Setup?
I originally wanted a truck to carry dirt bikes and planned to buy a used Tacoma. However, when I got to the dealership, the used ones were only like $3-4k cheaper than a brand new one, so I bought this one.
I didn't plan on modding it besides slightly bigger tires and a slight lift, and now we're here. I like how versatile my truck is; it can run the Rubicon, slam out in the desert, and camp comfortably all on the same trip.
2. Nick Salsbury (@

quicksendtaco

) – 2019 TRD Off-Road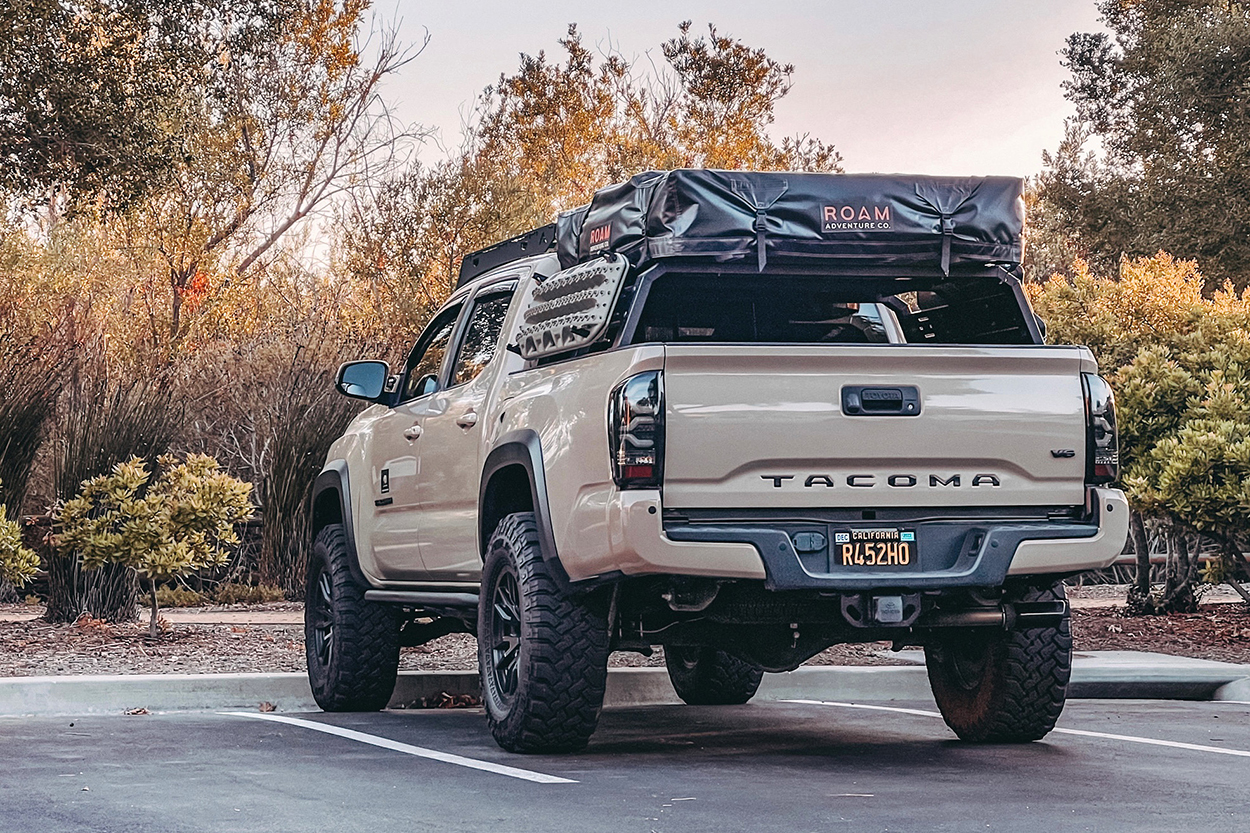 Top 5 Mods
Sherpa Equipment Grant Teton roof rack

Roam Vagabond RTT (standard 2-3 person)

KC HiLites fog/rock/ditch lights

Desert Does It Seat Jackers

Falken Wildpeak MT tires
Why The TRD Off-Road? What Do You Like Most About Your Setup?
I chose the TRD OR because I knew I wanted the rear locker and 4×4 long-term for when we do need it, even if it's not every day.
I also knew I wanted this color specifically because I came from a Subaru CrossTrek and they had a similar color that I didn't have. When Toyota launched Quicksand, I had to have it. I also love the form factor of the Tacoma. For us, a full size, where we live, is way too large so with two adults and a 50lbs dog it's perfect!
I also love that we now finally have a dedicated adventure rig since I do daily it a lot for hikes and MTB stuff. Knowing we have one vehicle that is pretty much just pack a bag and go was always part of the plan. I am very happy about where the truck sits now, it's always a work in progress though!
3. Joshua Doolin (@

ahsoka_taco

) – 2017 TRD Off-Road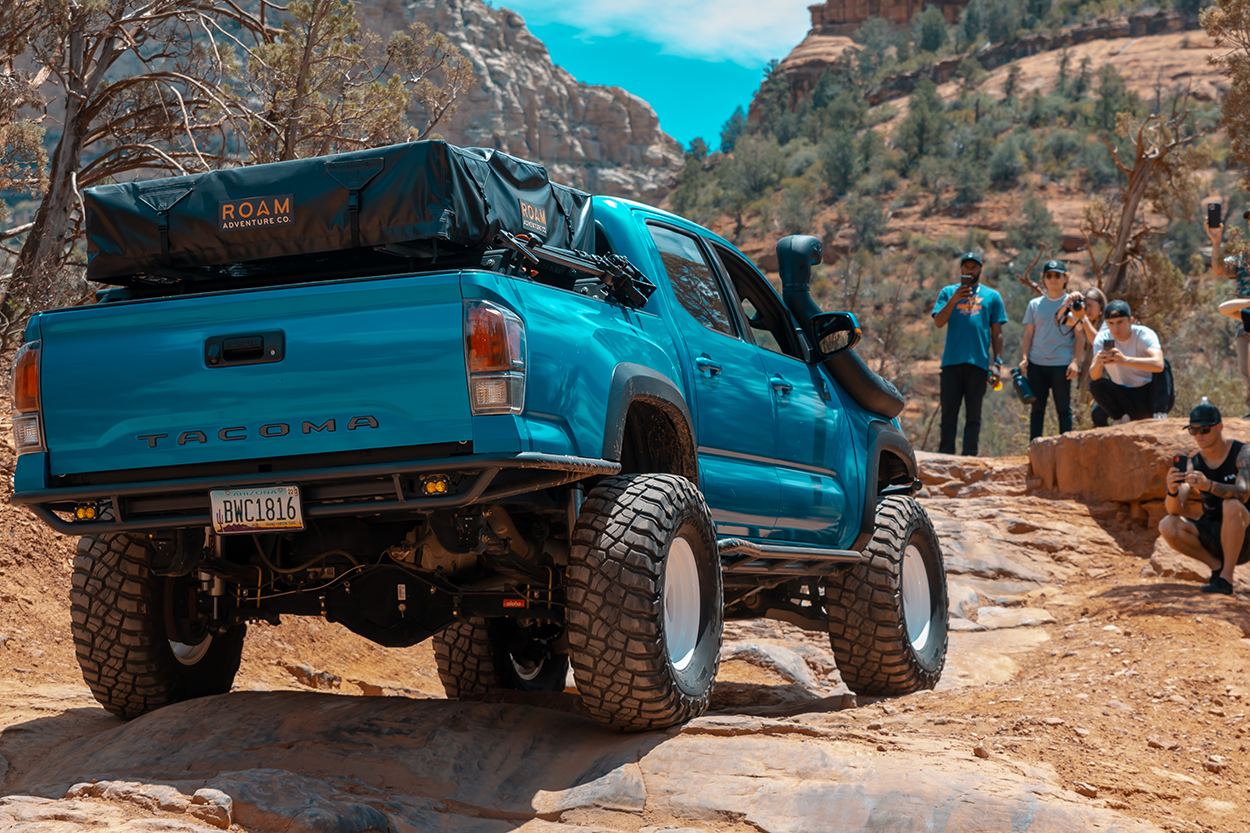 Top 5 Mods
ADS 2.5 ARR coilovers

@aztunepro Sport tune
Outgear Solutions HC rear bumper
Dobinsons leaf pack w/ greaseable zerks
Lil B's HC front bumper
Why The TRD Off-Road? What Do You Like Most About Your Setup?
I liked the factory rear locker, that's a big help while on the trail. I also liked the fender flares not being painted, which I got used to on my 2nd Gen.
The touch screen and electric sliding window inside the cab are awesome too. They're big improvements in terms of creature comforts from the 07′ that I had. I still think the 3rd Gen Taco has the most attractive front end on the market.
4. Will Holder (@t

n_taco

) – 2019 TRD Off-Road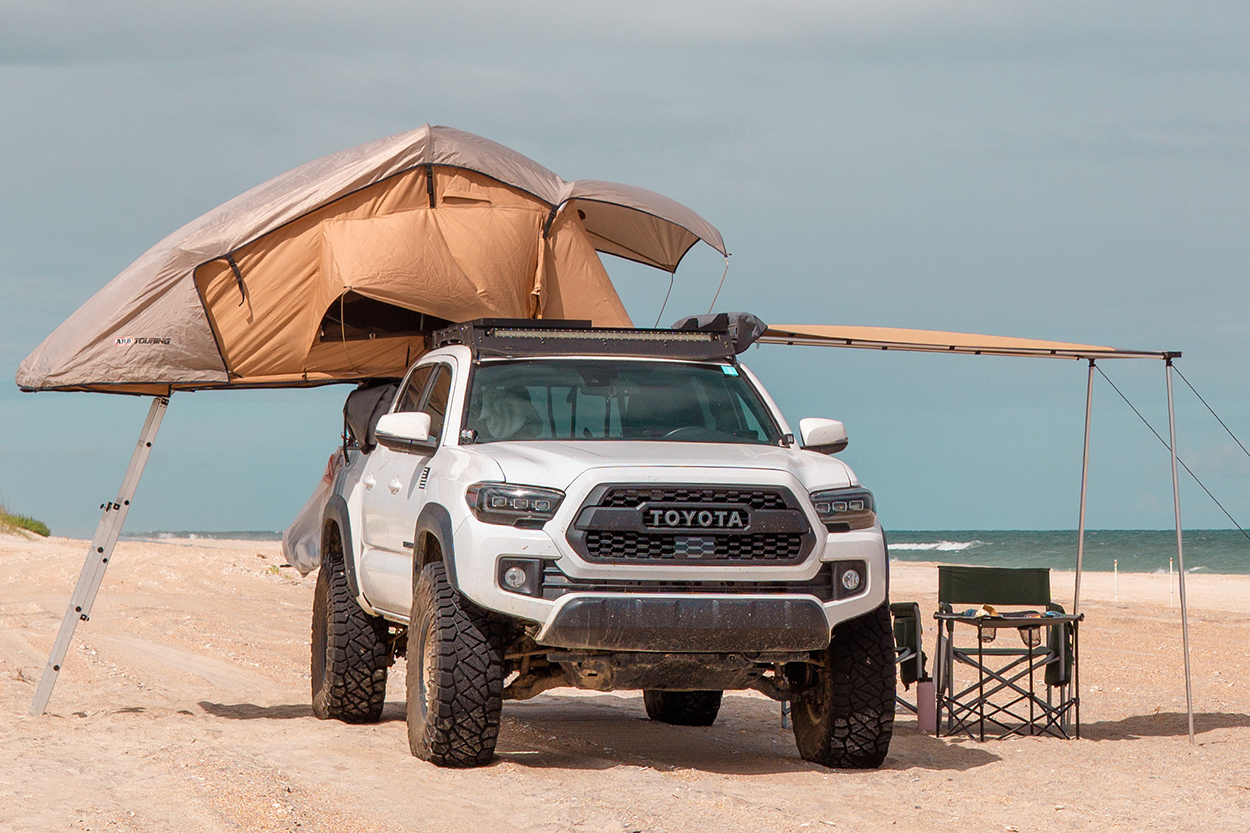 Top 5 Mods
Fox Suspension front & back

FORM headlights

315/75/16 Nitto Ridge Grappler tires

Diode Dynamics SS3 pods

CBI bed rack
Why The TRD Off-Road? What Do You Like Most About Your Setup?
I got the TRD Off-Road for its 4×4 and rear locking differential capabilities. Some of the factory options that it comes with over the sport and SR5 models such as the black fender flares and terrain selector are nice as well.
I frequent trails and literally have never run into any issues. Most of the time, 4Hi is enough to get me through anything. Occasionally, the rear locker and low range get me out of sticky situations! If you're looking to get into off-roading right off the lot, this is the model for you!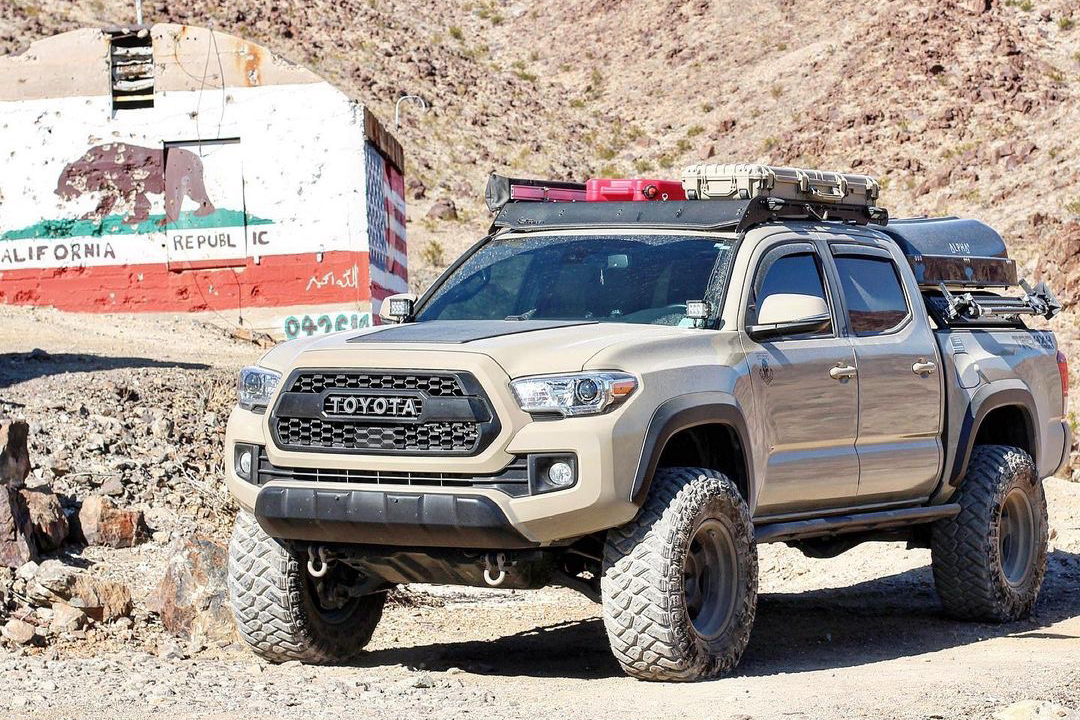 Top 5 Mods
Dobinsons suspension

Tacomapocalypse bed rack

Stealth Custom Series F5 wheels

Lensun Solar hood panel

Tuff Stuff Alpha II RTT
Why The TRD Off-Road? What Do You Like Most About Your Setup?
I chose the TRD Off-Road because of its capabilities, extra options, rear locker, and Crawl Control. What I like most about my setup is the Dobinsons Suspension. I finally got it dialed in after a few trips through trial and error.
6. Brian Baldwin (@s

quaresr6

) – 2020 TRD Off-Road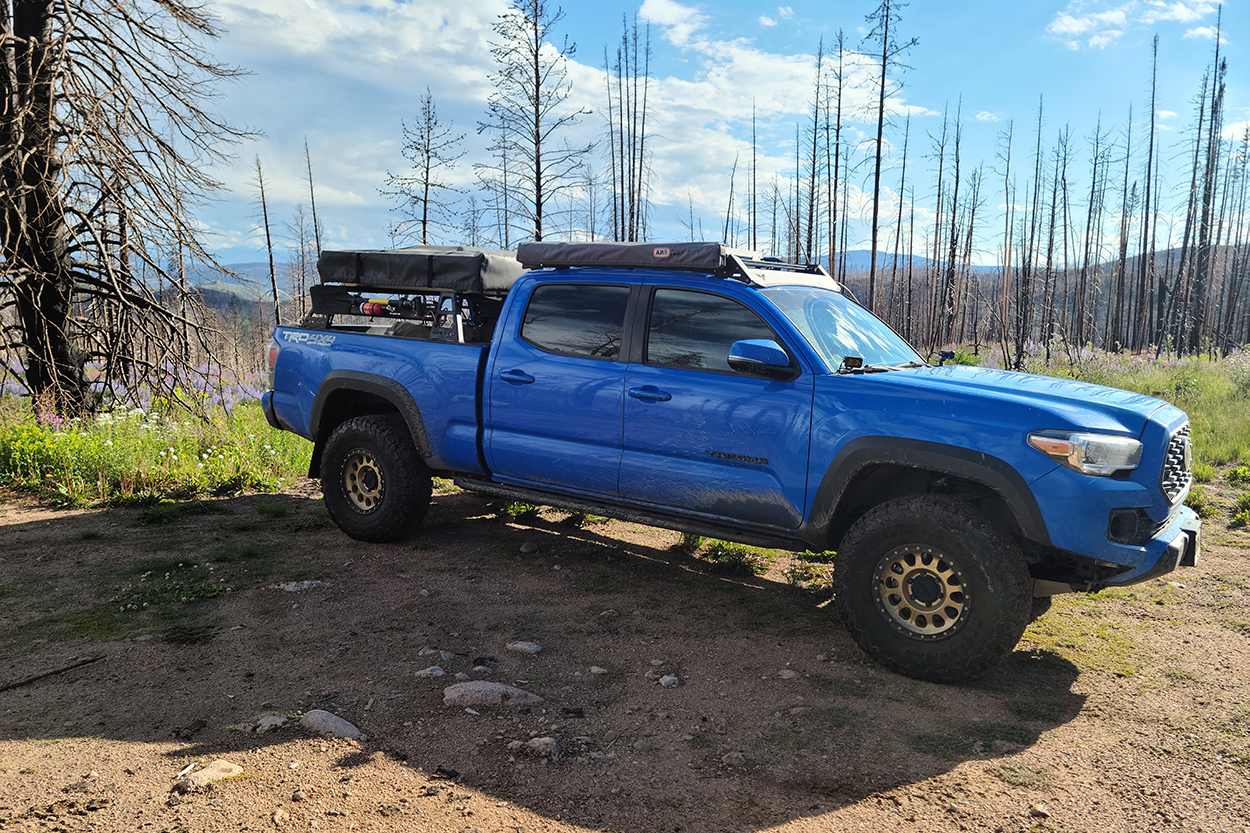 Top 5 Mods
Fridge

Dual battery setup

Rock sliders 

Bed rack 

RTT
Why The TRD Off-Road? What Do You Like Most About Your Setup?
I bought my TRD off-road because of its reliability and the long bed. I carry all of the extra firewood for the camping weekends and still have tons of storage space.
I've camped all over the Southwest and am hoping to head up to the PNW next year. Everything on my truck is functional and serves a purpose. The biggest mods that I've made that have had the most impact on my off-roading and overlanding have been my fridge, dual battery setup, sliders, and of course, my bed rack and tent.
7. Sary Ven (@

yotaflame

) – 2020 TRD Off-Road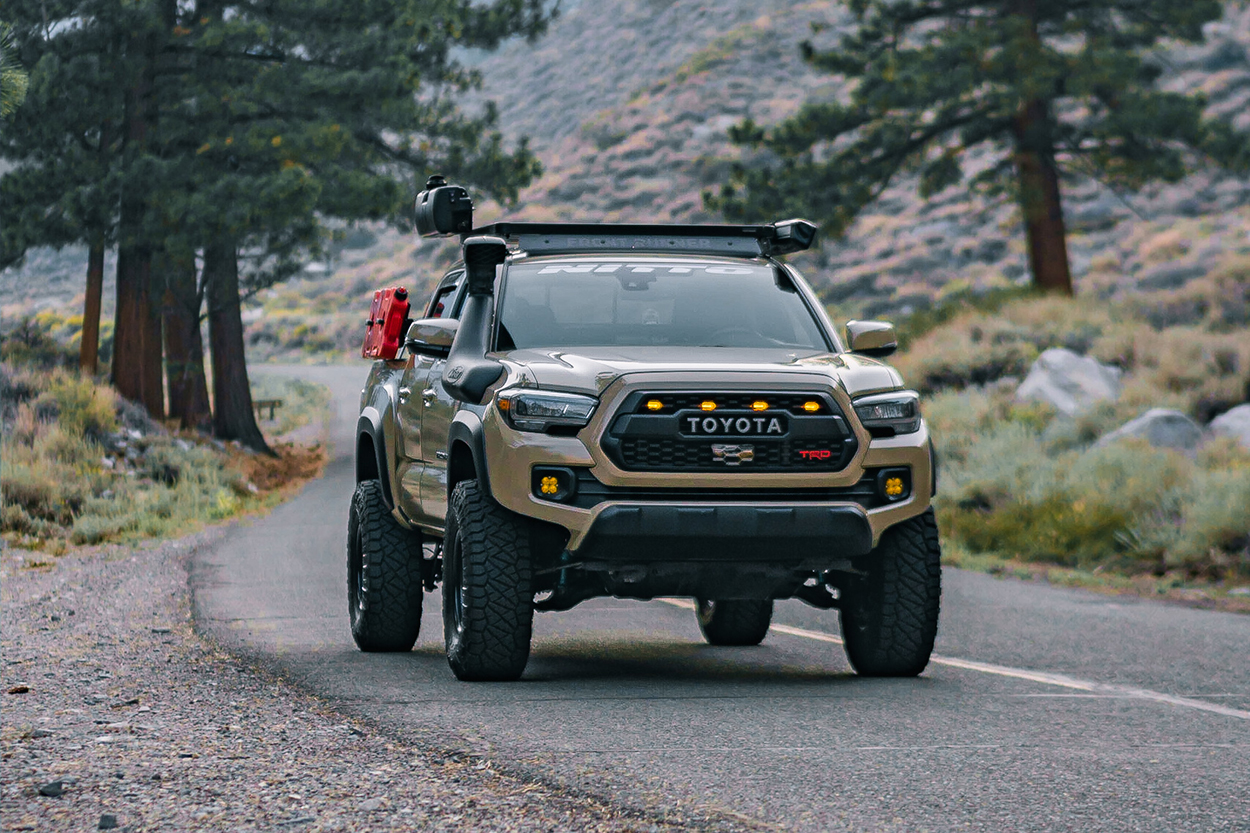 Top 5 Mods
King Shocks 2.5 non-adjustable

Deaver Stage 2 leaf pack

SPC Adjustable UCA

SCS F5 wheels | 16×8 | -25mm offset

AlphaRex TRD Pro style headlights
Why The TRD Off-Road? What Do You Like Most About Your Setup?
I bought the TRD OR because of its rear differential locker. Don't get me wrong, I initially wanted the TRD Pro, but I saved way more money with the TRD OR.
For the 2020 model, I'm able to adjust my driver's seat (up or down), so I can see over my hood, and that's a massive plus for me. Overall, I love my truck. It gets the job done and I will add more mods in the near future so stay tuned!
8. Jason Swencki (@

scubavoyage

) – 2021 TRD Off-Road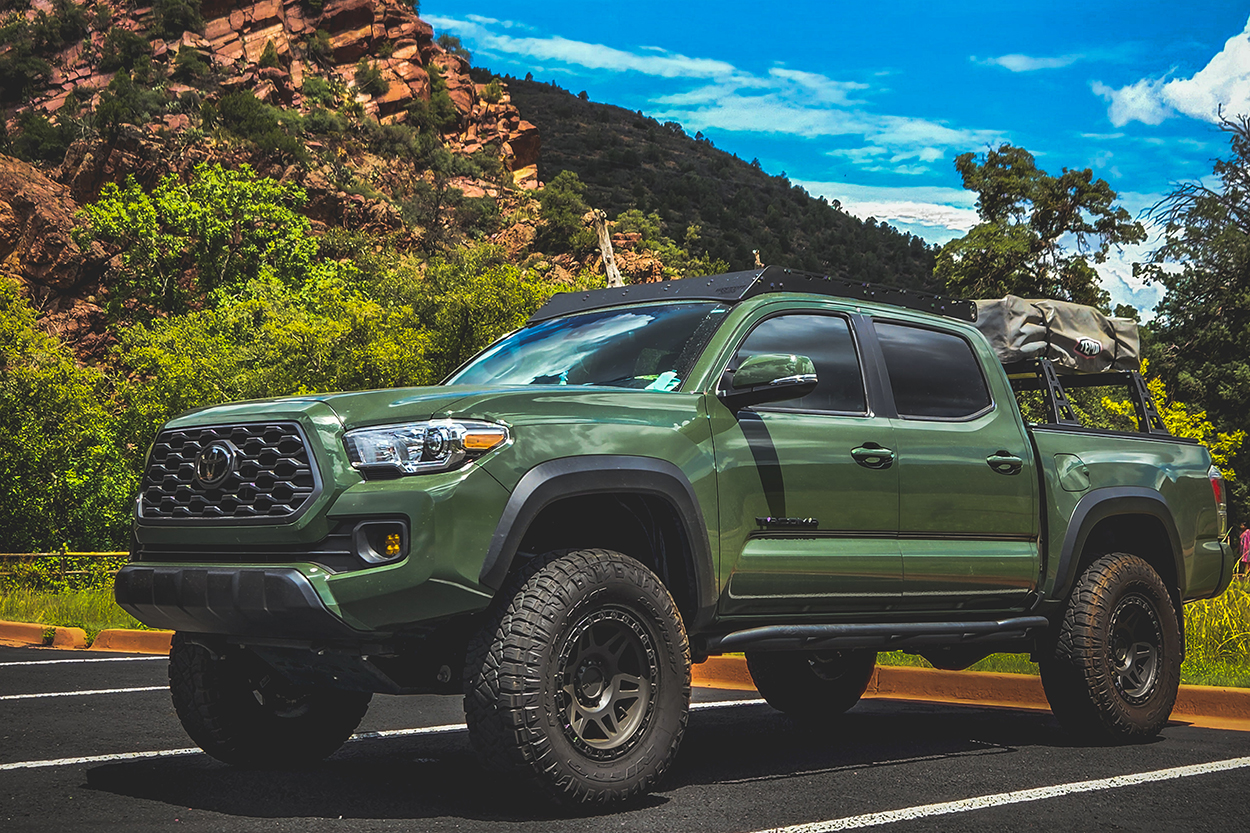 Top 5 Mods
Westcott Designs TRD lift

Westcott Designs roof rack & sliders

Custom bed rack for Retrax XR cover

Method Race Wheels

Baja Designs lights
Why The TRD Off-Road? What Do You Like Most About Your Setup?
I teach scuba and medical classes which requires me to get to places that are off-road. The Off-Road package had the options I wanted as well as the interior to handle the wear and tear.
Westcott Designs had the best gear and setup options in terms of function for what I needed to do to carry the scuba and medical gear as well as scuba and oxygen tanks. I love the ride and style as well!
9. Randy Esperanza (@

beachtaco12

) – 2020 TRD Off-Road
Top 5 Mods
C4 Hybrid front bumper

King Shocks

35" tires

Falcon Seeker T8 wheels

Baja Designs lights
Why The TRD Off-Road? What Do You Like Most About Your Setup?
It didn't make sense to go with the TRD Pro since I knew that I was going to upgrade my suspension anyways. The TRD Sport didn't have the rear locker, so the Off-Road made the most sense.
What I like most about my setup is my 35" tires coupled with the King suspension. Oh, and the Quicksand color is just absolutely stunning.
10. Randy Esperanza (@

beachtaco12

) – 2020 TRD Off-Road Premium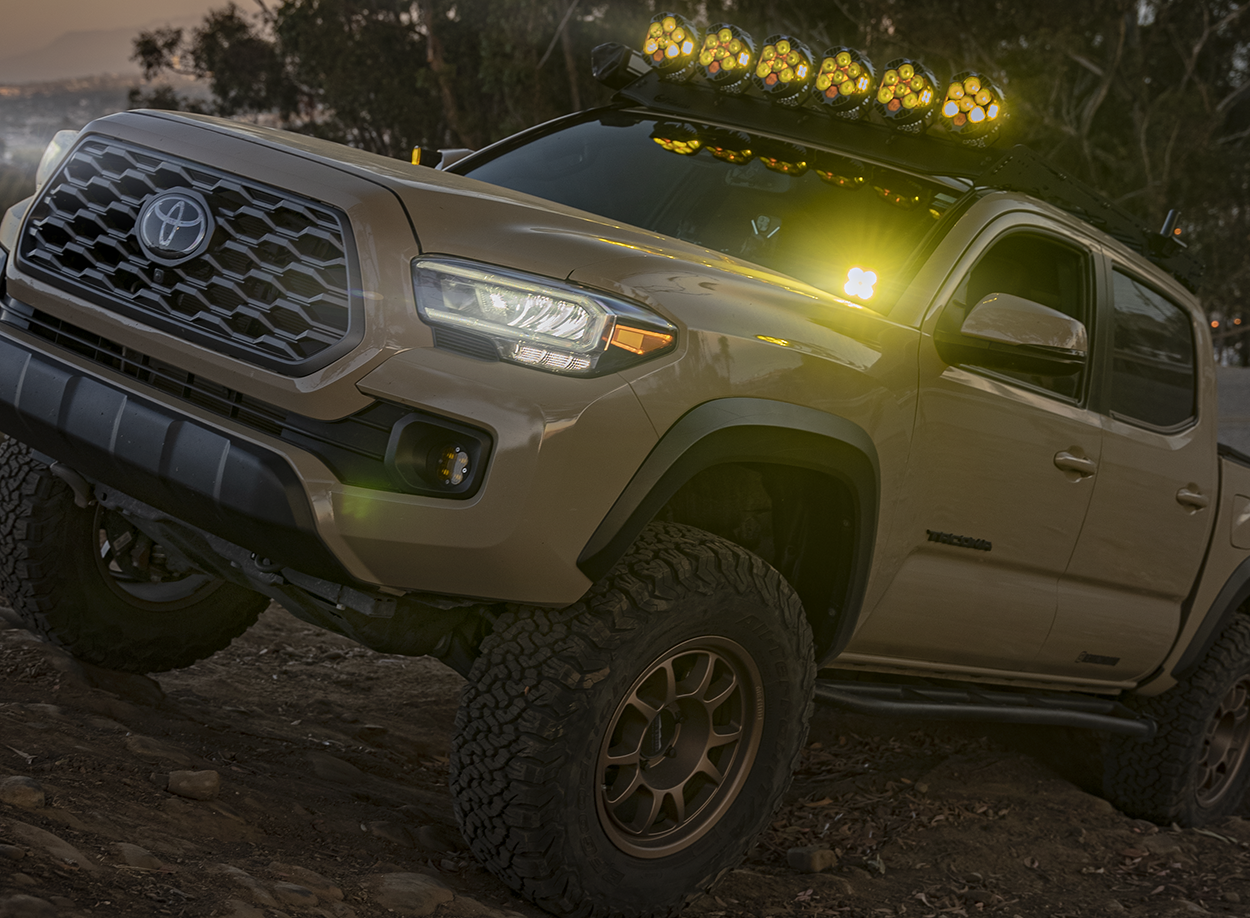 Top 5 Mods
King Shocks 2.5″ suspension

Method 702 bronze wheels

Baja Designs amber lights

Prinsu roof rack

Cali Raised LED rock sliders
Why The TRD Off-Road? What Do You Like Most About Your Setup?
I went with the TRD Off-Road because I knew I'd be swapping out the Fox Suspension with King Shocks and also wanted all of the interior and tech features in the Pro, so I made sure to get the Off-Road Premium and Advanced Tech packages.
After looking for my perfect truck for over a year, I ended up finding it 300 miles away in Arizona. I made the trek out to Lake Havasu and fell in love. It was everything I had been looking for in a Tacoma. Once I got it back home, I began the upgrades.
I took the truck to 88 Rotors in LA where I added King Shocks 2.5″ Suspension, Camburg UCAs, Method 702 wheels in bronze, and BFG KO2 tires. After that, I quickly added some rock sliders from Cali Raised LED and an ARB dual compressor in the engine bay to air back up after finishing a trail.
Those mods weren't necessary for adventures but they definitely made a huge difference getting further back into some of the more technical trails. The 360-degree panoramic cameras that are included in the advanced tech package made crawling over boulders and hills much easier when I don't have a spotter with me.
Final Thoughts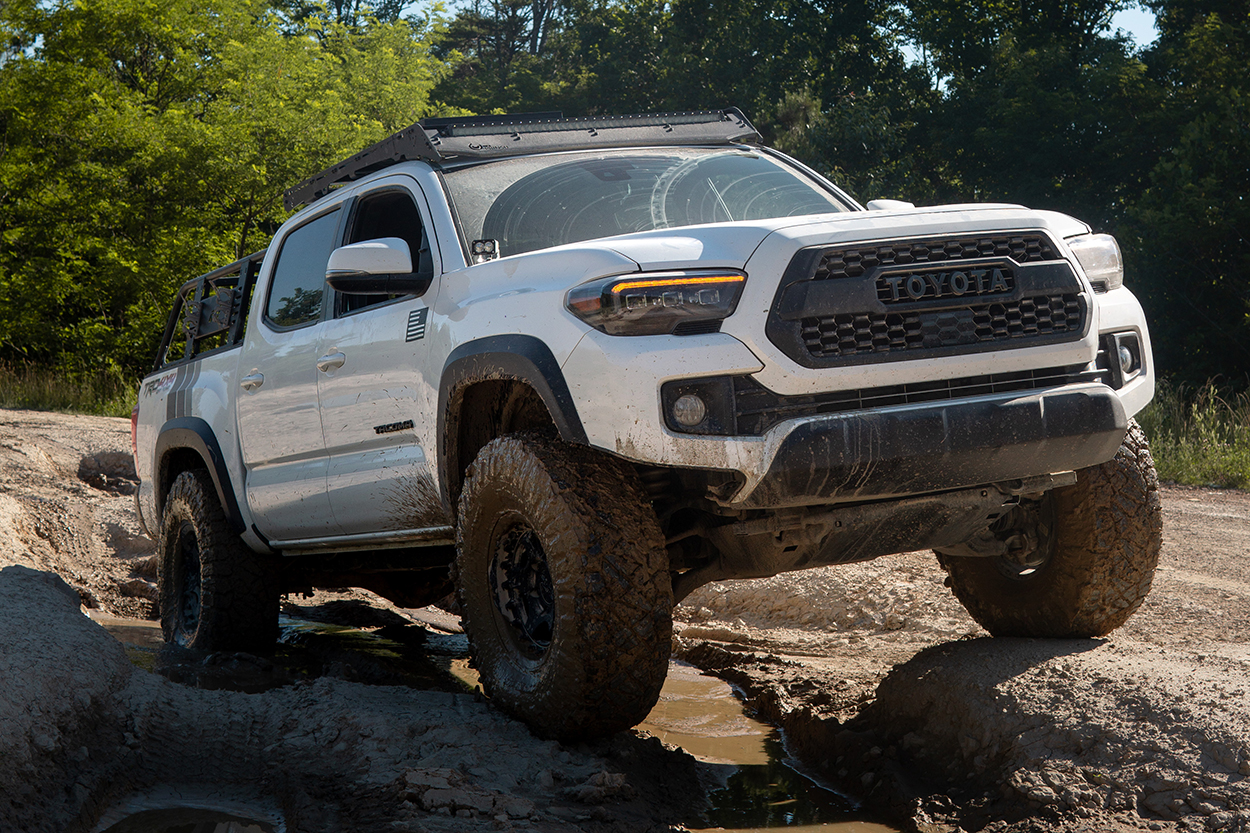 I hope that this week's Taco Tuesday article informed you a little more about the TRD Off-Road trim level for the Toyota Tacoma.
Personally, a TRD OR is overkill for the Florida terrain that I live around. However, I live by the motto of, it's better to have something and not need it, than to need something and not have it. I know that if I get stuck in sand one time and would've been able to get out if I had a rear locker or crawl control, then I would never live it down. That's why I will never own a 2WD truck again. That's a story for another time.
If you want to be featured for Taco Tuesday, submit your build through TrailTacoma.com/Feature. Next week's Taco Tuesday will be featuring 2nd Gen Tacoma Roof Racks. We're looking for sweet rides to showcase! If this is you and you love your setup, send in your details because we want to see it.
Thanks for reading guys. I'll see you next week!