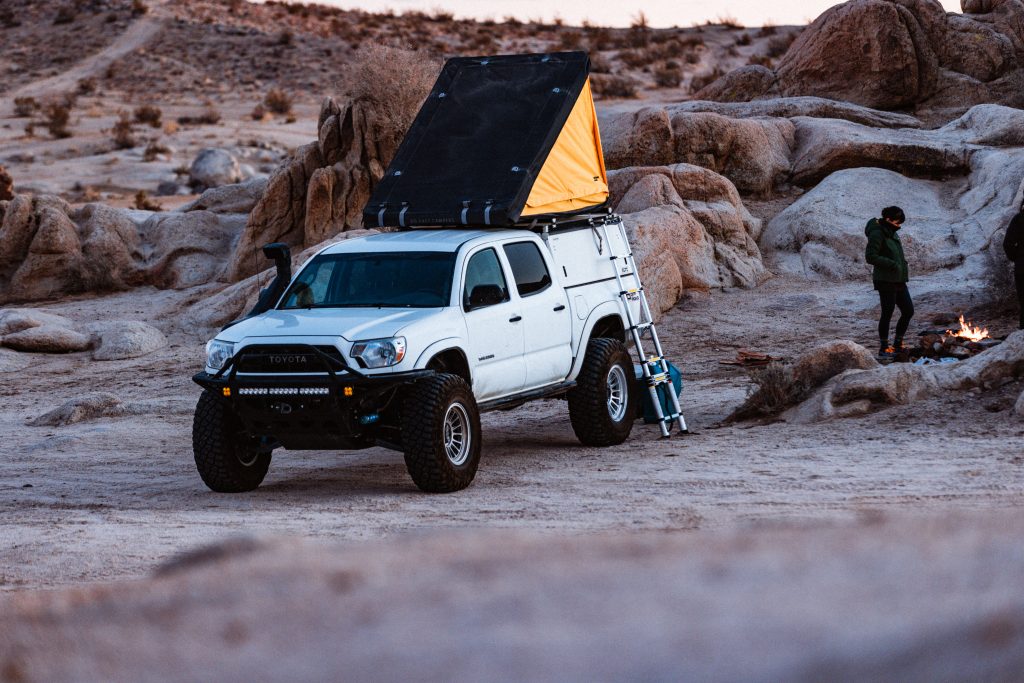 9 Different Toyota Tacoma Truck Bed Camper Shells, Toppers & Truck Caps – Inspiration For Adding Functional Covered Space To Your Build
Hey guys! Welcome back to another Taco Tuesday! If you missed last week's TT, we took a look at 2nd Gen Tacoma aftermarket headlight options.
There are many options for Tacoma bed storage ranging from bed racks to camper shells and full-fledged truck campers. This week, we are looking at some of the more popular camper shell options available for both the 2nd and 3rd Gen Tacoma in 2022.
Looking for a camper shell buyer's guide? Check it out – camper shell and bed toppers for Tacoma.
Want to compare different options? Another good read – camper shells vs. bed racks vs. campers.
Tacoma Truck Bed Toppers
Why Buy A Camper Shell?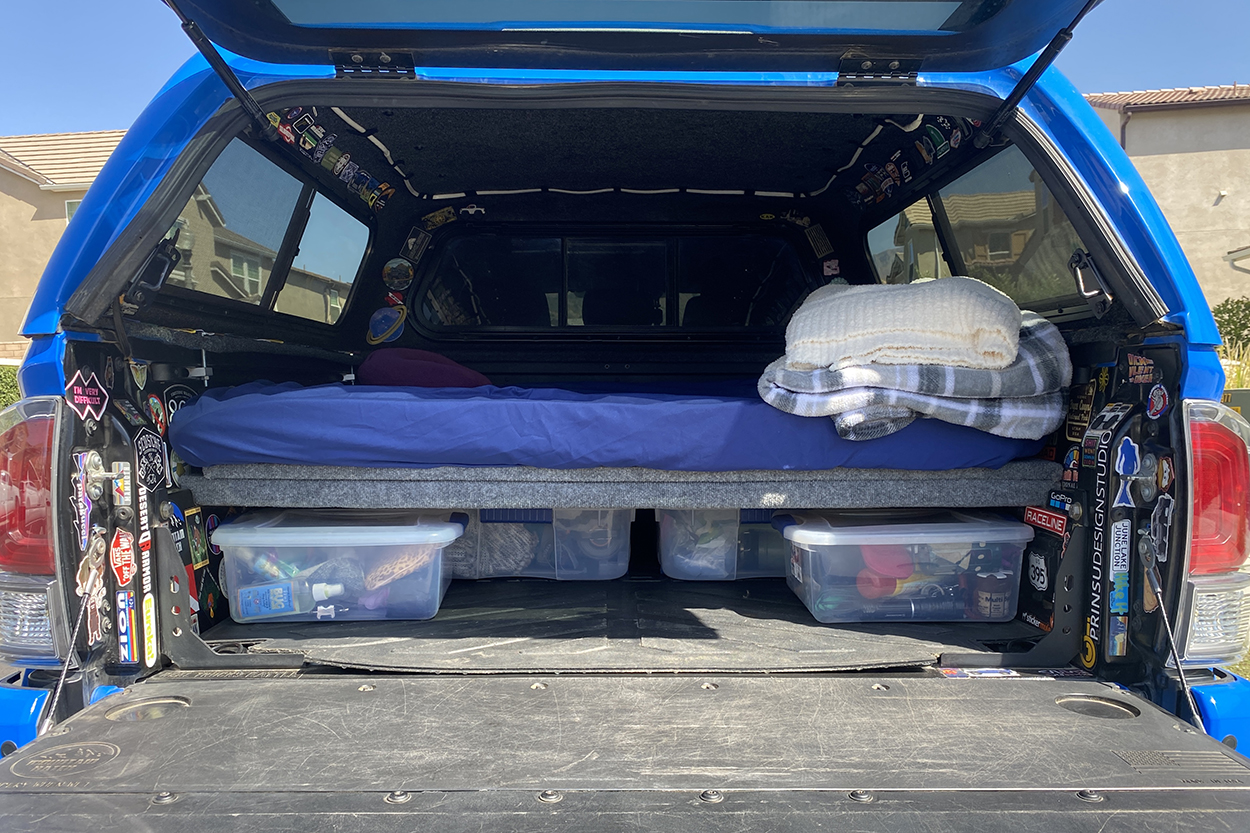 Admittedly, camper shells aren't for everyone. For some, they pose more of an inconvenience rather than a useful storage space. Completely covering the bed of your truck with one of these will inherently make your truck more of a camper/work truck rather than a utility workhorse for hauling oversized items.
A camper shell in the overland community is typically used for exactly that, camping. As you can see in the photo above, Katie has turned the bed of her Tacoma into a mobile adventure hotel on wheels! Her Leer 100XR camper shell protects all of her tools, sleeping gear, and camping items from not only the weather and dust but also potential theft. Yes, this is the unfortunate reality/world that we live in…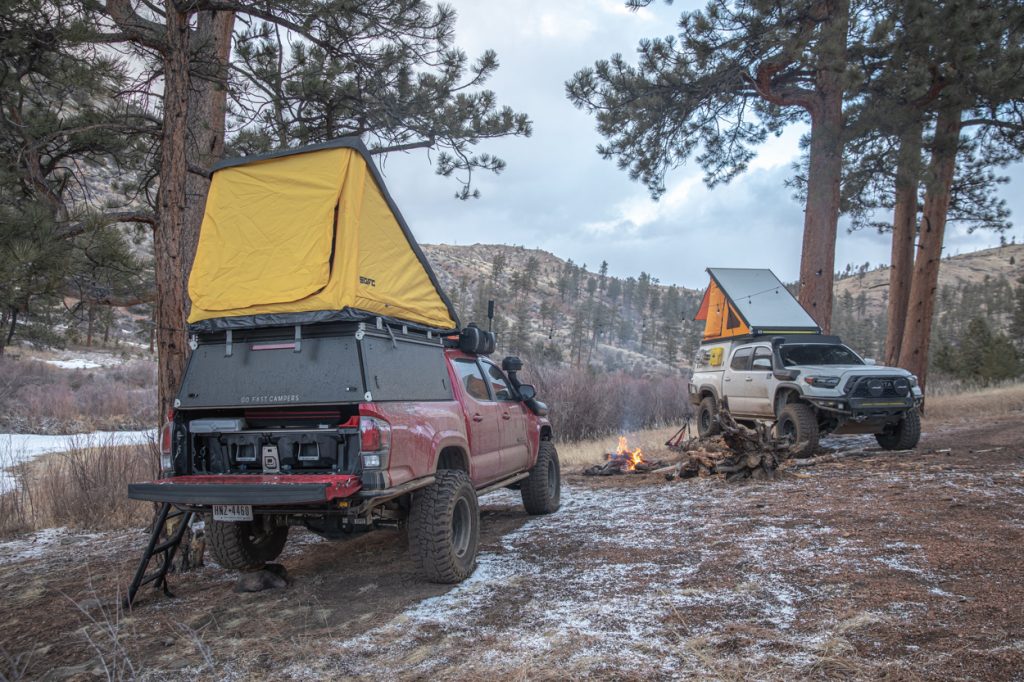 Using a camper shell for overlanding with a DIY bed setup is an awesome way to build out your rig. If you are able to score a shell on craigslist for cheap as Brad did, you can potentially save thousands of dollars compared to a full bed rack/RTT setup, especially a new one.
What if you want the convenience of a shell, but still want to fully utilize your truck bed on the weekend? This use case is what makes the Softopper and (a new) inflatable option increasingly popular. They are a great middle-ground that provides full bed coverage while still allowing you to help your friends move when the time inevitably calls for it.
1. Jim Bob Barnett (@jim_bob) – GFC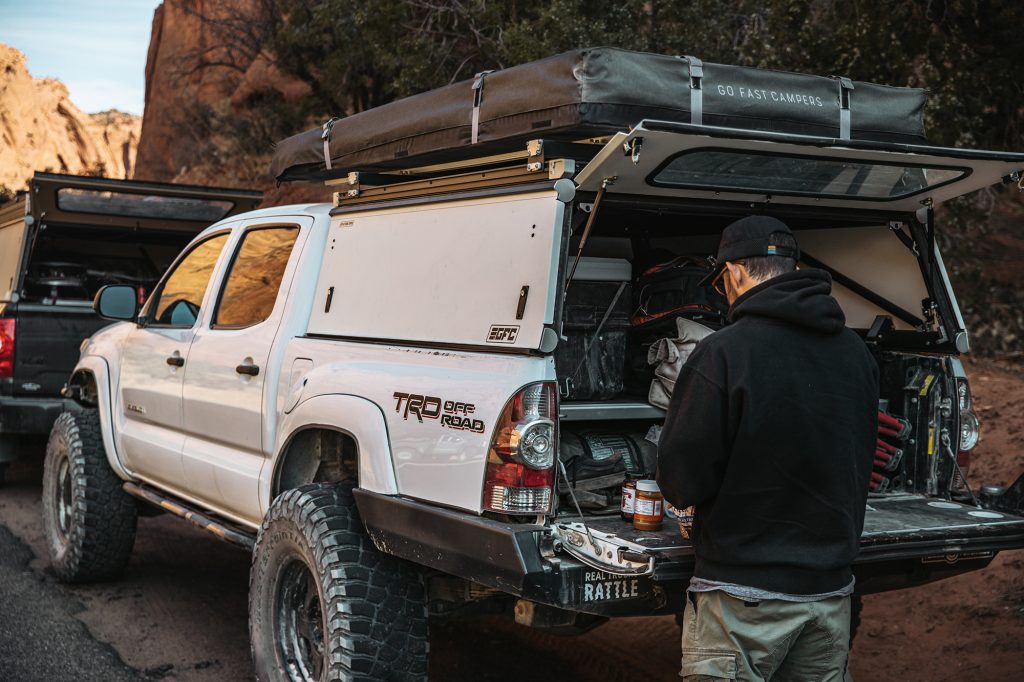 Camper Shell Details
Model: GFC Topper
Material: GFC Camper Bottom Half (aluminum panels, and billet brackets)
Price: $3995 (base price)
This prototype GFC topper was run by Jim Bob. It looks badass and we wish they made it available, but right now they have been radio silent as to when it might actually get released.
*** Update March 2023 *** – This Topper Is Now Available!
2. Christian Vasquez (@semipro.taco) – Softopper
Camper Shell Details
Model: Softopper Truck Bed Cap
Material: Anodized Aluminum & Laminated Sailcloth (Canopy)
Price: $825
What Do You Like Most About Your Setup?
The reason I went with Softopper is for versatility. The flexibility that this specific bed cap offers is amazing. I can keep the dirt out of my equipment in the back when camping, roll up the sides when headed to the beach, or fold it down completed to accommodate moving my larger items.
I was initially worried about the sun fading the canvas material since I'm from Southern California. However, the laminated sailcloth has held up well to heat, snow, and rain. I also love that Softopper offers replaceable sections of the cap, so no need to worry about a section getting damaged.
Due to how versatile this bed cap is, I recommend it to those who are on the fence about a hard shell. The key feature of this bed cap is the ability to roll up the sides and fold down completely while still being secured to the bed.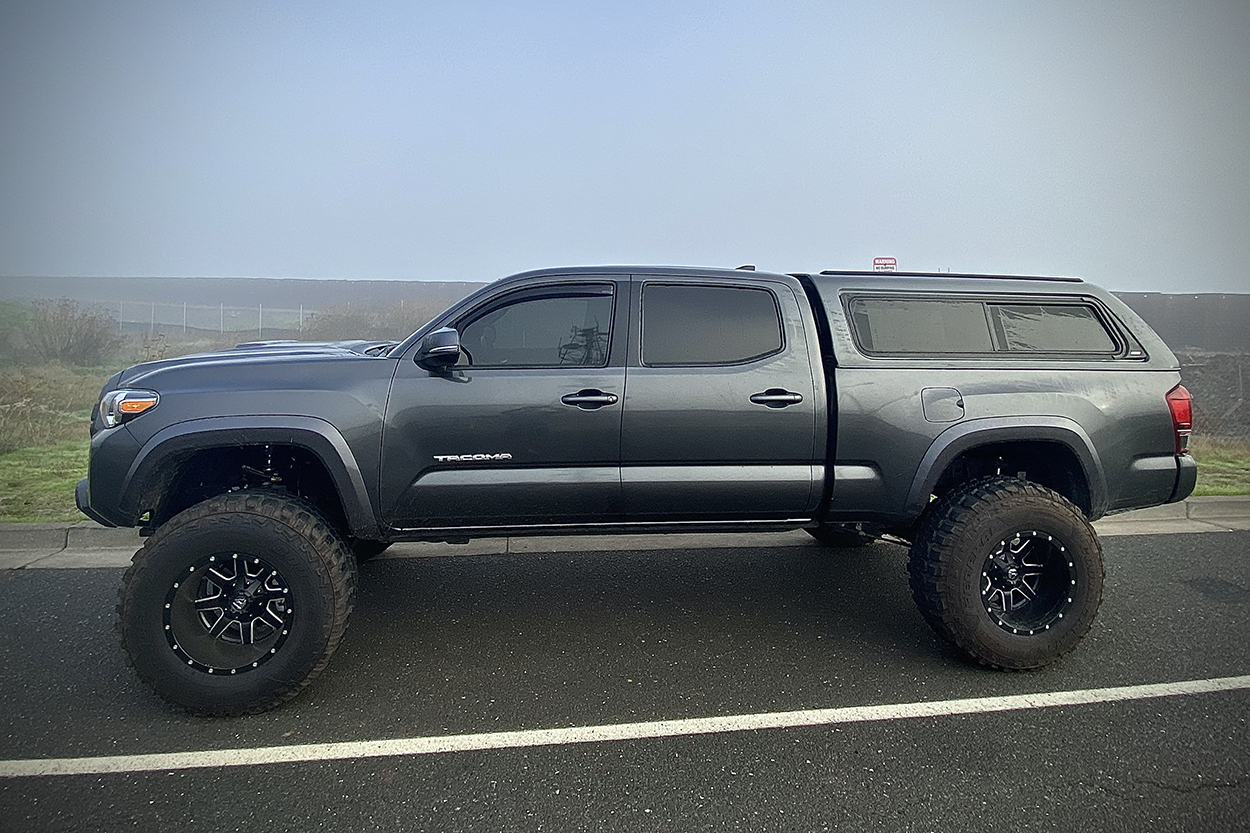 Camper Shell Details
Model: Z
Material: Polyester Resin Fiberglass Laminate
Price: $3850
What Do You Like Most About Your Setup?
What I like most about this setup is that it's clean, simple, and gets the job done for just about anything. I'm a construction worker who also loves to camp. With that being said, it fits both the needs for hauling construction tools and materials as well as an easy camp setup.
I love camping with a shell because you can lock yourself in to feel safe from animals or people invading your space. I needed a more practical setup and this fits my lifestyle. The ARE Z is one of the better shells out on the market. I've had a couple of different brands, but this one is the best in my opinion.
4. James Panah (@panahrama) – GFC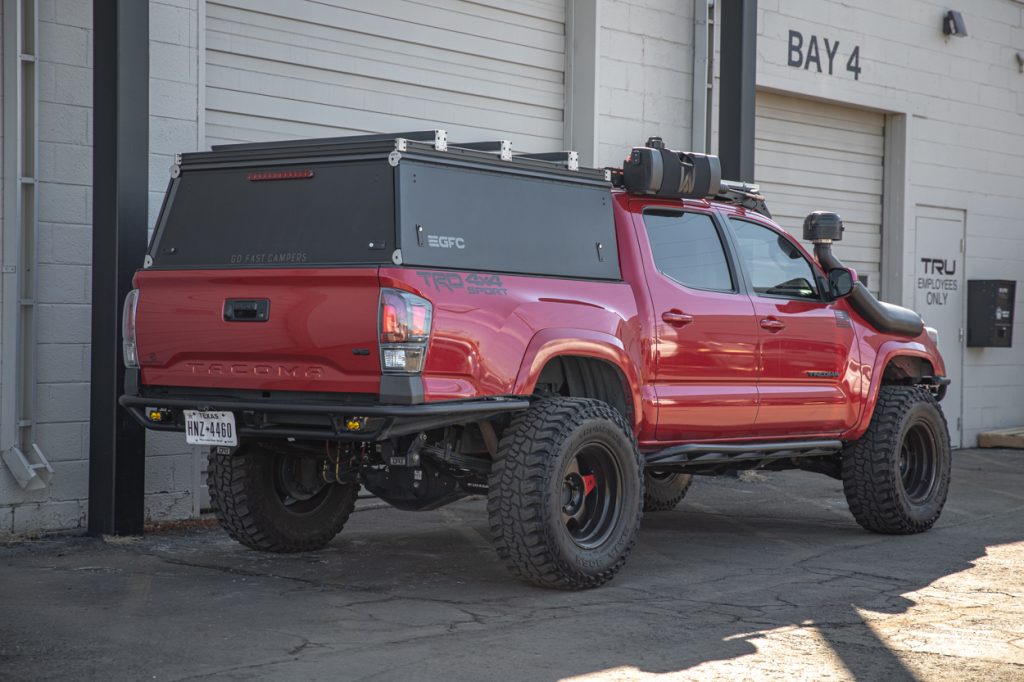 Camper Shell Details
Model: GFC Platform Topper
Material: Aluminum
Price: $3995 (base)
I've always been keen on keeping my bed covered, and before I put on the GFC Camper Topper I had a tonneau cover. Admittedly, the tonneau cover was effective, but you limit the use of your bed with one. There's not much storage space with the short bed of the Tacoma. Secondly, options to run RTTs are sparse, if they exist at all!
The GFC Camper Topper for me was a no brainer! I get the closed bed like I did with the tonneau without sacrificing anything else! Since I installed the Decked system in my bed with the GFC, I now have enough room to mount and store my full size spare as well as a pro eagle jack in my bed. It also protects everything in my bed from the outside elements. All side panels open up which gives me full access to my bed to grab whatever I need. Lastly you can get GFC's beef bars to mount an RTT, or load up and strap down anything else. I personally run their Superlite RTT on the top of mine.
Unlike most hard shell toppers, GFC's is all aluminum with reinforced bars. The design is super solid, and in my personal opinion one of the sleekest on the market! 10/10 I would recommend the GFC Camper Topper to anyone interest in running a camper on their rig.
5. Jon Gangloff (@trd.jon) – Flated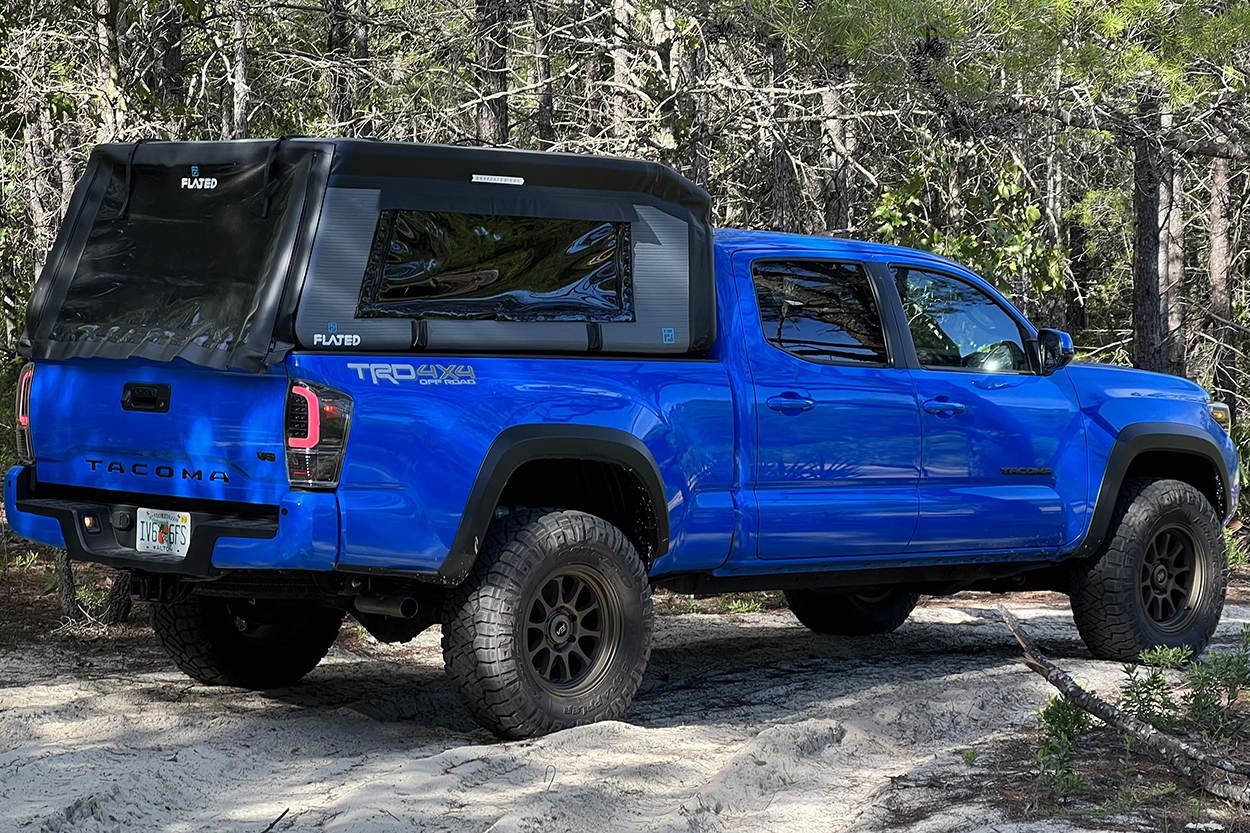 Camper Shell Details
Model: Air Topper – Midsize Long Bed
Material: PVC & Drop Stitch Fabric
Price: $1800
What Do You Like Most About Your Setup?
What I like most about this topper is, hands down, that when I don't need it, the topper deflates and folds into a bag that can fit in my garage closet. It allows me to use my truck for truck things when needed and as a camper shell whenever I desire.
To deploy it, all I have to do is plug in the 12V pump, turn on the pump, and wait 10 minutes. Just like that, I have a camper shell on my Tacoma. When inflated, this topper is super sturdy. It almost feels as if it were a legitimate fiberglass shell.
Camper Shell Details
Model: Standard Fiberglass Shell
Material: Polyester Resin Fiberglass Laminate
Price: $2300 (in 2018)
What Do You Like Most About Your Setup?
I would have to say the side access doors are my favorite thing about the shell itself. Being able to access essential items without having to climb in the truck to dig everything out is amazing. We pack everything that we use daily by the access windows for an easy grab-and-go setup.
With that being said, having an extra sense of security if you leave camp is always nice too! Some extra features are a carpet-lined ceiling with light strips inside the shell, side access doors, and a Front Runner roof rack on top.
Camper Shell Details
Model: Leer 100XR
Material: Fiberglass
Price: $2580 (installed)
What Do You Like Most About Your Setup?
What I enjoy most about my setup is how simple it is. I have trimmed down my gear to be as minimalistic as possible while still feeling equipped for every adventure. Whether it's going out just for the evening or a several-day excursion, everything is kept in the bed of my truck 24/7 so I'm always ready to go!
I also love that I am always guaranteed to have a comfortable night's rest despite the weather conditions. I've slept in the rain, snow, frigid temperatures, and wind. I couldn't imagine myself doing that in a rooftop tent.
My camper shell was ordered, received, and installed at California Custom Shells. They are located in Oxnard, California. The total price out the door with its features, tax, and installation was $2580. If you mention my name, they will give you a discount!
The specifications I got when I ordered my Leer 100XR:
Color match & tint
Removable front window
Carpet ceiling
Rear LED dome light
Tracks for roof racks
Camping Setup:
Prinsu roof rack
Rago Fabrication bed stiffeners
Mountain hatch tailgate insert
Toyota bed mat
Bed platform that comprises two 2x6s and one 3/4 inch sheet of plywood that I covered with 4 1/4 inches of gel foam and a queen-size fitted sheet
Below my bed platform are four storage containers

I have two large rolling containers and two smaller ones to accompany my camping gear, lounging items, and toiletries

LED light strand
Several patches
8. Brad Garcia (@805_taco) – ARE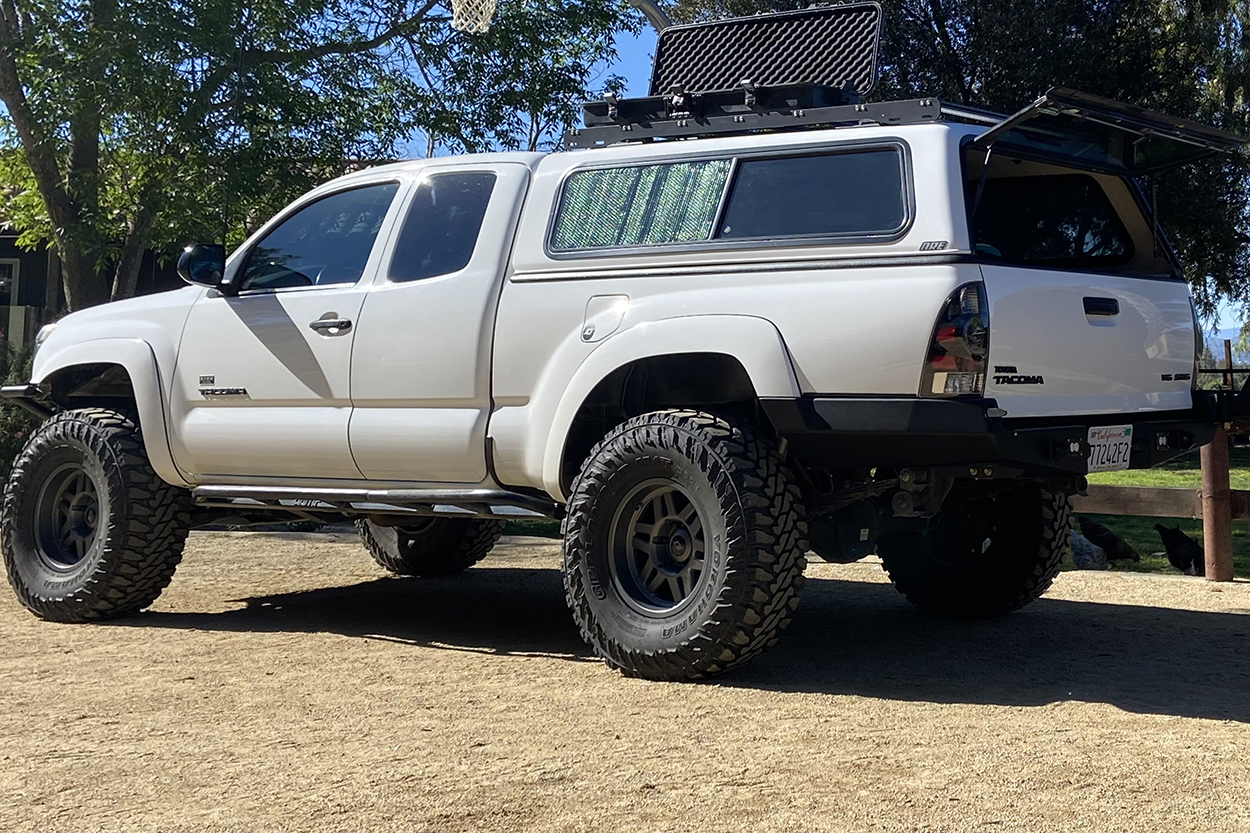 Camper Shell Details
Model: CX Classic
Material: Polyester Resin Fiberglass Laminate
Price: $2600
What Do You Like Most About Your Setup?
I like having a standard height shell for rack storage that's used for a gun case where I store spare parts in. In the bed, I built a standard bed platform out of plywood with a mattress topper that I camp in a lot. I spent 20 days in the shell last summer through Idaho, Utah, and Montana with my girl. It's comfortable, low profile, and simple. It has zero setup needed compared to a rooftop tent.
It's insulated and has some Reflectix on the windows for temperature control. There are standard screen slider windows with a Prinsu-style roof rack on top that I made for $200. I scored the shell itself on Craigslist for $450!
9. Branden V. (@bn.vita) – LEER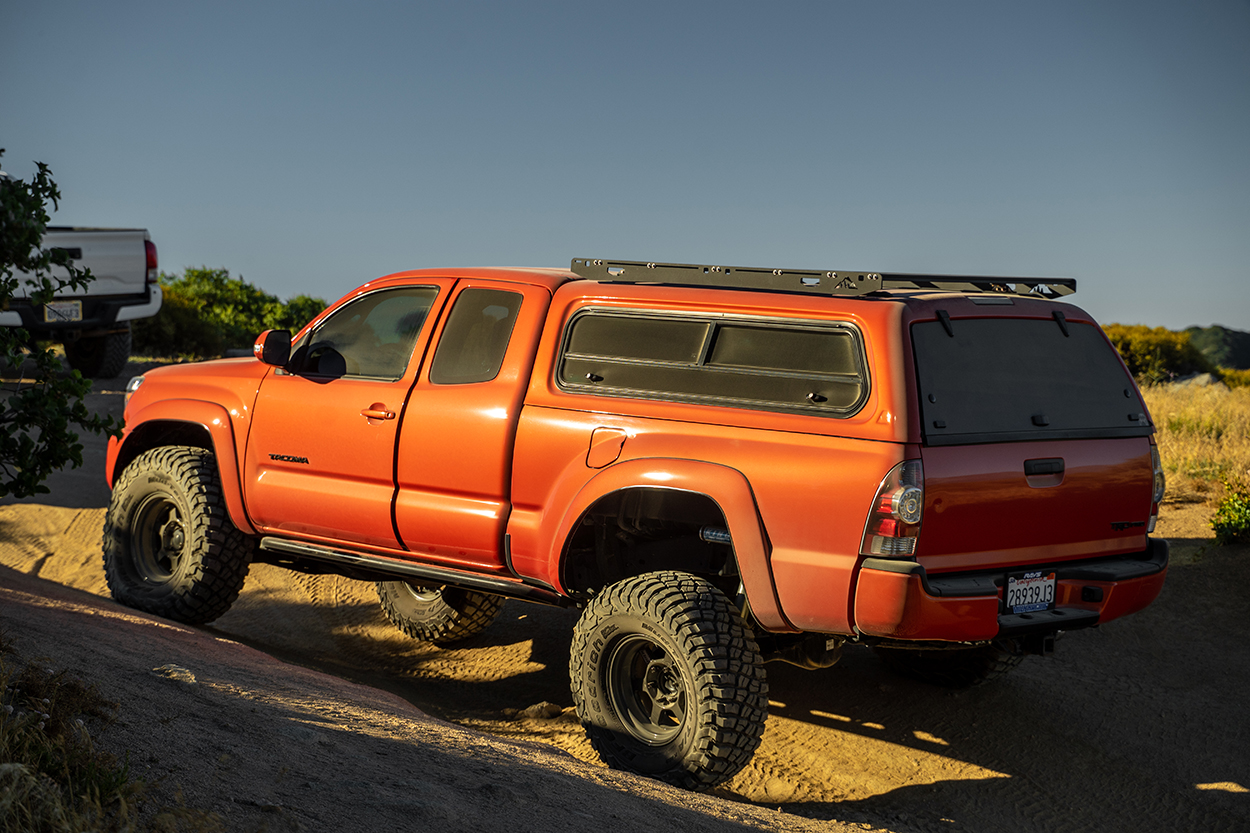 Camper Shell Details
Model: Leer 100XR
Material: Fiberglass
Price: $3400
What Do You Like Most About Your Setup?
The setup is purely simple and sweet. The truck is not over the top but is still able to safely store away whatever I have in my bed for work or weekend activities. With the 6-foot bed, I have the space for my necessities without overloading my Tacoma with excess gear or weight.
I also have the slider pop-open windows and carpeted headliner and added Sherpa Equipment's "The Crow's Nest" cap roof rack on top.
Final Thoughts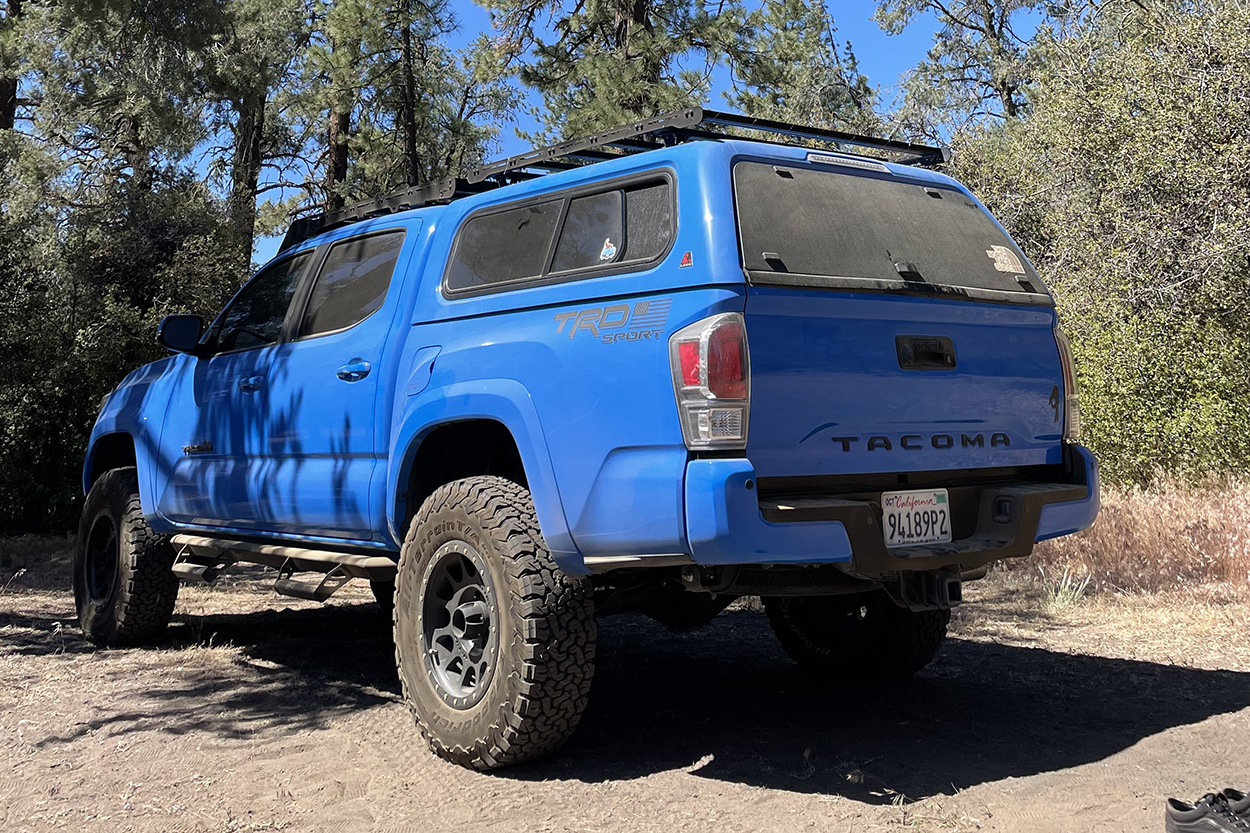 What a great compilation of different camper shells for the Toyota Tacoma. Obviously, LEER and ARE seem to be the go-to models for fiberglass camper shells. Everyone's use for camper shells will be different, so I hope these 7 awesome owners were able to help you decide what's best for your truck.
If you want to be featured for Taco Tuesday, submit your build through TrailTacoma.com/Feature. Next week's Taco Tuesday will be featuring TRD Off-Road Tacomas. We're looking for sweet rides to showcase! If this is you and you love your setup, send in your details because we want to see it.
Thanks for reading guys. I'll see you next week!